Road Trip from Los Angeles to Solvang
Whether you prefer ocean views, city sights or thrills and spills you can be sure that this journey is going to tick plenty of boxes. Travel along either incredible coast or interesting inland routes, which both showcase delights from the very start in Los Angeles right through to arriving in quirky Solvang.
The 140-mile trip from Los Angeles to Solvang takes 3 hours. The Coastal Route passes Santa Monica, Malibu, Oxnard, Ventura and Channel Islands. Inland, visit Bakersfield, Porterville, Sequoia National Park, Morro Bay, Pismo Beach and Santa Maria.
Short and sweet, this is sure to be a picturesque journey from the off, taking you across the Golden State right through to Danish utopia Solvang. Keep on reading to discover what to see and where to go along this road trip.
How far is Solvang from Los Angeles, and how long will the road trip take?
Comparison of road trip routes between Los Angeles and Solvang

| Route | Distance | Driving Time |
| --- | --- | --- |
| The Coastal Route | 140 miles | 3 hours |
| The Sequoia National Park Detour | 460 miles | 8 hours 25 minutes |
The Coastal Route to Solvang from Los Angeles is short but very sweet, taking around 3 hours to cover the 140 miles. This trip can include a visit to the Channel Islands from Ventura, with the ferry taking around an hour to make the crossing to this picturesque landmark.
Travelling the Sequoia National Park Detour is considerably longer, taking around 8 hours and 30 minutes and covering 460 miles, with the opportunity to explore beautiful Sequoia National Park.
Given this is a relatively short road trip you might be tempted to complete it within a day, however to really make the most of the incredible sights along the way we suggest taking 2-3 days to take it all in.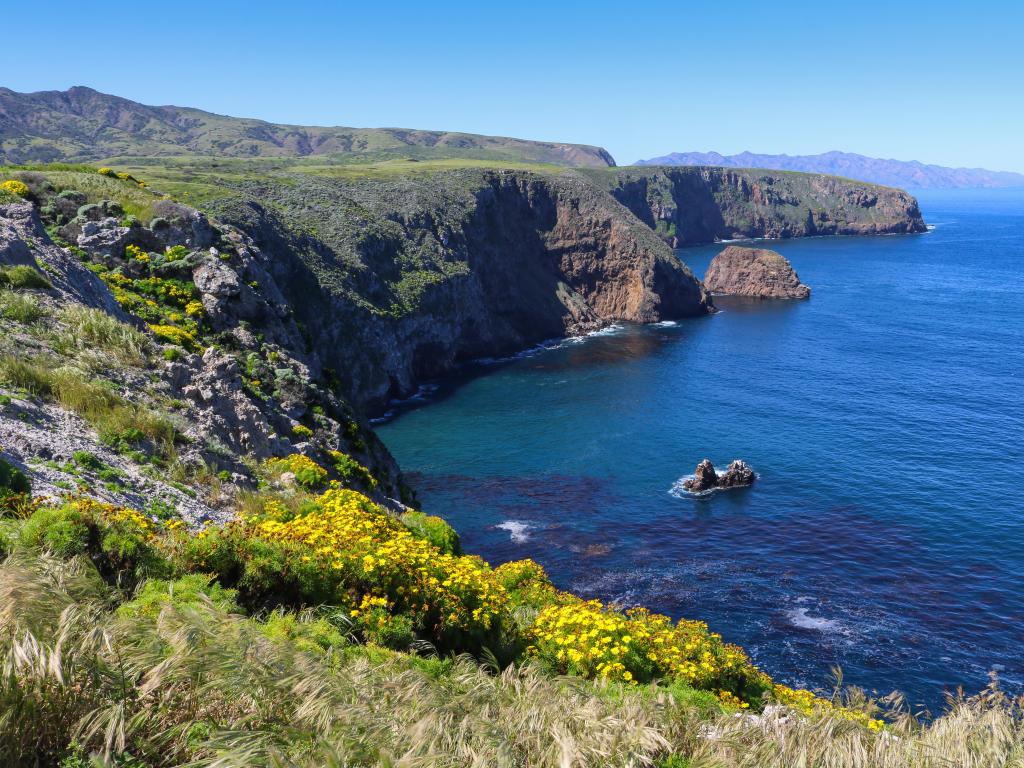 Best road trip route from Los Angeles to Solvang
This amazing journey showcases the best of what California has to offer, with beautiful coastal views, city sights and renowned national parks, taking you from the bright lights of LA to the Danish capital of California, Solvang.
Taking the Coastal Route you will travel a beautiful pathway along the dramatic California coastline: a classic and truly invigorating drive. This route will get you to Solvang in less than half a day, meaning you can enjoy the beachside drive in the morning and enjoy some delicious Danish pastries in Solvang after lunch!
Travelling the much longer Sequoia National Park Detour is certainly worth it, starting with excitement of Six Flags Magic Mountain and California Living Museum, along with the incredible landscape at Castaic Lake State Recreation Area.
The Coastal Route
You'll begin your road trip from Los Angeles to Solvang by tracking the coastline of California, kicking off with a stop at Santa Monica beach, before hiking Santa Monica Mountains National Recreation and Topanga State Park.
After those exhilarating treks, travel onwards and then settle down for some celebrity spotting and relaxation on the sandy shores of Malibu. Oxnard also delivers a picturesque beachfront to enjoy en route.
Continuing your journey, stop off at the pretty coastal city Ventura for a night or two, where you can explore the area as well as head over to the Channel Islands to kayak to sea coves and whale watch.
After a well-deserved break, continue onwards past Mussel Shoals Pier to ride the waves at Little Rincon, before feeding the animals at Santa Barbara Zoo.
A final stop at Cachuma Lake Recreation Area to admire wildlife such as eagles and pelican is the perfect journey end before arriving in Solvang.
The Sequoia National Park Detour
The inland Sequoia National Park Detour takes you on a scenic jaunt through the changing landscapes of SoCal. You'll begin this road trip to Yosemite by heading out north of Los Angeles, taking I-5 past Santa Clarita and towards the bustling city of Bakersfield.
Around an hour north of Bakersfield (on CA-65) you'll arrive in Porterville, ideal for a stopover to enjoy the backdrop of Sierra Nevada Mountains and to escape to nearby renowned sights such as Sequoia National Park.
After a good night's sleep, you'll be ready and raring to head towards Three Rivers, the gateway to Sequoia National Park, and with 850 miles of trails to explore you'll be pleased to have rested beforehand.
As you go south after the incredible Sequoia National Park there are plenty of beautiful sights to enjoy including Morro Rock and Pismo Pier, which are both teeming with wildlife and ocean views.
Before arriving in Solvang, make a pit stop for a drink at the delightful wineries in Santa Maria. The weather makes the perfect Chardonnay and Pinot Noir, and you'll feel refreshed and relaxed before arriving in the Danish utopia.
After visiting the renowned giant sequoia trees and General Sherman Tree within the national park, head onwards along Route-198, then south on Route-41 towards Kettleman City before arriving at Morro Bay.
Route-1 south then leads you towards the coastal sights of Pismo Beach to admire the sunset and seafood, and then Santa Maria for the Chardonnay.
A final stop off at Los Alamos to enjoy the unique Bandelier National Monument is a cultural highlight before arriving at destination Solvang.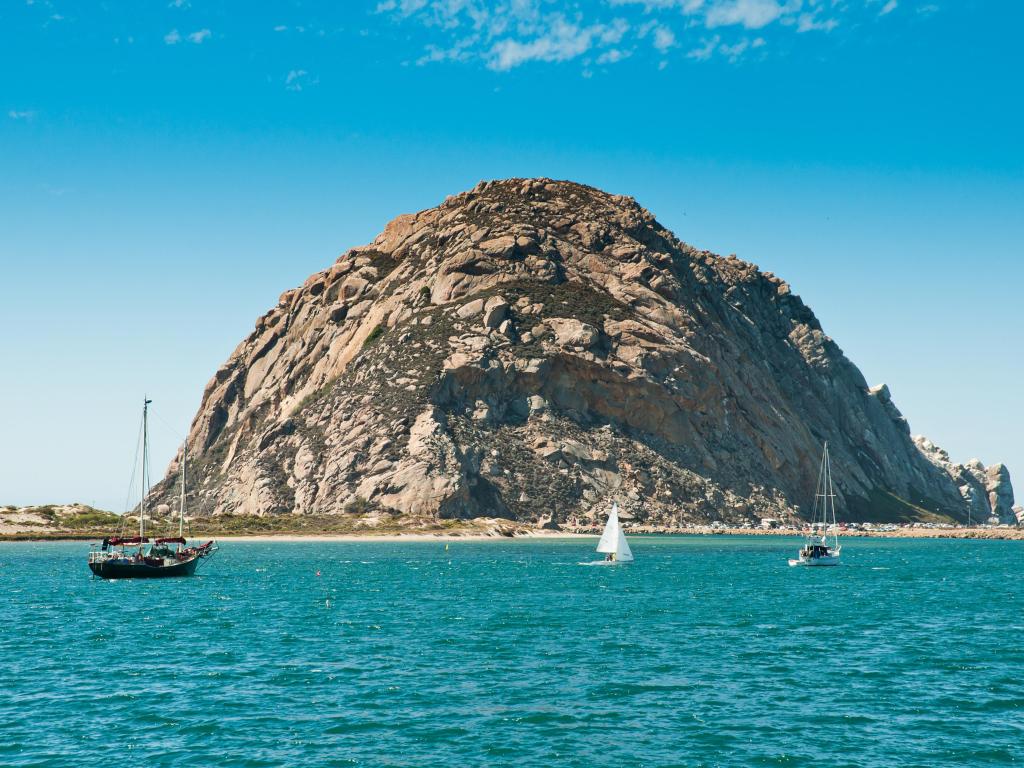 Best places to stop between Los Angeles and Solvang
These varied routes from Los Angeles to Solvang are exploding with incredible coastal views, renowned national parks and interesting city stop-offs.
Although the journey is fairly short there is so much packed in to see along the way, and you'll need to make an overnight stop to take it all in.
Ace Ventura
About halfway along the Coastal Route, Ventura, also known as the 'city of good fortune', provides an ideal resting spot.
From here you can head to the harbor to enjoy the waterfront sights before hopping on the ferry to the Channel Islands. A must-see visit, this simple crossing takes you to the pretty Channel Islands for a day of fun and frolics.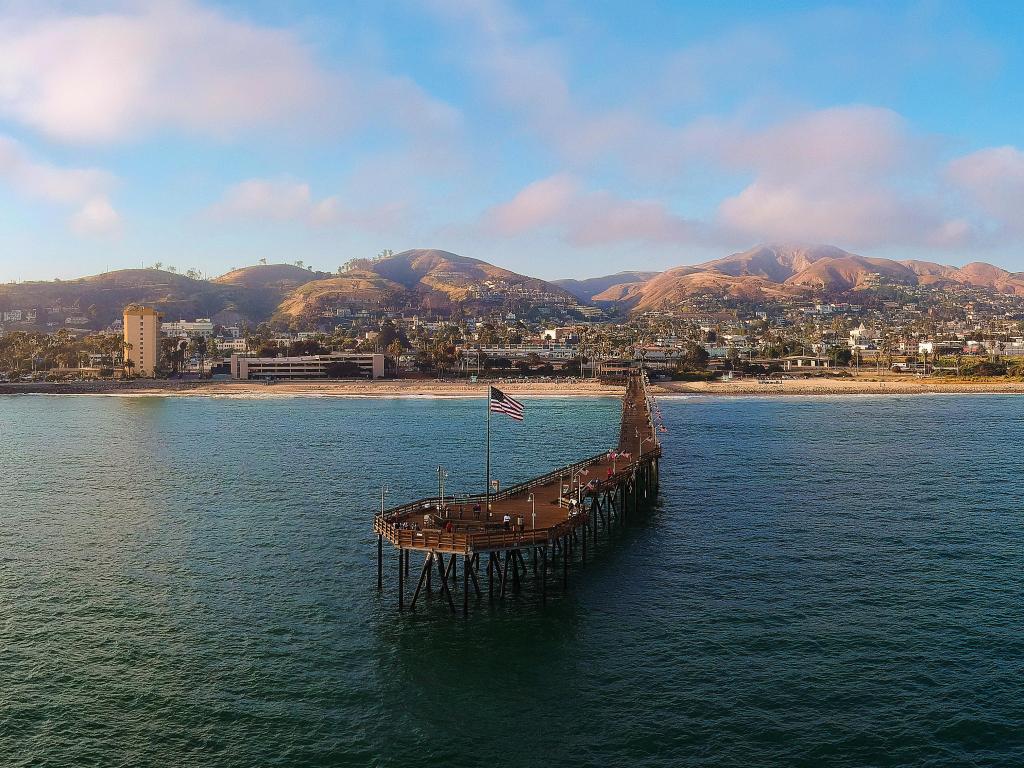 Another must-visit is Ventura Pier and Promenade, where you can wander the beachfront. Enjoy dinner with a view overlooking the Islands in the distance.
Head to Mission San Buenaventura, where this architecturally beautiful building is must-see. Interesting quirks at this church include the historical use of wooden bells in the tower, which are now on display.
Another day set for exploring? Then visit Ventura Botanical Gardens where you can see some of the 100,000 plants here. The Mediterranean Garden and Chilean Gardens are particular highlights with their diverse flora.
Make a stay of it with a night or two at the beachfront Crowne Plaza Hotel Ventura Beach. A stunning sea view is guaranteed from each room. This hotel is close to many of the top attractions, and only a short drive to Montalvo Hill Park, Ventura Community Park and many beaches.
Why not take a dip in the heated outdoor pool, open all year round, with beautiful views? Or grab an aperitif at the Aqua Beachfront Bar on the outdoor terrace before heading inside to the delicious NOM Tequila Grill restaurant.
Sightsee in Porterville
Just under halfway along this route, Porterville is surrounded by the beautiful Sierra Nevada Mountains and is an idyllic setting to venture to nearby renowned sights such as Sequoia National Park.
Local Lake Success is also perfect for water and wildlife fans, so head here for fishing in the summer and you can be sure to land a trout in your net.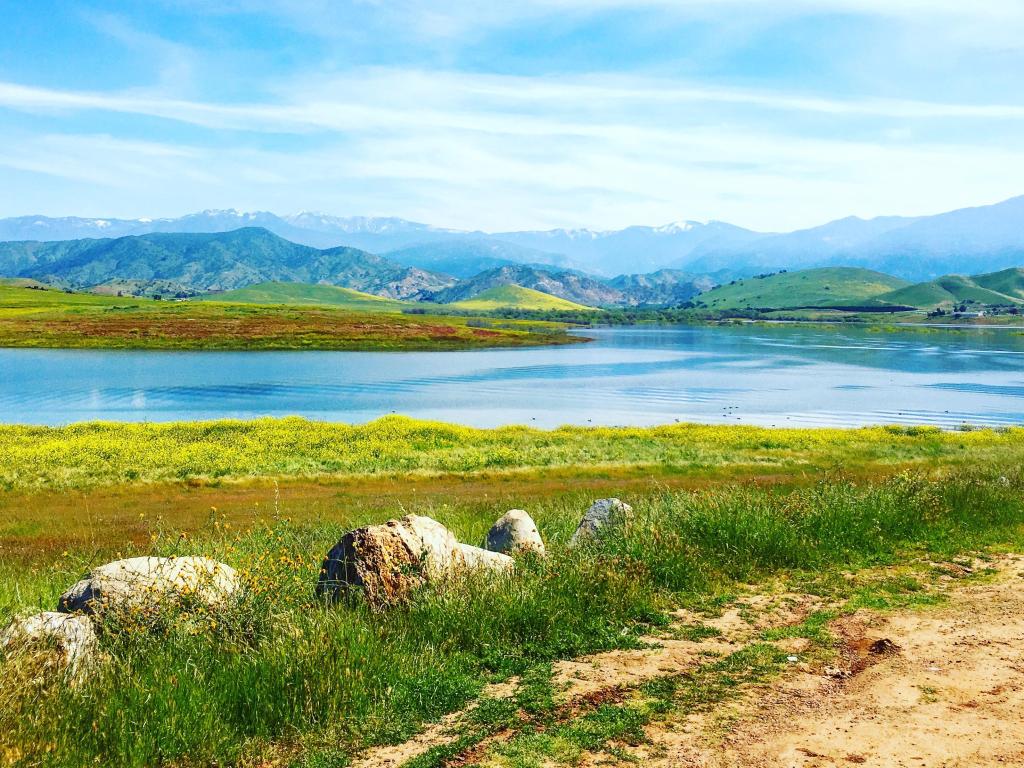 Porterville Historical Museum is packed with exhibits detailing the area's history, where you will feel like you are heading back in time given the artifacts and photographs from the bygone era.
If you fancy your chances, then a visit to the popular 24/7 entertainment of Eagle Mountain Casino is a must. Enjoy dinner at the on-site The River Steakhouse to celebrate afterwards.
With so much to do in Porterville and beyond, a stop at Holiday Inn Express Porterville makes sense, boasting a great location close to Sequoia National Park, Porterville Fairground, Lake Success and Eagle Mountain Casino.
Enjoy the on-site outdoor pool and hot tub to wind down after a busy day exploring the national park. After a good night's sleep, you can be sure the delicious continental breakfast is bound to get your day off to a good start, before resuming your journey.
Where to stay when you reach Solvang
After an interesting road trip packed with places to explore, you can be sure of an interesting stay to come. The beautiful surroundings of Hotel Corque, a glorious boutique hotel, is just the ticket for exploring such a unique town.
Enjoy the outdoor pool and hot tub after a day travelling, with views over the Solvang Village or the Santa Ynez Hills a real highlight.
You don't need to travel far for a great meal, with the Root 246 restaurant serving American cuisine and The Willows steakhouse both on-site.
Set in a great location, it is close to popular attractions including Sunny Fields Park, Alisal Commons Park and Old Mission Santa Ines, and a short drive to the town center and sights of one of the most unique towns in California.
Things to see on a road trip from Los Angeles to Solvang
Both the routes we suggest from Los Angeles to Solvang are filled with interesting sights and beautiful views, and whilst they don't take too long to cover there is so much to see that you could spend several days exploring.
Here is our list of recommendations of what to see and where to go on this road trip.
On The Coastal Route
Santa Monica - Known for beautiful beaches and famous pier, there is plenty to enjoy. Head to Muscle Beach for some interesting viewing, before wandering Third Street Promenade for entertainment over lunch.
Santa Monica Mountains National Recreation - This wonderful area is a great to go hiking, with interesting landscapes including 3,000 feet high Sandstone Peak. Keep walking and you'll see impressive Escondido Falls.
Topanga State Park - Set in the Santa Monica Mountains, this is a great spot for a hike or a horse ride – it's at the maximum size a city state park in the US can get. Take the trail towards Eagle Rock for great views.
Malibu - Known for its beaches, trails and celebrities, there is much to enjoy here. For a tour of some of the wealthiest homes head to The Getty Villa, where you can admire just quite how the other half of life.
Point Mugu State Park - Found in the Santa Monica Mountains there are incredible ocean views enjoyed here, especially when you hike to Point Mugu. Take lunch and enjoy a day hiking the sandy shoreline.
Oxnard - This picturesque 62-acre beachfront park has plenty going on. Along with the impressive beach you can enjoy entertainment, with live music concerts a typical sight.
Ventura - A pretty coastal city with plenty going on, and great access point to sights including Channel Islands where a short ferry ride can transport to this beautiful destination.
Channel Islands - There is so much to explore on the beautiful Channel Islands National Park. Take a kayak to enjoy the sea coves up close, where you are likely to spot a whale or two on the way.
Mussel Shoals Pier - Make a visit to the pier here and enjoy the sandy beach. South of the pier, Little Rincon, is great for surfing fans.
Santa Barbara Zoo - Get close to the animals across this 30-acre zoo. For a special experience how about feeding giraffes by hand.
Cachuma Lake Recreation Area - Surrounded by the Santa Ynez and San Rafael Mountains, this is set over 9,000 acres. Take a tour on the lake and you are likely to see much wildlife such as eagles and pelican.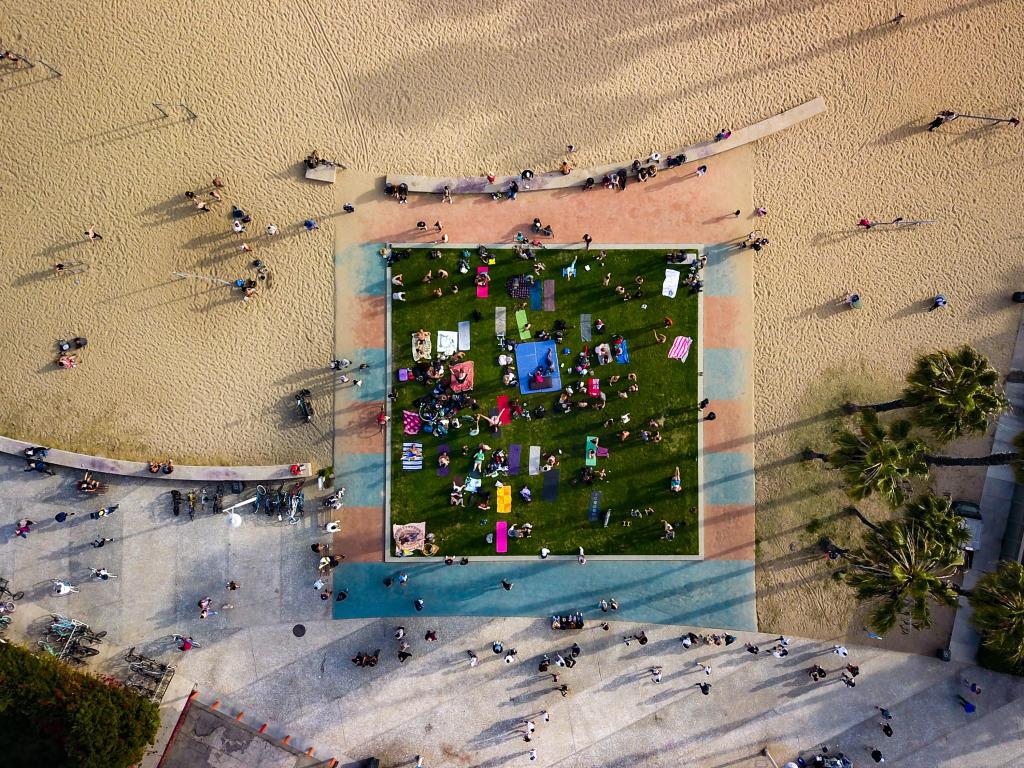 On The Sequoia National Park Detour
Six Flags Magic Mountain - Arrive in Santa Clarita and enjoy the thrills and spills of this amazing theme park with 100 exciting rides to enjoy.
Castaic Lake State Recreation Area - The largest state water reservoir in California, it is ideal for outdoor enthusiasts. Head to the Lower Lake and kayaks and float tubes can be enjoyed on the pretty waterfront.
Bakersfield - This bustling city has plenty going on. Take a visit to the California Living Museum where you'll be greeted with rides and 250 animals – make sure to see the mountain lions.
Three Rivers - The gateway to Sequoia National Park and Kings Canyon National Parks, it is teeming with nature and where plenty of water sports take place on the lake fronts.
Sequoia National Park - Over 400,000 acres of incredible wilderness and forests. The park is known for the giant sequoia trees and houses The General Sherman Tree, the largest tree in the world.
Morro Rock - You can view this extinct volcano from Morro Bay. It is home to much wildlife, including Peregrine falcons on this 50-acre site.
Mission San Luis Obispo de Tolosa - Renowned mission, thought of as one of the most beautiful in California, was founded in 1772 and is worth a visit. It is still operating too so a visit inside could also be on the cards.
Pismo Pier - Arrive towards sunset and you can be sure of stunning ocean views. There are plenty of seafood food stalls to choose from to enjoy a spot of dinner with a view too.
Santa Maria - Known for its wineries there are plenty to pick from to while away an afternoon. Chardonnay and Pinot Noir are particular favorites, benefiting from the perfect climate.
Bandelier National Monument - Set in Los Alamos, this incredible site is jaw-dropping in size and structure. With over 70 miles of trails there is plenty of exploring to do around the site.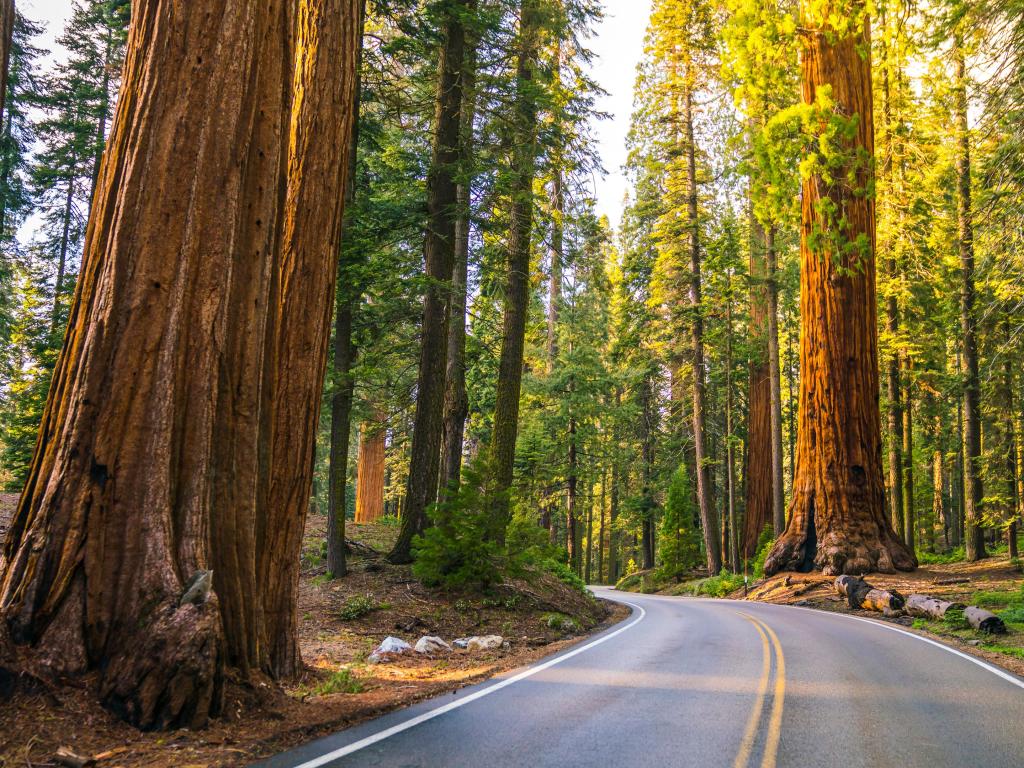 Best time to go on a road trip from Los Angeles to Solvang
Solvang is definitely a year-round destination, with the town offering something different for its visitors whatever the season. This Danish Village really is something else.
From April to November is when the weather is at its nicest, resulting in a more popular time to travel. However, in the winter the cooler weather adds to the cozy vibe that the Danish Capital of California brings.
Daily temperatures in Summer in Solvang average 70-80 degrees Fahrenheit, so it can be pretty warm. However, they have been seen rising to 90-95 degrees, so make sure to pack plenty of suncream and a sunhat.
Mid-summer sees the longest day of the year, so in July you can expect to be enjoying any daytime activities for longer spells, making the most of this time.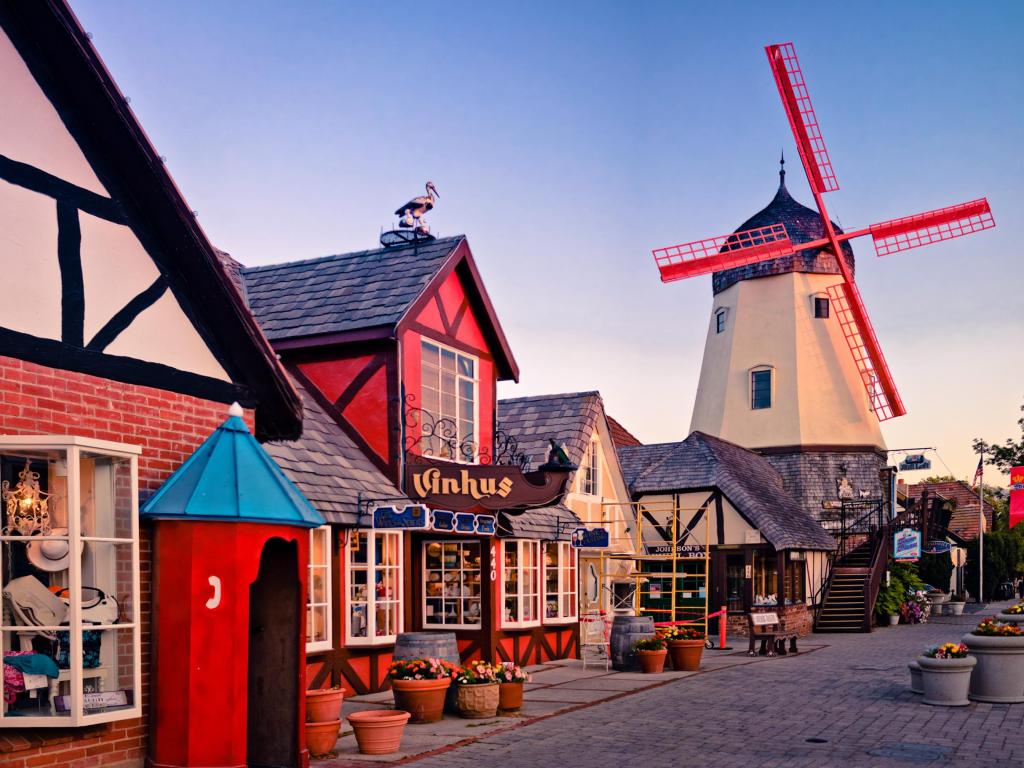 In winter the temperature rarely gets lower than 25 degrees Fahrenheit, but it is wetter and therefore less popular with visitors. If you want to stay dry during a visit then avoid travelling in December, when rainfall is at its highest.
However, December also brings wonderful events when Solvang becomes a Winter Wonderland. The authentic decorations and events are wonderful, with Jule Hus (Christmas House) celebrating Christmas all year round!
Spring is a great time to visit Solvang, with April and May particularly appealing. Temperatures range around 37-47 degrees Fahrenheit. As it falls outside of peak summer the rates for accommodation are also lower.
In fall the weather is cooler so packing warmer weather gear and layers is important to enjoy exploring. Tourist numbers also tail off towards mid-September so you can enjoy less busy streets and activities.
There are lots of events and festivals happening year-round in the Danish capital of California, centering on food and music and fun!
A weekly farmers market is the place to celebrate the local community and enjoy the produce and wares. It was founded in 1983 and is a staple here, and it flourishes with different options throughout the year.
One of the main festivals taking place in June each year, Solvang Danish Days, is an annual celebration. First started in 1936 this honors the villages history, and celebrates authentic food, music and entertainment.