Road Trip from Melbourne to Brisbane
Take a trip from Melbourne to the sunny coastal city of Brisbane and discover beautiful Queensland along the way. You will see iconic cities, including Australia's capital, admire the coastal views and drive through some of the most popular wine-producing areas on the way.
The 2,000 km road trip from Melbourne to Brisbane will take 22 hours and 40 minutes to drive. You will get the opportunity to see Boorowa, Orange, Paynesville, Canberra, Byron Bay, Sydney, Morwell River Falls Reserve and Woomargama National Park.
We have developed two great and unique routes for you to choose from. One of these stays inland, while the other explores the coast. Keep reading to find out all the details of these two routes, which will help with making the tough decision of which one to choose!
How far is Brisbane from Melbourne, and how long will the road trip take?
Comparison of road trip routes between Melbourne and Brisbane

| Route | Distance | Driving Time |
| --- | --- | --- |
| The NSW Vineyards Route | 2,000 km | 22 hours 40 minutes |
| The Coastal Route | 2,070 km | 23 hours 50 minutes |
The NSW Vineyards Route covers 2,000 km and this inland route will take you 22 hours and 40 minutes to complete, not accounting for any stops or detours.
Slightly longer, our Coastal Route alternative will take you 23 hours and 50 minutes to drive, covering 2,070 km.
As both of our routes cover similar distances, we recommend 6 -7 days to complete them. This will give you a good amount of time for brief stops to enjoy the scenery as well as some well-deserved overnight stops to immerse yourself in one place.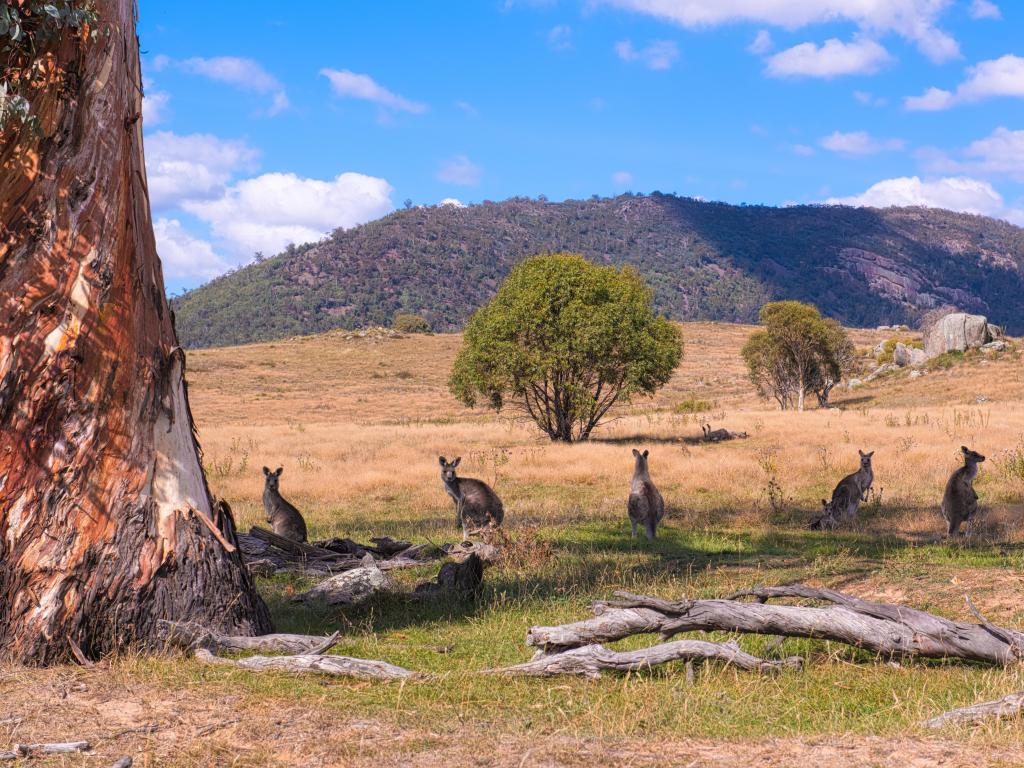 Best road trip route from Melbourne to Brisbane
The NSW Vineyard Route is our slightly shorter, more direct route that takes you to smaller inland cities such as Boorowa, Orange and Mudgee. All of which are known for their rich wine culture and delicious dining options.
You also get to visit the historic city of Canberra, Australia's capital as well as the opportunity to visit a few national Parks, including Wollemi National Park, Pilliga Nature Reserve, Goulburn River National Park, and Namadgi National Park.
If you fancy a slightly longer but incredibly scenic route, consider our Coastal Route. It will take you on a leisurely drive along Australia's southeastern coast, with its myriad of coastal towns and beaches to stop at along the way.
You'll see the city of Paynesville, known as this region's boating capital and Sydney, Australia's most well-known city. It boasts tons of cultural activities and world-renowned architecture and is a great option for an overnight stop. You can also enjoy the stunning beaches of Byron Bay and the Gold Coast as you drive along.
If you can't choose between the routes, why not combine them? Take the NSW Vineyards route to Brisbane and the Coastal Route on the return journey. Then you get the best of both worlds!