Road Trip from Melbourne to Brisbane
Take a trip from Melbourne to the sunny coastal city of Brisbane and discover beautiful Queensland along the way. You will see iconic cities, including Australia's capital, admire the coastal views and drive through some of the most popular wine-producing areas on the way.
The 2,000 km road trip from Melbourne to Brisbane will take 22 hours and 40 minutes to drive. You will get the opportunity to see Boorowa, Orange, Paynesville, Canberra, Byron Bay, Sydney, Morwell River Falls Reserve and Woomargama National Park.
We have developed two great and unique routes for you to choose from. One of these stays inland, while the other explores the coast. Keep reading to find out all the details of these two routes, which will help with making the tough decision of which one to choose!
How far is Brisbane from Melbourne, and how long will the road trip take?
Comparison of road trip routes between Melbourne and Brisbane

| Route | Distance | Driving Time |
| --- | --- | --- |
| The NSW Vineyards Route | 2,000 km | 22 hours 40 minutes |
| The Coastal Route | 2,070 km | 23 hours 50 minutes |
The NSW Vineyards Route covers 2,000 km and this inland route will take you 22 hours and 40 minutes to complete, not accounting for any stops or detours.
Slightly longer, our Coastal Route alternative will take you 23 hours and 50 minutes to drive, covering 2,070 km.
As both of our routes cover similar distances, we recommend 6 -7 days to complete them. This will give you a good amount of time for brief stops to enjoy the scenery as well as some well-deserved overnight stops to immerse yourself in one place.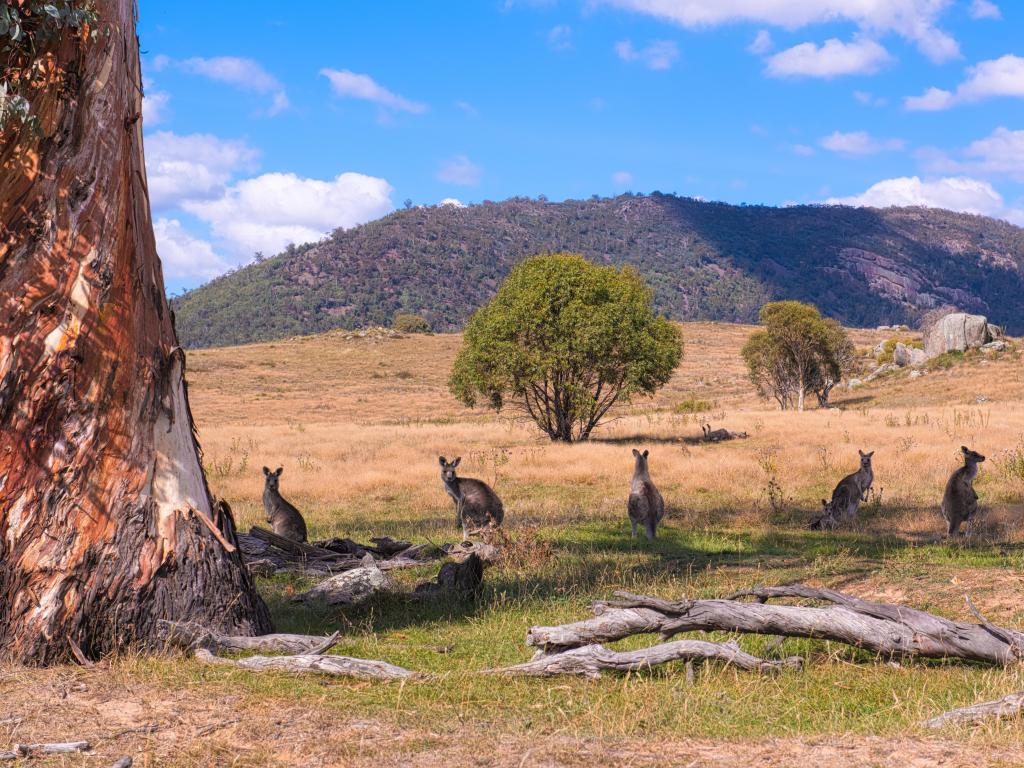 Best road trip route from Melbourne to Brisbane
The NSW Vineyard Route is our slightly shorter, more direct route that takes you to smaller inland cities such as Boorowa, Orange and Mudgee. All of which are known for their rich wine culture and delicious dining options.
You also get to visit the historic city of Canberra, Australia's capital as well as the opportunity to visit a few national Parks, including Wollemi National Park, Pilliga Nature Reserve, Goulburn River National Park, and Namadgi National Park.
If you fancy a slightly longer but incredibly scenic route, consider our Coastal Route. It will take you on a leisurely drive along Australia's southeastern coast, with its myriad of coastal towns and beaches to stop at along the way.
You'll see the city of Paynesville, known as this region's boating capital and Sydney, Australia's most well-known city. It boasts tons of cultural activities and world-renowned architecture and is a great option for an overnight stop. You can also enjoy the stunning beaches of Byron Bay and the Gold Coast as you drive along.
If you can't choose between the routes, why not combine them? Take the NSW Vineyards route to Brisbane and the Coastal Route on the return journey. Then you get the best of both worlds!
The NSW Vineyards Route
Get onto Hume Highway M31, heading northeast out of Melbourne. Continue on M31 until you reach the intersection with A25. Take A25 south to Canberra. From Canberra, get back on A25, heading north this time.
Head towards Boorowa and then north to Orange. Continue north, before heading east and then south, to Mudgee.
Upon leaving Mudgee, head back north before turning east onto B56 to start the last leg of your drive to Brisbane. You'll pass by Goulburn River National Park on your right which offers a great spot to have a wander or a swim.
You will soon reach Barraba and Bingara. Turn your heading towards the coast and Brisbane. Before arriving in Brisbane, consider a stop off to walk the Governors Chair lookout track which offers some spectacular views over Lake Moogerah and Main Range in Main Range National Park.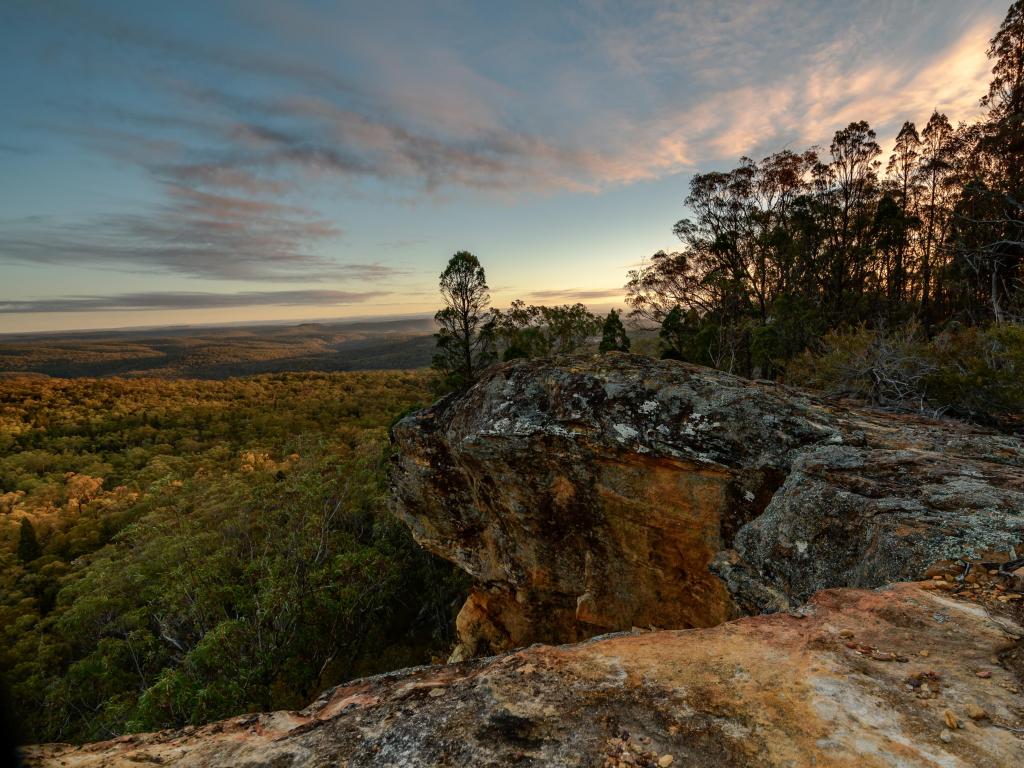 The Coastal Route
This route starts by heading southeast out of Melbourne, hugging the coast all the way to Paynesville. From here, continue along the coast, passing Croajingolong National Park on your right.
You'll follow Highway A1 / M1 along the sea, passing through Batemans Bay and Wollongong before you arrive in Sydney.
Going north out of Sydney, keep Ku-ring-gai Chase National Park to your right, between you and the sea. Follow the M1 north, past Yengo National Park on your left, and Newcastle on your right.
This last part of your drive is pretty simple, follow the A1 north, through Byron Bay and the Gold Coast, before arriving at Brisbane. There are numerous national parks and beaches along this stretch, which are worth a stop to get some exercise or to enjoy the views.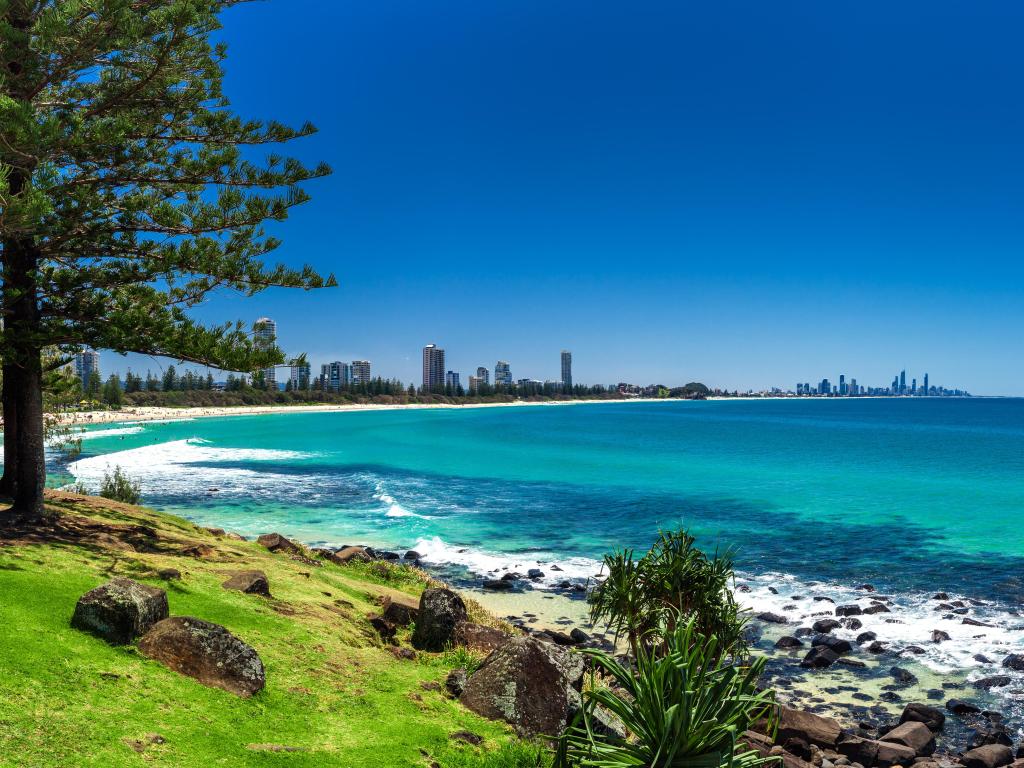 Best places to stop between Melbourne and Brisbane
With impressive driving times required, a couple of overnight stops are essential to really enjoy either of these routes. Here are a few of our top choices to make your decision easier.
Check out the Capital City of Canberra
About one-third of the way through your road trip, you'll drive through Canberra on the NSW Vineyards Route, making it a great natural overnight stop. You get the best of both worlds here as awe-inspiring mountain ranges and stunning natural reserves are located just outside the city.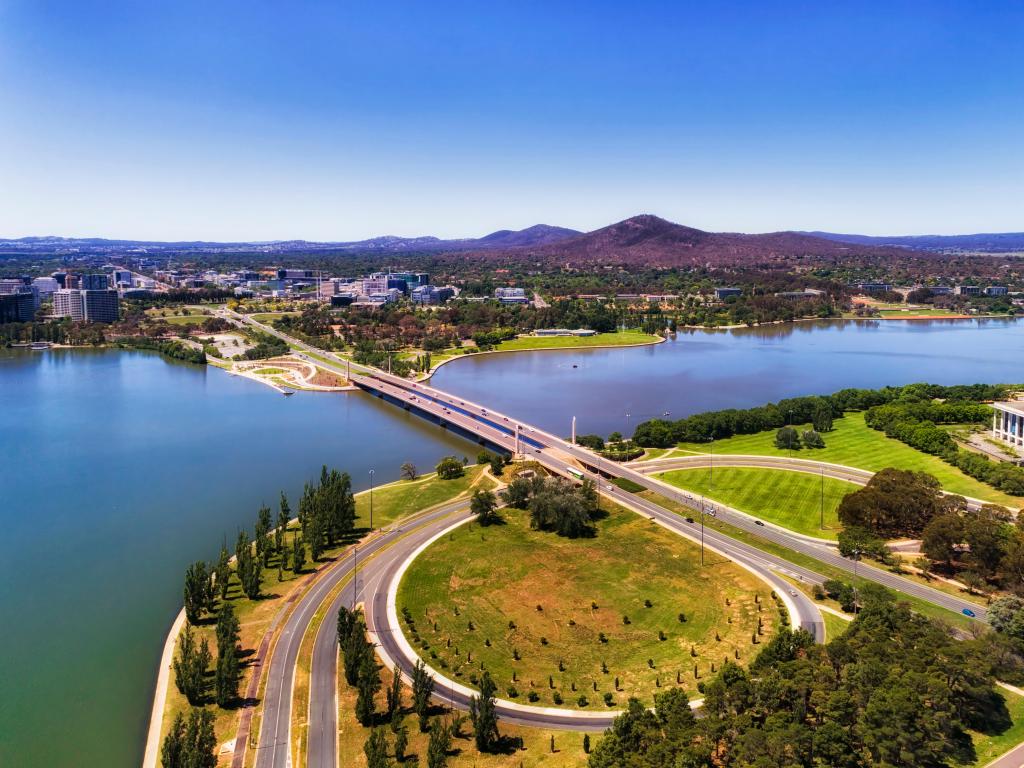 One of the best ways to see the city is to visit Lake Burley Griffin. The area that surrounds this central lake is dotted with museums, galleries, restaurants, cafes and parks, as well as cycling and walking paths. It is the perfect starting point for exploring the city.
If you appreciate art, check out the National Gallery of Australia. For the political and architectural connoisseurs, have a look at Parliament House. Located in Downtown Canberra, Australia's parliament is an impressive building with a contemporary architectural style.
There are many beautiful places to stay in Canberra, but A by Adina Canberra is our top pick. It is centrally located, with tons of amenities including several on-site restaurants and bars.
It is a simply stunning hotel, with a refined yet distinctive colour palette and superior attention to detail in its decoration. Its ultra-modern facade continues indoors through its reception and into its bedrooms.
The property is also centrally located, close to many of the city's most interesting attractions including the National Museum of Australia, the Australian War Memorial, the National Gallery of Australia, the Old Parliament House and Telstra Tower.
Soak up Sydney
About halfway through the Coastal Route is Sydney. A famous, bustling city offering countless opportunities for exciting adventures and cultural experiences. It's the perfect overnight stop as you can enjoy a big city and discover lively arts and nightlife scenes.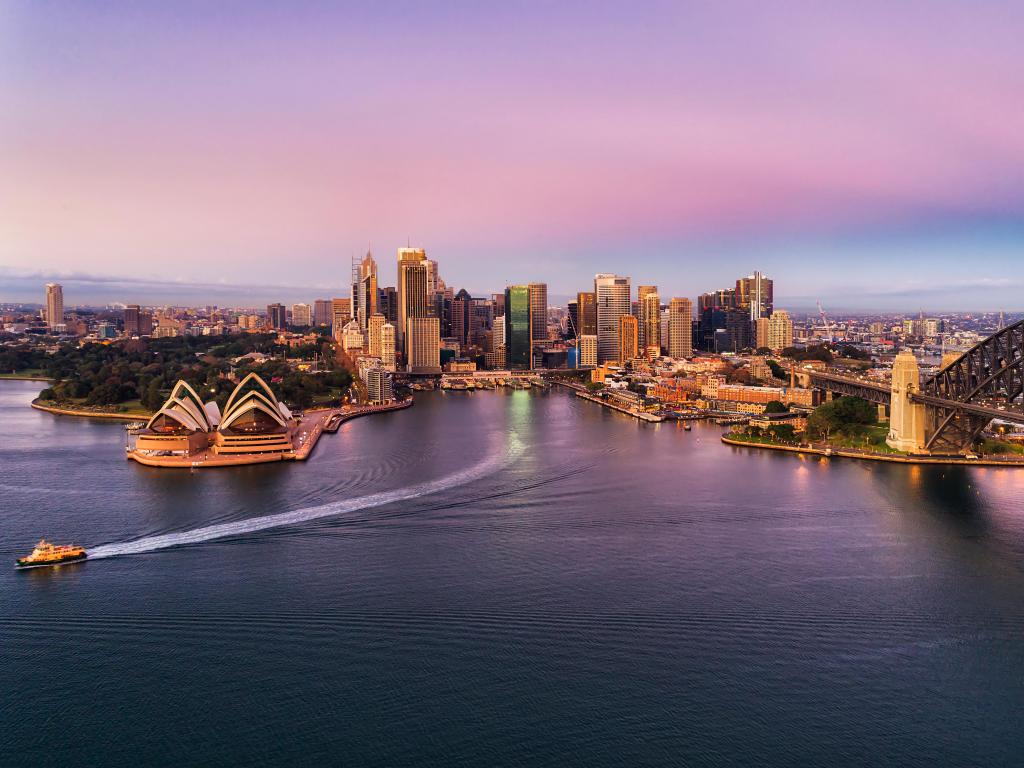 Some of Australia's well-known attractions can be found in Sydney. Designed by Danish architect Jorn Utzon, The Sydney Opera House is a multi-venue performing arts centre, found in Sydney Harbour.
Bondi Beach is another worthwhile visit. A busy and historic beach, it is easily reachable from Sydney's centre via public transport and is known for the stylish cafes, hip bars and boutique shops that surround it.
The Sofitel Sydney Darling Harbour is a luxurious hotel offering stunning views of the Sydney skyline. They make the most of the views with a rooftop infinity pool and a rooftop bar, which is the perfect place for a nice drink before dinner at the onsite contemporary restaurant.
It also has an excellent location, being close to several iconic Sydney attractions, including the Sydney Opera House and Harbour Bridge. Even though it is centrally located in Darling Harbour, it offers some welcome distance from Sydney's busy downtown.
There is still plenty to see and do with the Powerhouse Museum, the Australian Museum, the Sydney Mint, the Museum of Sydney, the Royal Botanic Gardens and the Sydney Observatory all close by.
Where to stay when you reach Brisbane
Directly opposite the Botanic Gardens is the Royal On The Park hotel. Offering luxury on a budget, this hotel is perfect for a longer stay. It is only a few minutes' walk to the Central Business District as well as the Queen Street Mall.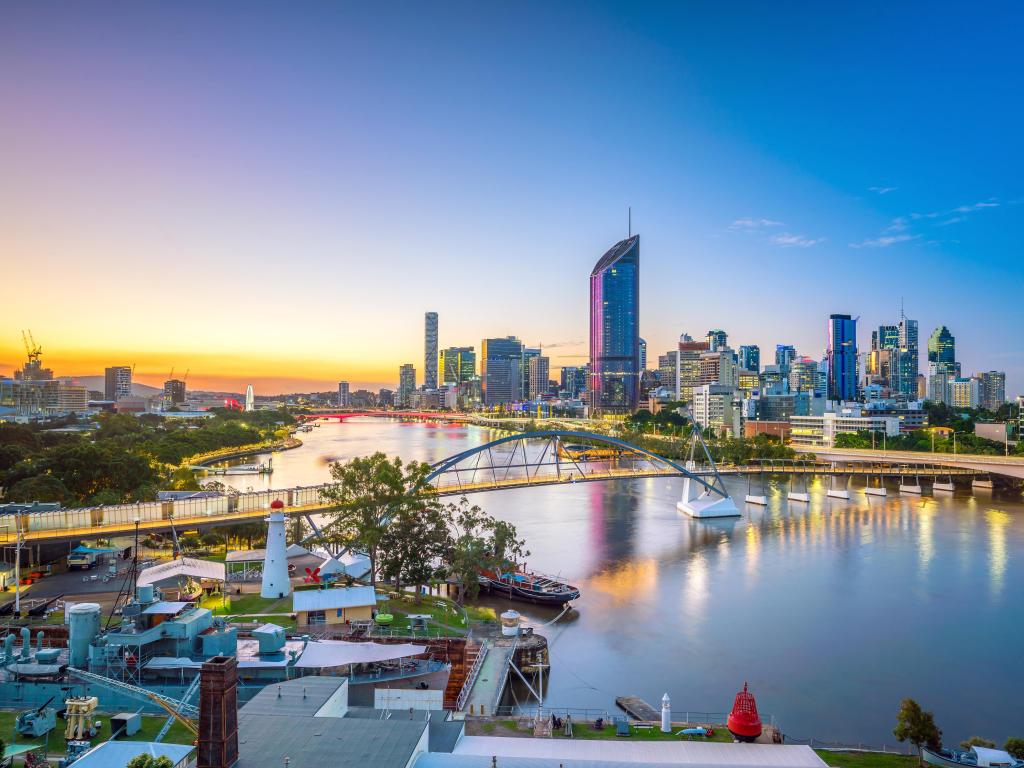 There are dining options on-site, as well as some delicious restaurants nearby. A pool and fitness centre are also available onsite.
This stylish hotel makes you feel comfortable as soon as you walk in the door with its dark wood and plush interiors. This is mirrored in each room, where the crisp white bed linen is accented by deep colours to enhance the feeling of elegance and luxury.
Things to see on a road trip from Melbourne to Brisbane
From temples to national parks and from fairy caves to lighthouses, we have pulled together the ultimate list of what to see and do during your road trip.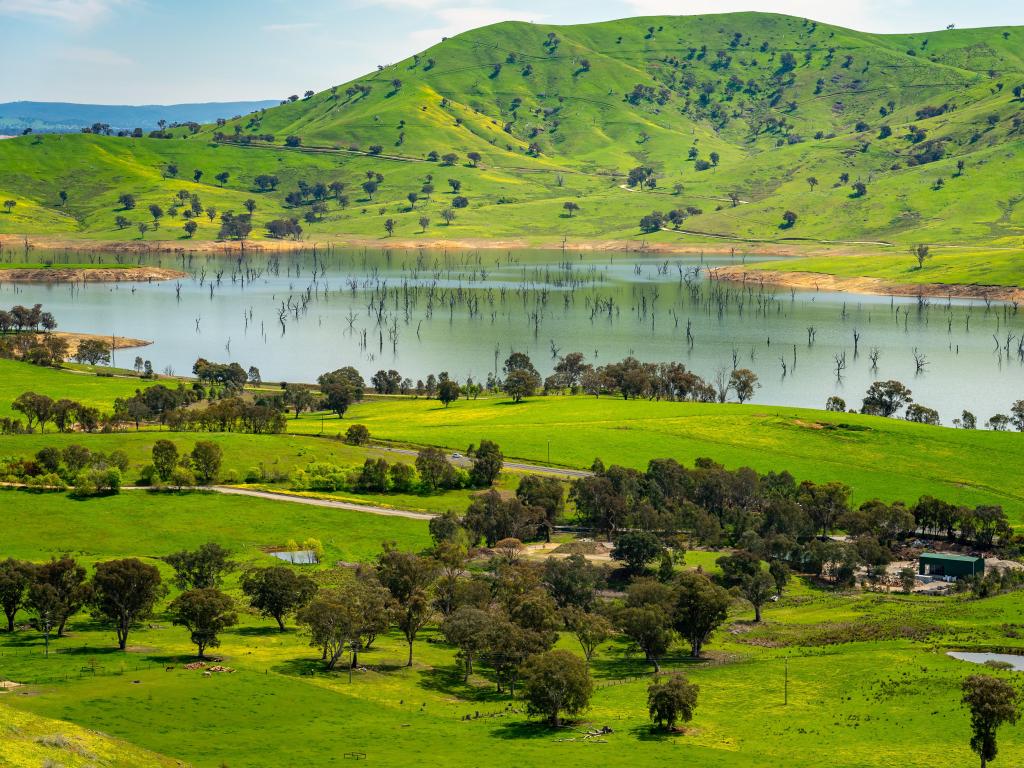 The NSW Vineyards Route
The Great Stupa of Universal Compassion - Designed to replicate a 15th century Tibetan temple, this massive Buddhist temple is almost 50 metres high, offering group tours of its interior and surrounding gardens. It adds about two hours to this route but worth it if you'd like to know more about this ancient religion and way of life
Mansfield Zoo -This massive 30-acre zoo boasts over 100 native and exotic animals, which you can feed and interact with
Ned Kelly Museum and Homestead - Learn about the life of famous Australian bushranger and outlaw Ned Kelly at this unique museum and homestead
Tallangatta - About an hour off route, this spot is the ideal place to take in the beauty of the Tallangatta township complete with a serene lake and rolling hills in the background
Woomargama National Park - Stretch the legs and explore the beauty of Australia's forest lands at this national park, about thirty minutes off your route
The Big Merino - take in this large statue of a ram, a monument to Australia's wood industry and just a few minutes outside of Canberra
Australian Fossil and Mineral Museum - Housed in the building of a 19th century school, this museum is renowned for its fossil, mineral and dinosaur skeleton collection
Yelarbon Silo Art - This region of Australia is home to lots of unique artworks painted directly onto silos; check out australiansiloarttrail.com to find more silos on your route!
Cobb+Co Museum - Located in Toowoomba, the Cobb+Co Museum is home to Australia's national horse-drawn carriage collection
Laneway Street Art Crawl - Stop by Toowoomba and follow the Laneway Street Art Crawl, where you can admire colourful graffiti by local artists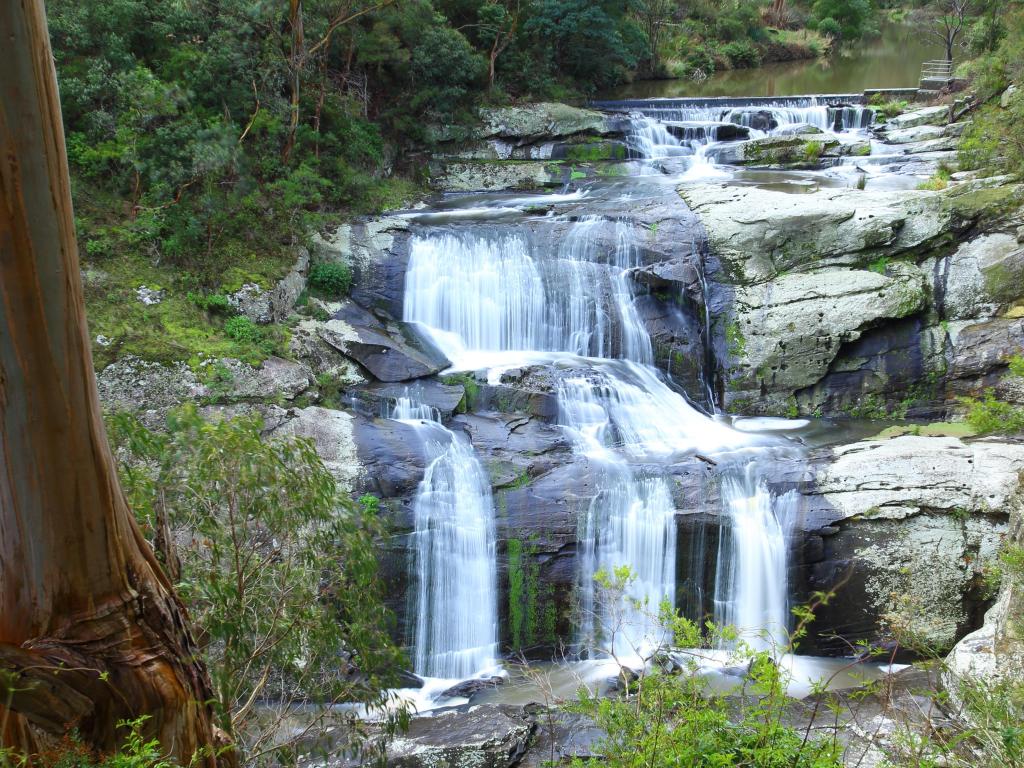 The Coastal Route
Coal Creek Community Park and Museum - Discover this recreated coal mining village just outside of Melbourne dedicated to depicting the history of Korumburra
Morwell River Falls Reserve – Take a walk through this tranquil park about an hour off route, where you'll find stunning falls that provide a great photo opportunity
Agnes Falls - These famous falls are complete with a viewing area, where you can take in their majestic rushing waters from a safe distance
Tarra-Bulga National Park - A protected rainforest complete with walking tracks, waterfalls and wooden bridges, this national park is worth the 2-hour detour
Fairy Cave - Tour these illuminated caves, full of stalactite and stalagmite formations that are sure to enchant you
Green Cape Lighthouse - This unique octagonal lighthouse is made entirely out of concrete and dates back to the 1800s
Morton National Park - Take a break from the drive with a walk through Morton National Park, which features beautiful mountains, deep river canyons and massive waterfalls
Mount Barney National Park – This stunning national park features picture-perfect caves, rockpools, valleys and woodland forests.
Scenic Rim Adventure Park – This adventure park is an impressive 680-acre property that features a host of activities that'll be sure to get your adrenaline flowing. These include mountain biking, walking trails, four-wheel driving and several mazes.
Tamborine Rainforest Skywalk – Take a break and enjoy this hour-long walk, which features a stop at the Rainforest Eco Gallery.
Mountview Alpaca Farm - located just a few minutes' drive from Canungra, you'll be able to interact with and feed these docile and playful animals!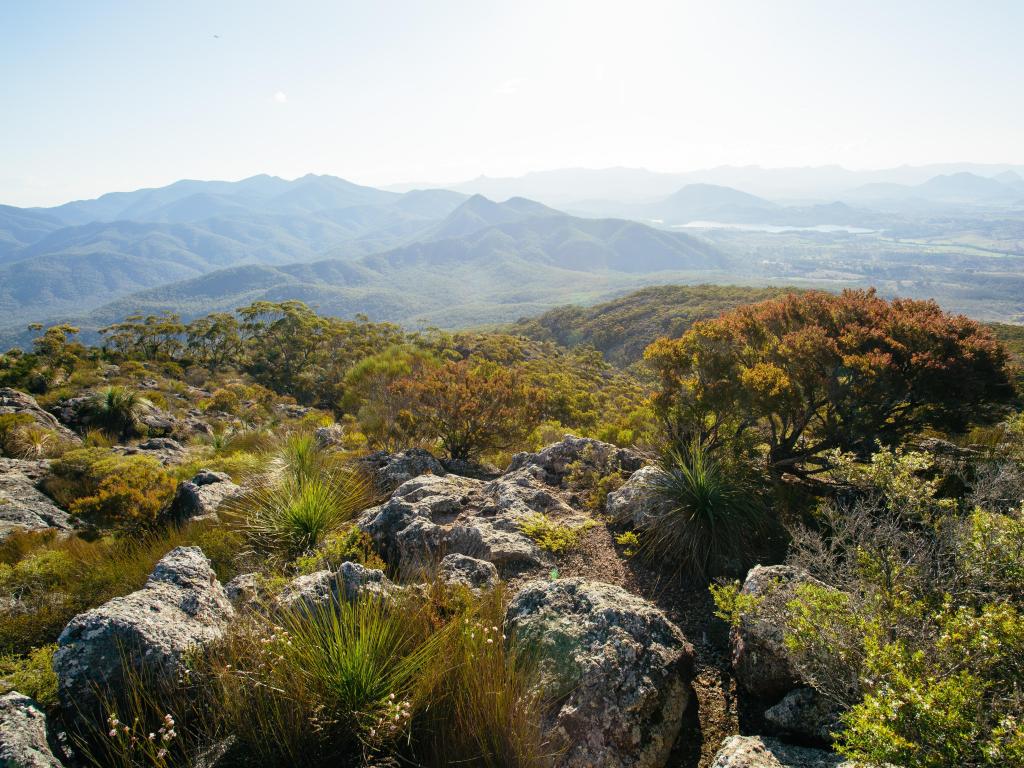 Best time to go on a road trip from Melbourne to Brisbane
Brisbane is truly a year-round destination due to its relatively sunny weather all year. There are tons of activities to enjoy both indoors and outdoors.
Temperatures during the summer range between 20-25 degrees Celsius. This season is known to be quite muggy and hot, but some of this heaviness is relieved by the proximity of the ocean. The Woodford Folk Festival also falls within summer, running from December to January.
Winter in Brisbane typically falls between May and August, with temperatures ranging between 10 and 20 degrees Celsius. This season is typically less rainy than the summer, and you can expect slightly lower hotel rates as there are fewer tourists during this time.
There are plenty of activities going on during Winter including the Scenic Rim Adventure Festival (May), Regional Flavours (May), Brisbane Marathon Festival (June) and Rim Eat Local Week (June-July).
Spring and Autumn are both wonderful times to visit Brisbane; Autumn weather ranges between 10 and 27 degrees Celsius, while Spring weather tends to be just slightly higher than that.
This is a great time to visit Brisbane as there are fewer crowds and more affordable accommodation options! The BIGSOUND Music festival is also in September.