Road Trip From Melbourne To Sydney
A road trip from Melbourne to Sydney is one of Australia's most fabled drives. Transporting you between Australia's two largest cities, you can choose to drive along the spectacular coastline of Victoria and New South Wales, or visit some of the country's most picturesque, significant and quaint towns during a stunning countryside journey.
The most direct route between Melbourne and Sydney usually takes around 8 hours and 45 minutes of pure driving time to cover a distance of 880 km. Must-see stops en route include Shepparton, the Snowy Mountains, Canberra and Goulburn.
These are just a few of must-see points along this unforgettable journey. With two main routes to choose from - and hundreds of sights and attractions at your disposal - you'll want to read on for our ultimate guide on where to go, where to stay and the best time to complete this world-famous trip.
How far is Sydney from Melbourne and how long will the road trip take?
Comparison of road trip routes between Melbourne and Sydney

| Route | Distance | Driving Time |
| --- | --- | --- |
| The M31 Route | 880km | 8 hours 45 minutes |
| The M1 & A1 Route | 1,035km | 12 hours |
A road trip from Melbourne to Sydney is one you can easily complete in a day. However as you have the opportunity to see so many interesting towns, and areas of outstanding natural beauty, you might want to take a couple of extra days to complete the journey.
The quickest and most direct way of driving between the two destinations is via the M31 route. This will take you through the heart of country Victoria and New South Wales and will provide you with a fascinating insight of what life is like away from the hurly-burly of city life.
If you would rather explore the coastline between both cities, driving the M1 and A1 route will give you plenty of opportunities to hit the beach. It will take you longer to complete this route than it would the M31, but you'll get to see some truly mesmerising stretches of shoreline and get the opportunity to ride some fantastic surf breaks as well.
Best road trip route from Melbourne to Sydney
Both routes have their merits, and which one you decide to take will depend on what you are most interested in seeing.
Regardless of which route you take, however, you would be well advised to spread out your journey over the course of at least a couple of days. Doing so will afford you the time to check out some of the many fabulous towns and sights of interest along the way in more detail, which will, in turn, really enrich your journey.
Both of these routes are easy to navigate and also provide frequent opportunities to fill up your gas, take a restroom break, or get some food at any of the small rural or coastal towns you pass through.
The M31 Route
This route will take you most of the way from Melbourne to Sydney. Joining it from Melbourne, one of your first stops should be at the delightful foodie destination of Shepparton, which showcases an excellent range of hip cafes and restaurants that champion local produce.
You'll also pass the pleasant small towns of Wodonga and Albury, which lie on the scenic banks of the Murray River, and the Kosciuszko National Park, home to the breathtaking Snowy Mountains.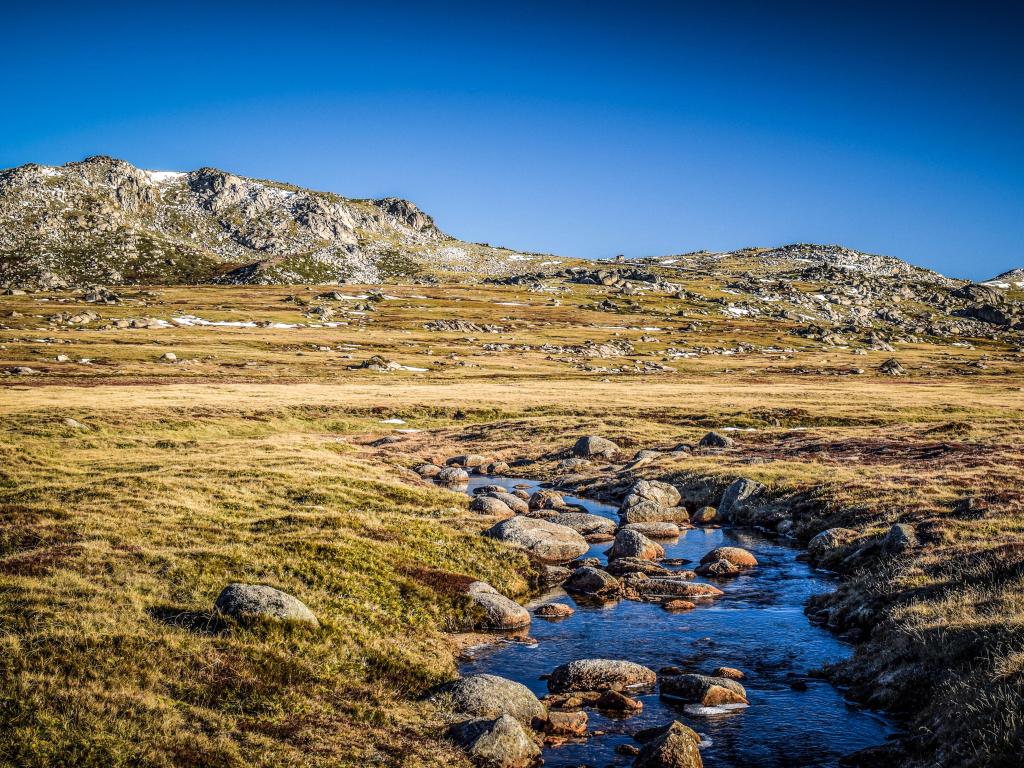 Wagga Wagga, which is also known as the 'city of good sports' and Australia's first inland city, Goulburn, are other notable places you will course through en route to Sydney. As is the nation's capital of Canberra, which is somewhere else you should definitely consider visiting.
The M1 & A1 Route
This is a great route for those who love driving along the coast. From Melbourne you really should detour to Paynesville, which is the boating capital of the Gippsland region. There are lots of great vessels you can catch a ride on (or simply gaze at with envy from the shore!).
Continuing past the foot of Victoria, expect to see exceptional views of immense natural beauty at Cape Conran, the Snowy River National Park and the wonderful Croajingolong National Park.
You may also want to experience the bucket-list activity of whale watching at Eden, which is located on the spectacular southern coast of New South Wales.
Joining the M1, places like the Sussex Inlet, Jervis Bay, Shell Harbour and Wollongong, (which is the last main stop of interest before Sydney), offer a collection of sensational beaches to visit - all of which are perfect for activities like kayaking, surfing, fishing, swimming and jet-skiing.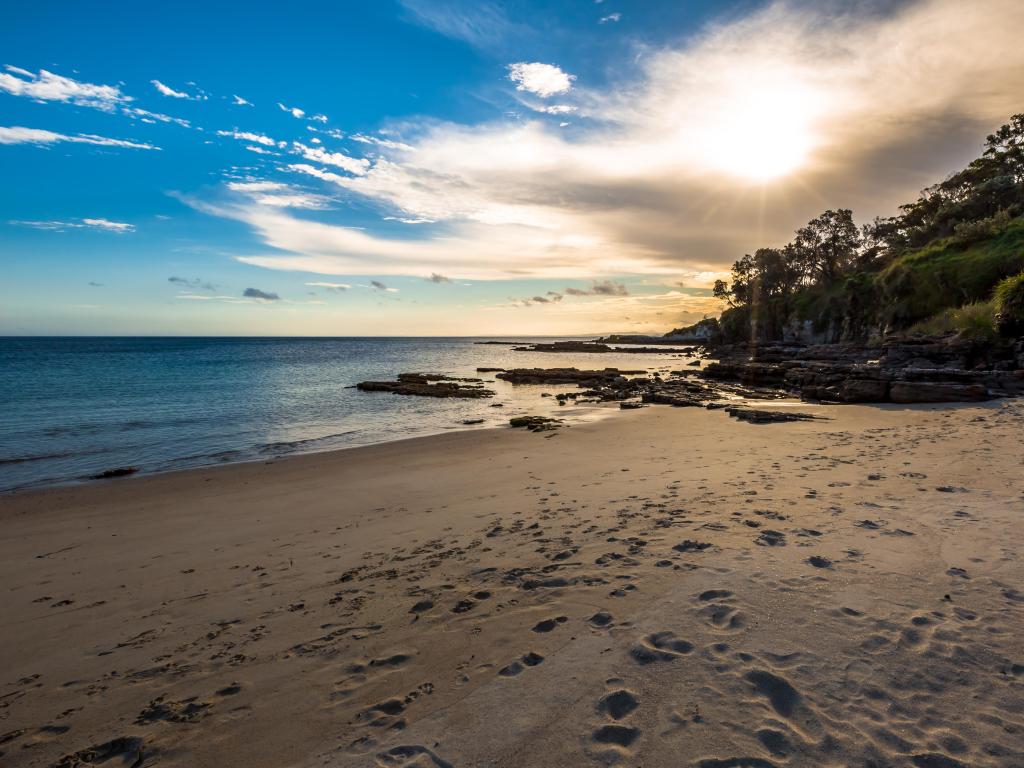 Best places to stop between Melbourne to Sydney
As the drive from Melbourne to Sydney is quite long, you will definitely have to stopover for at least one night during your road trip. We'd recommend making two or more stops, however, to make the trip as comfortable as possible and get as most out of the itinerary.
Whichever route you opt to drive, there are a number of locations you can choose to stay at. Below are some of our favourites:
Enjoy the charms of Albury & Wodonga
Situated roughly halfway between Melbourne and Sydney, on the picturesque banks of the Murray River, Albury and Wodonga are splendid options for a pit stop if you are taking the M31 Route, inland.
Close to the Snowy Mountains and the Rutherglen Wine region, the Quality Resort Siesta is a fantastic option if luxury and pampering is on your agenda as you make the most of this beautiful area.
The rooms are spacious and well appointed, with two-room suites for those such as families who want group accommodation. Guests frequently describe the hotel as feeling "like an island resort". With its lush vegetation, indoor and outdoor pools, sauna, on-site restaurants and cocktail bar, it's easy to see why!
While it would be easy to spend the duration of your stay on-site at this resort, you will in fact only be 100 yards from local restaurants, cafes and shops.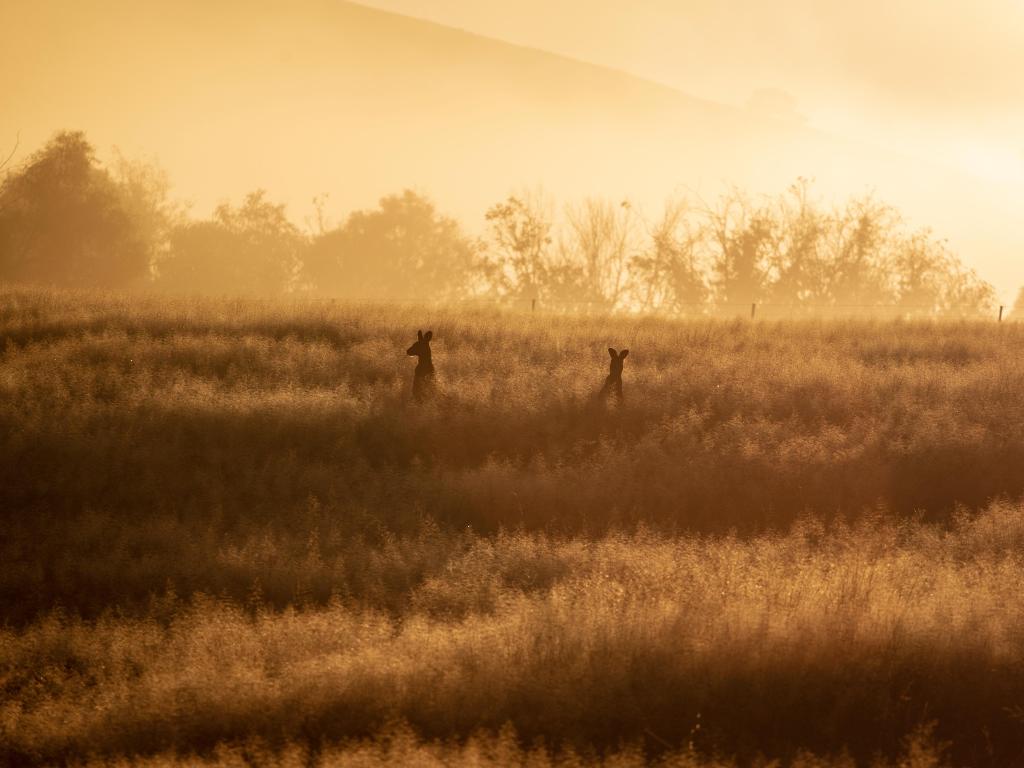 Revel in the magnificence of Batemans Bay
Around 3 hours 40 minutes' drive from Sydney, Batemans Bay is a sensible option for a refreshing pit stop before you reach your destination (along the coastal M1 & A1 Route).
A relatively unspoilt natural haven, Batemans Bay is known for its fresh seafood and pristine beaches, so if you are looking for peace and tranquility before hitting the bustle of Sydney, this could be the place for you.
We'd recommend taking a day or two to explore the magnificent local wildlife, making sure you include an aquatic adventure on the Batemans Bay Snorkelling Trail. This amazing underwater paradise is said to contain rocks dating back 510 million years.
If staying on land is more your scene, grab your binoculars and observe over 100 species of native birds in their glorious natural habitat. And after all that fresh air and activity, we'd heartily recommend a stay at Lincoln Downs Resort, Batemans Bay BW Signature Collection. This luxury hotel is set alongside a picture-perfect private lake, making a great spot to relax at the end of the day.
Be dazzled by the brilliant white sand of Jervis Bay
All along the A1 route is long stretches of beautiful sand, the whitest shade of which can be found at Jervis Bay.
Closer to Sydney than Bateman's Bay, Jervis Bay lies just under 200km south of your destination, meaning you have an easy day of driving ahead of you if you choose this as your penultimate stop.
A beautiful area of lush native bushland, stunning azure waters and fabulous marine life, Jervis Bay is a stunning place to refresh and recharge before hitting the buzzing metropolis that is Sydney.
If you choose to drop anchor in Jervis Bay, then a stay at The Huskisson is a convenient and stylish hotel option. Located on the beachfront - 150 yards from Shark Net Beach - The Huskisson is a great base for a range of activities from hiking to cycling. Of course, you can always choose to decline any form of activity altogether. The hotel's bar, terrace and highly-rated restaurant all cater perfectly to the traveller eager to relax, unwind and enjoy the gorgeous view of Jervis Bay and its wildlife.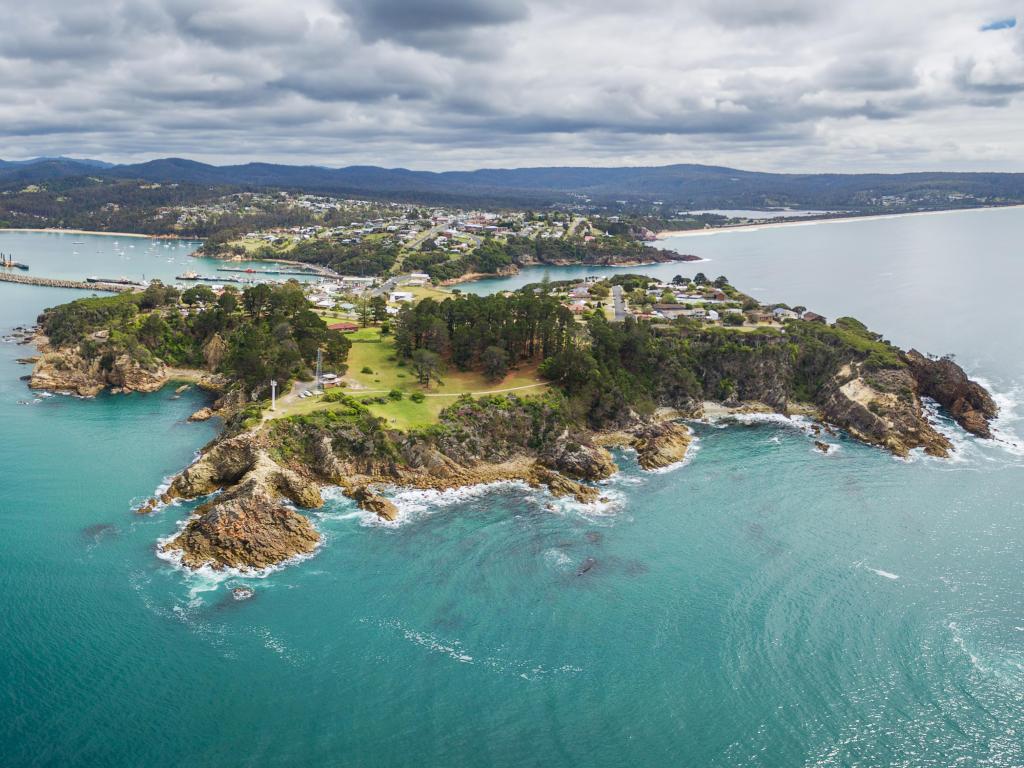 Things to see on a road trip from Melbourne to Sydney
There are plenty of places to visit during your road trip from Melbourne to Sydney. You won't necessarily be able to see them all on the one journey, but there are definitely some places you should prioritize a visit too. These include the following:
Paynesville - Take to the stunning waters around the Gippsland region - Victoria's 'boating capital'.
Snowy River National Park - Spectacular National Park that features huge gorges, dense forest, gorgeous waterfalls and tranquil river views. A lovely spot for rafting, bush walking, canoeing, camping and four-wheel driving.
Croajingolong National Park - Hike, kayak, canoe or boat through a captivating environment of prehistoric forests, enchanting inlets, huge sand dunes and varied wildlife within the remote coast of far-east Victoria.
Kosciuszko National Park - Enjoy the wonders of the Snowy Mountains, where you can scale Australia's highest mountain, check out some intriguing caves, or go hiking, mountain biking, camping and do other snow pursuits.
Canberra - Discover the delights of the nation's capital. Marvel at its impressive architecture, enjoy its fabulous restaurant scene and check out its world class museums.
Goulburn - Visit Australia's first inland city, a charming place that offers fantastic recreational outdoor activities like caving, rock climbing and abseiling, as well as a number of terrific museums and art galleries.
Eden - Experience the thrill of whale watching on the phenomenal southern coast of New South Wales.
Bateman's Bay - Bordered by breathtaking national park, this superb coastal locations features idyllic aquamarine waters, stunning stretches of sand and a genteel ambience.
Jervis Bay - Check out the incredible expanse of coastline that showcases the whitest sand in the world.
Sussex Inlet - Comely seaside area which is a renowned spot for boating, fishing, kayaking, canoeing and a range of other water sports.
Kiama - Quaint town best known for the incredible Kiama Blowhole. Situated deep within volcanic rocks, this cavern-like fissure regularly squalls rip-roaring ' blasts' of water.
Shell Harbour - Dive, snorkel and surf exceptional waves at one of Australia's best and only National Surfing Reserves.
Royal National Park - Tour around the second oldest national park in the world and experience the wonder of its rugged coastal cliffs, isolated beaches and lush eucalyptus bushland.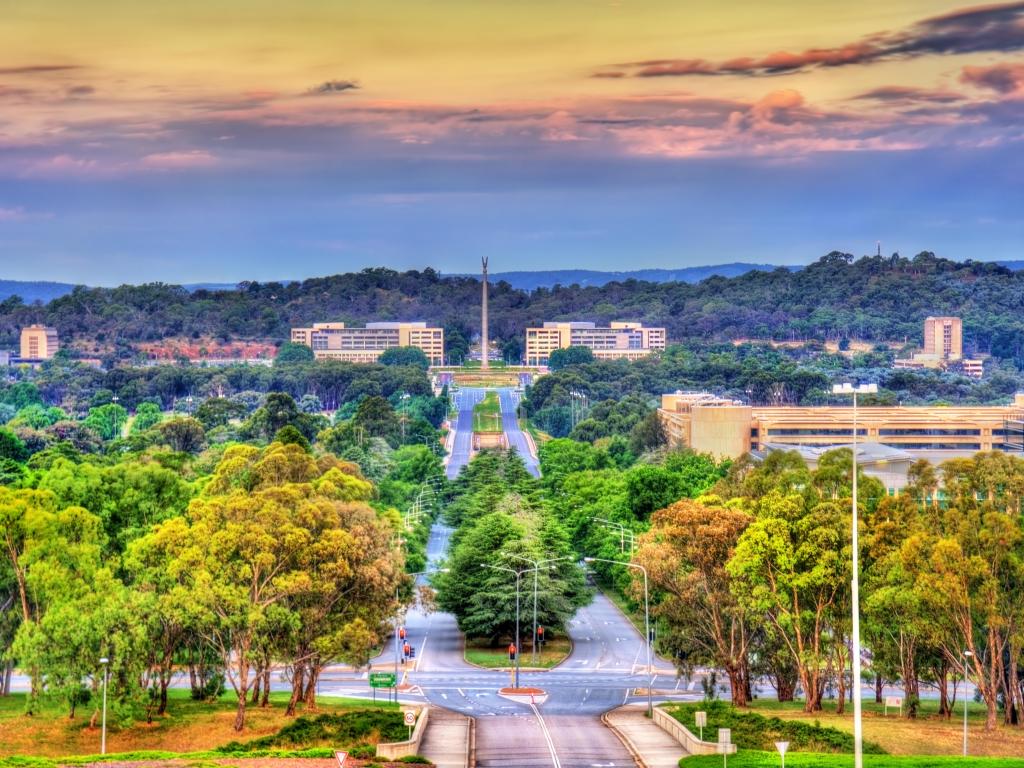 Best time to go on a road trip from Melbourne to Sydney
A road trip from Sydney to Melbourne is one you can do at any time of the year, although you may wish to avoid the height of summer (December to February) due to peak tourist volumes and prices.
During the summer months, and particularly in the school holidays and at weekends, you are likely to experience higher levels of traffic. Hotel rates are likely to be at a premium too and you can also expect longer queuing times at most of the major tourist attractions.
If you plan to drive the M1 and A1 route to see as much of the coastline as you can, then the best time to do this is between February and April, and September to November. This is the period outside of the storm and winter season when the beaches are usually at their best.
You might want to consider making the trip to Sydney during winter, however, as temperatures are still relatively mild (compared to the US and Europe) and there are a number of great events and festivals scheduled between May and August. Sydney Film Festival falls in June and the Australian International Music Festival takes place in July.
There is literally something for all tastes scattered across the year if you're taking a trip from Melbourne to Sydney - and the stunning scenery on this iconic trip is great at any time!