Road Trip from Melbourne to Byron Bay
If you're looking for an unforgettable road trip experience that takes you to Australia's stunning coast and cities, then a road trip from Melbourne to Byron Bay is definitely a trip worth considering. This beautiful journey will take you across beaches, creeks, nature reserves and national parks.
The 1,900-km drive from Melbourne to Byron Bay takes around 22 hours, passing by Paradise Falls, Canberra, Jenolan Caves, Sydney, Newcastle and Port Macquarie, with the option of visiting Eden, Jervis Bay or the Blue Mountains too.
Keep reading to learn more about the road trip from Melbourne to Byron Bay, the best route to take, attractions and stops on the way and find out which time of the year is best for this road trip.
How far is Byron Bay from Melbourne and how long will the road trip take?
Comparison of routes between Melbourne and Byron Bay
Route
Distance
Driving Time
The Direct Route
1,900 km
21 hours 45 minutes
The Coastal Route
1,860 km
22 hours
The Jervis Bay Detour


Total route length

2,070 km
24 hours
The road trip from Melbourne to Byron Bay will take you at least 17 hours if you take the highway the whole way, but we'd recommend a slightly longer route that lets you explore more of Victoria and New South Wales.
The 1,900 km Direct Route that's mapped out for you below takes around 21 hours 45 minutes to drive and passes by many unique attractions along the way.
Alternatively, if you'd like to take in more of the stunning New South Wales coastline you could take the Coastal Route all the way up from Melbourne. This drive is slightly shorter at 1,860 km and takes 22 hours to drive.
Whichever route you take, you'll need to build in some time to visit the many sights you'll see on the way.
We'd suggest taking at least 4 days and 3 nights to take this trip, but with so many relaxing beaches and vibrant city destinations along the way, you could easily stretch the trip out over 2 weeks to make it truly memorable.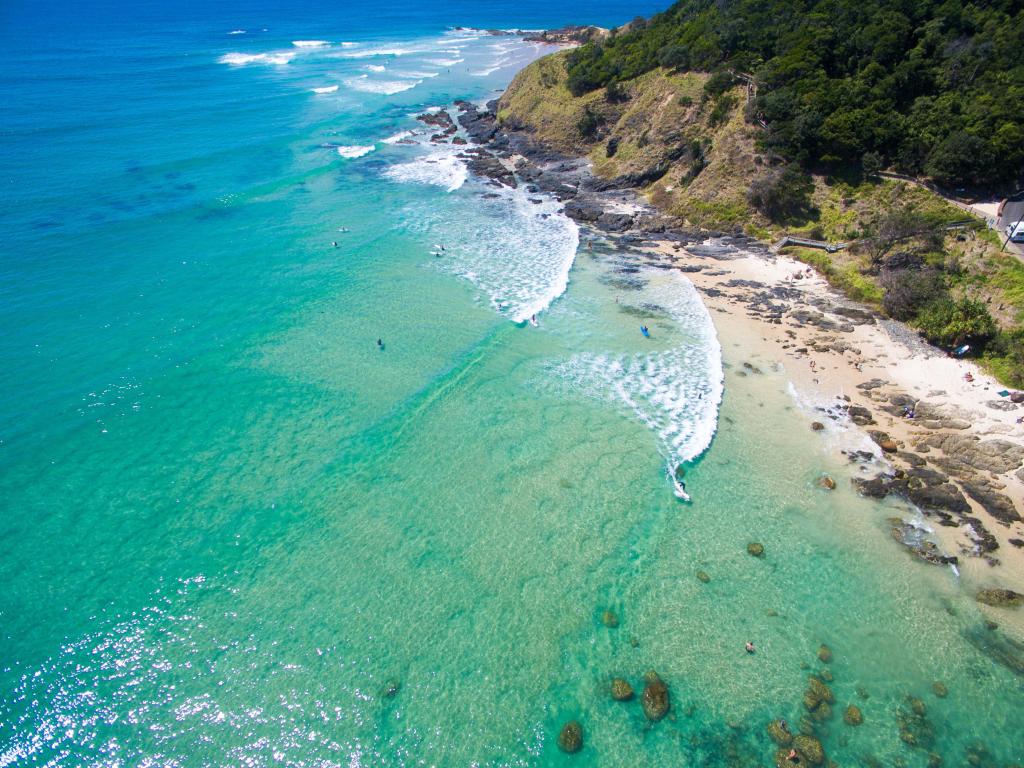 Best road trip route from Melbourne to Byron Bay
Your choice of road trip route from Melbourne to Byron Bay probably depends on how much time you want to spend by the coast, and how keen you are to visit some of the inland gems of Victoria and New South Wales.
Both routes take a similar amount of time, passing through some great destinations, and both take you through Sydney and on up the east coast. So whichever route you choose, you're sure to have a fantastic and memorable trip.