Road Trip from Melbourne to Byron Bay
If you're looking for an unforgettable road trip experience that takes you to Australia's stunning coast and cities, then a road trip from Melbourne to Byron Bay is definitely a trip worth considering. This beautiful journey will take you across beaches, creeks, nature reserves and national parks.
The 1,900-km drive from Melbourne to Byron Bay takes around 22 hours, passing by Paradise Falls, Canberra, Jenolan Caves, Sydney, Newcastle and Port Macquarie, with the option of visiting Eden, Jervis Bay or the Blue Mountains too.
Keep reading to learn more about the road trip from Melbourne to Byron Bay, the best route to take, attractions and stops on the way and find out which time of the year is best for this road trip.
How far is Byron Bay from Melbourne and how long will the road trip take?
Comparison of routes between Melbourne and Byron Bay
Route
Distance
Driving Time
The Direct Route
1,900 km
21 hours 45 minutes
The Coastal Route
1,860 km
22 hours
The Jervis Bay Detour


Total route length

2,070 km
24 hours
The road trip from Melbourne to Byron Bay will take you at least 17 hours if you take the highway the whole way, but we'd recommend a slightly longer route that lets you explore more of Victoria and New South Wales.
The 1,900 km Direct Route that's mapped out for you below takes around 21 hours 45 minutes to drive and passes by many unique attractions along the way.
Alternatively, if you'd like to take in more of the stunning New South Wales coastline you could take the Coastal Route all the way up from Melbourne. This drive is slightly shorter at 1,860 km and takes 22 hours to drive.
Whichever route you take, you'll need to build in some time to visit the many sights you'll see on the way.
We'd suggest taking at least 4 days and 3 nights to take this trip, but with so many relaxing beaches and vibrant city destinations along the way, you could easily stretch the trip out over 2 weeks to make it truly memorable.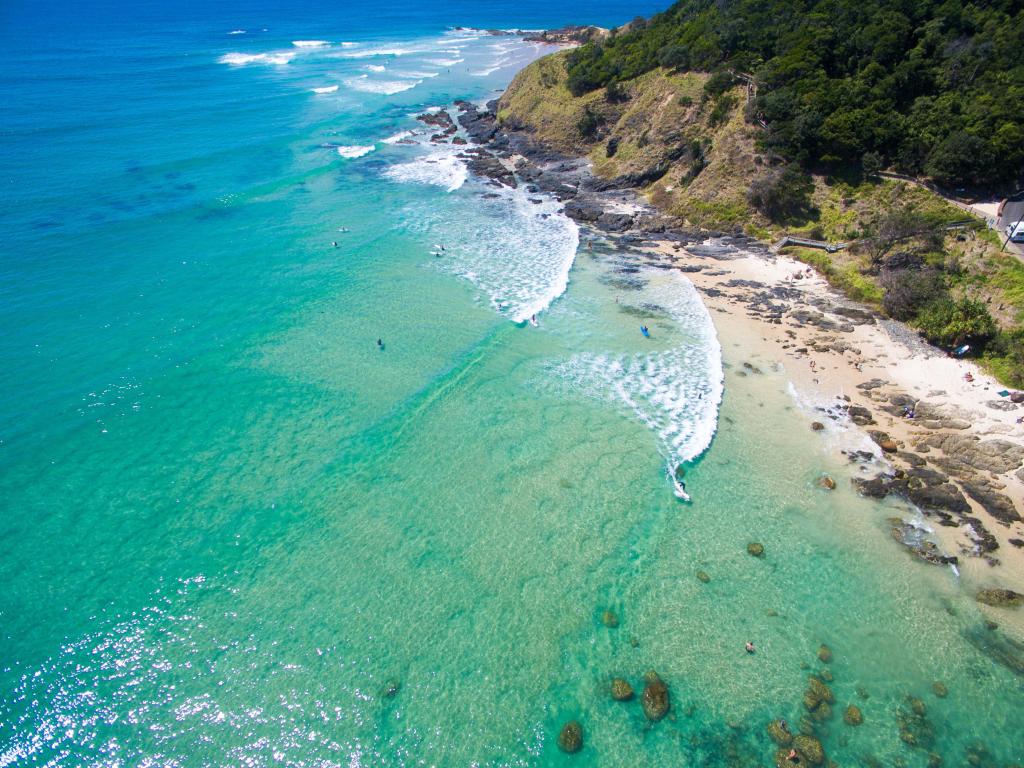 Best road trip route from Melbourne to Byron Bay
Your choice of road trip route from Melbourne to Byron Bay probably depends on how much time you want to spend by the coast, and how keen you are to visit some of the inland gems of Victoria and New South Wales.
Both routes take a similar amount of time, passing through some great destinations, and both take you through Sydney and on up the east coast. So whichever route you choose, you're sure to have a fantastic and memorable trip.
The Direct Route
Leave Melbourne via the M3, turning onto State Route 62 after around 20km then joining the Maroondah Highway which you'll follow towards Healesville Sanctuary. Along the way you'll travel through the Yarra Valley - take your pick of the cellar doors you'll pass by on the highway.
After Healesville, continue along the B360 until you reach Narbethong, where you should continue straight ahead towards Marysville then take a left turn onto the Buxton-Marysville Road. There are a number of scenic lookouts along this short detour where you can stretch your legs and enjoy the Victoria countryside.
Rejoining the B360, continue north until Alexandra, then turn left onto the B340. At Cathkin, take a right turn to follow the B300 Maroondah Highway north, following it through Merton and Bonnie Doon. After Maindample the B300 forks to the left - continue straight ahead here onto the B320 towards Mansfield.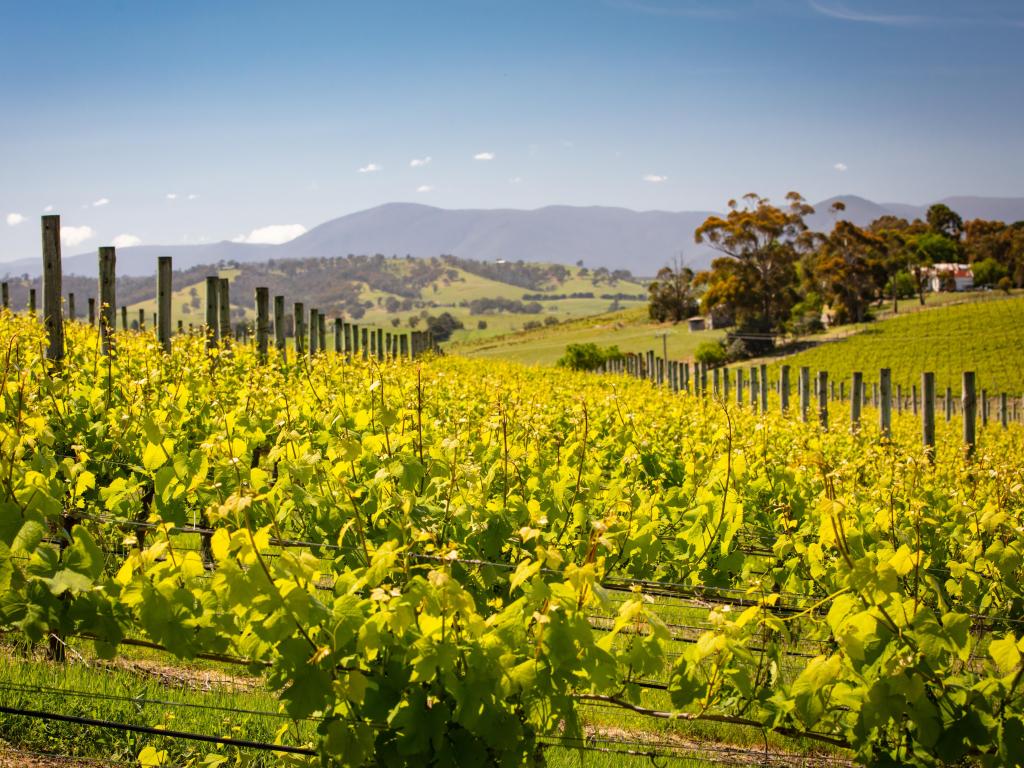 From Mansfield, follow signs to the C521 heading to Whitfield. You can take a detour to Paradise Falls along the way, before continuing north to Wangaratta where you'll join the M31 and pick up the pace a little.
Continue on M31 past Albury and Wodonga, then turn onto the A25 to reach Canberra. When you're ready to leave the nation's capital, take the M23 past Weereewa Lookout, Lake George and Wattlebank before merging back onto the M31 Hume Highway.
As you continue along the M31 you'll pass Goulburn and Bowral, both pleasant places to take a break from driving.
If you have a little more time you might like to consider a detour north from Goulburn which takes you to the Jenolan Caves before joining up with the A32 and heading back into Sydney via the Blue Mountains National Park. This will add around 2 hours 30 minutes to your drive, not allowing for any time you'll spend exploring these natural wonders.
Otherwise, continue along the M31 to reach Sydney. If you're planning on stopping in the city to explore epic sights like the Sydney Harbour Bridge, the Opera House, Bondi to Coogee Walk and Port Jackson Bay, head into the city via the M5 and M1.
If you'd prefer to bypass the city, simply exit the M31 for the M7 then take the M2 which brings you out onto the A28 to continue your journey.
When you're ready to move on from Sydney, head over the Harbour Bridge to join the M1 then leave the city via the M2 and A28, which then merges back with the M1 travelling north.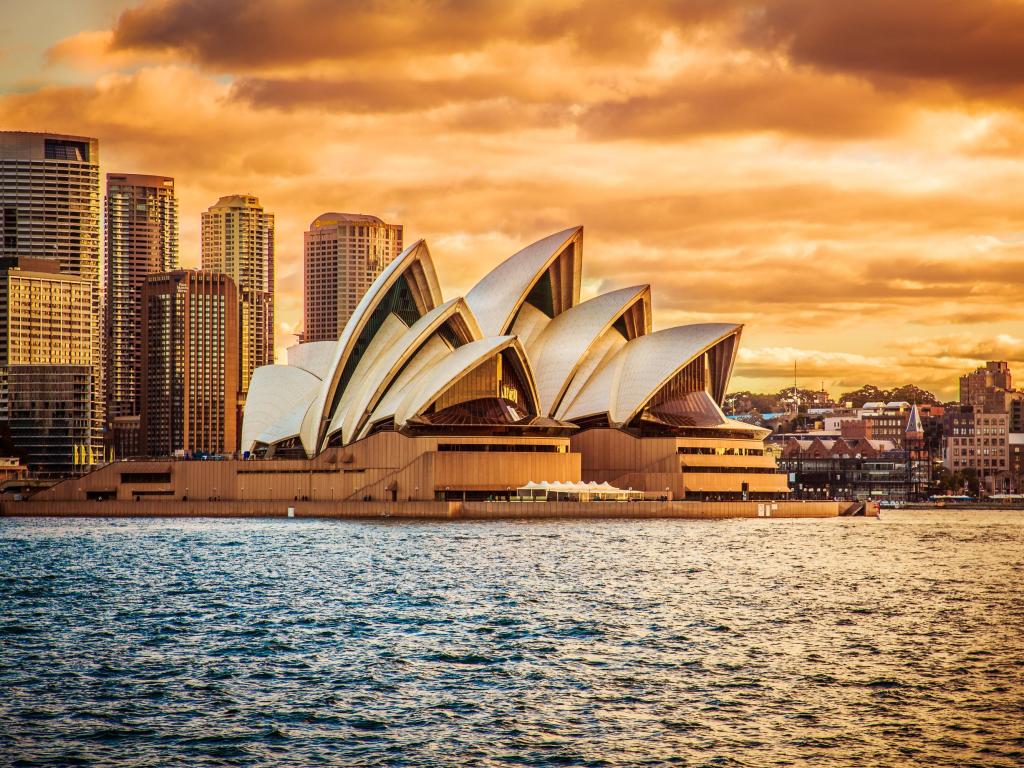 You can follow the M1/A1 Pacific Motorway/Highway all the way to Byron Bay, but we'd recommend making some more detours along the way.
Take the B82 to visit the beautiful Hunter Valley Gardens, then return via the M15 and A15 to reach Newcastle to enjoy some time by the ocean or make a detour to Newcastle Memorial Walk.
From Newcastle, continue on the A1 and check out Gan Gan Lookout and the Billabong Zoo Koala & Wildlife Park before reaching Port Macquarie.
Then continue on the A1 which takes you all the way to Byron Bay. Before you reach your destination you could make stops at Trial Bay Gaol and Dolphin Marine Conservation Park, Macadamia Castle or St Helena lookout.
The Coastal Route
If you'd like to see even more of the stunning New South Wales coast on this epic road trip, consider taking the Coastal Route.
Leave Melbourne on the M1, continuing to follow the road when it becomes the A1.
From Sale, take a detour to the Gippsland Lakes Coastal Park, or turn onto the C604 to visit Paynesville before following the A1 through Lakes Entrance. All along this stretch of coast, you'll find opportunities to enjoy the lakes and beaches of the Victoria coastline.
Crossing into New South Wales, you'll soon reach the town of Eden. With its beautiful setting beside Two Fold Bay, you might even get lucky and spot whales from the shore here, but if not, this is a great place to take a boat trip into the bay to search for the gentle giants that also travel this coastline.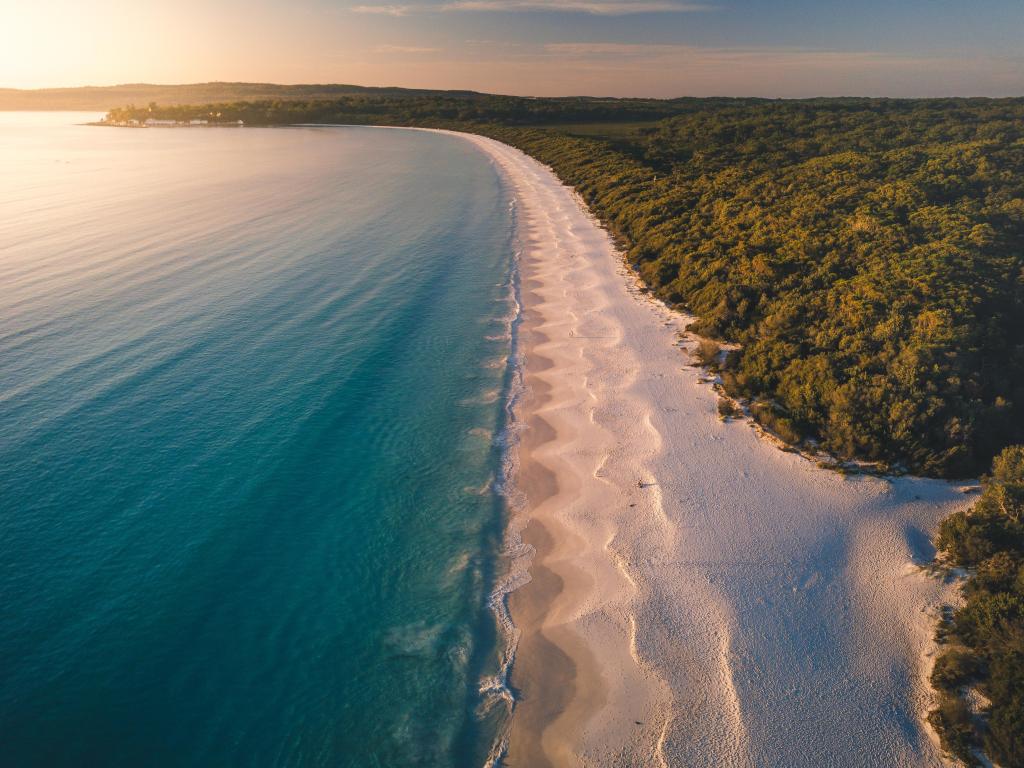 The A1 moves a little way inland for a while before returning to the coast at Batemans Bay then passing Conjola National Park. Take some time to appreciate the creeks and beaches around Jervis Bay before continuing your journey - supposedly the whitest sand in the world.
From Jervis Bay it's only a relatively short drive into Sydney, where you'll join up with the Direct Route to complete your journey to Byron Bay. But before you get there, consider stopping off in Kiama to watch the spectacle of its famous blowhole. Alternatively, hike through Royal National Park before you follow the A1 and M1 into the heart of Sydney.
The Jervis Bay Detour
If you'd prefer to combine some of the highlights of both routes, you could also build in some of these stops on the Coastal Route as a detour from the Direct Route.
In this case, simply follow the Direct Route as far as Canberra then leave the city on the B52 which takes you to Batemans Bay. From here, follow the Coastal Route north through Jervis Bay and past Kiama Blowhole and Royal National Park.
Soon after, you'll reach Sydney and then pick up the Direct Route again, following it all the way to Byron Bay.
Best places to stop between Melbourne and Byron Bay
If you want to enjoy this road trip experience to the fullest, make sure that you do a few overnight stays and explore the beautiful beaches and attractions along the way. Make at least 2 or 3 overnight stays to enjoy your adventure at a relaxed pace.
Stay overnight in Canberra, the nation's capital
Canberra, the capital city of Australia, is also the largest inland city, which you'll pass through if you're taking the Direct Route.
Canberra is known for its beautiful nature reserves and mountain ranges, and of course, you can check out the architecture of some of the national institutions while you're here.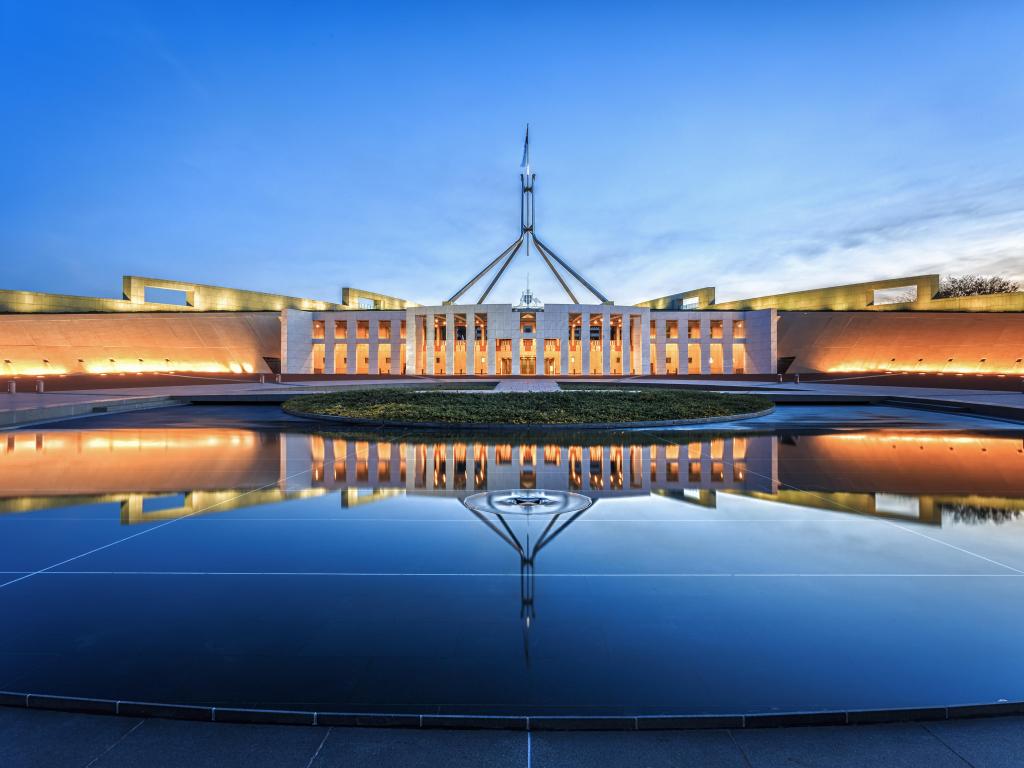 The best place to stay in Canberra in our opinion is the Avenue Hotel Canberra, which is located at the heart of the city. It's within walking distance of many of the attractions in the city like the Canberra Museum, Canberra Gallery, Cockington Green Gardens and even the Australian War Memorial.
This stylish luxury hotel is family-friendly and has a restaurant, fitness centre and also has parking for hotel guests and hence is perfect for people on a road trip.
Revel in the magnificence of Eden
If you're taking the Coastal Route, you're probably going to want to spend a night or two beside the water, and Eden is a spectacular place to choose.
Around halfway between Melbourne and Sydney, you'll be able to enjoy pristine beaches, fresh seafood and some stunning waterside walks in the area.
And of course, Eden's most famous visitors - the whales that migrate along the coastline here - are just waiting to greet you during your stay. Take a trip to the small but interesting museum to learn more about the history of this coast and the people who live here.
There are plenty of roadside motels in Eden, but if you're looking for somewhere to stay with a bit more sparkle then we'd recommend heading to the Seahorse Inn where the rooms are immaculate and spacious. It offers absolutely stunning views across the bay, with beautiful gardens to enjoy them from.
It's just a short drive out of town, and with the beach only a few metres away you'll find this the perfect place to relax before continuing on your road trip.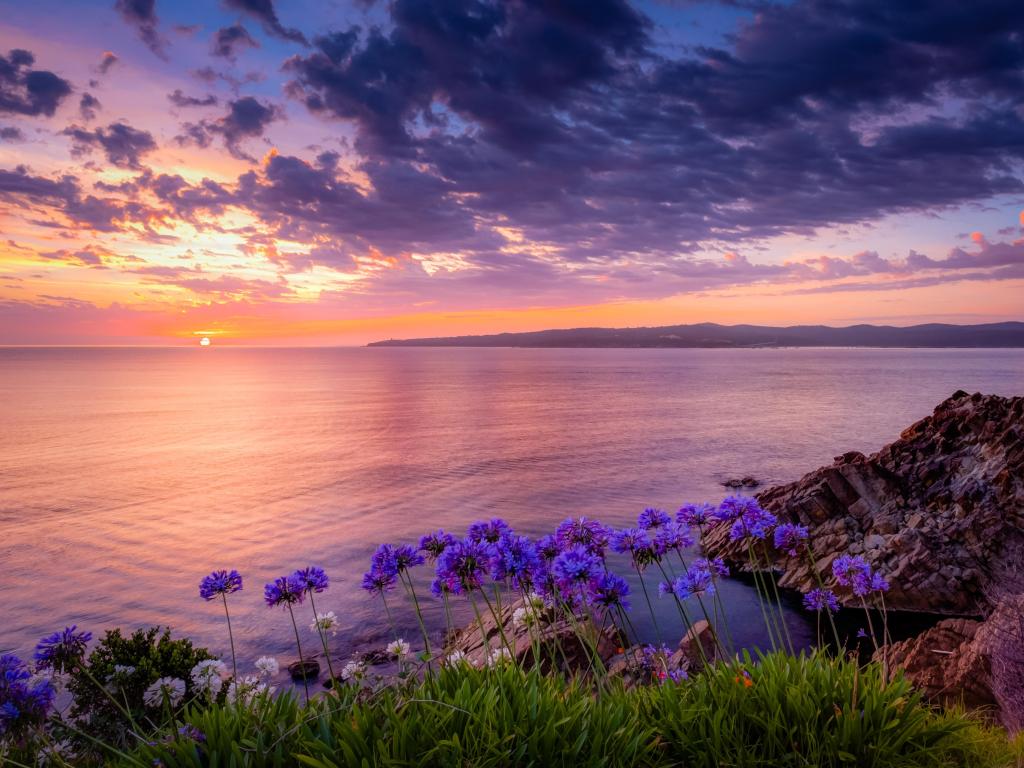 Explore Sydney, the Emerald City
Sydney is the largest city in Australia and is filled with wonderful sights and attractions - so it makes sense to spend some time here whether you're taking the Direct Route or the Coastal Route.
The beaches in Sydney will make your eyes sparkle, and there's definitely no lack of food, entertainment and fun in the city.
Grab a coffee at the Museum of Contemporary Art for a fabulous view over Circular Quay or take a ferry over to Manly to surf in the bay, snorkel at Shelly Beach or try out a local craft beer by the ferry terminal before you head back into the city.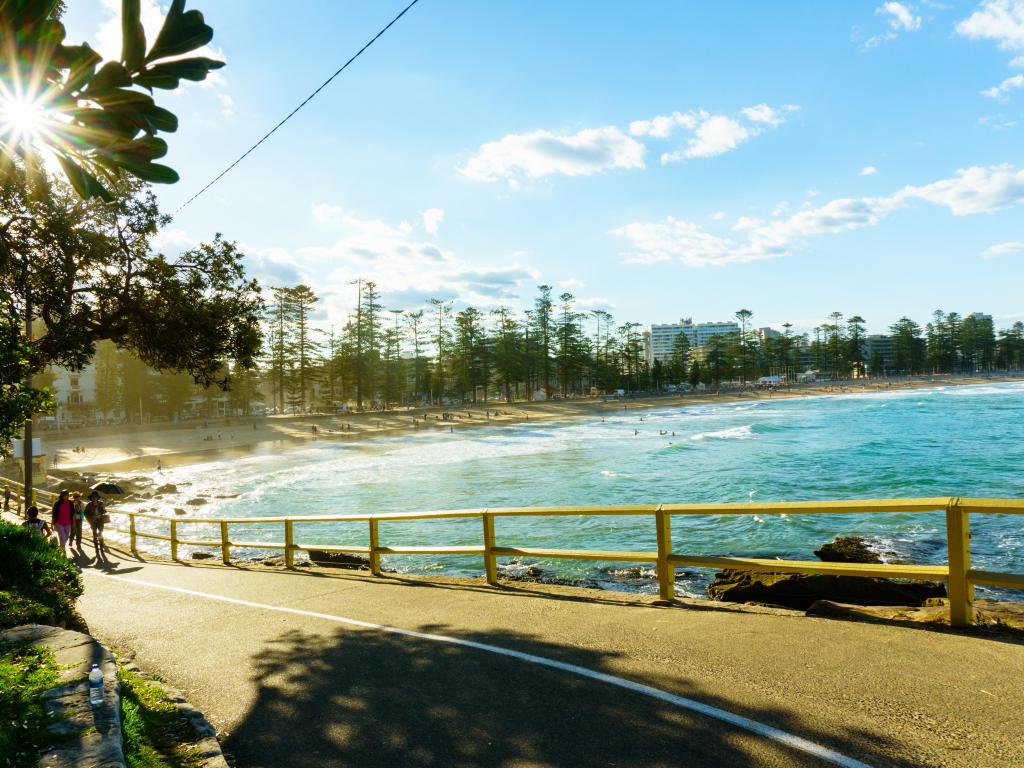 The best place to stay overnight in Sydney is QT Sydney. The hotel is just a 2-minute walk from Hyde Park and Pitt Street Mall and has a rustic feel. Parking is available nearby, which is a bonus for a city-centre hotel.
If you are someone who loves to explore a city's nightlife, this hotel is the best for you. It is located just a 5-minute walk away from the best bars, nightclubs and live music venues that Sydney has to offer.
The hotel is also only a 15-minute walk away from Circular Quay, Royal Botanic Gardens and even the two most famous landmarks in Sydney – the Sydney Opera House and the Sydney Harbour Bridge.
Say hello to the koalas at Port Macquarie
Port Macquarie is a beautiful coastal city known for its history, beaches, and swimming and surfing sports. The city is also home to the famous Billabong Zoo Koala & Wildlife Park.
Port Macquarie has a very laid-back vibe, which makes this place an especially tempting stop on a long trip such as the one from Melbourne to Byron Bay. You'll be sure to shake off any stress from your drive as soon as you arrive here.
Featuring stunning river and ocean views, Mantra The Observatory is one of the best hotels in Port Macquarie. The hotel is conveniently located at a distance of just 400 meters from the centre of the town and just opposite the main beach in Port Macquarie.
The hotel offers free parking to its guests and has 12 restaurants and 7 attractions within a 0.5-kilometre radius. Relax and appreciate the coastline and the sparkling waters.
Things to see on a road trip from Melbourne to Byron Bay
To make the most out of this road trip, take at least 4-5 days to explore the beautiful places and attractions along the way.
These are some of the attractions and breathtaking places that you will encounter on your road trip from Melbourne to Byron Bay:
Direct Route:
Healesville Sanctuary – This zoo in Badger Creek has a variety of native Australian animals and over 200 bird species.
Paradise Falls – Take a detour to this iconic waterfall buried deep in the King Valley, located in the Alpine National Park near Chestnut.
National Carillon – This 50-metre modern tower located on Lake Burley Griffin features 57 bronze bells that play music.
Jenolan Caves – These ancient limestone caves are some of the largest and most spectacular in Australia.
Scenic World – A private family-owned attraction located in the Blue Mountains that offers a range of experiences including a scenic railway, scenic cableway and scenic skyway. The Katoomba Scenic Railway is Australia's steepest railway.
The Australian Botanic Garden – This 416-hectare botanic garden located in the Mount Annan region is the largest botanic garden in Australia, with a collection of over 4000 species of plants.
Coastal Route:
Eden - Take a boat trip out to meet the whales that regularly visit this coastline.
Batemans Bay - Nestled beside a stunning national park, you'll find clear blue waters and beautiful sand in this peaceful waterfront location.
Jervis Bay - Reputed to have the whitest sands in the world, come to Jervis Bay to relax by the water but don't miss out on the
Kiama Lighthouse and Blowhole – This historic lighthouse is located at Blowhole Point, where you can also watch the Kiama Blowhole do its thing in spectacular style.
Nepean Dam – This dam is a heritage-listed site in New South Wales with a beautiful lake and historical European styled gardens in the surroundings.
Royal National Park - A stunning natural wilderness just outside the hustle and bustle of Sydney, you can enjoy clifftop hikes and scenic views if you make a stop here.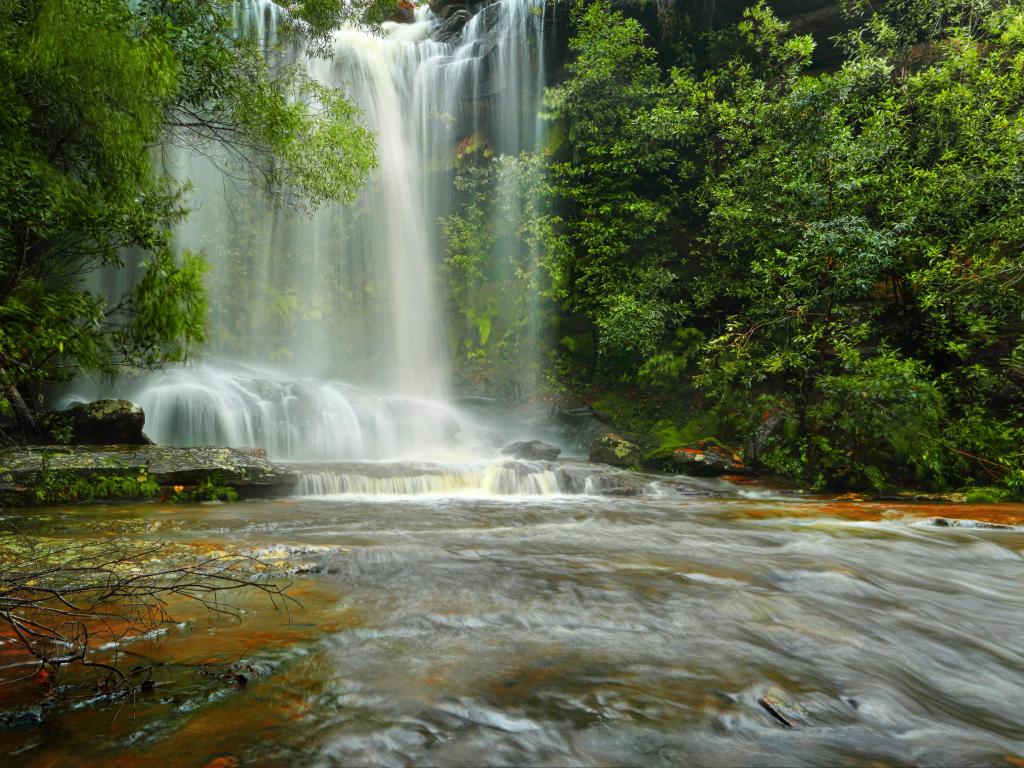 All routes:
Sydney Harbour Bridge – This iconic bridge, built in 1932, is the largest steel arch bridge in the world and offers a fantastic bridge climb experience.
Sydney Opera House – Catch a performance at this iconic masterpiece of 20th-century architecture, located on the banks of Sydney Harbour.
Bondi to Coogee Walk – Enjoy a 6-kilometre coastal walk featuring breathtaking views, beaches, cliffs, parks and much more.
Hunter Valley Gardens – A group of 10 internationally themed gardens featuring a waterfall, man-made ponds, statues and over 6,00- trees.
Newcastle Memorial Walk – Featuring artwork dedicated to World War I soldiers, this memorial walkway has silhouettes of nearly 11,000 Hunter Valley men and women who served during World War I. It also has a stairway connected to Bathers Way, which is a 6-kilometre scenic coastal walk.
Gan Gan Lookout – Gan Gan hill lookout is a viewing platform that is located on Lilly Hill Road and is one of the highest points in the area. You can enjoy the breathtaking views of Port Stephens and beyond from this area.
Billabong Zoo Koala & Wildlife Park – A 10-acre koala breeding centre and wildlife park in Port Macquarie.
Trial Bay Gaol – It is a historical landmark featuring the remains of a 19th-century prison.
Dolphin Marine Conservation Park – Swim with dolphins and seals while also getting an opportunity to enjoy various shows and activities.
Macadamia Castle – Byron Bay's most popular tourist attraction features a café, an animal park, nut bar, fine food sections and much more.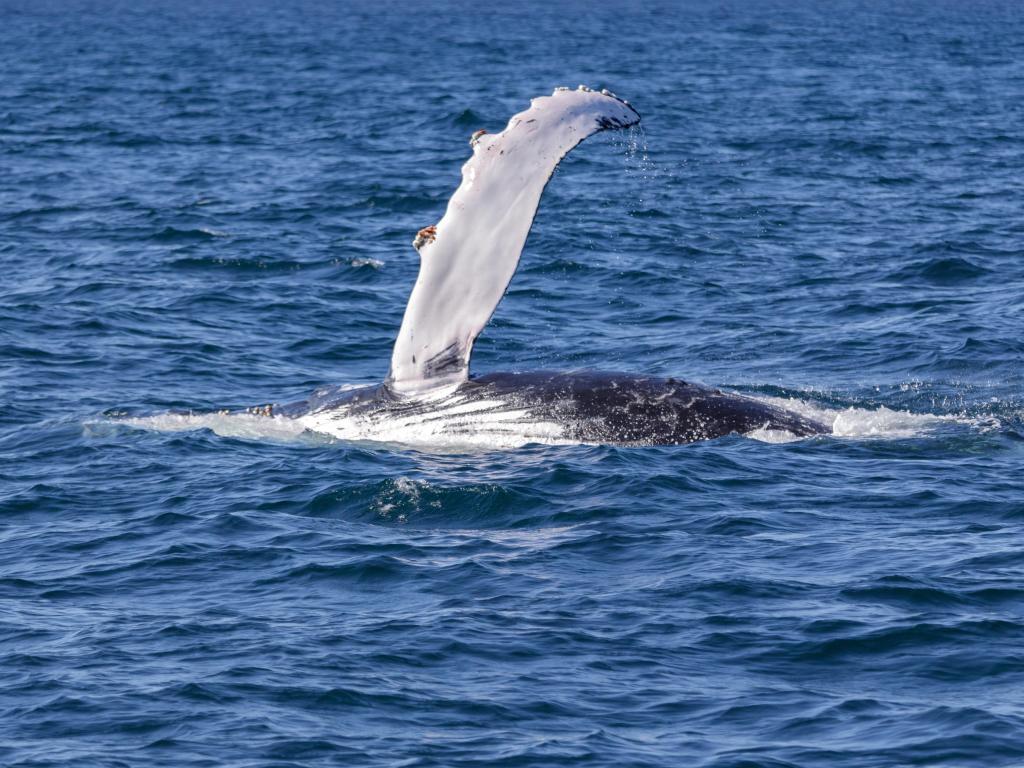 Best time to go on a road trip from Melbourne to Byron Bay
Between September to November or March to May is the best time to go on a road trip from Melbourne to Byron Bay.
Summer in Australia lasts from December to February and, although temperatures typically sit in the high 20s Celsius, they can regularly reach uncomfortably higher than this. Combined with humidity levels up to 60%, many people prefer not to travel at this time of year.
There is also lots of rainfall in the middle of summer on the east coast, which might make it hard for you to explore all the places along the way. Also, it can be dangerous to swim in the beaches along the coast in the middle of Summer since it is box jellyfish season.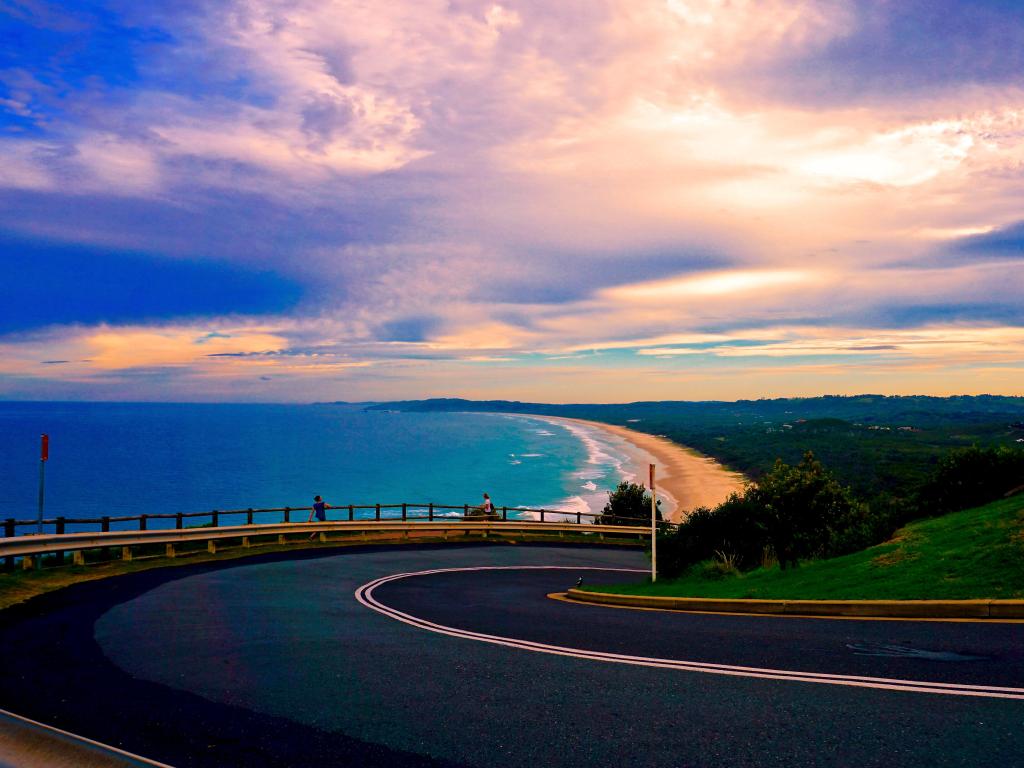 In contrast, during spring and autumn temperatures are usually a more comfortable mid-20s which lets you enjoy the beaches and cities at their best.
Winter is also an option for a journey along the coast - although there's a chance of rain, temperatures are usually mild compared to European winters. You can also catch Sydney Film Festival in June, or the Australian International Music Festival takes place in July.
June to October also give you the best chance to spot the whales that migrate along the coastline, which can be a real highlight of the Coastal Route.
Spring and autumn are the best times to go on this road trip due to all the above reasons. It is also an ideal time to go hiking if you plan to visit national parks.