Road Trip from Milwaukee, Wisconsin to New York
We don't have to sneak a peek at your bucket list to know that New York is on it. And who can blame you? There is nothing better than hitting the road and heading to The Big Apple, and we have the perfect road trip curated for you on your way from Milwaukee Wisconsin to New York.
The 850-mile road trip from Milwaukee, Wisconsin to New York will take 14 hours and 30 minutes to drive. On the way, you can visit Grand Rapids, Muskegon, Ann Arbor, Detroit, Hamilton, Niagara Falls, Buffalo, Finger Lakes, Ithaca and Scranton.
There are plenty of beautiful and exciting places to explore on this epic North American adventure. Read on to find out the best roads, amazing things to do and see on this journey, and most importantly, how to make this trip unforgettable.
How far is New York from Milwaukee, Wisconsin, and how long will the road trip take?
Comparison of road trip routes between Milwaukee, Wisconsin and New York

| Route | Distance | Driving Time |
| --- | --- | --- |
| The Ontario Route | 850 miles | 14 hours 30 minutes |
| The Pennsylvania Route | 1,010 miles | 17 hours |
There are two amazing route options: The Ontario Route and the Pennsylvania Route. The Ontario Route is more direct and passes through Canada. The Pennsylvania Route travels along Lake Erie and passes through major US cities.
The Ontario Route kicks off with a 2-hour and 30-minute ferry ride from Milwaukee to Muskegon, Michigan across Lake Michigan. You will then drive 850 miles to reach New York, which will take about 14 hours and 30 minutes.
On the Pennsylvania Route, the drive time is about 17 hours and around 1,010 miles. Depending on when you choose to visit, you may experience more traffic on both routes.
Allocate enough time to cross the border into Canada and explore the main cities you will be visiting. To do that, you may want to give yourself at least five days to enjoy this road trip.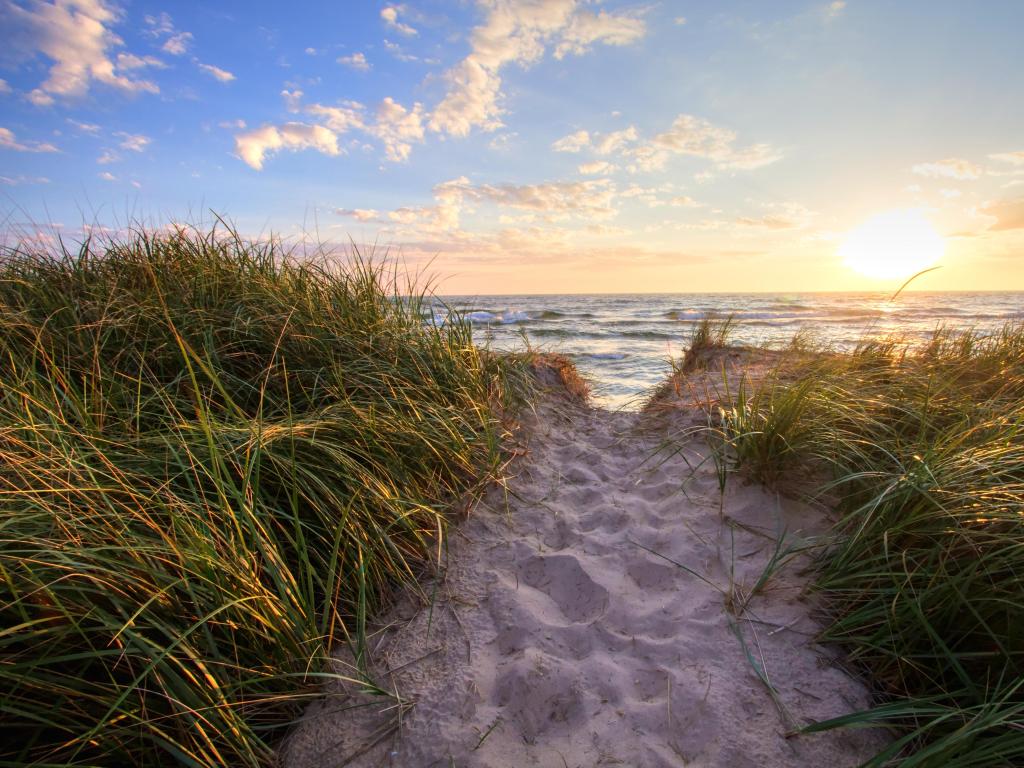 Best road trip route from Milwaukee, Wisconsin to New York
From Milwaukee to New York, you will be greeted with awe-inspiring, almost bordering poetic, scenery. Both of our suggested routes will take you through beautiful landscapes and buzzing cities, so which one you choose will depend on what you'd like to see.
The Ontario Route takes you through the countryside. The trip starts with a fun ferry ride from coast to coast. You can find out more about this scenic ferry ride here. After arriving in Muskegon, you will then drive through the urban center of Detroit and into Canada.
This route also packs a punch in the beautiful scenery as you drive past the glistening Finger Lakes.
The Pennsylvania Route goes through the metropolises of Chicago, Pittsburgh, and Philadelphia, so if you are looking for urban attractions, this route will be perfect for you.
Kelleys Island and Put-In-Bay are great detours on this route. Be sure to visit Cuyahoga Valley National Park – an underrated natural gem.
Going through Ontario is great for first-timers to see Niagara Falls, while the Pennsylvania Route is perfect if you want to trip through America's major attractions.
The Ontario Route
Get on a ferry from Milwaukee, Wisconsin, to Muskegon, Michigan. Enjoy views of beautiful Lake Michigan before disembarking and beginning your drive.
Take the US-31 to the Grand Rapids. You will want to sample the food and craft beverage here – it is one of America's best beer cities.
Head over to Lansing, the capital city of Michigan, by taking the I-96 E. The Michigan History Museum and Michigan State Capitol Building are here.
Your next stop is in Ann Arbor. Take Interstate 96 (I-96) E and US-23 S to get there and try out the diverse restaurants in this city. When you're ready, go to Detroit on the M-14 E/US-23. Motor City is a great place to learn about Henry Ford and the origins of Motown.
From Detroit, make your way to Hamilton on the ON-401 E, in Ontario, Canada. Pause for a breather and enjoy Lake Ontario before heading to the gorgeous Niagara Falls.
Once you've taken enough selfies and gotten soaked, head to Finger Lakes on I-190 S, towards New York. This region has some of America's most stunning natural lakes and forests.
Ithaca is your second last stop on the NY-96A S route, and when you're ready, head to the final stop, New York, on I-81 S.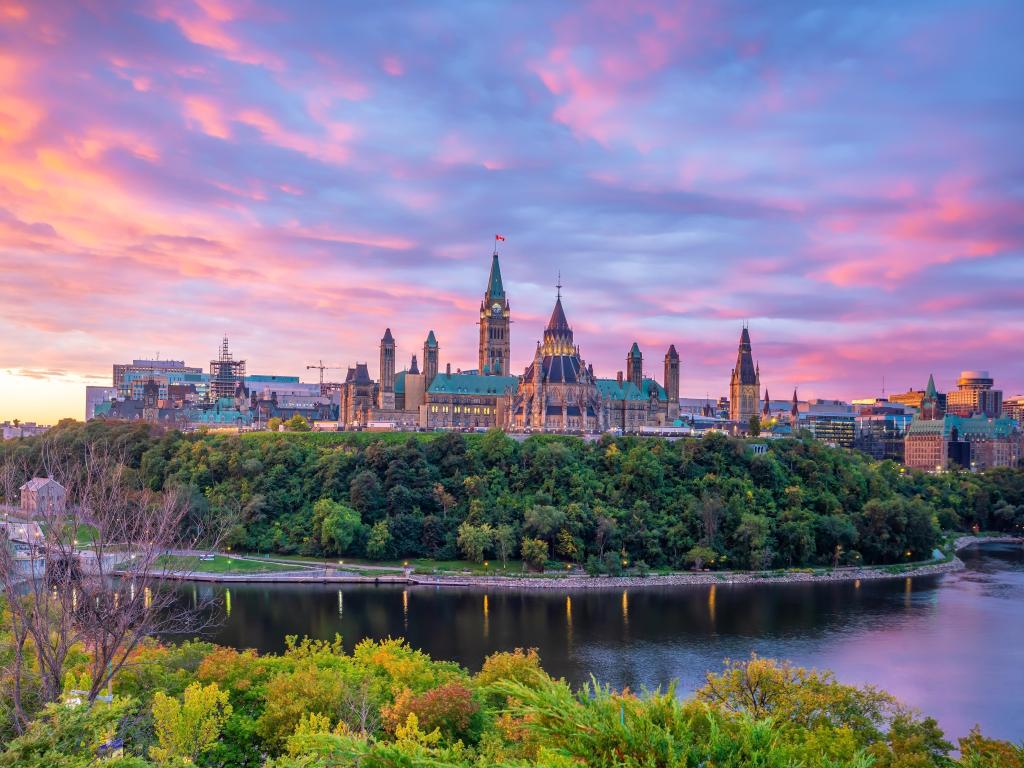 The Pennsylvania Route
From Milwaukee, Wisconsin, head to Chicago, Illinois – home of the famous Chicago Bulls. Get on I-90 E to Sandusky and take a detour to visit Kelleys Island and Put-In-Bay from here. When you're ready, head to Cleveland, Ohio. Home to the Rock & Roll Hall of Fame, take a walk downtown in this lively city.
Head to Cuyahoga Valley National Park on I-77 S. This beautiful area has rolling hills and deep forests to hike through. Then make your way to Pittsburgh. Stop over to fully explore Steel City and its many historical attractions.
From Pittsburgh, head to Hershey on I-76 to US-322 E and visit the delicious chocolate park. Travel to Lancaster next, on the PA-283 E, and learn more about Amish culture.
From here, make your way to Philadelphia, home of the Fresh Prince and Rocky Balboa. You will want to check out historic sites like the Liberty Bell and Independence Hall.
When ready, head to your final stop, New York, on the I-676/US-30 E.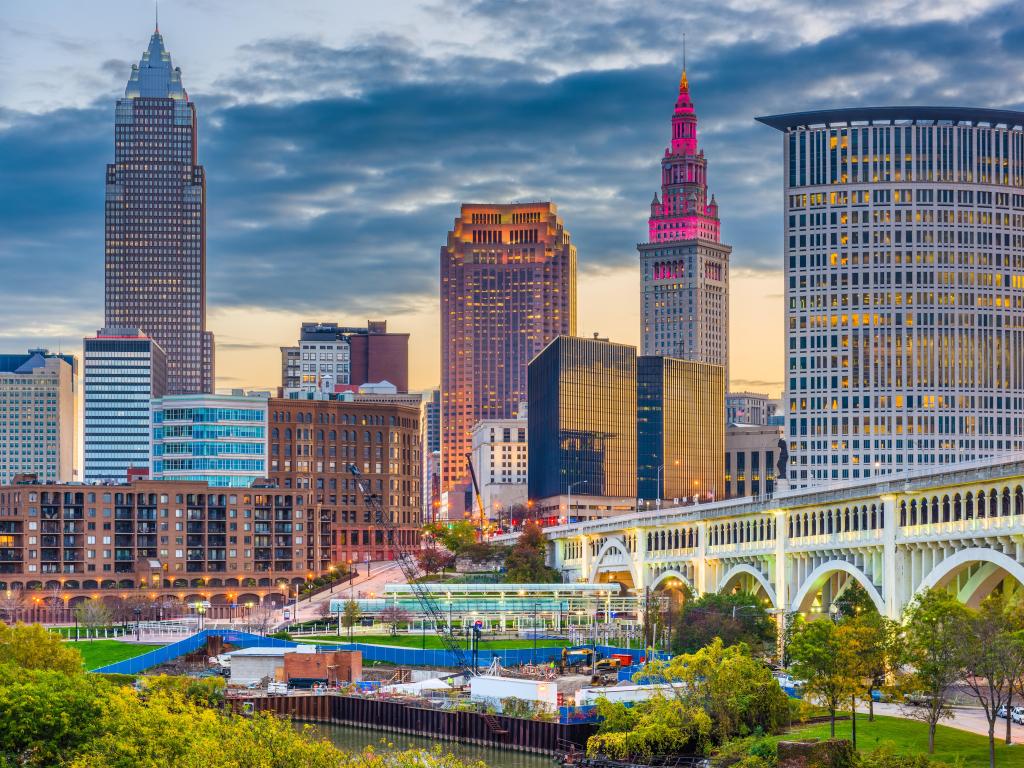 Best places to stop between Milwaukee, Wisconsin and New York
If you've ever wanted to head up north to get a good look at the Lake region, then this road trip is perfect. North America's Great Lakes offer travelers spectacular countryside views. The inner cities are vibrant and eclectic, with delicious American cuisine to try.
We've selected some great overnight stops on each route, so you have time to relax and enjoy the sights.
Visit the gorgeous Niagara Falls
On The Ontario Route, Niagara Falls is about halfway into your trip and the perfect place to stop once you are in Canada. Often dubbed "The Honeymoon Capital of The World", this attraction is just as pleasant for the unhitched!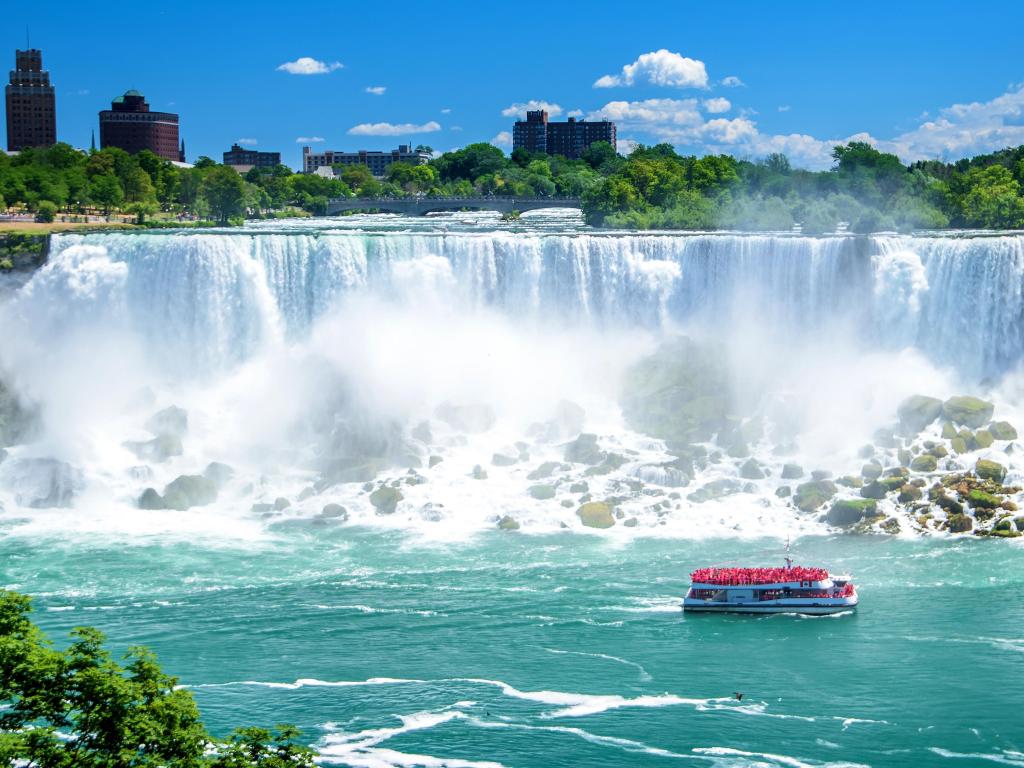 The Falls are the main attraction, and there are several ways to get near them. Try the Maid of Mist Boat tour, which takes you up close. If you'd rather enjoy the view from afar, visit the Skylon Tower. It has an observational deck overlooking the Falls with an excellent revolving restaurant.
The Niagara Sky Wheel is a must-visit while you're here, and it is open year-round.
Niagara Falls is one of Canada's most popular tourist attractions, so there are plenty of decent hotels. We suggest staying at the Sterling Inn & Spa. It's conveniently located near the Falls with the Maid of the Mist boat tour less than a mile away.
The Manhattan-loft style design in this hotel will get you in the mood for New York. Rooms come with steam showers and jacuzzi facilities, and the hotel has a spa and wellness center to help you unwind. Amenities include a small kitchenette that is perfect for road trippers.
The Sterling Inn & Spa is also close to Casino Niagara and Marineland. The hotel is near the main highway and border crossing, making it accessible.
Take a stroll in steely Pittsburgh
The Pennsylvania Route has a great overnight stop in Pittsburgh. It's about 6 hours away from New York. Nicknamed "The Steel City" Pittsburgh has a ton of small-town charm. It's home to about 446 steel bridges.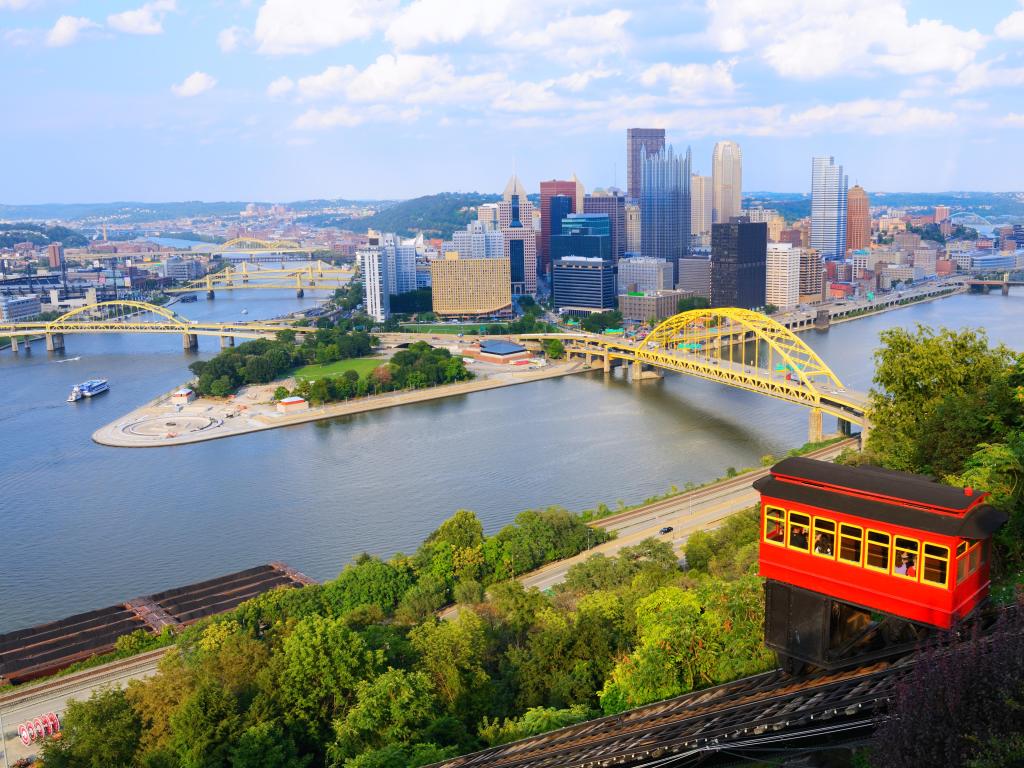 Visit the Andy Warhol Museum, dedicated to the artist. Check out the Carnegie Museum of Natural History, the Carnegie Museum of Art, and the Carnegie Science Center for some excellent exhibitions.
For families, there is The Children's Museum and the National Aviary. Take a ride on the Duquesne Incline, a railway that goes up into the mountains with stunning views from the top.
Pittsburgh is quite popular with tourists since the city has plenty of sports and entertainment. For this trip, we recommend staying at The Priory Hotel. It's a beautiful little brownstone located along the Ohio River. There is free parking, which is perfect for road trippers.
The building used to be a monastery, and you will find elements of that charming design all over the hotel. The rooms are comfortable and spacious, with a gorgeous fireplace in the lobby. There's a lovely courtyard garden outside, and the hotel offers a delicious continental breakfast.
The Priory is just about a mile from The Andy Warhol Museum, The Children's Museum, and the National Aviary.
Where to stay once you reach New York
The Big Apple has a big reputation – and even bigger pizza slices! Get ready to explore the concrete jungle where dreams are made of.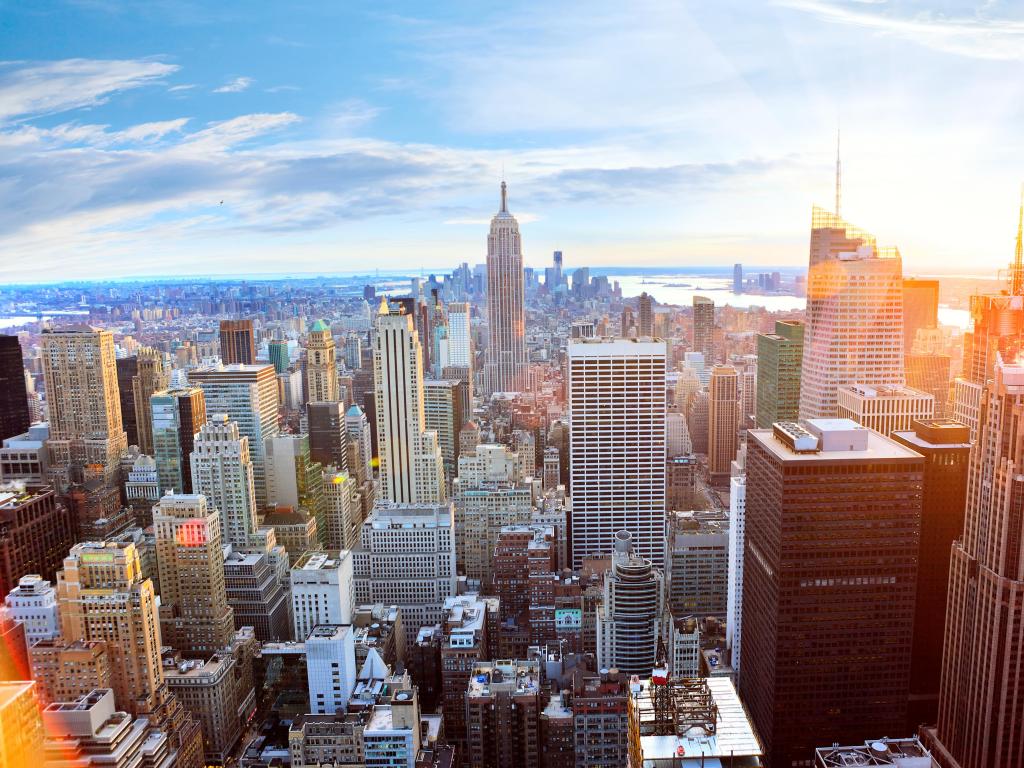 Visit the iconic Empire State Building, Statue of Liberty, Times Square, and Brooklyn Bridge for the views (and selfies). Film, TV, and theatre lovers should visit Central Park, The Metropolitan Museum of Art, the Grand Central Terminal, and Broadway. Head to Fifth Avenue and check out the luxury shops on this iconic street.
Make your way to the Rockefeller Center observation deck for stunning city views. Pay your respects at the 9/11 Memorial and Museum and check out the High Line. It's a former rail line transformed into an urban walking trail above the city.
You will want the best accommodation in New York, so we suggest staying at the Park Terrace Hotel. Located in Midtown Manhattan, you get the best views of the famed skyline from a luxury apartment-style room. Private parking is available for guests.
The rooms are cozy with high-quality amenities. Sauna and fitness facilities are available on site. This hotel has a great rooftop bar and terrace, where you can enjoy gorgeous city views at night. It's also within walking distance of the Empire State Building, Grand Central Terminal, and Fifth Avenue.
Things to see on a road trip from Milwaukee, Wisconsin to New York
Tripping from Milwaukee to New York is an adventure into North America's diverse country and city landscapes. Taking the Ontario Route or the Pennsylvania Route will give you a glimpse of the melting pot of America, one beautiful town at a time.
Here is a list of some must-visit attractions along each route.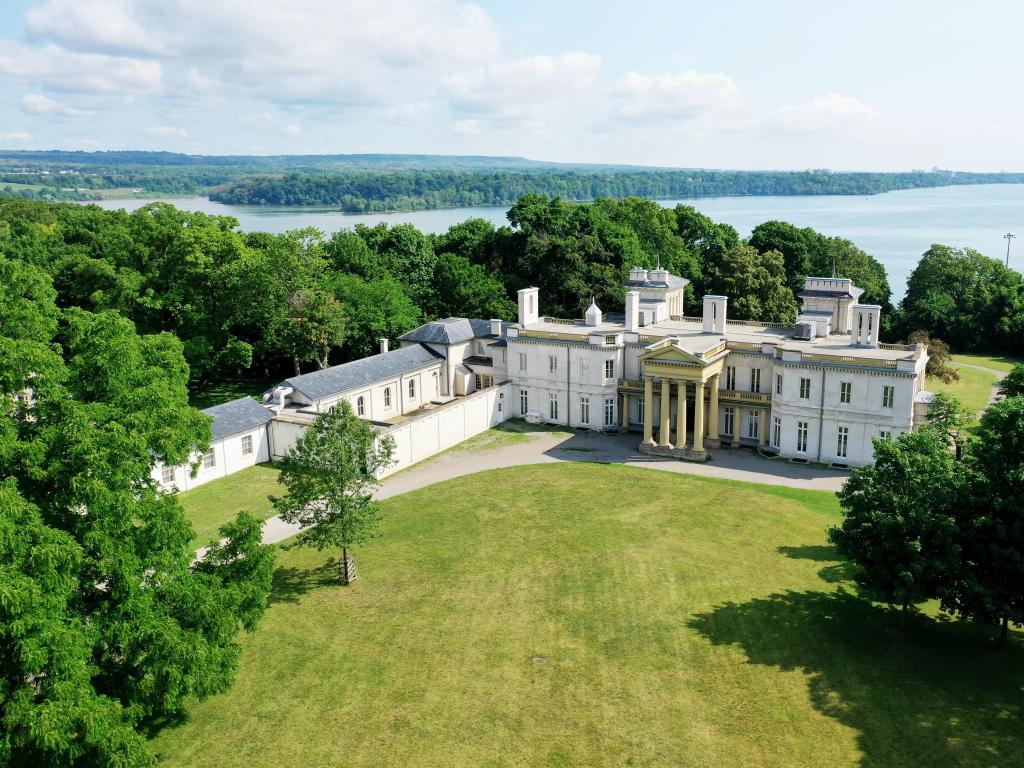 The Ontario Route
Meyer May House, Grand Rapids – A historical house designed by Frank Lloyd Wright in 1908, this place is referred to as "Michigan's Prairie masterpiece". There are tours available for guests.
Kelsey Museum of Archaeology, Ann Arbor - This archaeology museum has a collection of more than 100,000 ancient and medieval artifacts from Mediterranean civilizations.
Campus Martius Park, Detroit – This unique city center hosts many entertainment events.
Dundurn Castle, Hamilton – A gorgeous 19th-century mansion, this historic building has ties to the Queen of Canada and is now a tourist site.
Niagara Falls – The famous falls are one of Canada's most popular tourist destinations.
Buffalo Naval Park, Buffalo – This museum features some decommissioned US Naval Vessels and is found along the banks of the Buffalo River.
Susan B. Anthony Museum & House, Rochester – Take a detour to visit the home, now museum, of the iconic women's rights activist.
Finger Lakes – This charming small town is a natural paradise of mountains and countryside. Pop into one of the vineyards to sample the wine.
Ithaca, Ithaca Falls – A beautiful, underrated waterfall, this attraction is located within the city and is a popular spot for fly fishing.
Electric City Trolley Museum, Scranton – A fun little side trip to Scranton for fans of The Office. Check out displays of restored trolleys of the Lackawanna and Wyoming Valley railroads.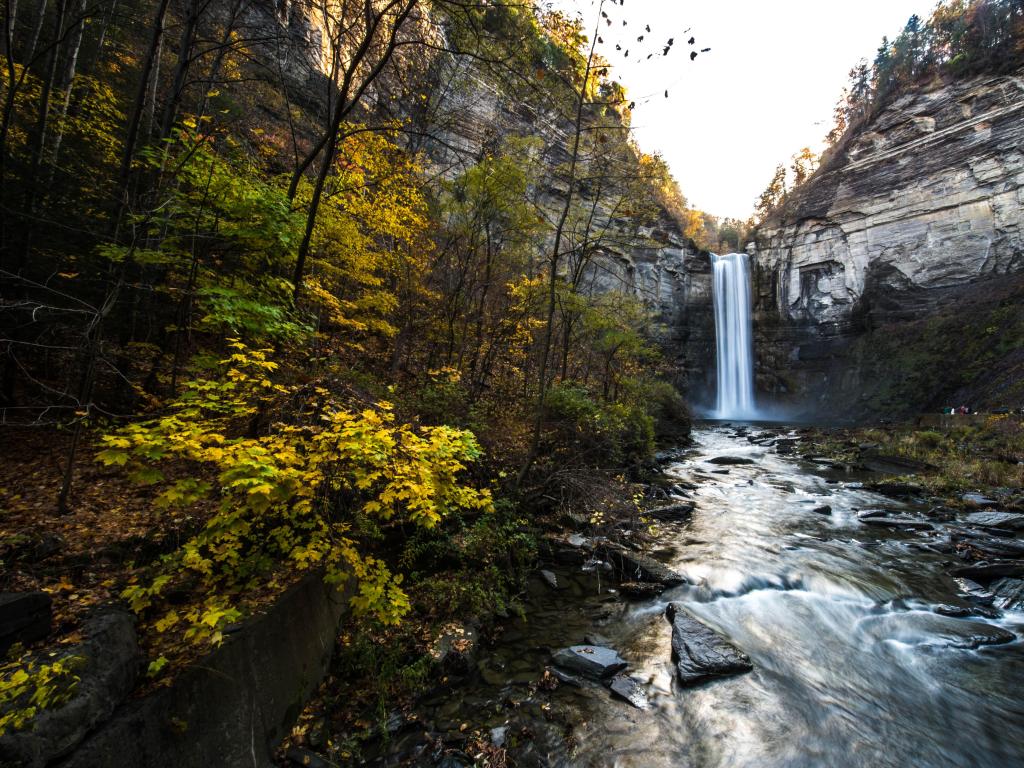 The Pennsylvania Route
Millennium Park, Chicago – This city park has art displays, a skating rink, and the Cloud Gate sculpture.
National Museum of the Great Lakes, Toledo – A museum dedicated to the North American Great Lakes.
Merry-Go-Round Museum, Sandusky – This unique specialty museum has fun and creepy displays of antique carousel animals.
A Christmas Story House, Cleveland – The classic 1983 movie was filmed here, and the house has since become a tourist attraction.
Cuyahoga Valley National Park – This gorgeous park is home to diverse native plants, wildlife, and the Cuyahoga River. Hike around and explore the lush forest.
Randyland, Pittsburgh – A colorful and creative art museum, this Pittsburgh landmark is popular with locals and tourists.
Hersheypark, Hershey - Founded by the Hershey Chocolate Company, this chocolate-themed park is unique and delicious.
Amish Farm and House, Lancaster - This quaint farm offers tours where you can learn about Amish history and heritage.
Liberty Bell, Philadelphia – First-timers must visit this historic symbol of American Freedom.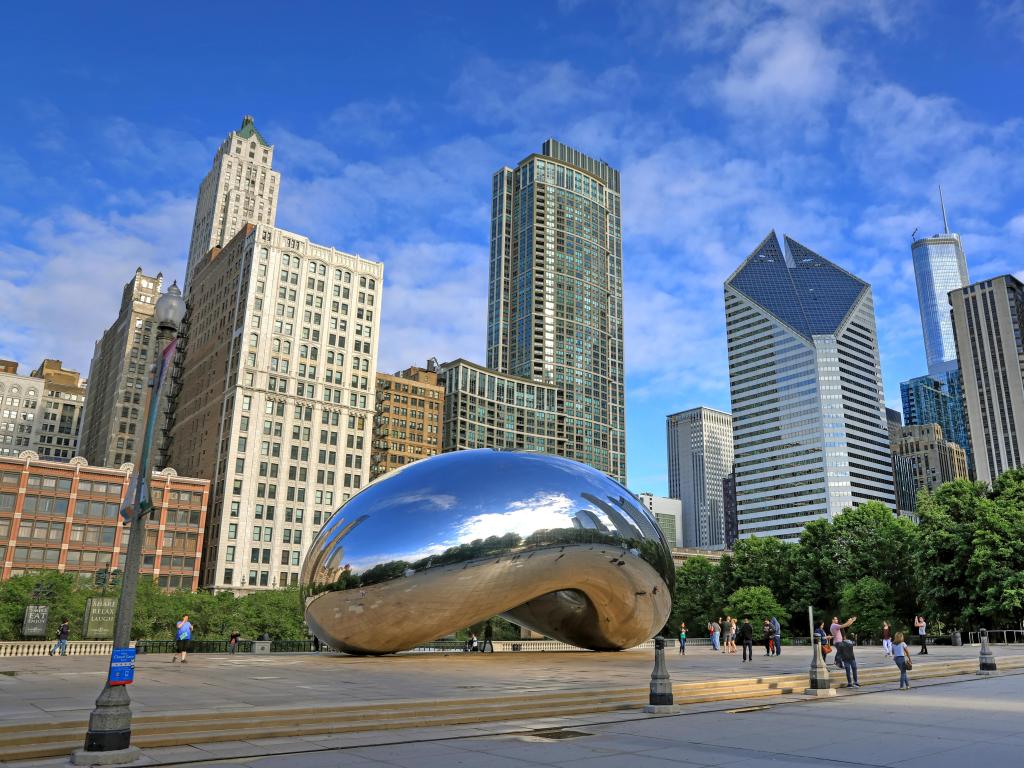 Best time to go on a road trip from Milwaukee, Wisconsin to New York
A road trip from Milwaukee to New York is fine year-round. Keep in mind that New York offers travelers the extremes of all four seasons.
Summers are hot and humid, with temperatures between 69 to 85 degrees Fahrenheit. The closer you get to the coast, the warmer it is. July is the hottest month and peak tourist season. Expect more crowds, higher rates, and long lines at attractions.
Winters are cold and snowy, with temperatures ranging from 6 to 35 degrees Fahrenheit. The farther north you go, the cooler it is, and snow is common. New York is just as busy in winter, so prepare for crowds.
Smaller cities may have fewer visitors, but temperatures are still cold. Expect negative temperatures along the Great Lakes and Northern US.
Spring and fall are great for road-tripping since these seasons show off the best scenery. Spring has light winds and rain with beautiful views. Fall has some lovely changing landscapes with signature red and brown leaves.
Temperatures are mild at 37 to 68 degrees, making it a pleasant drive. Rates and attractions are more affordable in New York during spring and fall.
There are nonstop music, sports, and entertainment events throughout the year in the City That Never Sleeps.
Broadway Week takes place in January and September. There is the iconic New York Fashion Week in February and September, the legendary Macy's Thanksgiving Day Parade in November, and the famous Times Square New Year's Eve Ball Drop.