Road Trip from Milwaukee to Mackinac Island
This road trip from Milwaukee to Mackinac Island explores life on the banks of Lake Michigan. Prepare for breathtaking views of the great lake, the chance to explore other nearby lakes, hike through protected state forests, and spend time in quaint lakeside towns.
The 290-mile road trip from Milwaukee to Mackinac Island will take 8 hours and 10 minutes to drive. On the way, you will see Lake Michigan, Grand Rapids, Cadillac, Houghton Lake, Muskegon State Park, Huron-Manistee National Forest and Mackinaw City.
To find out more about the road trip to Mackinac Island from Milwaukee, the best routes to take, places to stay and things to see, as well as the best time to visit, keep reading.
How far is Mackinac Island from Milwaukee, and how long will the road trip take?
Comparison of road trip routes between Milwaukee and Mackinac Island

| Route | Distance | Driving Time |
| --- | --- | --- |
| The Eastern Route | 290 miles | 8 hours |
| The Western Route | 370 miles | 6 hours 40 minutes |
The Western Route spans a distance of 370 miles and will take you 6 hours and 40 minutes of non-stop driving, taking you through the upper peninsula and over the iconic Mackinac Bridge.
A scenic alternative is the Eastern Route. This route will take you 8 hours (including the 3 hours and 30 minutes ferry ride from Milwaukee to Muskegon) without accounting for any stops or detours.
Both of these options will require you to take a ferry from Mackinaw City to Mackinac Island as there is no bridge that connects the island to the mainland.
While you could complete this trip in one day, we recommend taking 2 to 3 days to be able to fully immerse yourself in the gorgeous state of Michigan.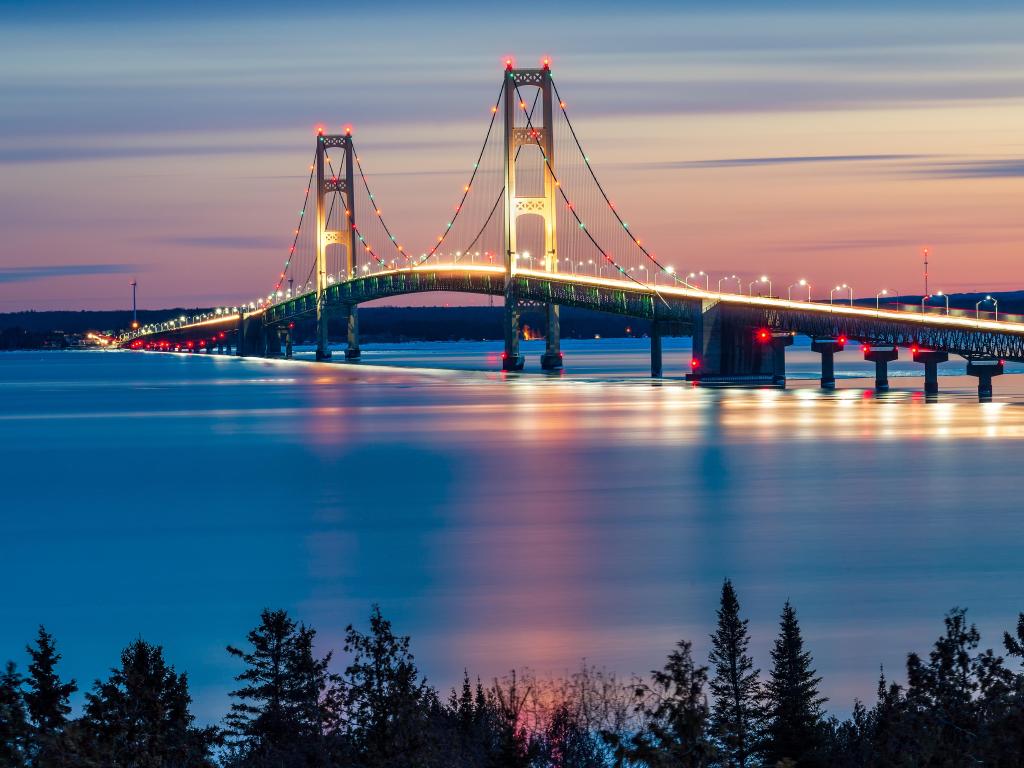 Best road trip route from Milwaukee to Mackinac Island
Both road trip routes from Milwaukee to Mackinac Island are excellent, taking you through beautiful Michigan. While the Western Route is slightly faster, the Eastern Route offers the opportunity to visit some beautiful towns and natural scenery on the way.
The quicker Western Route (but with more mileage) traces the shoreline of Lake Michigan, taking you through the upper peninsula and over the iconic Mackinac Bridge to Mackinaw City.
Passing through state forests, and quaint lake-sire towns, this route offers a charming insight into Wisconsin and Michigan communities and their way of life.
The Eastern Route takes you through small Michigan towns and past densely forested state parks, and wonderful lake shorelines. You will also get to visit Grand Rapids and two beautiful lakes on the way.
The Western Route
Start the Western Route by heading out of Milwaukee on Interstate 43 (I-43). This will take you along the edge of Lake Michigan, making it an extremely scenic drive to Sheboygan.
Once in Sheboygan, take some time to surf the waves. Sheboygan is known for having the best waves on the great lakes, and the best time to surf is in winter! After, continue along the lakeside on the interstate to Green Bay.
In Green Bay, you can experience food, nature and even a National Football League team. After this stop, continue driving on the scenic US-141 and M-35 to Rapid River.
Rest in the charming lake-side community with excellent fishing opportunities and hiking trails before you continue with your drive. You will then take the US-2 around the peninsula until you reach Shepler's Mackinac Island Ferry. This is where you can cross onto Mackinac Island.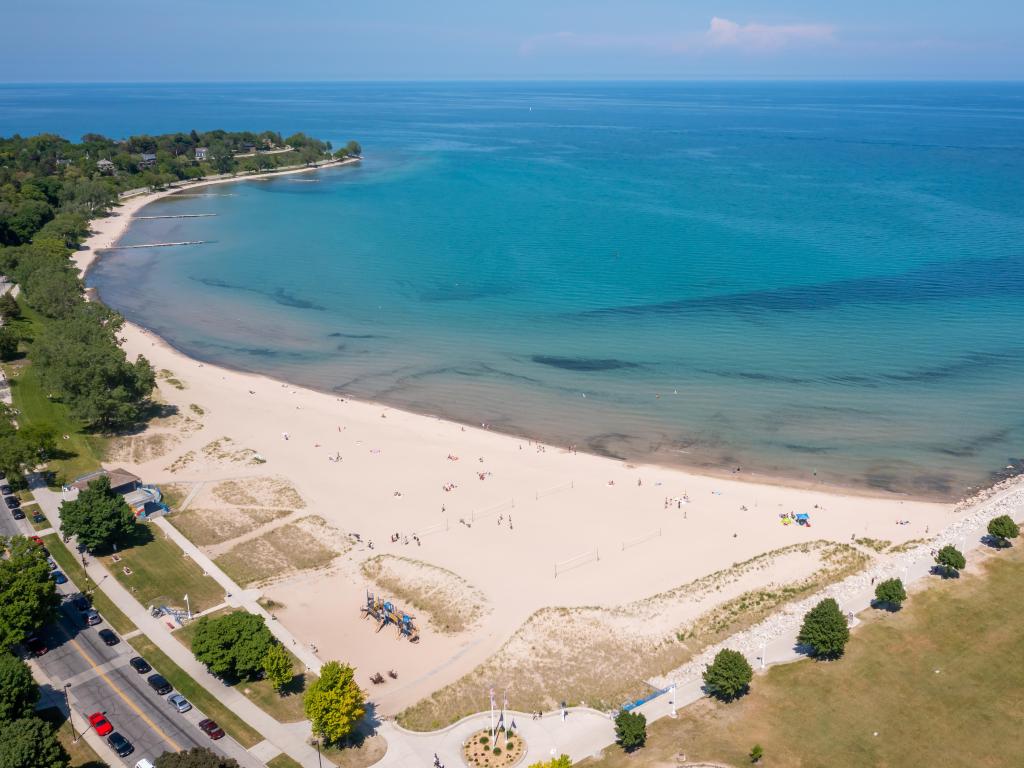 The Eastern Route
To start the Eastern Route, you first need to take the ferry across Lake Michigan to Muskegon. Once you depart the ferry after experiencing breathtaking views, take the US-31 to Grand Rapids.
This city is full of attractions, unique art and there is even a diverse beer scene. After experiencing Grand Rapids, you need to follow the US-131 to the smaller Lake Cadillac.
In this small tourist town, you can enjoy many activities such as fishing, boating, and swimming. After an adventurous stop in Lake Cadillac, take the M-55 across to Houghton Lake.
This lake offers great fishing opportunities for fishing enthusiasts. You then need to drive on I-75 north to Shepler's Mackinac Island Ferry where you will reach Mackinac Island.
Best places to stop between Milwaukee and Mackinac Island
Whether you choose to drive around the lake on the Western Route or across it on the Eastern Route, you will need to make a stop and have a rest from driving. Below, you can find some of our recommendations of where to stop on this great road trip.
A luxurious stop in Green Bay
Located on the Western Route, Green Bay is around 2 hours and 10 minutes into the journey to Mackinac Island. Green Bay is one of the top places to visit in Wisconsin, with interesting museums, a pretty bayside, and a popular national football league team.
While in Green Bay, you must visit Lambeau Field. At the home of the 13-time champions the Green Bay Packers, check out the Hall of Fame to learn about the achievements of this team.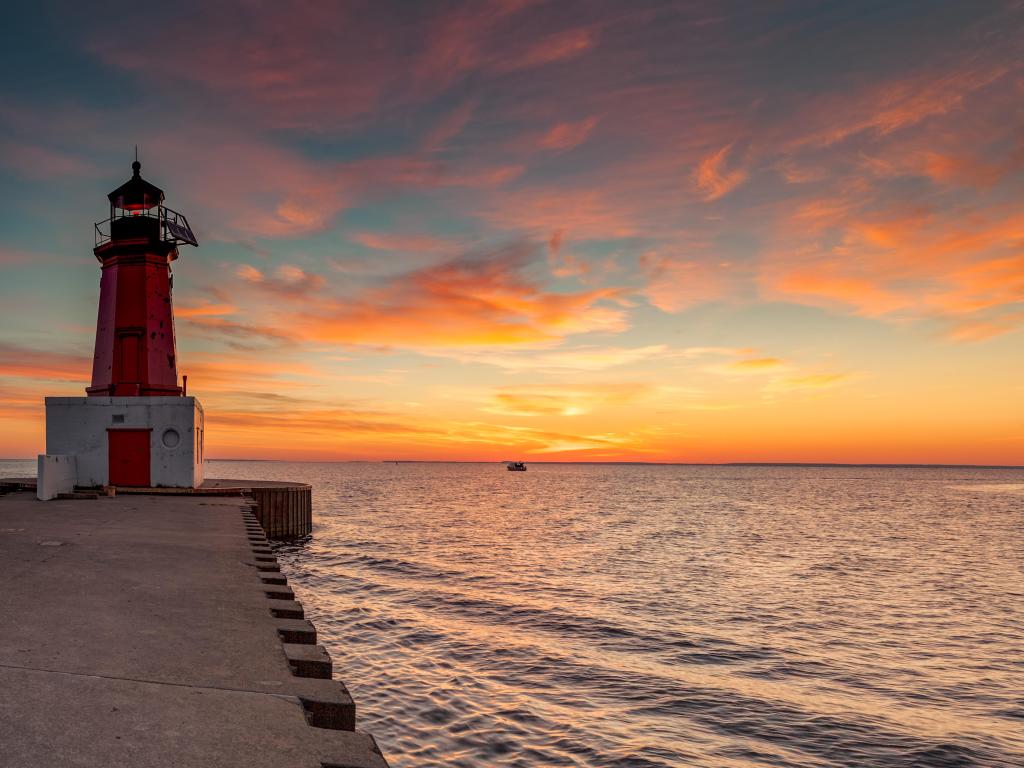 If you're not into football, you can visit the National Railroad Museum. Here, you can see locomotives, passenger cars, and artifacts, to learn about the history of the American railroad.
You can also check out Bay Beach Amusement Park where you can get your fill of thrilling rides. Filled with classic rides and fairground games, this is a great place to spend a few hours unleashing your inner child.
While visiting Green Bay, we recommend staying in Lodge Kohler. You can enjoy the best of Green Bay in this stylish and luxurious hotel, complete with an indoor pool, evening entertainment, and fitness center.
Relaxing spa packages are on offer to guests including massages, a jacuzzi, and a sauna - perfect for travelers looking for a bit of luxury. This hotel also has a stellar location, it is only a short walk away from the Green Bay Packer Hall of Fame, and the city's Skyline Park.
A wild overnight stop in Grand Rapids
Found on the Eastern Route, Grand Rapids is located a handy 3 hours and 50 minutes into the trip. Conveniently located close to the ferry across Lake Michigan, Grand Rapids, set on the banks of the Grand River, is perfectly placed on the road trip.
While visiting Grand Rapids, go bar hopping and explore the 40 breweries and top-class beer that the city has to offer. You can also visit Grand Rapids Art Museum. Spotlighting Michigan artists, this museum has rotating exhibits allowing visitors to explore the budding Michigan art scene.
Check out Frederik Meijer Gardens and Sculpture Park to wander through blooming gardens, a tropical conservatory, and see the art collections including works from Auguste Rodin, Henry Moore, and Ai Weiwei.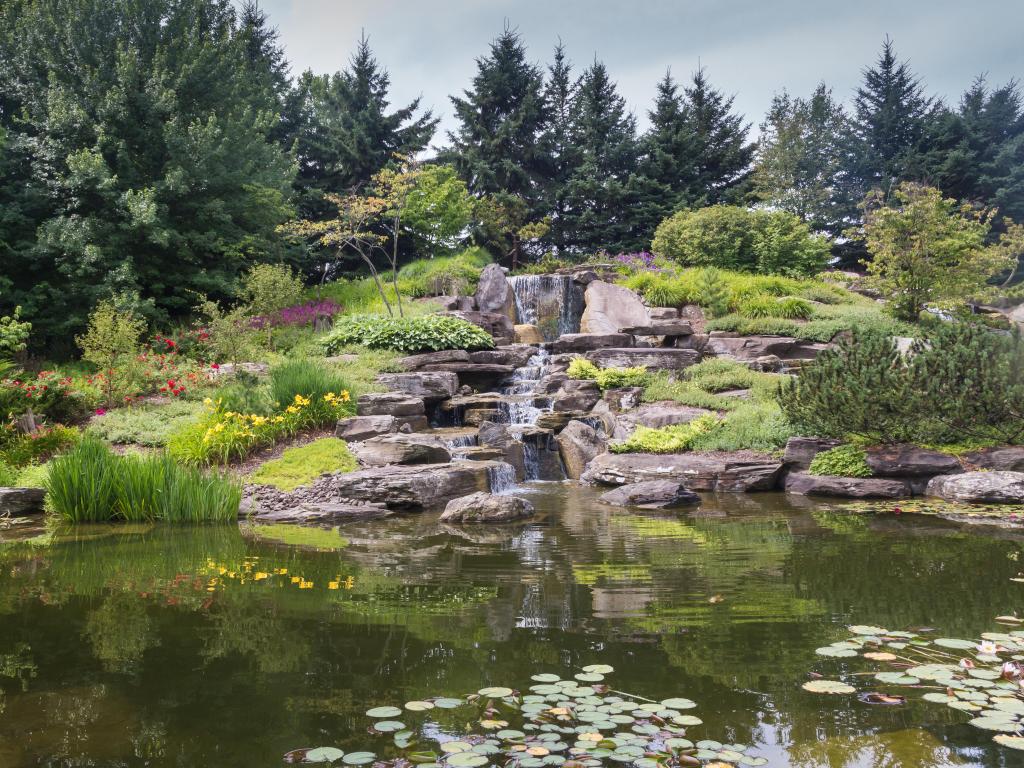 While visiting Grand Rapids, we recommend staying in the JW Marriott Grand Rapids. Here, guests can relax in the indoor swimming pool, and recharge with luxury spa packages, massages, and a steam room. The on-site restaurant provides high-quality French food, and a well-stocked and stylish hotel bar.
This hotel is situated in the heart of the city close to the many breweries and bars, around the corner from the Grand Rapids Art Museum, and Riverwalk Trails Park. The Frederik Meijer Gardens are less than 5 miles away as well.
Where to stay when you reach Mackinac Island
When you reach Mackinac Island, we recommend staying at the Harbour View Inn. Set amongst beautiful gardens and offering pristine views of the lake and lakefront, Harbour View Inn provides charming and comfortable rooms.
Bookings include a complimentary continental breakfast, and the hotel is conveniently located close to attractions and beaches. Situated just outside the city center, this hotel offers guests a relaxing and comfortable stay.
Things to see on a road trip from Milwaukee to Mackinac Island
The great thing about the road trip from Milwaukee to Mackinac Island is the amazing variety of attractions. Road trippers can experience epic lakes and small towns, whilst also visiting national forests and vibrant cities.
The Western Route
Sheboygan - Home to world-famous Bratwurst and year-round freshwater surfing, there is lots to check out in this lakeside town. Surfing on the lake is brilliant all year round, but at its best in winter.
Green Bay - Home to the NFL team Green Bay Packers, this city has more than football to offer! With an interesting railroad museum, relaxing botanical garden, and a thrilling amusement park there is lots to keep you busy in Green Bay.
Governor Earl Peshtigo River State Forest - Take a short detour to explore the beautiful state forest set along the banks of the Peshtigo River. This forest is alive with nature, filled with songbirds, deer, butterflies, and even black bears. Two hiking trails are available in this forest and are accessible to walkers of all abilities.
Sequin's House of Cheese - Located just outside of Marinette, this shop is a must-stop for cheese aficionados. Best known for its fresh cheese, this shop also offers a vast range of world-famous Wisconsin cheese, as well as other cute souvenirs.
Escanaba River State Forest - River trails and waterfalls make this a stunning place for a hike. Offering different trails to suit different abilities, hike through dense forests and summer meadows to experience the beauty of Michigan.
Rapid River - Home to Ski resorts in the winter, the warmer months transform this upper-peninsula city into a charming Lake-side community with excellent fishing opportunities and hiking trails, including the fantastic Bay de Noc to Grand Island Trail.
Hiawatha National Forest - Nestled amongst the dramatic shorelines of three of the great lakes, this forest is wild and scenic, with serene shorelines, dense forest, lighthouses and islands. This forest is transformed into a winter wonderland with an abundance of snow in the winter season.
Pictured Rocks National Lakeshore - Take a detour to see the breathtaking scenery of Pictured Rocks and enjoy awe-inspiring rock formations in this park offering 40 miles of lake shore and 100 miles of forest to explore with winding trails.
Indian Lake - Spend a day out on this lake, lined with beautiful trees and offering fishing, swimming and sailing to visitors.
Cut River Bridge - Take a minute to marvel at the Cut River Bridge, a feat of engineering that emerges out of the forest, crossing over the Cut River. The Cut River rest area has walking paths along the gorge to you can marvel at the bridge and surrounding natural beauty. This is a great place to stop for lunch or a picnic.
Sand Dune Beach - A sandy beach on the shore of Lake Michigan, this is a great place for scenic lake views and good old beach day fun before you reach Mackinaw City.
Mackinac Bridge - Once the largest suspension in the world, the Mackinac bridge spans an impressive 26, 372 feet, and connects the upper and lower peninsulas of Michigan and will bring you to Mackinaw City where you can catch the ferry to take you to Mackinac Island.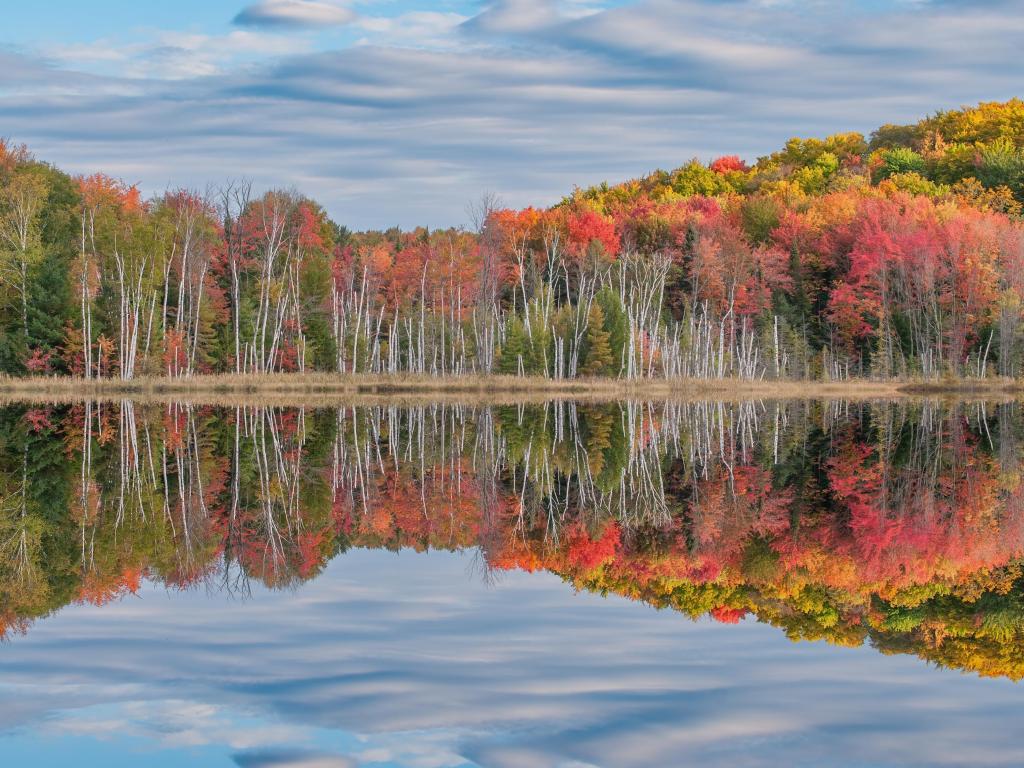 The Eastern Route
Muskegon State Park - Three miles of breathtaking shoreline are on offer at the state park, providing views of both Lake Michigan and Muskegon Lake. Perfect for a lake-side beach day, hiking, or trying out one of the many winter sports on offer here during the snowy season.
Grand Haven - Located on the Eastern shore of Lake Michigan, Grand Haven is known for its sandy beaches, and its boardwalk lined with trendy shops and restaurants. Hiking trails can be taken from the Rosy Mound Natural Area, taking walkers through wooded dunes to stunning lake views.
Grand Rapids - Famed for its many breweries, serving award-winning beer, Grand Rapids has lots to offer travelers, including art museums, sculptured gardens, and top mountain biking trails.
Huron-Manistee National Forest - Take a detour to this national forest spanning almost 1 million acres, including over 5000 acres of wetland. This forest is thriving with nature including deer, bobcats, coyotes, woodpeckers, songbirds, and red foxes.
Cadillac - Offering hundreds of miles of groomed snowmobile trails, Cadillac is home to the oldest ski resort in Michigan.
Lake Cadillac - This is a prime fishing spot, which also boasts boating, swimming, kayaking, and canoeing activities. With a public beach, Lake Cadillac is perfect for swimming and enjoying this beautiful lake.
Houghton Lake - Known for its scenic lake and picturesque shops, Houghton Lake is a tourist's delight. Home to a winter sports festival, in the summer this is a bustling lakeside town filled with quirky shops and restaurants.
Deadman's Hill Outlook - Hike to the top of this hill for stunning views of the surrounding area. Visit in the shoulder season to see the tree line transform with different colors.
Gaylord State Forest Area - A top biking spot, this state forest provides fantastic hiking trails, and cross-country skiing and snowshoeing in the winter. With breathtaking natural views of densely forested areas, this state forest is home to songbirds and diverse wildlife.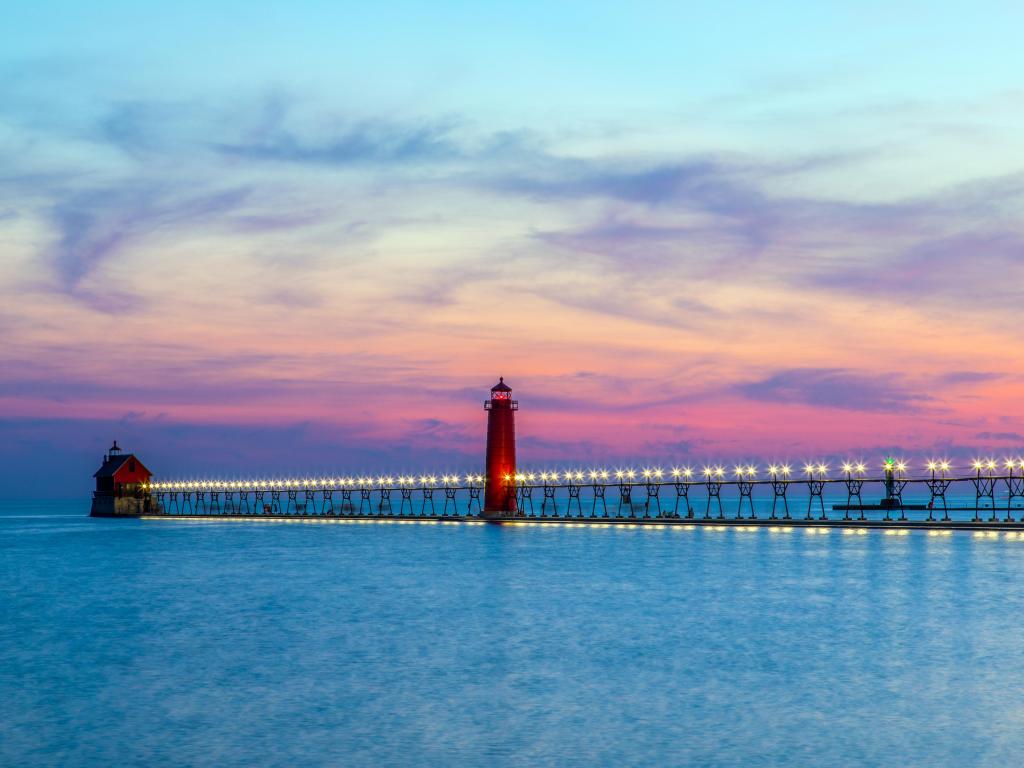 Both routes
Mackinaw City -Where the great lakes of Michigan and Huron meet, Mackinaw city has historic parks and sandy beaches for visitors to explore, as well as excellent shopping and a delicious array of restaurants. Check out Colonial Michilimackinac; an 18th-century fort, and Old Mackinac Point Lighthouse for stunning views over the lake and information about the history of this village.
Best time to go on a road trip from Milwaukee to Mackinac Island
Mackinac island is open to tourists all year round, however, ferry companies operate on a limited basis between January and mid-April.
Summer on the island is comfortably warm, rarely seeing above 76 degrees Fahrenheit. The weather in the summer months lends itself to exploring the quaint island center by horse carriage and hiking around the beautiful island.
However, keep in mind that the summer months are very busy, with the island typically seeing 5,000 visitors daily, so expect higher accommodation prices and busy attractions.
Mackinac Island is much quieter in the winter, and many key attractions close in the off-season. The island experiences plenty of snowy weather which transforms the island, with daily temperatures averaging between 30 and 20 degrees, and can see lows of 11 degrees Fahrenheit.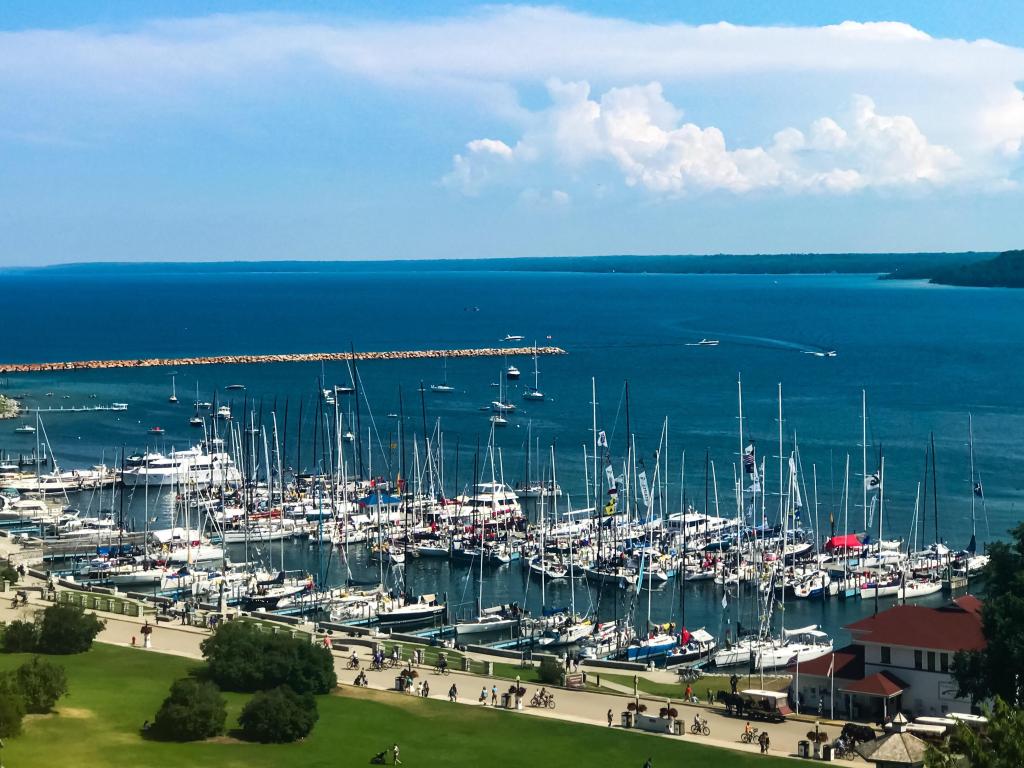 Late spring is the start of the tourist season on Mackinac Island, with temperatures increasing to a pleasantly warm average of between 50 degrees to 60 degrees.
October is when temperatures start to drop again with the average temperatures falling between 38 and 56 degrees. The shoulder seasons are quieter, and if you can brave the cold weather, it is a beautiful time of year to visit.
Mackinac island is famous for its fudge, and fans of the sweet treat should plan their visit to coincide with the annual fudge festival which happens every year on the last weekend of August. June is devoted to the Lilac Festival celebrating all things flower power.