Road Trip from Newark, NJ to Myrtle Beach
The tantilizing road trip between Newark, New Jersey and Myrtle Beach offers two very different options to choose from, meaning you can enjoy world-famous cities one way, and smaller, relaxed coastal towns on your route back home. However, with its classic boardwalk entertainment, world-class golf courses and 60-mile stretch of sand, Myrtle Beach is a place you might never want to leave.
The road trip from NJ to Myrtle Beach is 660-800 miles long, depending on your route, and takes 13-21 hours to drive. Stops on one route include Atlantic City, Cape May and Virginia Beach; and the other features Philadelphia, Washington DC, Richmond and Raleigh.
We've put together our recommended routes and our unmissable highlights between Newark and Myrtle Beach, as well as offering some suggested overnight stops and the best time of the year to travel. So, read on and map out your perfect road trip from Newark, NJ to Myrtle Beach.
How far is Myrtle Beach from Newark, NJ, and how long will the road trip take?
Comparison of road trip route options between Newark, NJ and Myrtle Beach

| Route | Distance | Driving Time |
| --- | --- | --- |
| The City Route | 660 miles | 12 hours 30 minutes |
| The Atlantic Coast Route | 800 miles | 20 hours 45 minutes |
Our two routes between New Jersey and Myrtle Beach both cover some enticing ground. The speedy City Route will take you through some of the United States' most bustling cities, including Washington, DC and Philadelphia, and along picturesque green landscapes in Virginia and North Carolina.
The more leisurely Atlantic Coast Route, by contrast, will take you along the beautiful waters of New Jersey and through a string of small and relaxing beach towns on the coast.
The Atlantic Coast Route is 800 miles and will take you 20 hours and 45 minutes. This longer and more scenic route will take you down through several of the United States' cutest beach towns on the East Coast, staying close to the water throughout.
You should take 4 days minimum for this trip, although we'd recommend you spend a week to make the most of the experience.
Best road trip route from Newark, NJ to Myrtle Beach
There is no single 'best' route from NJ to Myrtle Beach. The route you choose will ultimately depend on your preference in terms of scenery and the attractions you'd like to see along the way. Plus, if your time is somewhat limited, the City Route might be more appealing for this reason alone.
As well as being quicker, the City Route for this trip takes you through some of the most interesting and culturally significant cities in the United States, including Philadelphia, Washington DC, and Richmond. This route takes significantly less time than The Atlantic Coast Route.
The Atlantic Coast Route also stops at some larger New Jersey cities like Atlantic City, but its ultimate selling point is the serenity of being on the water. Drive right along the Outer Banks, a 200-mile stretch of barrier islands that are known for their quiet and natural beauty.
In short: if you have time to spare and would like to take a more relaxed trip off the main path, then our longer Atlantic Coast Route may be the one for you.
The City Route
Begin your trip by leaving Newark, NJ on the I-95, heading south towards Philadelphia. You'll bypass Trenton as you cross from New Jersey into Pennsylvania, over the Delaware River.
Continue tracking the Delaware River as you enter the city of Philadelphia. This is a great opportunity to stop, grab lunch (Philly cheesesteak, anyone?) and stretch your legs before getting back out on the road. And make sure you snap a photo with the Liberty Bell and the Rocky Balboa Statue while you're in town.
On leaving Philadelphia, jump back onto the I-95 and stay on this road for another 2 hours 45 minutes - passing through Wilmington and Baltimore - before arriving at Washington DC. It'd be a crime not to stop in DC for at least a night, so make sure you check out our recommendations below for a great stopover here.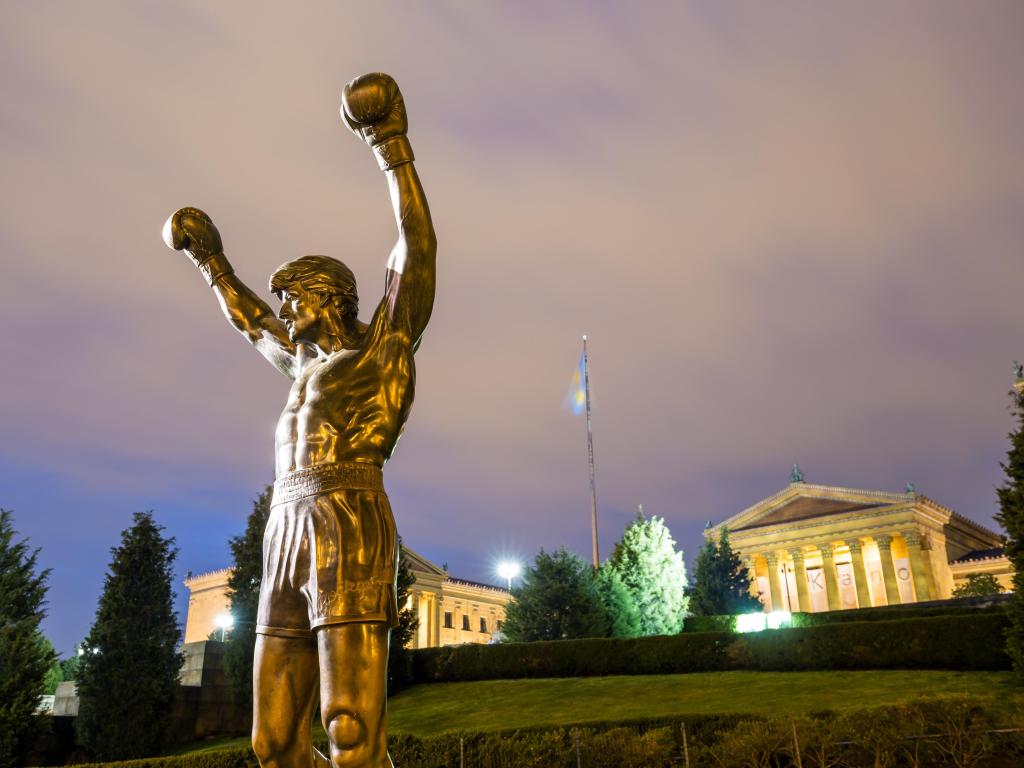 Once you've had your fill of Washington DC, head back to the I-95 and head south, through Virginia, taking the opportunity to visit Richmond en route if time allows. Otherwise, continue on I-95 until you reach Exit 97 (near Selma), where you can take to reach Raleigh, NC.
It's around 40 minutes' drive on Highway 70 into Raleigh from here. After stopping at Raleigh, take the I-40 south until you can rejoin the I-95, just before Benson, NC. Once, you're back on I-95, stay on here until you reach the I-74 on which you'll head east in the direction of Wilmington.
Once you cross into South Carolina, you'll find yourself on Highway 701, merging into SC-66 and Red Bluff Road just south of the town of Glenn. Head all the way to the coast from here: you'll reach North Myrtle Beach and Arcadian Shores in just under 30 minutes.
The Atlantic Coast Route
On leaving Newark, NJ, take the Garden State Parkway all the way to Cape May. This is an easy two-and-a-half hour drive along the coast, and Exit 38A will take you to Atlantic City around two thirds into this leg of the trip, if you fancy a break in this entertainment hotspot.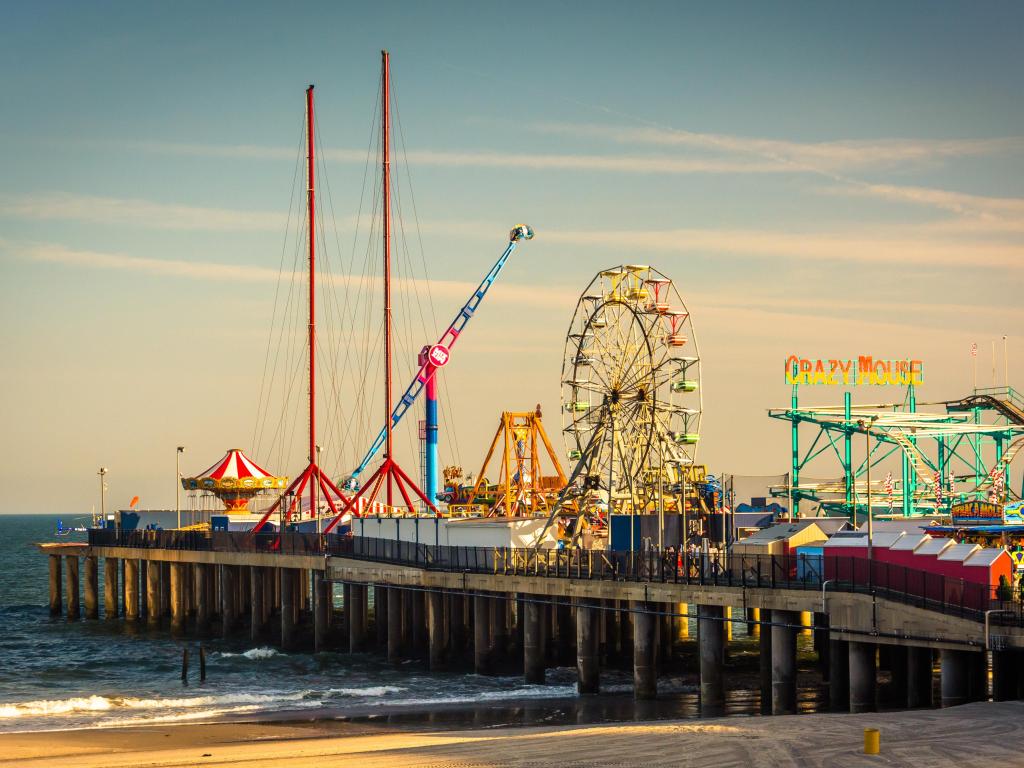 Once you reach Cape May, consider making a quick detour to Cape May Lighthouse, with its museum and spectacular sea views. After that, take the ferry across to Lewes (around 85 minutes) and join DE-1 heading south, following the coast to Chincoteague.
You really must stop at Chincoteague to witness its incredible wild ponies cantering on the beaches of Chincoteague National Wildlife Refuge on Assateague Island. After this, take US-13 south to Virginia Beach.
Following a stop at Virginia Beach, take the I-264 to the outskirts of Norfolk where (unless you'd like to stop here for a bite to eat), you'll join the I-64 until you reach the exit for V-168 S.
Just as you reach Barco, you'll switch onto Highway 158 and take the Wright Memorial Bridge across the Currituck Sound. You'll make your way down the stunning Outer Banks until you reach Ocracoke. Here, there's a ferry across the Ocracoke Inlet to Cedar Island where, once again, you will be traveling on NC-12, merging onto Highway 70 shortly thereafter.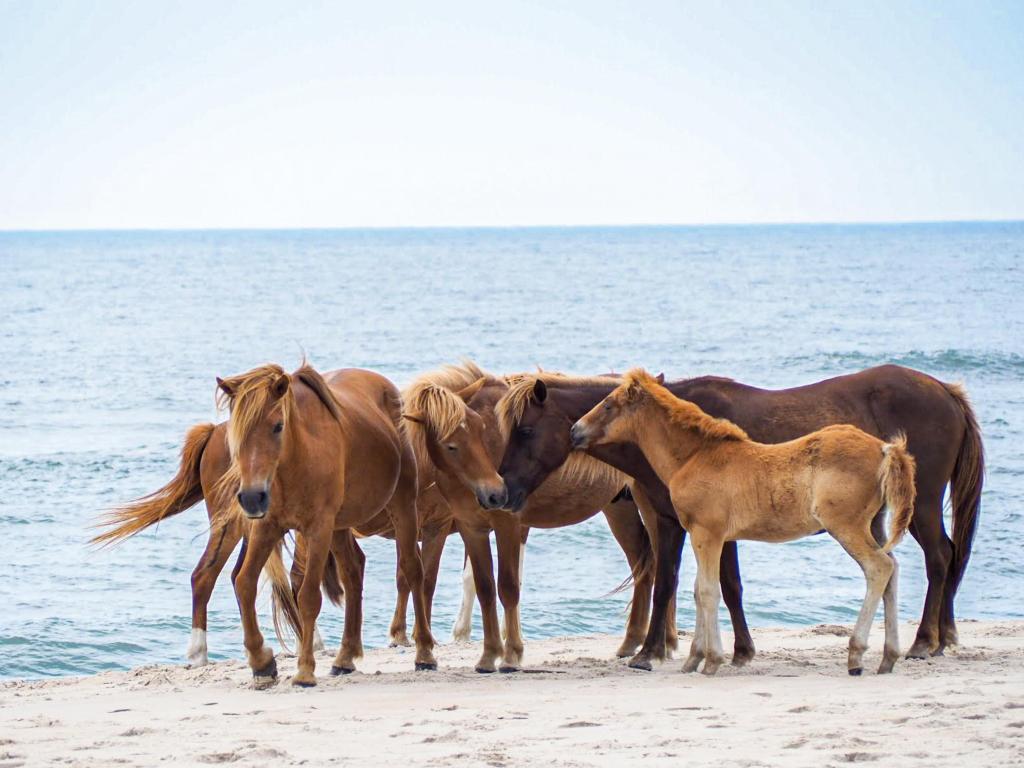 From here, navigate towards Jacksonville and then Wilmington (and Highway 17). Shortly after Wilmington, you'll cross over into South Carolina, ready for the short onward journey to Myrtle Beach, which is a mere 30 minutes down the coast from the state line.
Best places to stop between Newark, NJ and Myrtle Beach
While you could technically complete our City Route in one day, we wouldn't recommend it. And there's definitely no safe way to drive the entirety of The Atlantic Coast Route all in one go.
There's so much to see on both of these fantastic routes that you should plan for at least one overnight stop - and preferably more - on this road trip from NJ to Myrtle Beach. We've highlighted just a couple of our favorite stopping points below, plus our recommendation for where to stay once you reach Myrtle Beach.
Explore monumental Washington DC
Washington DC is the United States' bustling capital and is located just under halfway on the City Route. It's the perfect place to stop after a day of driving through Maryland and New Jersey, especially if you have already spent some time in Philadelphia. You'll need a rest!
Home to some of the country's most recognizable attractions such as the White House, the Lincoln Memorial and the United States Capitol building, DC is also known for its rich artistic and culinary offerings and vibrant nightlife.
Enjoy a night out on the town in DC before the final leg of your journey the next day. As the remainder of the trip passes mainly through smaller cities and towns, some time in the nation's capital will be a great source of contrast.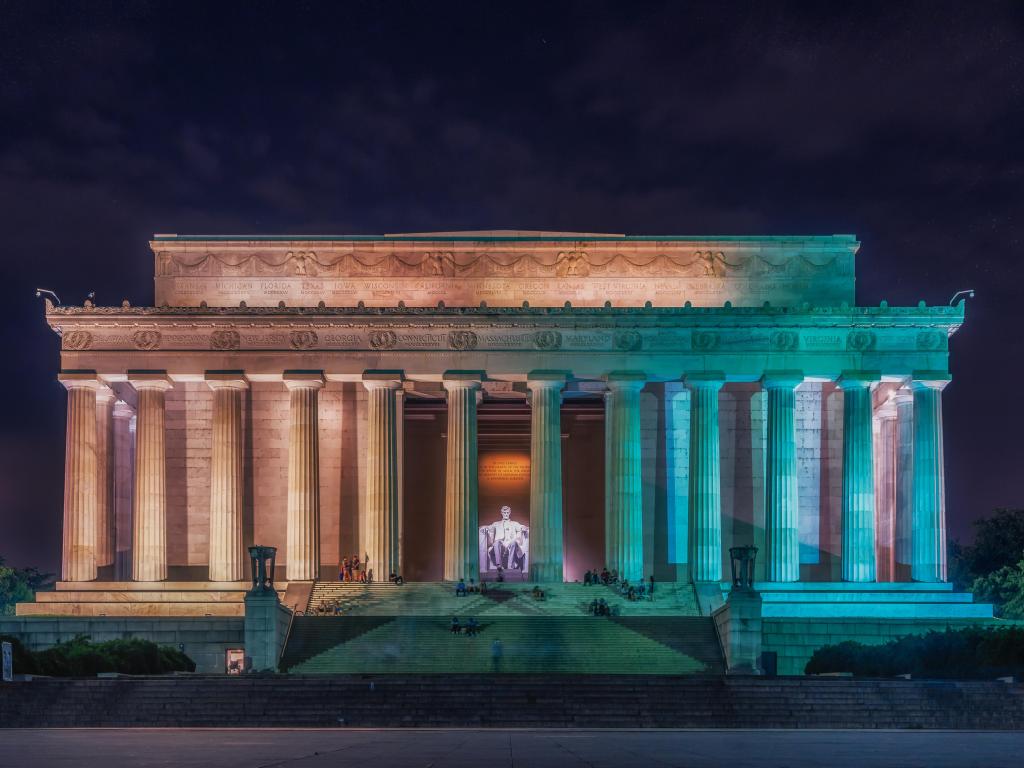 While you're in DC, be sure to visit the Lincoln Memorial. There are few monuments in the world that are as recognizable as this one. Similarly, the Smithsonian National Museum of History is simply unmissable. One of the world's most acclaimed museums celebrating the natural world, the Smithsonian offers year-round exhibits including a butterfly pavilion and hundreds of fossils.
For a convenient and luxurious stay in Washington DC, we recommend The Mayflower Hotel, Autograph Collection. It is centrally located, just 800 meters from the White House. This is also one of the most historically significant hotels in DC, having played host to society weddings, inaugural balls, and famous guests.
Nestled in the city's Golden Triangle neighborhood, guests will find that they can easily walk to many of Washington's signature attractions, including the Washington Monument and Smithsonian Museum. This hotel is also walking distance to the Farragut West Subway Station, linking you to the rest of the city and its attractions.
Relax on the sand at Virginia Beach
Virginia Beach is halfway along the Atlantic Coast Route route, which makes it the perfect place to spend the night after a day of driving through New Jersey. Virginia Beach is the penultimate city you'll pass on this route before a long stretch of driving to Myrtle Beach, which means you can get a good night's rest before the remaining stint of the travel.
Virginia Beach is also more populated than some of our other stops on this route, which means more choice in terms of accommodation, dining and attractions. You'll also have access to other cities like Norfolk and Chesapeake, as well as activities in Virginia Beach itself.
Located along the coast in southeastern Virginia, Virginia Beach is a bustling seaside destination known for First Landing State Park, where Jamestown colonists first arrived from England in 1607. This historically significant city enjoys a reputation as having a great culinary and arts scene, so it's perfect for a one night stopover.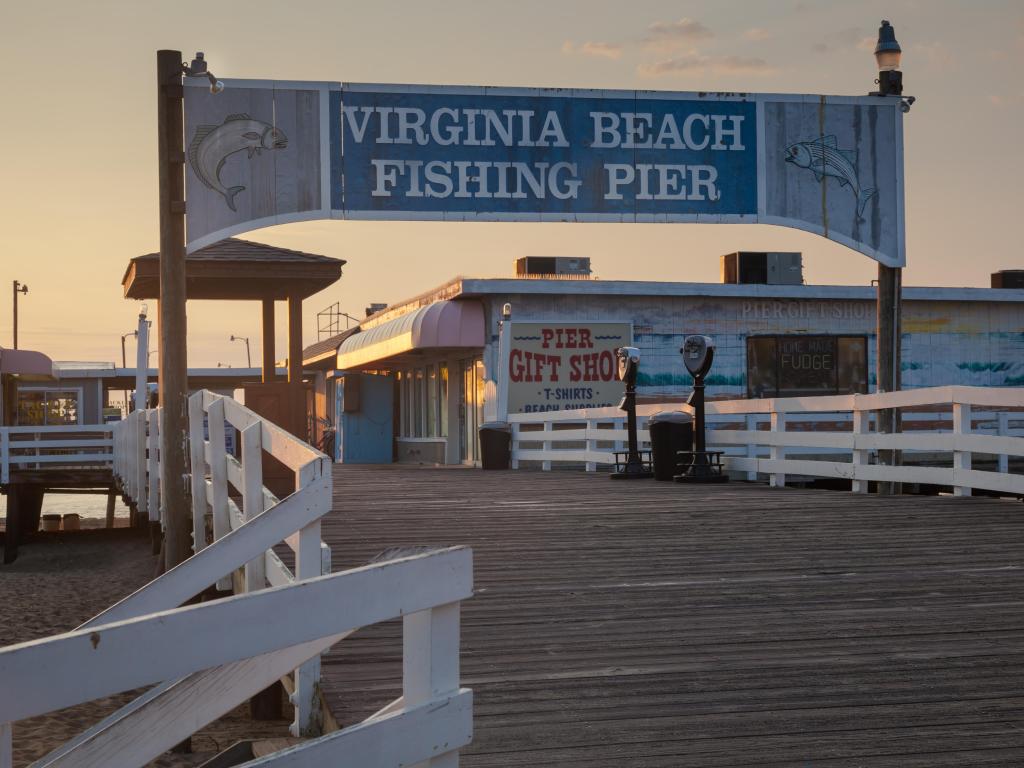 While you're in town, be sure to make yourself at home in the ViBe Creative District. This quirky and artistic neighborhood is a favourite landing spot for artists and boasts comfy coffee shops, dozens of artisan shops and a weekly farmers market. You'll also want to see the Virginia Aquarium, Marine Science Center and the Virginia Museum of Contemporary Art if you have time.
For a comfortable and luxurious stay, we recommend Delta Hotels by Marriott Virginia Beach Bayfront Suites. Positioned right on Chesapeake Bay oceanfront, offering gorgeous views of the Atlantic and this city's famous boardwalk, the hotel has a private beach to enjoy.
Most of the hotel's rooms and suites come equipped with balconies, where guests can set and watch the sunrise and sunset - perfect for a spot of relaxation before you resume your drive.
Where to stay when you reach Myrtle Beach
You'll be ready for some relaxation once you arrive at Myrtle Beach, whether you've followed our bustling City Route or journeyed down the Atlantic Coast. And there's no better place to relax here than Hilton Grand Vacations Club Ocean 22 Myrtle Beach.
Centrally positioned on Myrtle Beach's celebrated boardwalk, this upscale yet laidback hotel is ocean-facing, with a great beachfront location.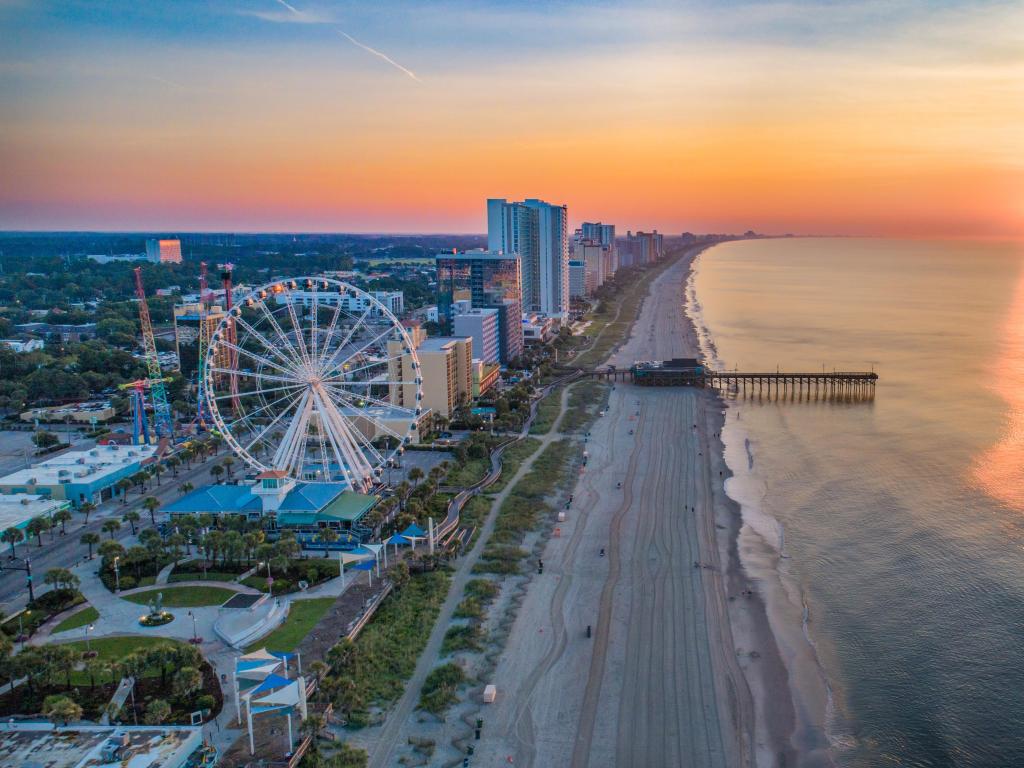 You'll find yourself just minutes from some of Myrtle Beach's main attractions, including the Myrtle Beach FunPlex and SkyWheel, meaning you can take a break from your car and easily explore the area on foot.
And if you fancy just holing up and enjoying the hotel's facilities, that's no problem either. The Hilton Grand Vacations club offers both indoor and outdoor pools (great for all seasons), complete with poolside bars.
Things to see on a road trip from Newark, NJ to Myrtle Beach
This fantastic road trip takes you through some of the country's most prominent metropolises - or, alternatively, some beautiful and tranquil coastline - meaning there's plenty to see whether you are looking for urban monuments or stunning wildlife. Take a look at our trip highlights below, organized by route, as you plan your road trip from NJ to Myrtle Beach in more detail.
The City Route
New Hope Railroad - About an hour's detour from the City Route sits this heritage railroad, where visitors can take a ride along historic train tracks on steam and diesel locomotives.
Rocky Statue - Take a selfie with this famous fictional boxers' massive statue, located along Philadelphia's Schuylkill River.
Dutch Wonderland -Voted the World's Best Family Park, this 44-acre amusement park is about an hour off-route and boasts roller coasters, water slides, and a castle.
Green Spring Gardens - This park, featuring a wooded stream valley and over 20 demonstration gardens, also boasts a historic house where visitors can enjoy tea.
National Museum of the United States Army - For the army-heads, this arresting museum offers free exhibits exploring the nearly 250-year history of the US Army.
Neabsco Regional Park - Boasting over 300 acres of natural, recreational, and historic amenities, this beautiful park is the perfect pit-stop to stretch the legs and explore all the beautiful nature Virginia has to offer.
Pullen Park - The 5th-oldest amusement park in the U.S., boasting a mini-train, carousel and paddle boats amongst its many attractions.
Fayetteville - This small but mighty North Carolina city boats a Botanical Garden, the Airborne and Special Operations Museum and a home-museum of celebrated American author Edgar Allen Poe.
Yogi Bear's Jellystone Park at Daddy Joe's - Quirky cartoon-themed resort that boasts an ice cream parlor, outdoor pool, fishponds and a The Pic-A-Nic Basket, a Yogi-Bear-themed restaurant.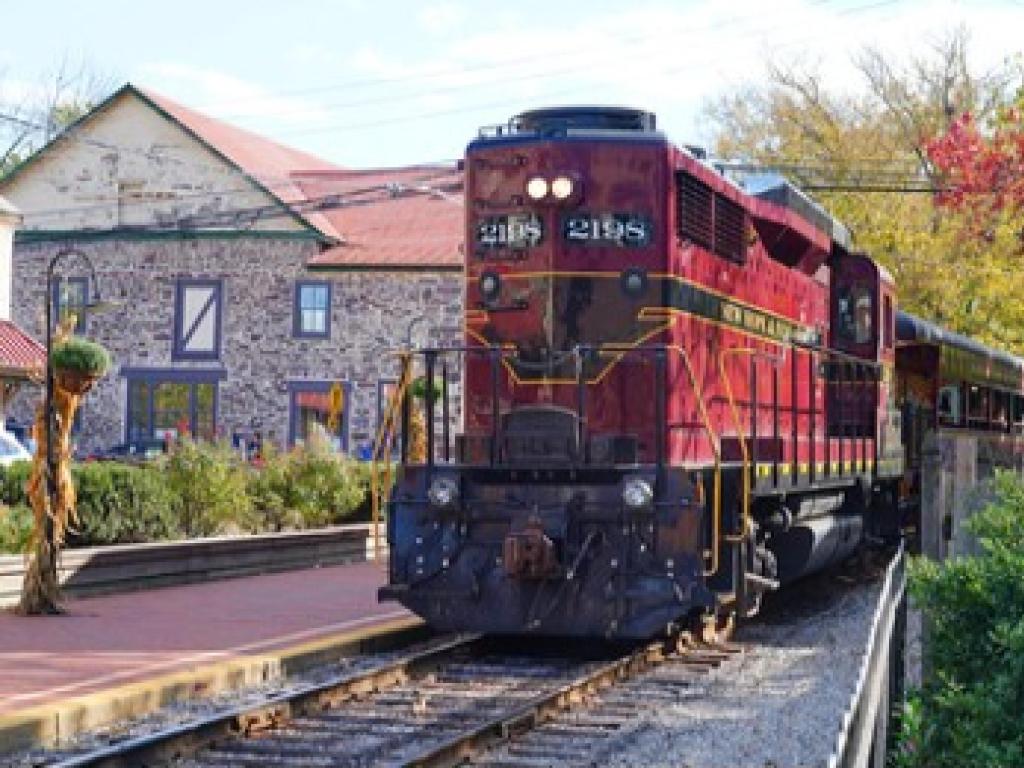 The Atlantic Coast Route
Insectropolis - This curious New Jersey museum has the ick-factor, offering interactive exhibits where guests can touch and play with tarantulas, millipedes, scorpions and a host of other bugs.
Bud The Bayville Dinosaur - This quirky statue is a favorite amongst locals and the perfect pit-stop photo opportunity.
Tuckerton Seaport Museum - Serving as a showcase for New Jersey's coastal culture, this museum offers scenic ferry tours, a wetlands train and a Steampunk-inspired tearoom.
Atlantic City Boardwalk - Featuring ocean views and good eats, this boardwalk will also take you to some of Atlantic City's most famous casinos and gambling houses.
Ocean City Boardwalk - Another boardwalk along this route, the Ocean City Boardwalk is unique for its vintage amusement park and mini-golf center.
Ripley's Believe It or Not! - Located in Ocean City, Maryland, this museum boasts eerie exhibits featuring shrunken human heads, rare animal skeletons and visual illusions.
Military Aviation Museum - Just an hour's detour from this route, you'll find the Military Aviation Museum offering a look at vintage warplanes in their massive hangar.
Wright Brothers National Memorial - Discover the take-off spot of the first successful airplane flight, and explore educational exhibits related to these famous brothers.
Crystal Pier - This restored wood-&-bolt jetty was originally built and in 1939 and is the perfect spot to catch a sunset or take a romantic walk.
Mary's Gone Wild - Home to a Folk Art Garden and Doll Village, this free and quirky attraction displays out-of-the-box artistic works by American Artist Mary Paulsen.
The Swamp Park: Zip Line and ATV Center - Up for an adventure? This state-of-the-art outdoor amusement park boasts an elevated ropes course, zip-lines and eco-boat tours, perfect for children and adults alike.
Best time to go on a road trip from Newark, NJ to Myrtle Beach
While Myrtle Beach can certainly be visited any time of year given its temperate coastal weather, the best times to enjoy this beach town's main attractions are in the fall, late spring, and early summer.
Summers in Myrtle Beach range from warm and pleasant in June to hot (and slightly oppressive) in July, when temperatures range between an average high of 87 degrees Fahrenheit and low of 74 degrees Fahrenheit. Summer can also often bring pop-up thunderstorms along with it. If visiting during this time, make sure to stay hydrated and expect crowds, as this is Myrtle Beach's peak tourism season.
Despite the heat, summer also benefits from lots of outdoor activities and events, so there is always something to do when taking a break from relaxing on the beach.
Winters in Myrtle Beach are cool and windy, typically lasting between December and early March with an average daily high temperature falling below 62 degrees Fahrenheit.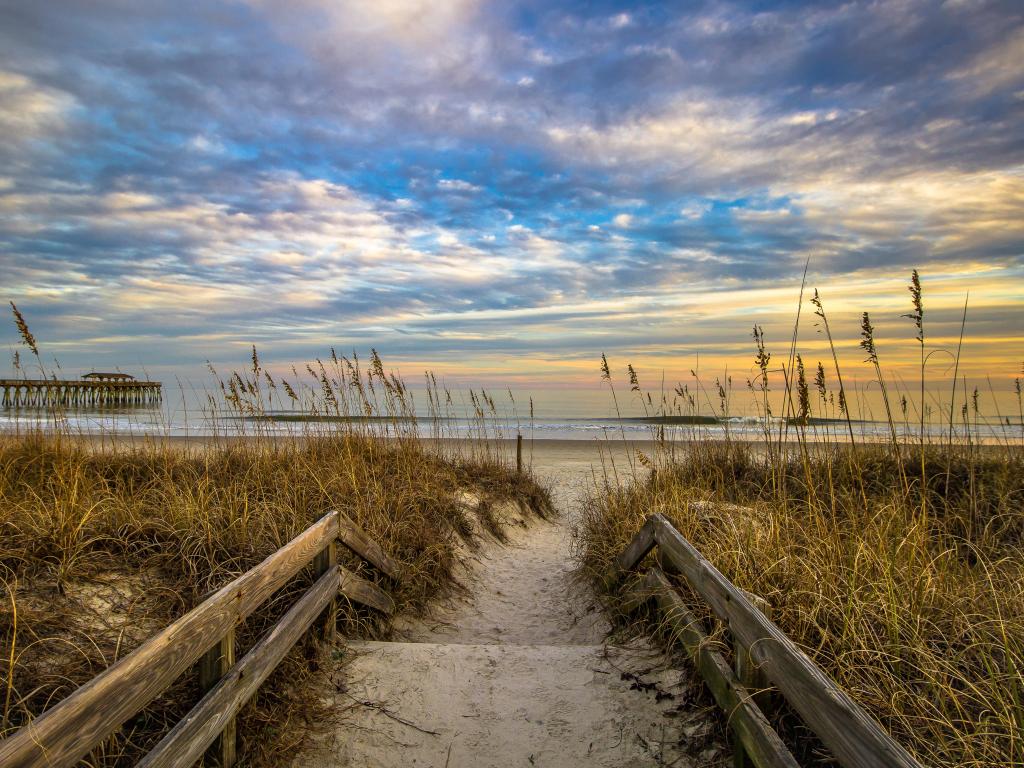 This is not the most ideal time to be visiting Myrtle Beach, as surrounding waters are often too cold to swim in and many of the town's major attractions and restaurants are closed. However, this is the tourism low-season, meaning that accommodation rates will typically be lower than during the summer.
Fall and spring are wonderful times to visit Myrtle Beach, as there are tons of festivals and events during these times, but travelers can still enjoy the low accommodation rates offered by the tourism shoulder season. Waters will still be warm enough to swim in during the months of September and October, with temperatures averaging in the mid-70s.
May and April brings lower room rates, spring festivals and temperatures averaging between 75 and 85 degrees Fahrenheit.
Myrtle Beach has tons of festivals to offer during its peak tourism season, as well as its shoulder seasons. Fall brings Fall Bike Week, Oktoberfest, the Atalaya Arts & Crafts Festival, and the Myrtle Beach Mini Marathon. Spring, meanwhile, brings a Bike Rally, the Blue Crab Festival and the Myrtle Bach International Film Festival.
While winter is certainly less busy, it still ushers in a series of shows and events celebrating the holidays, including the Broadway at the Beach Christmas Parade.
And if you crave the heat - and can brave the crowds - then summer in Myrtle Beach offers a cornucopia of events, including the Carolina Country Music Festival, Coastal Uncorked and Mustang Week. You certainly won't be bored!