Road Trip from Newark, NJ to Boston
If you're seeking a short adventure that packs a punch, the road trip from Newark, New Jersey to Boston, Massachusetts might just fit the bill. The wonderful trip from "Brick City" to "Beantown" is packed with scenic highlights and charming small New England towns.
The 260-mile road trip from Newark, NJ to Boston takes over five hours. Inland stops include Hartford and Worcester, as well as Aldrich Contemporary Art Museum and Lake Kenosia Park. Coastal highlights include New Haven, Newport and Providence.
We've put together the best routes and the must-see highlights on this road trip, as well as offering some recommended overnight stops and the ideal times of the year to travel. So, read on to discover how to plan the perfect road trip from Newark, NJ to Boston.
How far is Boston from Newark, NJ and how long will the road trip take?
Comparison of road trip route options between Newark, NJ and Boston

| Route | Distance | Driving Time |
| --- | --- | --- |
| The Direct Route | 260 miles | 5 hours |
| The Coastal Route | 350 miles | 8 hours |
While the drive from New Jersey to Boston is not too long, there are still two great routes for this trip, both of which offer plenty of scenic highlights along the way.
At 260 miles, the Direct Route is the shorter of the two. The route takes just over 5 hours to drive direct, taking you through the states of New York, Connecticut, and Massachusetts.
Alternatively, the Coastal Route covers 350 miles and has a drive-time of about 8 hours without stops. This route will take you along the Atlantic coast, with stops in some pretty towns, such as New Haven and Providence.
While you could conceivably complete either of these routes in a single day, we recommend a more leisurely two or three days to enjoy all this lovely part of the country has to offer.
Best road trip route from Newark, NJ to Boston
If time is a factor, the Direct Route is the best option, saving three hours on the Coastal Route, while offering some interesting places to explore and historic attractions to discover.
The Direct Route is also preferable if you would like to explore inland, especially the state of Massachusetts. It features stops in such places as Hartford, Connecticut and Worcester, Massachusetts. You will also enjoy drives along the Hudson and Connecticut rivers.
If you would prefer to spend your time near the shore, the Coastal Route offers an excellent opportunity to discover a stretch of the Atlantic coast and charming cities such as New Haven, Connecticut and Newport and Providence in Rhode Island.
Given the diversity of landscape, the Coastal Route might just swing our vote for the preferred route. Of course, as this is one of our shorter road trips, if you have the time, you may like to make this a multi-day round trip, so you can enjoy the highlights on both routes.
The Direct Route
Leave Newark, heading north on Interstate-95 (I-95). Cross the Hudson River via George Washington Bridge and continue north on I-87, which will take you through the New York borough of The Bronx.
In Yonkers, pick up the Cross Country Parkway and then Hutchinson River Parkway as you continue north towards Westchester. Near Rye Lake, cross briefly into Connecticut, maybe stopping off at Greenwich Audubon Center.
Journey north again, passing back into New York state. I-684 will take you into the village of Brewster, New York. After your visit to Brewster, pick up I-84 East and re-enter Connecticut. Continue on through the towns of Danbury and Waterbury.
Follow alongside a portion of the Connecticut River as you head for Hartford, and then heading north, cross the state line into Massachusetts on your way to Springfield. Take I-291 East and I-90 East, enjoying the scenic drive on your way to Worcester.
From Worcester, pick up I-90 East for the final leg of the journey to your destination stop, Boston.
The Coastal Route
As before, leave Newark on I-95 North and cross George Washington Bridge into New York. This time, stay on the interstate all the way across New York City to the Harlem River.
Cross the Alexander Hamilton Bridge and follow Long Island Sound. Cross into Connecticut, heading for Greenwich. Cross the Mianus River as you journey on to the city of Stamford.
The interstate will take you across the Norwalk and Saugatuck Rivers before reaching Sherwood Island State Park and beach, which is a great place to stop and relax before getting back on the road.
You can make more detours from the interstate to spend time at one of the beaches and state parks en route to New Haven. From New Haven, cross the Quinnipiac River and maybe stop for a rest at Lake Saltonstall.
Pass the towns of Guildford, Clinton and Old Saybrook and then cross the Connecticut and Thames rivers on the way to Mystic. Near the Rhode Island state line, leave the interstate and pick up US-1 North. Follow the signs to Newport.
From Newport, return to the mainland, heading north towards Providence. Leave Providence and crossing the Massachusetts state line, follow the line of Buzzards Bay. At Sagamore, head north, following Cape Cod Bay through the town of Plymouth.
Enjoy the small towns, state parks and beaches along this final stretch of the journey to your destination stop in Boston.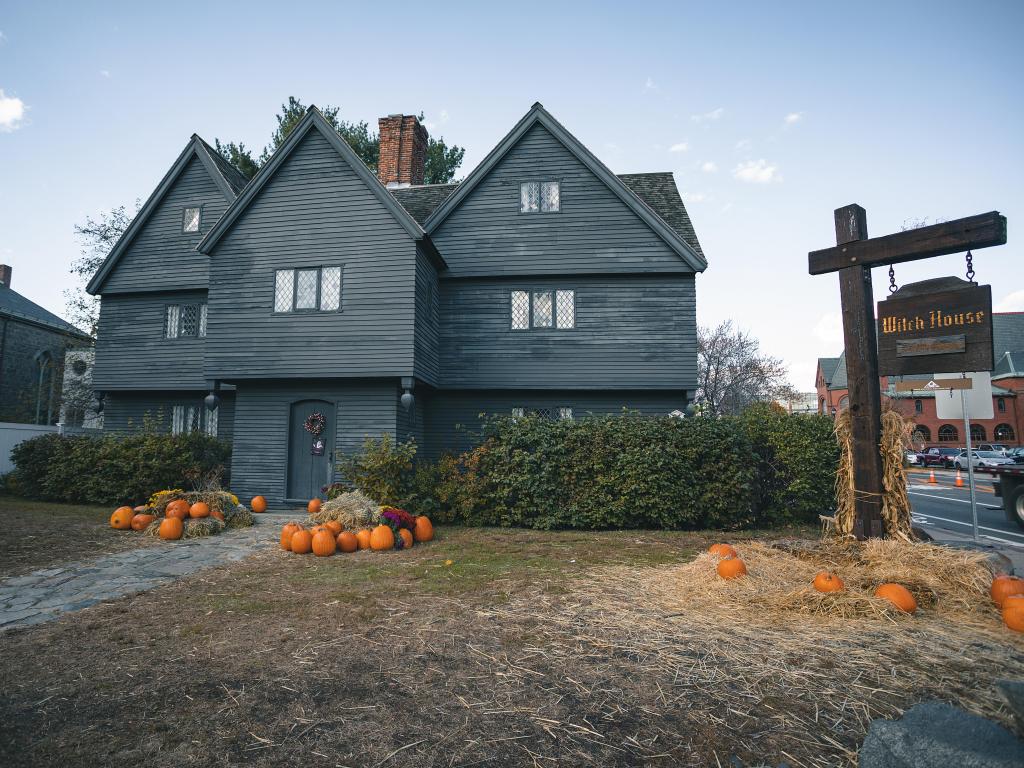 Best places to stop between Newark, NJ and Boston
Even though this is a shorter trip, there are still some terrific options for overnight stops. We've picked out one place on each route that offers a chance to take a break from the road and explore. We also offer a suggestion for a hotel in Boston.
A timeless retreat in Hartford
A great place to stop to rest and unwind on the Direct Route is Hartford, the historic state capital of Connecticut. You'll reach the city about halfway through the road trip. It's also just an hour's detour from the Coastal Route if you are chasing the sun and the beaches.
Hartford is home to lots of interesting museums, notably the Mark Twain House and Museum and Wadsworth Atheneum Museum of Art. Also worth a visit is the Connecticut Science Center, which features over 160 interactive exhibits, a 3D theater, and a Butterfly Encounter.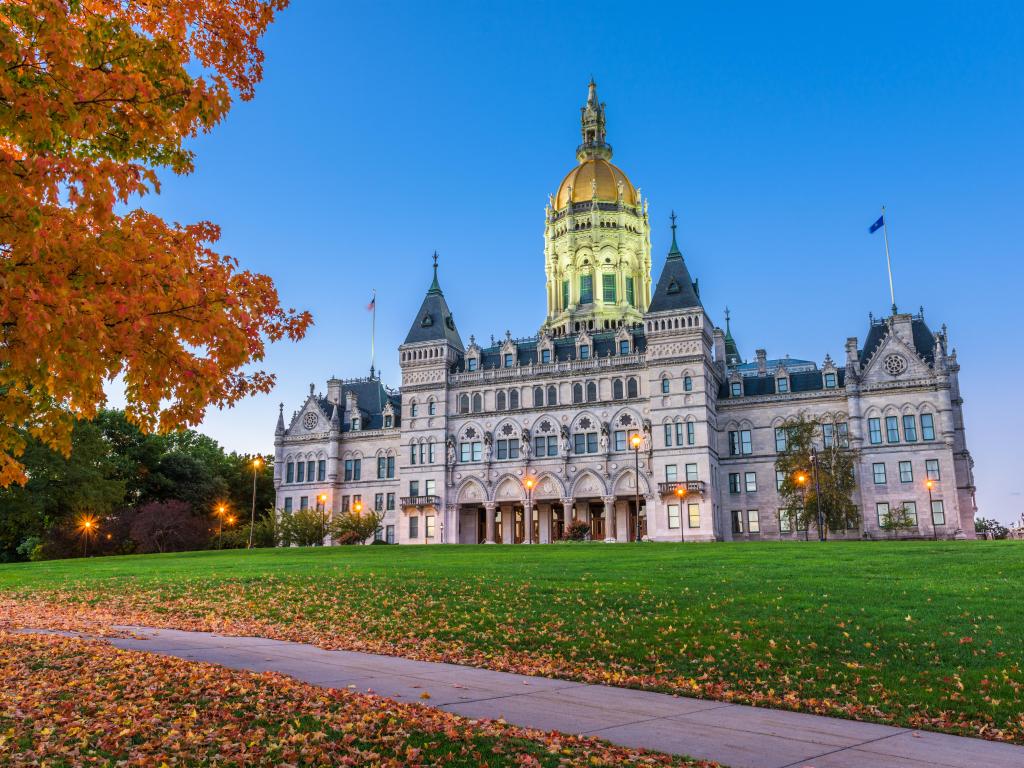 While you're here, be sure to explore the characterful downtown area and enjoy the stunning views from the Connecticut State Capital, a gold-domed building designed to mimic French and Gothic Revival architecture.
Our recommendation for an overnight stay is The Goodwin, a historic boutique hotel located in downtown Hartford. The building boasts an impressive 1800s terracotta façade, while inside, you'll find stylishly decorated rooms, some of which feature cozy fireplaces.
You can walk to beautiful Bushnell Park or to the banks of the Connecticut River to join one of the river cruises. It's also an easy stroll to TheaterWorks and Hartford Stage Company for an evening's entertainment, before returning to the hotel to enjoy a drink at the elegant lounge and cocktail bar.
Coastal luxury in Newport
On the Coastal Route, we recommend an overnight stop in Newport, Rhode Island. You'll reach the city about six hours into your road trip, depending on additional stops along the way. Newport is also a magnet for sailing and yachting enthusiasts.
Newport is a lovely coastal city located on Aquidneck Island. You can explore the beautiful beaches and cliffs and discover the Gilded Age architecture. The city features unique museums and vineyards, as well as upscale shopping and dining.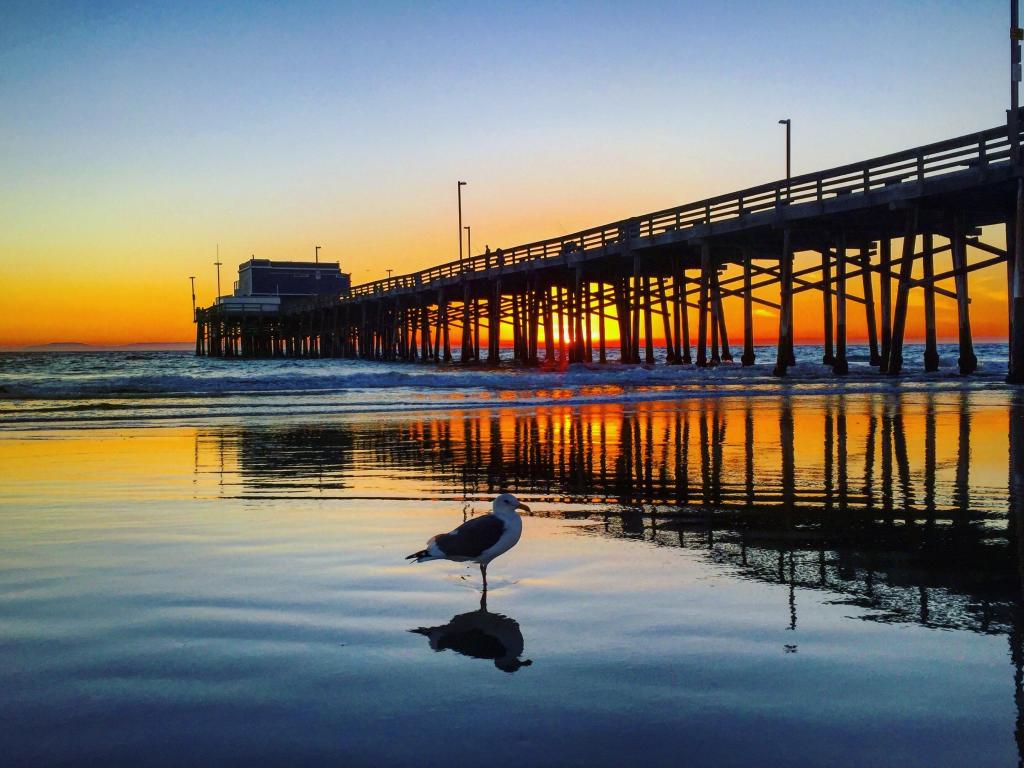 While you're here, be sure to visit The Breakers, a late-1800s mansion that once belonged to the Vanderbilts. You can also enjoy the panoramic views of the harbor at Fort Adams State Park. Newport is also a magnet for sailing and yachting enthusiasts, so try to spot some while here.
Perfectly complement your time in Newport with a stay at the excellent The Attwater, which promises a welcoming and comfortable atmosphere. The boutique hotel features well-appointed rooms and suites with coastal-themed décor.
The hotel is within walking distance of Easton Beach and Newport harbor, while the Cliffwalk is also located nearby. Golf lovers can enjoy a round at Newport Country Club, which is also a stone's throw away.
Waterfront hospitality in Boston
Located along South Boston's waterfront, The Seaport Hotel Boston provides a great base for relaxing and sightseeing at your destination stop.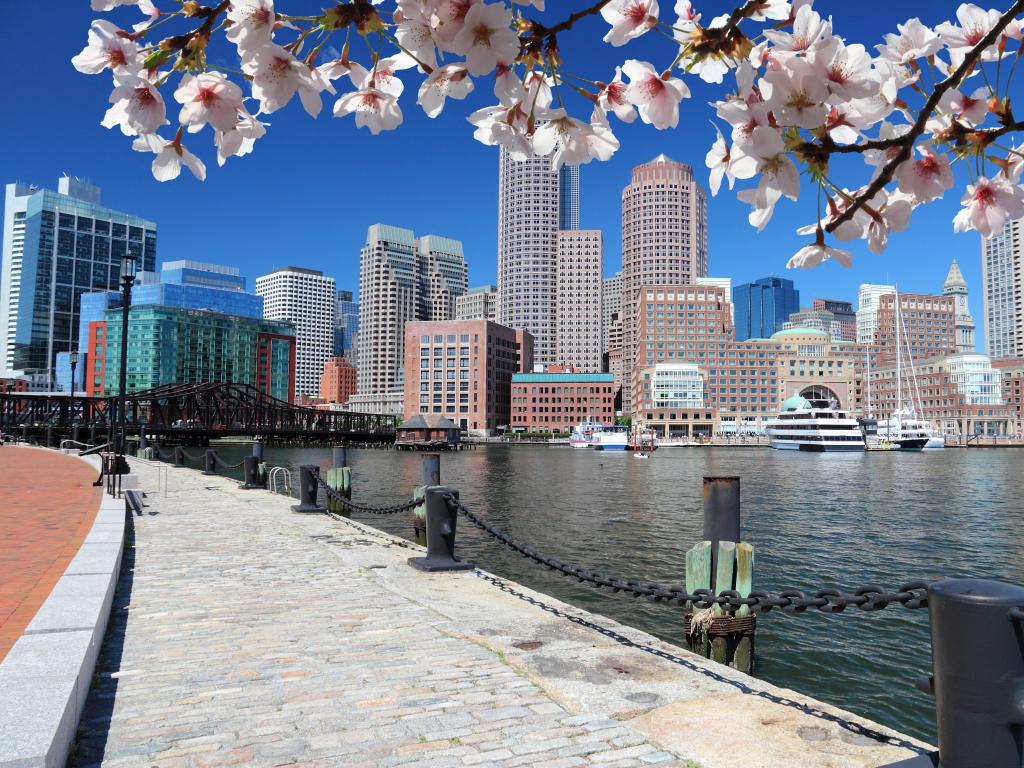 You can walk to many of the city's main attractions, including the New England Aquarium and the Institute of Contemporary Art. If you want to explore further afield, the Silver Line Bus Station is next door. Bike rentals and tours are also available at the hotel.
The highly-rated hotel features comfy guestrooms, some of which have lovely harbor views. There is a well-equipped health club on-site, with an indoor pool, cardio machines, and group exercise classes.
You can also enjoy a meal or drink at Tamo Restaurant and Bar, while the café offers a selection of baked goods and grab-n-go meals.
Things to see on a road trip from Newark to Boston
You can expect plenty of interesting highlights and detours along both our road trip routes. We've picked out a few of our favorites, so you can start planning your itinerary.
Both routes
LEGOLAND Discovery Center Westchester - Located just outside of New York City, this family-friendly attraction features LEGO displays, 4D movies, and rides.
Salem, Massachusetts - Just north of Boston, you'll find this small coastal town and former English colony where the Salem Witchcraft Trials of 1692 took place. It was dramatized by Arthur Miller in his play The Crucible.
Minute Man National Historical Park - This National Historical Park marks the spot of the first Revolutionary War battle in 1775. It offers guided tours and special events that focus on key moments in American History.
The Direct Route
The Aldrich Contemporary Art Museum - A short detour takes you to this contemporary art museum that features a sculpture garden and interesting exhibitions.
Hammond Museum & Japanese Stroll Garden - At this lovely, relaxing garden you can enjoy the art exhibitions, tai chi and meditation sessions, and tea ceremonies.
Thrillz High Flying Adventure Park - If you prefer an adrenaline rush to a gentle stroll, we recommend a stop at this adventure park outside Brewster. It features zip lines, obstacle courses, rock climbing walls, laser tag, and virtual reality rides.
Lake Kenosia Park - Enjoy a few hours at this 25-acre park, which features recreation areas and lovely views across the lake.
Danbury Railway Museum - Discover the collection of artifacts chronicling the history of railroading in New England and explore the 10-acre rail yard.
New England Carousel Museum - This eclectic museum is home to a collection of carousel ephemera and an indoor carousel. It incorporates the Museum of Fire History.
Old Sturbridge Village - This recreated 1930s New England town features costumed historians who will guide you through 40 historical buildings across 200 acres. This attraction also offers dining options and hosts events year-round.
Louisa May Alcott's Orchard House - Discover the home of one of America's most beloved writers, Louisa May Alcott. You can enjoy a guided tour that will take you through the Little Women author's house, built between 1650 and 1720.
Garden in the Woods - Take a short detour to spend time at this lovely botanical garden, which offers two miles of paths surrounded by native plants and streams.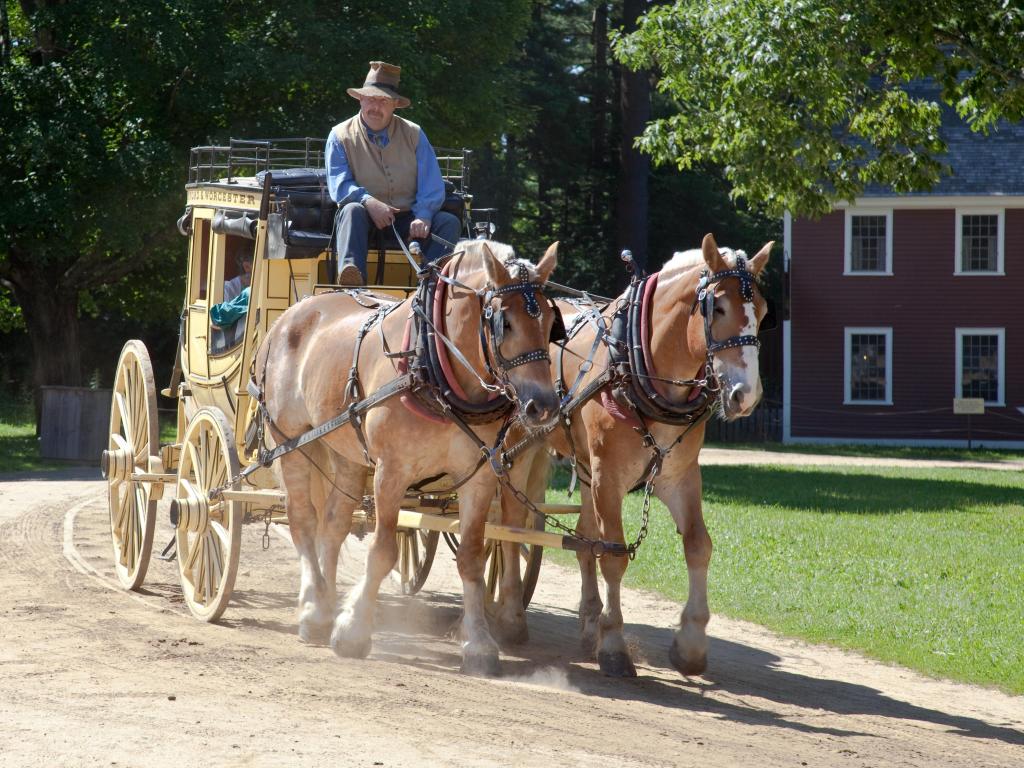 The Coastal Route
Playland Park - Stop by this beachfront amusement park that features 50+ rides, as well as a pool and ice-skating rink. Please note that the park is only open during the summer season.
Cove Island - This island park promises a welcome break from the road. Stroll on the sandy beaches, visit Cove Island Wildlife Sanctuary or fire up one of the BBQ grills for some al fresco dining.
Connecticut's Beardsley Zoo - This historic zoo, the only one of its kind in Connecticut, is home to hundreds of animals from across the Americas. Booking your ticket ahead is advised.
It Adventure Rope Course - A popular New Haven attraction, here you can have fun on the four-level rope courses and zip rails.
Gillette Castle State Park - It is worth a detour from the route to discover this medieval-style mansion that once belonged to actor William Gillette (most famous for playing Sherlock Holmes).
Mystic Aquarium - The aquarium is home to African penguins, Beluga whales, sharks, and other marine life. Buy your tickets online in advance to avoid the lines.
The Stonington Lighthouse Museum - A short detour off the route takes you to this 1840s lighthouse, where you can enjoy a picnic and look out across Long Island Sound and the Atlantic Ocean.
Battleship Cove - Battleship Cove features the world's largest collection of US Naval ships. You can also visit the maritime museum and view a small collection of helicopters and aircraft.
Plimoth Patuxet Museums - Experience pilgrim life at this re-created 17th-century village, which features costumed actors and a full-scale reproduction of the Mayflower.
Provincetown - Located at the northern tip of Cape Cod, this LGBTQ+ friendly seaside town features cabarets, nightclubs and restaurants serving up signature East Coast fare.
Duxbury Beach Reservation - You can dine, swim, sail and surf at this 7.5-mile-long barrier beach, which faces the Atlantic Ocean.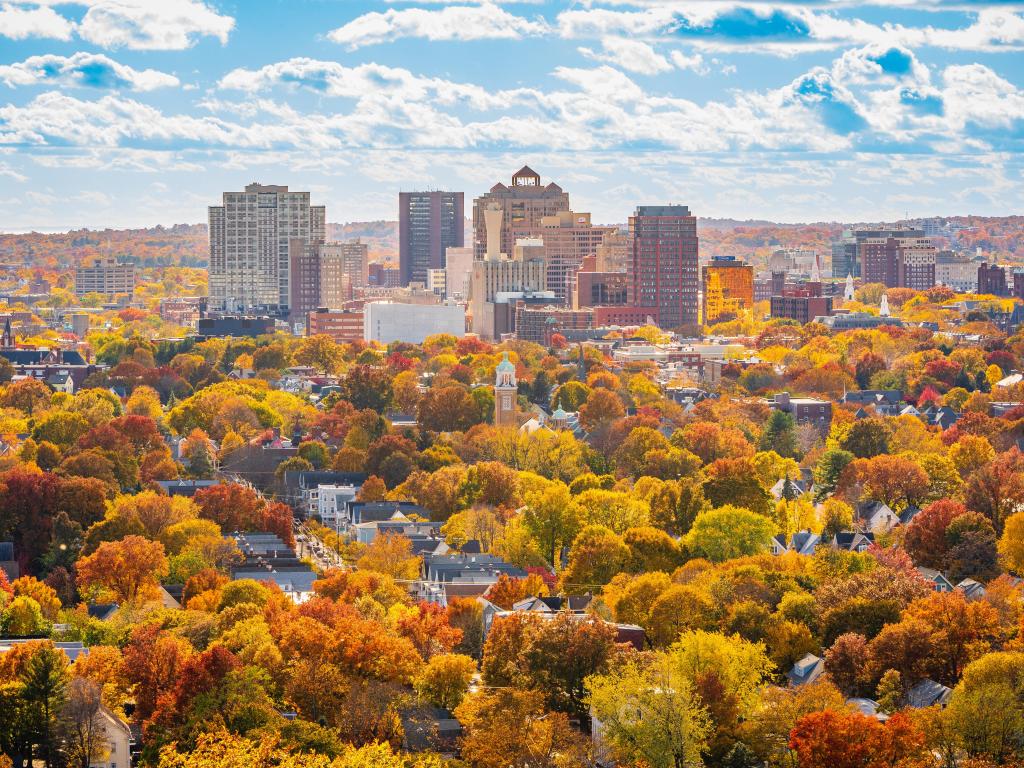 Best time to go on a road trip from Newark to Boston
This is a year-round road trip, though winter does bring snow to Boston and the wider New England region. Daily average temperature during the winter months is 45 degrees Fahrenheit, but a drop to 15 degrees is not uncommon.
If you don't mind the cold, winter also sees lower visitor numbers (and hotel prices) as well as wintry delights, such as ice-skating on Boston Common Frog Pond. You may wish to check road conditions prior to travelling.
Summer brings warm and humid weather to Boston, as well as occasional rain and thunderstorms. Temperatures typically range between 65 and 82 degrees.
Arguably, the best times to visit are early-summer to mid-fall, with warm and pleasant conditions for exploring the city on foot. Fall also brings colorful New England foliage.
Spring weather can be moody, with snow sometimes lingering into April or even May and temperatures averaging between 55 and 65 degrees.
Boston hosts lots of events and festivals throughout the year. For example, spring sees the famous St. Patrick's Day celebrations, as well as Patriots Day and the ArtWeek arts festival.
Meanwhile, summer brings Harborfest and the Boston Pride Festival, while fall features CiderFest and the city's Ghost Tours. Finally, winter brings the city's Christmas market and the SoWa Winter Festival, featuring 100 local food and drink vendors. So, there'll be lots to enjoy, no matter when you visit.