Road Trip from Newark, NJ to New Orleans
If you want to be blown away by mountain views and follow in the footsteps of early American settlers, this road trip from Newark, NJ to New Orleans is the ultimate journey to the Gulf coast that will take you on a wide-ranging tour through the best of America's nature and history.
The 1,300-mile road trip from Newark, New Jersey to New Orleans takes 20 hours to drive. Key stops include Chesapeake and Ohio Canal National Historical Park, Roanoke and Knoxville, or detour via the Blue Ridge Parkway, Blowing Rock and Cherokee.
This trip is perfect for travelers who want to experience a little bit of everything, from stunning mountain scenery to major historical cities. Whichever route you take, you'll want to remember your camera and read on to find out the best routes, places to visit and best time to make this scenic trip.
How far is New Orleans from Newark, NJ, and how long will the road trip take?
Comparison of road trip routes between Newark and New Orleans

| Route | Distance | Driving Time |
| --- | --- | --- |
| Direct Route | 1,300 miles | 20 hours |
| Blue Ridge Parkway Route | 1,400 miles | 25 hours |
There are two ways to make this trip - either directly via major highways or by following the scenic mountain route.
The Direct Route spans a distance of 1,300 miles and accounts for 20 hours of driving, not accounting for stops along the way. This is the fastest drive and is easy to navigate, though you may encounter some traffic as it passes through several major cities.
The Blue Ridge Parkway Route is 1,400 miles long and takes around 25 hours to complete. The scenic route is significantly longer, and there could be extra detours as it follows much smaller roads more liable to closures.
Both routes could be completed in 3 to 4 days, though we'd really recommend a week so that you can fully immerse yourself in the mountains and take in the sites of interest along the way.
Best road trip route from Newark, NJ to New Orleans
Both routes have plenty to recommend them, so you should choose according to your preference for cities or nature, and whether you want to devote extra time to exploring mountain ranges and national parks.
The Direct Route passes through some beautiful old cities, including Harrisonburg and Roanoke, on the way to Southern stalwarts such as Chattanooga and Birmingham. Consequently, it has plenty of opportunities to visit museums and historical sites.
The Blue Ridge Parkway Route has the obvious benefit of following a scenic path through the Blue Ridge Mountains through to the Great Smoky Mountains. This route offers ample scenery, elevation, natural recreation opportunities, and strays away from highways once in the mountains.
Of course, a third option would be to follow the Direct Route as your base and make detours for parts of the mountain trail at your discretion - choose your own adventure!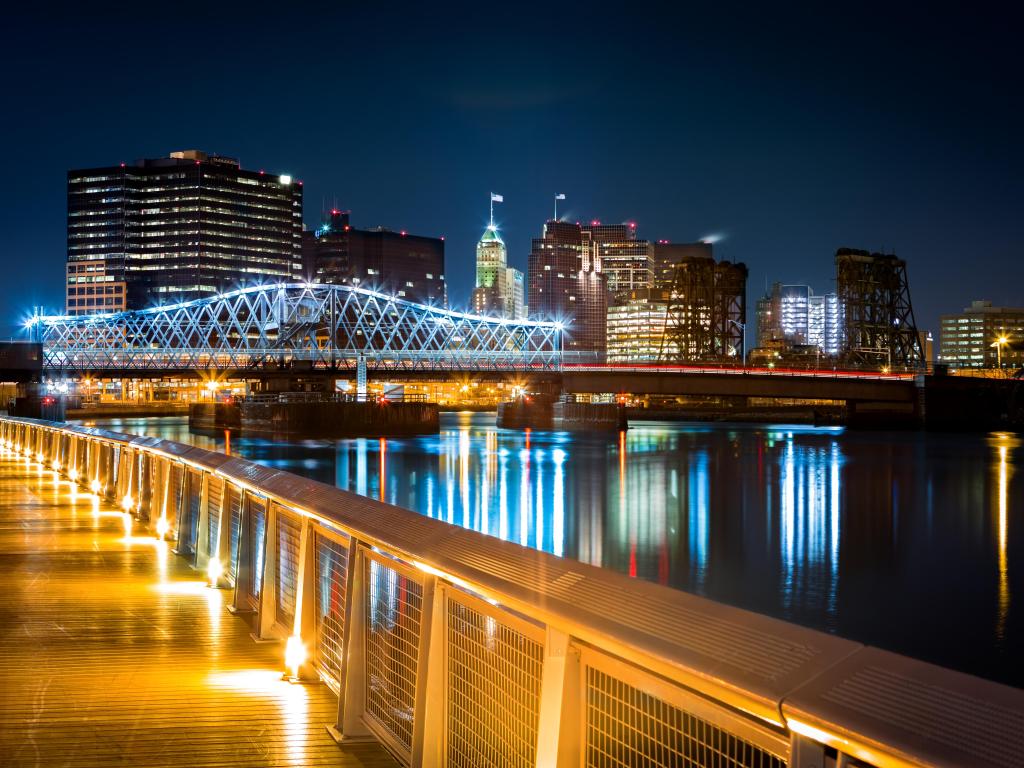 Direct Route
Get on Interstate 78 (I-78) heading west out of Newark, and merge onto I-81 as you enter Maryland. Take a short detour south to make a stop at Chesapeake and Ohio Canal National Park.
Rejoin the interstate going south and cross the Potomac River, following this road until you reach Harrisonburg, Virginia. Follow I-81, pausing to stop in Roanoke, and take the exit toward Knoxville, Tennessee.
Get on I-40 west and keep left to continue towards Chattanooga. Here, you will drive along a very scenic stretch of the Tennessee River. After you enter Georgia, join I-59 south until you reach Birmingham, Alabama.
Continue heading south and cross the bridge over Lake Pontchartrain to arrive in New Orleans.
Blue Ridge Parkway Route
Take I-95 south and continue onto New Jersey Turnpike, keeping in mind that this is a toll road. Merge onto I-295/I-95 as you pass through Delaware and Maryland. Follow signs for the Baltimore Harbor Tunnel and take the exit towards Washington DC.
Head towards Afton, Virginia and then south to Roanoke. Here, follow US-221 to the Blue Ridge Parkway. Follow the winding road through stunning mountain scenery and take a break to explore one of the many hiking trails.
Leave the Blue Ridge Parkway by turning onto US-221, turn right onto I-40 and follow signs for Asheville. Follow the interstate west, following signs toward Cherokee and ultimately reaching Atlanta. The route will then take you through Montgomery.
Follow I-65 south and merge onto I-10 toward Mississippi, with the option to stop for a break in Mobile. Cross the bridge over Lake Pontchartrain to arrive in New Orleans.
Best places to stop between Newark, NJ and New Orleans
Whichever itinerary you choose, you'll pass through a mix of quaint historic cities and major modern hubs.
With a distance of over 1,000 miles to cover, you'll want to plan out where you want to stop overnight and rest up. We've recommended the places not to miss.
Soak into the scenery in Roanoke
Located about 8 hours and 30 minutes hours into your trip on the Direct Route, Roanoke is known for its surrounding mountain scenery and as a convenient point of access to the Blue Ridge Parkway.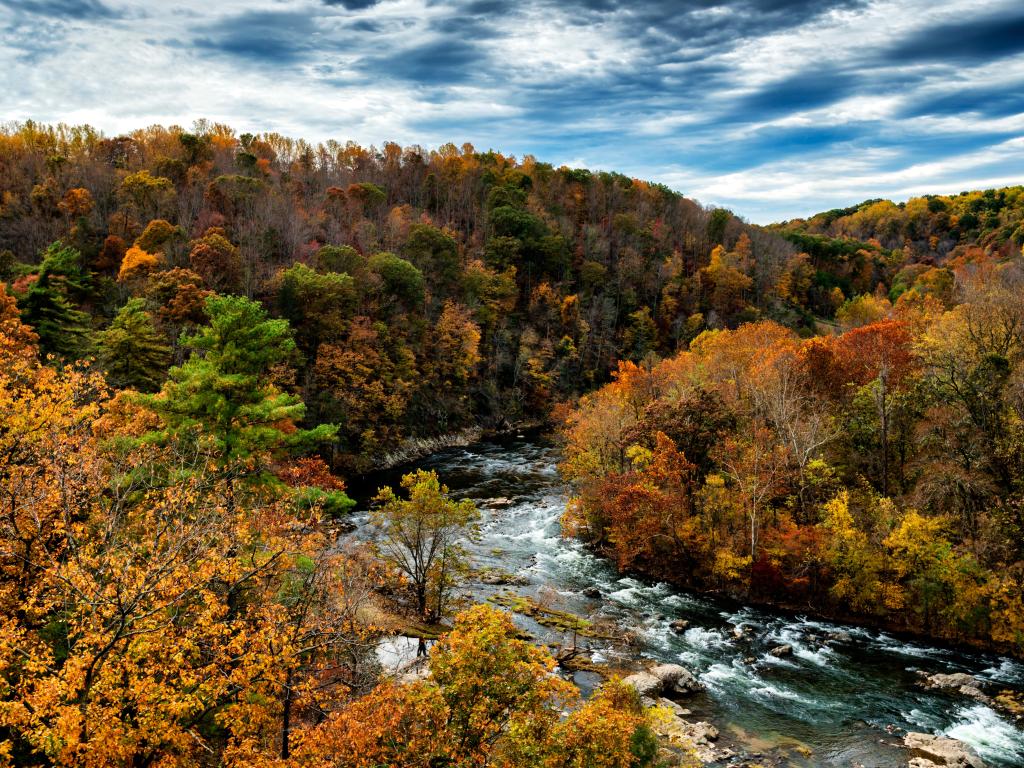 It's the perfect overnight stop if you want a taste of the mountains or are planning a mini detour to crossover onto the Blue Ridge Parkway Route. It's also known for its antique shops and picturesque hiking trails along the Roanoke River.
The Liberty Trust is a fantastic art-deco 4-star hotel in the heart of Roanoke, within walking distance of a range of museums and attractions. There is also a great restaurant on-site, which is the perfect place to enjoy a delicious meal after a long drive.
The front desk operates 24 hours, which means you can check in any time, even if your drive takes you into the evening hours.
If you can be tempted out of the beautiful interiors of the hotel, you can walk to the Science Museum of Western Virginia and Hopkins Planetarium. Civil Center and Mill Mountain Zoo are also located close by.
See the sites in Atlanta
If you've spent a day or two driving along the Blue Ridge Parkway, Atlanta is a great stopping point to take a break and reflect in city comfort.
Atlanta is a reliable southern city known for scenic beauty as well as great food, culture, and downtown attractions. Must-sees include the CNN Center, the World of Coca-Cola Museum, and the Georgia Aquarium.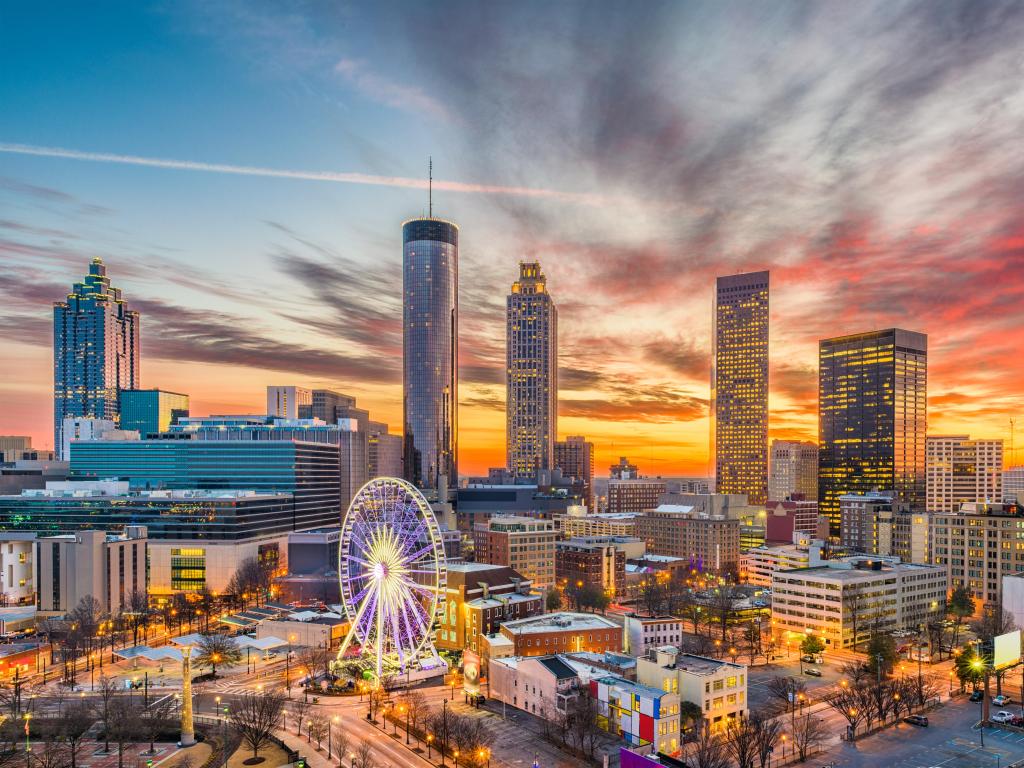 Make sure to explore Buckhead, a high-end suburb of Atlanta that offers luxury shopping, dining, and luxury art galleries. If the rich and famous visit Atlanta, this is where they head.
A great base from which to explore the city is The Starling Atlanta Midtown, Curio Collection by Hilton. This beautiful hotel has everything you need to relax, including stylish rooms, in-house dining and lounge, a spa, and a pool.
This location is on the northern side of Atlanta, easily accessible from the major highway into the city. It has a view of Piedmont Park and is within walking distance of the Botanical Gardens and High Museum of Art, and only a short drive downtown for other attractions.
Where to stay when you reach New Orleans
Once you reach New Orleans, you'll want to take a few nights to soak up the vibrant atmosphere while also reflecting the spirit of this very unique city.
The Lafayette Hotel is a landmark hotel within walking distance to French Quarter and Jackson Square. With a peaceful position overlooking a historic park, you can easily take the streetcar around from this prime location to see the city.
With historically styled rooms complete with marble bathrooms, as well as an on-site restaurant and bar, it's a great base to explore in keeping with New Orleans' signature style.
Things to see on a road trip from Newark, NJ to New Orleans
This drive packs in a huge diversity of cities, nature and culture. With so much on offer over the 1,300 or so miles of the trip, we've picked out some of our favorite stops to discover.
Direct Route
Delaware Gap National Recreation Area - Stop near Milford, PA and see Hackers Falls or Raymondskill Falls on the Delaware River. Keep driving down Federal Rd to explore the Delaware Gap National Recreation Area to the north (off route).
Hershey, PA - Stop in Hershey to see Hershey's Chocolate World or play at Hershey Park or Hershey Gardens amusement parks. See the historic town where Hershey's chocolate was invented!
Gettysburg National Military Park - See the famous Civil War Battle of Gettysburg, National Cemetery for Union soldiers, and the site of the Gettysburg address - there are many Civil War historical sites to name in this area, so take the time to explore as much as you wish!
Michaux State Forest - Hiking and walking area not far from highway 81, south of Harrisonburg.
Shenandoah National Park - Although not on the main route, a short drive east would lead you into Shenandoah, where the Appalachian Trail follows the ridge line from north to south. Jump on the Blue Ridge Parkway here to head south or keep heading the west highway 81 route as follows. You will need an Old Rag Day-Use Ticket if you are planning to visit the Old Rag Mountain. Please check the national park's website for details.
Melrose Caverns - Near Harrisonburg, Virginia, these historic caves were used as a sheltering location for Union soldiers during the Civil War.
Chesapeake and Ohio Canal National Historical Park - This park lies along the shore of the Potomac River between MD and WV, as you cross over the state line. It offers a scenic view of the historic canal with a walking trail and interpretive signs.
George Washington and Jefferson National Forest - Drive west through this national forest and enjoy all the scenic views. Stop for a picture or a quick hike if you need to stretch your legs!
Gray Fossil Site - Natural history museum that has relic dinosaur fossils and an active paleontological dig site. A great stopover if you are traveling with kids.
Knoxville, TN - Knoxville is known for being a bigger city with mountain charm. A great place to explore downtown, hear live music, eat soul food, and have a drink at a microbrewery or distillery.
Pigeon Forge, TN - Location of Dollywood amusement park and many other attractions, shows, and amusement rides.
Gatlinburg, TN - Set at the foothills of the Smoky Mountains, this town has a beautiful setting and lots of nature-based activities.
Great Smoky Mountains National Park - This national park is very driveable, and you can stop and hike some trails to see waterfalls, mountain views, and the famous fall foliage (at the right time of year!).
Chattanooga, TN - Visit the Ruby Falls underground waterfall, Lookout Mountain Railway, Lake Winnepesaukah Amusement Park, and other parks and surrounding lakes.
Cloudland Canyon State Park - Natural area with hikes, caves, waterfalls, and other activities to see. You can even camp here in yurts!
Birmingham, AL - One of Alabama's larger cities, known for historical significance to Martin Luther King Jr and the Civil Right movement of the 1950s and 60s.
Laurel, MS - Laurel is the official filming location for a popular TV show: Home Town on HGTV. This quaint town features true southern hospitality and is a great place to stop for food or a walkabout.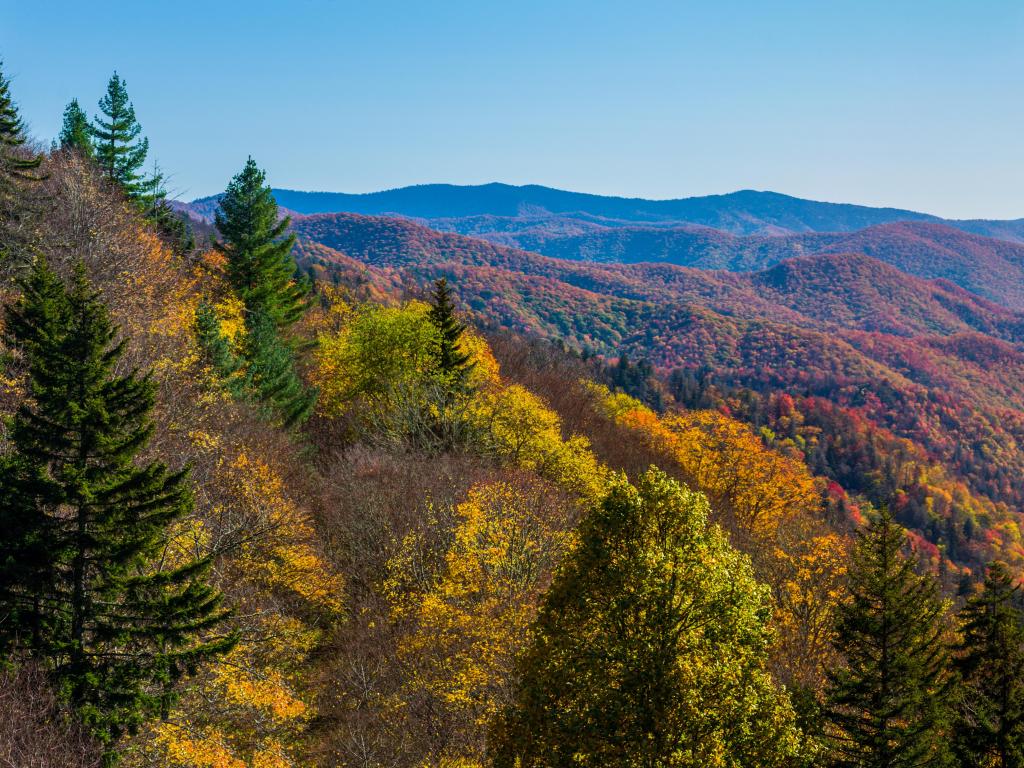 Blue Ridge Parkway Route
Philadelphia, PN - Visit Liberty Bell and Independence Hall where the declaration of independence and the constitution were signed, the Philadelphia Museum of Art and take a picture with the LOVE statue in Love Park.
Baltimore, MD - This harbor city has much to offer including a fabulous waterfront, delicious seafood, the Fort McHenry National Monument and Historic Shrine, the national Aquarium and a historic seaport.
Washington DC - Take in historic sites including the famous Lincoln memorial, the Smithsonian National Museum of Natural History and the US Capitol Building.
Rocky Knob Recreation Area - Along the Blue Ridge Parkway, this area has hiking trails, and scenic viewpoints. Surrounding points of interest include Villa Appalachia Winery and Chateau Morrisette Winery.
Blowing Rock, NC - This town has many attractions for the road tripper including amusement parks, museums, trains, as well as surrounding public lands for hiking and scenic vistas.
Asheville, NC - A city known for its art scene and history. Specific sites include the Basilica of Saint Lawrence and Biltmore Estate. The downtown art district has multiple galleries and museums.
Nantahala National Forest - Drive through this scenic national forest on the way to the GA state line. It has waterfalls, rivers, and other recreation opportunities.
Tallulah Gorge State Park - A deep gorge with waterfalls, white water rapids, and nature reserves. The area is home to a Victorian-era resort town and museum about the history of the area and town.
Stone Mountain Park - Outside of Atlanta, this large granite mountain and surrounding park offers rides, a cable car to the top and a carving of Civil War Confederate generals.
Montgomery, AL - Capital of Alabama, Montgomery has a rich civil war and civil rights history. Attractions include state history museums, restaurants, antebellum style architecture and The Scott and Zelda Fitzgerald Museum.
Mobile, AL - A charming antebellum city rich with history. Tour preserved 19th century mansions, get delicious local gulf seafood, and take a stroll under the Spanish mossy oaks.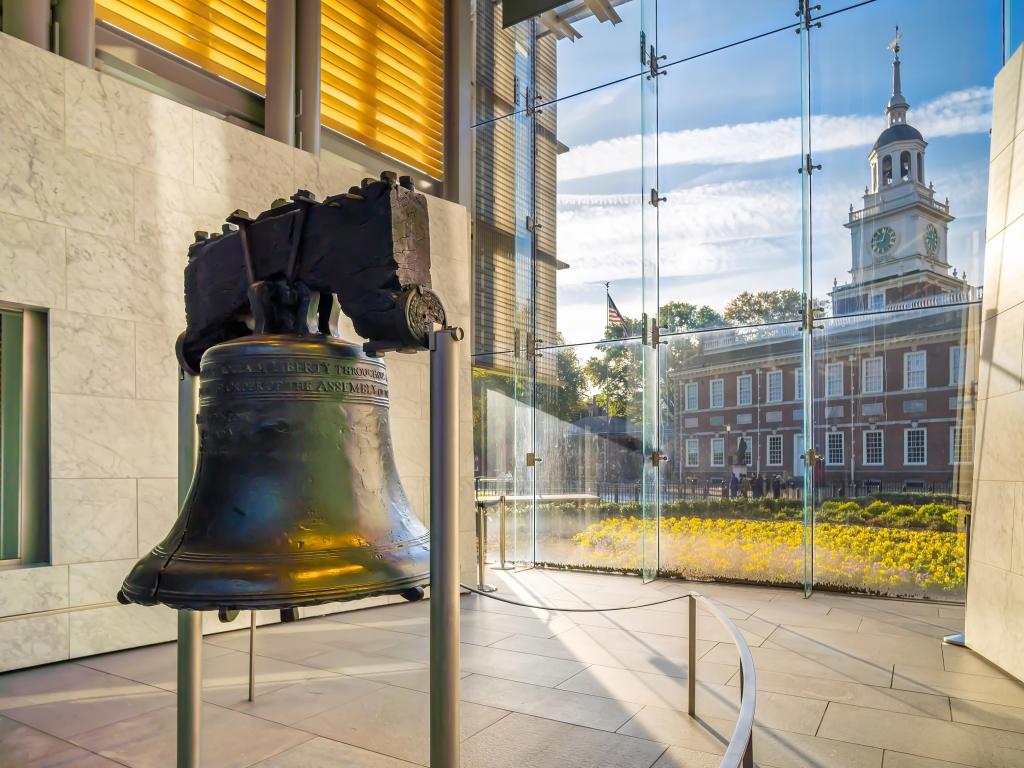 Best time to go on a road trip from Newark, NJ to New Orleans
New Orleans is a year-round destination with great weather, but if you're keen to take in any of the Blue Ridge Mountain Parkway we'd recommend avoiding taking this trip during the winter months.
In the summer months, New Orleans can be very hot and humid with temperatures reaching 90 degrees Fahrenheit, while the northern part of the route will be cooler with pleasant conditions for hiking in the mountains.
Spring and fall may be the most affordable times to take this trip as they fall on either side of the peak tourism season. The Blue Ridge Parkway is particularly beautiful during September and October when the foliage turns red and gold.
If you're planning to visit New Orleans in the spring, you might want to align your trip with Mardi Gras, the famous carnival celebration which takes place in February 2023.
Expect lots of parties, parades, music, libations, beads, and a flock of tourists for the celebrations - hotels may book up quickly for this event. Crawfish season also kicks off from early spring until around June.