Road Trip from Newark, NJ to Niagara Falls
Get ready for the ultimate back-to-nature adventure on the road trip from Newark, NJ to Niagara Falls. See rivers, valleys and the Catskill Mountains, to stunning lakes, waterfalls and history-rich cities full of great landmarks and museums, all sprinkled along the way to the falls.
The 400-mile road trip from Newark, NJ to Niagara Falls takes 8 hours to drive. Highlights include Catskill, Albany, Rochester, Binghamton, Buffalo and Ithcaca, plus Lake Erie, Sylvan Beach, Seneca Lake, Syracuse and Finger Lakes National Forest.
There's a lot to see on this great outdoors trip, from mountains and lakes, to beautiful rivers and fascinating mid-sized cities. So keep reading to find out all you need to know to make the drive from Newark, New Jersey to the stunning Niagara Falls, the best road trip possible.
How far is Niagara Falls from Newark, and how long will the road trip take?
Comparison of road trip routes between Newark, New Jersey and Niagara Falls

| Route | Distance | Driving Time |
| --- | --- | --- |
| The Finger Lakes Route | 400 miles | 8 hours |
| The Catskill Mountains Route | 500 miles | 9 hours 30 minutes |
There are two equally scenic and interesting routes you can follow between Newark, NJ and Niagara Falls. The quickest of the two takes 400 miles and you will drive alongside the beautiful Seneca Lake. This option will take a minimum of 8 hours to drive, not accounting for stops.
A slightly longer route but still really accessible will take you around the Catskill Mountains and further north to Albany and Rochester. This route covers a distance of 500 miles and will take 9 hours and 30 minutes to drive without stopping.
While both of these routes could be completed in a single day, it won't allow you much time to explore the natural surroundings or stop at the cities you'll pass. A much better idea would be to spend a minimum of two days on this trip and include at least one overnight stopover.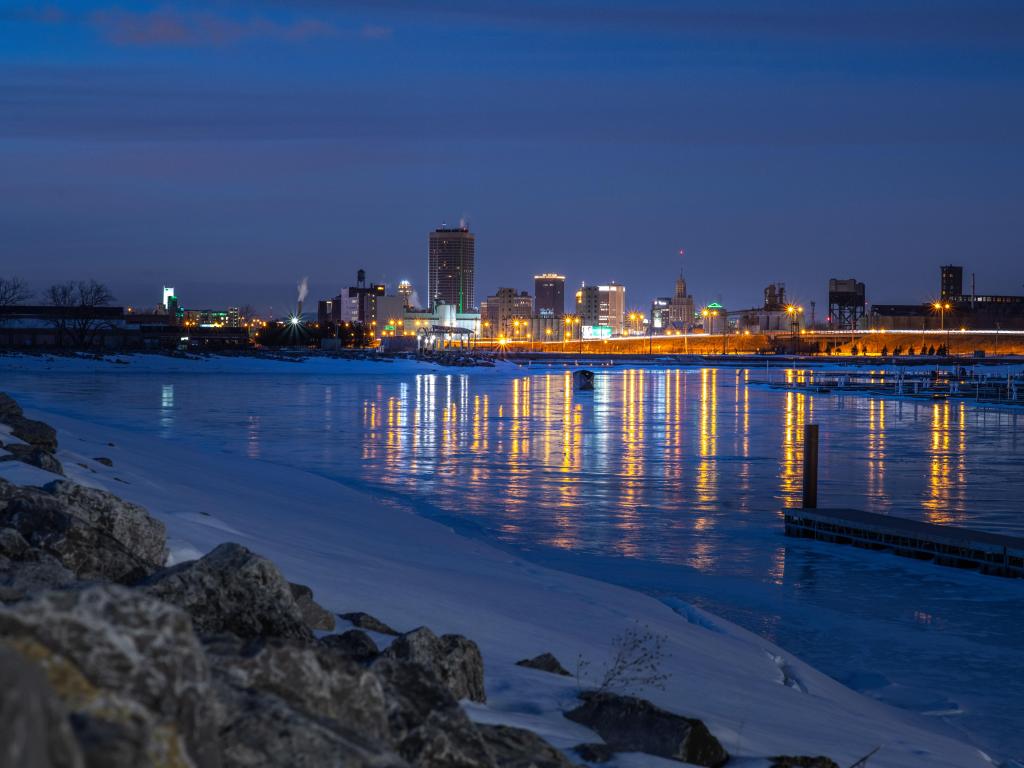 Best road trip route from Newark to Niagara Falls
Both routes offer something different and at similar lengths and drive times, the best option will most likely be based on the kind of activities you'd like to do along the way.
The longer of the two options will take you through Albany and Syracuse and offers amazing scenery through the Catskill Mountains. This route will take you along the Hudson River, past its valley and to the Mohawk River where you can make a stop at Oneida Lake.
As well as plenty of lake views, the Catskill Mountains Route also takes you through several key cities including Syracuse and Albany. Here you can get your urban fix without compromising on great outdoor activities between the cities.
If you're looking for something more direct, then our Finger Lakes Route is a great option. This route, instead of simply driving past the Finger Lakes, actually takes you through and along them giving you a better opportunity to time to take in the scenic views.
Though it's not lake views alone that this route has to offer, you'll also get stunning views past Scranton and towards Ithaca, where you can make a pit stop at Seneca Lake before heading onwards to Rochester. From here both routes merge and you'll pass through Buffalo to the falls.
The Catskills Mountains Route
Leave Newark by heading north towards Poughkeepsie, stopping at Harriman State Park along the way for a hike in the great outdoors and following the Hudson River.
Continue to follow the river north past a vast number of mountains and forests to explore, including Indian Head Wilderness and Slide Mountain Wilderness to Catskill.
Afterwards join the interstate which will take you to Albany, rich with great restaurants and museums, before heading west. Follow Interstate 90 (I-90) alongside Little Falls where you can detour to visit Ferris Lake Wild Forest.
Otherwise, you will reach the shore of Sylvan Beach on Oneida Lake where you can enjoy water sports or just a relaxing afternoon. The next stretch will take you to Syracuse near Fayetteville.
Continue west past the Finger Lakes and consider spending some time exploring these stunning wetlands which include Seneca Lake, before landing in Rochester.
Pass Iroquois National Wildlife Refuge to Buffalo on the edge of Lake Erie, before heading north alongside the Canadian border to Niagara Falls.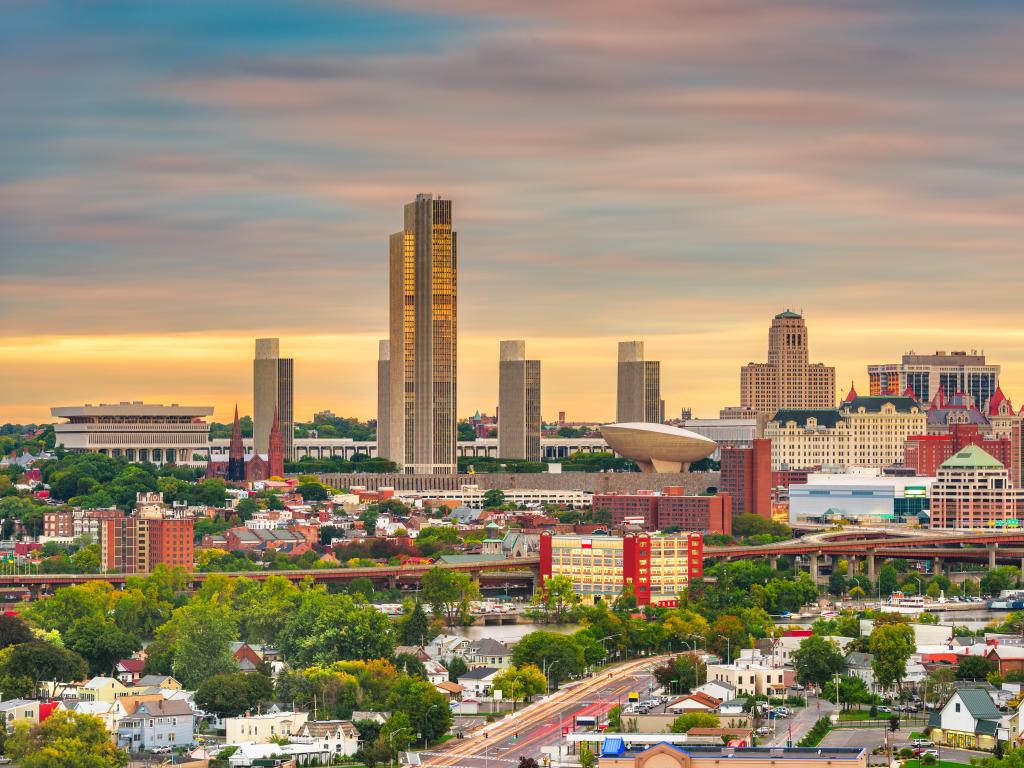 The Finger Lakes Route
Begin by heading west from Newark and following the interstate to Scranton, passing Delaware Water Gap Recreation Area and Lake Harmony along the way.
Enjoy beautiful views as you continue west on the interstate to Binghamton before arriving at Ithaca, which is a beautiful city with parks and waterfalls to discover.
The next stretch will take you through the Finger Lakes region and between Cayuga Lake and Seneca Lake (which is the largest of the lakes). There's also Finger Lakes National Forest and several other green spaces to explore.
Afterwards, rejoin the interstate and continue through several towns before reaching Rochester. This next section of the route is exactly the same as the above, taking you to Buffalo and onwards to Niagara Falls.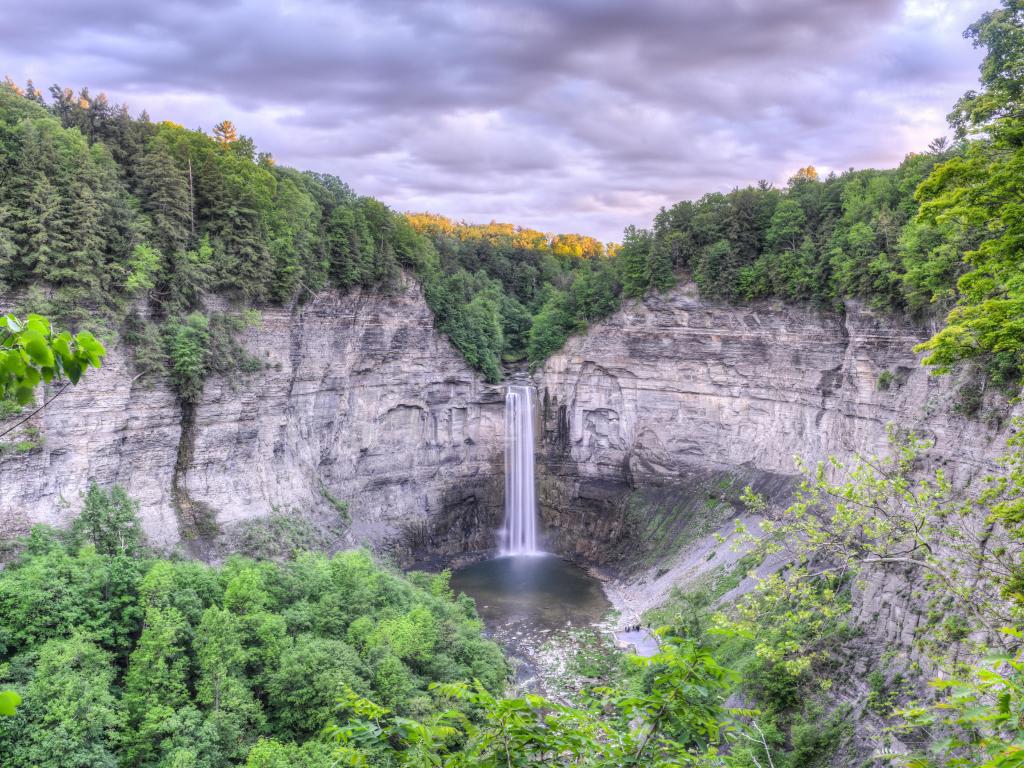 Best places to stop between Newark and Niagara Falls
Although you could drive from Newark, NJ to Niagara Falls in a single day, we wouldn't recommend it unless you're in a hurry. Given the scenery you'll be passing, a much better plan is to stop at least once along the way.
Thankfully there are some super hotels you'll pass en route, here are some of our favorites that you might want to consider.
City views in Syracuse
A little over halfway and around 5 hours from Newark is the beautiful city of Syracuse in the state of New York. Ideally located on the Catskill Mountains Route, Syracuse is a superb option as it offers high-end hotels, great restaurants and a lively art and music scene.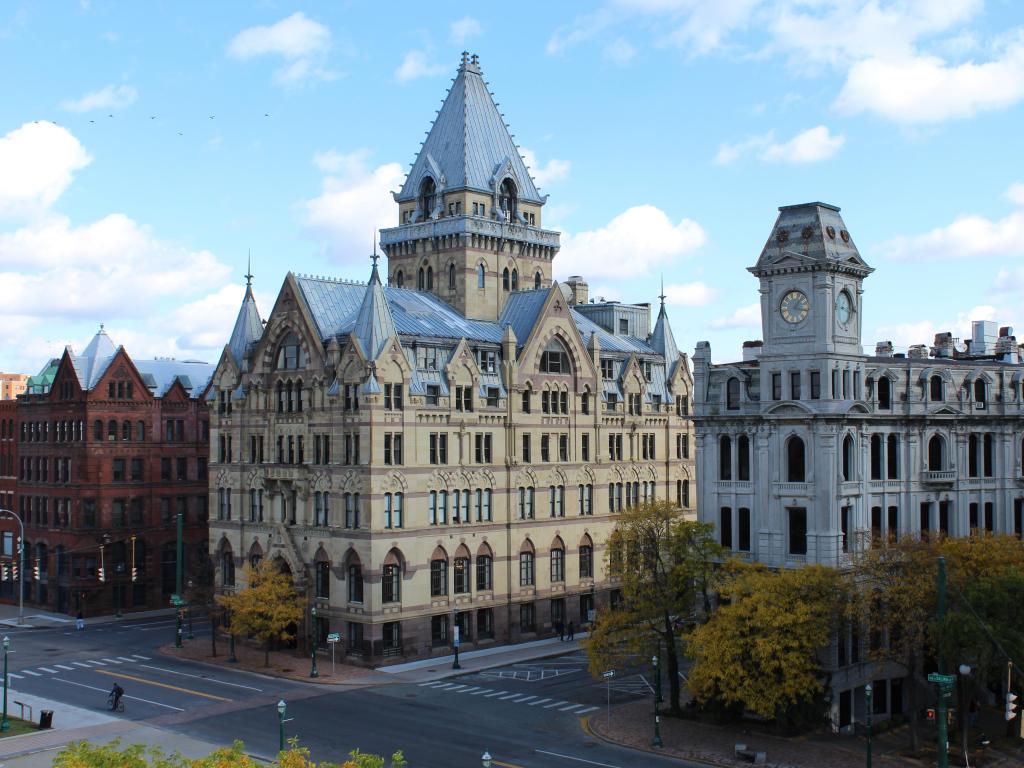 While stopping in Syracuse be sure to visit the Everson Museum of Art, which was made famous for being the first art museum 100% devoted to American art and ceramics. Plus, Clinton Square where you'll get an eclectic mix of historic buildings, summer festivals and ice skating in winter.
Continue your historic theme with a stay at the Marriott Syracuse Downtown. This hotel is situated in a historic building located conveniently downtown and close to the interstate, as well as Clinton Square, the Erie Canal Museum and all the top-rated restaurants, bars and clubs.
The hotel itself has a breakfast buffet like you have never seen before, antique furniture, an onsite restaurant with gourmet options, and large spacious, and clean rooms with gorgeous city views. There's even onsite parking to really take the stress out of the journey.
The hotel's superb location means that you're within walking distance to many of the best landmarks and sites to see, so once you park your car at the hotel, you can get around simply by walking to enjoy the many festivals in Clinton Square, museums, bars, and restaurants.
Gateway to Cayuga Lake (Ithaca)
For a nature-themed overnight stop, Ithaca is the perfect stop on our Finger Lakes Route. Not only is it the ideal gateway to explore Cayuga Lake, but it's also around halfway from Newark to Niagara Falls. It's also directly on the route so you won't be driving additional miles to reach it.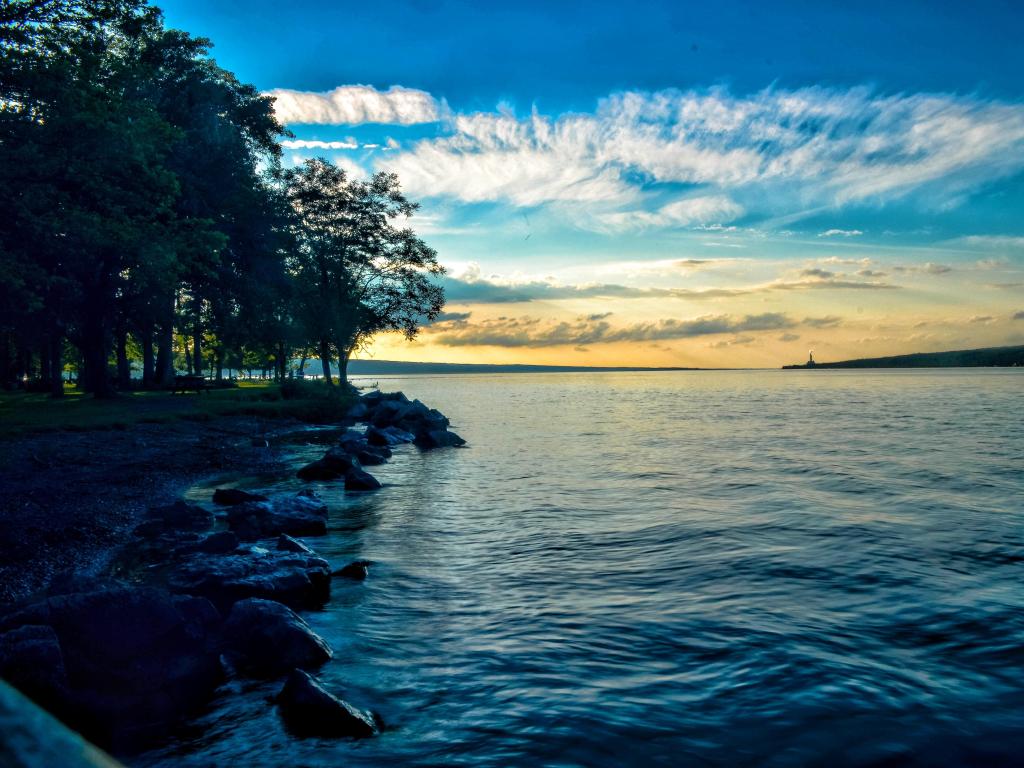 Cayuga Lake offers stunning views and access to the city of Ithaca, which has plenty of great options when it comes to delicious food and a bustling brewery and winery scene. It's also surrounded by state parks with waterfalls, hiking trails, and bike rentals making it the ideal outdoor retreat.
Be sure to pay a visit to the Robert Treman State Park, where you can enjoy miles of hiking trails and a swimming hole complete with diving board, and Ithaca Falls Natural Area where you can experience several waterfalls whilst picnicking.
After all that hiking, you'll be in need of a comfortable and relaxing resort. The New Park Venue & Suites comes complete with stained-glass windows, marble showers and a unique décor you will not find at any other hotel. It truly is one of a kind.
Just a short drive from the Museum of the Earth, this 5-star hotel offers free parking, garden and barbecue families, as well as quirky rooms all furnished with luxurious bedding, furniture and fittings.
The hotel itself is located close to Cayuga Lake and is just a short drive from downtown Ithaca where you can find museums, as well as gourmet restaurants and bars serving local wines. There's also Taughannock Falls State Park just a short distance away if you'd like to see beautiful waterfalls.
Stay at the heart of Niagara Falls
The sheer magnitude of the incredible Niagara Falls deserves at least one overnight stop nearby to appreciate it (especially as you'll then get to see the falls at night, which is an equally incredible sight).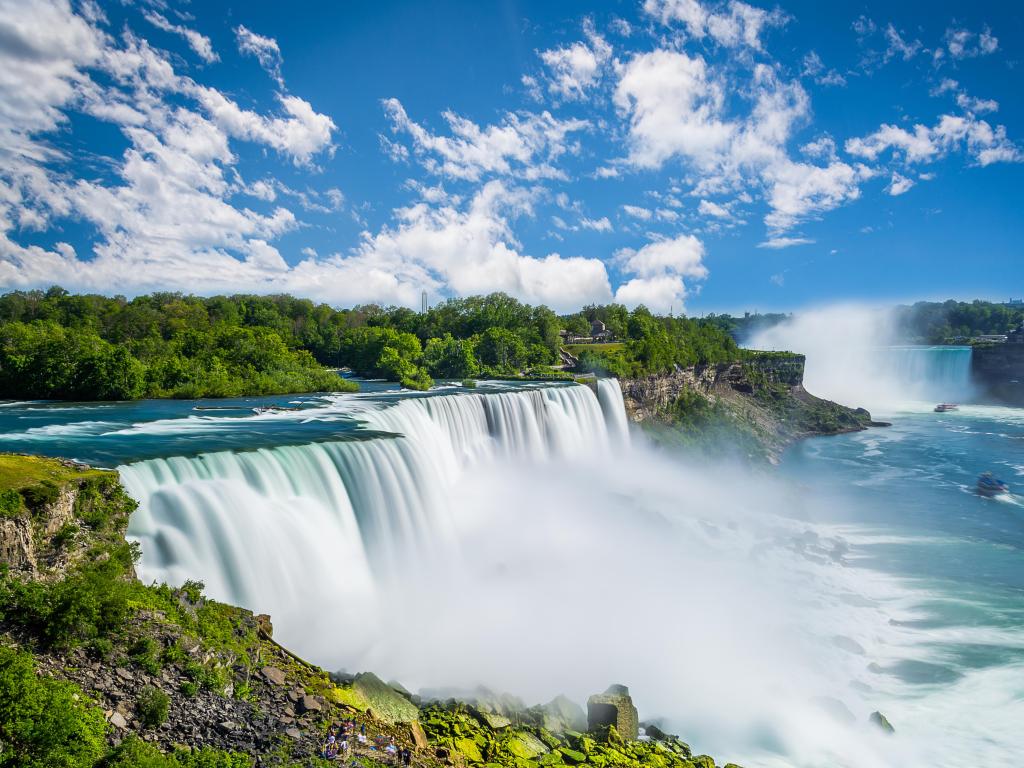 If you'd like to stop in the heart of the action, then the Red Coach Inn is an ideal choice. This luxury hotel overlooks the Niagara River and the American Falls and is located in a historic Inn, giving the resort a timeless and classic feel.
Guests can enjoy an onsite restaurant, with select rooms even having their own fireplace (a perk if you're visiting during those cold, winter months). After a day of sightseeing, you can enjoy a cocktail or glass of wine and leave your car in the hotel's car park.
Less than a mile from Niagara Falls and the Canadian border, this hotel is all about luxury and location. Plus you're just a stroll away from the Maid of the Mist boat tours, ensuring your visit will be as memorable as the falls themselves.
Things to see on a road trip from Newark to Niagara Falls
There's a lot to see on this scenic and fun road trip, but if you're looking to fit it into a long weekend, then here are some of the highlights you should look out for along the way.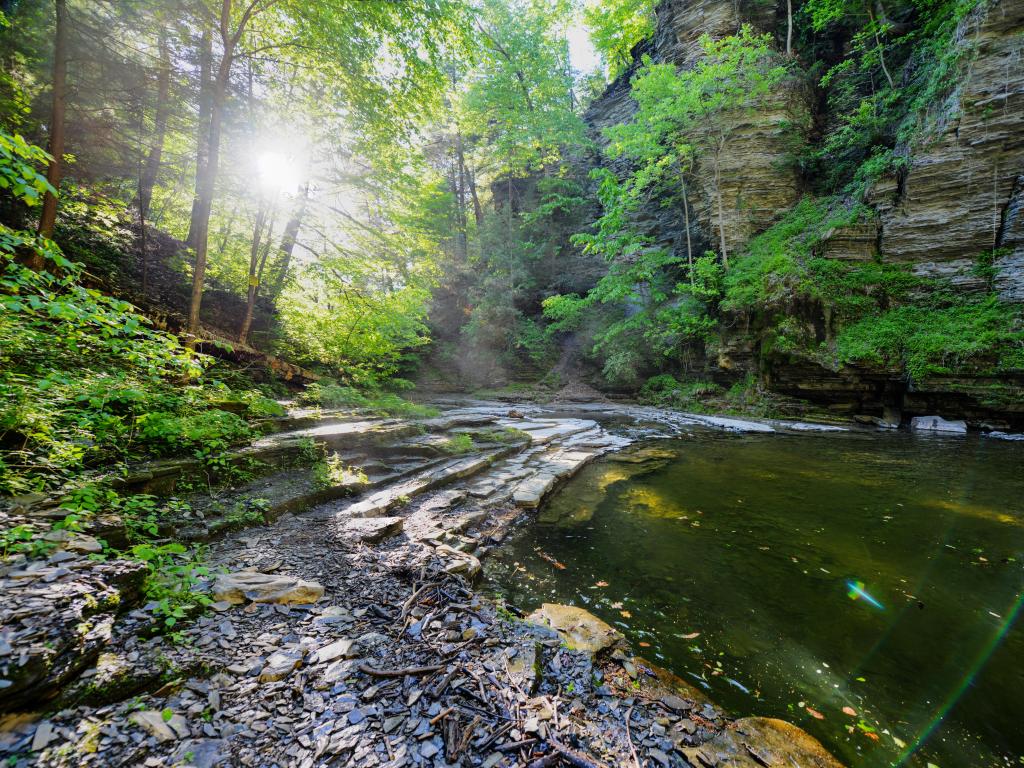 Both routes
The Finger Lakes Region - This area in New York is made up of eleven lakes, all long and thin. The region is also home to several wineries as well as breweries making it a popular place to visit.
Highland Botanical Park and Lamberton Conservatory, Rochester - There is a wide variety of plants and cacti at the Highland Botanical Park and Lamberton Conservatory as well as a koi pond and a large population of turtles that everyone loves.
George Eastman Museum - This mansion turned museum is the estate of George Eastman. George Eastman was an extremely famous photographer and motion picture filmmaker who is considered a pioneer in the industry. The museum is an homage to the history of photography and cinematography.
Buffalo & Erie County Naval and Military Park - If you are interested in checking out some current and historical battleships, submarines, and other naval vessels while learning about US naval history, you are going to love this park.
Theodore Roosevelt Inaugural National Historic Site - Teddy Roosevelt is one of the most famous US presidents known for his grit, military service, and thirst for travel, exploration, and adventure. This is historic site is filled with rich history about the legend.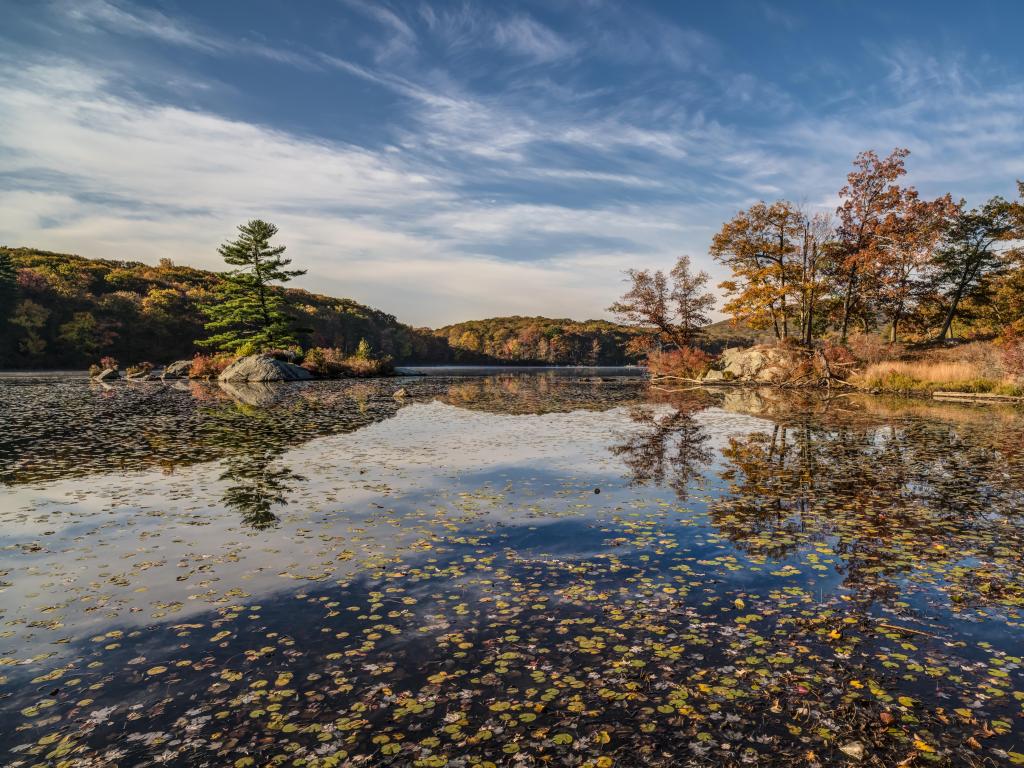 The Catskill Mountain Route
Walkway Over the Hudson State Historic Park - A 19th-century railroad bridge that has been converted into the world's longest elevated pedestrian park. There are stunning views of the entire Hudson River Valley as you walk from one side of the river to the other.
Harriman State Park - This beautiful park in New York is full of lakes, and reservoirs and is an ideal place to escape the city and enjoy hiking trails, wildlife and scenic views.
Locust Grove Estate - A beautiful 200-acre estate located on the Hudson River with a 45-room Italian Villa. There is a museum, gardens, and a vast natural preserve where you can take in the fall foliage with a view overlooking the Hudson River Valley.
Overlook Mountain - With just a short detour, you can drive through the peaks of Overlook Mountain to take some incredible photos of the entire Catskill Mountains region. At the top, there is an extra tall viewing tower that you can climb for even more incredible views.
Albany - The capital city of New York State is full of museums, stunning architecture and a vibrant restaurant scene. You can easily spend several days exploring its art and vibrant atmosphere.
Hudson River Sightseeing River Cruise from Albany - Learn about the history of the Hudson River, Albany, and the evolution of the industry that built Albany and the surrounding cities.
Kayaking on Lake Oneida - Just head to Stone's Marina in Bridgeport to rent some kayaks and spend the afternoon out on the water and taking in the views and getting some great exercise.
Syracuse - Visit the Erie Canal Museum or the Rosamond Gifford Zoo while stopping in Syracuse. This great city has plenty of art galleries, museums and beautiful parks to explore. It's also within easy reach of Onondaga Lake where you can enjoy fishing, boating or relaxing.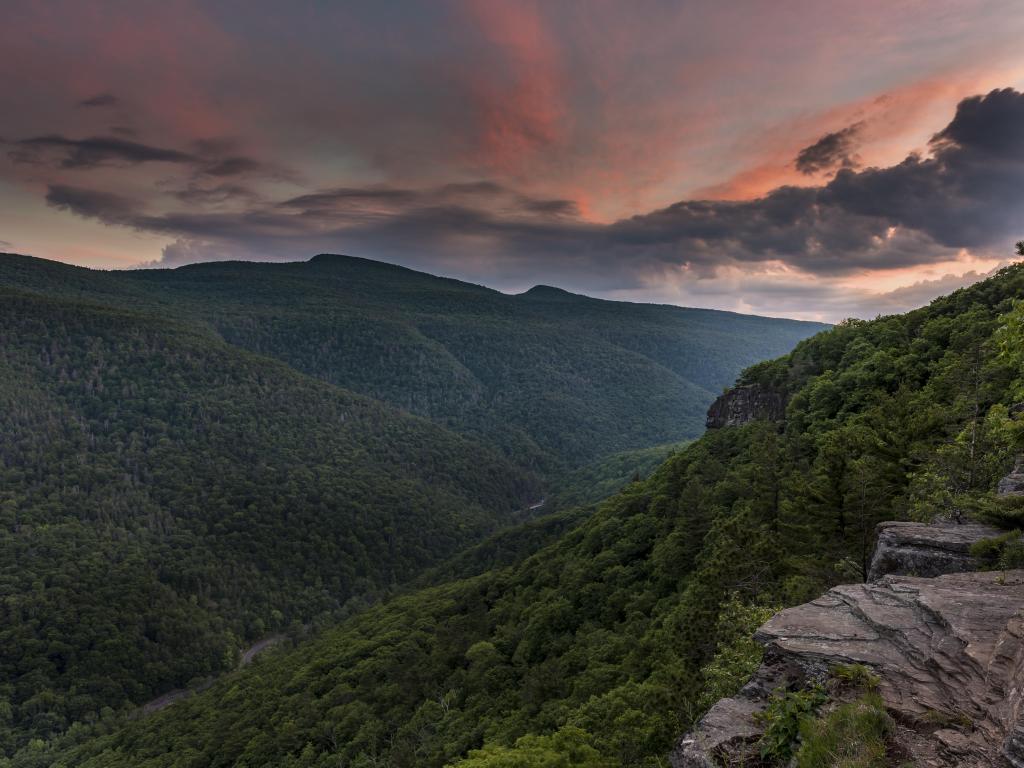 The Finger Lakes Route
Nay Aug Park Scranton - This park is dedicated to the history of railroad workers and how they helped shaped America. There are walking trails, gorges, a river, a public pool, a large treehouse that is a crowd favorite, and plenty of other amenities.
Ross Park Zoo, Binghamton - This is a well-funded zoo with a wide variety of animals who are treated well. The park is clean, and you can see howler monkeys, tigers, wolves, eagles, and plenty of reptiles as well as leopards and cheetahs.
NYSEG Stadium - If you are passing through Binghamton, you can stop in for an afternoon game and watch the Binghamton Mets Double-AA New York Mets Franchise Team play.
Ithaca - This beautiful city is located on Cayuga Lake and is an ideal stop for outdoor or nature fans. Explore the stunning lake which offers boating, swimming and fishing or visit the Cornell Botanic Gardens. There are beautiful waterfalls to enjoy in the surrounding area too.
Cornell Lab of Ornithology - If you love birds, the Cornell Lab of Ornithology is world famous for its research, educational exhibits, artwork, and outdoor activities that are all centered on a wide variety of bird species.
Seneca Lake Boat Tour - Schooner Excursions offer charters that can take you out on Seneca Lake for a full tour. There are also dinner cruises in the summer season. If you are looking for a romantic boat tour, then the private charter is the way to go.
Finger Lakes National Forest - Located in the Finger Lakes Region, this national forest is nestled between Seneca Lake and Cayuga Lake and offers over 16,000 acres to explore. Popular activities here include hiking, fishing, wildlife spotting and camping.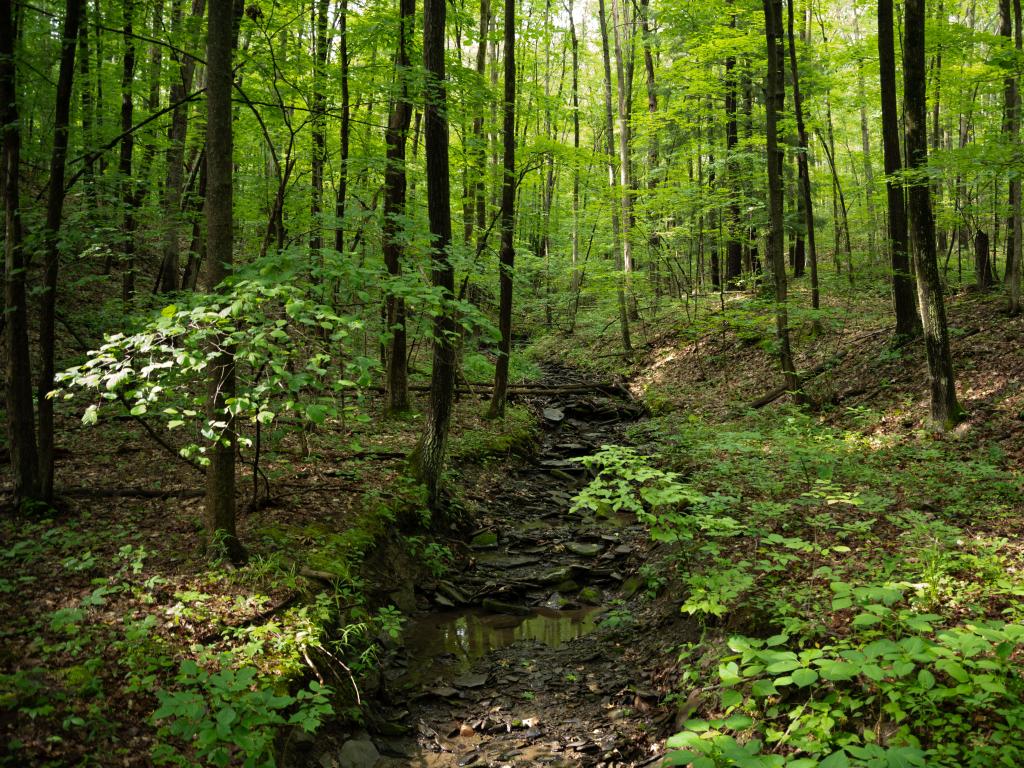 Best time to go on a road trip from Newark to Niagara Falls
While you can visit Niagara Falls year-round, the different seasons will affect the travel conditions along the way. Summer will enjoy the best weather but you'll face large crowds, while the winter could produce stunning views of frozen falls, but there will be fewer outdoor activities to enjoy.
Summertime is an incredibly popular time for people to travel to Niagara Falls, explore the Catskill Mountains, or simply relax in the Finger Lakes Region. With daytime temperatures averaging between 78 and 92 degrees Fahrenheit, expect busy crowds and inflated hotel rates.
Winter in comparison can see below-freezing temperatures with lows of 17 degrees. The cold weather will affect some of the roads, as well as the Maid of the Mist boat tours to shut down, but if you dare brave the cold, you'll get unspoilt views of the falls and hotel bargains.
Spring or fall are typically considered to be the best times to visit. You'll still see fewer crowds than in summer thanks to the cooler temperatures, but you'll get to enjoy the outdoor activities en route.
Look out for spring blossoms in the botanical gardens along the way and fall foliage in the woods and forests. This is a particularly good time to visit if you're following our Finger Lakes Route as fall is harvest season for the local wineries!
There are plenty of major events if you'd like to tie in something with your trip. August sees the Lewiston Art Festival and Northwest Jazz Festival, while the Niagara Falls Blues Festival and Celtic Heritage Festival are both held in September.