Road Trip from Oklahoma to The Grand Canyon
From lush green forests, cultural attractions, and unreal natural wonders to quirky cities, experience it all in this epic road trip from Oklahoma to The Grand Canyon. If you want an unforgettable escapade from your routine, this trip is perfect for you.
The 990-mile road trip from Oklahoma to The Grand Canyon takes about 15 hours to drive, visiting Amarillo, Santa Fe, and Petrified Forest National Park en route. Or take the longer route via Wichita Falls, Lubbock, Roswell, and Pinetop-Lakeside.
If a fantastic trip through vibrant cities, stunning landscapes, and national forests spanning multiple states excites you, continue reading to find the best routes to take, places to stay, things to see, and time to visit.
How far is the Grand Canyon from Oklahoma, and how long will the road trip take?
Comparison of road trip routes between Oklahoma and Grand Canyon

| Route | Distance | Driving Time |
| --- | --- | --- |
| The Santa Fe Route | 990 miles | 15 hours |
| The National Forests Route | 1,100 miles | 18 hours |
The road trip to The Grand Canyon from Oklahoma via the Santa Fe Route takes about 15 hours to complete and covers 990 miles without food and gas breaks.
Alternatively, you could take the slightly longer National Forests Route covering 1,100 miles over 18 hours of driving, not considering any stopovers and detours.
Considering 6 hours of driving daily, you can easily cover this distance in 2-3 days. But to explore the route, culture, and major tourist attractions leisurely, we suggest you take at least 4-5 days.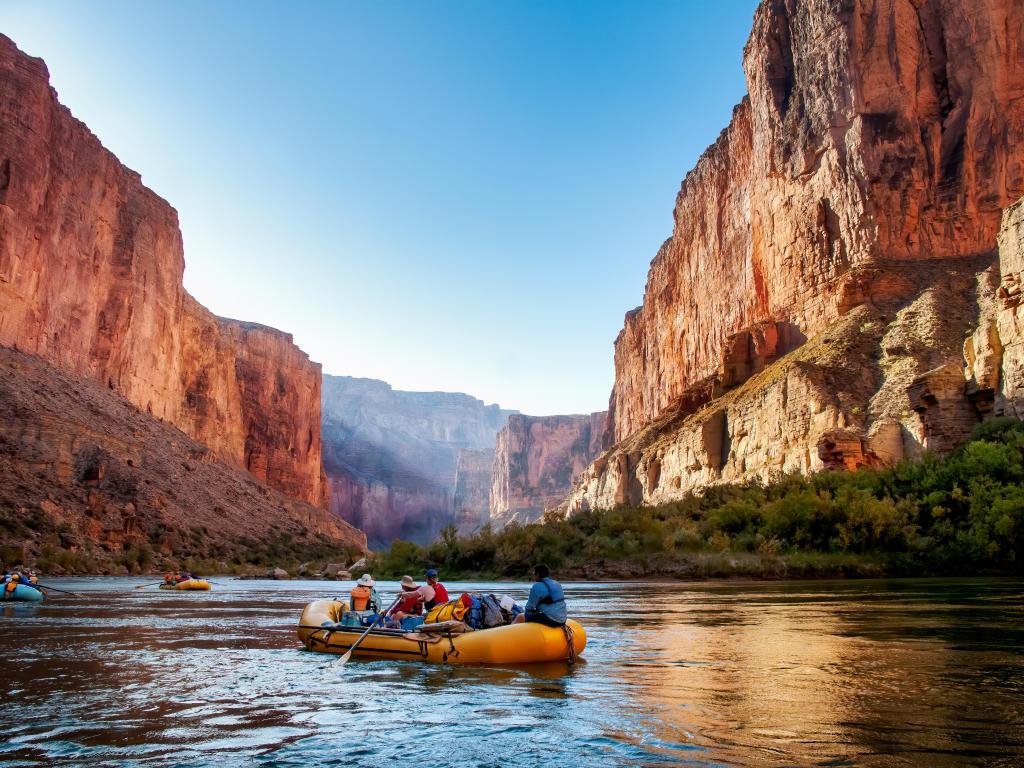 Best road trip route from Oklahoma to the Grand Canyon
We have chalked out two excellent routes for your road trip from Oklahoma to the Grand Canyon. Whichever route you choose, you will pass through lively cities and scenic landscapes and have plenty of indoor and outdoor attractions to explore.
The Santa Fe route is a fast and direct way to the Grand Canyon. The route has fewer detour options and will take you through the urban cityscapes of Amarillo, Santa Fe, Albuquerque, and Flagstaff. Enjoy the local culture, cuisine, and popular tourist attractions.
You will also drive through the unique Petrified Forest National Park. Explore the vast semi-dessert with crazy deposits of petrified wood and colorful badlands.
If you fancy a more adventurous route with plenty of detours and lush greenery, we suggest you check out the National Forests Route. You will pass through Wichita Falls, Lubbock, Roswell, Pinetop-Lakeside, and Flagstaff.
Some highlights on the National Forests Route include an incredible view of Wichita Falls, a detour to White Sands National Park and Apache-Sitgreaves National Forests, and the quirky Roswell of alien fame.
The Santa Fe Route
Make your way out of Oklahoma City by taking Interstate 40 (I-40) toward the west. Drive through the grassland countryside to enter Texas and arrive at Amarillo.
Continue your westward journey out of Texas into the vast plains of New Mexico. Take a detour on US-285 for Santa Fe and explore the local city life there.
Follow I-25 out of the city to drive to Albuquerque and rejoin I-40, which passes through the Petrified Forest National Park. Follow the road till Flagstaff, take a right on the picturesque US-180 route, and admire the mountains on both sides.
After the road merges into AZ-64, drive through the Kaibab National Forest to finally arrive at the Grand Canyon National Park.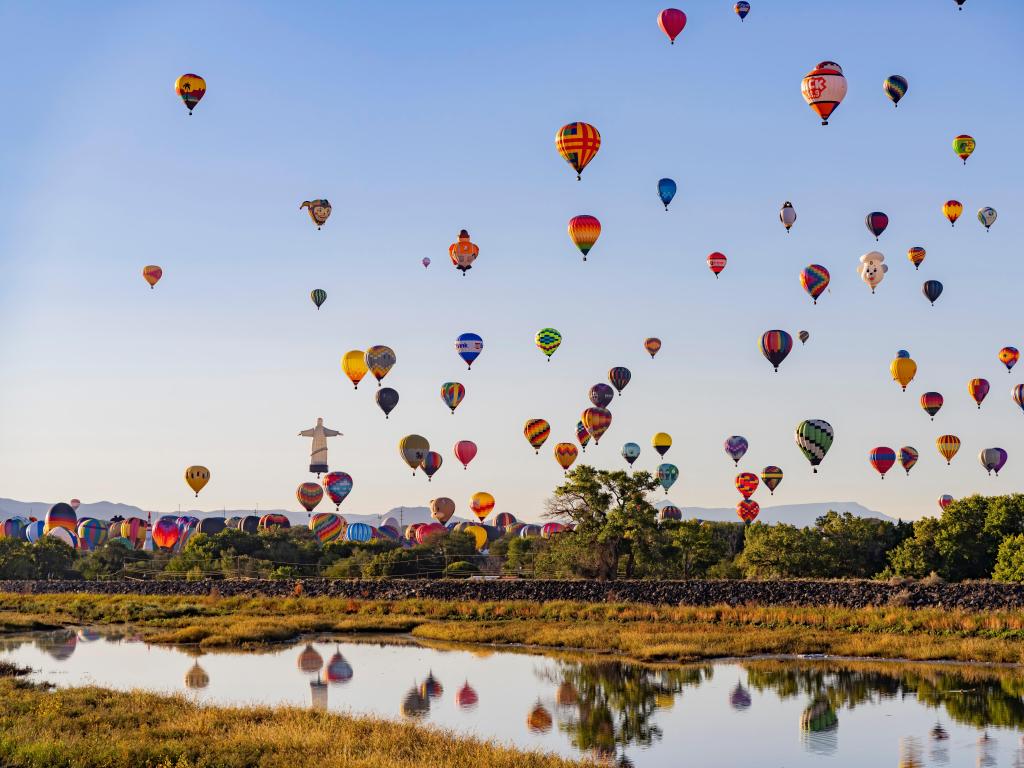 The National Forests Route
Take I-44 to leave Oklahoma City and drive through the scenic green landscapes of Oklahoma. Pass by the Medicine Park and Wichita Mountains National Wildlife Refuge to your right before arriving at Wichita Falls.
Following US-82 out of the city, pass by the arid Texan plains to reach Lubbock. Taking US-380, exit Texas and follow the directions to the interesting town of Roswell.
Pass by rocky landscapes and random mountain sightings. After crossing San Antonio Riverine Park, take a right on I-25 to connect on the US-60 westward.
This road is studded with National Forests on both sides, and you can take many detours depending on your preference. Notice Cibola National Forest on the right and Apache and Apache-Sitgreaves National Forest on the left.
Take AZ-260 after Springerville to Pinetop Lakeside and follow AZ-77 northward. At Holbrook, join I-40 toward Flagstaff and follow US-180 to Grand Canyon National Park.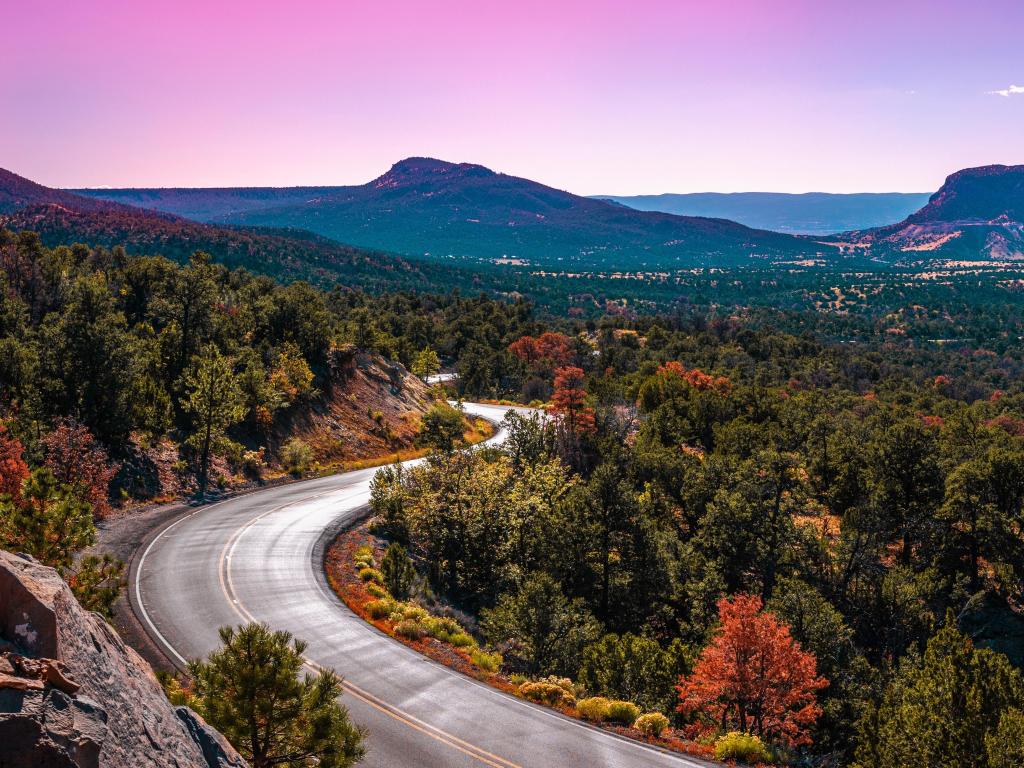 Best places to stop between Oklahoma and the Grand Canyon
Both routes from Oklahoma to the Grand Canyon have fantastic locations offering plenty of things to do and see. And a long journey needs a couple of convenient stopover points to rest, relax and restore.
Scroll down to find our top picks for overnight stays on each route.
Enjoy a cultural evening in the charming Santa Fe
A little over halfway to the Grand Canyon via the Santa Fe Route, you'll halt at the lively city of Santa Fe, famous for its brimming culture, inspiring museums, beautiful architecture, charming art galleries, and delicious local food.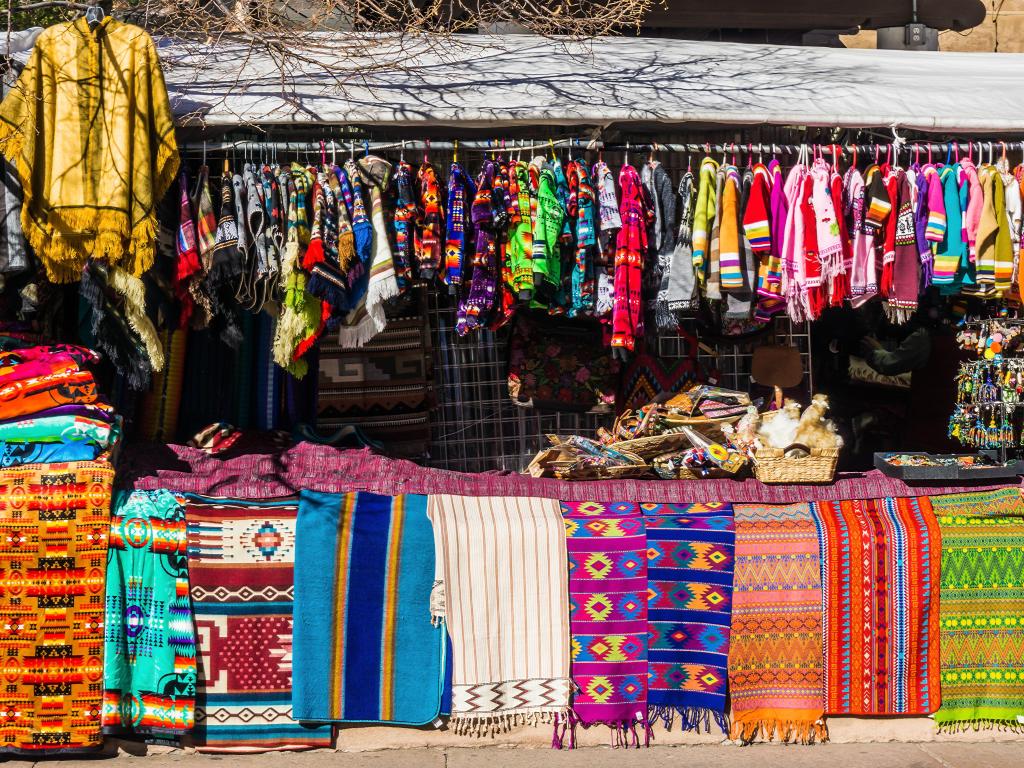 Stroll down the vibrant Canyon Road with art galleries, restaurants, boutiques, and bars. If you are an art buff, visit Meow Wolf Santa Fe for an immersive experience and the Georgia O'Keeffe Museum dedicated to the eponymous artist.
Located at a prime spot close to the artsy Santa Fe Railyard district, we recommend the beautiful property of The Hacienda & Spa for your overnight stay. The hotel boasts traditional architecture, and the rooms are decorated with native American art.
Enjoy a romantic evening by the fireplace, get a relaxing spa treatment, or swim in the outdoor pool after a tiring day. Participate in the wine and cheese reception and step over to the restaurant at the sister property next door for sumptuous meals.
Explore the nearby attractions like the historic Old Town, El Museo Cultural de Santa Fe, and International Folk Art Market from the hotel property.
A fun night in the mysterious city of Roswell
After completing roughly a half chunk of your journey on the National Forests Route, you'll arrive at the quirky city of Roswell, known for its alien-themed attractions after the famous "Roswell incident" and apparent sightings of the "flying saucer" debris.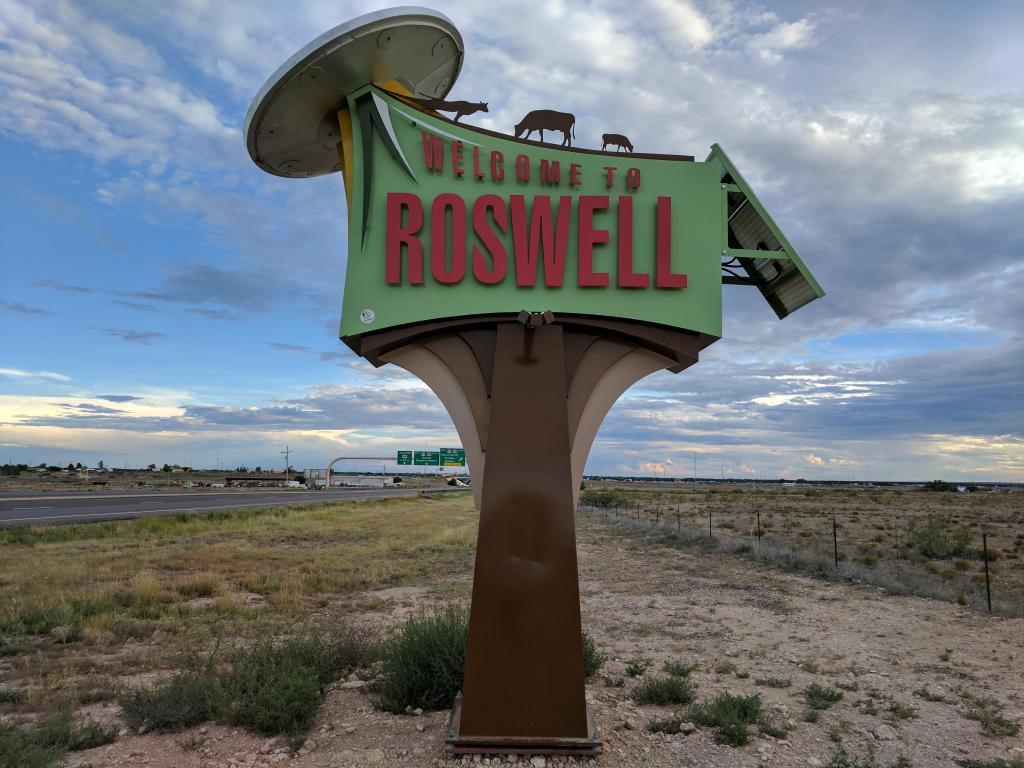 Centrally located and close to the city's many notable attractions, like Roswell Museum and Anderson Museum of Contemporary Art, Home2 Suites by Hilton Roswell, NM, is one of our top favorites for a night's stopover.
This modern hotel boasts an excellent fitness center, indoor pool, and stylish interiors. Also, because of its barbeque facilities, delicious American breakfast, and in-suite kitchenettes, it is an excellent place for a family stay.
You can walk to the Roswell Visitors Center for more information about exploring the area. Some famous tourist sites include the iconic International UFO Museum and Research Center, the historical Roswell Museum, and the Anderson Museum of Contemporary Art.
Where to stay when you reach the Grand Canyon
After reaching the Grand Canyon, you'll want to stay in a comfortable place close to the national park to fully explore the surrounding area and cover the exciting hikes and trails nearby.
Keeping that in mind, we have chosen the gorgeous High Country Motor Lodge in Flagstaff for your luxury and convenience, from where you can leisurely explore the Grand Canyon, Coconino County Fairgrounds, and the North Pole Experience.
The hotel is housed on a chic property, designed with stylish interiors, and has a fantastic on-site restaurant and bar. Plenty of recreational options are available, like the games room with a pool and foosball table, a sauna, an outdoor seating area, and a pool to unwind after a long day.
Things to see on a road trip from Oklahoma to the Grand Canyon
Both the routes detailed above offer distinct viewpoints and attractions before converging at Flagstaff. While the Santa Fe Route sees some amazing cities on the way, the National Forests Route is full of awe-inspiring natural beauty.
Continue reading to find some of the hidden treasures and obvious favorites on each route.
The Santa Fe Route
Stafford Air & Space Museum – Named after a NASA astronaut, this Weatherford Museum showcases a collection of over 20 historic aircraft.
Oklahoma Route 66 Museum – Visit this museum for a quick history lesson about the legendary Route 66 and its legendary roadside exhibits.
Amarillo, Texas – No trip to Amarillo is complete without a visit to the quirky Cadillac Ranch and the fun The Jack Sisemore Traveland RV Museum.
Santa Rosa, New Mexico – Santa Rosa houses some charming old-fashioned eateries and yet another Route 66 museum.
Santa Fe, New Mexico – Santa Fe is a colorful city full of immersive culture, lovely architecture, Meow Wolf Santa Fe, and the charming Canyon Road.
Albuquerque, New Mexico – This interesting city is known to host the colorful Albuquerque International Balloon Fiesta during October and is also home to the distinctive Petroglyph National Monument and Sandia Park.
Petrified Forest National Park – Experience one of the most unforgettable sights of your life in this unique forest. A walk amidst the beautiful array of petrified wood is a must.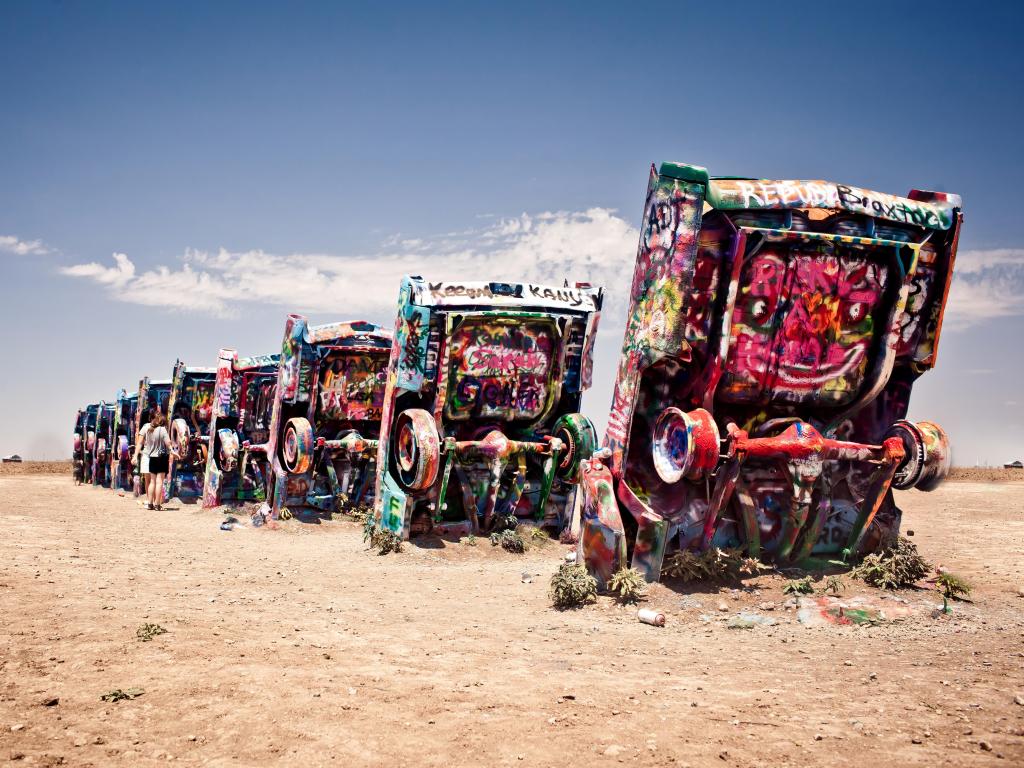 The National Forests Route
Medicine Park Aquarium and Natural Sciences Center – This educational conservation center dwells many species of plants and animals and is known for eco-tourism.
Wichita Falls – This charming Texan town is renowned for its beautiful Wichita waterfalls and plenty of outdoor recreational activities.
The Whiteside Museum of Natural History – This museum from Seymour, Texas, has local ecology and paleontology exhibits from the Permian Age.
Lubbock, Texas – Known for harboring many art galleries and museums, reserve some time to visit Silent Wings Museum, The Buddy Holly Center, and National Heritage Ranching Center.
Roswell, New Mexico – Alien-themed attractions are the U.S.P. of this lovely city. Get amazed by the city's quirkiness.
Smokey Bear Historical Park – People interested in wildlife preservation and forestry learn about the history of the famous symbol for forest fire prevention, the Smoky Bear.
White Sands National Park – This unique National Park stands out because of its glistening silky white sandy landscapes.
Apache-Sitgreaves National Forest – This National Forest offers extraordinary outdoor adventures like hiking, camping, and trailing.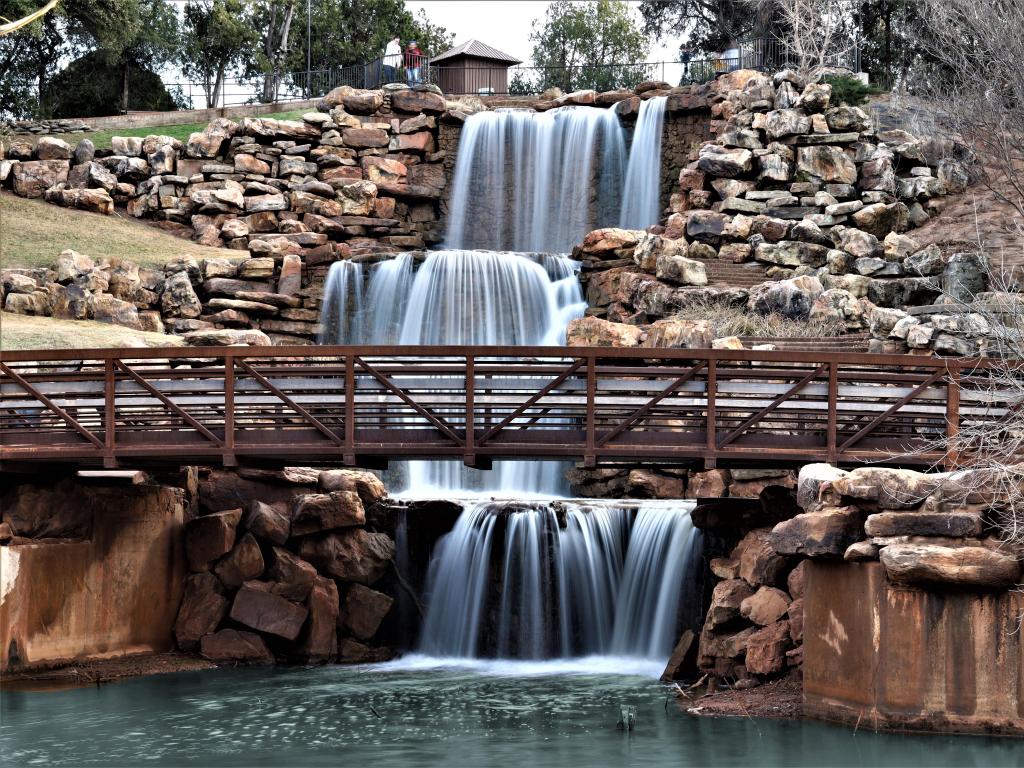 Both Routes
Meteor Crater Natural Landmark – Should you miss a trip to Roswell, get your dose of the space-related fun attraction at this impressive meteor crater.
Walnut Canyon National Monument – Observe the curved walls of Walnut Canyon and marvel at the archaic homes of the canyon's ancient inhabitants.
Flagstaff – It is an excellent gateway to Grand Canyon because of its accessibility. Since it is a big city, you'll find fantastic places to eat and shop.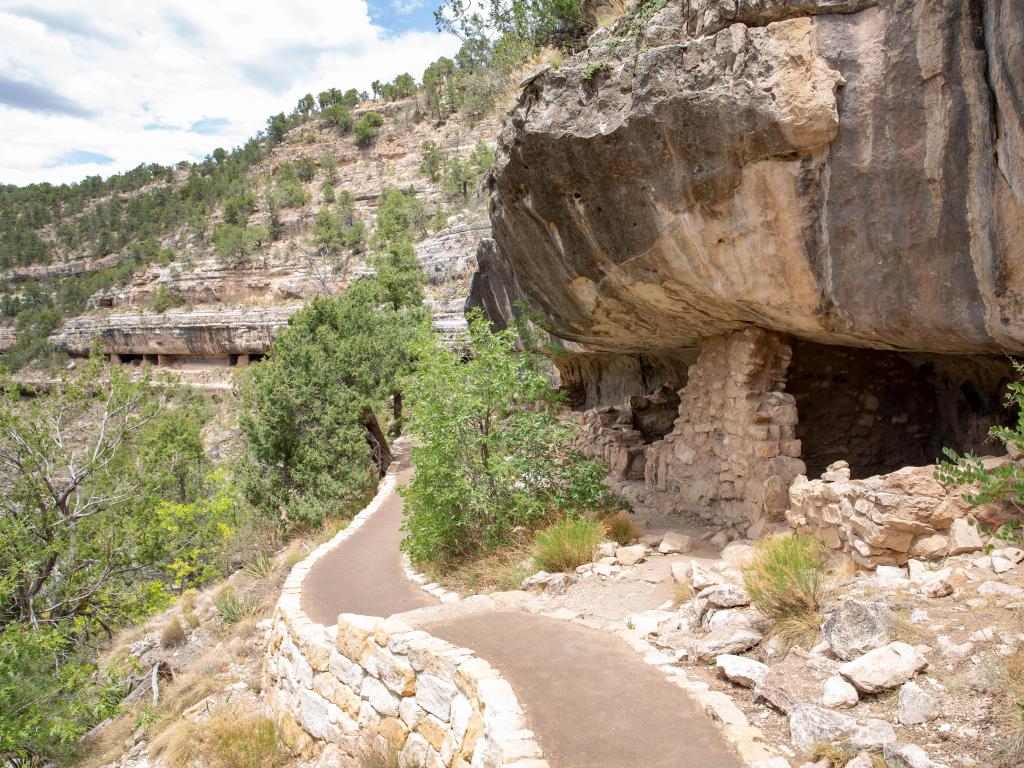 Best time to go on a road trip from Oklahoma to the Grand Canyon
The Grand Canyon is an impressive national park that is an amazing place to visit year-round. However, keep in mind that while you can visit the South Rim anytime during the year, the North Rim is closed during the winter.
The Grand Canyon gets really crowded during summer, especially between Memorial and Labor Day. The temperatures peak during this time and average between 80-100 degrees Fahrenheit. The high temperatures make it difficult to hike, so carry plenty of water.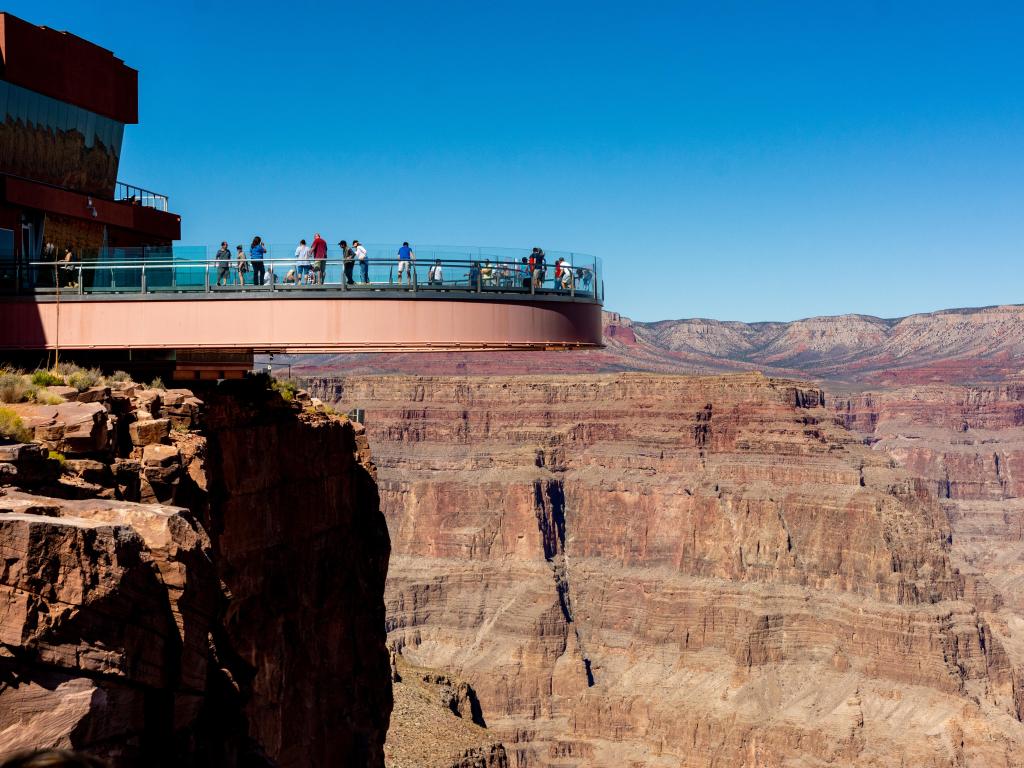 The snow-clad Grand Canyon is a beautiful sight. But remember that the North Rim is closed from October to May due to extreme weather. However, the South Rim is accessible. The temperature varies between 20-43 degrees Fahrenheit at the South Rim, so pack warm clothes.
As Spring sets in, the pretty blossoms border the routes wonderfully. Also, during fall, you can experience gorgeous fall foliage. So, both seasons are fantastic for planning this road trip.
In spring, the temperature averages between 60-75 degrees Fahrenheit and is pleasant for the drive. Spring break is a popular time to visit the Grand Canyon; avoiding those dates is best.
The Grand Canyon Music Festival takes place near the South Rim in August and September. The Grand Canyon National Park also hosts the Grand Canyon Star Party to admire the summer skies and gaze at the starry nights.