Route 66 is one of the iconic American road trips, packed full of nostalgia and history. Running from Chicago, IL to Santa Monica, CA, it was a route west for people looking for a new start after the Great Depression, and it's become firmly fixed as an emblem of mid-20th century culture.
Route 66 no longer exists as a single highway, but you can still follow a 2,180-mile route which traces the legendary highway from Chicago to California via the ever-changing landscapes of Illinois, Missouri, Kentucky, Oklahoma, New Mexico, Texas and Arizona.
Starting out beside Lake Michigan in the Midwest, the route of the Mother Road heads southwest through Illinois, Missouri and Oklahoma before turning west to visit Texas, New Mexico, Arizona and California. Whether you're planning on following it the whole way or just through a couple of states, keep on reading to find out how you drive Route 66 in the present day.
Can you drive Route 66
Although Route 66 has had legendary status for decades, you can't actually drive the road itself anymore.
The original road was decommissioned back in 1985 as interstates and improved highways took over. This means that, while you can still drive the route of Route 66, for the most part the road itself no longer exists.
However, you can still follow many sections of the historic route. In places this is called Old Route 66, Historic Route 66 or sometimes state road 66. As the road passes through several states, some sections are better signposted and maintained than others.
You can also follow the end-to-end route on the interstate which follows a similar route. If you'd like to see how Route 66 compares to Interstate 40, here is our comprehensive guide.
As we've already mentioned, Route 66 starts in Chicago, IL, and ends in Santa Monica, CA. It traditionally headed towards California, but it's just as easy to start in California and head to Chicago.
You can also join the route midway if that saves you a long drive to either the start or end of the route. If you'd like to learn where Route 66 starts and ends, check out our detailed guide.
How closely can you drive to Historic Route 66
It's possible to follow Historic Route 66 fairly closely, with some sections easier to trace than others. Some of the road has been replaced by the interstate, and some of the remaining sections of highway have been renamed so there's nothing to indicate they were previously part of Route 66.
However, you'll also find many sections which are clearly designate as Historic or Old Route 66, with roadside towns and cities proudly recognising their Route 66 heritage.
The original Route 66 follows W Ogden Avenue out of Chicago but there are some breaks where new development has interrupted the line of the road.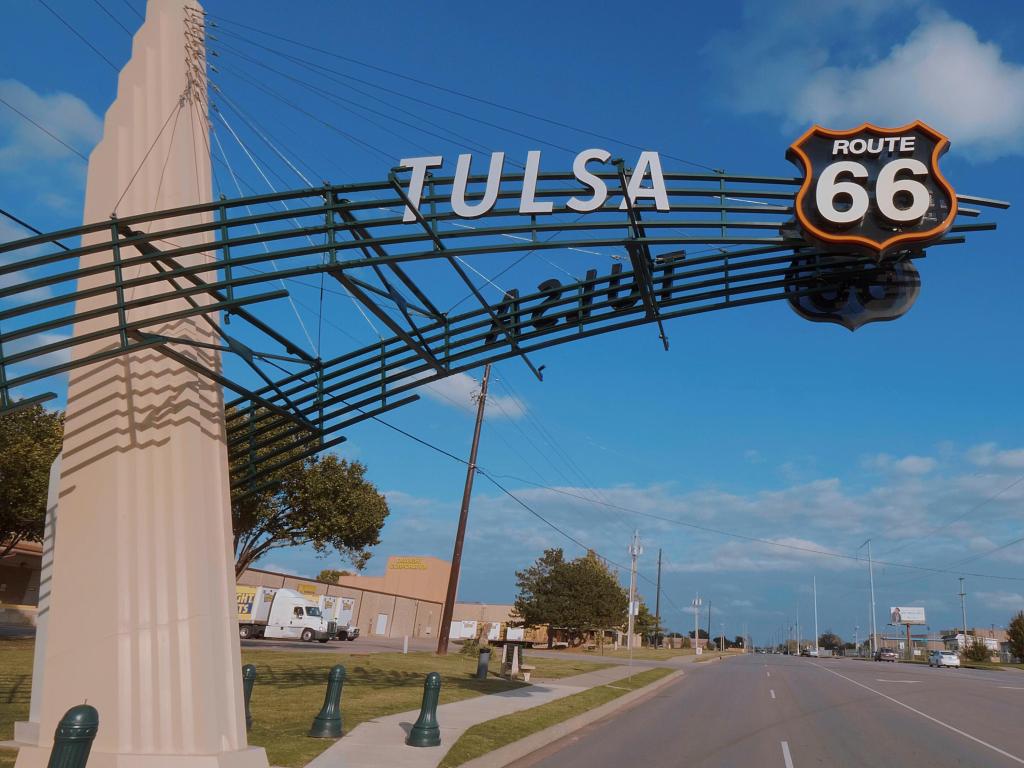 Old Route 66 then follows I-55 closely as far as Springfield, running directly through many of the towns that the interstate bypasses. The route through Illinois is often well marked although it has to take some detours to reflect changes to the roads.
Although the historic route is similar to the modern day I-55, the old sections of highway heading towards Oklahoma City aren't as clearly marked out. It's also harder to find the original route as you head through the cities on this stretch.
After picking up I-40 from Oklahoma City, you'll follow the original route very closely. In some places the interstate has replaced Route 66 and in other places there's still a separate highway running alongside the interstate, so it's up to you which sections of the highway you travel on.
Just before Seligman you can leave I-40 to follow 160 miles of 'historic Route 66'. This was the first segment of the original highway to be recognised in this way (in the 1980s) and it's the longest remaining stretch of the old highway.
Past Topock, part of the old highway from Fenner to Chambless is closed due to damage to the road so you'll have to detour via I-40 to reach Amboy. It then gets harder to follow the original route through the busy greater LA metropolitan area but aim for CA-110 after Pasadena to stay faithful to the original route.
How long does it take to drive on Route 66?
If you stick to the interstate, you can drive the route of Route 66 in around 33 hours, rising to 50 hours plus stops if you stick closely to the original route the whole way. Here is our detailed guide on how long it takes to drive Route 66.
While you can complete the drive in 3 to 4 long days if you're taking the interstate all the way, we'd recommend taking at least 10 days for this trip. However, 3 weeks is the ideal amount of time to explore the route - or even longer if you have time to spare!
When you're planning your trip, you'll probably want to know how to avoid unnecessary delays so that you can keep your driving time as close to 33 hours as possible!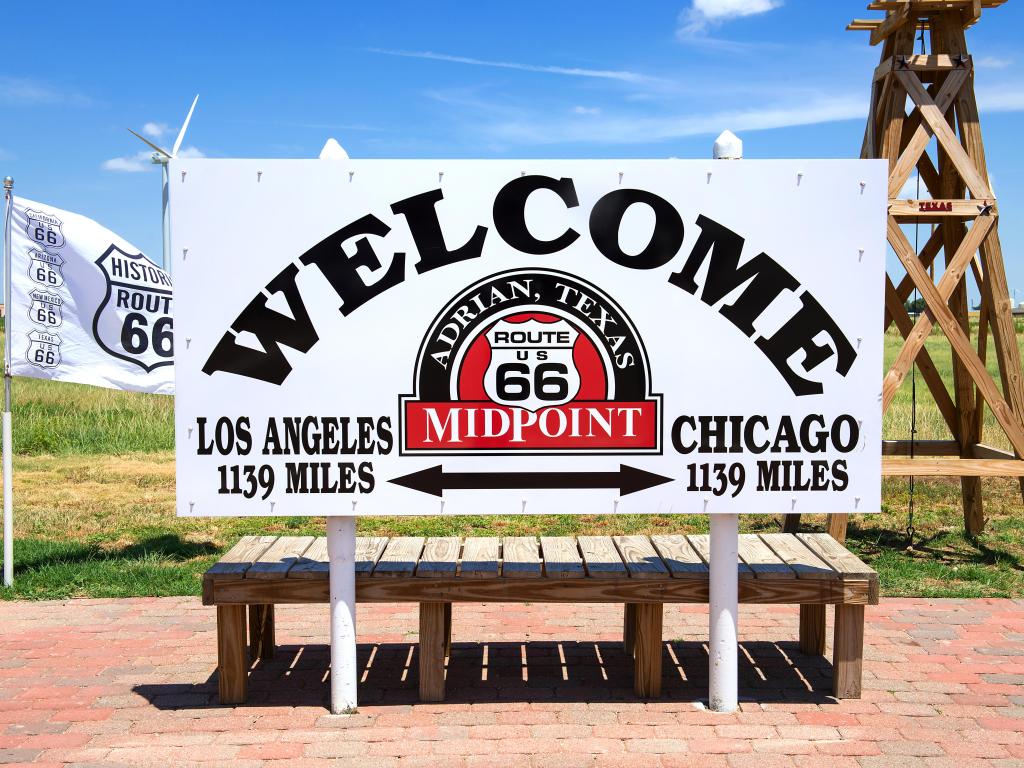 This depends on how many cities you stop in, whether you're driving through at peak times, and whether you hit construction works or accidents.
Although the interstate is busy, you're unlikely to hit significant delays on the long rural sections of the route. You should expect to slow down through the cities though, especially at peak time. If you're really unlucky you might lose 30 minutes driving into each major city at peak times.
If you follow the old highway, you'll also travel through small towns and cities where traffic can be stop-start at lights. And of course, LA and Chicago are particular traffic hotspots.
Severe winter weather can affect many sections of this route, and if you're unlucky enough to hit a big snowstorm you might find that even the interstate is closed.
Flagstaff is at particularly high altitude so can be affected by winter storms and the section from here to Kingman can get icy. Illinois experiences harsh winters too, and while the interstate is usually kept clear, you might have to slow down a little.
The number of rest stops you'll need to take will also impact on your total travel time. Most travellers will be able to build in rest and refuelling stops to the places they visit along the way but if you're planning longer drives for part of the trip, you'll need to allow 15 to 30 minutes for every 3 hours of driving.
Speed limits are also important to bear in mind. Nearly all of this drive can be taken on the interstate if you're not fixed on sticking faithfully to the original route, and with speeds up to 85 mph allowed on some Texas roads you'll feel like you're flying across the country.
Some sections of the old highway are just undivided 2-lane highways though (which aren't always well maintained) and speed limits are often as low as 45 mph, so your journey time will increase a lot if you stick to the old road for much of the trip.
Things you need to know about driving Route 66
Following the route of Route 66 should be a pretty straightforward drive, but with so many miles to cover it's still a serious undertaking.
Here are our top tips when it comes to preparing for a drive on Route 66:
There are sections where it can be very hard to find the original Route 66 route, especially through suburban areas where signposts peter out and road names change. Be prepared to do a couple of loops of some small towns unless you've planned these steps of the drive in detail.
Some of the remaining sections of the original route can be challenging. The Oatman Highway via Sitgreaves Pass (near Kingman) rises steeply via sharp turns, and the narrow road lacks guard rails.
You can pick up speed by hopping onto the interstate for parts of the drive, but be aware that I-44 includes long sections of toll roads.
Some of the most famous Route 66 stops get a lot of visitors, particularly on the section between Seligman and Kingman, so try to get here early before the tour buses do.
Gas prices can often be higher on Route 66 so look out for cheaper places to fill up if you're venturing away from the route.
Best scenic drives on Route 66
The great thing about a road trip on Route 66 is that you can enjoy some absolutely stunning scenic drives that are just a few miles off the route.
Palo Duro Canyon State Park (Texas) - This huge canyon system goes on for over 100 miles, offering plenty of opportunities for scenic hikes and impressive views.
Blue Hole, Santa Rosa (New Mexico) - Cool down in this beautiful blue pool outside Santa Rosa, which is popular with locals and visitors alike.
Petrified Forest National Park (including the Painted Desert) New Mexico - Admire the stunning rock formations and the remains of prehistoric forests, which stretch out for miles. The color of the rock at the Painted Desert is unreal.
Meteor Crater Natural Landmark (south of I-40 between Winslow and Flagstaff) Arizona - Look out across this vast crater, which has left a huge and permanent scar on the desert landscape.
Coconino National Forest (south of Flagstaff) - The green foliage and red rocks of this national forest make for a striking contrast to the desert scenery. A great place to hike.
Mojave National Preserve is just north of the route (California) - Enjoy unforgettable desert views with a scenic drive that begins right from I-40 close to Amboy.
Amboy Crater (California) - This striking volcanic cone rises up impressively out of the surrounding desert. It's a great place to watch the sun rise or set.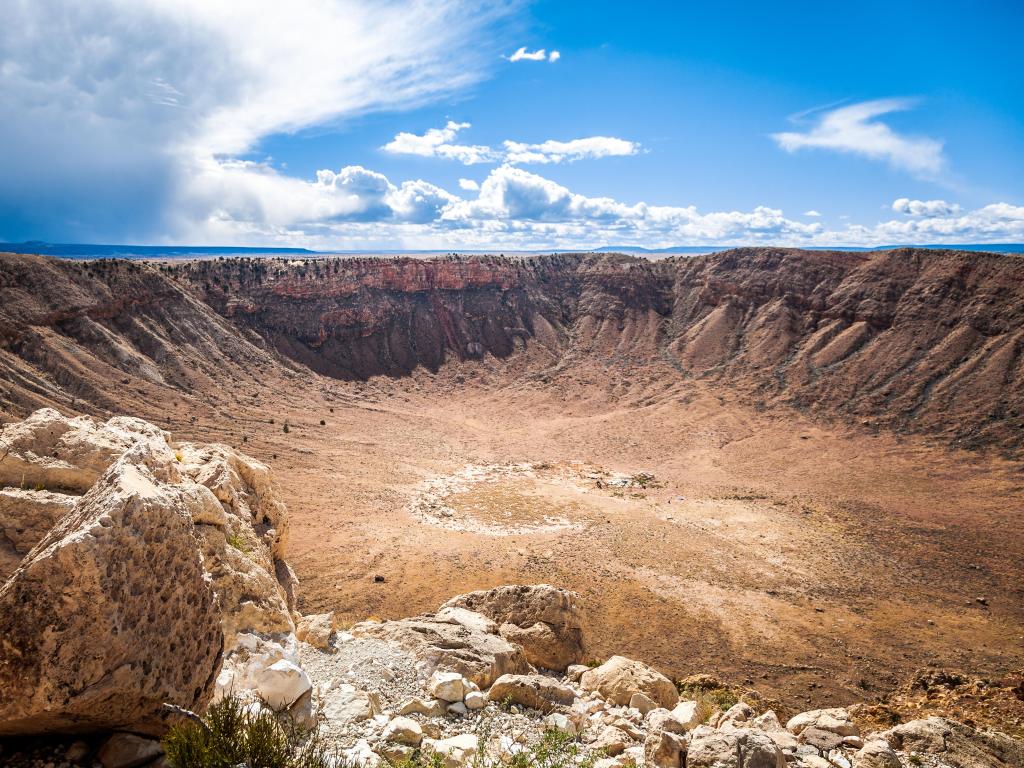 You might have noticed that the most scenic sections of the route are all located between Oklahoma City and California. The northern part of the trip has plenty on offer though, as you'll discover if you keep reading.
Most interesting stops on Route 66
One of the real treats of a Route 66 road trip is the chance to explore some stunning vintage sites, quirky museums and fabulous cities along the way.
The possibilities are endless, but here are our top picks for interesting stops when you're travelling on Route 66:
Route 66 Hall of Fame & Museum, Pontiac (Illinois) - Packed full of mid-century memorabilia, find out more about the history of the Mother Road as you set out on your road trip.
Chain of Rocks Bridge, Madison (Illinois) - Listed on the National Register of Historic Places, this famous bridge changes direction halfway across the Mississippi.
Route 66 State Park, Eureka (Missouri) - Enjoy some time in nature at this park which has grown up around the old road, including the Meramec River US 66 Bridge.
Route 66 Car Museum, Springfield (Missouri) - Come and admire the kind of vehicles that would have driven this route in the past.
National Route 66 Museum, Elk (Oklahoma) - Explore a whole complex of attractions here to get a real feel for the heritage of Route 66, with restored buildings and vehicles among the extensive exhibits.
Route 66-Sixth Street Historic District, Amarillo (Texas) - Route 66 ran along 6th Street in Amarillo, where today you'll find galleries, shops and nightlife among some beautiful period buildings. Op
Cadillac Ranch, Amarillo - A unique art installation made up of vintage vehicles standing like monuments in the desert just outside Amarillo.
Albuquerque old town - Explore the city's museums, churches and adobe buildings around Old Town Plaza then take a walk beside the Rio Grande.
Giganticus Headicus, Walapai (Near Kingman, Arizona) - This huge and much-photographed statue feels like it would be more at home in Easter Island than Arizona.