Road Trip from Phoenix to Bryce Canyon
If you are looking for an epic trip traversing the changing landscapes of Arizona lakes, sandstone cliffs, desert views, and red rock formations in one journey, then look no further than this epic road trip from Phoenix to Bryce Canyon, dotted with one majestic landscape after another.
The 560-mile road trip from Phoenix to Bryce Canyon takes around 11 hours to drive, visiting Flagstaff, Kaibab National Forest, Grand Canyon, and Kanab; or via Lake Havasu City, Boulder City, Las Vegas, and Zion National Park taking a detour.
Bask in the beauty of nature, history, and picturesque desert views as you enjoy the mesmerizing natural wonders on this scenic drive. For more insights into the route, things to do, places to see, and the best time to visit, continue scrolling.
How far is Bryce Canyon from Phoenix, and how long will the road trip take?
Comparison of road trip routes between Phoenix and Bruce Canyon

| Route | Distance | Driving Time |
| --- | --- | --- |
| The Grand Canyon Route | 560 miles | 11 hours |
| The Las Vegas Route | 750 miles | 14 hours |
The most direct drive to Bryce Canyon from Phoenix via The Grand Canyon Route takes around 11 hours to cover 560 miles without stopping for food and gas breaks.
The Las Vegas Route will take you to the neon-lit Sin City, covering 750 miles over 14 hours of driving, without overnight stopovers.
Although you could cover this distance within a couple of days, we recommend you take at least 3-5 days to explore the massive offerings of the route leisurely.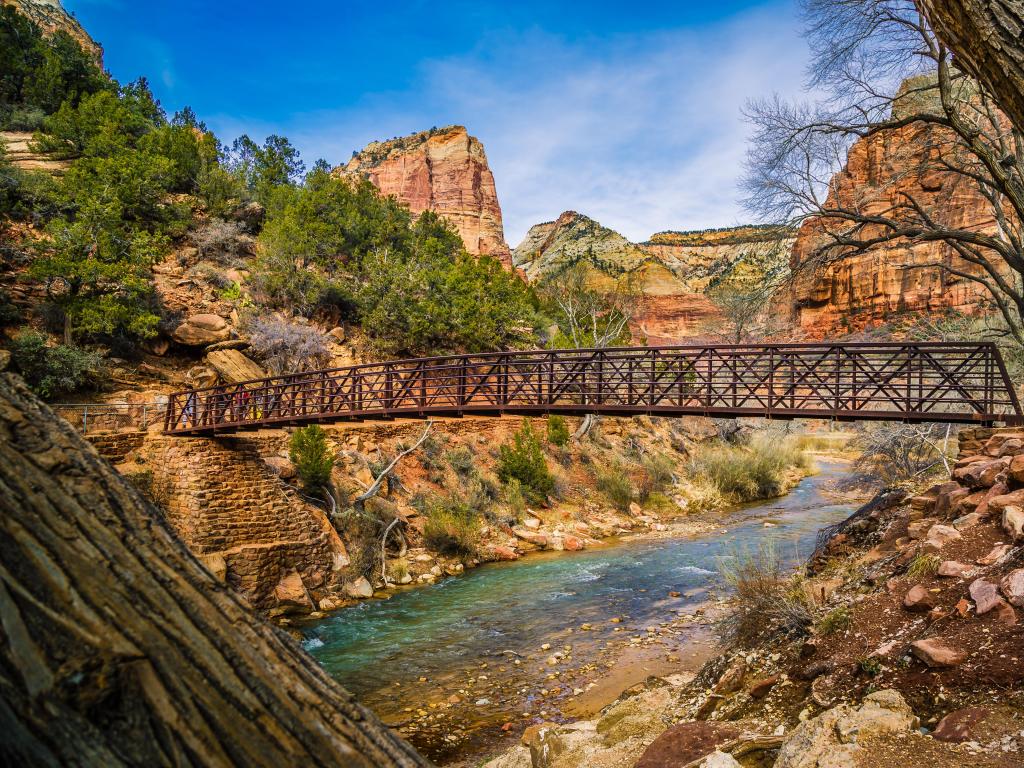 Best road trip route from Phoenix to Bryce Canyon
Even though both routes lead to Bryce Canyon, your experiences and the places you'll see in between will differ massively based on your chosen route.
If you are a practical traveler and love taking direct routes, the Grand Canyon route awaits you. You'll pass through some quaint historic towns of Arizona like Jerome, Cottonwood, and Flagstaff, embarking on a journey filled with famed natural wonders.
On this Desert View drive, you'll see spectacular cliff edges, swimming holes, prairies, hoodoos, and, most notably, the Grand Canyon.
Take The Sin City Detour Route to Bryce Canyon for a slightly longer drive. From relaxing on the banks of the Colorado River and trying your luck at Vegas to enjoying water sports on Lake Havasu, you'll be able to make the most of the attractive indoors and outdoors.
The road will also take you to the Mojave Desert, a hike through a disused railway tunnel, and a sight of the towering sandstone cliffs of Zion.
The Grand Canyon Route
As you begin your northward journey, take Interstate 17 (I-17) out of Phoenix through the rugged desert landscape. Following AZ-69 toward Prescott, you'll end up at the beautiful and pristine Watson Lake, surrounded by granite boulders.
After stretching your legs, hop on to AZ-89 to continue your journey. The picturesque road will take you via the historic cities of Jerome, Cottonwood, and Sedona as you make your way through the Coconino National Forest.
After crossing Flagstaff, jump to the US-180, which merges into AZ-64. Head straight, taking the meandering road to cross the Kaibab National Forest to arrive at the Grand Canyon.
After marveling at the famed wonder, head East to rejoin AZ-89. You'll arrive at the quaint town of Cameron, where you can admire the Colorado River Gorge. Continue traveling North all the way to the Horseshoe Bend, overlooking the horseshoe-shaped bend in the Colorado River.
Enjoy the fantastic red rock formations and make your way through Page to enter Utah. Visiting the Toadstool Hoodoos and Kanab, drive through Dixie National Forest before taking a right on UT-12 to reach Bryce Canyon City.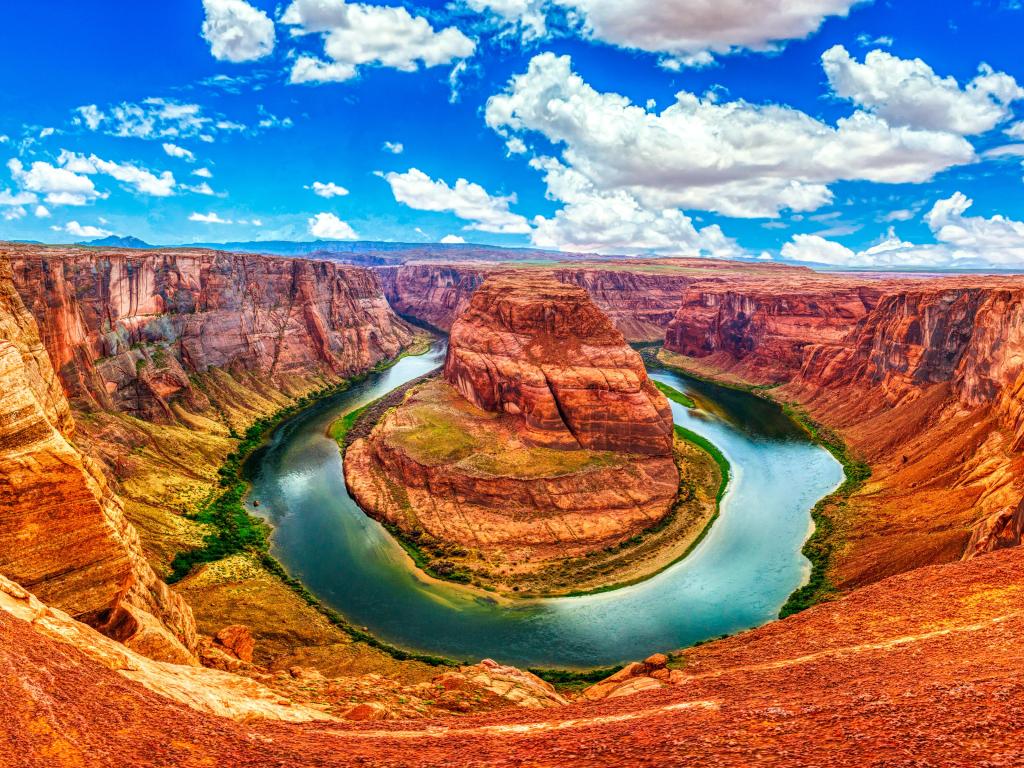 The Las Vegas Route
Exit Phoenix by taking I-10 to head west. Taking AZ-72, briefly merge into AZ-95 at Parker and drive along the beautiful Parker Strip, hugging the Colorado River to reach Lake Havasu City.
Explore the lovely outdoors, sparkling waters, and towering rock formations at leisure before driving north, straddling the borders of Arizona, California, and Nevada on US-95.
At Searchlight, take a left for a detour to Mojave National Preserve to witness dunes and rugged mountains. Head onto I-15 to follow it to Las Vegas. Explore the beautiful Lake Las Vegas, Lake Mead, and the glitzy fun night of gambling there.
Following I-15 out of the city, head northwest. After a brief detour to Valley of fire State Park, head east to enter Arizona again. Then follow the route to enter Utah and head on UT-18 to explore the beautiful Snow Canyon State Park.
Then, take a left to join UT-9 and drive to Zion National Park. Enjoy the incredible views of the sandstone cliffs, deep canyons, and gorgeous pools before heading out. At Mount Carmel Junction, the road merges into US-89.
Follow the road through the red rock mountains and the Dixie National Forest before heading east to Bryce Canyon City on UT-12.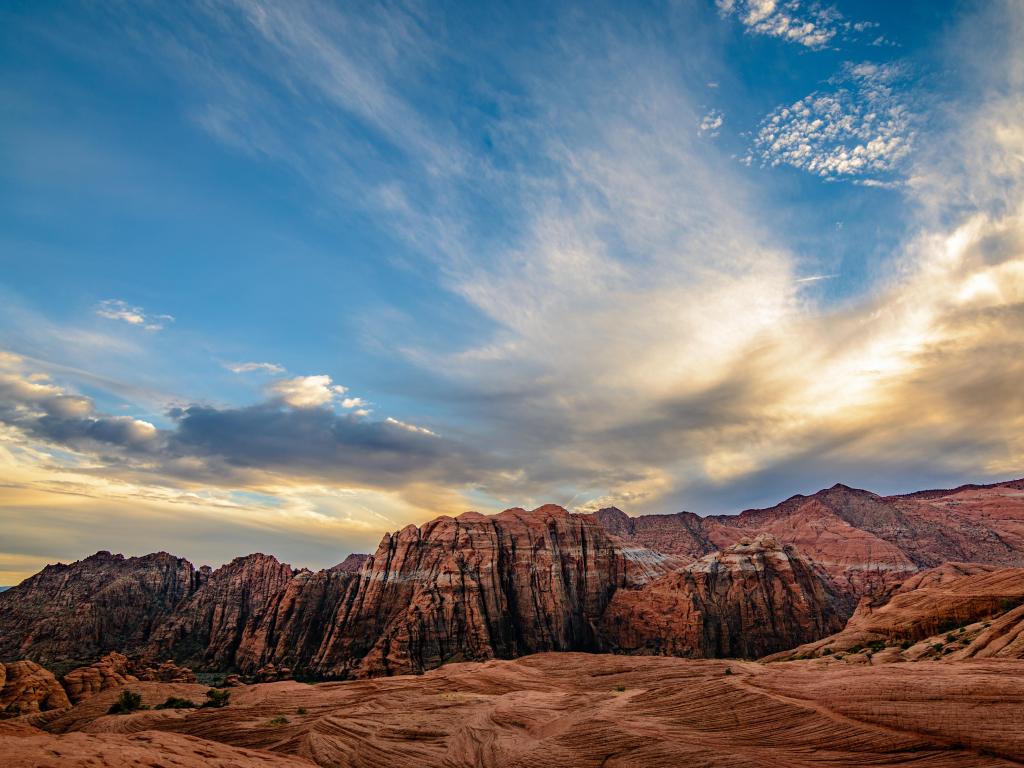 Best places to stop between Phoenix and Bryce Canyon
You might be tempted to cover this journey in a day, but given the national forests, parks, wonders, and awe-inspiring views, you'll need a few stopovers.
Enjoy the mountain views in Flagstaff
After covering a third of your journey on The Grand Canyon Route, you'll arrive in the historic city of Flagstaff. Given that it's the first major city on this route, Flagstaff is an ideal first overnight stop.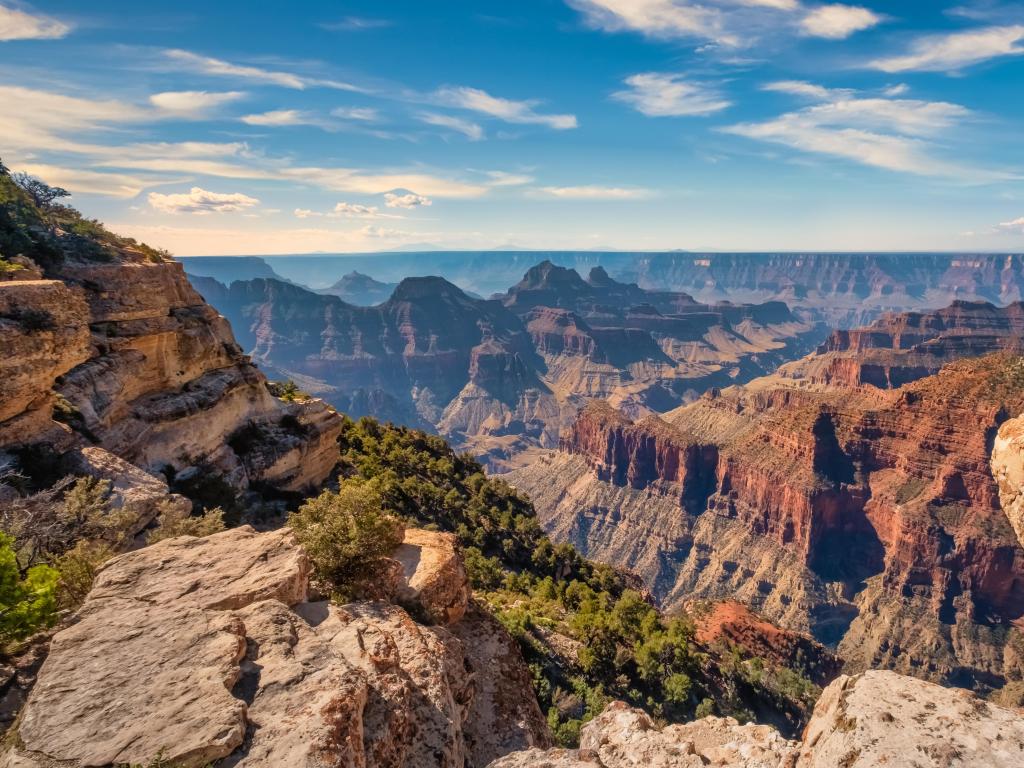 Thanks to its fantastic location and its proximity to the Grand Canyon, it is widely known as the gateway to the Grand Canyon. The city boasts crazy nightlife and a calming mountain vibe simultaneously.
The Downtown area is famous for its trendy bars, restaurants, and iconic Monte Vista Hotel. If you like star gazing and astronomy, check out the Lowell Observatory at night. For a trip down historic lanes, take a guided Haunted History Tour to learn of its Wild West past.
Situated close to the major attractions and on Route 66, we suggest you spend the night at High Country Motor Lodge, a 4-star resort-style hotel. This hotel is every road-tripper's dream. With free on-site parking and chock full of amenities, you'll want to stay there longer.
You can enjoy many wellness treatments, including Nordic Spa Experience with a plunge pool, and relax at an outdoor swimming pool with sun loungers, a hot tub, a sauna, and steam rooms. This boutique hotel boasts up-to-date industrial decor and contemporary but classic rooms.
Round off your day by indulging in spirits at their trendy bar and enjoying comforting American meals at an on-site restaurant called The General Store.
Enjoy the nightlife in Las Vegas
Located halfway on the Las Vegas Route, Las Vegas is an ideal overnight stop. Given the exciting things Vegas offers, you'll need a hotel to enjoy its nightlife.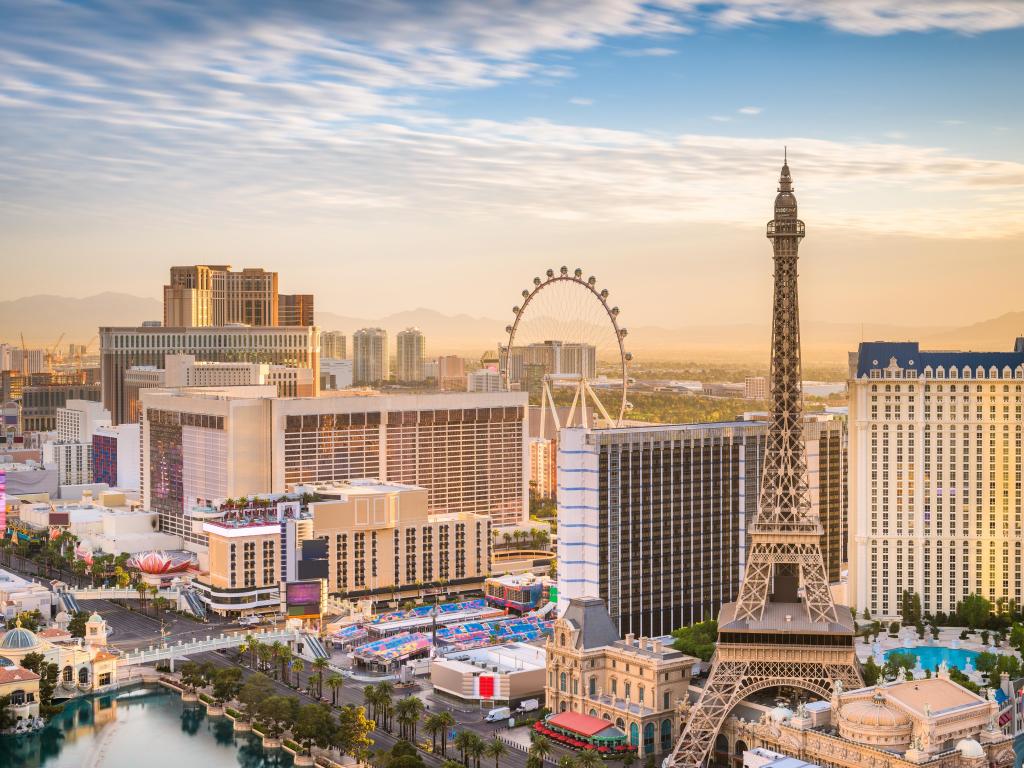 In one of the most famous cities in the World, you're in for world-class entertainment, including round-the-clock open casinos and shows. Walk 'The Strip' to see the famed casinos, such as the Venetian and Caesars Palace.
For vintage Vegas, go to Fremont Street, where you can glide above the entertainment on the SlotZilla Zip Line. For a bird's eye view of the city, get up on the 500-foot Ferris wheel with enclosed glass cabins to look at the madness of Sin City.
Located on the Las Vegas Strip and boasting an on-site casino, restaurants, boutiques, gardens, and fountains, our vote goes to Bellagio for your Vegas stay. The hotel offers luxurious rooms, comfy beds, and outstanding room service.
You can keep up with your exercise routine at their up-to-date fitness center and take a dip in one of their five outdoor swimming pools too. Find a relaxing massage and hair treatment on-site and enjoy their wellness facilities like steam rooms, saunas, and hot tubs.
When staying at Bellagio, you'll be spoilt with excellent food options. There are over 18 on-site dining choices serving dishes from all over the World. And when it's time to leave, I-15 is less than a mile away.
Where to stay when you reach Bryce Canyon
The breathtaking views of the towering spires and the iconic red rock formations will welcome you to Bryce Canyon. Once you arrive, you'll need to unwind, find a reliable place to stay and explore the beautiful outdoors.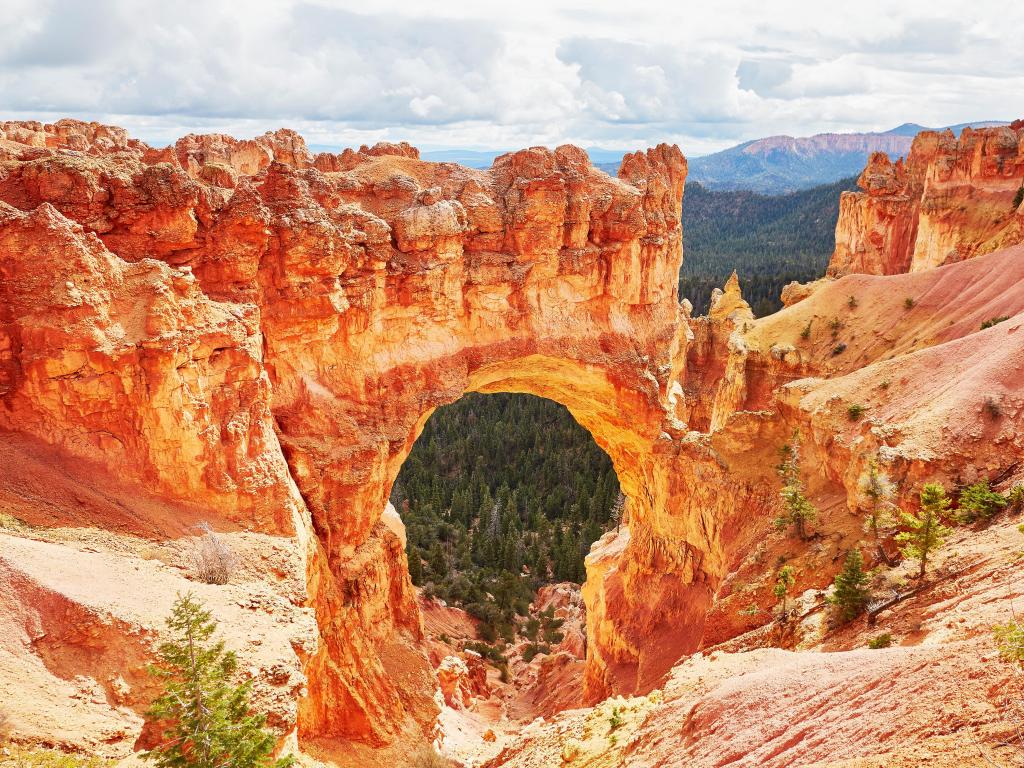 Look no further than the Under Canvas Bryce Canyon for your stay in Bryce Canyon. The luxurious tents surrounded by nature will invite you in. And the free parking on-site is always a huge relief.
Start with breakfast on the property and explore the nearby hiking trails and yoga classes. After a day of excursion, enjoy delicious meals at the on-site Embers restaurant. We particularly love this place for its easy access to Bryce Canyon Park via a shuttle service.
Things to see on a road trip from Phoenix to Bryce Canyon
With so many outdoor attractions en route to Bryce, we have narrowed down a list of must-visit places in Arizona, Utah, Nevada, and California.
The Grand Canyon Route
Watson Lake, Prescott, Arizona - At Watson Lake, you'll have hiking trails to Watson Woods and boulders of Granite Dells. The lakeside spot also has facilities for picnics and overnight camping.
Jerome, Arizona - Visit the former mining mountain community believed to be 'The Wickedest Town in the West.' Take an evening ghost tour to discover the local sights.
Cottonwood, Arizona - The charming Cottonwood is located in the heart of the Verde Valley Wine Country. You can book a visit to one of the tasting rooms during your stay.
Grasshopper Point, Arizona - Hidden at the base of Oak Creek Canyon is a swimming hole surrounded by cliffs. Grasshopper Point is a memorable swim and a beautiful picnic area.
Kaibab National Forest, Arizona - South of the Grand Canyon, the Kaibab National Forest is often overlooked. With cabins, hikes, and scenic drives, losing yourself in the canyons and prairies is easy.
Grand Canyon, Arizona - As one of the World's seven natural wonders, the Grand Canyon is a bucket list experience. Peer over the mile-deep canyon and let the geology take your breath away.
Horseshoe Bend, Arizona - Horseshoe Bend is a much-photographed nature spot. You can enjoy a 1.5-mile hike to access the entrenched meander of the Colorado River.
Page, Arizona - You can join an Antelope Canyon tour from Page. The slot canyons allow light beams to fall in ways that make for memorable photo opportunities.
Toadstool Hoodoos, Utah - The bizarre Toadstool Hoodoos make for an intriguing stop. Stop and hike the trails to lead to the mushroom-shaped rocks.
Kanab, Utah – Fondly called 'Little Hollywood,' Kanab was the epicenter for filming Western movies. As you continue your drive, stop at Moqui Cave. You'll notice many abandoned movie sets and the museum.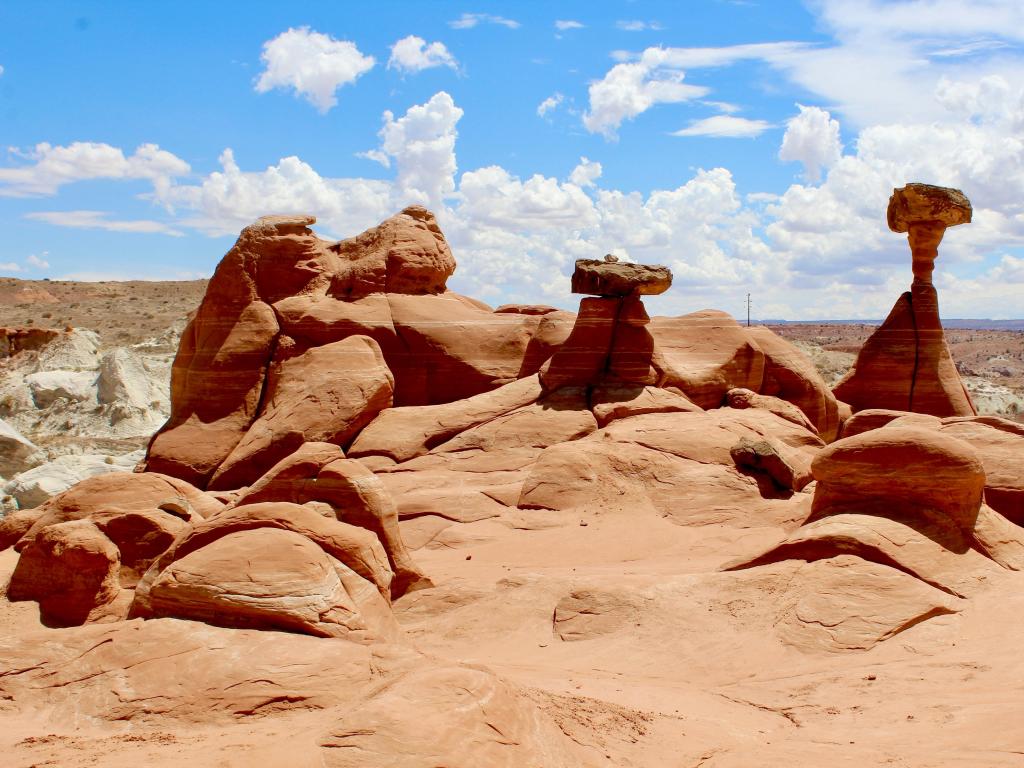 The Las Vegas Route
Buckskin Mountain State Park, Arizona - Mountains surround the Colorado River. Camp on the banks of the river and hike the trail network.
Lake Havasu City, Arizona - A paradise for water activities with year-round sunshine and 400 miles of shoreline. You can hire all types of boats to experience the lake, from a jet ski to a kayak.
Havasu National Wildlife Refuge, Topock, Arizona – A prominent fishing location. You can also take a tour once a month to learn about the plants and animals that inhabit the region. It's not uncommon to see coyotes and bobcats.
Mojave National Preserve, California - Experience the sand and gravel basins of the Mojave. Visit the Lava Tube, a passageway created by molten lava.
Boulder City, Nevada - You can hike on the Historic Railroad Trail through the tunnels here. Also, learn more about the notable engineering feat at the Hoover Dam Museum.
Lake Mead, Nevada - Walk across it and admire the 726-foot Hoover Dam. Nearby Lake Mead Marina, you can hire a paddleboard and spend some time on the famous lake.
Lake Las Vegas, Nevada - The luxurious Lake Las Vegas features distinctive Mediterranean architecture. Enjoy a spa day in one of the resorts to make you stay extra special.
Valley of Fire State Park, Nevada - Hike through bright red sandstone formations. Head to the visitor center for inspiration on a trail to follow.
Snow Canyon State Park, Nevada - Covering 7,400 acres, you'll discover towering sandstone cliffs amid the desert environment. Explore the trails on foot, bike, or on horseback.
Zion National Park, Utah - With 2,000 feet high sandstone cliffs, Zion is a hotspot for rock climbing. Many hiking trails of varying difficulty lead to fantastic observation points. If you'd like to hike up to Angels Landing, you will need a permit and will need to make a reservation. Check the Zion National Park's website for more details.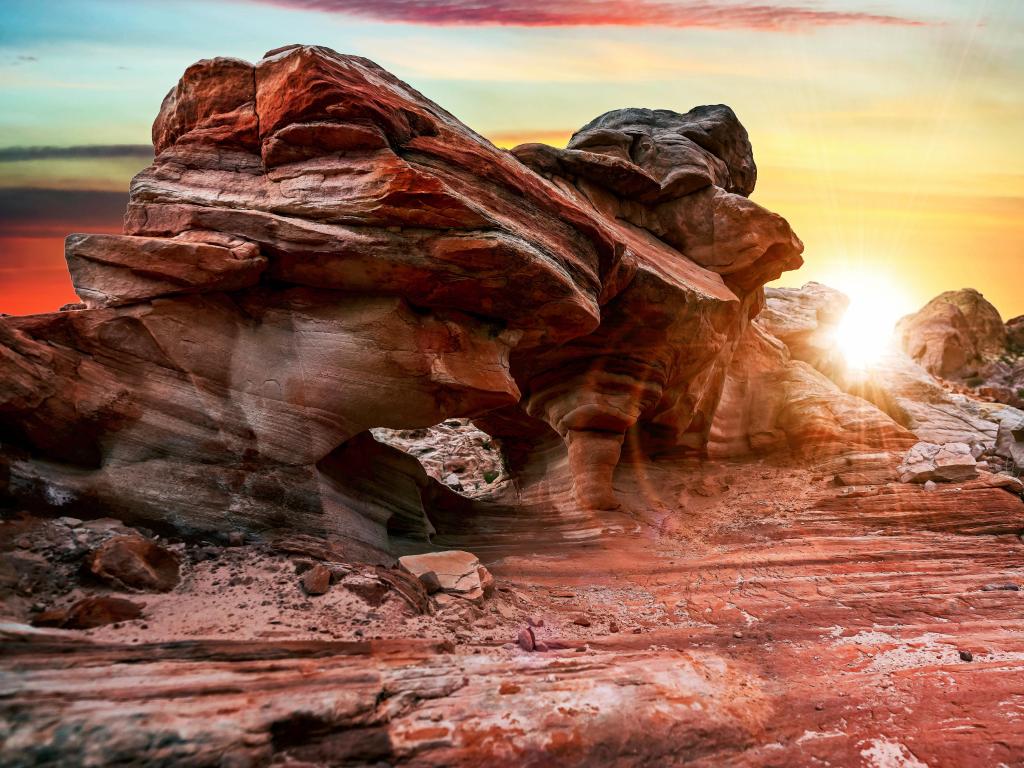 Best time to go on a road trip from Phoenix to Bryce Canyon
Bryce Canyon National Park welcomes visitors all year round. You can plan this trip anytime during the year but are likely to have different experiences based on when you travel. While the winter weather is rough, summer is quite pleasant.
The temperature in the region varies drastically during the year, with a minimum temperature of 10 degrees Fahrenheit and a maximum temperature going up to 80 degrees.
Bryce Canyon is pretty cool during summer compared to other national parks, with temperatures averaging around 58, 64, and 61 degrees Fahrenheit during June, July, and August, respectively.
Because of its high elevation, Bryce Canyon doesn't get sweltering hot and is comfortable to hike in summer. And thanks to the ambient weather, June to August is the peak tourist season.
Although the park is open during winter, it gets cold and difficult to hike. Because of this, there are fewer crowds. The average temperature during winter is between 21 and 30 degrees Fahrenheit, and there are high chances of finding a snow-clad park. Also, note that several roads may be closed due to harsh weather.
Fall and Spring are great seasons to plan this trip. You'll have sunny yet cool days in September and October, perfect for hiking. The average temperature varies between 53 and 42 degrees, and you'll find fewer people around.
While you may encounter snow during the beginning of the Spring, towards the end, you'll find the city crowded in May. The average temperatures for March, April, and May are 32, 39, and 48 degrees Fahrenheit respectively.
The Bryce Canyon area is not well known for hosting festivals and events yearly. Summers and holiday seasons are busy, whereas Spring and fall are less popular. So, plan accordingly.