Road Trip From Phoenix To Las Vegas
If you're in Arizona and are curious if all you've heard about Sin City is true, wind down your car window and go on a road trip from Phoenix to Las Vegas.
Depending on which route you take, the journey to Las Vegas can be the ultimate Arizona experience and one of the best road trips of your life.
The 300-mile road trip from Phoenix to Las Vegas can be done in 4 hours and 30 minutes. Alternatively, take the scenic route via the Red Rock Scenic Byway and Sedona, detour to Prescott National Forest or the Grand Canyon, and make a stop at the Hoover Dam.
It'll take a fair bit of planning to cover everything along the way, so keep reading to learn about the cascade of beautiful stops and landmarks on the way.
How far is Las Vegas from Phoenix and how long will the road trip take?
Comparison of road trip routes between Phoenix and Las Vegas

| Route | Distance | Driving Time |
| --- | --- | --- |
| The Fast Route | 300 miles | 4 hours 30 minutes |
| The California Route | 330 miles | 5 hours 30 minutes |
| The Scenic Route | 400 miles | 6 hours 30 minutes |
The road trip from Phoenix to Las Vegas covers 300 miles along the Fast Route and can be done in around 4 hours and 30 minutes before adding in stops.
In theory, taking this longer route should take 6 hours and 30 minutes of uninterrupted driving (although you're doing something wrong if you're not making any stops here!). You will have about 400 miles of road to cover, not accounting for the plethora of detours along the way.
There also exists a third option that slices through the California portion of the Mojave Desert. Getting to Las Vegas via this route takes around 5 hours and 30 minutes, and while it doesn't necessarily compare to the Sedona route, it's a decent middle ground if the quick route is too bland for you.
Best road trip route from Phoenix to Las Vegas
The best road trip route from Phoenix to Las Vegas really depends on what you're after. The two quicker routes are serviceable if you only really care about Vegas itself, but nothing beats the beauty of the Red Rock Scenic Byway and the forests and parks that flank it.
The Fast Route gives you a fair bit of leniency with your take-off time, as you could leave Phoenix well after lunch and still make it to Las Vegas in time for an exciting night out. However, if you're not itching to get to Vegas in a single day, this not-so-scenic itinerary probably isn't for you.
If, on the other hand, you have a week or more to devote to the trip, consider driving through Sedona and Flagstaff on the Scenic Route – on top of this being the most scenic stretch of land in the state, it gives you the option of detouring into the Grand Canyon, really taking your trip to the next level.
If time isn't a concern for you, you could probably take the Scenic Route both ways and still have things to check out – to spice things up on the way back, consider a detour to Prescott, for example, or go through Flagstaff's impressive checklist of nearby monuments.
How to drive from Phoenix to Las Vegas
The map above shows our suggestions for the best road trip routes between Phoenix and Las Vegas. Keep reading for detailed descriptions of both routes, where to stay on either, and the best things to do on the way.
Scenic Route (through Sedona & Flagstaff)
Taking the I-17, pass Phoenix Sonoran Preserve and Lake Pleasant, then detour to Prescott National Forest if you feel so inclined. Otherwise, pass by Montezuma Castle and get on the Red Rock Scenic Byway (State Route 179), and drive past Red Rock State Park and Chapel of the Holy Cross into Sedona.
Continue along State Route 89A through Slide Rock State Park, and you'll soon reach Flagstaff. Check out Walnut Canyon and Sunset Crater, then take the I-40 west (along Historic Route 66), and drive through Bearizona and Williams.
Alternatively, take State Route 64 north and visit the Grand Canyon if you have the time.
Stay on the interstate until you reach Kingman (and maybe take a short ride on Route 66), then follow U.S. Route 93 into Nevada, passing by Hoover Dam and Lake Mead. From there, take Interstates 11 and 515 to Las Vegas.
Fast Route
Take US Route 60 out of Phoenix, then transition into Route 93 past Wickenburg. From here, just stay on the road all the way to Kingman – from there, just follow the same path as the scenic route all the way to Vegas.
Having driven this route, you're bound to enjoy the completely straight road through the Arizona desert as much as those who were tasked with constructing it.
Places along the way have imaginative names including Bagdad and Santa Claus but my favorite place has got to be a place called Nothing, Arizona. Population 4 (crossed out), 3.
California Route
Leave Phoenix west via the I-10, and follow it all the way to Kofa National Wildlife Refuge. Get on Vicksburg Road and follow State Routes 72 and 95 out of Arizona.
At Vidal Junction, take U.S. Route 95 north, past Havasu National Wildlife Refuge and Mojave National Preserve, all the way into Nevada. After passing Sloan Canyon National Conservation Area, follow the interstate from Boulder City to Las Vegas.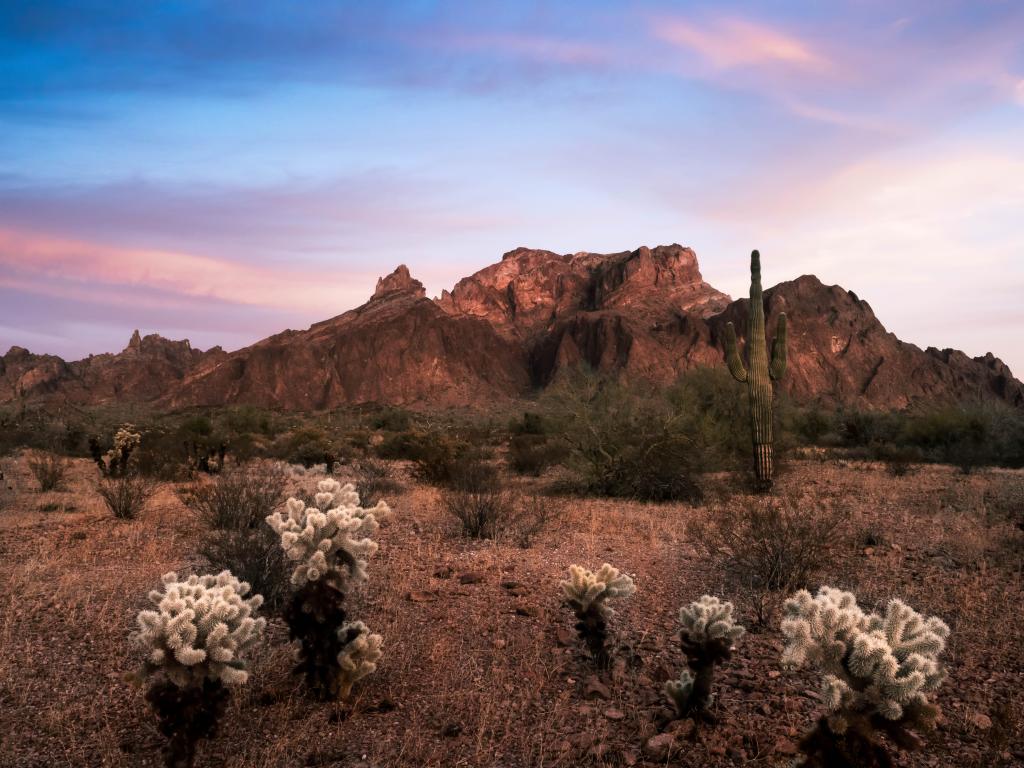 Best places to stop between Phoenix and Las Vegas
You'll definitely want to break up your trip from Phoenix to Las Vegas into as many days as you can.
The routes are understandably a bit uneven in terms of the accommodation each can offer, but if you're looking to keep things stylish, here are some of the best resorts for your consideration:
Marvel at the Red Rocks of Sedona
If you only stop at one city on the way to Vegas, it might as well be the gorgeous Sedona. Being the tourist hub that it is, the city is home to many great resorts, and one of the best is L'Auberge De Sedona.
Although the location alone would be enough of a selling point, L'Auberge De Sedona features beautiful rooms equipped with a fireplace and a balcony/patio with an amazing view.
Besides Sedona's trademark red rock scenery, this hotel is surrounded by beautiful greenery and is located right by the river – after hours of driving and exploring, you'll fall asleep within moments listening to the sounds of flowing water.
The hotel features an outdoor swimming pool, as well as a spa and wellness center. If you're traveling with your significant other, the on-site restaurant can help you set the mood with a riverside, candle-lit dinner.
As you might infer from all these amenities, this is one of Sedona's more expensive resorts, but it's definitely more than worth the price.
Spend an unforgettable vacation in Las Vegas
Once you've finally reached Vegas, any of the hotels along the Strip should meet and/or exceed all your expectations. Although we tend to disagree among us in the office, I'd say that even among the best of the best, the Venetian is in a league of its own.
What could have easily turned out gimmicky actually stands as the resort's most iconic feature – you can take a bona fide gondola ride and truly immerse yourself in the Italian aesthetic.
After leaving your things in your premier room, you cool off in the swimming pool and marvel at the hotel's impeccable architecture.
It's no exaggeration to say that the Venetian truly has everything. The incredible lounge/bar area, the abundance of amazing restaurants, the performance hall, and the obligatory hotel casino all come together to form the quintessential Las Vegas experience.
Best of all, the rooms at this hotel aren't particularly expensive at all, considering everything you get. You should definitely be careful with your expenditures (this is Vegas, after all), but a moderate tourist can enjoy a once-in-a-lifetime hotel stay and spend next to nothing in the process.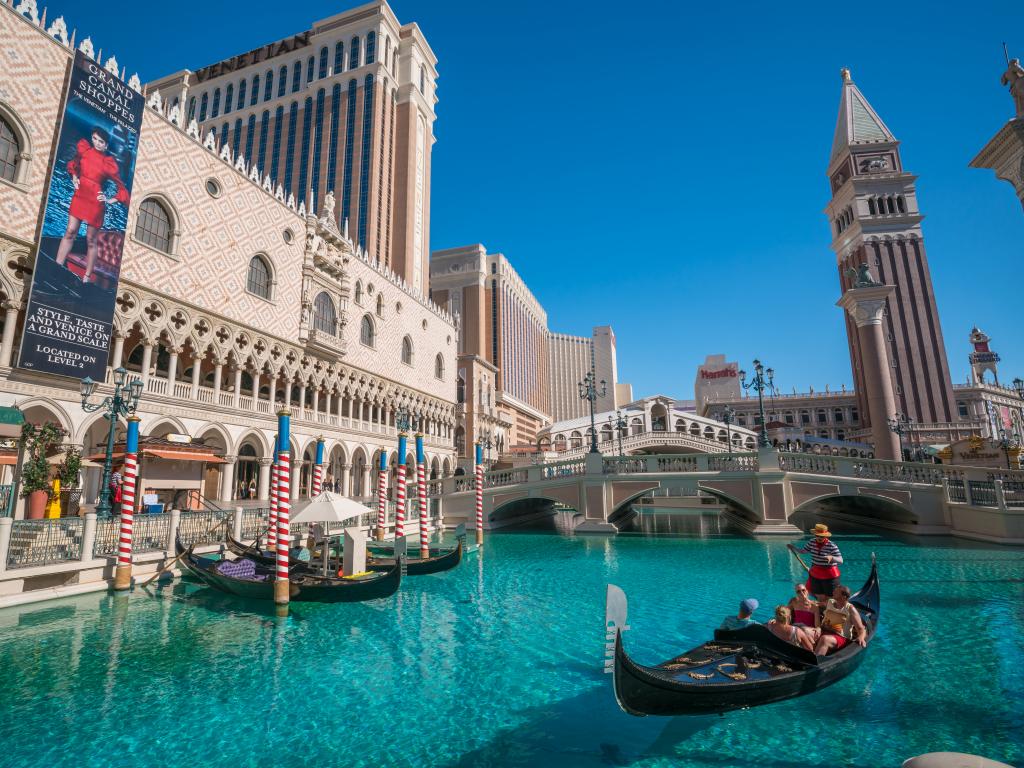 Things to see on a road trip from Phoenix to Las Vegas
The trip from Phoenix to Las Vegas has a lot to offer - so much, in fact, that you'll likely need at least a couple of weeks even come close to covering everything. Although it's next to impossible to make a comprehensive list of all stops, these are some of the route's highlights.
Lake Pleasant – A rare water-based recreation area in the largely-arid Arizona.
Prescott National Forest – A gorgeous forest spanning over a million acres, very popular among camping enthusiasts for a good reason.
Montezuma Castle National Monument – These ancient Sinagua dwellings are very architecturally sophisticated considering their method of construction.
Chapel of the Holy Cross – A gorgeous chapel protruding from Sedona's piercing red rock formations.
Sedona – This unique city combines its red rocks with Coconino National Forest's greenery to create a truly unique tourist attraction.
Flagstaff – This city's tourist pull is comparable to Sedona's since it's so close to the Grand Canyon and Route 66, among countless other attractions.
Walnut Canyon National Monument – Another example of the Sinagua's unique architecture, the dwellings, varied plant life, and elusive Arizona snow make this monument a standout.
Grand Canyon National Park – Molded by nature over the course of millions of years, there's not a soul in the western world that hasn't heard of this iconic park.
Williams & Kingman – These charming cities' histories are inextricably bound to the Historic Route 66, and this is proudly reflected in their design.
Hoover Dam – Besides attracting millions of tourists yearly with its impossibly scenic views, this dam is instrumental in regulating the Colorado River's flow.
Sloan Canyon National Conservation Area – Located just out of Las Vegas, this area is best known for its unique petroglyphs.
Kofa National Wildlife Refuge – Home to a wide range of flora and fauna, and a respite for birds thanks to its many waterholes.
Havasu National Wildlife Refuge – A desert haven for parched animals thanks to the Colorado River.
Mojave National Preserve – This preserve is home to Joshua trees, the ghost town Kelso, and the unique Hole-in-the-Wall Canyon.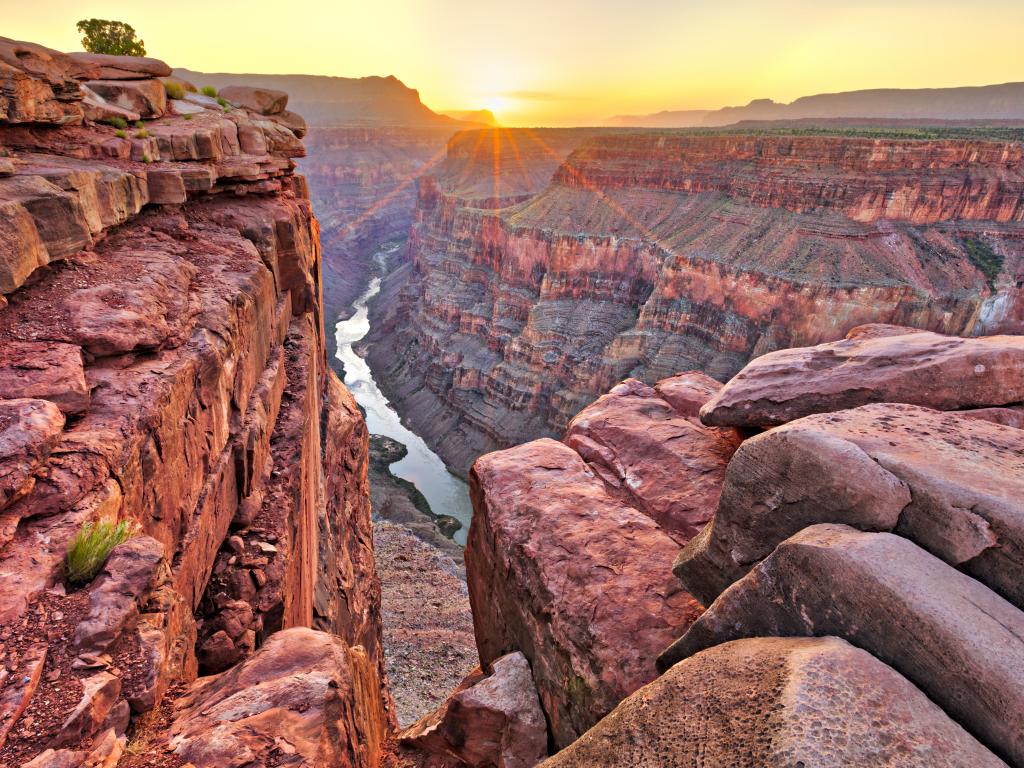 Best time to go on a road trip from Phoenix to Las Vegas
There are a lot of things to take into consideration when gauging the best time for your trip from Phoenix to Las Vegas. This is especially true if you're taking the scenic route, as you'll definitely want to see everything along the way in the best possible light.
Although Phoenix is slightly hotter and significantly more humid, Las Vegas' triple-digit summer temperatures are nothing to scoff at either. After a sweaty desert drive to Vegas, trying to get around the city in the summer could put you off from the amazing things it has to offer.
Winter temperatures, on the other hand, generally range from 30 to 60 degrees. As the rest of the country is freezing, the holidays make winter a very popular time to visit Vegas, so don't expect the city to be less packed just because it gets a little chilly.
Fall and spring are the perfect windows of time for visiting Las Vegas. You can expect temperatures to be somewhere in the 80s most of the time, and the already-affordable hotels can be booked at even lower prices.
Fortunately, these are also the best seasons for visiting the major stopovers on the way – summers in Sedona are quite crowded and hot in their own right, and the more stable spring/fall weather means that the entire Grand Canyon should be accessible too.