Road Trip from Phoenix to Telluride
Are you looking for fresh mountain air, a refreshing hike among lush trees, or cannot wait to hit the slopes? Then this road trip from Phoenix to Telluride is the perfect adventure to shake off the cobwebs and reconnect with nature in the great outdoors. Nestled in the Rocky Mountains, Telluride is a genuine year-round destination.
The 510-mile road trip from Phoenix to Telluride takes 9 hours to drive via Sedona, Flagstaff, Holbrook and Gallup. Follow part of Route 66 to visit Sitgreaves National Forest, Canyon of the Ancients, Monument Valley or Mesa Verde National Park.
With red rock landscapes, iconic desert drives and awesome mountain scenery, you'll experience ever-changing rugged views on the road trip from Phoenix to Telluride. Add onto that the chance to learn about Native American and Pioneer history and you've got the makings of an unforgettable road trip.
How far is Telluride from Phoenix, and how long will the road trip take?
Comparison of road trip routes between Phoenix and Telluride

| Route | Distance | Driving Time |
| --- | --- | --- |
| Petrified Forest Route | 510 miles | 8 hours 45 minutes |
| Mount Valley Route | 515 miles | 9 hours |
The road trip from Phoenix to Telluride is a relatively short one, coming in at around 8 hours 45 minutes on the road on the Petrified Forest Route at 510 miles
The Monument Valley Route is just 5 miles longer but takes you on a very different drive. This route will take about 9 hours to cover without accounting for any detours.
We recommend taking at least 4 days to admire the iconic scenery you will drive through on either of our scenic routes to the fullest.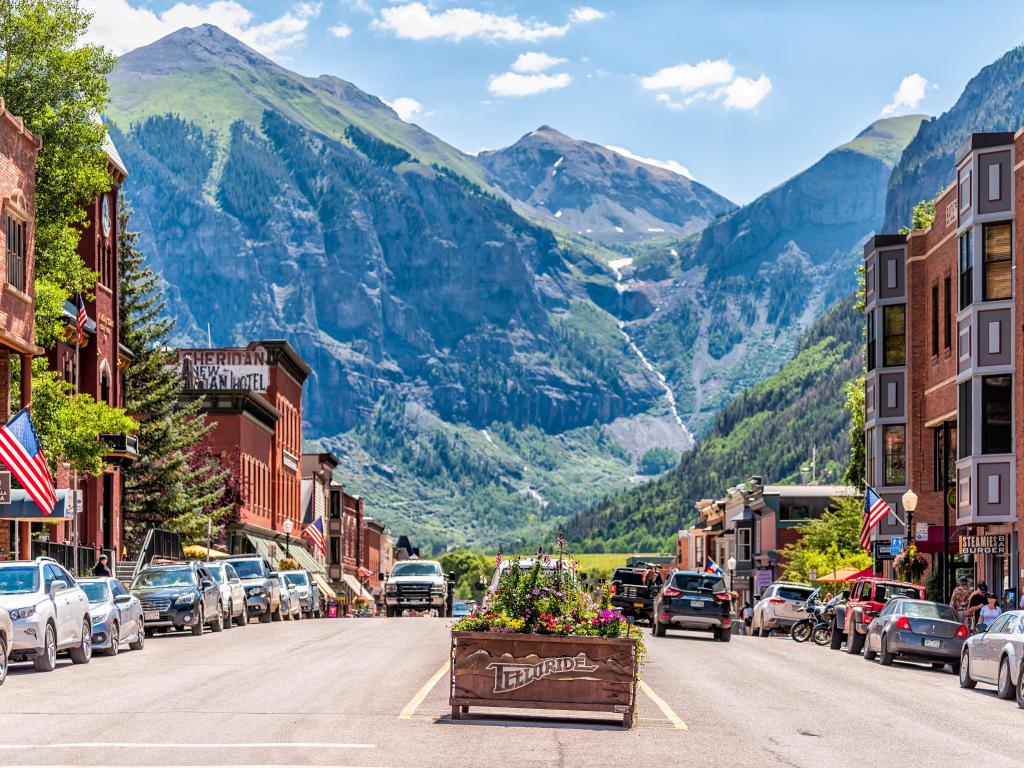 Best road trip route from Phoenix to Telluride
Whichever way you travel from Phoenix to Telluride, you'll have just over 500 miles of stunning landscapes and fascinating stop-offs to explore.
The landscape on the Petrified Forest Route changes dramatically along the way, starting out in unforgettable desert scenery before reaching the San Juan Mountains.
Once you've passed Petrified Forest National Park you'll head into the high desert en route to Gallup, with impressive flatlands and rock formations to add some variety to the drive through the arid landscape. This part of the trip follows the old route of Route 66 and you'll find some unique mid-century attractions as you travel.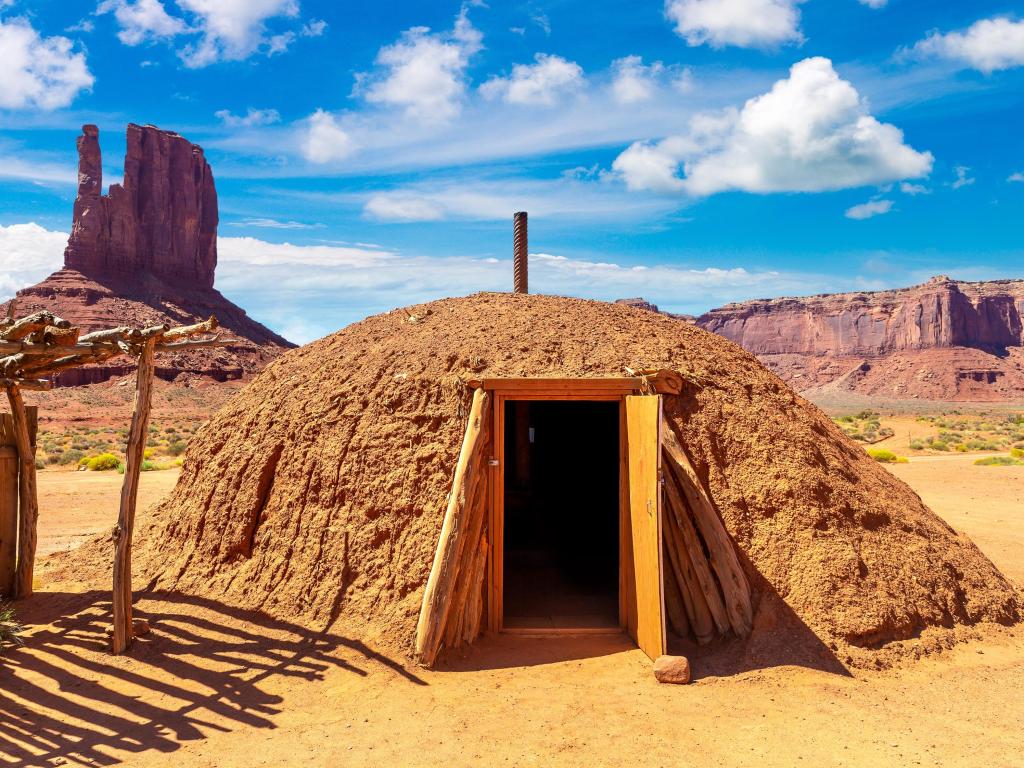 As you approach Mesa Verde, you'll be driving through the foothills of the Rocky Mountains, then continuing on through the San Juan Mountains, you'll complete your road trip to Telluride by driving through breathtaking alpine forests.
If you decide to take the Monument Valley Route you'll also have an incredible stretch of desert driving, with cacti and rugged hills lining the road to Flagstaff. World-renowned vistas will emerge on the horizon as you follow this route, so be sure to free up plenty of memory space for all the photos that you're sure to take.
After Flagstaff, you'll enter the high desert of the Navajo Nation, which is known for its wide-open views and the distinctive rock formations that you'll be able to spend some time exploring at Monument Valley.
As you continue on the short but scenic stretch to Bluff, you'll travel along stunning views of mesas, buttes and other impressive geological formations.
There are some sharp twists and turns on the Monument Valley Route, and you'll miss out on the chance to immerse yourself in the vintage charm of Route 66, but you'll still find plenty to appeal as you make your way through Arizona and Utah on the way to Telluride.
How to drive from Phoenix to Telluride
The map above shows our suggestions for the best road trip routes between Phoenix and Telluride. Keep reading for detailed descriptions of both routes, where to stay on either, and the best things to do on the way.
The Petrified Forest Route
Head east out of Phoenix on the Red Mountain Freeway then turn onto AZ-87, bridging the Salt River then starting out across the Arizona desert. At Payson, turn onto Highway 260 which takes you past Hunter Creek, then take a left turn in Heber to reach AZ-377 towards Holbrook.
From Holbrook, you'll join I-40 and follow it east for a while along the historic route of Route 66. On this stretch of the trip, you'll pass Petrified Forest National Park.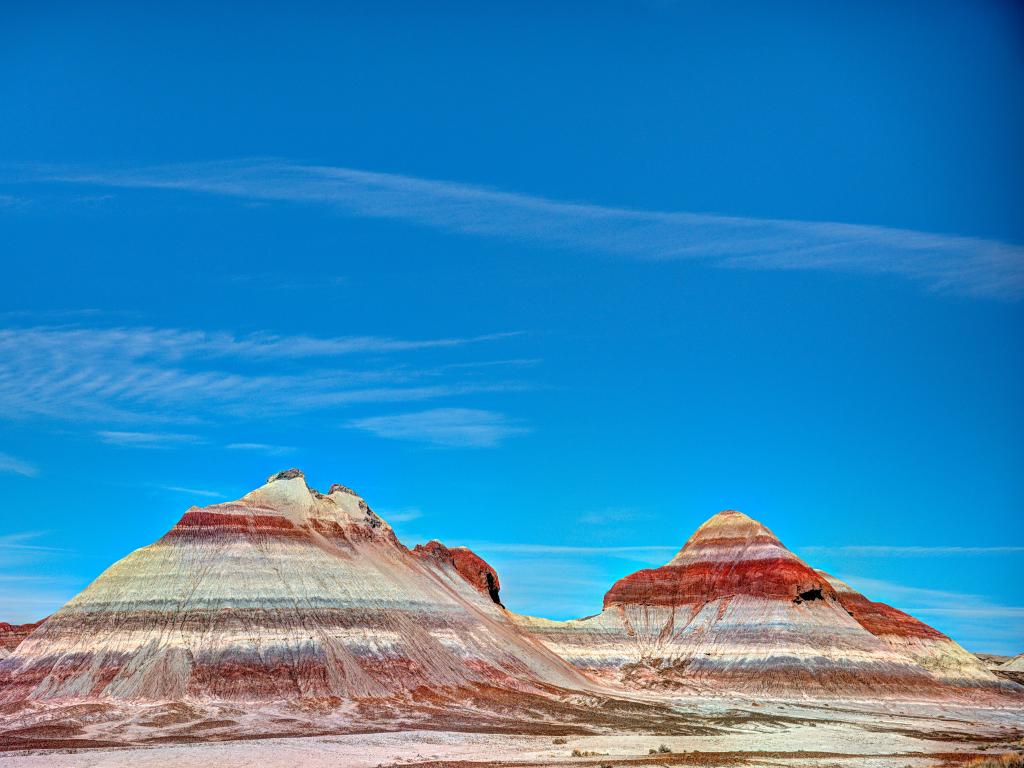 Crossing into New Mexico, you'll soon reach Gallup. Leave I-40 here and continue north on US-491. There aren't many gas stations along this stretch, so fill up before setting out from Gallup.
You'll pass Ute Mountain Reservation shortly after crossing into Colorado, then on reaching Cortez, change onto US-160 to visit Mesa Verde National Park.
Return to Cortez, then continue north on CO-145, skirting the southern tip of the McPhee Reservoir and following the Dolores River into the mountains. You'll pass Rico and Ames before the road takes you right up to your destination, Telluride.
The Monument Valley Route
To get started on the Monument Valley Route, simply head to I-17 from your starting point in Phoenix. You'll pass Sedona and Coconino National Forest as you head north.
Change onto I-40 for a few miles around Flagstaff, then continue toward Cameron along US-89. If you've never seen the Grand Canyon then this is the perfect opportunity - simply follow the detour along Desert View Drive once you reach Cameron.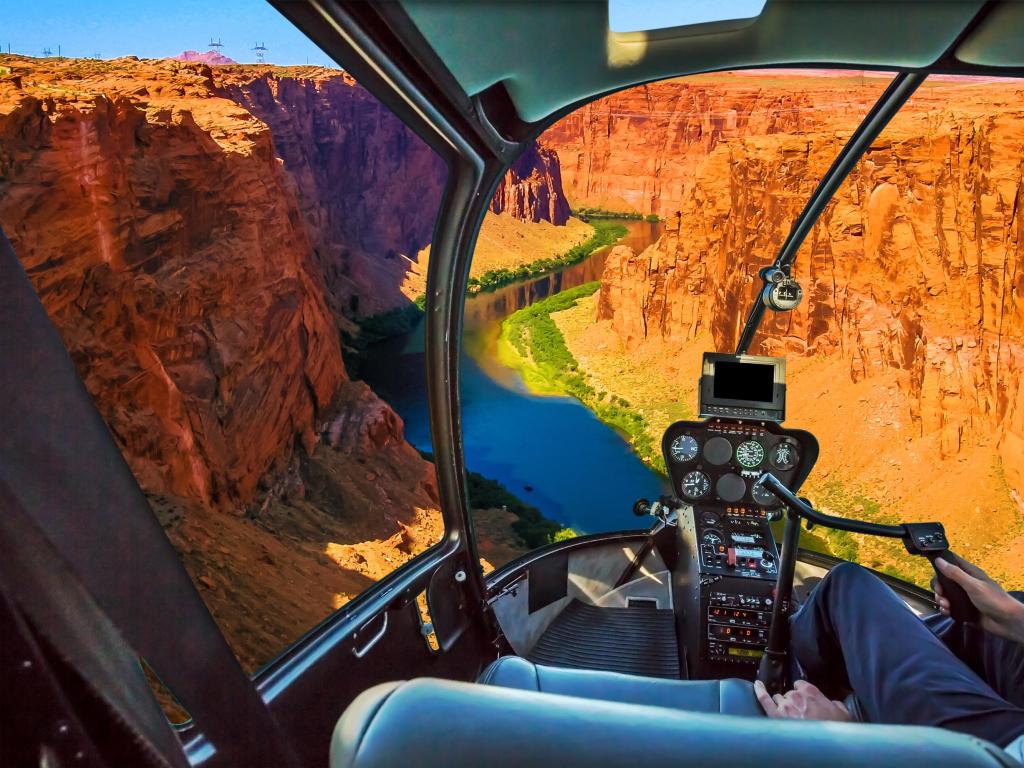 After another stretch of arid desert driving, take the right turn onto US-160, passing Tuba City and Rare Metals. Then, when you reach Kayenta, follow signs towards Mexican Hat to pick up Highway 163, which will take you to the border of Arizona and Utah.
This is your chance to stop off at Monument Valley to admire the iconic red rock formations which have been featured in countless movies.
When you're ready to move on, carry on along the highway, which follows the path of the San Juan River past Bluff Dwellings and Montezuma Creek. Shortly after crossing into Colorado, you'll find yourself back on US-160, which then merges with US-491 to take you to Cortez.
Both routes follow the same route into Telluride, so from Cortez, you'll be joining CO-145 to complete your road trip to Telluride.
Best places to stop between Phoenix and Telluride
Although you could technically complete either route in just a single day, there's so much to see along the way that we'd definitely recommend making some overnight stops.
These are some of our top picks to help you turn your drive from Phoenix to Telluride into an unforgettable road trip.
Experience the legacy of Route 66 at Gallup, New Mexico
Just over halfway along the Petrified Forest Route, you'll arrive in Gallup, New Mexico. It's the perfect place to break your trip, and not just because of the convenient location.
Surrounded by Native American reservations which are home to the Navajo, Zuni and Hopi, it's often known as the "Heart of Indian Country", and you can visit trading posts, galleries and events to experience and learn about their culture.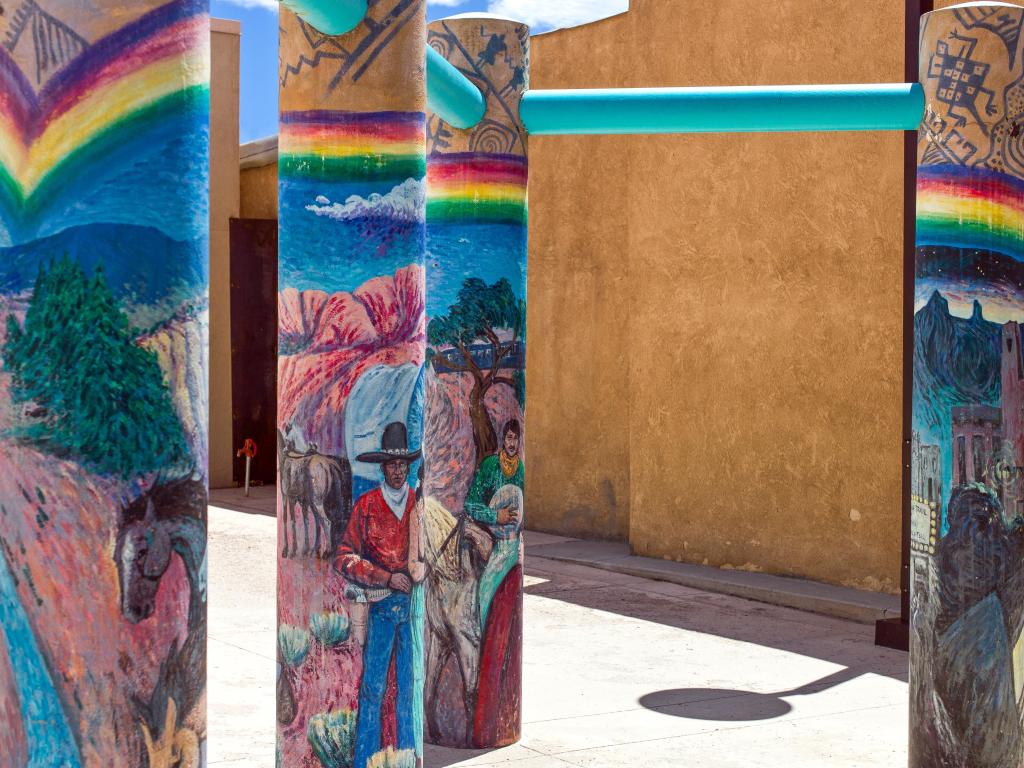 Gallup also retains much of its old Route 66 charm, as it's located right on the historic route. Walk or drive down Route 66 through the center of town and you'll see historic buildings, vintage signs and classic mid-century-style diners. There are also some fabulous murals around town that pay homage to the city's Route 66 heritage.
You'll also only be a stone's throw from Red Rock State Park, while Window Rock is just half an hour away, so basing yourself in Gallup for a night is ideal if you'd like to strike out on a hiking trail or two.
Alternatively, if you'd prefer to stay in town, you should definitely visit the Rex Museum, which showcases the history and culture of the region. Exhibits here range from Native American artifacts to mining and railroad memorabilia.
With its nostalgic vibe, our top hotel pick in the area is Hotel El Rancho. Its stylish decor has a fabulous New Mexico flair with touches of Route 66 added to the mix. Its outdoor pool and on-site restaurant are perfect if you want some downtime at the end of a busy day on the road.
During your stay, check out Richardson Trading Company, renowned for its extensive collection of Native American jewelry, rugs, and crafts. Nearby, Gallup Cultural Center is dedicated to preserving and showcasing the rich cultural heritage of the region and features Native American art, exhibits, and performances.
Step back in time at Bluff
If you're taking the Monument Valley Route, you'll reach Bluff, UT, around two-thirds of the way along your trip. Known for its early pioneer history, it's also the perfect base to explore nearby national parks and monuments.
Bluff Fort is the ideal place to learn more about the area's history, as the reconstructed buildings at this open-air museum let you learn about both the Navajo people who have called this area home for centuries, and the Mormon settlers.
Thanks to its location on the San Juan River, you can also spend time by the water or go rafting if you're feeling adventurous.
At the modern and stylish Bluff Dwellings Resort you can select a room with a view over the surrounding red rock cliffs. There's also a great outdoor pool with a jacuzzi, which is the ideal way to unwind if you've been out exploring Monument Valley or Hovenweep National Monument.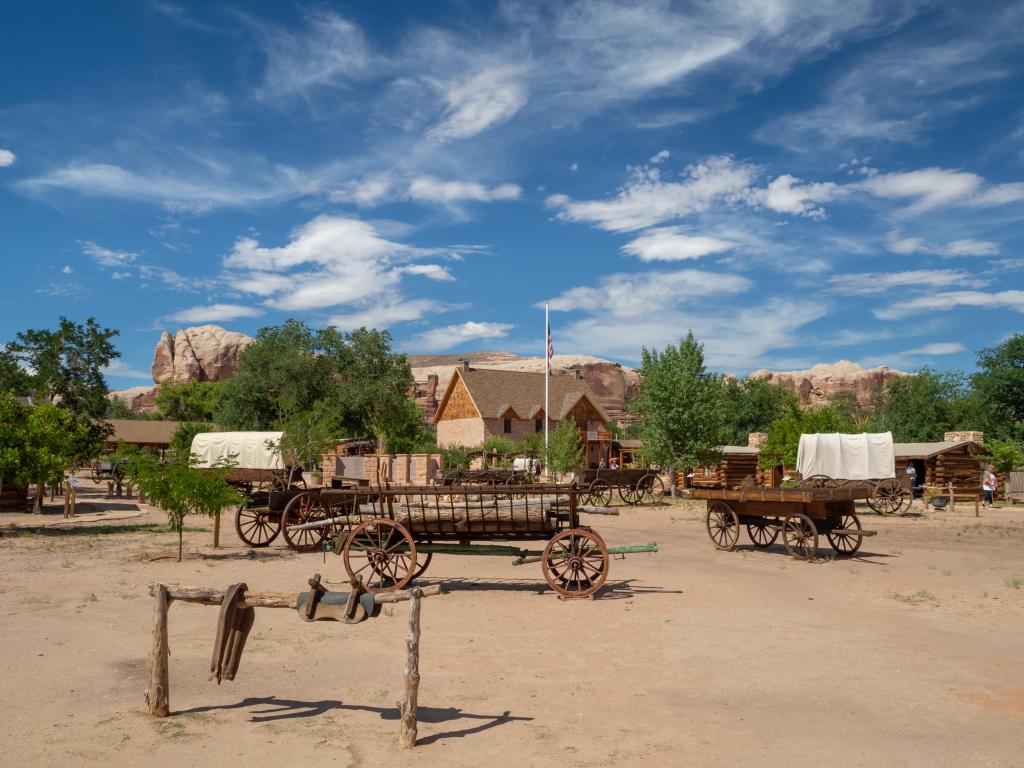 Where to stay when you reach Telluride
Telluride is famous for its mountain views and plentiful opportunities to enjoy the great outdoors. If you want to scope out the area when you arrive, why not head to the Telluride-Mountain Village Gondola to get a bird's eye view of the surrounding slopes?
As you might expect, there are some amazing hikes in the area. The trail to the stunning Bear Creek Falls is relatively short, but if you're looking for a more challenging hike, you might prefer to take the trek to Blue Lake, from where you can enjoy more unforgettable mountain views.
Just a few minutes' walk from the historic downtown area, The Hotel Telluride is an upscale resort that lets you enjoy the best that Telluride has to offer.
The hotel has its own spa, with excellent massages on offer as well as other relaxing treatments. You can also take the hotel's shuttle service into town to enjoy the healthy, locally-sourced cuisine Telluride is known for.
One quirky Telluride attraction that you should also check out is the Telluride Free Box on North Pine Street. It's a unique, community-driven scheme where residents and visitors can leave items they no longer need. Whether you're looking to offload some items or find a unique souvenir, the Free Box is worth a visit.
Things to see on a road trip from Phoenix to Telluride
One of the great things about a road from Phoenix to Telluride is that the drive is just as fascinating as the destination. Even on this comparatively short route you'll find plenty of places to stop, ranging from quirky Route 66 attractions to stunning outdoor adventures.
Here are a few of our top picks.
Petrified Forest Route
Tonto National Forest - Spanning over 2.9 million acres, Tonto National Forest is the largest national forest in Arizona, offering a diverse landscape of cactus-studded desert, pine forests, and cool lakes.
Holbrook - This small city in northeastern Arizona is a gateway to Petrified Forest National Park, as well as being a nostalgic stop along historic Route 66.
Wigwam Hotel - Located in Holbrook, the Wigwam Hotel (often referred to as Wigwam Motel) is an iconic Route 66 landmark where guests can sleep in teepee-shaped rooms, offering a unique throwback to the classic American road trip era.
Jim Gray's Petrified Wood Co. - This family-owned store in Holbrook offers an impressive collection of petrified wood, fossils, and minerals, along with other unique gifts and souvenirs.
Petrified Forest National Park - A fascinating park in Arizona known for its ancient petrified trees, stunning painted desert landscapes, and rich archaeological history.
Puerco Pueblo - This archaeological sit within Petrified Forest National Park showcases the remains of an ancestral Puebloan village.
Agate Bridge - Another spectacular landmark within Petrified Forest National Park, this log bridge is formed from a petrified tree that spans a gully.
Jack Rabbit Trading Post, Joseph City - Back in Route 66 history, billboards for the trading post stretched across several states, counting down the miles as they went by. These days you'll probably only see the "Here It Is" sign once you arrive, but the trading post remains a classic Route 66 stop, offering souvenirs and memorabilia.
Gallup - Nestled in northwestern New Mexico, Gallup is a city known for its rich Native American culture, vibrant arts scene, and as a historical stop along Route 66.
Four Corners Monument - The only point in the United States where the boundaries of four states intersect, Four Corners Monument allows visitors to simultaneously stand in Arizona, Colorado, New Mexico, and Utah.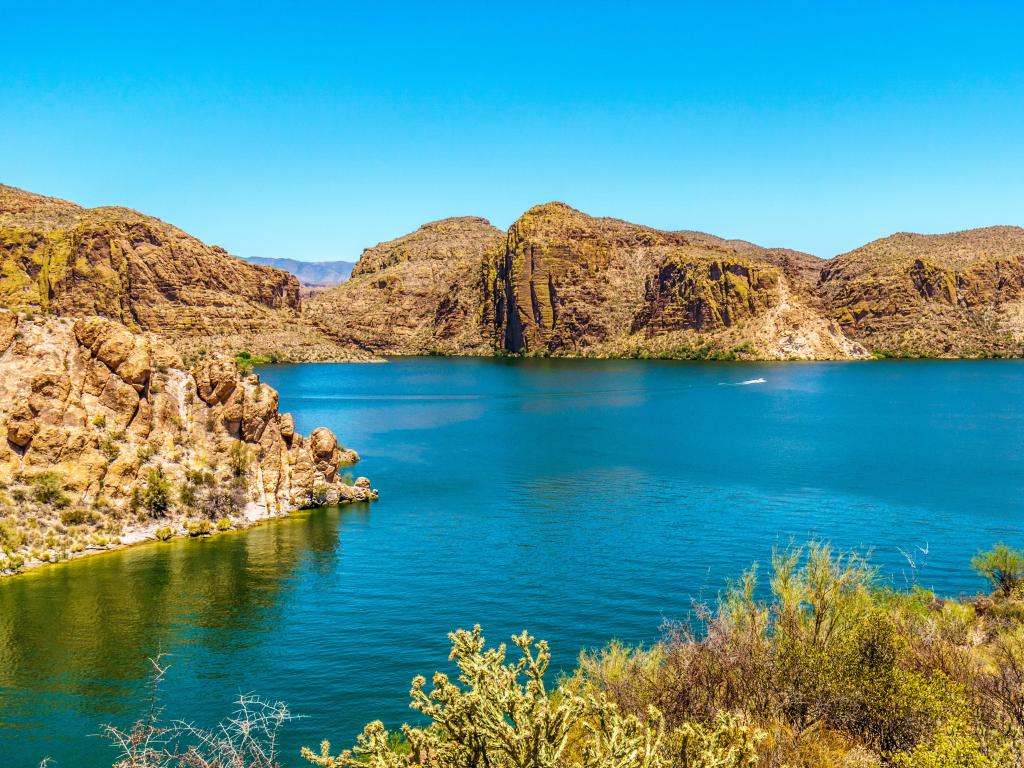 Monument Valley Route
Agua Fria National Monument - Over 450 distinct Native American structures are preserved in this protected area near Black Canyon City. You can hike and spot wildlife while you explore the prehistoric sites.
Cordes Lakes - This small community in the high desert is a peaceful oasis for residents and travelers alike.
Camp Verde - Nestled in the Verde Valley of Arizona, Camp Verde is a town known for its rich Native American history, natural beauty, and as a gateway to several national monuments and parks.
Montezuma Castle National Monument - This is one of the best-preserved cliff dwellings in North America. After your visit, relax in picturesque Lake Montezuma, which is nearby.
Red Rock Scenic Overlook - Bring your camera to capture breathtaking views of the iconic red rock formations and surrounding landscape at this overlook near Sedona, Arizona.
Bell Rock and Cathedral Rock - These two iconic red rock formations near Sedona, Arizona, are popular for hiking and photography, with trails leading up to vantage points which offer stunning views.
Chapel of the Holy Cross - This architectural marvel is a Roman Catholic chapel built into the red rock formations of Sedona, offering spectacular views and a serene atmosphere.
Sedona - Renowned for its stunning red rock formations, Sedona is a haven for outdoor enthusiasts, artists, and spiritual seekers, offering hiking, art galleries, and a vibrant cultural scene.
Slide Rock State Park - Just north of Sedona, Slide Rock State Park is famed for its natural water slides formed in the red rock, making it a popular spot for swimming and picnicking.
Flagstaff - This classic Route 66 stop has something for pretty much every traveler to enjoy. Surrounded by mountains, forests and desert, it also has a historic downtown district. It's also known as a gateway to the Grand Canyon.
Elden Pueblo Archaeological Site - Located in Flagstaff, you can glimpse insights into the ancient Puebloan people when you visit these preserved ruins.
Cameron Trading Post - This historic trading post offers Native American art, crafts, and traditional foods, along with a motel and restaurant.
Monument Valley - Straddling the Arizona-Utah border, Monument Valley is a majestic region known for its towering sandstone buttes and iconic landscapes featured in countless Western films.
Muley Point East and Valley of the Gods - Stop at Muley Point for panoramic views of the Valley of the Gods. The sandstone formations that you'll see here are similar to the ones at Monument Valley, but it's usually much less crowded.
Hovenweep National Monument - Located on the Colorado-Utah border, Hovenweep National Monument preserves six ancient villages perched on canyon rims and balanced on huge boulders.
Canyons of the Ancients National Monument - This protected archaeological preserve features a large number of ancient Pueblo structures and cultural sites.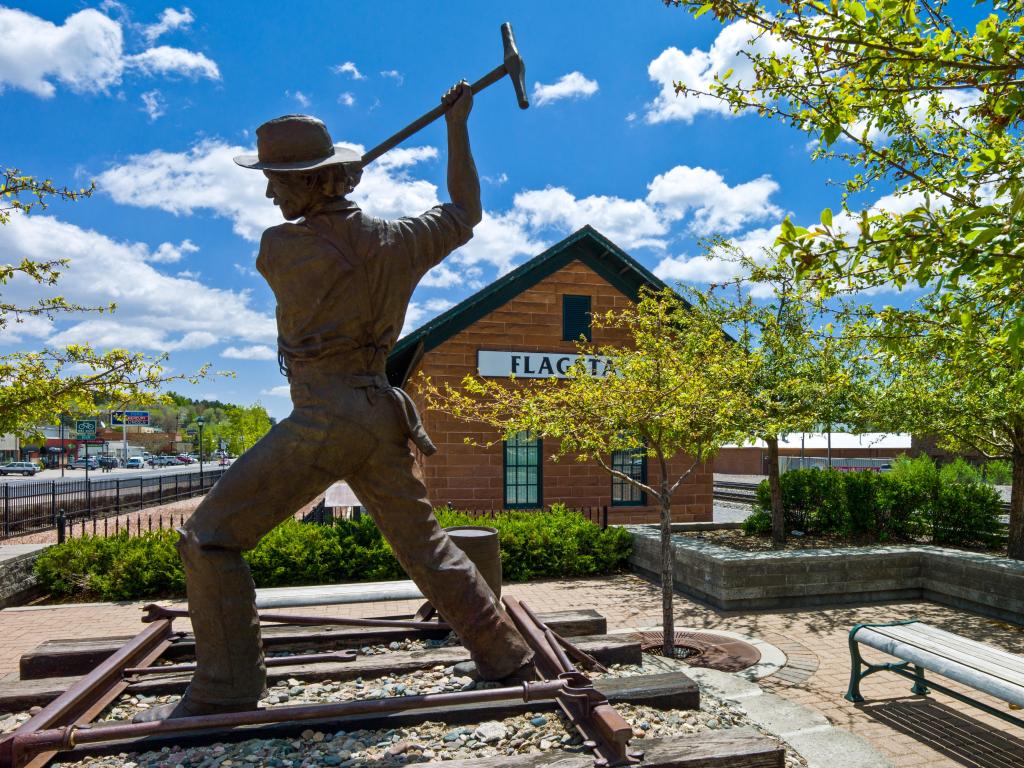 Both Routes
Ute Mountain Reservation - Located in southwestern Colorado, this reservation is home to the Ute Mountain Ute Tribe. Head to the Tribal Park Visitor Center to join a guided tours or find information on the rich history and culture of the Ute people.
Mesa Verde National Park - This UNESCO World Heritage Site is renowned for its well-preserved Ancestral Puebloan cliff dwellings and stunning archaeological sites. Spruce Tree House, Sun Temple, and the famous Cliff Palace are among the most notable ancient structures within the park.
Dolores - This small town on the Dolores River is a gateway to outdoor adventures and ancient Puebloan sites. The Dolores River Brewery is also a popular spot for locals and visitors alike, offering craft beers and a casual dining experience in a laid-back atmosphere.
Alta Ghost Town - Nestled in the San Juan Mountains of Colorado, this abandoned mining town offers a glimpse into the region's mining history.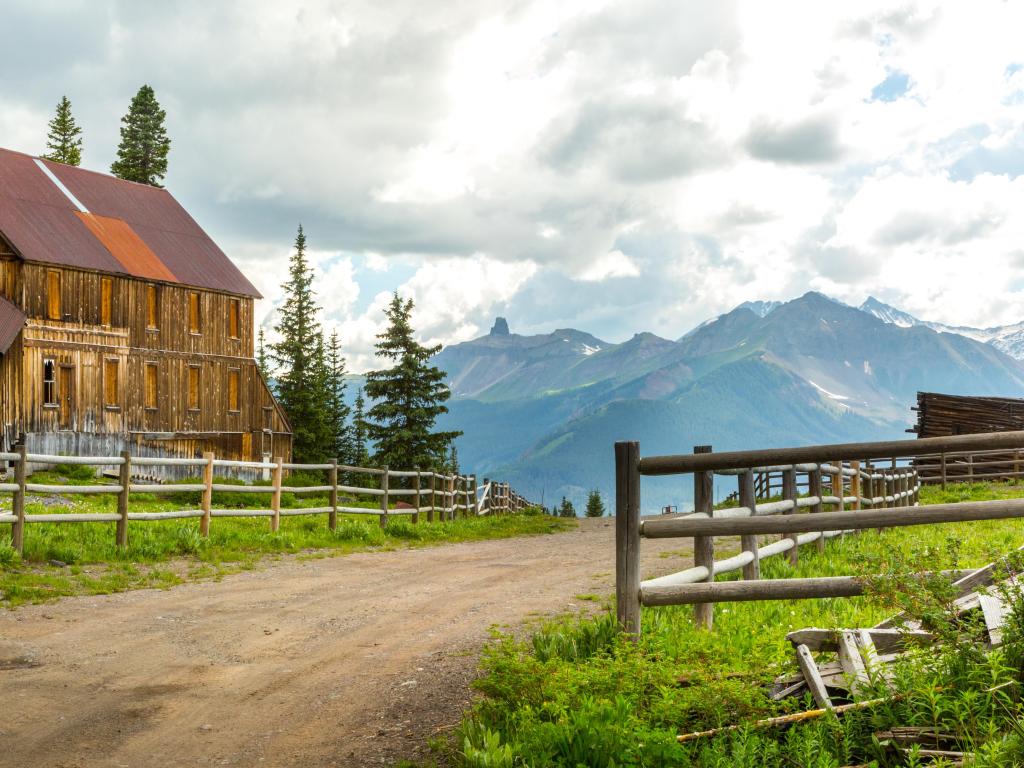 Best time to go on a road trip from Phoenix to Telluride
Telluride is a popular destination all year round. However, you'll have a very different experience depending on what time of year you visit.
It's easy to see why the world-class slopes make the winter ski season is the most popular time to visit Telluride. You'll arrive to a snow-covered wonderland bustling with fellow winter sports enthusiasts who come for the great skiing and snowboarding on the surrounding slopes, as well as the apres-ski opportunities.
Average daytime temperatures range from around 25 to 35 degrees Fahrenheit during winter, so you'll need to wrap up warm for your trip and be prepared for winter driving conditions, especially in the high desert and through the mountains at the end of the route.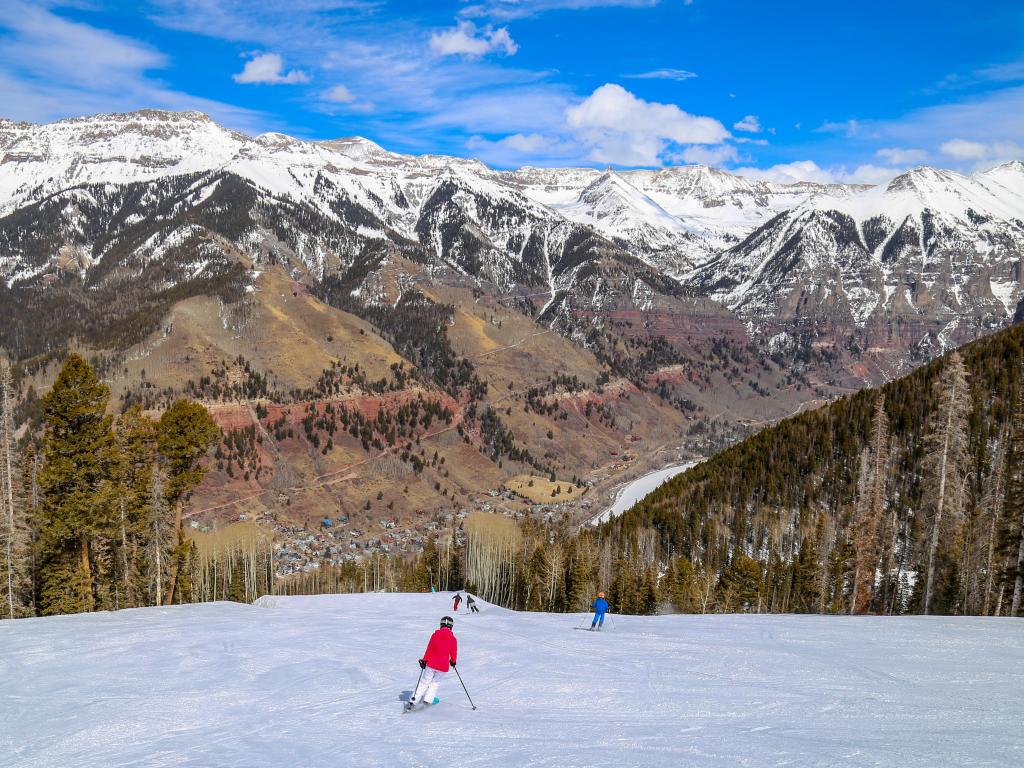 If you're heading to Telluride in winter, plan a January trip via the Monument Valley Route to catch the Bluff International Balloon Festival. Hot air balloons of all colors and shapes fill the skies above the beautiful landscape of southeastern Utah.
Temperatures in spring increase rapidly, from 30 degrees in March to around 60 degrees by late May. The roads are usually clear, but it's wise to check for any lingering winter conditions in the high elevations.
In summer, you can expect warm days and cool nights in Telluride, with a daytime average of around 75 degrees Fahrenheit in July and August. It's an excellent time for outdoor activities such as hiking, mountain biking, and festivals.
A summer highlight in Telluride is the Telluride Bluegrass Festival, which takes place in late June. The festival is known for its eclectic mix of traditional and contemporary bluegrass.
Later in summer, you might also get the chance to visit the Gallup Inter-Tribal Indian Ceremonial if you're following the Petrified Forest Route to Telluride. Usually held in August, this annual event includes traditional dances, a rodeo, and a powwow.
Fall is a serene time to visit, as the summer crowds have left, but the winter ski season hasn't yet begun. Even in November, you can still expect daytime temperatures in the mid-40s Fahrenheit, so enjoying outdoor attractions is possible before the winter snow arrives.