Road Trip from Portland to Boise, Idaho
Are you looking for a road trip across a diversity of natural landscapes, from coastal temperate rainforests to forested mountain ranges and high deserts, with fascinating mountain towns and vibrant cities to explore along the way? Then the road trip from Portland to Boise, Idaho is for you.
The 560-mile road trip from Portland to Boise takes 10 hours to drive non-stop. Notable sights are Salem, Eugene, Siuslaw National Forest and Oregon Wilderness Badlands, or via Mt Hood, Columbia River, Walla Walla and Wallowa-Whitman National Forest.
Read on to discover our recommendations for the best routes to take, what to see and do along the way, amazing places to stay overnight and the best time to set off on this epic adventure.
How far is Boise, Idaho from Portland, and how long will the road trip take?
Comparison of road trip routes between Portland and Boise, Idaho

| Route | Distance | Driving Time |
| --- | --- | --- |
| The Salem Route | 560 miles | 10 hours |
| The National Forests Route | 530 miles | 10 hours |
The road trip from Portland to Boise along the Salem Route is 560 miles long and takes 10 hours to drive non-stop.
The National Forests Route is a slightly shorter but equally exciting option at 530 miles. This route will also take 10 hours to drive without accounting for detours or stops you might want to make.
You could drive this length in a day or two, but to properly take in and explore the many enchanting historic towns and vibrant cities along the way, and all the mountains, rivers, forests, waterfalls and other natural wonders you'll pass by, it is worth taking at least 3 days for doing this road trip.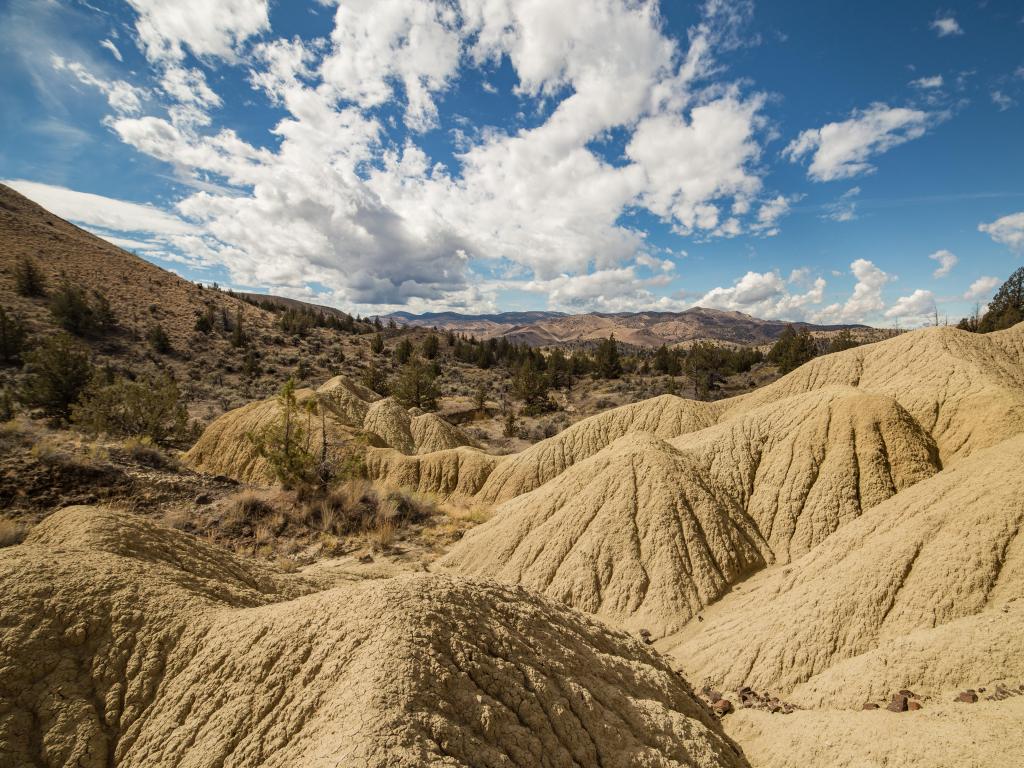 Best road trip route from Portland to Boise
Both of our suggested routes offer breathtakingly beautiful natural landscapes of rivers, mountains, forests and high deserts, as well as interesting cultural attractions and historic landmarks. Your choice of route depends on which landmarks and cultural sites you'd like to visit.
The Salem Route takes you south from Portland, through the lush Willamette River Valley and then over the Cascade Mountain Range towards Idaho.
You'll drive past Salem, the Oregon State Capitol, Eugene with a rich arts scene, and Bend, a wonderful base for exploring the nearby nature areas.
You can also pop in to explore the lovely Siuslaw National Forest on the Pacific coast, drive through Willamette National Forest, and admire the Oregon Wilderness Badlands with high desert landscapes.
Alternatively, the National Forests Route takes you past Mt Hood, the highest peak of the state, and allows you to drive along the beautiful Columbia River.
You will get to visit some enchanting historic cities and towns, such as Hood River, Walla Walla and Elgin, and you can explore stunning national forests and nature areas, including the Mt Hood National Forest, Wallowa-Whitman National Forest, and the hilly, forested Blue Mountains area.
How to drive from Portland to Boise
The map above shows our suggestions for the best road trip routes between Portland and Boise. Keep reading for detailed descriptions of both routes, where to stay on either, and the best things to do on the way.
The Salem Route
You'll start this route by taking Interstate 5 (I-5) from Portland south along the Willamette River Valley.
You can stop over at Salem and Eugene to explore the many cultural attractions these cities have to offer, and also take a drive over the Coast Range to Siuslaw National Forest to explore the coastline and the temperate rainforests there.
From Eugene, follow Oregon Route 126 to Santiam Junction, from where you'll take US Route 20 direction southeast. Along this road you'll find the city of Bend, and you can visit Oregon Badlands Wilderness on the way.
Keep following this road all the way east to Ontario, on the border of Idaho. From there, I-84 will take you the rest of the way to Boise.
The National Forests Route
First, follow I-84 east from Portland, then turn onto US Route 26 to head towards Mt Hood National Forest. You can explore this area's many hiking trails or ski resorts, then drive from Mt Hood to Hood River city by Columbia River.
From Hood River, you'll drive east following the Columbia River along I-84. You will pass small towns such as Biggs Junction and can visit nature areas such as Umatilla National Wildlife Refuge.
When you get to Hermiston, follow I-82 and then US Route 730 northeast to Wallula Junction, close to where Snake River connects with Columbia River. Drive east to Walla Walla, a lovely city with many wonderful wineries.
From Walla Walla, head south along Oregon Routes 11 and 204 to a small historic town Elgin, by the Blue Mountains. From Elgin, continue south until you reach I-84 again. This road will lead you to Ontario, and from there, to Boise.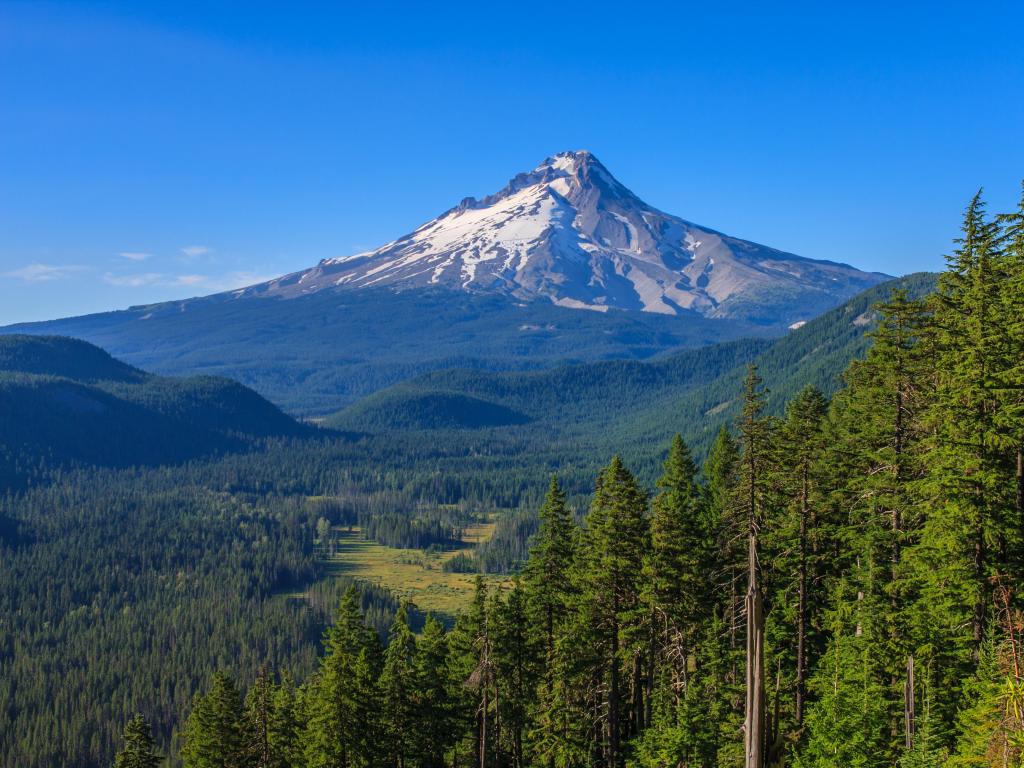 Best places to stop between Portland and Boise, Idaho
This Oregon road trip showcases some of the most stunning landscapes this geographically diverse state has to offer, and allows you to visit places of farmers, ranchers and city people that call this outdoor adventurer's mecca their home.
Continue reading to find out our suggestions for best places to stay overnight during this road trip, the best things to see and do in those places, and our favorite hotel recommendations along the route.
Stay over at Eugene in the Willamette River Valley
Eugene is found about one fourth of the way along the Salem Route option. It is a stunning city where you can stop overnight to take in more of the Willamette River Valley or explore the nearby mountain ranges. You can also visit the beautiful Siuslaw National Forest on the Pacific Coast from here.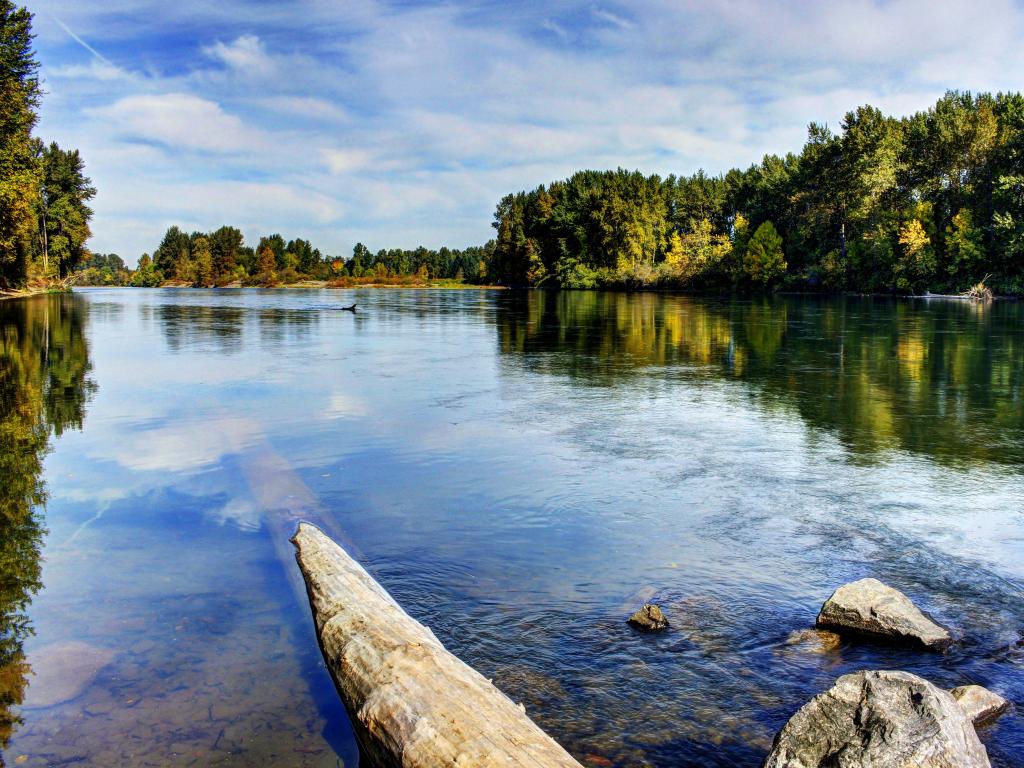 While in Eugene, we suggest visiting some of the city's cultural and artistic attractions, such as the Hult Center for the Performing Arts or the Jordan Schnitzer Museum of Art.
Lane County Farmers Market and the Saturday Market, open from April to November, are wonderful places for shopping for local food and crafts, and at the 5th Street Public Market you can explore wonderful shopping centers and local products.
Eugene is also a fabulous place for outdoor adventure. For example, you might want to head over to the Cascade or Oregon Coast mountain ranges for hiking or mountain biking, or go kayaking on the Willamette River.
As a great place to stay overnight in Eugene, we can recommend Hyatt Place Eugene/Oakway Center. This modern hotel offers comfortable, spacious rooms and wonderful breakfast. There is also a great bar, free parking, and an indoor swimming pool available for guests to enjoy.
The hotel is close to central Eugene and conveniently located on the route of your road trip. Due to its location, it is easy to walk to many nearby attractions, such as the 5th Street Public Market and the Hult Center for the Performing Arts.
Enjoy vineyards in Walla Walla
Walla Walla is located about halfway along the National Forests Route, on the side of Washington state and close to the border with Oregon. Walla Walla is especially known for its rich agricultural history and its fine wineries.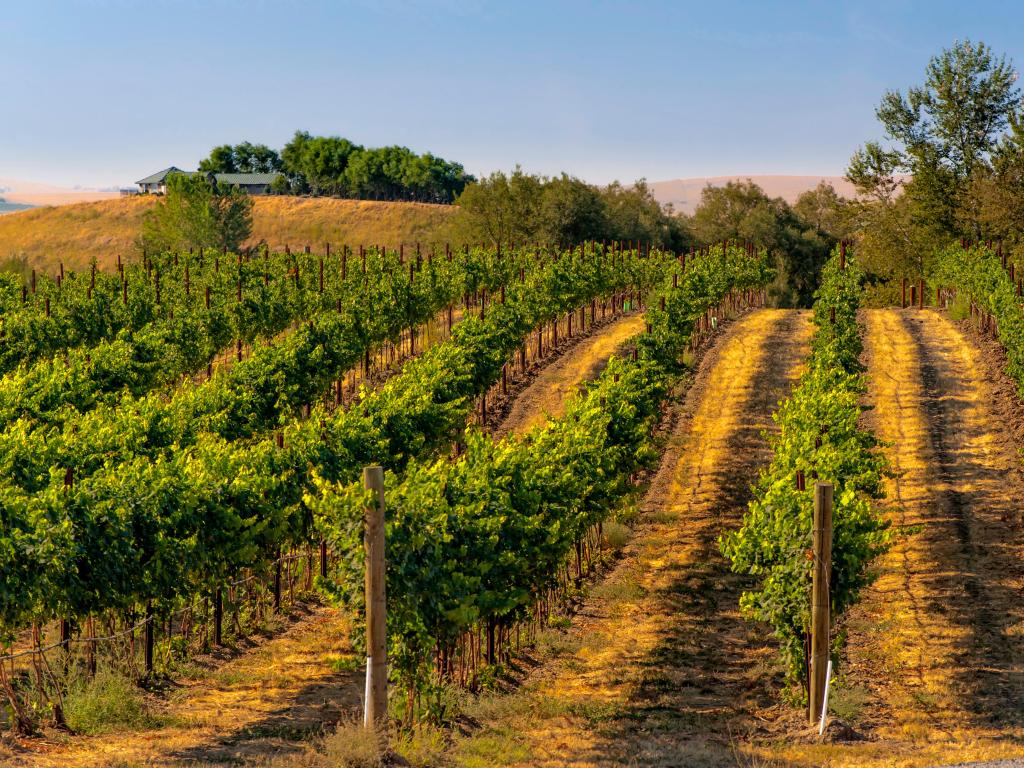 There are fascinating attractions in Walla Walla. You might for example wish to explore Fort Walla Walla Museum, a 19th century military fort, or visit Pioneer Park, which is a beautiful green area and a peaceful spot to spend a moment during your visit in this city.
Of the many wonderful wineries in the area, you might at least want to visit Seven Hills Winery, one of the founding estates of Walla Walla Valley.
As a hotel recommendation, The Finch is our favorite. This stylish, neat, modern hotel is located with beautifully maintained grounds, which will be a peaceful retreat after your drive. If you wish to explore, The Finch offers free parking, and free bicycles are available for guests to use for exploring the area.
Being in central Walla Walla, the hotel is in a wonderful location for exploring the city. You can easily walk to many of the nearby attractions, such as the Gesa Power House Theater, Walla Walla County Fairgrounds, or Children's Museum of Walla Walla.
You'll also find many amazing wineries and fabulous restaurants right in the vicinity of the hotel.
Where to stay when you reach Boise
Boise is the capital of the state of Idaho. It is especially known for wonderful outdoor recreation opportunities, and for the many parks and greenspaces in the city, such as the Boise River Greenbelt.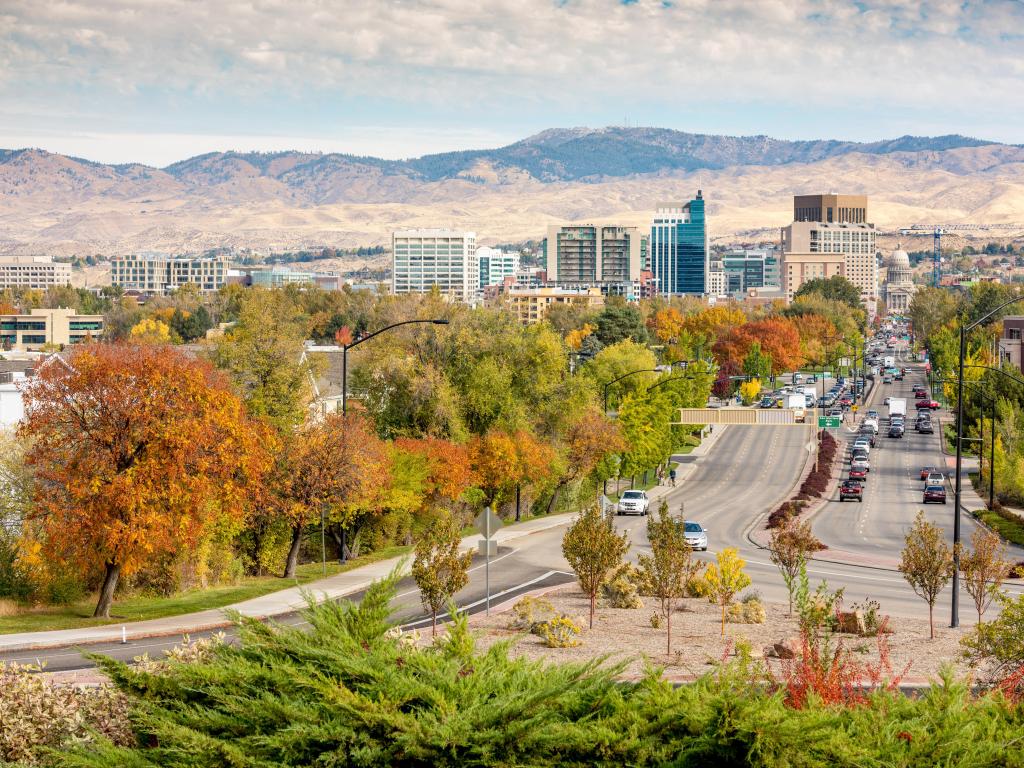 Our top choice for a stay in Boise is The Grove Hotel. This hotel is centrally located and has comfortable, luxurious rooms, a sauna, a hot tub with a view, and a lovely restaurant. The hotel also has free bikes for you to explore the city with.
The Grove Hotel is close to several of the city's popular attractions, such as the Egyptian Theater, the oldest theater in the city, or the majestic Idaho State Capitol.
The Idaho State Museum is also a short walk away, and on 8th Street in downtown Boise you'll find a lovely pedestrian area with cafés and restaurants.
Things to see on a road trip from Portland to Boise
There is much to see and do on this road trip, from hiking or picnicking in nature areas with majestic landscapes, to tasting wines or beers in local wineries and breweries, to visiting museums, markets, historic buildings and other attractions in the cities along the way.
Carry on reading to find out our recommendations for the best things to see and do during this road trip.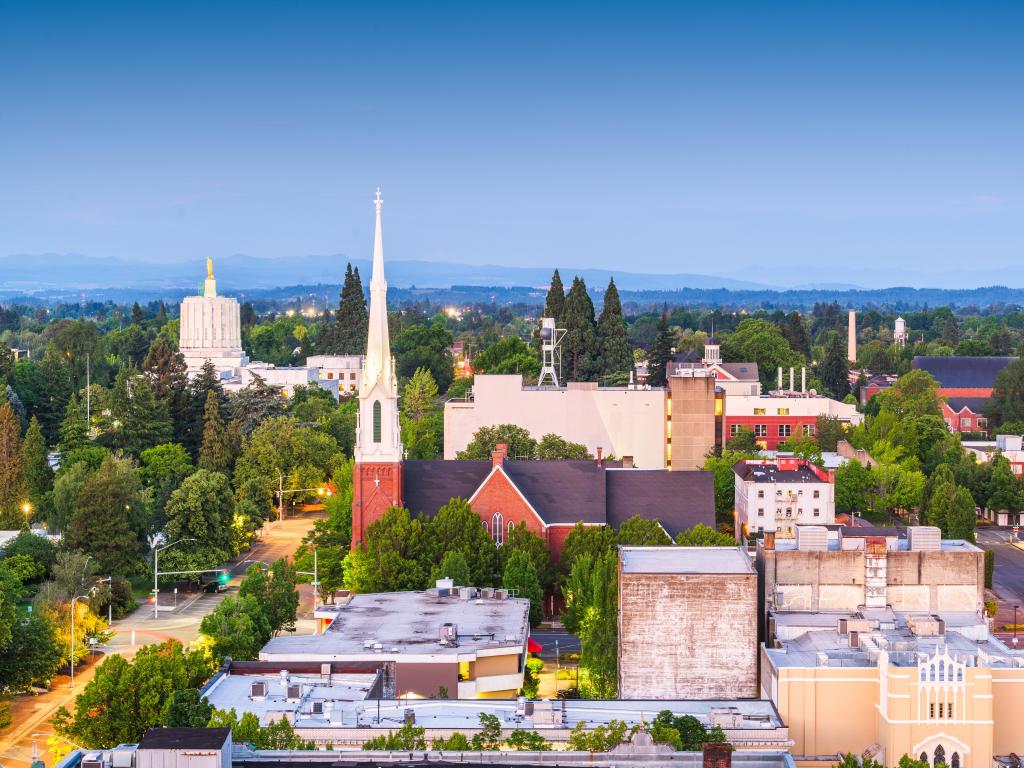 Salem Route
Salem, Oregon - Salem, the capital city of Oregon, is found in the Willamette River Valley, between two mountain ranges. The Willamette river flowing through the valley caused the land here to be highly fertile, and even today the area is known as rich agricultural land and a place of many wineries. In Salem, do explore the city's many museums, galleries, and historic landmarks, such as the Willamette Heritage Center and the Oregon State Capitol.
Siuslaw National Forest, Oregon - Take a little drive to the coast to visit the stunning Siuslaw National Forest. This area's temperate rainforests with coastal influence make it a unique natural site to explore. You'll also find dunes and rivers here. You can enjoy the area through for example fishing, camping, hiking, mountain biking or exploring tidal pools.
Eugene, Oregon - Eugene is yet another wonderful spot for enjoying outdoor recreation, for it is found on the Willamette River and the nearby Cascade Range and Oregon Coast Range offer mountain views, hikes and biking opportunities. The city is known for its politically engaged citizens, the University of Oregon, and for example organic farming - visit the Fifth Street Public Market to enjoy cafés and local products.
Willamette National Forest, Oregon - This forest area is home to over 300 species of birds, mammals and other wildlife, including an important indicator species, northern spotted owl. The area consists of coniferous forests with douglas-fir being most prevalent. You can enjoy hikes in this forest area known for the decades-long search for balance between forestry interests and conservation.
Bend, Oregon - In Bend, you can explore the outdoors through for example visiting the area's extinct volcanoes, lava caves, Cascade Mountains or the beautiful Deschutes River. In Bend, you can also visit for example Deschutes Brewery, one of the US's largest craft breweries, or several interesting museums and art galleries.
Oregon Badlands Wilderness, Oregon - Admire the beautiful, harsh terrain of this high desert area. The wilderness area contains ancient juniper trees, tall rock formations, dry river beds, and diverse wildlife including the golden eagle, mule deer, elk and pronghorn.
Malheur National Forest, Oregon - Malheur National Forest contains hundreds of thousands of acres of old-growth forests, in the Blue Mountains of eastern Oregon. It is part of the high desert area of the state, and has lovely hiking trails. An interesting fact: the world's largest organism is found here: this Armillaria ostoyae fungus covers over 2000 acres in size.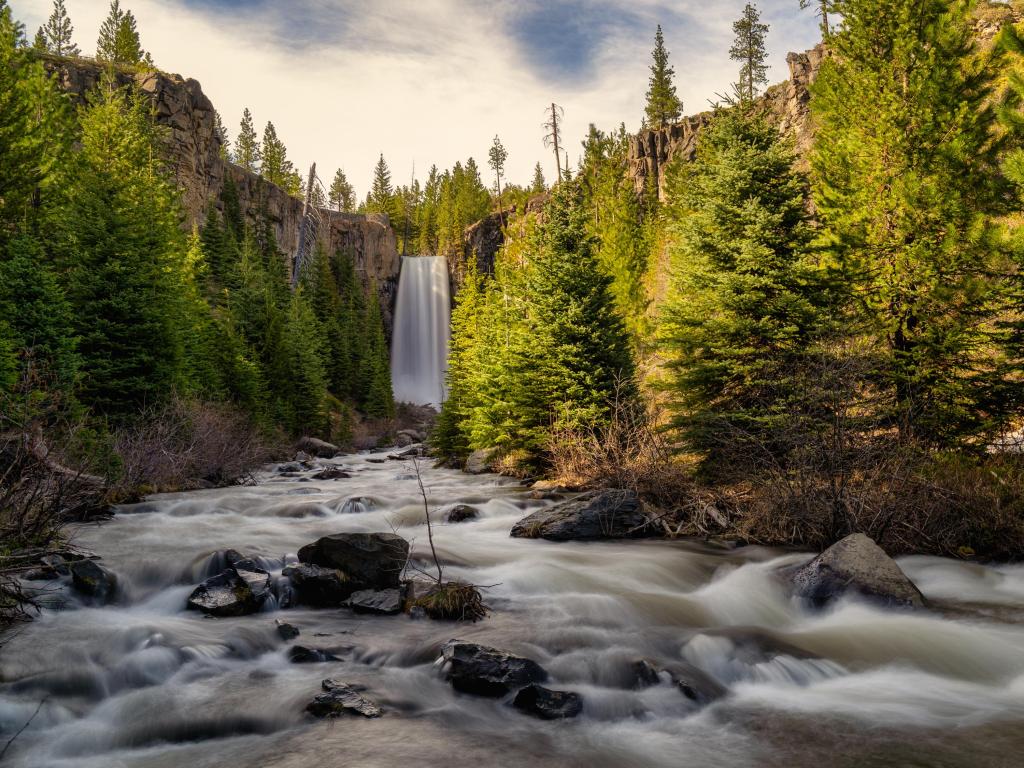 National Forests Route
Mt Hood National Forest, Oregon - Mt Hood National Forest is a popular recreation area, not only because it contains the state's highest peak, Mt Hood, but also because of the extensive trail network found here, the several fantastic ski areas, and tens of developed campgrounds.
Hood River, Oregon - Located at the crossroads of the Cascade Range and the Columbia River, Hood River is a lovely small city with great outdoor recreational opportunities as well as a friendly suburban feel. Hood River is known for its port, for a growing, colorful performing arts scene, and for abundant pear production taking place in Hood River Valley.
Deschutes River State Recreation Area - Deschutes River State Recreation Area is found at the conjunction of the Deschutes River and the Columbia River. This recreation area contains lovely hiking trails, such as the Deschutes River Canyon Trail, in landscapes of rolling hills, rivers and grasslands.
Hermiston, Oregon - Hermiston is one of the fastest growing cities in Oregon, and the biggest city in east Oregon. You can enjoy food or coffee at the city's many restaurants, walk along trails of the Riverfront Park, hike up the Hermiston Butte, or view diverse wildlife at the nearby Umatilla or Cold Springs National Wildlife Refuge.
Walla Walla, Washington - Walla Walla, on the side of Washington state, is a beautiful city known for rich culinary and arts scenes. It is home to some of the oldest and finest wineries in Washington.
Elgin, Oregon - Elgin is an old town in the Blue Mountains, known for its 1912 Opera House where you can still watch movies and performances today. From Elgin, you can also hike along the historic Oregon Trail, take a drive towards the Hell's Canyon Scenic Byway, or visit the Umatilla or Wallowa-Whitman national forests.
Wallowa-Whitman National Forest - This national forest stretches from eastern Oregon to western Idaho. You'll find forty stunning hiking trails, breathtaking landscapes, and diverse wildlife in this national forest; wildlife present here include the black bear, timber wolf, cougar and Rocky Mountain elk.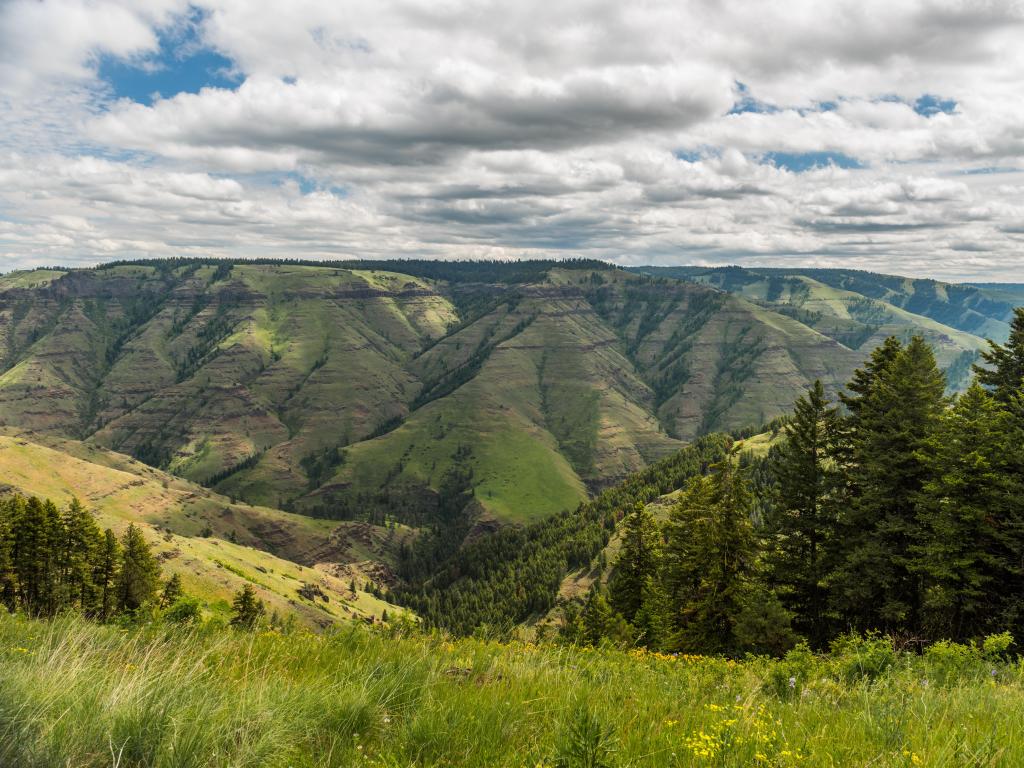 Both routes
Ontario, Oregon - Ontario lies along the Snake River, on the border of Idaho. It has a vibrant agricultural economy, and harbors a few lovely cultural spots such as museums, a movie theater and local fairgrounds. Or, go picnicking, swimming or spotting bighorn sheep at Lake Owyhee State Park at the edge of Ontario.
Best time to go on a road trip from Portland to Boise, Idaho
Boise offers something for the visitor during every season. In winter, you might rather enjoy the winter activities, whereas summer is often the most touristy time in the city. Spring and fall are often considered most favored times for visiting the city, since temperatures then are more moderate; summers here can get hot, and winters often see cold days.
Summers in Boise tend to be rather hot, with average temperatures in July hovering around 90 degrees Fahrenheit. You'll also generally find most tourists in Boise in summer, which can influence prices of accommodation and flights.
December and January are the coldest months - temperatures during these months are on average below 47 degrees Fahrenheit and can be as low as 25 degrees Fahrenheit. If you enjoy winter sports though, this is the time to go: you will love the ski resorts in the area!
March to May are considered the best months for visiting Boise. Temperatures then are the best for enjoying the many outdoor activities the area has to offer, ranging between 50 and 70 degrees Fahrenheit, and you won't have as many tourists as in the summer.
There are also wonderful festivals and events that take place in Boise over the course of the year. You might wish to consider some of these when planning the timing of your road trip.
For example, in June, you'll find Boise hosting a long-running family festival, Emmett Cherry Festival. The event features a carnival, food and concerts.
Alive After Five is a free concert series taking place in downtown Boise during June, July and August, whereas The Western Idaho Fair takes place in August. It is a ten-day celebration of agriculture, ranching and life in Idaho, and it was first held in 1897.
Something fun for the whole family is also the Oktoberfest Old Boise, held in October. It is a lovely family-friendly event with live music, food, and of course, real German beer.