Road Trip from Portland to Crater Lake National Park
Crater Lake is one of the most unique landforms in America. A road trip from Portland to Crater Lake will be a memorable adventure, leading you to a place that has inspired mankind for thousands of years. While it may be a short drive, there is lots to see along the way.
A road trip from Portland to Crater Lake will take 4 hours 30 minutes of driving, covering about 250 miles. Key stops include Eugene (or Bend as an alternative), Siuslaw, Umpqua, and Willamette National Forests, as well as the Cascade Lakes and Mt. Hood.
To help you plan your road trip itinerary, be sure to read on until the end and ensure the best road trip experience you could possibly ask for.
How far is Crater Lake from Portland and how long will the road trip take?
Comparison of road trip routes between Portland and Crater Lake

| Route | Distance | Driving Time |
| --- | --- | --- |
| Eugene Route | 250 miles | 4 hours 30 minutes |
| Bend Route | 300 miles | 5 hours 40 minutes |
The road trip from Portland to Crater Lake is 250 miles and will take you about 4 hours 30 minutes of driving, although if you factor in breaks, it will definitely take a bit longer. You could easily drive this in half a day, but it is best to split the road trip up over a weekend or a few days.
The quickest route will take you south out of Portland to Eugene. This route will then traverse through the lush Umpqua and Willamette National Forests to reach Crater Lake. It is a pretty drive overall, but the first half is mainly interstate driving.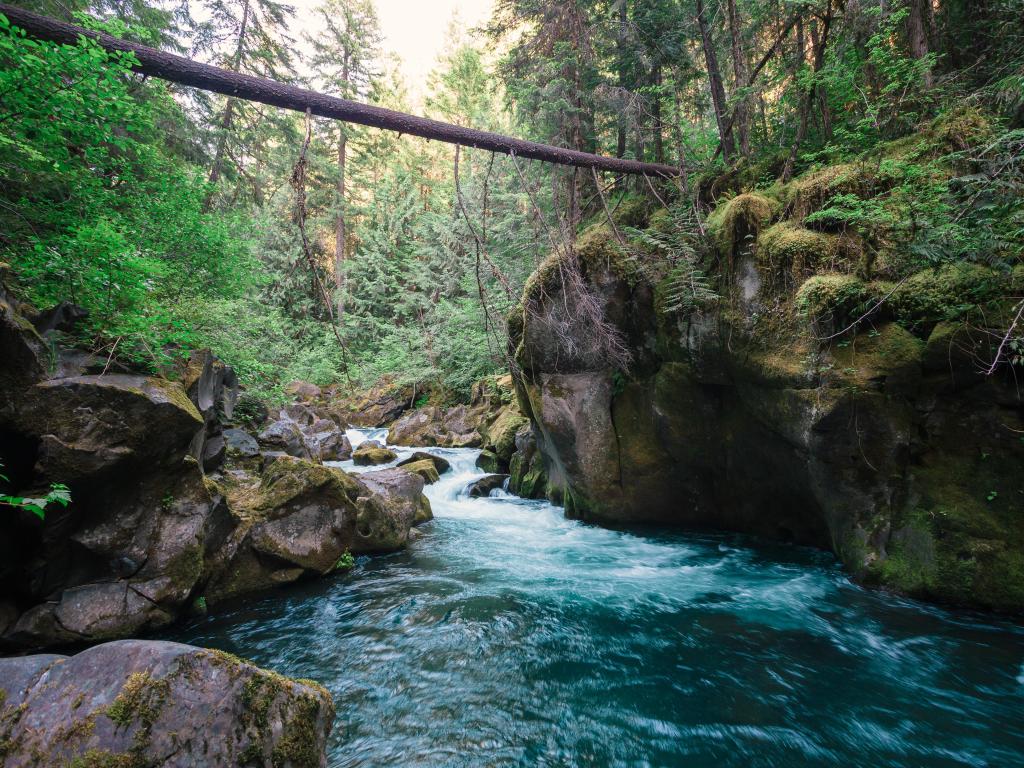 However, there is also an alternative route, which we will call the Bend Route. The Bend Route is longer but has more varied scenery and encompasses some spectacular scenic byways. The Mount Hood and Cascade Lakes scenic byways make this route a great option if you have more time.
The Bend Route is longer, covering 300 miles, which will take you 5 hours and 40 minutes to drive. You will also want to stop more frequently, as there is an abundance of beautiful vistas along the way. This route is more suitable if you have a few days to enjoy the trip.
Best road trip route from Portland to Crater Lake
The best road trip route from Portland to Crater Lake depends on what you want to see and how much time you have. The Eugene Route is more direct and faster, while the Bend Route is longer but more scenic.
How to drive from Portland to Crater Lake
The map above shows our suggestions for the best road trip routes between Portland and Crater Lake. Keep reading for detailed descriptions of both routes, where to stay on either, and the best things to do on the way.
Eugene Route
Take Interstate 5 south out of Portland. Cross the Willamette River and continue south toward Salem. This is the first major landmark along the route. Continue through Salem on Interstate 5 toward Eugene.
At Eugene, you will join Highway 58 and begin following it in a more easterly direction. This highway will take you along Dexter Reservoir and Lookout Point Lake. Highway 58 will take you into Willamette National Forest and past Odell and Crescent Lakes.
You will then join Highway 97 briefly before turning onto the Volcanic Legacy Scenic Byway in Crater Lake National Park.
The Bend Route
Instead of heading south, take Interstate 84 east for only a short period before joining Highway 26. Highway 26 will take you out of Portland towards Mount Hood, Government Camp, and Mount Hood National Forest. This road is called the Mount Hood Scenic Byway and will grant you amazing views of the mountain.
Leaving Mount Hood, stay on Highway 26. This will take you down to the small town of Madras where you will merge with Highway 97, also called the Dalles-California Highway.
Follow Highway 97 south, past Redmond and Deschutes into the small but vibrant city of Bend. Leave Highway 97 in Bend and join the Cascade Lakes National Scenic Byway. This will take you past Mount Bachelor and many of the beautiful Cascade Lakes.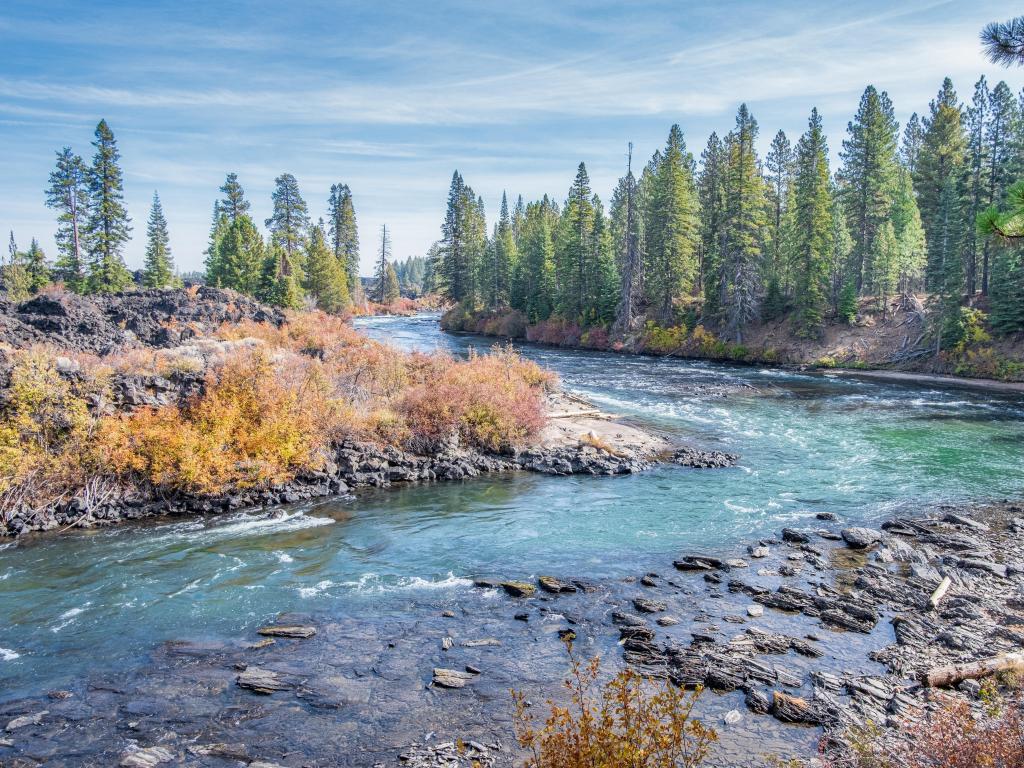 The Cascade Lakes Scenic Byway then joins Highway 58 before merging onto Highway 97. Highway 97 then takes you to the Volcanic Legacy Scenic Byway in Crater Lake National Park. The last section of this route is the same as the Eugene route.
Best places to stop between Portland and Crater Lake
The road trip from Portland to Crater Lake could be done in a day, but I would advise that you take at least a couple of days to do this road trip. Below are some recommended places to stay depending on which route you choose.
Unwind like never before in Eugene
Situated right on the banks of the Willamette River, the Valley River Inn is a tranquil, upmarket place to stay. The rooms are spacious and well equipped. The Valley River Inn also boasts a seasonal pool and indoor hot tub, along with perfectly manicured gardens.
They have an in-house restaurant and bar, so you can dine along the Willamette River. They make a special effort to serve local food and drink so you can immerse yourself in Pacific Northwest cuisine.
It is slightly outside the center of Eugene, but this makes it a peaceful place to stay. The center of Eugene is only a 5-10 minute drive away so you can easily access all that is on offer downtown.
Combining the great location, affordable price, and on-site parking, this is the ideal place to stay overnight on your road trip from Portland to Crater Lake if you choose the Eugene Route.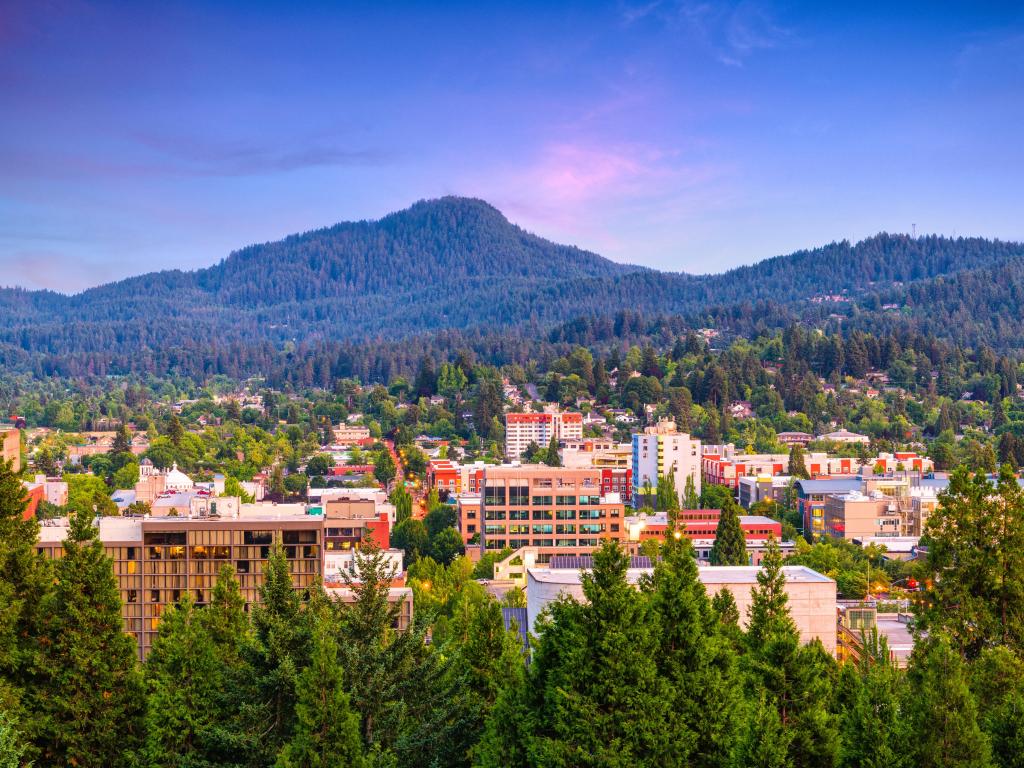 Find seclusion and luxury in beautiful Deschutes
The Riverhouse boasts a spectacular location right alongside the Deschutes River. This beautiful hotel is situated in the northern area of Bend, which is the place to be if you want to experience everything the region has to offer.
Every room has a private patio and balcony, which will enable you to enjoy the tranquil charm of the nearby river. The rooms are fully equipped and very spacious with clean, modern styling.
There is a fitness center, pool, and hot tub to help you relax after a day on the road. If food and drink are what you are looking for, the hotel has everything you need.
There is an on-site restaurant called Currents, which uses local ingredients to create Northwest-inspired dishes. The hotel also has a stylish bar and a billiards table.
Downtown Bend is only 5 minutes away by car, which leaves you poised to explore the city. Bend is a trendy city with lots to offer. The hotel also has free on-site parking, making it a perfect stop on your road trip.
Things to see on a road trip from Portland to Crater Lake
Both routes from Portland to Crater Lake offer amazing scenery and some interesting cities to visit along the way. If you can spare the time, it's best to take a few days for each route so you can see everything along the way.
If you have the time, drive to Crater Lake following one route, and return via the other. This way, you get to see everything this part of Oregon has to offer.
The Eugene Route
Oregon State Capitol - Visit the State Capitol building in downtown Salem to marvel at its white marble architecture.
Cascades Raptor Center - Get close and personal with 21 different species of raptors to get a better understanding of these fearsome predators.
Jordan Schnitzer Museum of Art - The museum is home to a global collection of art from Japan, Europe, China, as well as local art from the Pacific Northwest.
Eagles Rest Trail Head - If you need a break from driving, the Eagles Rest Trail starts from Highway 58 and has some magnificent views over the surrounding forest.
Diamond Creek Falls - Diamond Creek Falls is another fantastic hike right along highway 58. If you fancy a short hike, the 3-mile loop will take you to the tranquil falls where it is possible to stretch out and touch the water spray as it falls.
Crescent Lake - A pristine natural lake on Highway 58, it's a perfect place to stop for lunch or a quick snack.
Umpqua and Willamette National Forests - The beautiful itinerary is flanked by two of the West Coast's most gorgeous forests. Umpqua Forest is particularly known for its stunning waterfalls, including the 293-foot Watson Falls.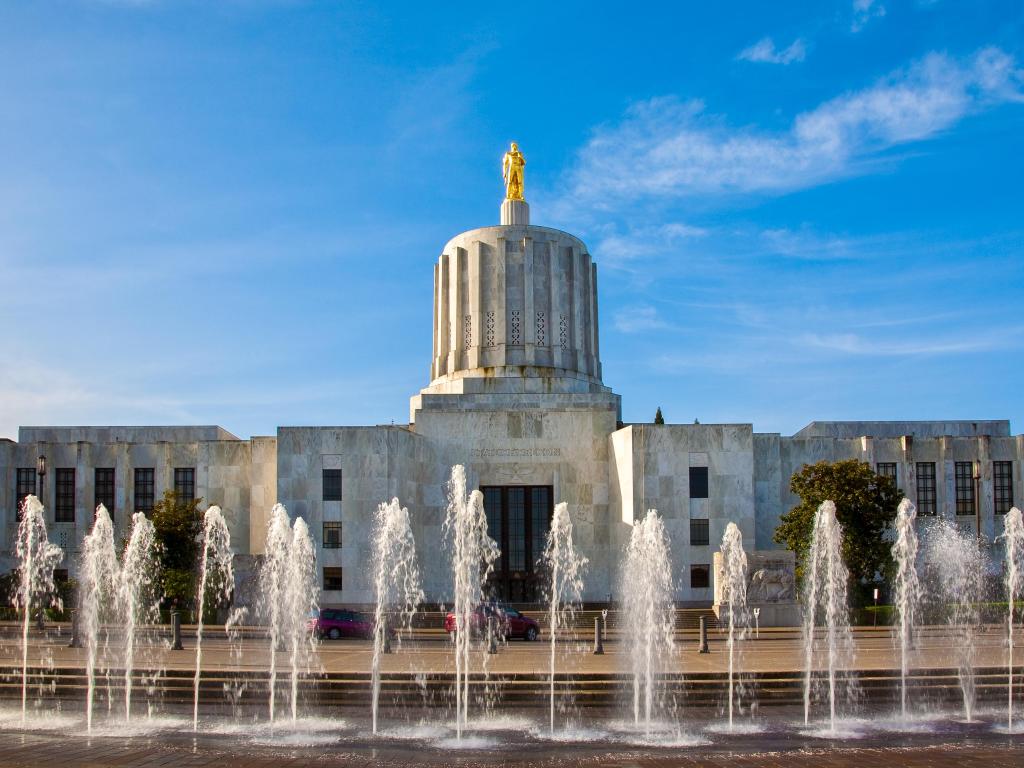 The Bend Route
Mt. Hood - Oregon's ultimate outdoor recreational attraction can be enjoyed no matter the season.
Mount Hood - Mount Hood offers hiking and backpacking during the summer, and skiing in the winter, a great place for outdoorsy people.
Timberline Lodge - Situated directly on the mountain, you don't find better views of the mountain than at the Timberline Lodge.
Trillium Lake - This peaceful little lake sits just off the main highway, it offers a great towards the towering Mount Hood.
Smith Rock State Park - Near Redmond, this park is spectacular, with rivers meandering amongst jagged rock formations.
Deschutes River Trail - If you need to stretch your legs, the Deschutes River trail is perfectly located near the center of Bend.
High Desert Museum - Gain a better understanding of the people, animals, and plants of the High Desert by visiting the High Desert Museum.
Bend Ale Trail - Bend is proud of its craft beer, so take a tour of over 24 local breweries to taste the local flavors.
Tumalo Falls - Hike to the 97-foot waterfall in the Deschutes National Forest for the view of a lifetime.
Cascade Lakes - The Cascade Lakes Scenic Byway is packed full of jaw-dropping views and pristine lakes, be sure to spend time enjoying the natural beauty.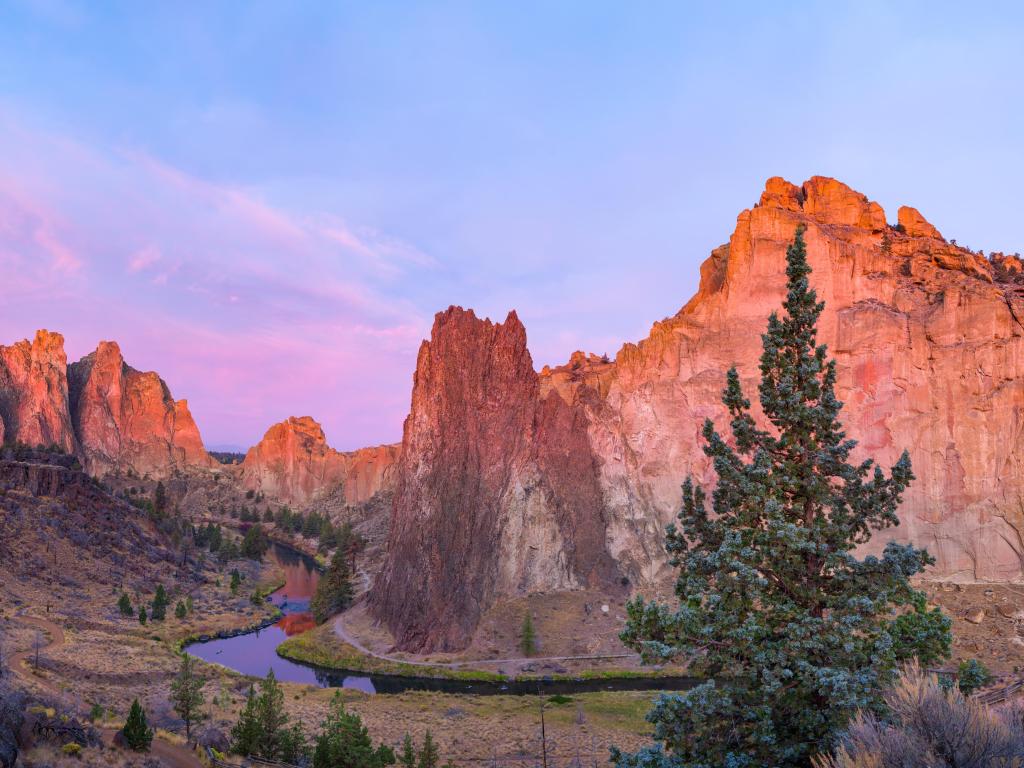 Best time to go on a road trip from Portland to Crater Lake
You can go on a road trip from Portland to Crater Lake at any time of year. Crater Lake is a popular destination for winter sports but some of the roads on the Bend Route will be closed. Be sure to check your intended route using Google Maps before setting off, in case of any seasonal road closures.
The Cascades Lake Scenic Byway is normally open between June and October, but this is dependent on snowfall. Winter offers a fantastic atmosphere to visit Crater Lake, and it encourages you to explore on foot as some of the roads will be closed.
Summer is the most popular season, as the weather is nicest at this time of year. Crater Lake is a great summer destination as you will be able to get out onto the lake for activities.
The shoulder seasons, that being fall and spring, offer quiet times to visit. However, you will have to be prepared for the colder temperatures. This can also be the cheapest time to visit, with good deals available on nearby hotels.