Road Trip from Portland To San Francisco
Portland and San Francisco are separated by miles of rugged, beautiful coastline. A road trip from one city to the other will be a memorable adventure and will encompass some of the best coastal scenery in America.
The 760-mile road trip from Portland to San Francisco takes 17 hours of driving. Notable stops along the way include Cape Perpetua, Heceta Head, Jedidiah Smith Redwood State Park, Siuslaw State Forest, Eureka, and the city of San Francisco.
Keep reading to find out what the best route is, how long it will take you to drive, where you should stop and some of the amazing sights along the way.
How far is San Francisco from Portland and how long will the road trip take?
The road trip from Portland to San Francisco will cover 760 miles and take you about 2 days to drive when stops are factored in. However, you should consider taking 4 days to a week for this trip.
There is so much to see along the way that you want to give yourself plenty of time. Two weeks would be ideal, allowing yourself a week there and a week back.
The route winds down the rugged coast of Oregon into northern California. It passes some of the most spectacular Redwood Parks in California before turning into the famous Route 1.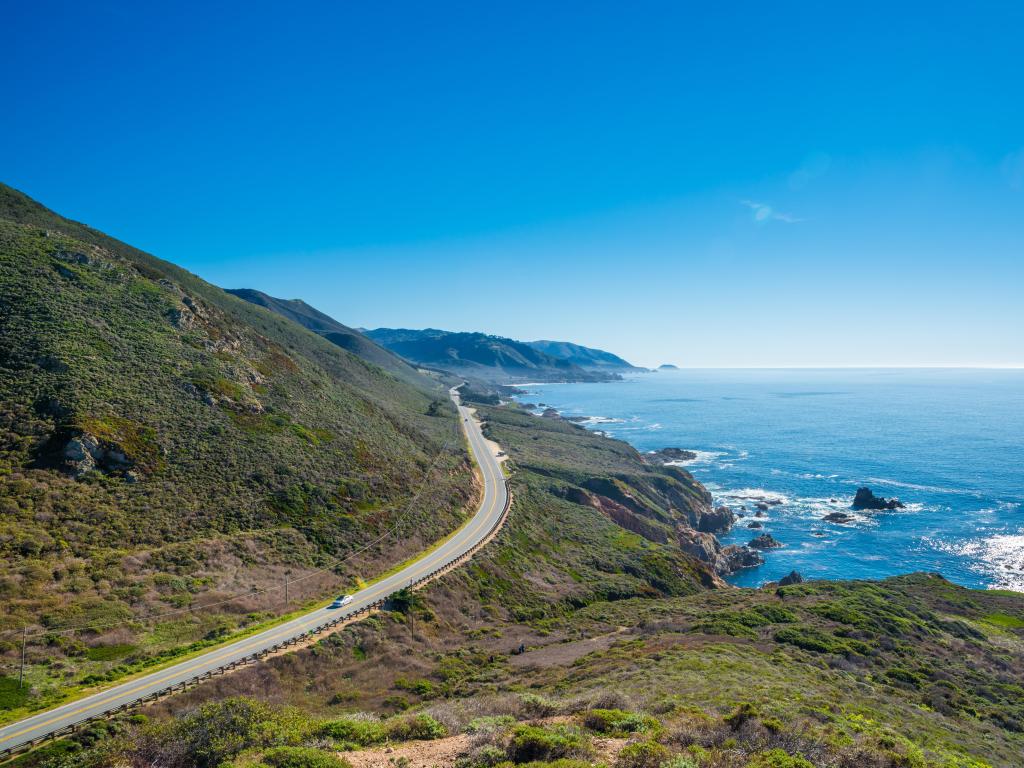 Route 1 will lead you the rest of the way to San Francisco along the Pacific Coast. This route will take in some spectacular vistas and is sure to be a memorable part of the trip.
This road trip route follows highways most of the way, which gives you plenty of opportunities to stop and take it slow. There aren't many big cities along the way, so traffic issues should be minimal until you reach San Francisco.
Best road trip route from Portland to San Francisco
The best road trip route from Portland to San Francisco is down the pacific coast. This route is packed with stunning scenery and easy driving, making it the perfect road trip route. It is also suitable for use year-round, meaning you go can whenever is best for you.
Road trip route from Portland to San Francisco
Head south out of Portland on Interstate 5 until you reach the city of Albany. After Albany, turn onto Highway 20, heading west towards the coast. When you reach the coast, merge with Highway 101 leading south.
Highway 101 will take you over 600 miles south. Passing Siuslaw National Forest, Cape Perpetua, Coos Bay, Gold Beach, and the California state border.
Once you enter California, remain on Highway 101. This will take you past some of the redwood parks, Like Jedidiah Smith Redwood and Humboldt Redwood State Parks.
Highway 101 will then turn into the Pacific Coast Highway, PCH. This road is one of the most famous in America and the world. Known for its beautiful coastal scenery.
Follow the Pacific Coast Highway from its starting point south towards San Francisco. As you approach the city you will pass over the Golden Gate Bridge before entering the hustle and bustle of San Francisco.
Best places to stop between Portland and San Francisco
Planning the stops on your road trip from Portland to San Francisco can be difficult because there is so much to see. However, the places we have recommended below are great places to spend a night on your road trip.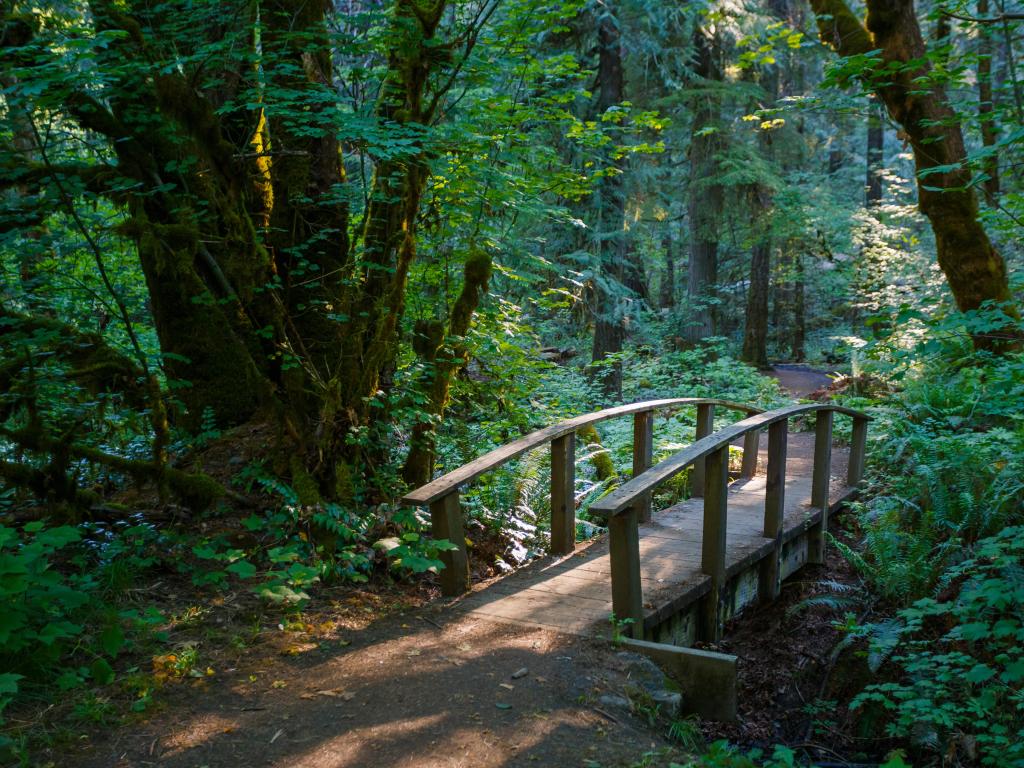 Enjoy the view in Victorian Eureka
If you are looking for a place to stay while visiting charming Eureka, look no further than the wonderfully appointed Red Lion Hotel and its amazing bar, one of the best in the region.
All rooms have an en suite bathroom and offer facilities like a refrigerator, tea and coffee-making facilities, and a microwave. There is also a fitness center if you want to get active after a day spent driving.
The Inn has an on-site restaurant, called the Pacific Grill, which serves dishes inspired by local ingredients. If you are looking for a more casual drink, try R.J. Grin's Lounge.
Downtown Eureka is quirky and charming, with its old town containing Victorian-style buildings. Sequoia Park is also home to some towering old-growth Redwood Trees.
The Red Lion Inn is in a great location for your Portland to San Francisco road trip.
Stay in the tranquil Bodega Bay
If peace and quiet are what you are looking for, then The Lodge at Bodega Bay will woo you with its beachside location and flawless aesthetic. It sits on a hill overlooking Doran Regional Park, which creates a very relaxing setting.
The rooms are very large and some even have private balconies with beautiful views over the surrounding area. Rooms come furnished with the expected amenities, like a coffee machine, TV, and free Wi-Fi.
The Lodge also has an outdoor pool, hot tub, and a gym. After your workout or swim you can have dinner at the on-site restaurant called Drake Sonoma Coast Kitchen. The restaurant utilizes organic, local produce to create beautiful food.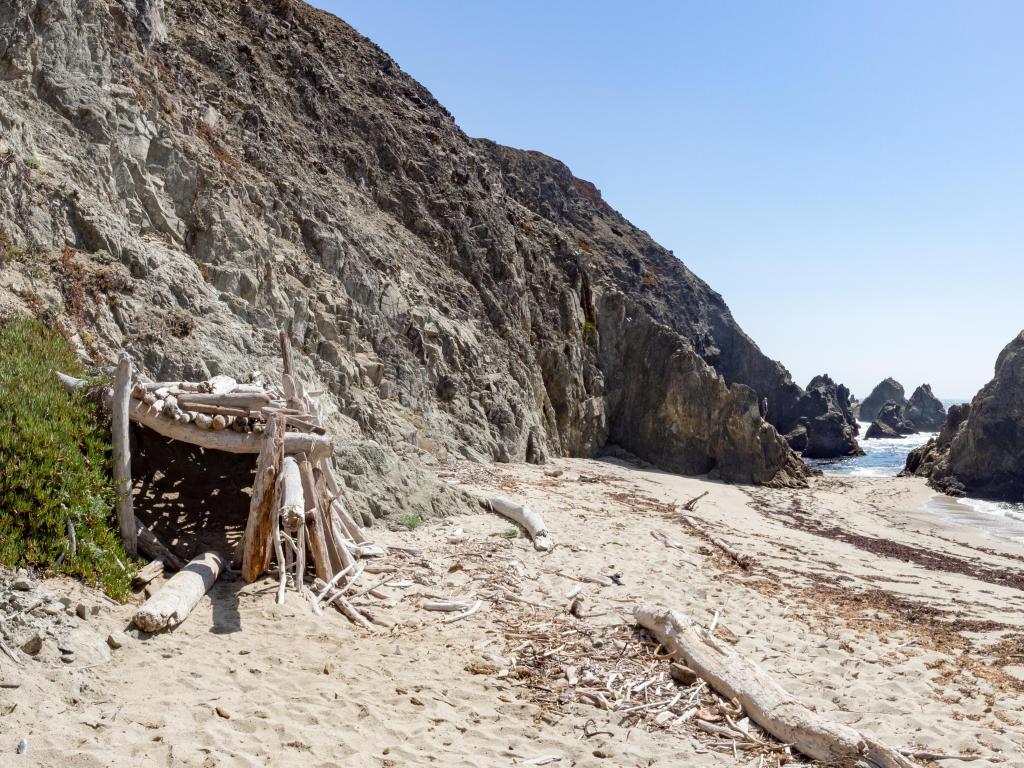 The lodge is only a short drive from Bodega Head, where at the right time of year, you may be able to see migrating whales. The lodge is beautifully designed with a rustic yet modern style.
The Bodega Bay Lodge is sure to be a favorite on your road trip and its amenities combined with competitive pricing makes this lodge a hard one to beat.
Relax in style in San Francisco
If you enjoy luxury and elegance, then the Palace Hotel and its kingly interior and rooms should be at the top of your bucket list. Located right in the center of San Francisco you won't ever forget a stay at this magnificent hotel.
As soon as you see the lobby, you're guaranteed to fall in love with this resort, and the rooms are every bit as beautiful. All suites are spacious and tastefully styled, not to mention furnished with everything you might need.
The private amenities in the hotel are also first-class, including an indoor pool, spa, and 24-hour fitness center. The Garden Court restaurant serves breakfast and lunch. For evening dining, you can try light bites and drinks at the GC Lounge.
If you are looking for an exquisite dining experience, the Pied Piper is famous for its exceptional food and artisan cocktails.
The hotel is nestled among some of San Francisco's finest attractions. Union Square is only a few minutes away on foot, while China Town and Fisherman's Wharf are a short tram ride away.
This upmarket hotel will be unforgettable and could be the perfect culmination of your road trip to San Francisco.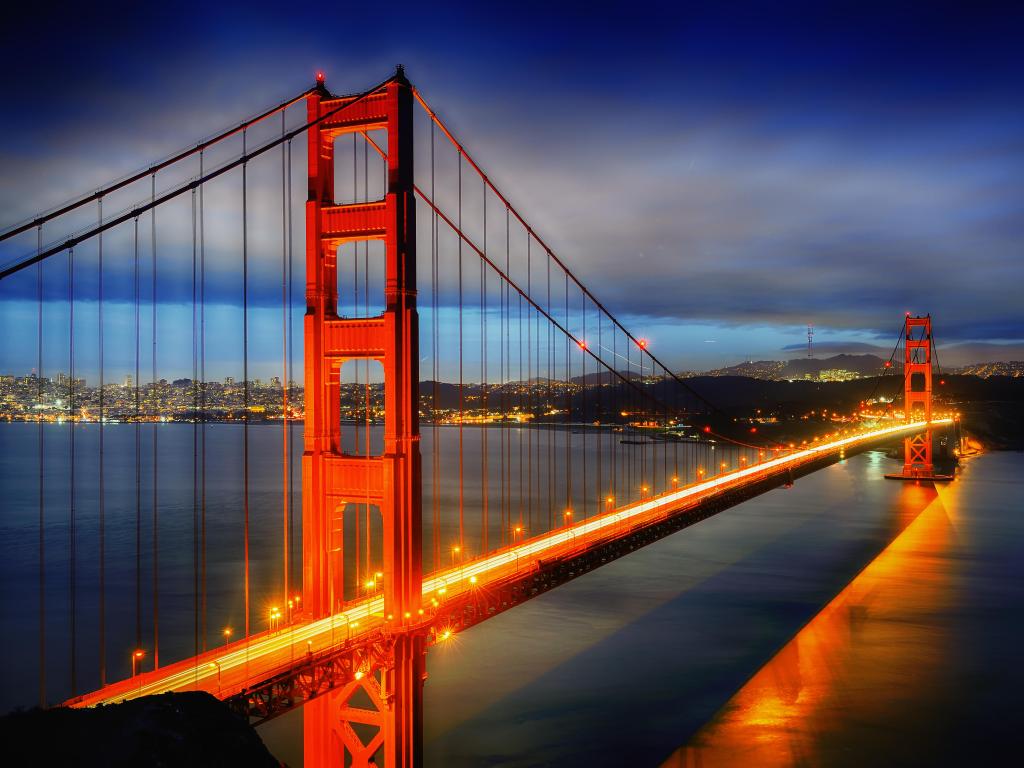 Things to see on a road trip from Portland to San Francisco
While the road trip from Portland to San Francisco could be driven in as little as 2 days. We recommend spending at least a week exploring this epic road trip. There is so much to see along the way that you will not want to rush.
Here are some of the top attractions you definitely shouldn't miss out on:
Boiler Bay - Boiler Bay State's scenic viewpoint offers classic rugged Oregon beauty, a great place for a quick stop.
Devils Punch Bowl - An interesting geological feature carved by the crashing waves, set in a very scenic area popular for surfing.
Cape Perpetua - A forested headland known for its beautiful views and rough, dramatic coastline.
Heceta Head - Visit the defiant lighthouse perched 1,000 feet above the Pacific Ocean below.
Sea Lion Caves - Take a tour of America's largest sea caves and the wildlife that makes it their home.
Oregon Dunes - A pretty beach area for recreation near North Bend.
Humbug Mountains State Park - A great place to find a hiking trail or visit one of Oregon's highest headlands along the coast.
Prairie Creek Redwood State Park - One of many Redwood Parks in the area, but spectacular and worth a visit.
Redwood National and State Park - Adjoins Prairie Creek Redwood Park, making it easy to visit both in a quick trip.
Carson Mansion - A great display of Victorian architecture that can be found in downtown Eureka.
Humboldt Redwood - Home to 17,000 acres of old-growth Redwood, a magical place to enjoy the beauty of the Redwoods.
Mendocino Headlands - The California coast can be as beautiful and rugged as the Oregon Coast, Mendocino Headland has striking views of the surrounding cliffs.
Fort Ross State Historic Park - Travel back in time as you visit this historic site of a Russian fur trading fort.
Sonoma Coast State Park - Another area renowned for its staggeringly beautiful coastline.
Needless to say, you can see even more spectacular places if you're willing to detour inland at virtually any point during the drive. For example, straying from the coast for a few hours can reward you with some spectacular views of spots like Willamette and Umpqua National Forests.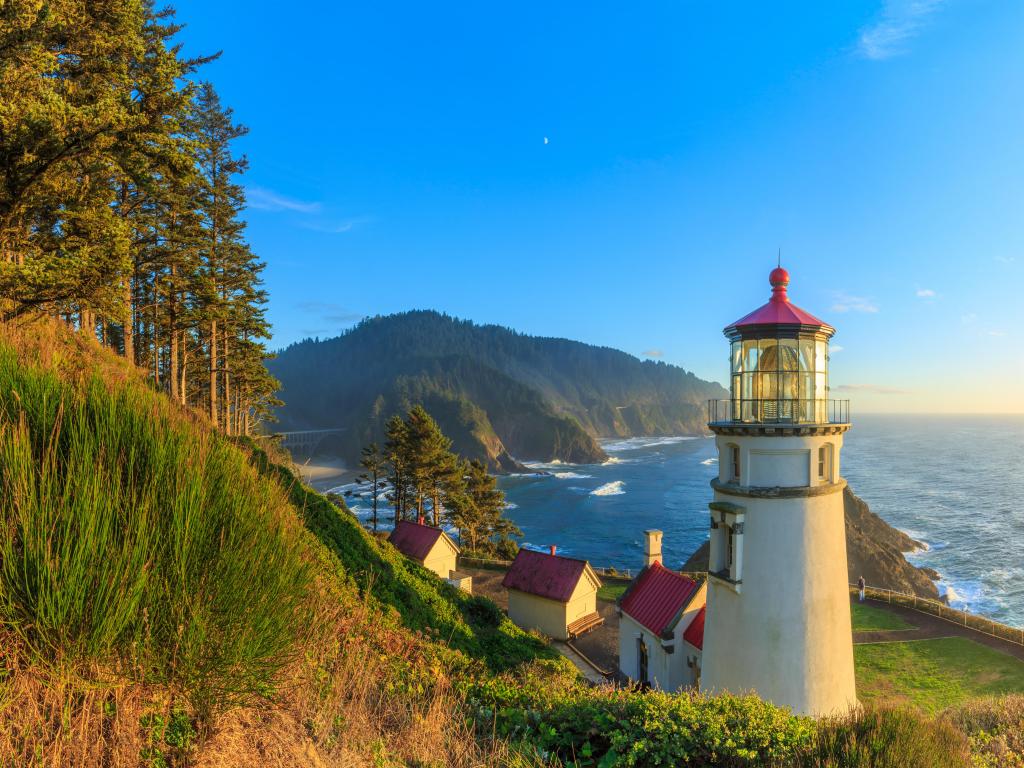 Best time of year to go on a road trip from Portland to San Francisco
This road trip from Portland to San Francisco can be done at any time of year. Summer will bring the most sun and warmer weather, but San Francisco can also be pleasant in winter.
Winter in the city is mild but wet. However, it is a quieter time of year. This means you might be able to get better deals on hotels because it is not peak season.
The Oregon coast is also wet and mild during winter. The weather can be particularly varied with occasional storms from the Pacific bringing wild weather to this stretch of coast.
Fall and spring can also be great times to travel, as the weather is not as wet as winter and places are not as busy as summer. The shoulder seasons can offer a great compromise between these things.
Overall, you shouldn't let a particular season put you off traveling, as they all bring unique benefits and disadvantages. Figure out what your priorities are and then decide what season suits you best.