Road Trip from Portland to the Grand Canyon
If you're looking to go on a memorable adventure, consider a road trip from Portland to the Grand Canyon. You'll get to visit some of America's most famous national parks, encompassing some staggering natural beauty - you might be surprised just how much there is to see.
The 1,250-mile road trip from Portland to the Grand Canyon will take 20 hours to drive. Key stops include Boise, Salt Lake City, Bryce Canyon and Zion National Park as well as Antelope Canyon, Shoshone Falls, Las Vegas and Death Valley National Park.
To make the very most of your journey, we've set out the best routes and time of year to make it, great overnight stops along the way and our favourite things to do on the trip from Portland in Oregon to the Grand Canyon.
How far is the Grand Canyon from Portland and how long will the road trip take?
Comparison of road trip routes between Portland and the Grand Canyon

| Route | Distance | Driving Time |
| --- | --- | --- |
| The Utah Route | 1,300 miles | 20 hours |
| The Nevada Route | 1,250 miles | 20 hours |
There are several great ways to drive from Portland, Oregon to the Grand Canyon. The quickest of our two recommended routes covers 1,250 miles and will take you around 20 hours to drive without stopping.
An alternative option, taking you via the cities of Boise and Salt Lake, is slightly further at 1,300 miles and will take you similarly 20 hours to drive. Neither of these routes can be achieved in a single day and you'll need a minimum of 3 days to get to the Grand Canyon.
However, we recommend spending at least a week on this road trip, as there is an impressive number of fantastic attractions to visit along the way, as well as some great cities to explore.
Best road trip route from Portland to the Grand Canyon
The best route for your road trip from Portland to the Grand Canyon depends on the kind of scenery you want to see on your journey. That said, both options will take you across mountains and past national parks to one of the most amazing natural wonders of the world.
The Utah Route will take you through the lush forests of Oregon, past the famous Great Salt Lake and into the arid canyons of Utah and Northern Arizona. Although slightly further, there is very little difference between the two route options so time shouldn't be a factor.
If you'd prefer the Nevada landscape and fancy your luck in Las Vegas, then our alternative route might be preferable. Still offering great attractions and views along the way, including Death Valley National Park and Mojave National Preserve, it's a great option.
If you can spare the time, spend a week driving to the Grand Canyon following one route, and follow the other on the return journey. This way you won't have to rush, and you will get to see everything along the way.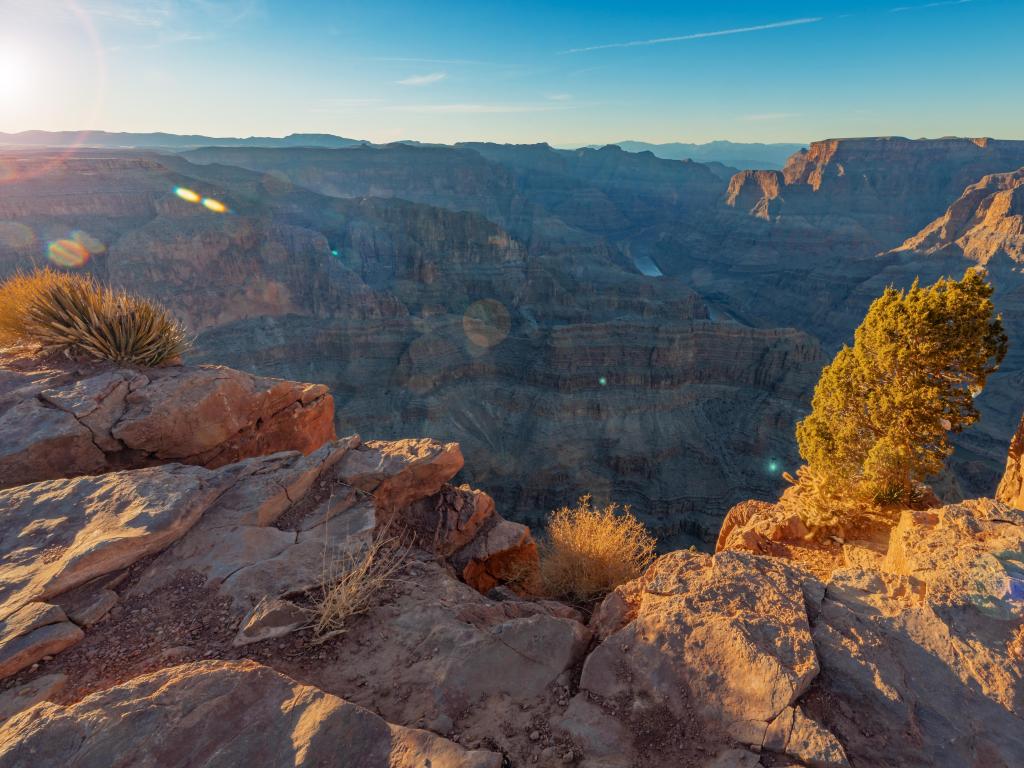 How to drive from Portland to the Grand Canyon
The map above shows our suggestions for the best road trip routes between Portland and the Grand Canyon. Keep reading for detailed descriptions of both routes, where to stay on either, and the best things to do on the way.
The Utah Route
Take Interstate 84 east out of Portland, heading along the Columbia River Gorge. Stay on I-84 as it passes through Pendleton. At this point, you'll be passing alongside Umatilla National Forest and Wallowa-Whitman National Forest, two great places for a hike.
Continue on I-84 past Baker City before crossing the snake river and heading towards Boise, a great city to explore or an overnight stop where you can also explore Boise National Forest.
Remain on I-84 after leaving the city and head towards Twin Falls. Turn north at twin falls onto US-93 heading North. At Shoshone turn off US-93 onto US-26 which will lead you on a short detour to Craters of the Moon National Monument and Preserve.
After visiting the national monument, continue following US-26 which will take you to Interstate 15. Follow this south towards Salt Lake City, another great option for a rest.
Stay on I-15 south as it leads you past the Great Salt Lake to Interstate 70. Follow I-70 for a short distance east before heading south again on US-89. Follow this highway to UT-12, which will take you to Bryce Canyon National Park.
Retrace your steps to US-89 after you have visited Bryce Canyon. US-89 will then take you to Mt. Carmel Junction where you will join UT-9 for a short detour to Zion National Park.
After visiting Zion, return to Mt. Carmel Junction to join US-89 and follow it to Lake Powell and Page until the town of Cameron. Turn onto AZ-64 at Cameron. This will lead you directly to the Grand Canyon Visitor Center.
The Nevada Route
Our alternative route will see you leaving Portland on I-84 heading east, before taking US-26 and making a quick stop at Mount Hood National Forest.
Continue on US-26 east through to Prineville. There are several great forests you can take detours to here, including Willamette National Forest and Umpqua National Forest. Otherwise, turn left onto US-20 to Burns and alongside Malheur National Forest.
Follow OR-78 east through several smaller towns and beside Steens Mountain Wilderness. When you reach US-95 you will then start heading south and follow this road past McDermitt and Revel Creek, as far as Winnemucca.
Turn right and join Interstate 80 to Battle Mountain, before following NV-305 and merging onto US-6 and US-95. Keep heading south and make a short detour at Beatty to Death Valley National Park. You could also drive onwards to Kings Canyon National Park.
Continue on US-95 to Las Vegas, an incredible city that needs no introduction, famous for its great nightlife, entertainment and spectacular resorts. If you haven't stayed here before, this would make a great overnight city break.
Leave the city on Interstate 11 south before continuing on US-93 south to Kingman. From here you will join Interstate 40 east to Williams before taking AZ-64 north all the way to your destination of the Grand Canyon.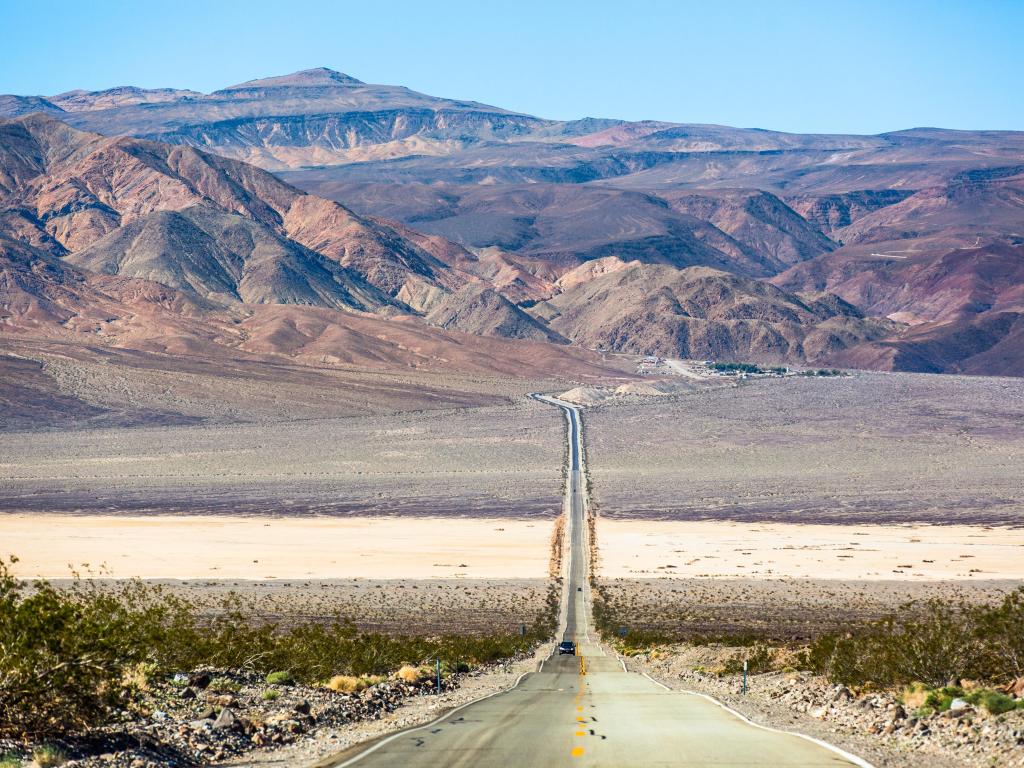 Best places to stop between Portland and the Grand Canyon
While a road trip from Portland to the Grand Canyon could be driven in as little as 3 days, we recommend slowing down to give yourself time to see some of the beautiful sights along the way.
To help you plan our stops, we have recommended some incredible hotels that will make your road trip even more memorable.
Relax in style in Boise
Less than 7 hours from Portland on the Utah Route, the city of Boise is an excellent overnight option. The capital city of Idaho, Boise is surrounded by tree-dotted trails and parks which hug the Boise River.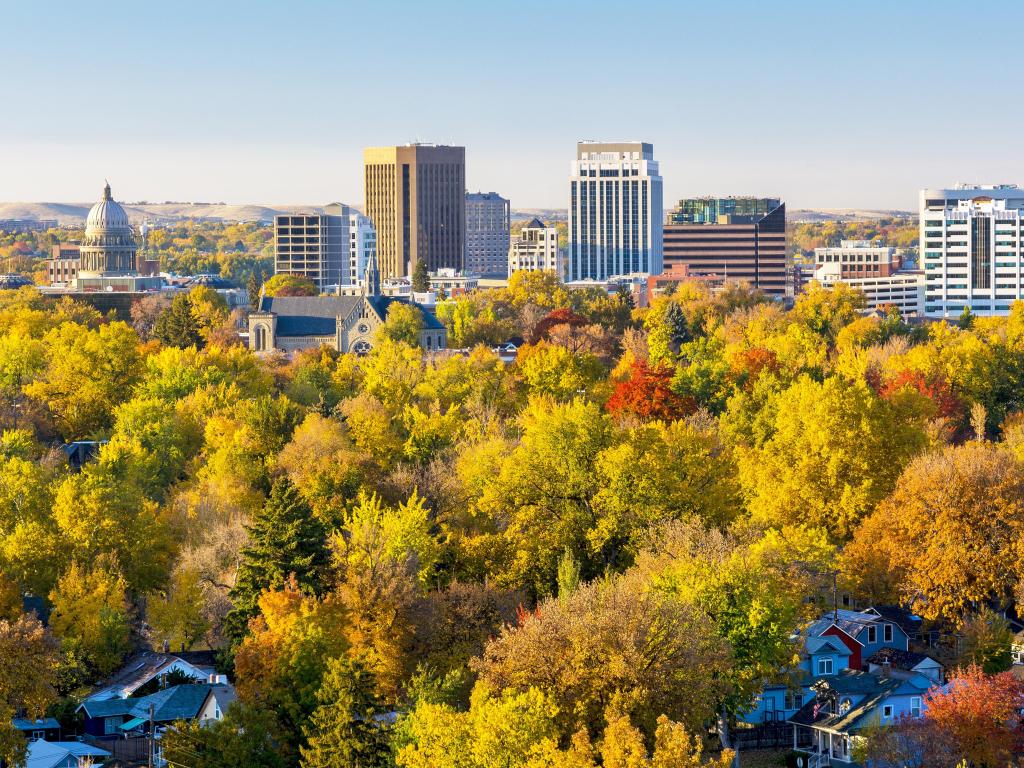 The city itself is a great cultural hub, with its well-known art deco museum featuring contemporary works and an outdoor sculpture garden. There's also a grand, sandstone Idaho State Capitol Building worth visiting and the famous Old Idaho Penitentiary.
Located in downtown Boise, Grove Hotel is a modern and stylish hotel that combines great prices with an even better location. Featuring modern decor, rooms here are clean and luxurious and with an indoor pool, hot tub and sauna, you won't be needing much else to relax.
Trillium, the on-site restaurant, is open for breakfast, lunch and dinner. They utilize local, organic produce to create classic American favourites with exquisite presentation. If you are looking for a quiet drink, the rooftop terrace is a cozy space with great views of the cityscape.
With plentiful amenities and luxury style, not to mention being in a great location to visit the nearby Boise National Forest or Morley Nelson Snake River Birds of Prey National Conservation Area, the Grove Hotel is an ideal place to stay in Boise.
Explore downtown Salt Lake City
If you're continuing to follow the Utah Route, then roughly two-thirds into your journey and just over 8 hours to the Grand Canyon, a second great city to spend the night is Salt Lake City.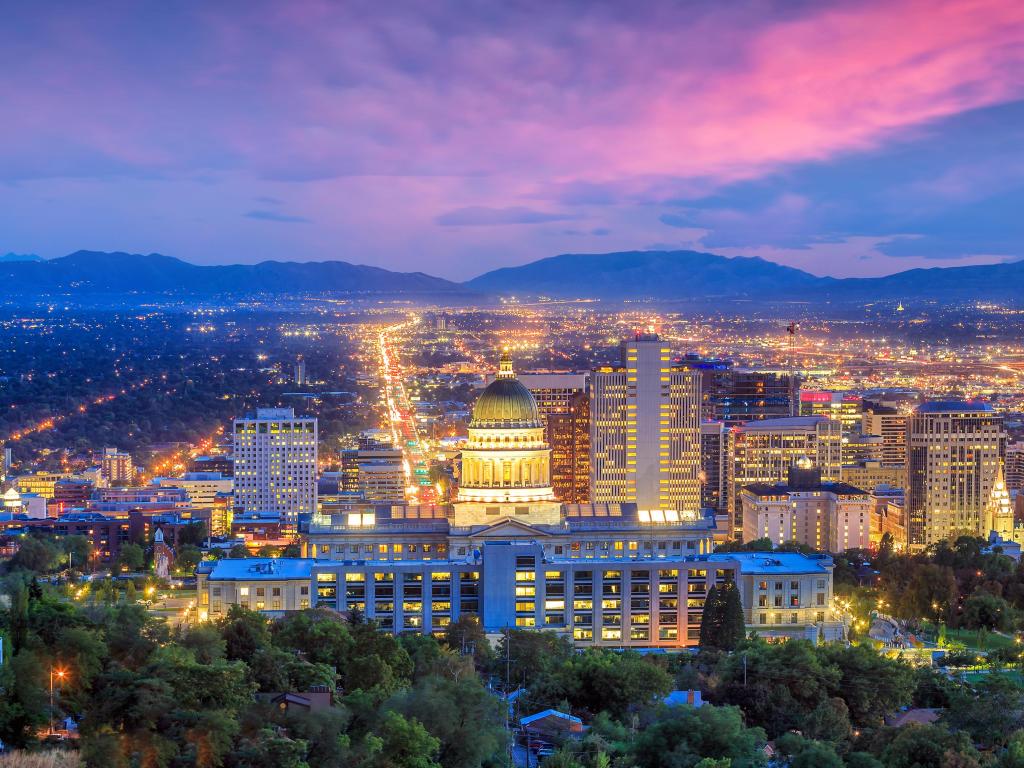 As the capital city of the US state of Utah, Salt Lake City is a fantastic destination in its own right. Known as the gateway to five of America's most popular national parks: Zion, Arches, Canyonlands, Capitol Reef and Bryce Canyon, it's a city you could spend weeks exploring.
The Grand America Hotel is perfectly poised at the centre of downtown Salt Lake City to allow you to experience everything this city has to offer. This luxurious hotel oozes class and style and is sure to be a memorable stay.
The rooms are well appointed and quite large while some even boast fantastic views of the surrounding city and mountains. The hotel offers an indoor and outdoor pool, spa, and gym, rounding out a set of amenities that will keep you feeling active and relaxed.'
The hotel sits at the center of Salt Lake City which means there are endless recreation options just minutes from the front door, such as visiting Temple Square or the fantastic Natural History Museum of Utah.
After a busy day exploring you can have dinner at the onsite Garden Café which serves American cuisine. If you want something more casual, then the Lobby Lounge restaurant may be perfect for you.
A glitzy stay in Las Vegas
An obvious choice for an overnight rest on the Nevada Route has to be the fun city of Las Vegas. Despite being fairly close to the Grand Canyon, a short drive of under 4 hours and 30 minutes, the city offers a unique experience which you simply cannot miss.
A major resort city, Las Vegas is known primarily for shopping, fine dining, great casinos, entertainment and its incredible nightlife. As well as having a hugely popular and famous strip, complete with iconic buildings, it is also a great location to explore the great outdoors.
At the center of Nevada, Las Vegas is surrounded by stunning natural beauty, including Lake Mead National Recreation Area, Mojave National Preserve and of course, the iconic Valley of Fire State Park.
Nearby there's also Red Rock Canyon National Conservation Area and so many great resorts and casinos to explore. This is a city that you could easily spend several weeks in and still not get tired.
There are so many incredible hotels you could pick, but one particularly special resort is The Cromwell Hotel & Casino. A 5-star grand hotel situated on the famous Las Vegas Strip, this resort promises to be everything you could hope for from a glitzy stay.
Featuring a Parisian-inspired design, it boasts a seasonal outdoor pool, casino, nightclub and restaurant. With all the local amenities and attractions within walking distance, you don't have to travel far from your hotel to immerse yourself in the heart of Vegas.
Things to see on a road trip from Portland to the Grand Canyon
The road trip from Portland to the Grand Canyon is full of exciting things to see and do. With so many great things to see along the way, you could easily spend several weeks visiting them all.
To help you get started on your planning, here's a selection of some of our favorities: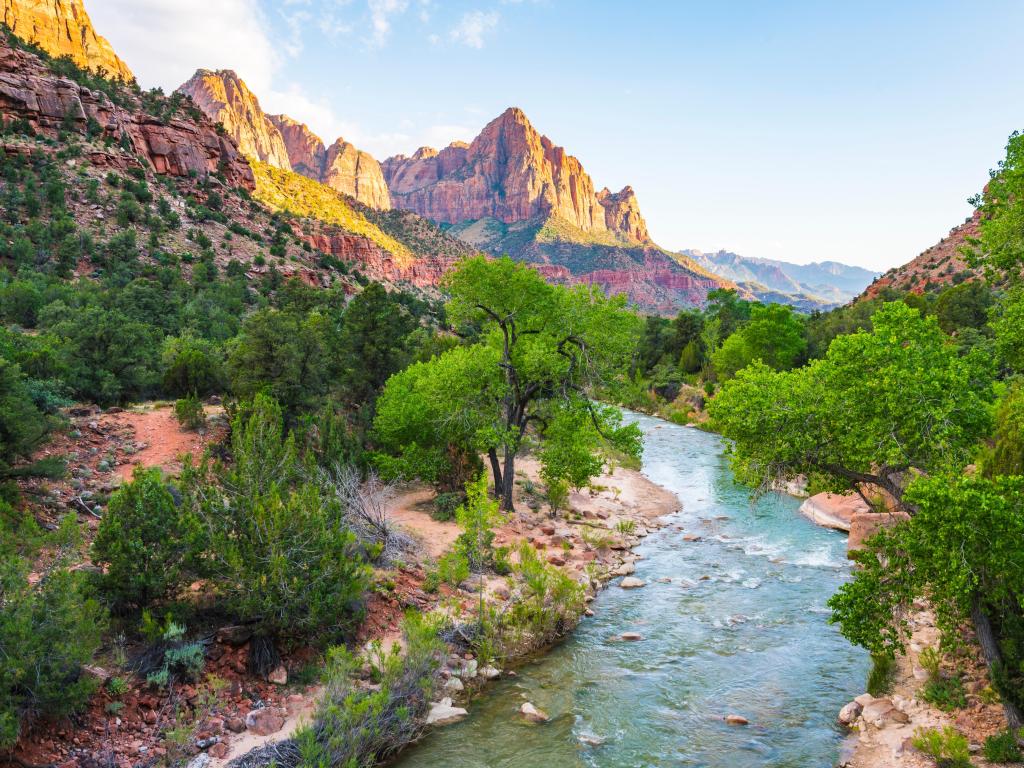 The Utah Route
Columbia River Gorge - You will encounter your first sight only a few miles outside of Portland. Stop to admire the view of the Columbia River at any of the scenic viewpoints.
Boise River Greenbelt - While stopping in Boise, why not spend some time enjoying its Greenbelt. This recreational trail is a great place to get some exercise after a day of driving.
Shoshone Falls - Shoshones Falls is one of the largest natural waterfalls in America, situated in the city of Twin Falls. It's a great spot to cool off or just to admire this fantastic scenery.
Craters of the Moon National Monument and Preserve - Discover the otherworldly site in Idaho which was made from ancient lava flows.
Natural History Museum of Utah - Located in Salt Lake City, take a tour to learn about a variety of natural subjects related to Utah and its unique location.
Boat Tour, Great Salt Lake - One of the best ways to view the beautiful Great Salt Lake is by taking a guided boat tour. You might even get to spot migrating birds for which the lake is a critical habitat.
Bryce Canyon National Park - Bryce Canyon is world famous for its crimson rock spires, known as "hoodoos" and is best explored by going on one of many available hikes.
Zion National Park - Test your mettle by hiking to the top of Angels Landing, be warned that it is steep and very exposed. Alternatively wander through the Zion narrows and enjoy spectacular views. If you'd like to hike up to Angels Landing, you will need a permit and will need to make a reservation. Check the Zion National Park's website for more details.
Lake Powell - Spend the afternoon cooling off at this popular tourist destination. Lake Powell is popular for water sports, cliff jumping, swimming, boat-hiking or just admiring the scenery.
Antelope Canyon - Take a tour with a Navajo guide to see the enchanting Antelope Canyon which was shaped by millions of years of water and wind erosion.
Horseshoe Bend - Head to Horseshoe Bend for an iconic view of the Colorado River, located near the town of Page in Arizona. It's also referred to as the "east rim of the Grand Canyon".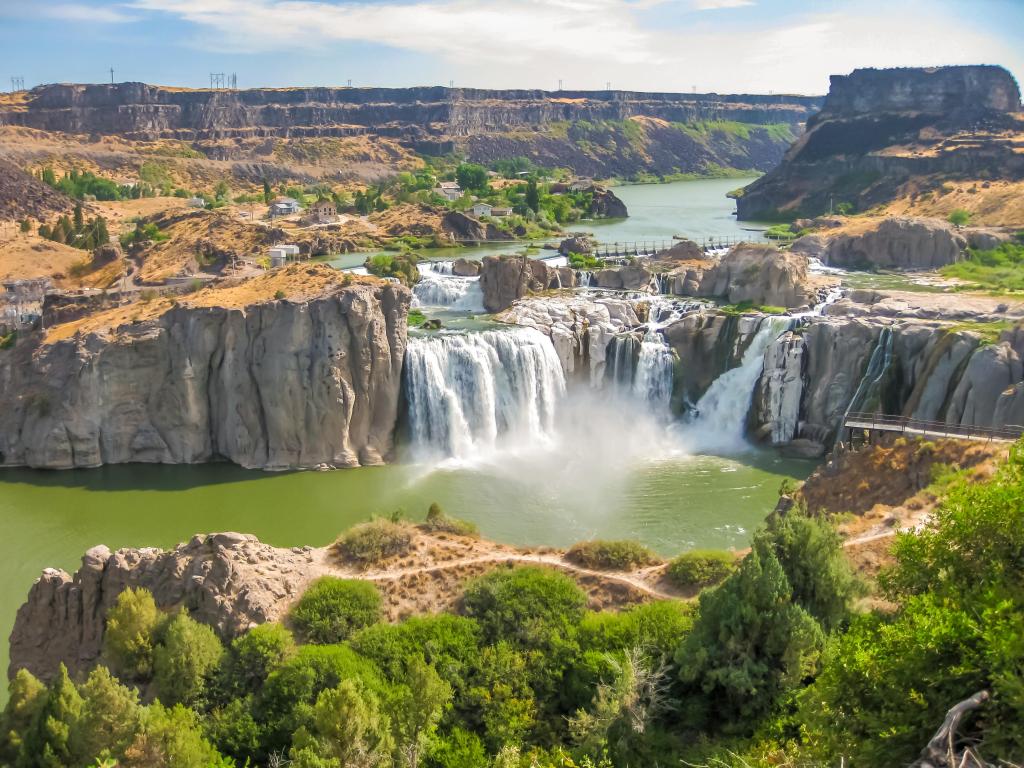 The Nevada Route
Mount Hood National Forest - Extending across more than a million acres of forested mountains, lakes and streams, as well as the iconic Mount Hood itself, this park is hugely popular with those who enjoy hiking and being outdoors.
Willamette National Forest - Home to eight wilderness areas, this stunning natural location includes mountain peaks, waterfalls and lakes.
Steens Mountain Wilderness - This wilderness area in Princeton, Oregon, surrounds one massive mountain and is a great place for hiking, camping or nature spotting.
Las Vegas - Best known for its casinos, nightlife, entertainment and popular resorts, Las Vegas is a great city to explore or as a base to visit the stunning nearby national parks.
Lake Mead National Recreation Area - With striking landscapes and brilliant blue waters, Lake Mead is a year-round destination encompassing mountains, canyons and valleys.
Death Valley National Park - One of the hottest and driest national parks, this below-sea-level basin is best known for Titus Canyon, with its colorful rocks and Badwater's Basin's salt flats.
Kings Canyon National Park - Featuring a similar terrain to Yosemite Valley, Kings Canyon is home to the largest remaining grove of sequoia trees in the world. It also has deep valleys, skyscraping trees and distinctive rocks.
Mojave National Preserve - With fewer visitors, Mojave National Preserve still feels wild thanks to its dramatic terrain. It also offers a wonderful variety of natural adventures.
Flagstaff - This Arizonian city is surrounded by mountains, desert and great forests. If you don't fancy a stay in Las Vegas, this quieter city is a great alternative as well as being a gateway to Arizona's tallest mountain, popular with those looking to ski.
Kaibab National Forest - Enjoy camping, hiking, fishing or just enjoying the incredible scenery at this year-round national forest, just a short drive away from the Grand Canyon.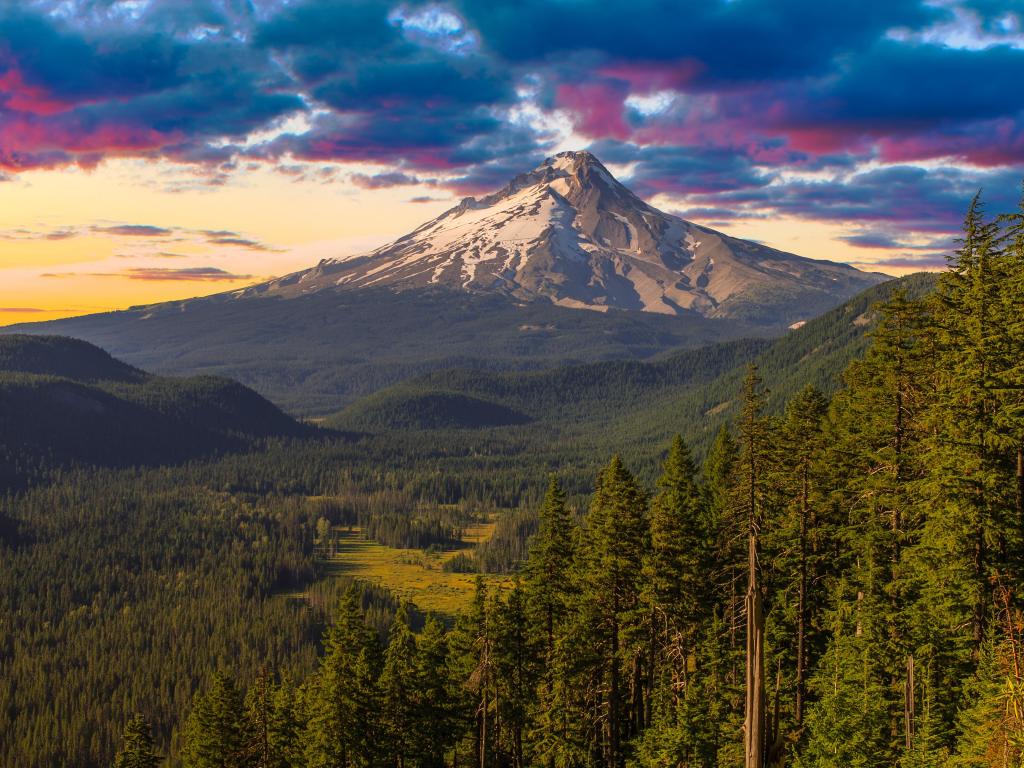 Best time to go on a road trip from Portland to the Grand Canyon
You can go on the road trip from Portland to the Grand Canyon at almost any time of year. The roads in the route above remain open all year round, and much of the road trip takes place on interstates anyway, making this accessible no matter the weather conditions.
That said, the best time to visit will largely depend on what you'd like to get out of it. While the national parks along the route remain open all year, you should be prepared for cold temperatures and potentially snow.
The Grand Canyon can see temperatures as low as 17 degrees Fahrenheit in December, with an average high of 43 between November and March. If you aren't looking to ski on the mountains en route, and instead would prefer to enjoy the stunning lakes, winter isn't ideal.
In comparison, The Grand Canyon, Zion and Bryce Canyon all get very busy in summer. If you aren't worried about crowds, this is a popular time to visit.
Just be aware that temperatures during summer months can get very hot, with July peaking 84 degrees, and there's a chance of late-summer thunderstorms.
Fall and spring are also great times to embark on this road trip. These seasons represent a balance between warmer weather, avoiding overcrowding and reasonable hotel prices. They also offer stunning foliage in the national parks en route.
If you'd like to add a fun festival to your road trip, you can combine your stay in Las Vegas with the nearby Mojave Desert's Rise Lantern Festival held in October, or the Sundance Film Festival held in Salt Lake City in January.