Road Trip from Portland to Yellowstone National Park
A road trip from Portland to Yellowstone National Park will encompass some of the best of the American West. You can traverse the mountains like the pioneers that settled America. It might surprise you how much there is to see in Oregon, Idaho, and Wyoming.
The road trip from Portland to Yellowstone covers 950 miles and take 18 hours of driving. Along the way, stops include the cities of Boise, Twin Falls, Idaho Falls and Jackson, as well as Payette and Bridger-Teton National Forests.
Read on to find out what route is the best, where to stay along the way, and some of the best sights to see during this legendary road trip.
How far is Yellowstone from Portland and how long will the road trip take?
The 950-mile road trip from Portland to Yellowstone National Park will take you about 2 to 3 days of driving. However, if you can spare the time, I would suggest you allow yourself up to a week. This will allow you to slow down and really enjoy the journey.
This route will take you through some breathtaking scenery. You will get to see the Columbia River Gorge, Craters of the Moon National Monument, and the world-famous Teton Mountains, topped off by what is arguably America's most iconic national park.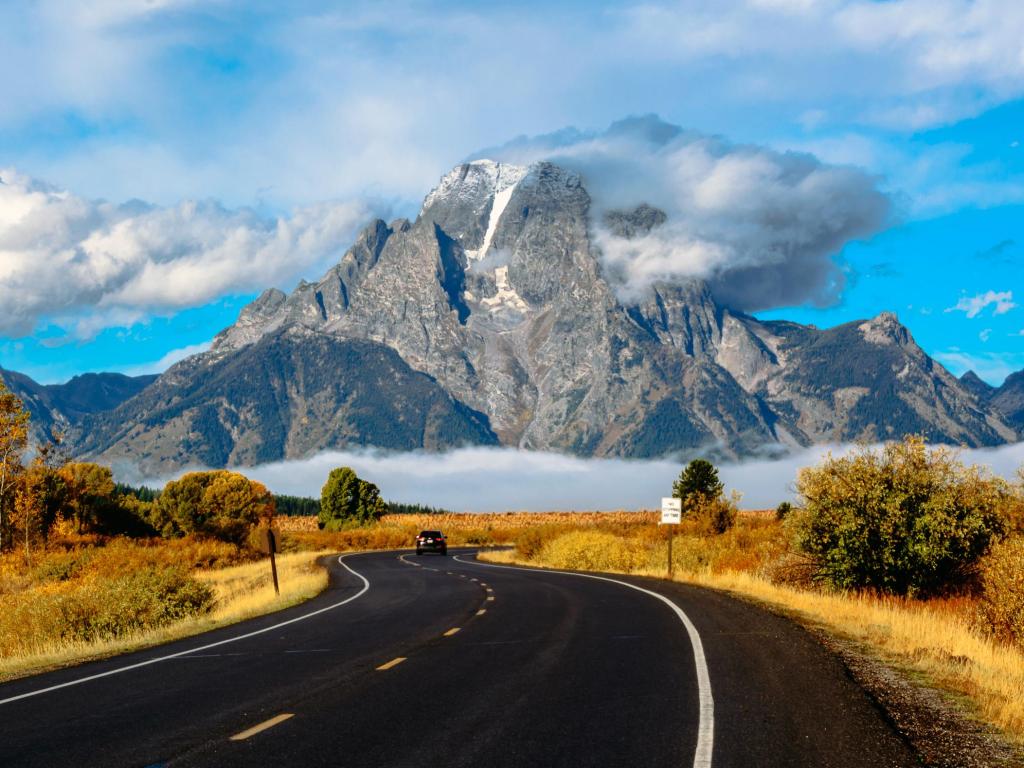 The route is mostly interstate driving, which makes it relatively fast. However, there are also some great detours that will take you off the interstate, so the driving is varied and interesting.
Traffic should not be much of an issue. The only major city on the route is Boise, so if you can avoid going through it at rush hour, then you shouldn't have any problems. Either way, the drive is relatively long, so you'll have plenty of places to stop on the way if you see traffic ahead.
Best road trip route from Portland to Yellowstone
The direct route is the best way to drive the road trip from Portland to Yellowstone National Park. If the weather conditions allow for it, you can get to your destination.
Road trip route from Portland to Yellowstone
From Portland, head directly east on Interstate 84 along the Columbia River Gorge. Follow the interstate as it meanders through small cities like La Grande and Baker City. At Ontario, you will cross the Snake River before heading into Nampa and Boise, a major city on the route.
Follow Interstate 84 through Boise and south to Twin Falls, where the iconic Shoshone Falls are located. Take Highway 93 north from Twin Falls before turning onto Highway 26 at Shoshone.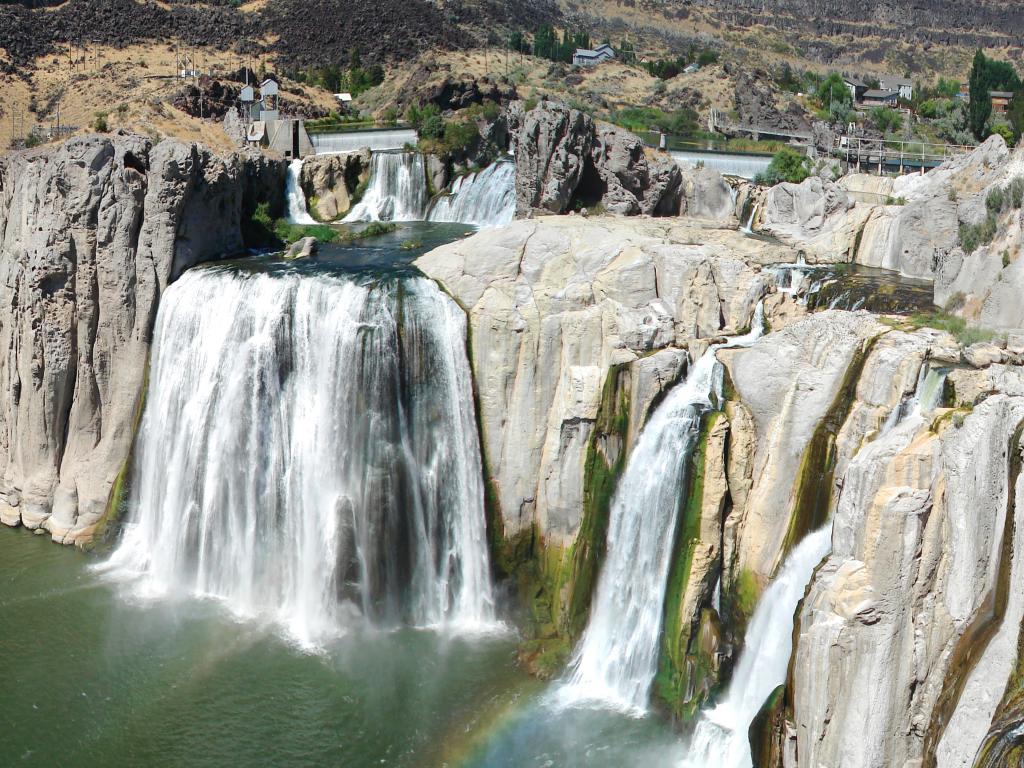 Highway 26 will lead you to the otherworldly Craters of the Moon National Monument and Preserve. After visiting the monument, follow Highway 26 to Arco, where you will turn south towards Idaho Falls.
You need to merge onto Highway 20 shortly after Arco, as this will lead you directly to Idaho Falls.
Stay on Highway 20 through Idaho Falls, and then re-join Highway 26. The snake river twists and turns alongside the highway until you turn away from it at Swan Valley.
Follow Pine Creek Road, or Route 31, to the small town of Victor. Turn onto Highway 33 at Victor, heading south towards Jackson. Follow this road as it crosses the border with Wyoming and becomes Teton Pass Highway.
Teton Pass Highway will lead you to the edge of Jackson, where you will turn north onto Highway 191, leading to Grand Teton National Park and then to the south entrance of Yellowstone National Park.
Best places to stop between Portland and Yellowstone
The road trip from Portland to Yellowstone National Park is ripe with amazing places to stop for a day or two. To make the most of your journey and see as much as possible, consider using some of these resorts as stopovers:
Recharge your batteries in Boise
Oxford Suites Boise is located right in the heart of the city, offering a great location for a stopover on your road trip from Portland to Yellowstone. If you need a place to stay to explore Boise, Oxford Suites Boise is perfect.
The hotel is housed in a beautiful, characterful building with lots of great outside space for guests to use. The best aspect of this hotel is it houses a fabulous swimming pool. This means you can exercise your legs after a long day of driving.
This charming hotel is a short walking distance from the Edwards Boise Stadium 22 and IMAX, a great perk especially if you are traveling with little ones and want to treat them to a movie.
You will find several great restaurant options just a short drive, so make sure to make reservations ahead of your visit.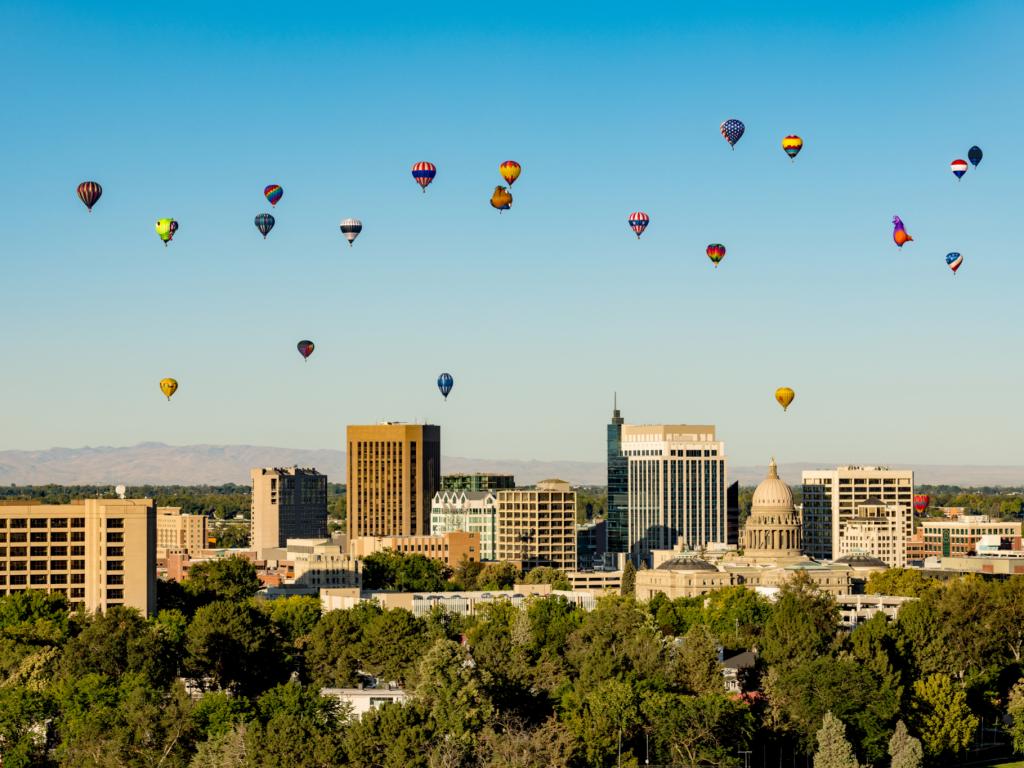 Enjoy the rustic charm at Jackson
Hotel Jackson is one of the most charming in the entire region - its design combines a rustic appeal with modern luxury, the likes of which are hard to find anywhere in the States.
The rooms are large, with magnificent views of the gardens and surrounding mountains. Some rooms also have a fireplace to give you that cozy feeling. Pair it with a cup of hot coffee and your favorite book and you will not want to ever leave.
There are two restaurants on-site with bars that serve up great cocktails. Jackson Town Square is a stone's throw from the property, giving you access to even more dining options and further recreation.
Once you are done painting the town red, unwind in the fabulous hot tub with stunning mountain views to end your day in style.
Relax cowboy-style in Jackson Hole
If you want to immerse yourself in the cowboy style of Wyoming, the Wyoming Inn of Jackson Hole is perfect for you. It's western-style décor and a roaring log fire make this inn the perfect place to stay in Jackson.
Every room at the Wyoming Inn is large and stylishly designed to fir their rustic western décor. The inn also has a hot tub and a fitness center for you to use in your downtime.
The Whistling Grizzly restaurant is located on-site and is open for breakfast. For dinner why not head into downtown Jackson, which is only a 20-minute walk away. If walking isn't your style, you can always get the free bus in.
The Wyoming Inn is well suited to year-round visitors and comes highly recommended if you are looking for a place to stay on your road trip.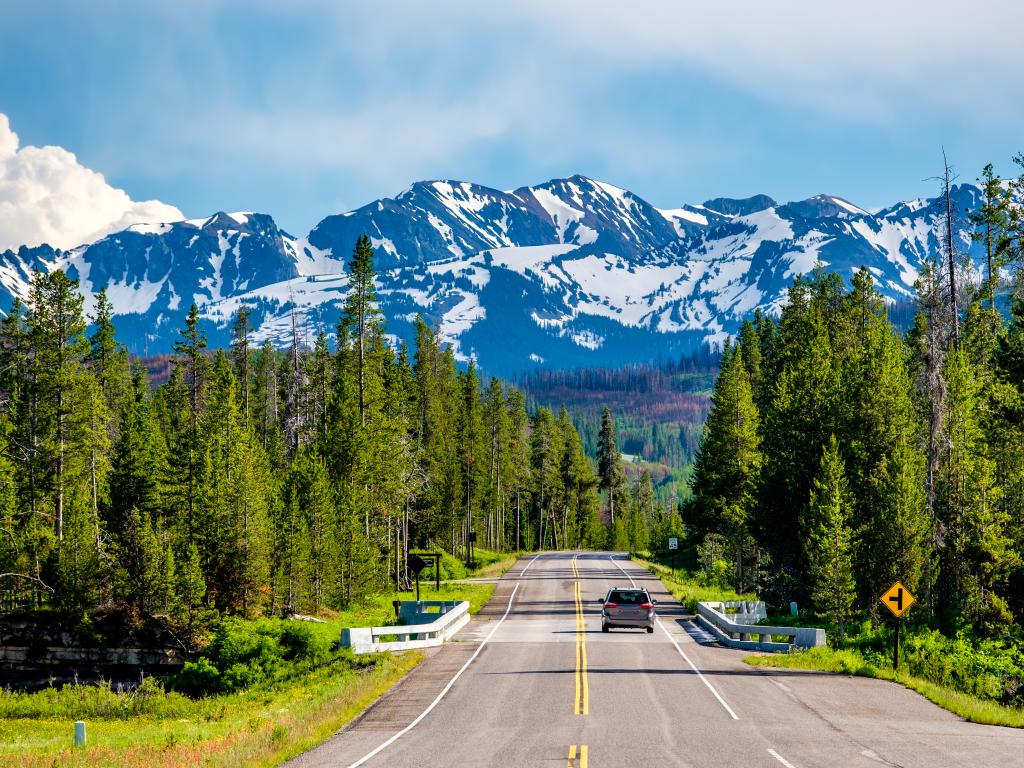 Things to see on a road trip from Portland to Yellowstone
You will encounter some amazing scenery and interesting history on your road trip from Portland to Yellowstone. There is so much to do that you should consider devoting at least 4 days to the trip. Here are some of the must-see sights along the way.
Columbia River Gorge - This national scenic area is located right outside Portland, but make sure to stop at the viewpoints and visit the Columbia gorge center and museum.
Oregon Trail Interpretive Center - The center brings the Oregon Trail to life, telling the story of early pioneers and explorers.
Boise River Greenbelt - Explore forested pathways that line the banks of the Boise River, a great way to get some exercise after spending hours in the car.
Idaho Botanical Garden - A 50-acre space in central Boise that is home to multiple different gardens and hundreds of species of flowers and plants.
Shoshone Falls - Shoshone Falls is one of the biggest falls in America, at 92 feet high, it is taller than Niagara Falls.
Craters of the Moon National Monument - Visiting this national monument will transport you to another planet. It is a vast area of ancient lava flows and cinder cones.
Idaho Falls River Walk - Similar to the Boise River greenbelt, this is a tranquil area to walk along the river and enjoy the falls.
National Museum of Wildlife Art - Enjoy some art and culture as you tour the Museum of Wildlife Art located in the National Elk Refuge.
Jackson Hole Winery - Visit one of the highest wineries in North America that has incredible views of the surrounding mountains. Tastings organized by appointment only.
Jackson Hole Rodeo - The Jackson Hole Rodeo takes place every Wednesday and Saturday from Memorial Day until Labor Day and is great family fun.
Jenny Lake - Jenny Lake in Grand Teton National Park offers a variety of hiking trails into and around the Teton Mountains.
Best time to go on a road trip from Portland to Yellowstone
You can do the road trip from Portland to Yellowstone virtually any time of year, although with the park being a marvel of nature that draws crowds in the warmer months, you should plan your trip around what you want to get out of it.
Temperature-wise, you can't go wrong with visiting in the summer if you don't mind the crowds. The low 70s are the perfect temperature for exploring, and there are loads of events in the towns around Yellowstone in the summertime.
Spring and fall are safe times to visit on most years if you know for a fact that the weather won't get nasty for a few days. There are very few tourists crowding the park around this time, so you get to enjoy the beautiful nature without any distractions.
You can even visit Yellowstone National Park in winter, however you typically cannot drive inside the park, as there is too much snow. Instead, tour operators will take you inside the park using snowmobiles and snow coaches.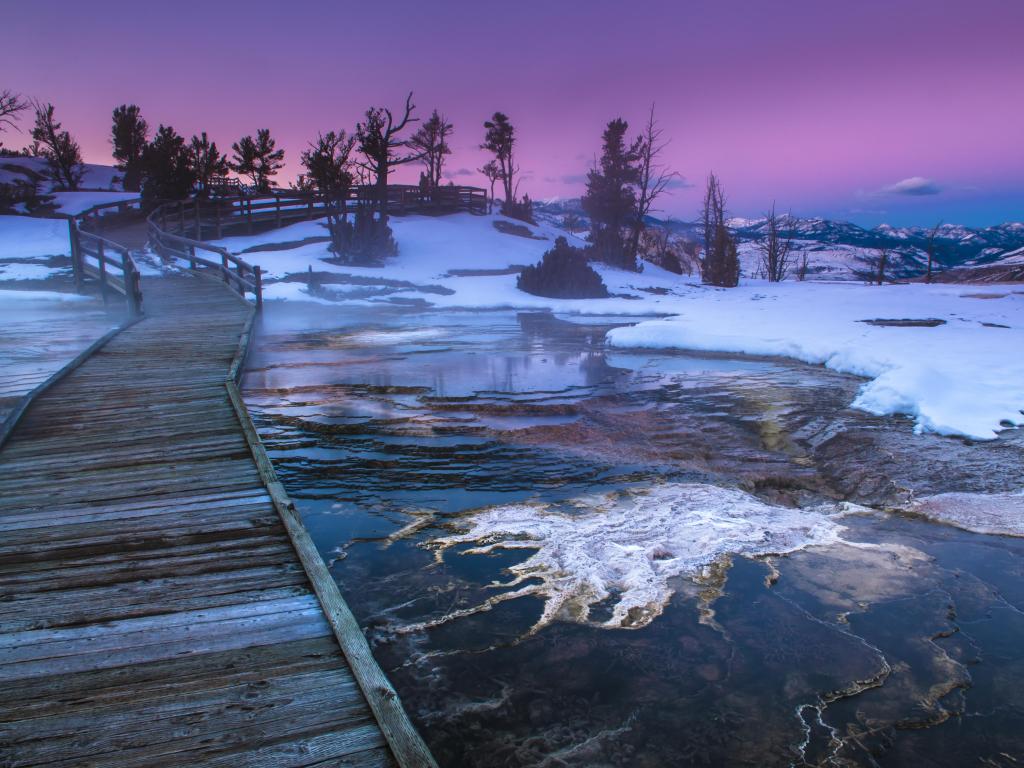 Winter is a great time to visit Yellowstone, as the park is quieter than in summer. You can also indulge in some great skiing at nearby Jackson. Hotels will remain expensive year-round because of the popularity of the area for winter and summer sports.
That said, winters in Yellowstone can be very cold, so you must be well prepared if you want to visit in winter. There is no perfect season for a road trip from Portland to Yellowstone, as every season has its benefits and drawbacks.