Road Trip from Raleigh to Washington DC
The area between Raleigh and Washington DC has been home to presidents and shaped the nation we know today. It is a place brimming with history to explore with stunning mountain scenery and refreshing ocean views sitting in between these two great iconic cities.
The 400-mile road trip from Raleigh to Washington DC will take you 8 hours to drive along the Blue Ridge Parkway and Shenandoah National Park via Durham, Lynchburg, Amherst, Charlottesville, as well as Monticello, Woodstock Tower and Skyline Caverns.
It would be tempting just to power on up the Interstate if you need to get from Raleigh to DC but read on to find out how you could turn this short drive into an unforgettable road trip.
How far is Washington DC from Raleigh, and how long will the road trip take?
Comparison of road trip routes between Raleigh and Washington DC

| Route | Distance | Driving Time |
| --- | --- | --- |
| Blue Ridge Parkway Route | 400 miles | 8 hours 10 minutes |
| Faster Route | 380 miles | 6 hours 30 minutes |
If you stick to the Interstate all the way, you can make the 260-mile drive from Raleigh to Washington DC in around 4 and a half hours.
That doesn't make for much of a road trip though, as you'll miss out on the chance to hike through a national park, dip your toes in the ocean, and immerse yourself in the rich history of this part of the USA.
That's why we've come up with two slightly longer route options, which add to the mileage and driving time to make sure you can squeeze as much as possible into your road trip.
The Blue Ridge Parkway Route is the longer of the two, both in time and distance, taking just over 8 hours to take you 400 miles. This route winds through the mountains for part of the way, which slows you down a bit, but it's the perfect way to take in some unforgettable views.
The Faster Route is exactly that - it shortens the driving time by over 90 minutes, taking you out to the coast before swinging back inland towards Richmond.
Whichever route you take, the fact that you're not traveling too many miles means you can really focus on the places you pass along the way. You can do this road trip over a weekend for a whistle-stop tour of the attractions en route, or you can stretch it out over a week.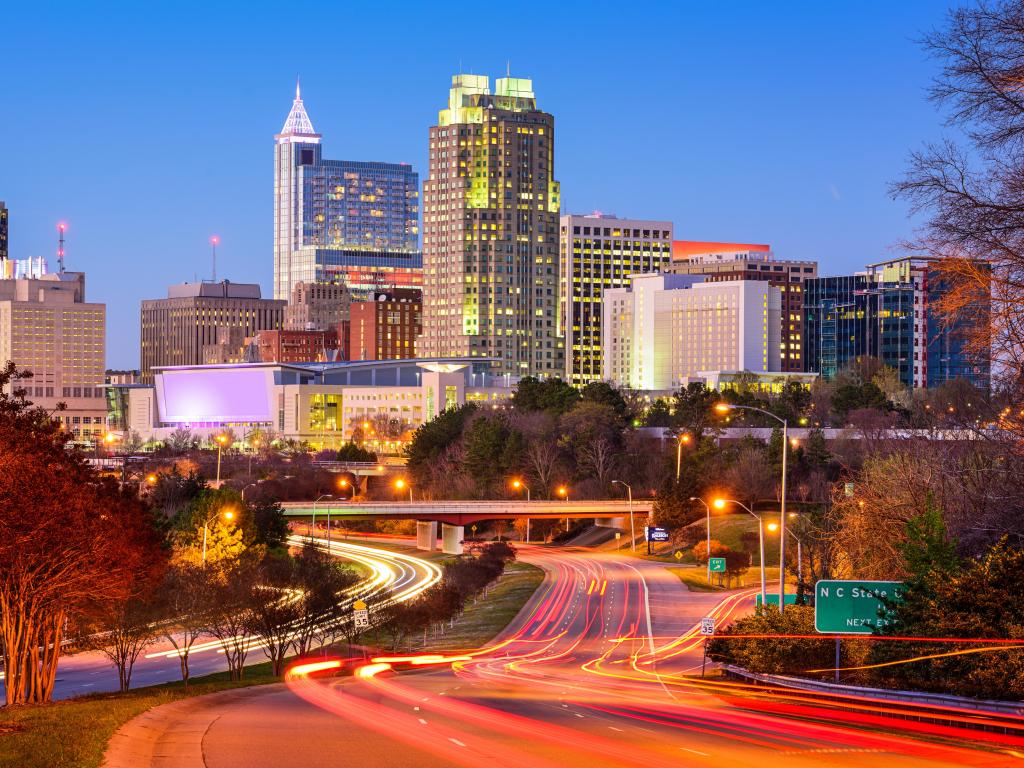 Best road trip route from Raleigh to Washington DC
You have two fantastic route options on this road trip from Raleigh to Washington DC. They're very different in character so chances are one will appeal to you more than the other - but whichever one you choose you'll have a fantastic trip.
The Blue Ridge Parkway Route is an epic way to travel between Raleigh and Washington DC, as it passes through "America's favorite drive", the legendary Blue Ridge Parkway, offering incredible views.
This route is perfect if you fancy taking some time along the way to hike stunning mountain trails. You can take your pick of them as you travel through Shenandoah National Park and on along the Blue Ridge Parkway.
The Faster Route starts out on one of the busier interstates but branches off to offer a scenic coastal drive. This is more of a laid-back and relaxed route, still with great lodging and eating options.
The Faster Route also passes through some major cities, which will give ample opportunity to explore exciting attractions in between some time to relax at the beach.
Alternatively, seeing as the driving time is relatively short, you could even take one route north and the other one back south towards Raleigh to really get the best of both.
The Blue Ridge Parkway Route
Leave Raleigh on Interstate 40, passing Durham and Chapel Hill as you head north. At Exit 160, turn right onto Mt Willing Road then left onto Forrest Avenue. Follow the road as it curves to the right, and after the intersection keep straight ahead on Efland-Cedar Grove Road.
Turn left where the road merges onto NC-86, following it all the way to the state line. Shortly after crossing into Virginia, you'll join US-29 and continue north on this road as far as Amherst, passing Lynchburg along the way.
At Amherst take the exit to join US-60 West then follow it until you reach the entrance to the Blue Ridge Parkway - follow the sign to join the ramp, then turn right to follow the Parkway north.
From here, although the Blue Ridge Parkway takes many twists and turns through the stunning mountain scenery, it's a simple road to follow. Take your pick of viewpoints and trailheads to stop and enjoy along the way.
When you reach the end of the Parkway, the same road becomes the Skyline Drive through Shenandoah National Park, so simply continue straight ahead and you'll come to the entrance to the National Park.
Take Skyline Drive through the first part of Shenandoah National Park. The road follows the ridgeline for much of the way, so you'll be able to catch some great views without even having to lace up your hiking boots.
Leave the national park by turning left onto the ramp towards US-33 and you'll notice it approaching when Skyline Drive crosses over a major road for the first time since you entered the national park.
Turn right onto US-33 West/Spotswood Trail then join US-340 N at Elkton. Stay on this road, following signs for Front Royal, through Luray and Bentonville.
When you reach Front Royal, turn right onto VA-55 E/South Street which leads you onto Interstate 60 heading east towards Washington DC.
From here it's a simple run into the city - just follow the Interstate past Arlington and across the Potomac River and you'll find yourself at your destination, Washington DC.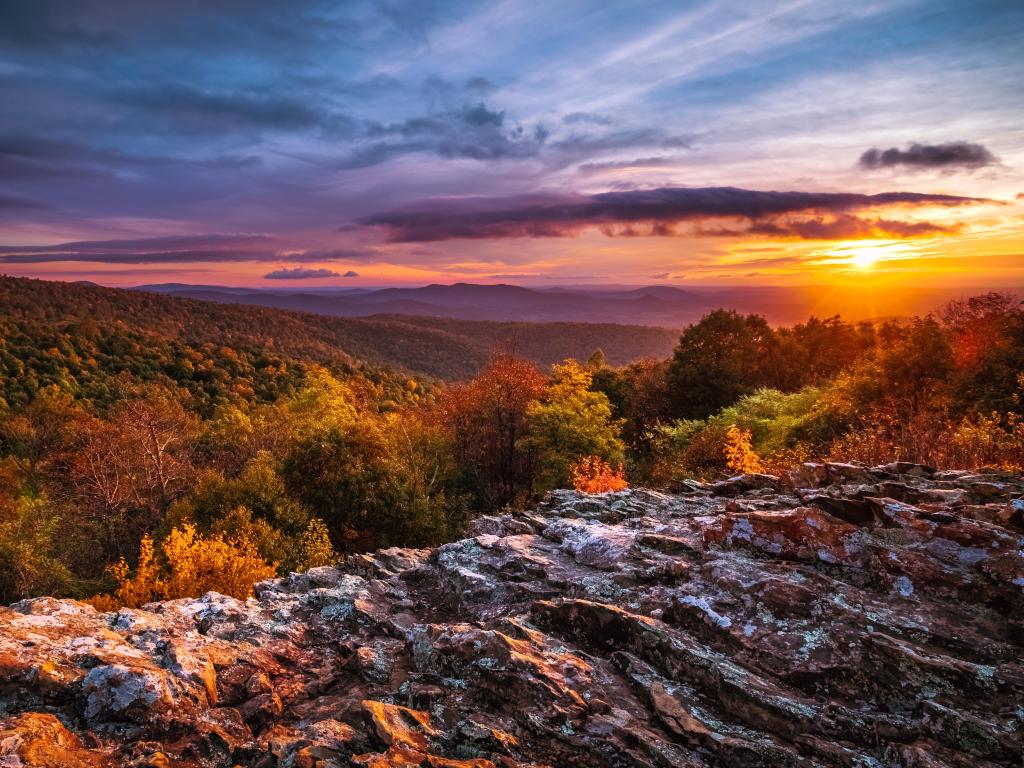 The Faster Route
From your starting point in Raleigh, make your way out to Interstate 440 heading towards Exit 14 where you'll join Interstate 87 North. Where the road splits near Zebulon, take US-64 which will take you onto Interstate 95.
Follow I-95 North past Roanoke Rapids, then exit onto US-58 heading east towards Norfolk.
This road takes you past the Great Dismal Swamp Wildlife Refuge, then you'll join Interstate 264 to get to the center of Norfolk.
When you're ready to move on, follow City Hall Avenue east towards I-264 E, but instead of joining the Interstate here, take the lane for Tidewater Drive. Tidewater Drive will take you northwards out of the city until you meet Interstate 64, which you'll follow west.
You'll cross the mouth of the river on I-64 via the Hampton Roads Bridge Tunnel, then continue along I-64 past Hampton and Newport until you reach Richmond.
Here, Interstate 64 takes you right into the center of the city. We'd recommend exiting onto N 5th Street then, when you're ready to move on, follow N 7th Street back to the Interstate.
From Richmond, you'll follow I-64 W/I-95 N. Where the two Interstates divide at the edge of the city, take the I-95. You'll follow this road north all the way to Washington DC, passing Fredericksburg along the way.
As you approach DC, follow the lane onto I-395, which will take you across George Mason Memorial Bridge. Immediately after crossing the Potomac River, join US Route 1 and then 14th Street West, which will guide you right into the center of the nation's capital.
Best places to stop between Raleigh and Washington DC
Although you could technically make this drive in a day, you can hardly call that a road trip. We'd recommend at least one overnight stop as you make your way north - take a look at these options to get you started in planning your adventure.
Rest your legs in Luray
After completing your drive along the Blue Ridge Parkway and through Shenandoah National Park, you'll almost certainly be ready for a good night's sleep before you continue on towards Washington DC.
Located just after you leave Skyline Drive, Luray is the ideal place to base yourself for the night. It's only 2 hours away from Washington DC on the Blue Ridge Parkway Route, but a stay here means you don't have to rush if you're spending time hiking in the national park.
You're likely to be ready for some luxury after a hard day's hiking, so why not head to the incredible Hotel Laurance? This 5-star hotel boasts stylish, designer rooms and a terrace with beautiful views. The hotel is also located close to some of the most beautiful hiking trails in Luray.
Luray itself is a charming town, known for the Luray Caverns which are located nearby the hotel. Well worth a visit, these 99-acre caverns were discovered in 1878 and are protected as a National Landmark.
You might also like to head to the quaint Car & Carriage Caravan Museum, which offers displays of historic cars and carriage caravans. You'll be transported back in time during your visit!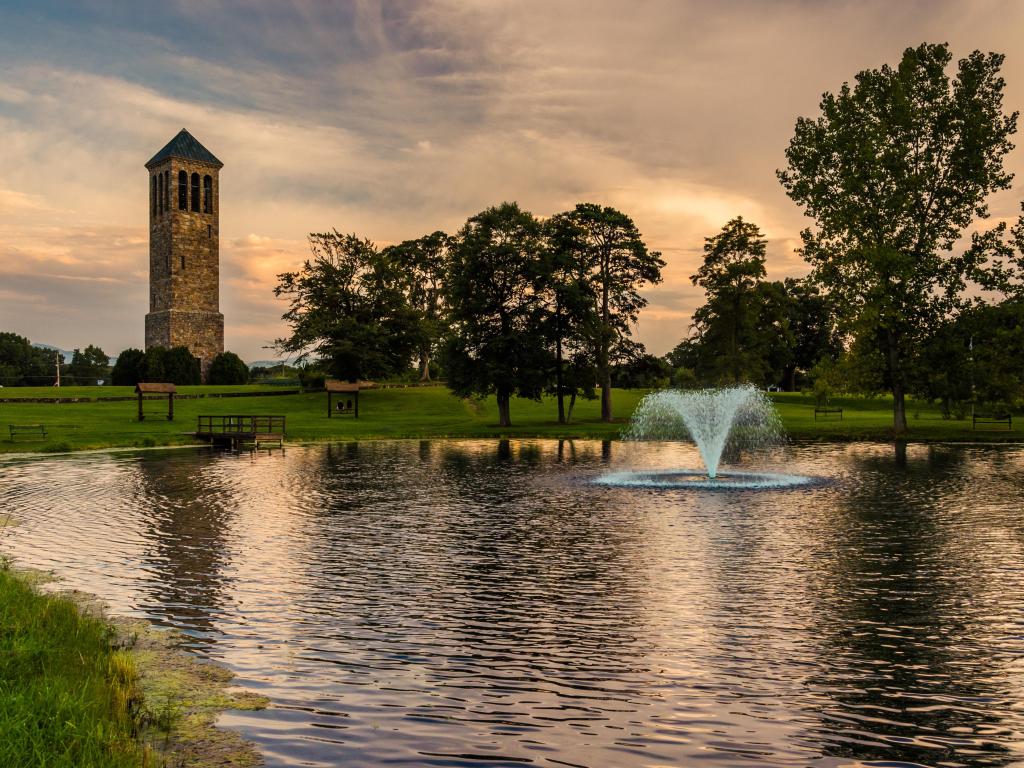 Immerse yourself in history in Richmond
Around 3 hours north of Raleigh, Richmond marks the halfway point for your trip along the Faster Route, making it the obvious choice for an overnight stop. Known as a city of culture, nature and food, Richmond is a bustling city with many attractions.
The first stop while you are in town is like to be the State Capitol, right in the heart of Richmond. Then you can check out the impressive collections at the Virginia Museum of Fine Arts, which is one of the city's most popular attractions, or take a tour of Hollywood Cemetery.
For a central location that's handy for your driving route as well as the attractions in town, Embassy Suites by Hilton Richmond features stunning suites and is a great option for your stay.
For some relaxation, once you've checked in, head to Maymont, a spectacular mansion where you can watch otters play by the river, pet a goat or simply take a stroll in the stunning gardens.
After exploring the city at your leisure, you can head to the hotel, which boasts an upscale restaurant serving American cuisine and free breakfast, which you can enjoy before setting off. The Science Museum of Virginia is also located nearby to explore before you leave the city.
Where to stay when you reach Washington DC
The nation's capital has so many museums, monuments and attractions to explore that it's definitely worth spending a few days here if you have the chance.
While you're in town, one of our top recommendations is the Viceroy Washington DC. This beautiful 5-star hotel is located in the heart of Washington DC and is competitively priced.
It's also only a short walk from the famous Logan Circle and only a couple of hundred meters away from the White House.
You'll almost certainly be doing a lot of walking while you're in town, but with a fabulous rooftop pool and a bar with a view to enjoy your favorite cocktails, you'll be able to recharge your batteries in style at the end of a busy day.
Things to see on a road trip from Raleigh to Washington DC
There's a huge amount to see and do on this road trip, so pack your hiking boots and bathing suit and read on to decide where you'll stop along the route.
Blue Ridge Parkway Route
Durham, North Carolina - Famously known as the "City of Medicine", Durham is home to Duke University (which has a Lemur Center) and its famed basketball team as well as the Nasher Museum of Art.
Stagville State Historic Site - North Carolina's largest antebellum plantation is a great way to immerse yourself to learn and understand the history of the South, with tours of original slave dwellings.
Lynchburg, Virginia - A charming college town, you can visit the Amazement Square, Blackwater Creek Natural Area and Legacy Museum of African American History in Lynchburg.
Dinosaur Kingdom II - This quirky roadside attraction features giant-sized dinosaurs. Guests of all ages will have fun here as they explore the dinosaur replicas.
White Rock Falls, Virginia - You will be wowed as you take the incredibly scenic walk to White Rock Falls, at the northern end of the Blue Ridge Parkway section that you'll travel along this route.
Charlottesville - Home to the beloved University of Virginia founded by Thomas Jefferson, Charlottesville is a quaint college town brimming with history.
Monticello - Take a short detour from Charlottesville to visit President Jefferson's private residence, where you can take a tour to learn about Jefferson's life, his historic estate, and the lives of the slaves who worked his land.
Shenandoah National Park - This amazing park features over 200,000 acres of protected land. You can bike, hike, horseback ride, fish and birdwatch in this natural wonder. You will need an Old Rag Day-Use Ticket if you are planning to visit the Old Rag Mountain. Please check the national park's website for details.
Woodstock Tower - Get your camera and boots ready as you prepare to climb up this gorgeous scenic point to snap an award-winning shot of the Shenandoah National Park.
Skyline Caverns - Take a cavern tour with a knowledgeable guide in this natural wonder, which is also the closest to the nation's capital.
Luray, Virginia - Known for its Luray Caverns, this town features many scenic hikes. You can also visit the Car and Carriage Caravan Museum to be teleported back in time.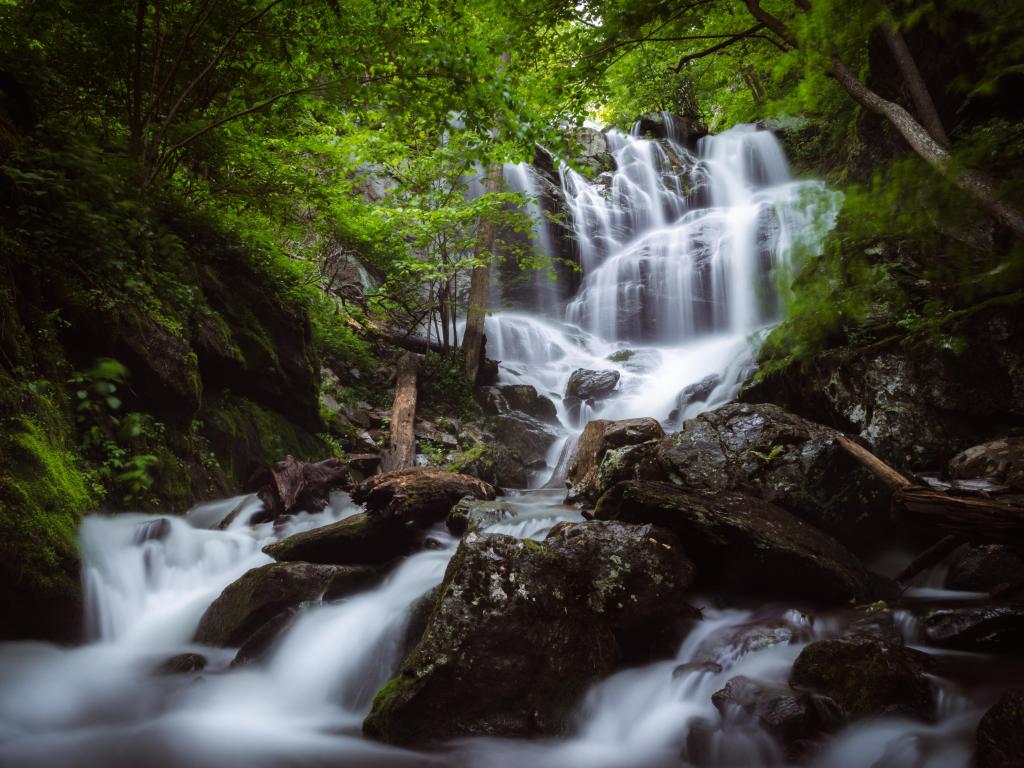 Faster Route
Roanoke Rapids, North Carolina - Just past the starting point of your trip, this entire city is loaded with historical sites and a museum.
Rocky Mount, Virginia - Known for its colorful musical heritage, local shops and eateries, Rocky Mount was founded in 1786. It is a fantastic place to experience the "small town feel" as you head north towards Washington DC.
American Civil War Museum - This multi-site museum in Richmond offers a great historical perspective.
Lewis Ginter Botanical Gardens - For all ages and visitors, this 50-acre site in Richmond has food and shopping options as well as beautiful landscaping which offers a relaxing escape from the city.
Norfolk, Virginia - This fascinating riverside city in Virginia is home to Chrysler Hall, Chrysler Museum of Art, Virginia Opera, Virginia Symphony and the Virginia Arts Festival.
Chatham Manor - A historical site, near Fredericksburg, of a slave rebellion and a previous civil war headquarters.
Virginia Beach, Virginia - Virginia Beach is a coastal city known for its maritime history and family-friendly attractions such as the Virginia Beach Boardwalk, ViBe Creative District and Military Aviation Museum.
Shirley Plantation, Virginia - Virginia's first plantation is still an operating farm. It offers visitors a peek into the America of the seventeenth century.
Hollywood Cemetery - Located in Richmond, Virginia, this is the final resting place of many historical figures including American presidents James Monroe and John Tyler. Guided tours are available from Richmond.
Fredericksburg, Virginia - Take a trolley tour of this pretty city as you learn its history. You can also visit George Washington's Ferry Farm and the Historic Civil War Battlefields in the area.
George Washington's Mount Vernon - One of America's most visited historic sites, George Washington's home still contains original pieces and belongings of the historic President of the United States.
George Washington's Distillery & Gristmill - This fully functioning reconstruction of George Washington's distillery is actually one of America's largest whiskey distilleries.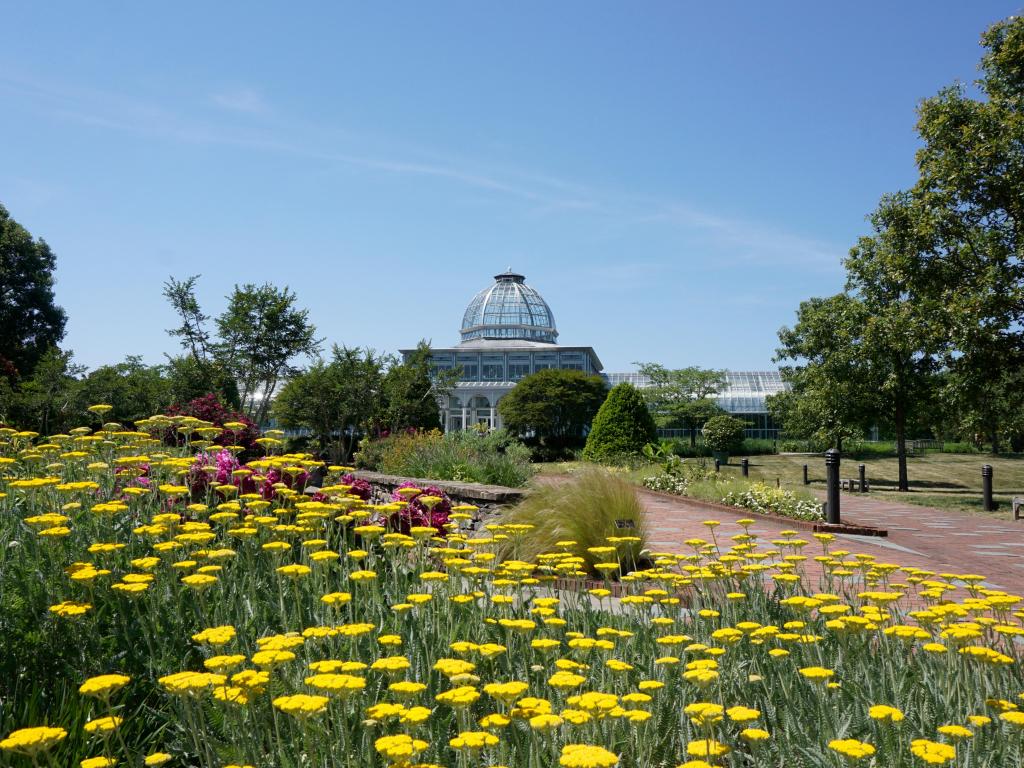 Best time to go on a road trip from Raleigh to Washington DC
The best times to make this road trip to visit Washington DC are in the fall from September to November, and in the spring from March to May. This works well on the other parts of the route as well as you won't have to worry about attractions being too crowded.
If you travel in spring, you can catch the National Cherry Blossom Festival which runs from late March to mid-April. Take a walk around the Tidal Basin to see the trees in full bloom but remember, it can be notoriously tricky to predict exactly when the blossoms will be at their finest.
In the fall, temperatures are as high as the mid-60s Fahrenheit through to October. We'd recommend taking the Blue Ridge Parkway Route if you're traveling at this time of year.
You probably won't want to go swimming in the ocean in October, so head to the hills to see the fabulous fall colors emerging. In contrast, the winter is cold in Washington DC, with temperatures around 40 degrees Fahrenheit and an average of 15 inches of snow.
If you're traveling in winter, you might find sections of the Blue Ridge Parkway Route closed due to snow and ice on the road, so we wouldn't recommend taking the route at this time of year. You'll still be able to hike the trails if there's snow on the ground if you're experienced.
It's not the best weather for sightseeing outdoors, but if you do travel at this time of year, you'll still be able to see a fair bit as a lot of attractions, such as the Smithsonian Museums, are indoors.
The summer can feel hot and humid, with temperatures in the high 80s Fahrenheit. It also gets very busy, as Washington DC houses some of the most famous landmarks and attractions of the nation including the White House.
If you do travel at this time of year though, you'll have the chance to catch DC Jazz Fest or the Smithsonian Folklife Festival, which both run during the summer.