Road Trip from San Antonio to Austin
Uncover the hidden gems of Texas as you journey from San Antonio to the dazzling cityscape of Austin. This road trip invites you to explore mesmerizing landscapes, delve into rich histories, and enjoy unique local flavors – it's truly a Texas-sized adventure packed with delight at every turn!
The 120-mile road trip from San Antonio to Austin will take 2 hours and 30 minutes to drive. Notable sights on the way include Canyon Lake, Medina Lake, New Braunfels, Lakehills, Kerrville, Comfort, Fredericksburg and Pedernales Falls State Park.
Read on to find out about what awaits you on this scenic Texas road trip from San Antonio to Austin, including the best route options, unforgettable things to see, hidden gem of places to stay and the ultimate time to set off.
How far is Austin from San Antonio, and how long will the road trip take?
Comparison of road trip route options between San Antonio and Austin

| Route | Distance | Driving Time |
| --- | --- | --- |
| Canyon Lake Route | 120 miles | 2 hours 30 minutes |
| Fredericksburg Route | 210miles | 4 hours |
If you choose to follow the more direct Canyon Lake Route on a road trip from San Antonio to Austin, you can expect this journey to take around 2 hours and 30 minutes, covering a delightful 120 miles.
The alternative Fredericksburg Route is a scenic journey that spans approximately 210 miles and typically takes about 4 hours to drive, assuming regular traffic conditions.
Regardless of which route you decide to take, we recommend allowing at least two days to make the most of the attractions and scenery along the way.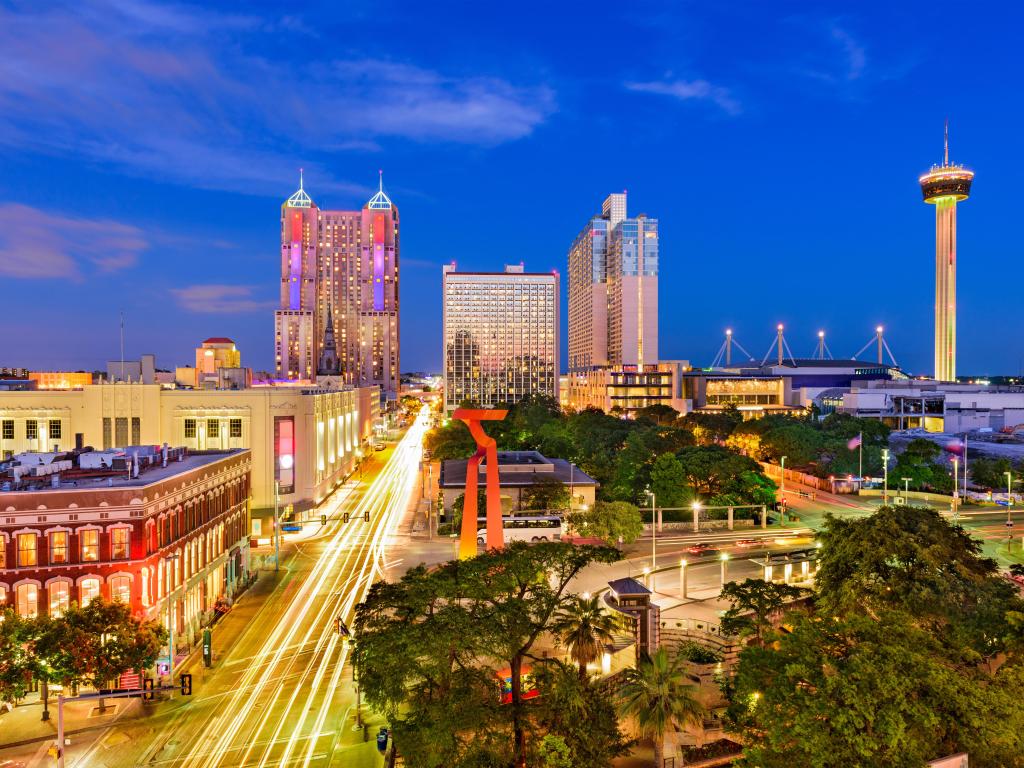 Best road trip route from San Antonio to Austin
The best route from San Antonio to Austin truly depends on your personal preferences; you could embark on a lakeside adventure packed with beautiful water vistas, or journey through charming small towns and rich historical sites, immersed in Texas' vibrant hill country.
If you yearn for a captivating road trip where the appeal of lakeside scenery and outdoor pursuits are a highlight, the Canyon Lake Route will definitely resonate with you.
This journey weaves its way past the sparkling waters of Canyon Lake, beckoning you to indulge in some water-based activities or simply enjoy a lakeside picnic. If you'd like to learn more about other lakes you can visit near San Antonio, check our comprehensive guide out.
The Fredericksburg Route features a blend of history, culture, and picturesque landscapes. This journey takes you through quaint towns like Comfort and Kerrville, both teeming with history and brimming with Texas charm.
Your arrival in Fredericksburg lets you dive into Texas' German heritage, and offers local wineries for an added treat on this route.
How to drive from San Antonio to Austin
The map above shows our suggestions for the best road trip routes between San Antonio and Austin. Keep reading for detailed descriptions of both routes, where to stay on either, and the best things to do on the way.
The Canyon Lake Route
Begin your journey out of San Antonio on Interstate 35 (I-35), and soon you'll reach New Braunfels, home to the Historic Railroad and Modelers Society.
From New Braunfels head towards the stunning natural beauty of Canyon Lake. This sparkling, clear reservoir is ideal for water activities such as fishing, boating, and even scuba diving.
Don't forget to take a break at Overlook Park for a breathtaking view of the lake.
Once you have soaked in the tranquillity of Canyon Lake, get back on FM 306 and then continue north on US-281. This will guide you towards the vibrant city of Austin, the "Live Music Capital of the World".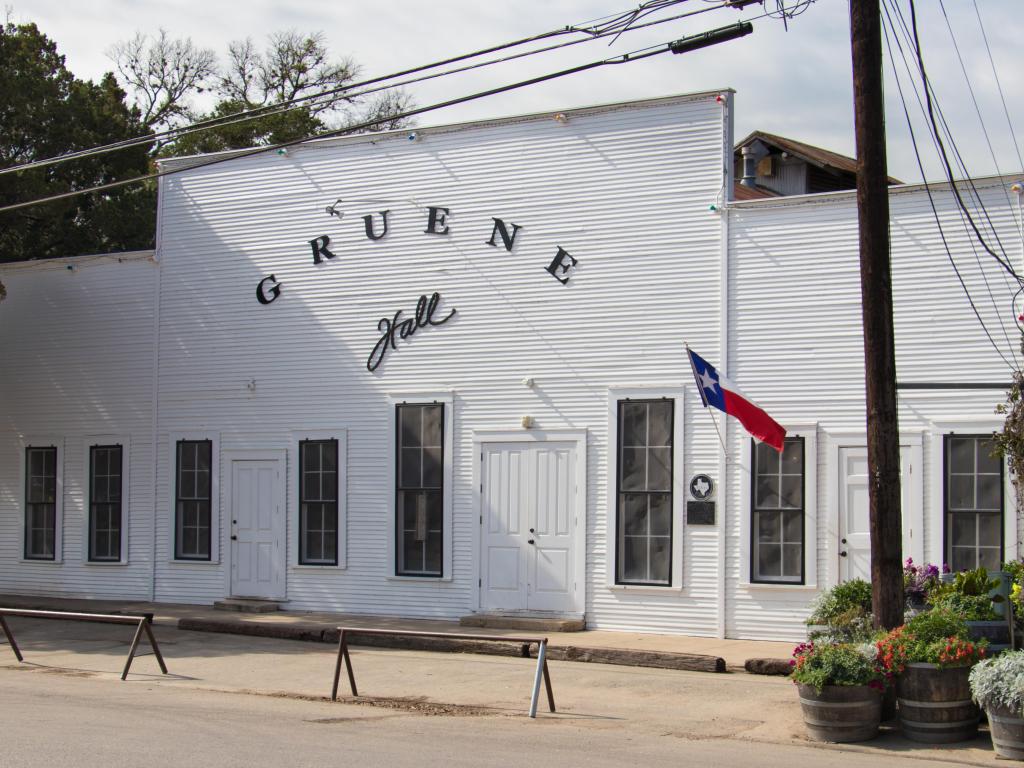 Fredericksburg Route
Head out of San Antonio on US-90 and keep heading towards Lakehills. This charming community perched on the southern shores of Medina Lake, a man-made reservoir, is an idyllic spot for watersports and picnics.
Your next stop will be the quaint town of Comfort. Here you can take a leisurely stroll through the town's historic district, which boasts well-preserved 19th-century German pioneer buildings.
Progressing northwest along I-10, you'll arrive at Kerrville, the heart of Texas Hill Country. The Guadalupe River runs through this scenic town, inviting you to enjoy river-oriented activities.
Heading northeast, you'll soon find yourself in the vibrant city of Fredericksburg. This city is known for its German heritage, wineries, and the National Museum of the Pacific War.
Finally, travel on US-290 East, a path that leads you right into the heart of Austin, the Texas state capital.
Best places to stop between San Antonio and Austin
To ensure your voyage from San Antonio to Austin is unforgettable, we've hand-picked our preferred stopover spots along both the Canyon Lake and Fredericksburg routes.
We've also highlighted some of the top activities to savor in these locations. So, sit back, relax, and explore the best pitstops between these two vibrant Texan cities.
Admire the crystal-clear waters of Canyon Lake
Canyon Lake is a perfect place to take a break on the Canyon Lake Route from San Antonio to Austin, located about an hour into the drive. The lake's crystal-clear turquoise waters surrounded by beautiful hills will make you fall in love with this Texas treasure.
The star of this route is the magnificent Canyon Lake itself - a reservoir that's often referred to as the "Water Recreation Capital of Texas". Here, you can dive into a plethora of water activities such as boating, fishing, or simply basking in the sun on the shoreline.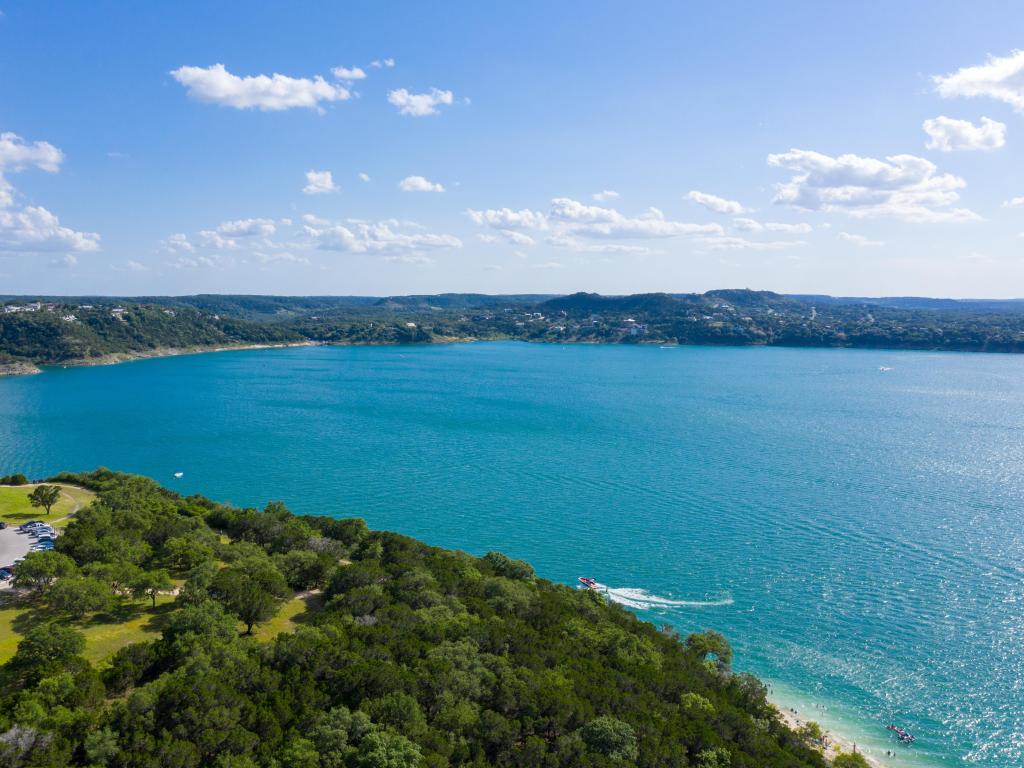 Another major highlight is the Guadalupe River, renowned for its stunning scenic beauty and recreational opportunities. Float down the river on a tube, kayak, or canoe, and let the serene beauty of the surrounding landscapes wash over you. It's a great way to unwind, enjoying the natural allure of the area.
For nature enthusiasts, the Canyon Lake Gorge offers a unique look into the area's geological history. A guided tour will lead you through stunning water-carved canyon features and fossils dating back to when dinosaurs roamed the land.
While visiting Canyon Lake, we suggest staying at the fabulous Canyon Lakeview Resort. This beautiful resort is located a short distance from the shores of Canyon Lake and features a gorgeous terrace, water sports facilities, and a private beach area.
Schlitterbahn Waterpark Resort and Comal Park are both short drives from the property if you are looking to explore the area. We recommend heading back for dinner though, as the resort has a fantastic barbecue area to enjoy!
A "Comfort"able stay in the heart of Texas wine country
Steeped in history and nestled amidst beautiful Texan landscapes, Comfort is an exceptional stopover on the Fredericksburg Route from San Antonio to Austin, located about 1 hour and 30 minutes from your starting point.
Recognized for its distinctive historic district, Comfort is home to one of the most well-preserved concentrations of old frontier-style buildings in Texas. Walking through the streets of downtown Comfort feels like stepping back in time, with the well-preserved structures telling tales of the past.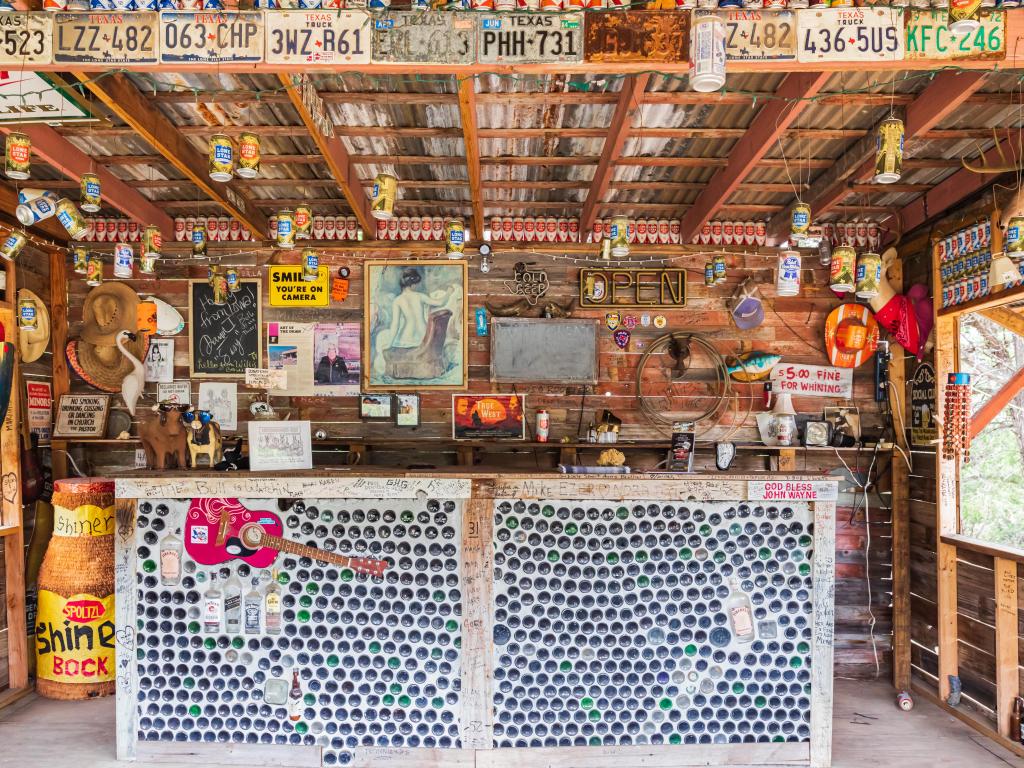 Nature lovers will appreciate the outdoor opportunities in and around Comfort. The city sits near the Guadalupe River, offering great fishing, boating, and picnicking spots. For hiking and birdwatching, the Hill Country State Natural Area is not far away, showcasing the rugged beauty of the Texan landscapes.
The Comfort Community Park and Buckhorn Golf Course are other places to soak in the area's natural beauty while enjoying outdoor activities. Whether you're up for a leisurely walk in the park or a challenging game of golf, Comfort has you covered.
It is hard to beat the beautiful and rustic Meyer Inn when it comes to lodging in Comfort. This beautiful inn is nestled in a beautifully wooded area and features a pretty garden and a fabulous outdoor swimming pool in addition to beautiful scenery.
Comfort boasts a growing wine scene, and you will be a short distance from Rancho Ponte Vineyard during your stay at Meyer Inn.
Where to stay when you reach Austin
Known as the Live Music Capital of the World, Austin, Texas, is a vibrant city with a booming arts and music scene. In addition, the city's street art, like the famous 'Greetings from Austin' mural, and numerous art galleries contribute to the city's dynamic artistic atmosphere.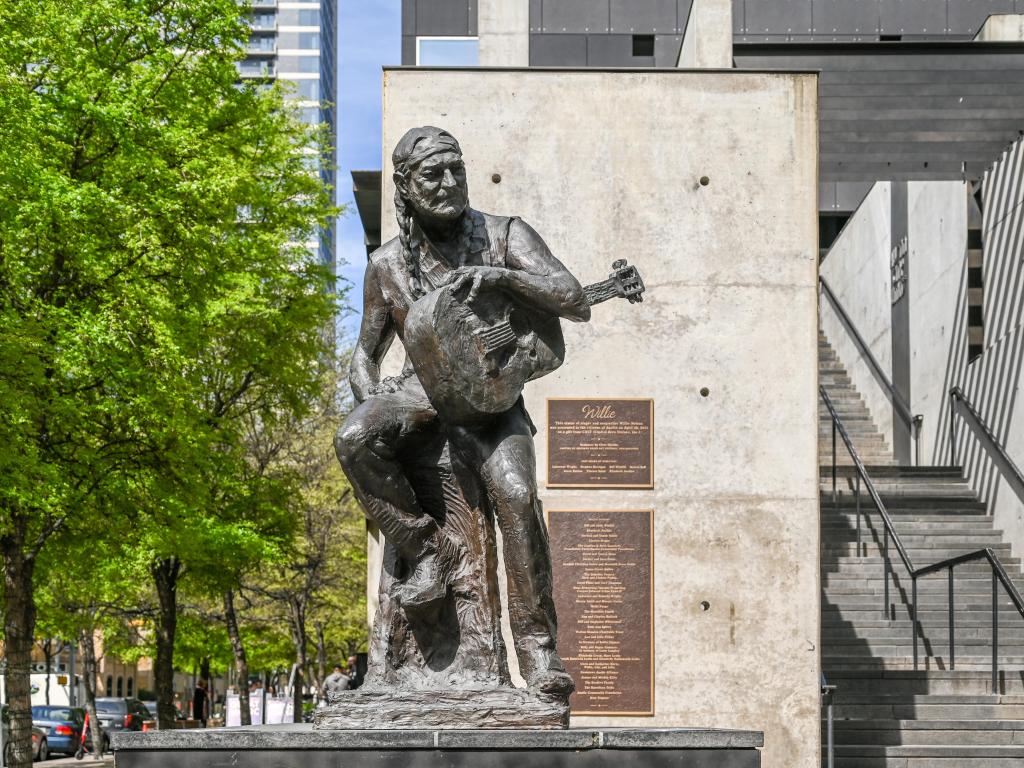 The vibrant city is also home to numerous parks and outdoor spaces, with Lady Bird Lake and Zilker Metropolitan Park being among the local favorites.
If you want to have a unique Austin experience, then we recommend staying at the modern ARRIVE Austin, located a stone's throw from Festival and Shoal Beaches. This stylish hotel features an upscale restaurant and a bar to grab your favorite cocktails at.
Things to see on a road trip from San Antonio to Austin
To help you in weaving your own tale of this adventure, we've curated a list of remarkable sights to behold along both routes. Read on to learn about some of the most amazing things to see en route.
The Canyon Lake Route
New Braunfels Railroad Museum, New Braunfels - This museum showcases the rich history of rail transport in Texas. With a collection of intricate model trains, it's a wonderful place to learn about the importance of the railroad in shaping American history.
Comal River, New Braunfels - Enjoy a leisurely tube ride down the Comal River, one of the shortest navigable waterways in the United States. Its crystal-clear waters and beautiful surroundings make for a serene and relaxing afternoon.
Gruene Hall, New Braunfels - As Texas' oldest continually operating dance hall, Gruene Hall in New Braunfels offers a true taste of Texas culture. Known for its live music, this historic venue also hosts some of the biggest names in the Americana music scene.
Natural Bridge Wildlife Ranch - This African-style safari park is home to over 40 species of wildlife from around the world. Visitors can drive through the park and view animals in their open habitats.
Canyon Park - This scenic park, located on the northern shore of Canyon Lake, provides outdoor recreational activities like swimming, fishing, and boating. It's also a great spot for camping.
Canyon Lake - This stunning reservoir offers clear waters perfect for fishing, boating, and even scuba diving. Its surrounding trails and beautiful landscape make it a nature lover's paradise. Also, make sure you visit Canyon Lake Gorge while you're here. A natural beauty carved out by floodwaters, the Gorge allows visitors to literally walk through the region's geologic past. You can see marine fossils, dinosaur tracks, and stunning waterfalls on a guided tour.
Overlook Park - Located on Canyon Lake, Overlook Park offers some of the most stunning views of the reservoir. It's a perfect spot for a picnic or simply to watch the sunset over the water.
Guadalupe River State Park - This park provides an opportunity for activities like hiking, horseback riding, and river recreation. Its lush surroundings and abundant wildlife are a pleasure to explore.
San Marcos River - This is one of the jewels of San Marcos. The clear, spring-fed river maintains a constant temperature of about 72 degrees year-round, making it a popular spot for tubing, swimming, and paddleboarding.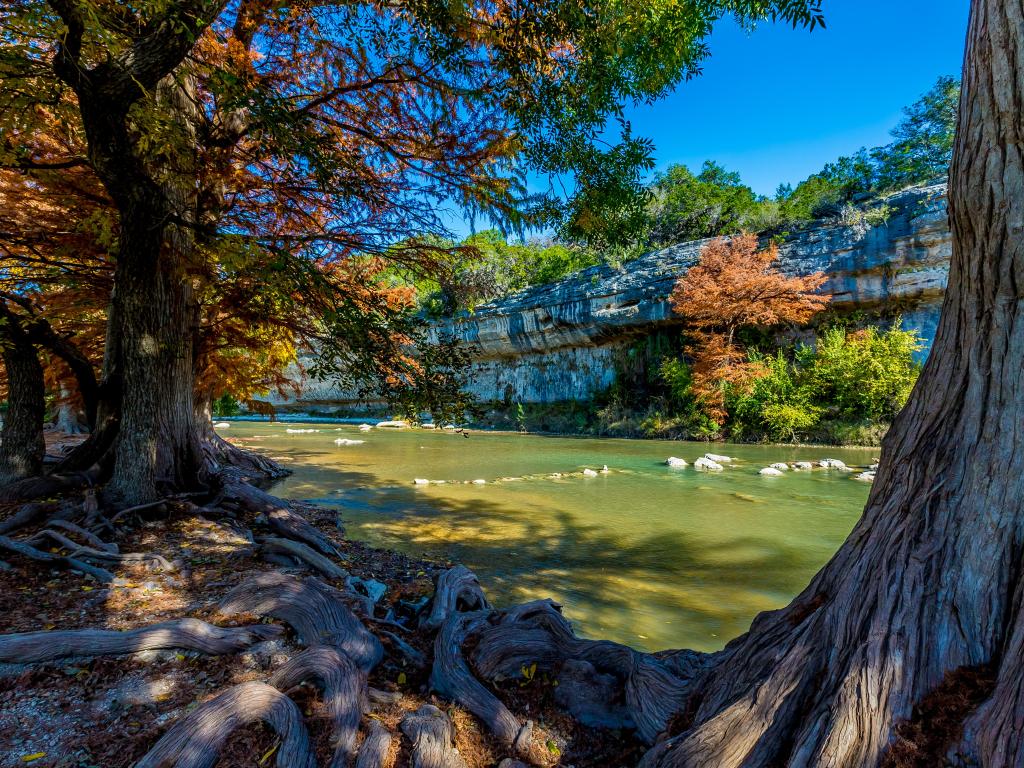 Fredericksburg Route
Medina Lake, Lakehills - A man-made reservoir created in 1913, Medina Lake offers a refreshing spot for outdoor enthusiasts, perfect for fishing, boating, and camping. Bird watchers will also love spotting native Texas birds in the surrounding parkland.
Historic District, Comfort - A stroll through the Comfort Historic District reveals beautiful examples of 19th-century German architecture. Here, buildings like the Ingenhuett-Faust Hotel and Comfort State Bank exhibit the town's rich architectural heritage.
Treue Der Union Monument, Comfort - This monument, located in Comfort, is a poignant tribute to Union loyalists who were killed during the Civil War. It is the only monument to the Union outside of national cemeteries and is listed on the National Register of Historic Places.
River Trail, Kerrville - This trail offers a peaceful, scenic walk along the Guadalupe River, providing visitors with beautiful views of the river and local wildlife. It's a great place to bike, jog, or take a leisurely stroll.
Museum of Western Art, Kerrville - This museum is dedicated to the appreciation and preservation of Western art and heritage. Its diverse collection highlights the historical and contemporary culture of the American West.
Main Street, Fredericksburg - An iconic thoroughfare lined with more than 150 shops, boutiques, and art galleries. This historic district offers visitors a unique shopping experience, all within a traditional German Texan town setting.
National Museum of the Pacific War, Fredericksburg - This museum is the only one in the continental U.S. dedicated exclusively to the Pacific Theater of World War II. With interactive exhibits, the museum offers a comprehensive understanding of the Pacific War's history.
Wildseed Farms in Fredericksburg - The largest working wildflower farm in the country, it's a spectacle when in bloom. Visitors can explore the fields, purchase seeds to take home, and enjoy the butterfly garden.
Lyndon B. Johnson State Park & Historic Site, Stonewall - The park offers an insight into the lives of President Lyndon B. Johnson and his wife, Lady Bird Johnson. It includes the LBJ Ranch, also known as the "Texas White House," and the Sauer-Beckmann Farmstead.
Luckenbach, Texas - A small community with a rich history, it's known for its iconic country music scene. With its rustic dance hall and general store, it gives visitors a taste of authentic Texan country life.
Pedernales Falls State Park - This beautiful state park is known for its cascading waterfalls, limestone canyons, and scenic views. It offers ample opportunities for hiking, bird-watching, and camping.
Best time to go on a road trip from San Antonio to Austin
A road trip from San Antonio to Austin can be undertaken all year round, with each season offering its own unique charm. However, the best time to embark on this journey depends on your personal preferences.
In spring, Austin comes alive with beautiful wildflowers, including Texas's famous bluebonnets, painting the city and surrounding countryside. You can expect the temperature to be between 73 and 85 degrees Fahrenheit.
The weather is mild and perfect for outdoor activities such as hiking, biking, or simply exploring the city's parks and green spaces. This season also hosts the renowned South by Southwest (SXSW) festival, a massive convergence of interactive, film, and music festivals.
Fall is another great time to travel with more comfortable temperatures, similar to spring, between 71 and 88 degrees Fahrenheit. The fall foliage in the Texas Hill Country can be quite spectacular.
This is a great time for visiting the city's attractions or enjoying Austin City Limits in October, a prominent annual music festival that attracts top-tier performers and fans from all over the world.
Austin in summer is quite hot, with temperatures frequently rising above 90 degrees. Despite the heat, it's a vibrant time in the city with numerous events such as the Austin Pride Parade in August.
The warm weather is perfect for water-based activities like paddleboarding on Lady Bird Lake or swimming in the natural spring-fed Barton Springs Pool. However, be prepared for the heat and stay hydrated.
Winter in Austin is relatively mild compared to many parts of the US, with average highs hovering around 60 degrees and lows rarely dropping below 40 degrees Fahrenheit. This season sees fewer tourists, offering a quieter, more relaxed experience.
It's also a great time to explore Austin's indoor attractions such as its renowned live music venues, museums, and restaurants. The city lights up for the holiday season with events like the Austin Trail of Lights in Zilker Park, one of the largest holiday light displays in the US.