Road Trip from San Antonio to New Orleans
Discover the southern states of Texas and Louisiana on this road trip, which takes you from San Antonio to New Orleans. This is a versatile road trip that will allow you to choose whether to discover some of the South's most visited cities or get in touch with nature.
The 590-mile road trip from San Antonio to New Orleans will take 9 hours to drive. En route, you can visit Austin, Houston, Beaumont, McKinney Falls State Park, Lake Livingston, Holly Beach and the national forests of Sam Houston, Angelina and Sabine.
We have put this guide together to help make your plan a little easier. A complete route guide, our top recommendations for where to stay, amazing things to see en route and the best time to visit can be found below.
How far is New Orleans from San Antonio, and how long will the road trip take?
Comparison of road trip routes between San Antonio and New Orleans

| Route | Distance | Driving Time |
| --- | --- | --- |
| The City Route | 590 miles | 9 hours |
| The Forest Route | 710 miles | 11 hours 30 minutes |
At 590 miles and a 9-hour driving time, The City Route is the most direct way to get to New Orleans. This does not take any detours or stops you will want to take into account.
At 710 miles and 11 hours and 30 minutes, The Forest Route winds through the beautiful national forest that can be found across Texas and Louisiana for a different kind of road trip experience.
We estimate that you will need a minimum of 4 days to complete this road trip, giving you ample opportunity to enjoy many stops and experiences along the way.
Best road trip route from San Antonio to New Orleans
There are two excellent and unique routes that will get you from San Antonio to New Orleans. Going via the cities will get you there in the quickest time but will miss all of the beautiful national forests available on The Forest Route.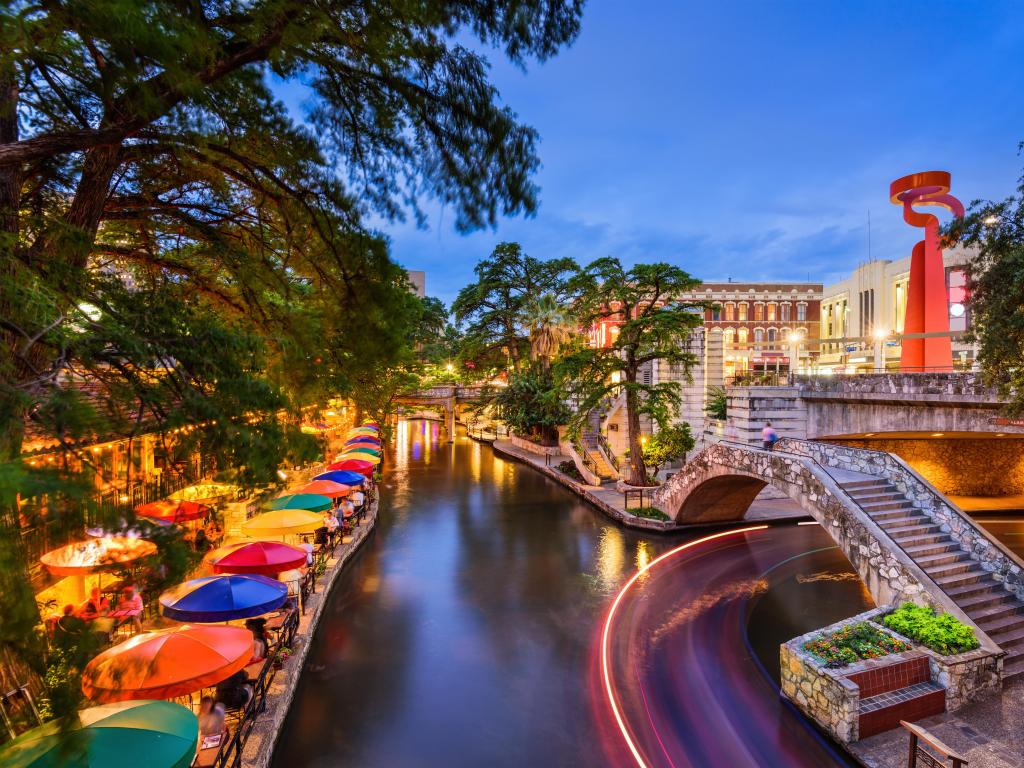 Our City Route is faster and more direct and takes you through most of Texas' major cities (with the exception of Dallas), including Austin, Beaumont, and Houston.
You can explore the Gulf of Mexico in Houston and discover major Louisiana cities including Lafayette and Baton Rouge. It's a great way to get acquainted with these two southern states but comes with a drawback of missing the many beautiful forests within these states.
The Forest Route invites you to discover the states of Texas and Louisiana through its many stunning natural forests, including Sam Houston, Angelina and Sabine.
You can easily add Houston and Lafayette to this route, as the only city you'll be stopping through is Baton Rouge. This is a more leisurely and relaxed route compared to the City Routes, along less frequented roads.
How to drive from San Antonio to New Orleans
The map above shows our suggestions for the best road trip routes between San Antonio to New Orleans. Keep reading for detailed descriptions of both routes, where to stay on either, and the best things to do on the way.
The City Route
Head northeast out of San Antonio, following Interstate 35 (I-35) to Austin. You'll drive past farmland and Animal World and Snake Farm roadside zoo (on your left). Continue northeast on the interstate, through New Braunfels and San Marcos.
Shortly after San Marcos, you'll see the skyscraper landscape of Austin appearing before your eyes. After your visit, head out of Austin, and the landscape will remain relatively flat as you pass through Elgin and Brenham.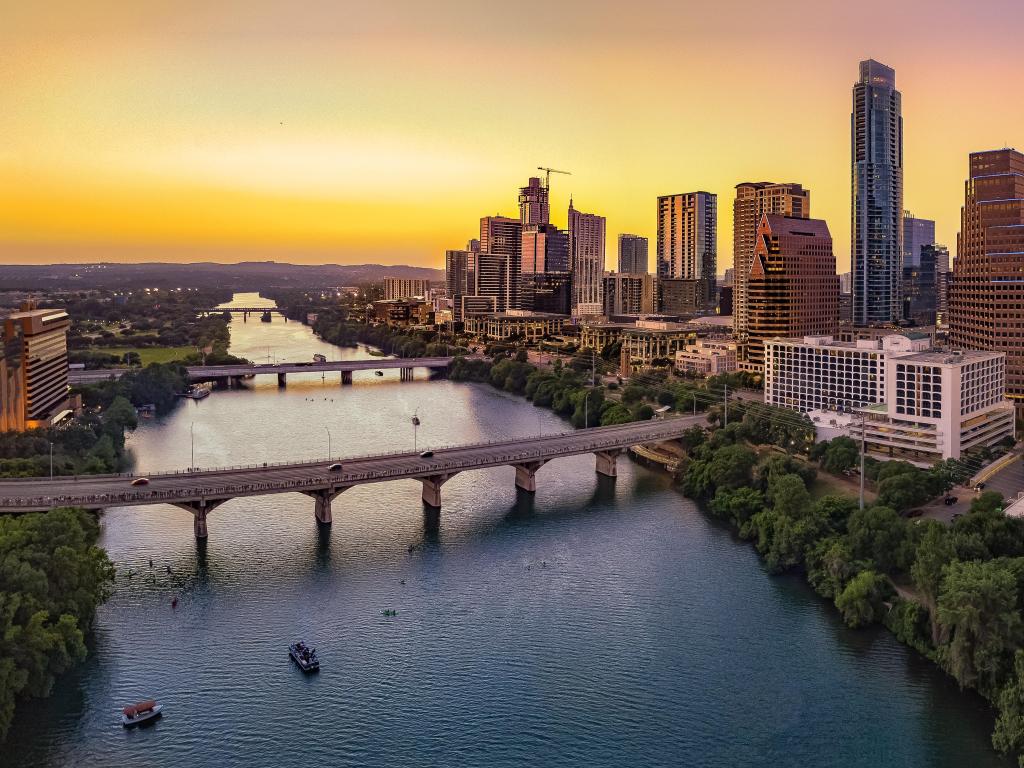 Houston is the next big city you'll arrive in. For an out-of-this-world experience, take a trip to the Space Center Houston, the Official Visitor Center of NASA Johnson Space Center.
For the last leg of your road trip, take I-10 east out of Houston, through Beaumont, Lafayette and Baton Rouge. Consider a stop at Atchafalaya National Wildlife Refuge along the way to do some hiking, fishing, hunting or wildlife observation. Stay on I-10 as it drifts southeast to New Orleans.
The Forest Route
Get on I-10 out of San Antonio, heading east to Houston. Before you reach the bustling city, you'll head north to Spring. Drive through The Woodlands and into the first forest of this trip, Sam Houston National Forest. Take some time off the road here to explore some of the 160,000 acres in this beautiful national park.
Cross over the Trinity River to Onalaska. From here, head slightly northwest to Sebastopol, then north up through Davy Crockett National Forest. When you get to Lufkin, take US-59 north to explore Angelina National Forest.
Rejoin the main route and drive east to Sabine National Forest and cross the border from Texas to Louisiana (this is actually in the middle of the Toledo Bend Reservoir).
Follow US-6 to its intersection with I-49, then head southeast on the interstate, heading to Alexandria. Leave the interstate here and take the highway to Baton Rouge. Stay on I-10 as it drifts southeast to New Orleans.
Best places to stop between San Antonio and New Orleans
A major city and a slightly smaller but still impressive city await you on each of our routes. One of our suggested overnight stops is available on both routes, so you have the option to make two stops along the way if you want to.
An urban stop at Houston
Located near the halfway point on the City Route, Houston is a major Texan city that's absolutely worth a full-days (or even a weekend's) exploration. Greater Houston happens to be the most ethnically diverse metropolitan area in the US, so it promises to give you plenty of cultural experiences.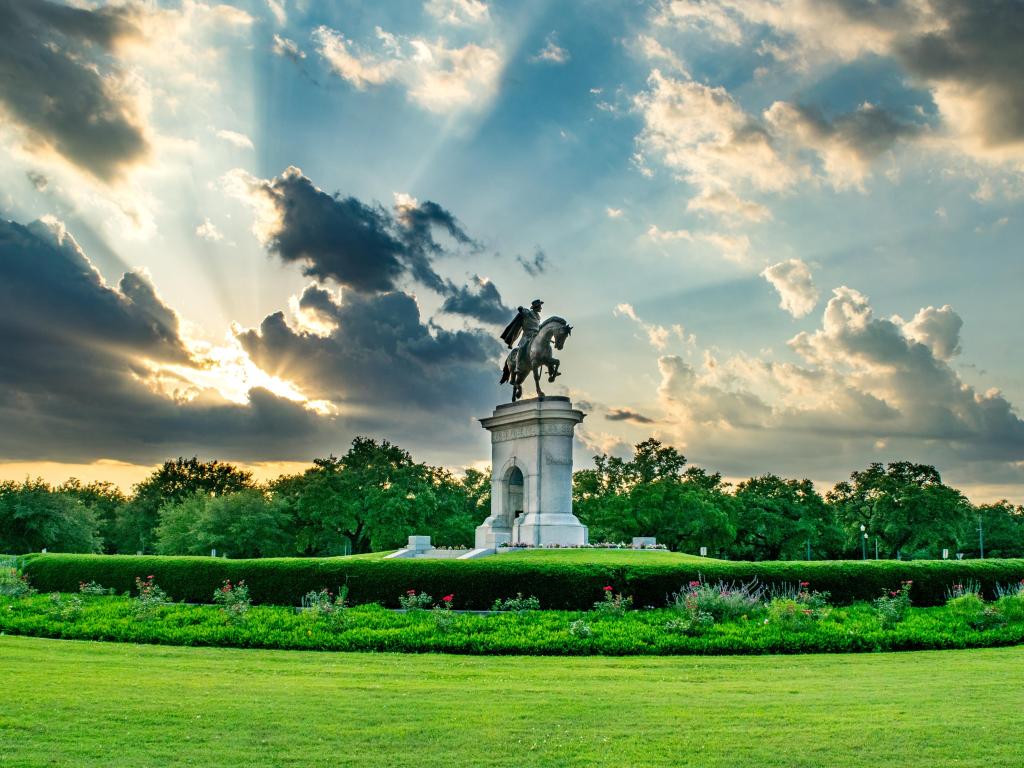 Discover one of the most-visited museums in Houston, the Museum of Natural Science boasting a rich collection of exhibits relating to the natural world.
Give your neck a break from having to look up at the stars and visit the Space Center, where you can get an up-close look at the US Space Program. Returning to Earth, you can immerse yourself in its beauty by taking a walk through the beautiful green space of Hermann Park.
The Lancaster Hotel is a highly reviewed boutique hotel. Listed as a Texas Historical Landmark and Historic Hotel of America, it's an obvious choice when it comes to hotel choices in the area.
They make the most of Houston's foodie status with its on-site restaurant, Cultivated F+B, serving curated American food and beverages. They also have an on-site coffee shop and complimentary breakfast.
Beautiful interiors give the feeling of understated and tasteful opulence, elegance and luxury. Centrally Located in the lively Theater District of Houston, close to many of this city's most interesting attractions including Eleanor Tinsley Park, the Art Car Museum, and the Byzantine Fresco Chapel Museum.
Embrace the Southern charm in Baton Rouge
About three-fourths of the way along The Forest Route is Baton Rouge, LA. This state capital is actually a great potential stopping point for both routes, located a few hours from New Orleans and boasting many unique indoor and outdoor cultural activities.
Located along the banks of the Mississippi River, Baton Rouge has an amazing southern food scene and tons of historical landmarks, dating back to the French occupation of the Southern USA.
Discover the beautiful and historic Old State Capitol Building, once the head of the State Legislature, that offers beautiful views of the Mississippi River.
If you're an artsy type, head to one of the most popular art spaces in Baton Rouge, the LSU Museum of Art. This museum boasts an impressive array of collections from household names and local artists.
After a day of driving and exploring, the outdoor pool and fitness center of the Hilton Baton Rouge Capitol Center is the ideal way to finish the day. Located in a beautiful old building, the decor inside carries through the historic elegance found throughout the city.
Centrally located, the hotel is just a quick walk from several of Baton Rouge's most interesting attractions including the Louisiana Art Science Museum, the Old State Capitol, the downtown area, Arsenal Park, Magnolia Mound Plantation, the Mississippi River, and the Anglo-American Art Museum.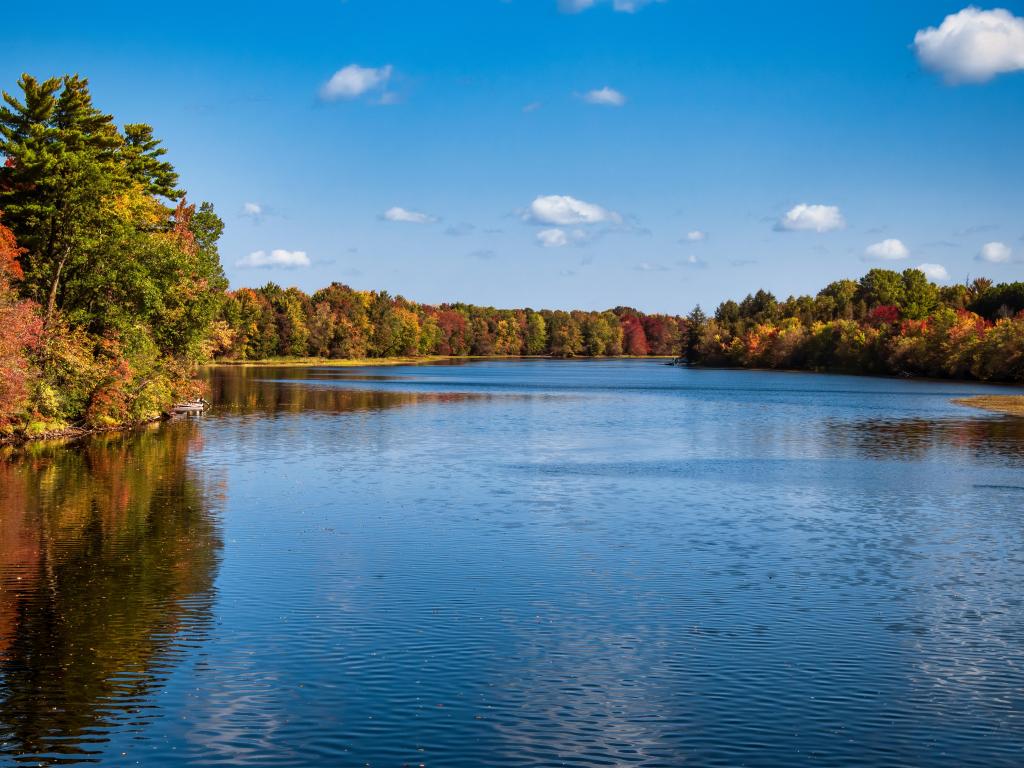 Where to stay when you reach New Orleans
With its stylish and traditional facade, the Hotel Monteleone is a stunningly beautiful French-style hotel. The chic decor wouldn't be out of place in a Parisian boutique hotel.
The heated rooftop swimming pool, full-service spa and fitness center provide plenty of opportunities for pampering and relaxing. The on-site restaurant, Criollo and Carousel Bar are sure to provide an unforgettable dining experience.
With private parking and a central location, you'll easily be able to explore the French Quarter of New Orleans. The Louisiana Wildlife Museum, the Louisiana Maritime Museum and the Vieux Carre Historic District are all close by.
Things to see on a road trip from San Antonio to New Orleans
Wildlife refuges, national parks, dinosaurs, museums and a giant watermelon are dotted along our road trip routes. You'll be hard-pushed to find another route that has such a variety of attractions along the way!
The City Route
Lockhart State Park - Take a break from your drive and discover this unique state park, offering opportunities for hiking, golfing, swimming, and more.
Southwest Museum of Clocks & Watches - If you consider yourself a watch fanatic, this museum is for you. Take your time admiring their collection of unique cuckoos and timepieces that are sure to impress.
McKinney Falls State Park - Just outside of Austin, TX, this popular park is perfect for fishing, hiking or biking and is home to a 500+-year-old cypress tree nicknamed "Old Baldy".
Blanton Museum of Art - Located in the heart of Austin, this comprehensive museum boasts works dating back to the Renaissance, as well as contemporary American and Latin American art.
LBJ Presidential Library - A large university library dedicated to President Lyndon B. Johnson, offering special exhibitions as well as artifacts and documents belonging to the former president.
The Dinosaur Park -Add a couple hours to your route and discover this unique outdoor attraction, boasting life-size dinosaur statues and a gift shop.
Tomball Museum Center - For the history buffs, this group of houses dating back to the 1800s have tons of town artifacts and vintage machinery on display.
Holly Beach - Take a dip into the Gulf of Mexico at Holly Beach, where you can find scenic lookouts and secluded beaches.
Jungle Gardens - Add about an hour to your route and discover this wonderful garden, featuring over 200 acres of flowers and trees and a Chinese garden.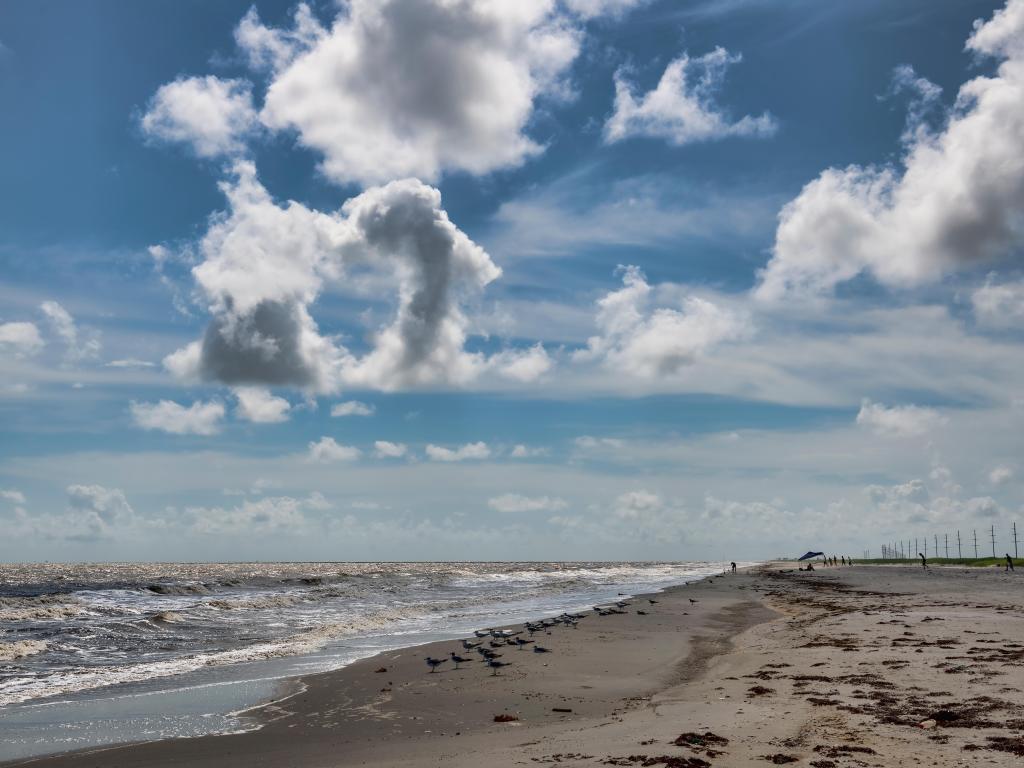 The Forest Route
Watermelon Water Tower - Hop out of the car and grab a picture with this unique water tower, painted to resemble this favorite summer fruit.
La Salle Monument - At a couple hours detour, you'll find this monument situated right along the Gulf Coast. A great spot to stop for a lunch break as well.
San Felipe de Austin State Historic Site - Visit this historic site commemorating the earliest pioneers in this area and located right along your route.
Lake Livingston - Stretch the legs and enjoy a swim in this beautiful lake; you'll also find tons of trails and benches, perfect for a bite or a light workout.
Davy Crockett National Forest - This highly rated national forest boasts an amphitheater, horse trails and tons of beautiful vistas where you can enjoy this relaxing natural world.
Gator Country LA Alligator Park - For the brave: get up-close-and-personal with a variety of alligators and crocodiles, all native to the area.
Gone Wild Safari - This petting zoo is full of exotic and unique species that you can feed and interact with! A great activity for the whole family.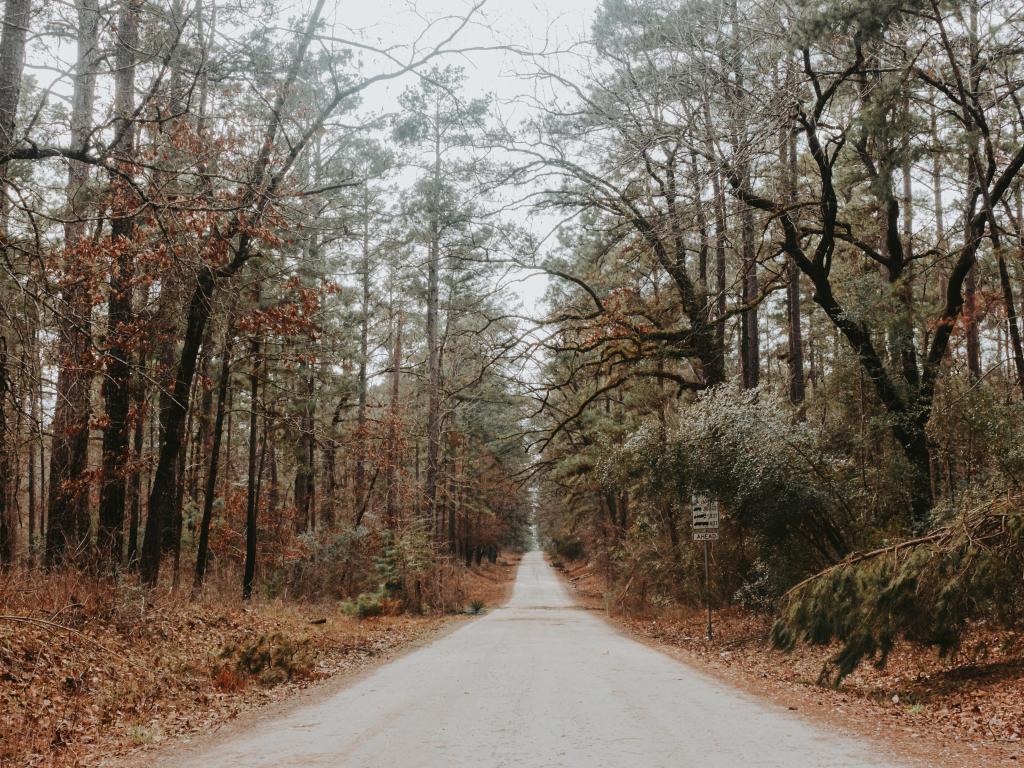 Both routes
Atchafalaya National Wildlife Refuge - Enjoy a walk through this sprawling refuge, complete with a small river where you can enjoy fishing and other watersports.
BREC's Bluebonnet Swamp Nature Center - Discover wildlife and plant houses at this large park and nature center; you'll also get to take in some unique mineral displays.
Whitney Plantation - Take a sobering tour through this former plantation and museum, offering educational guided tours and exploring the legacy of slavery in the United States.
Maurepas Swamp Wildlife Management Area - These swamplands are typical of the South and are located near the much larger Lake Maurepas, where you can enjoy fishing and camping.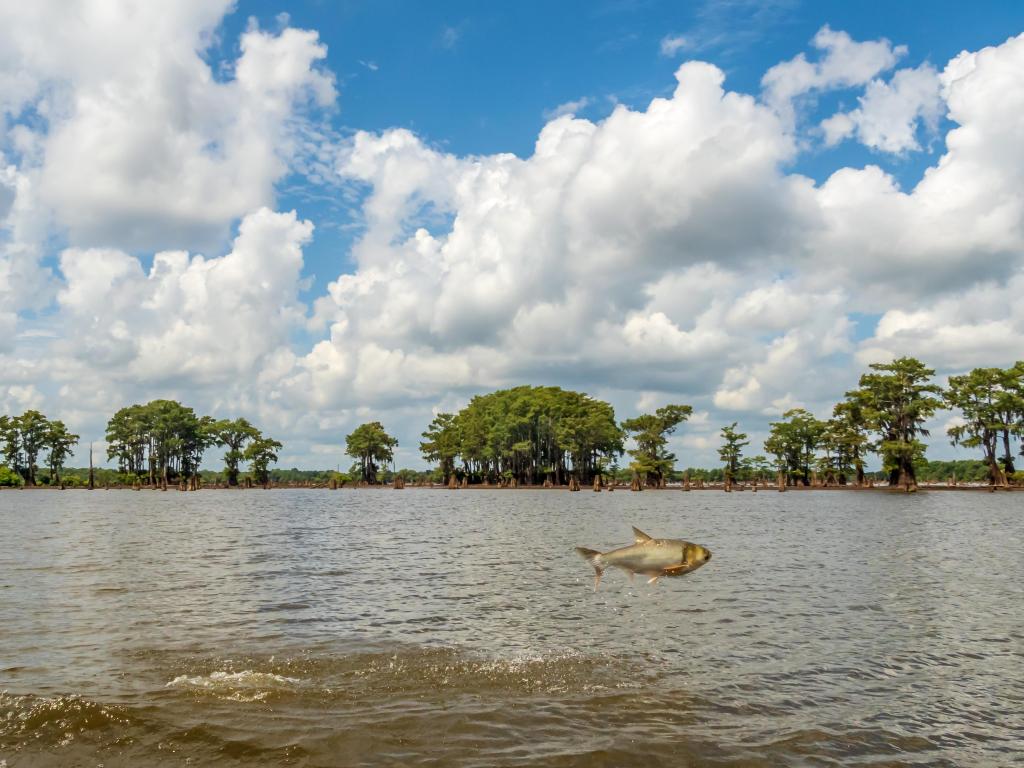 Best time to go on a road trip from San Antonio to New Orleans
Spring, fall and winter are some of the best times to visit New Orleans. The heat, humidity and threat of hurricanes make it a less hospitable place during the summer months. Spring is New Orleans' busiest tourist season as Mardi Gras falls during this time. Winter or fall are therefore better for those looking to avoid the crowds.
With temperatures ranging between 70 and 90 degrees Fahrenheit, summers tend to be hot and humid. The upside to this is that accommodation prices may be slightly lower during the summer months.
With temperatures ranging between 46 and 70 degrees Fahrenheit, winters are quite pleasant albeit a bit chilly and windy. As it is right before Mardi Gras season, accommodation prices tend to be slightly cheaper during this time as well.
Late February and early March, is Mardi Gras season in New Orleans. For those waiting to avoid the crowds, it's best to go at another time of the year. However, if you fancy getting involved in the festivities, Spring is a great time to visit.
Fall is relatively mild, with temperatures ranging between 56 and 86 degrees Fahrenheit. With more affordable accommodation options and a more relaxed vibe, fall is a great time to visit if you are looking for this type of vacation.
As well as Mardi Gras with its live jazz bands and beads, the New Orleans Film Festival and the Voodoo Music and Arts Experience in the fall, and the New Orleans Wine and Food Experience in early summer are also excellent festivals to aim for.