Road Trip From San Diego To Grand Canyon
If you're the type of person who can appreciate the understated beauty of a desert drive, a road trip from San Diego to Grand Canyon might be just up your alley. During your trip, you'll run into some truly scenic landscapes and charming desert towns.
The road trip from San Diego to Grand Canyon can be done in 8 hours and 30 minutes. On the way, you can marvel at Sedona's beautiful red rock formations and the rugged Prescott National Forest, explore the Mojave National Preserve, or drive the historic Route 66.
The desert can pack more than you might think, so be sure to read until the end to get an idea of just how great this itinerary can be.
How far is Grand Canyon from San Diego and how long will the road trip take
The road trip from San Diego to Grand Canyon covers around 550 miles, but can take anywhere between 8 hours and 30 minutes to 10 hours depending on the route. For this reason, it's advisable that you split your trip into at least 2 days, if not more.
Route
Distance
Driving Time
The Southern Route


(via I-8 E)

500 miles
7 hours 50 minutes
The Mojave Desert Route


(via I-40 E)

550 miles
7 hours 50 minutes
The slower route will have you driving along the border with Mexico then through the historic city of Prescott - from there you can segue into the beautiful Sedona, and check out Flagstaff before hitting the South Rim. Because of the curvier roads and larger concentration of populated areas, this route takes around 2 hours longer to drive.
You could drive through Phoenix and follow the interstate north all the way to Flagstaff, but then you'd have to plan all your stops around the inevitable traffic along the way – besides being the capital of Arizona and a major metropolis, Phoenix is a gateway to one of the most scenic stretches of road in this part of the States. Avoid like-minded tourists by driving through Prescott instead.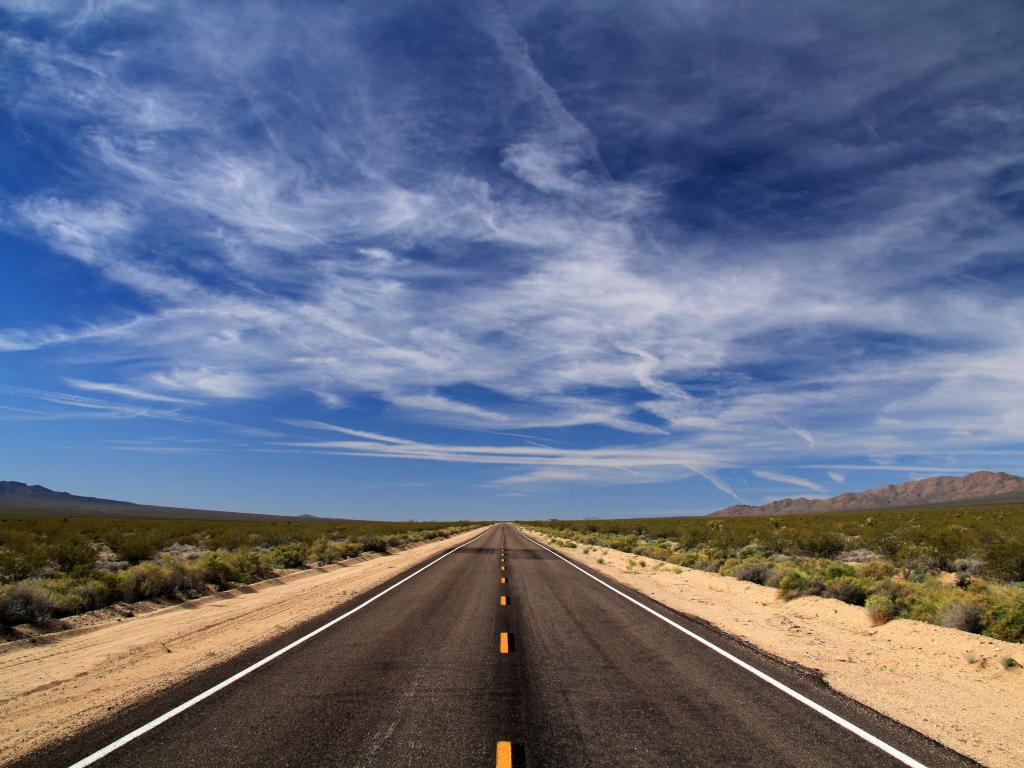 The quicker route passes through the Mojave Desert along the I-40. It can be a bit of a hard sell compared to the more scenic route, especially if you have plenty of time, but you'll be driving on the freeway most of the time, and Los Angeles and the Mojave National Preserve will give you a fair bit to look at.
Try to avoid driving this route on the weekend or during rush hour, though – on top of San Diego's traffic, you'd also have Los Angeles to think about, and getting caught up in traffic would eliminate the time advantage this route can potentially give you.
Best road trip route from San Diego to Grand Canyon
The "best" route from San Diego to Grand Canyon depends on whether you want to go sightseeing along the way or are just in it for the Canyon itself.
You're in for a desert drive either way heading across the Sonoran or the Mojave desert, but if you're not in a rush, the Sonoran southern (longer) route is better by just about any metric.
How to drive from San Diego to Grand Canyon
The map above shows our suggestions for the best road trip routes between San Diego and Grand Canyon. Keep reading for detailed descriptions of both routes, where to stay on either, and the best things to do on the way.
The Sonoran Desert (Southern) Route
Leave San Diego on the I-8, passing by Cuyamaca Rancho State Park. After passing the Arizona border and reaching Yuma, switch over to the US 95 between Imperial and Kofa National Wildlife Refuge. From Quartzsite, follow the I-10, US-60, State Route 71, and US-89 to the city of Prescott.
Just north of Prescott, get on the State Route 89A and follow it through Jerome and past Red Rock State Park. After taking a break at Sedona, continue along the state highway towards Flagstaff, passing through Slide Rock State Park and past various beautiful hiking trails.
After checking out Flagstaff and the surrounding parks and monuments, follow the I-40 west as it runs along the historic Route 66 until you see the Route 64 heading right. Follow it all the way through Kaibab National Forest, and you'll soon reach the Grand Canyon.
The Mojave Desert Route
Take the I-15 out of San Diego (with a brief dip into I-215), and drive between Angeles and San Bernardino National Forests. Switch over to the I-40 at Barstow and follow it past the Mojave National Preserve and Havasu National Wildlife Refuge, then briefly transition onto the historic Route 66 through Kingman before popping back out onto the interstate.
Past Ash Fork, take another drive along Route 66 through Williams. Just out of Bearizona Wildlife Park, get on the Route 64 for the final stretch of the itinerary, and follow it to the South Rim of the Grand Canyon.
Best places to stop between San Diego and Grand Canyon
One of the great things about the Grand Canyon is the surrounding accommodation – you'll have no shortage of great hotels and rentals at the GC and in the nearby towns. Below are some of the best ones for your consideration:
Get your kicks on Route 66 in Williams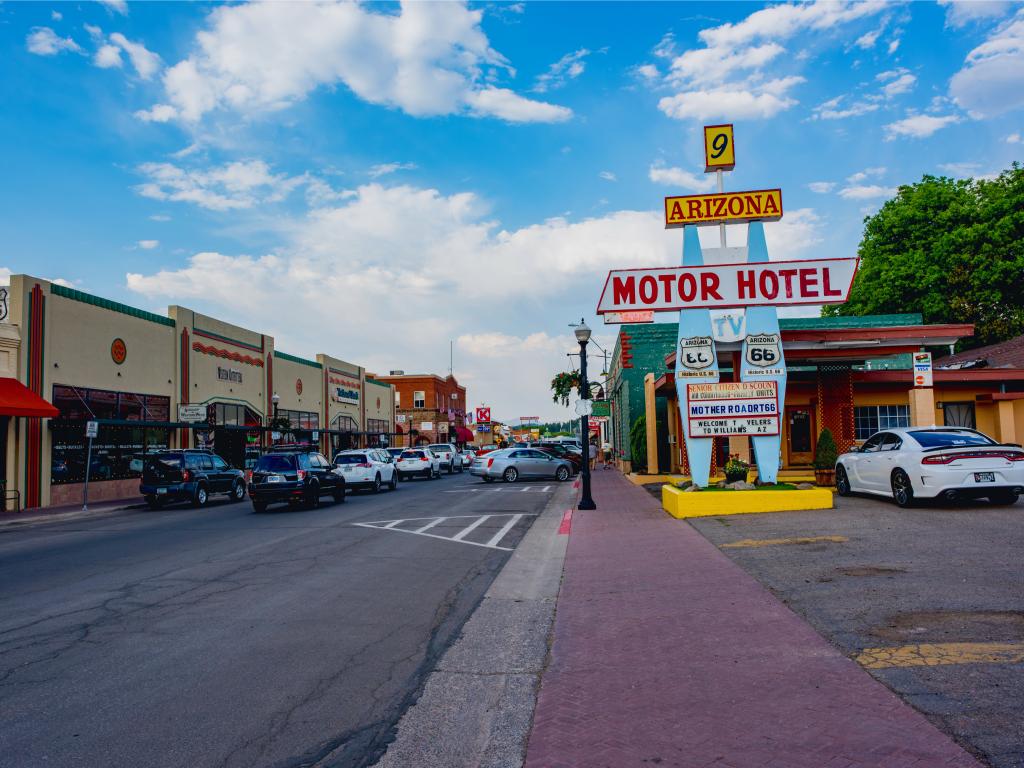 The major towns and cities in the GC area are vying for the title of best tourist stopover, and Williams stands out thanks to its throwback aesthetic. Although there are quite a few great hotels here, the Grand Canyon Railway Hotel is a definite highlight.
Instead of capitalizing on the city's Route 66 connection and potentially coming across as campy, the Railway Hotel opts for a luxurious approach – a single view of the beautiful lounge area is enough to let you know you're in for an amazing stay.
On top of having 2 amazing on-site restaurants to choose from (1 containing a bar), you'll also have access to a fitness center, as well as a large indoor pool and hot tub with incredible window views in every direction.
It's worth noting that this is one of the more expensive hotels in Williams, but considering the quality of your stay, the hotel's location in the heart of Williams, and how close you'll be to the Grand Canyon and other places of interest, the Railway Hotel more than justifies its price.
Go sightseeing and rest up in Flagstaff
With such a high concentration of beautiful parks and monuments in its immediate area, Flagstaff is a great place to spend a night or two when driving to the Grand Canyon. Among all the great hotels here, Little America Hotel is a standout pick.
Surrounded by a beautiful ponderosa pine forest, a short walk around the property is enough to win you over, and the only thing better than walking in the greenery is admiring it from the huge outdoor swimming pool!
You can enjoy 3 meals a day at the on-site restaurant, have a sip of your favorite cocktail at the bar, or just spend hours admiring the beautifully decorated lounge area. If you want a quiet night in, consider spending it at the gift shop or relaxing in the jacuzzi to rejuvenate yourself for tomorrow's adventures.
You can definitely find cheaper accommodation in Flagstaff and other nearby areas, but at Little America Hotel, you can rest assured you're paying for the very best in town.
Things to see on a road trip from San Diego to Grand Canyon
The best way to travel from San Diego to Grand Canyon is to take a few days to check everything out, especially along the more scenic route. Here are some of the places you definitely need to visit:
Anza-Borrego State Park – This lovely park features an abundance of desert flowers and lots of wildlife of varying species
Salton Sea – As the 'sea' in its name suggests, this man-made lake is actually saltier than the Pacific Ocean
Imperial National Wildlife Refuge – This area is home to gorgeous wetlands (a rarity in the desert) and lots of seasonal animals
Kofa National Wildlife Refuge – Home to many species of desert plants, amazing views, and great hiking spots
Prescott National Forest – A phenomenal pine forest in the desert, perfect for recreational activities ranging from cycling to rock climbing
Prescott – A beautiful blast from the past with historic buildings that have been preserved for 200 years
Sedona – Featuring countless hiking trails and surrounded by gorgeous red rock formations, this is definitely one of Arizona's oases
Slide Rock State Park – Located in Oak Creek Canyon, this park is home to red rocks, lush greenery, and an all-natural water slide
Flagstaff – A large city surrounded by natural landmarks from virtually all sides (check out Sunset Crater and Walnut Canyon!)
Coconino National Forest – Containing everything from deserts to volcanoes, this is one of the most scenic and diverse forests in all of the States
Williams – A charming city right by Route 66, as well as the starting point of the Grand Canyon Railway that takes you all the way to GC Village
Los Angeles – Everything about this city, from its incredible architecture to its cultural events, commands your attention and keeps you coming back for more
Mojave National Resort – This flowery desert resort is home to Joshua trees, unique sand dunes, and plenty of abandoned constructions and mines
Lake Mead – A great spot for water-based outdoor activities and a perfect respite from the Arizona heat
Kingman – This city is commonly referred to as The Heart of the Historic Route 66 because its downtown area features the longest remaining stretch of the legendary highway
Best time to go on a road trip from San Diego to Grand Canyon
There's no definitive best time to go on a road trip from San Diego to Grand Canyon, as the Canyon has plenty to offer throughout most of the year. Besides winter (due to heavy snowfall and restricted access to parts of the park), you can make a strong case for any season being the best for a visit.
Although summer is the park's peak season, and for good reason, it's important to note that the bottom of the canyon is basically a no-go for hiking – temperatures get higher as the elevation gets lower, and they cap off at well over 100 degrees at the lowest point in the park.
Also, driving across the desert in peak summer heat can take away from the experience, especially considering it's not uncommon for Arizona temperatures to swell up to triple digits. If you do visit in the summer, be sure to pack as much water as you can.
With all that said, your safest bets would probably be spring and fall under most circumstances. Both accentuate the park's natural beauty in their own ways, and choosing between the two comes down to the weather conditions of that particular year.
Generally speaking, early fall would be your best bet – winter snow will often linger well into spring at higher altitudes, resulting in greater temperature variance across elevation levels and potentially limited access to the highest points in the park.