Road Trip From San Diego To Denver
Whether you're going solo or on a trip or with your family, friends, or significant other, the drive along the picturesque view from California to Colorado is a guaranteed beginning of an exciting journey.
The road trip from San Diego to Denver will take about 19 hours of driving along 1,201 miles of breathtaking sceneries – from arid deserts to dense forests, through the I-70 route. The drive is long, but the opportunities for adventures are endless.
Read on and discover the best stops for rest and places to visit during your road trip from San Diego to Denver.
How far is Denver from San Diego, and how long will the road trip take?
There is a minimal difference between the two routes to Denver from San Diego in terms of driving time and distance covered.
The fastest route via I-8 will take you through Arizona's peaks and deserts, saving you only a few minutes or hours of a drive compared to the I-15 and I-70 route through Nevada and Utah. And driving through I-8 during the summer can be hellish with the unforgiving desert weather following you until you reach the bypass route to I-10 and into the outskirts of Colorado.
So unless it is winter in which some places along the I-70 are closed, taking the I-15 and I-70 from San Diego to Denver is the best route to take, offering you a view that is a feast to your senses.
Best road trip route from San Diego to Denver
The best road trip route from San Diego to Denver is ultimately the scenic route of the I-70 over the diverse topography of Utah and Colorado. It is relatively longer than taking the I-8, but the exciting sights along every step of your journey are well worth your time.
This route offers the most opportunity for exploration and adventure – whether you like climbing mountains, walking trails, or braving the waters. The long drive also lets you spend more peace and quiet with yourself or quality time with your loved ones.
Road trip from San Diego to Denver
The best route from San Diego to Denver is through I-15 and I-70, featuring the deserts, mountains, and forests of Nevada and Utah.
From San Diego, take CA-163 North and keep left, following the signs for N Escondido. Merge onto I-15 North and keep left to stay on the interstate. After about two hundred miles, you'll enter Nevada, and a few miles in, you'll arrive at Las Vegas, where you can take a quick stop for some food and gas.
From Las Vegas Boulevard North, turn left onto I-515 and merge into the interstate. Take exit 76B for I-15 and continue along the route, crossing the scenic passage of the Virgin River Gorge in Northern Arizona on your way to Utah.
Along I-15, you can take exit 16 to go to the famed canyons of Zion and Bryce Canyon National Parks and for a quick stop and break from your trip. Alternatively, you can skip this place until you return to San Diego and just continue along the I-15.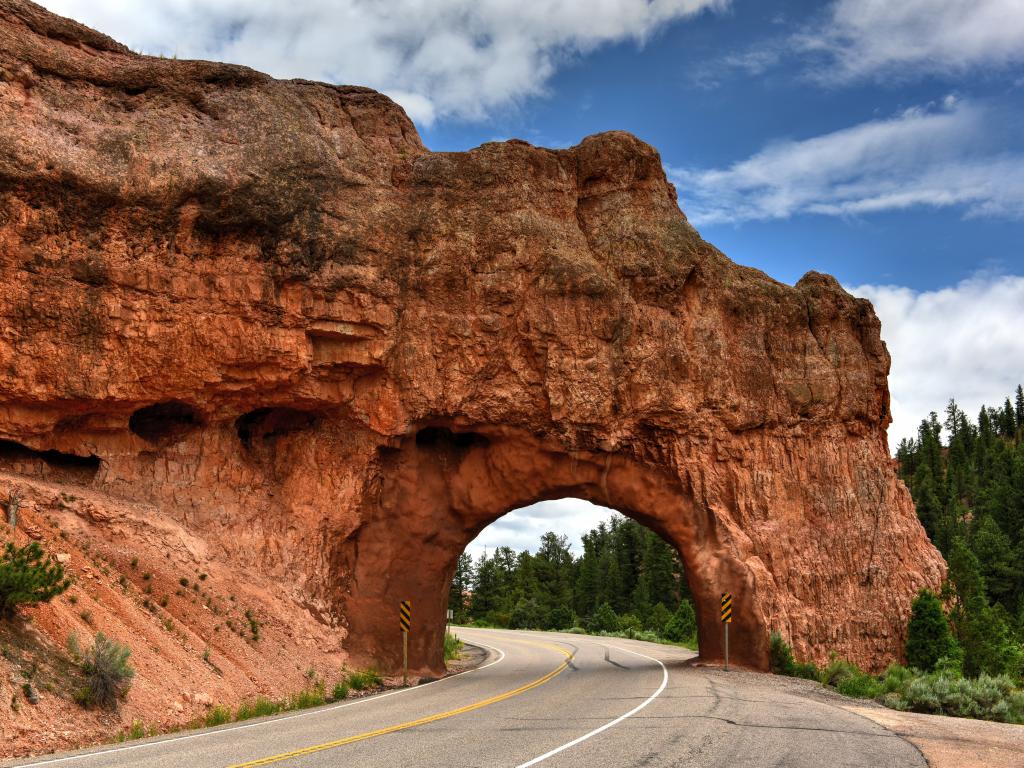 Take exit 132 for I-70 East towards Colorado. If your time permits, take exit 182 and drive to Arches and Canyonlands National Parks to stroll and be awed by its distinctive rock patterns and rich wildlife. Otherwise, continue through the I-70 and reach Colorado.
The I-70 in Colorado passes through the vineyards of Palisade and onto the hot springs of Glenwood Springs. Along the way, you will also drive through the magnificent Hanging Lake Tunnel and catch glimpses of the Rockies.
From I-70 East, take exit 261 for U.S. Route 6, then use the right lanes towards the I-25 North Exit. Keep left and follow signs for Fort Collins, then take exit 210A and continue along towards Denver.
Best places to stop between San Diego and Denver
The trip from San Diego to Denver takes almost a whole day of non-stop driving. So you'll need to cut your journey into two to three days if your time permits. Time taken off the road can be used not only for rest but also for exploring as well.
Here are several unique places to stop by in your journey for well-deserved relaxation and fun.
Stopover in Sin City
About a third of the way on your road trip from San Diego to Denver you will pass right through the city of Las Vegas. If you've never been to Sin City or you're after a little fun, you've got to make this your first stopover.
Whether you fancy yourself at the poker table, want to try your luck on the casino floor, watch a show or grab a spectacular dinner, there's something for everyone in Vegas.
I love staying at one of the hotels at the newer end of the strip and the Aria is the best option of the lot. The hotel feels a lot more light without the dingy feel of some of the older better known casinos and the rooms are well priced.
The Cosmo is right next-door with some amazing restaurants and I'm like the self parking garage which comes in handy when you're passing through on your road trip.
Unwind in the hot springs of Glenwood Springs
Glenwood Springs is about a three-hour drive to Denver. It may be tempting to just skip this historic resort town and continue your journey, but its famous hot springs are enough reason for anyone to stop here.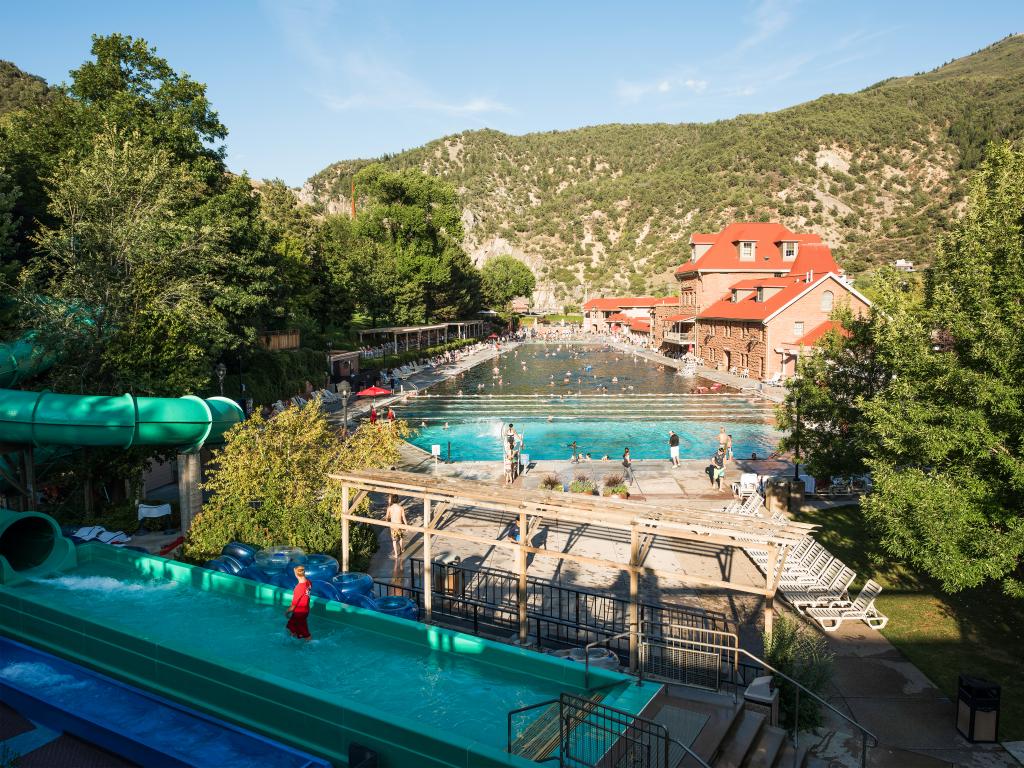 This all-season must-see town in Colorado features many outdoor activities perfect for all visitors. You can relax and rejuvenate in its world-famous hot springs or break a sweat at its breathtaking hiking trails. Feeling adventurous? Raft along the Colorado River that passes through the Glenwood Canyon.
To relax and unwind from the drive, stay in the best hotel in town - Hotel Denver. This historical venue has kept the charms of the past while providing you the elegant service that you deserve. It gives you an unobstructed view of the river and direct access to the hot springs pool.
Things to see on a road trip from San Diego to Denver
The road from San Diego to Denver is filled with varying topographies – from the fields of Nevada to the mountain range of Utah and Colorado, making it a perfect trip for anyone looking for relaxation, entertainment, and adventure.
There are several places worthy of visiting, so give yourself several days to fully enjoy this scenic route. Here's a list of some places you'd probably want to include in your itinerary for your road trip from San Diego to Denver.
Joshua Tree National Park - an otherworldly desert with the uniquely shaped tree groves and amazing hiking routes.
Palm Springs - An oasis in the middle of the Mojave desert - Palm Springs is home to luxury hotels, golf courses and manicured green lawns.
Los Angeles - Hollywood, Malibu and Beverly Hills are just a short detour off the fastest route from San Diego to Denver
Las Vegas, Nevada – recognized for its fashion outlets, casinos, and fantastic shows, this is the first place you may want to stop at on your trip to Denver.
Virgin River and River Gorge – the Virgin River, home to several species of flora and fauna endemic to its waters, ends at the Virgin River Gorge, popular to winter rock climbers, hikers, and campers.
Zion National Park – a 229-square mile park in southwestern Utah, famous for its red and tan rock formations and the Grand Staircase, and is home to diverse wildlife and a place for numerous outdoor activities. If you'd like to hike up to Angels Landing, you will need a permit and will need to make a reservation. Check the Zion National Park's website for more details.
Arches National Park – Located in eastern Utah, this park offers a view of the rushing waters of the Colorado River and to a variety of unique geological formations, including the Balanced Rock and the Delicate Arch. You might need to make a reservation for a timed-entry permit while visiting Arches National Park. Please check the national park's website for up-to-date information.
Canyonlands National Park – a smaller park near Arches and the city of Moab, featuring three districts famous for its trails, canyons, and historical hideouts.
Palisade, Colorado – home of over 25 Colorado wineries and a perfect place for people to enjoy guided wine tours and learn about the intricate process of winemaking.
Hot Springs of Glenwood Springs – a recommended stop for relaxation and rejuvenation at its famous hot springs.
Hanging Lake Trail – also located in Glenwood Springs, this trail easily accessible through the I-70, perfect for nature lovers throughout the year.
Vail, Colorado – known for its ski resorts, which is a must-visit for your winter activities, and the Colorado Snowsports Museum and Hall of Fame.
This list only covers some of the incredible sights to visit on your road trip from San Diego to Denver. There are several other places to detour, such as the Rocky Mountain National Park and Mohave County in Arizona.
If you are visiting Rocky Mountain National Park, keep in mind that the national park uses a timed entry permit system. Please check the national park's website to see if you need to make a reservation before your visit.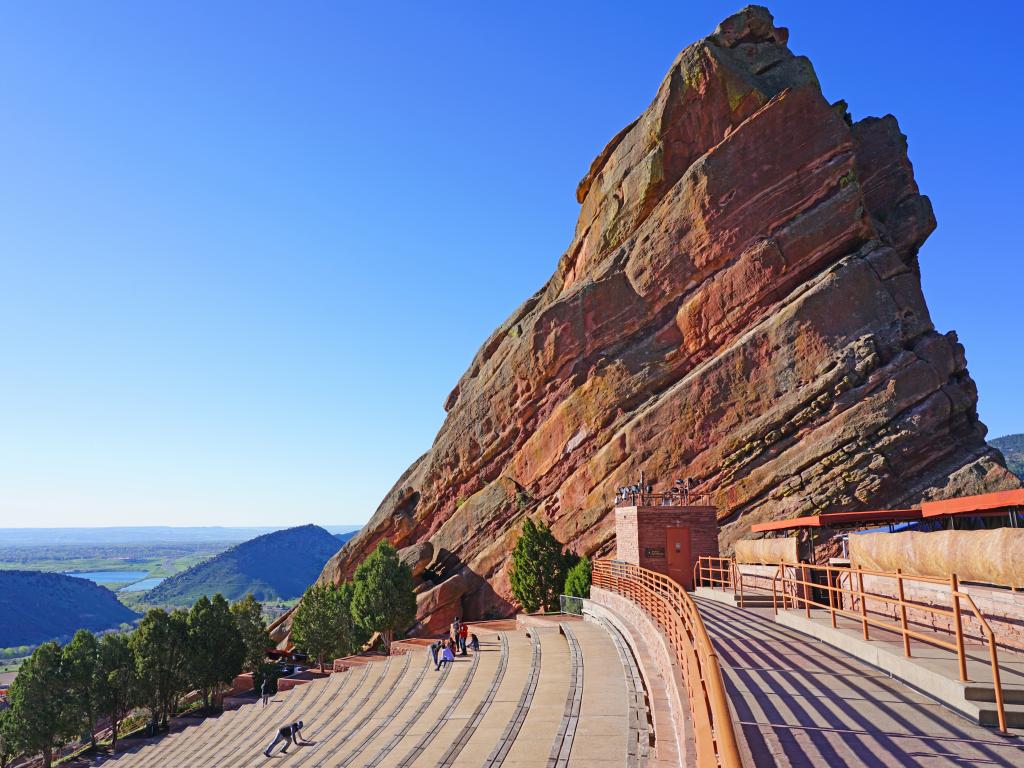 Best time to go on a road trip from San Diego to Denver
As you will need to pass the Rockies on your way to Denver, you may need to consider taking your road trip in late spring to fall. Or to prepare yourself and your ride if you will be starting your journey in winter.
If you start your trip during the winter, check ahead as some parts of I-70 may close due to extreme weather conditions. You must also make sure that your vehicle is snow-ready – snow tires and snow chains, to minimize the risk of road problems.
Also, consider the traffic for your journey. The roads to Colorado may be jampacked with skiers going to the Rockies during winter.
Spring and fall are great seasons to schedule your trip because the weather is perfect for outdoor activities like hiking, biking, and fishing. It will not be too hot to walk a trail or too cold for other outdoor activities.
A summer trip can also be a good idea as well as the places on your route do not get overly hot even during this season. But, always check and consider the weather if you plan to hike as the mountain peaks' average temperature can get hot and uncomfortable.