Road Trip From San Diego To Yosemite National Park
San Diego is often referred to as America's Finest City, so a trip to what many would call the finest national park in the States is bound to be a scenic one. If you're in the market for lush, green forests, epic mountain expanses, and arid deserts all packed into one, consider a road trip from San Diego to Yosemite National Park.
The road trip from San Diego to Yosemite National Park takes around 6 hours and 30 minutes. After exploring the ruggedly beautiful Death Valley National Park and admiring Sierra and Inyo National Forests, take a break at Mammoth Lakes or unwind in Yosemite Village.
To make sure you don't miss out on anything, read on until the end and see what this incredible itinerary has to offer.
How far is Yosemite National Park from San Diego and how long will the road trip take
The road trip from San Diego to Yosemite National Park covers 400 to 430 miles depending on the route, and takes 6 hours and 30 minutes to 7 hours to complete, minus breaks and pit stops. Leaving early in the morning, it's theoretically possible to arrive at Yosemite in time for dinner.
Route
Distance
Driving Time
Interstate Route


(via I-5 N and CA-99 N)

399 miles
7 hours 50 minutes
Death Valley Route


(via Highway 395)

430 miles
8 hours 20 minutes
However, the point of driving a lengthy itinerary is admiring the scenery. If you wanted to get to Yosemite quickly, you could board a plane to Fresno and figure it out from there, but by flying or rushing to drive to Yosemite in a day, you'd be missing out on so many amazing landscapes on the way there.
If you want a more straightforward drive with more places to stop along the way, consider taking the I-5 through Los Angeles to Yosemite National Park - the drive will be a bit shorter and access to the forests and parks will be much more direct. Also, the coastline between San Diego and Los Angeles is an adventure in and of itself.
With that said, getting out of San Diego and driving through Los Angeles is bound to involve a fair bit of traffic, potentially adding an hour or two to your trip. Since the cities are so close together, getting caught up in San Diego's rush hour probably means you won't fare much better in Los Angeles either.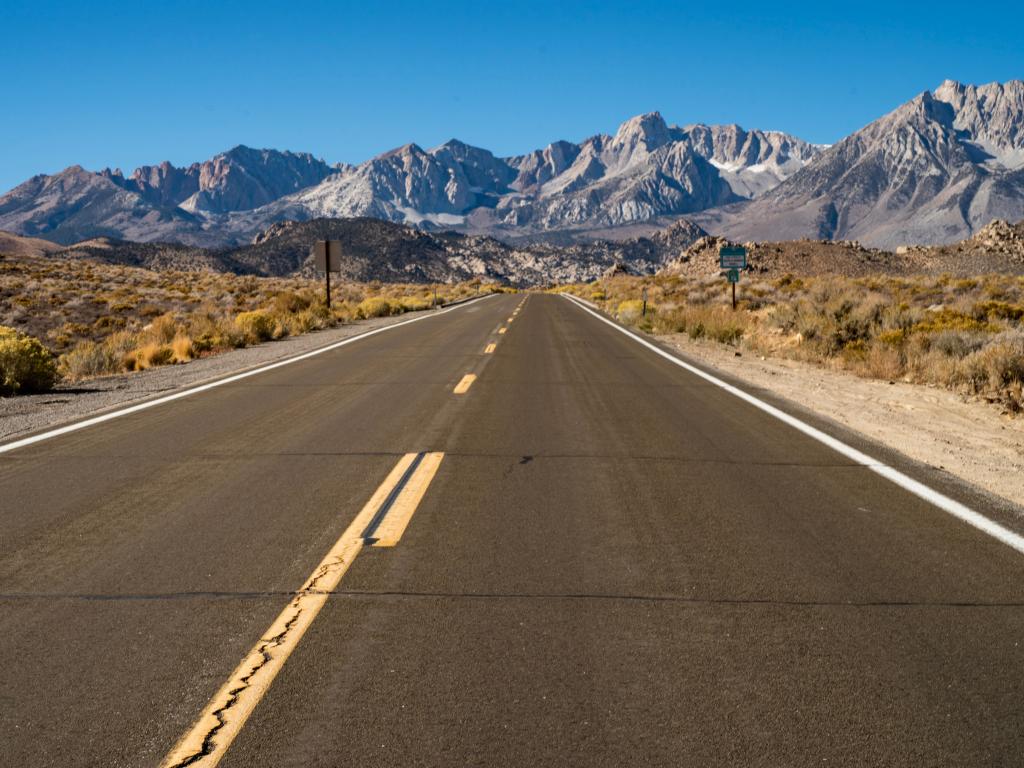 If you're in the mood for a desert drive and would like to see the Sierras from up close, another option is to take Hwy 395 – you'll follow the highway past forests, national parks, the iconic Death Valley, and some unique little desert towns.
The downside here is that the mountainous terrain and shoddier road conditions might wind up extending your drive, even more so than the traffic on the interstate. On top of that, there won't be many direct roads leading into the many parks and forests you'll be passing.
Best road trip route from San Diego to Yosemite National Park
Under most circumstances, the interstate route is probably your best bet for getting from San Diego to Yosemite National Park. You don't get to pass through the desert, but you'll ultimately be able to visit more places as opposed to just driving by them.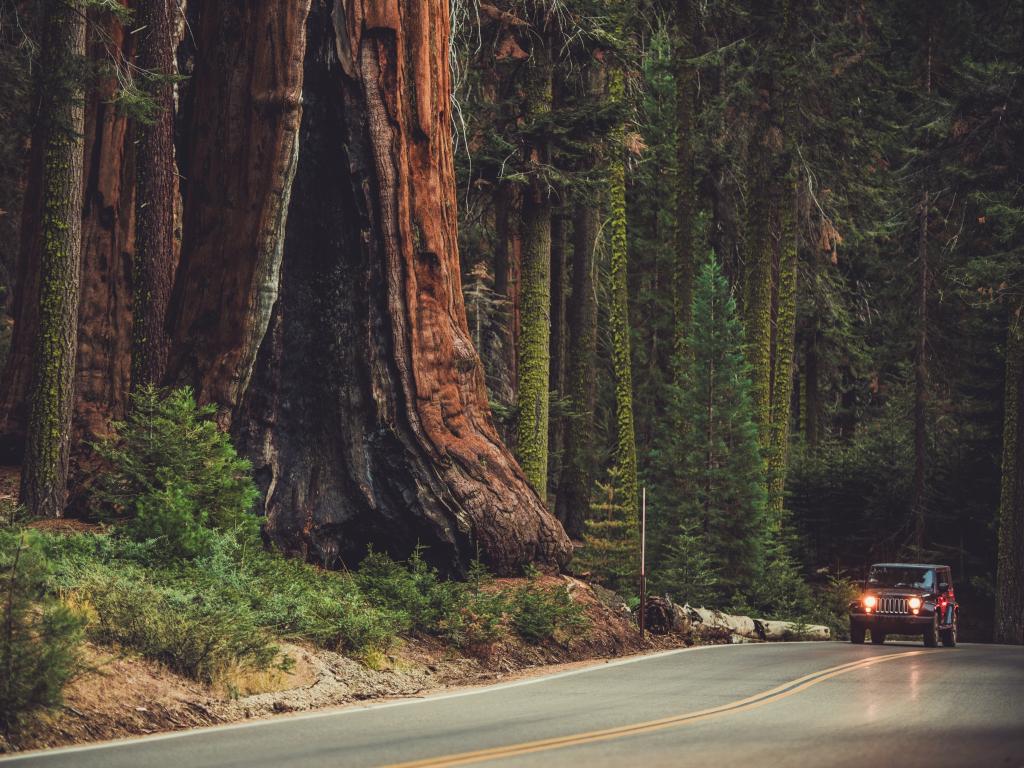 If you want to change things up, you can take Highway 395 on your way back to San Diego – the up-close view of the Sierra Nevada Mountains is a welcome addition, and the access to Death Valley should add just enough novelty to make your return trip more interesting.
How to drive from San Diego to Yosemite National Park
The map above shows our suggestions for the best road trip routes between San Diego and Yosemite National Park. Keep reading for detailed descriptions of both routes, where to stay on either, and the best things to do on the way.
Interstate Route (via Los Angeles)
Along the I-5, pass Torrey Pines State Reserve and hug the coastline on your way out of San Diego up until Dana Point, then follow the interstate through the heart of Los Angeles. Not long after passing Los Padres National Forest, you'll join State Route 99 and cut through Bakersfield.
A few miles north, you'll see the lovely Sequoia National Forest to your right, immediately followed by Kings Canyon National Park and Sierra National Forest. At Fresno, take the State Route 41 and enter Yosemite at the South entrance near Fish Camp.
Death Valley Route (Hwy 395)
Take the I-15 out of San Diego past Cleveland National Forest and follow it between Angeles and San Bernardino National Forests and through Victorville. From here, join up with Highway 395 and continue north to the chain of natural landmarks on either side.
Past Inyokern, you'll pass by Sequoia and Kings Canyon National Parks, with the option of dropping into Inyo National Forest via Bishop. Further north, drive through Mammoth Lakes and take the Tioga Pass entrance into Yosemite – this is the highest-altitude vehicle crossing in the state. All the while, this left-hand side stretch of forests and parks will be contrasted by Death Valley National Park to your right.
Best places to stop between San Diego and Yosemite National Park
As with any scenic road trip, you should consider splitting the trip up into at least a few days for the best possible travel experience. You'll have a long list of choices, but these are some of the best places for an overnight stop:
Spend some time in Bakersfield
Dead-center is a great place to stop when taking a long road trip, especially if it happens to be a major town with good accommodation. Bakersfield has some good options, but DoubleTree is definitely among the favorites.
Boasting a large common pool area, a colorful lounge and restaurant, and a beautiful exterior featuring an eye-catching pergola, DoubleTree is all about making you feel welcome and at home. You can enjoy 3 meals a day here and witness amazing performances at the on-site Club Odyssey lounge.
The location of the hotel is also very convenient, as you'll be within walking distance of Bakerfield's center. On top of covering everything you could possibly need, this hotel is quite affordable considering the level of service.
Relax in Mammoth Lakes
A strong candidate for inland California's best-positioned town, Mammoth Lakes is a tourist's dream come true. There are lots of great hotels here, but The Village Lodge is in a league of its own – this is one of the more expensive hotels in the area, but it's well worth it.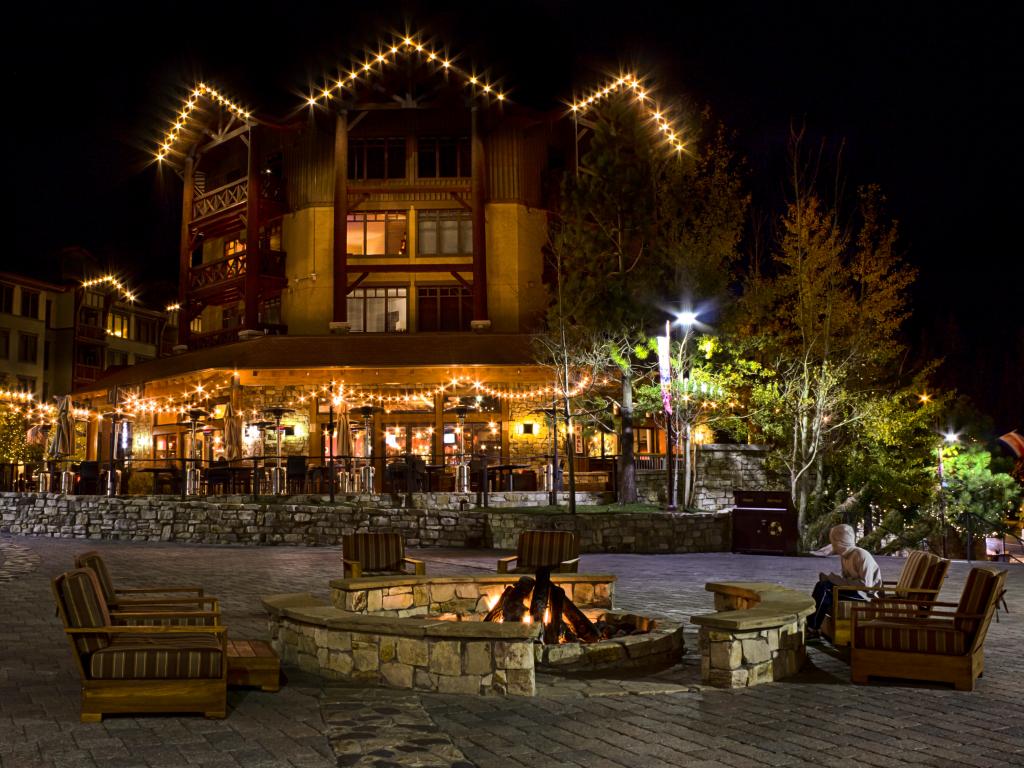 The Village is a wintertime idyll that perfectly captures the essence of a fairytale town, and its Village Lodge doubles down on that with its superior rooms, incredible balcony views, and unmatched service.
After a day of exploring Yosemite National Park or the quaint Village, warm your bones in the resort's heated pool. Don't like the crowds in the common areas? Make yourself comfortable in one of the 5 on-site hot tubs, or potentially score a private workout if one of the 3 gyms happens to be empty.
The best part of your stay is that you'll be in the epicenter of all things Yosemite. Whether you want to go skiing, explore the incredible Yosemite Valley, or just find a nice restaurant and enjoy a night out, you can get there from the Lodge in no time at all.
Things to see on a road trip from San Diego to Yosemite National Park
As the 2 routes cover such a wide variety of terrain types, it should come as no surprise that there's plenty to see on a road trip from San Diego to Yosemite – take a week or two and take as many pictures as you can. Here are some of the main places of interest to get you started:
Torrey Pines State Reserve – a gorgeous park that's technically part of San Diego, rich in wildlife and vegetation and boasting the beautiful Torrey Pines State Beach
Moonlight State Beach - this Encinitas beach is the perfect summer getaway and a popular hub for water sports in the area
Los Angeles – large and in charge, the City of Angels is a cultural hub that can keep you occupied for weeks
Los Padres National Forest – a gorgeous forest featuring wildflowers, waterfalls, and a long chain of mountain ranges
Bakersfield – the interstate route's convenient midpoint features several popular animal exhibits and lots of breathtaking parks
Sequoia & Kings Canyon National Parks – from giant sequoia trees (including General Sherman, the largest one in the world) to the tallest peak in the contiguous United States, you'll have no shortage of natural wonders to explore here
Fresno – located in the heart of California, this city is conveniently close and connected to all the forests and parks mentioned in this section
Sierra National Forest – an indescribably beautiful blend of mountains, lakes, and pine trees, this is one of the most conventionally picturesque places in all of California
Cleveland National Forest – despite having been ravaged by the Cedar Fire, the beautiful and varied landscapes of this forest have made it a go-to spot for camping and hiking
Death Valley National Park – if you can take the heat, Death Valley is the most incredible desert area you're ever likely to explore
Bishop – a popular city among tourists and travelers, Bishop offers amazing mountain views and plenty of roadside accommodation
Inyo National Forest – home to Boundary Peak and the oldest trees in the world, this forest is not to be missed
Mammoth Lakes – this town is famous for its ski resorts and for being surrounded by breathtaking landscapes from all sides
Mono Lake – this giant ancient's lake waters are as beautiful as they are salty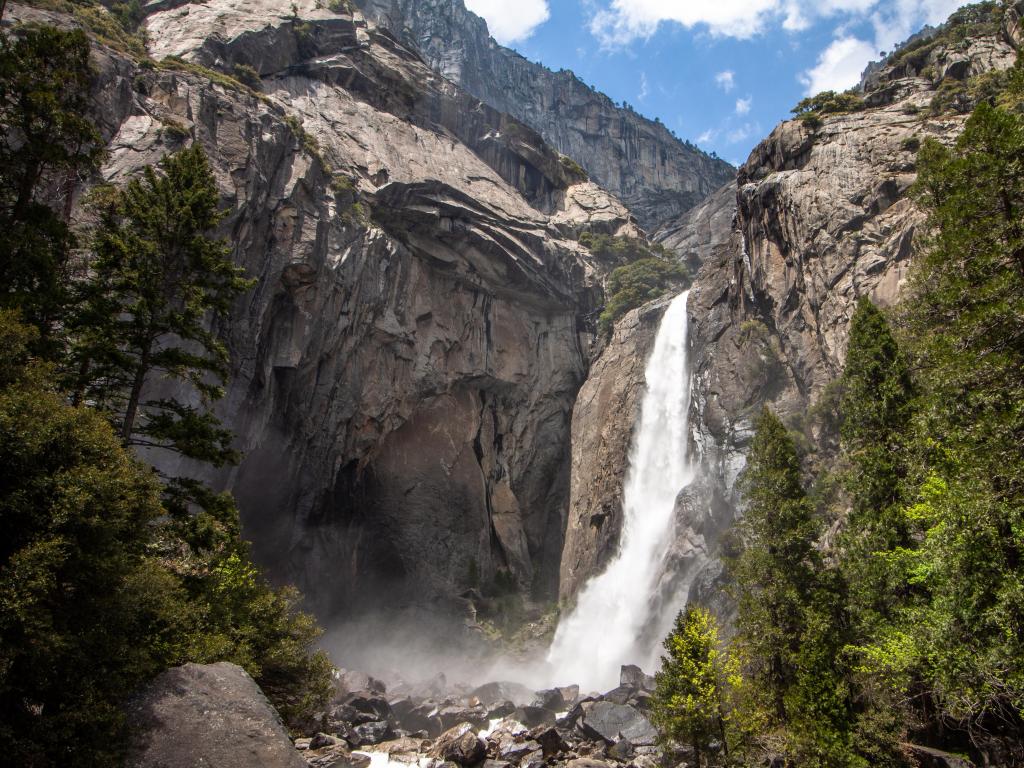 Best time to go on a road trip from San Diego to Yosemite National Park
There really is no bad time to do a road trip from San Diego to Yosemite as far as the park itself is concerned – rain, snow, or shine, the abundance of activities means you'll have plenty to do in Yosemite all year round.
However, with such an incredible location comes a large crowd of tourists, so if you're looking to avoid crowds, consider visiting in May or September – there's really no such thing as an out-of-season period for Yosemite, but these months are less crowded and the weather tends to be very pleasant.
Although the park is beautiful in the winter, keep in mind that the Highway 395 route is essentially out of bounds this time of year – even if the highway itself is clean and accessible, Tioga Pass (Yosemite's only east entrance) is almost never open past mid-November, and your hiking prospects at Death Valley would be quite limited too.
Traveling along the interstate is always an option, no matter the season or weather conditions. If you want to travel along Highway 395, make the trip in September or October – Tioga Pass should still be open, and the temperatures in Death Valley will be a lot more bearable than in the summer.