Road Trip From San Diego To Las Vegas
If you have some time to spare and you feel like trying your luck at the Entertainment Capital of the World, consider going on a road trip from San Diego to Las Vegas. Even if you don't win big, the drive there will take you past some of the most amazing landscapes in the United States.
The desert road trip from San Diego to Las Vegas can be done in 5 hours. Consider extending it by checking out Palm Springs and Mojave National Preserve, then visit the iconic Death Valley and the breathtaking Red Rock Canyon National Conservation Area.
There's plenty along this route you'll want to pay attention to, so read until the very end to make sure you're ready for a trip from San Diego to Las Vegas.
How far is Las Vegas from San Diego and how long will the road trip take
The road trip from San Diego to Las Vegas covers about 330 miles and can be done in 5 hours if you take the quickest possible route. Even with breaks, you could definitely make the trip in a single day, but you'd be better off making longer stops to check out everything the Mojave Desert has to offer.
Route
Distance
Driving Time
Fastest Route


(via I-15)

330 miles
5 hours
Scenic Route


(via SR 60 through Moreno Valley)

463 miles
8 hours 40 minutes
At the cost of adding just one hour to your drive, you can make your trip much more scenic by driving along Joshua Tree National Park and cutting right through the Mojave National Preserve.
This detour is an especially good choice if you plan on splitting the trip up into several days as it passes right by Palm Springs. The I-15 route, while quicker, is quite lacking in terms of major cities, so your overnight options would be much more limited.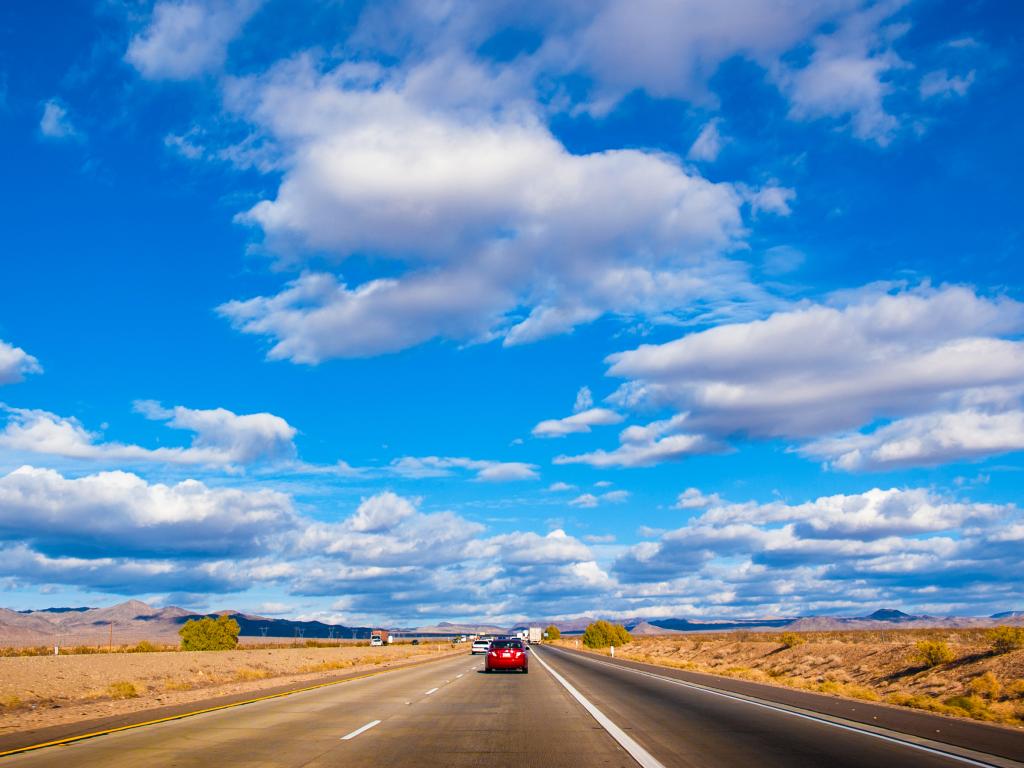 Also, keep in mind San Diego's rush hour when planning your trip – between that and the inevitable flow of traffic leaving Los Angeles further north, taking off at the wrong time could add a couple of hours to your trip. To make matters worse, getting into Vegas on a Friday or Saturday can be a slog as this is when most people come here to unwind.
Best road trip route from San Diego to Las Vegas
There's plenty of overlap between the two routes, with one being slightly shorter and the other having more to see along the way – one thing they have in common is how straightforward they both are. For variety's sake, your best bet would be to take one toward Vegas and the other going back.
Fast Route to Vegas
Apart from a brief segue into the I-215 for about 50 miles between Murietta and San Bernardino, you never have to stray from the I-15 all the way to Vegas, unless it's to check out Los Angeles or to take the State Route 127 at Baker toward Death Valley.
The scenic Option
To shake things up a bit, take the State Route 60 through Moreno Valley instead and follow it into the I-10. Follow the interstate past Joshua Tree National Park and through Mojave National Preserve before joining the I-15 again. From here, it's just a straight drive north until you pass Sloan Canyon and reach the City of Sin.
Best places to stop between San Diego and Las Vegas
As great as the drive is, luxurious stops between San Diego and Las Vegas are few and far between - thankfully, the resorts that do shine, shine brilliantly. These are some of the absolute best places to spend the night during your trip:
Relax in Palm Springs
Palm Springs is about a 2-hour drive from San Diego, making it a great stop if you're splitting your trip into three or more days. With so much to do in town, you'll want to top everything off with the best hotel you can find.
This city definitely has the highest concentration of quality resorts on this entire route, but few of them can even come close to Avalon Hotel and Bungalows.
Avalon will mesmerize you from the minute you set foot inside - boasting a fireplace, a fashionable design, and an immeasurably elegant white finish to all the walls and furniture, the average bungalow at Avalon is its own little five-star enclosure.
If the browns and yellows of the desert were getting to be a bit much for you, step outside and bask in the sun among the shady trees and pink flowers. You can cool off after a long desert drive in one of the 3 outdoor swimming pools, or drop into Estrella Spa and enjoy a full-body massage. If you're visiting in the winter, you'll also have your pick of either of the property's two hot tubs.
Once you've had enough of the fitness area, golf courses, and table tennis matches, borrow one of the Avalon bicycles and go hiking or exploring – the nearest trails are all within a mile or less of the resort, and Joshua Tree National Park is about an hour away by car.
Don't let the 'bungalow' label scare you off, either – although it's not a cheap place to stay, the level of service is well beyond that of many expensive hotels you'll run into in Vegas.
Spend the night in Death Valley
Despite its often-inhospitable terrain, Death Valley is known to have some of the few high-end resorts in the area. As opposed to looking for accommodation in the smaller towns on the way to Las Vegas, your best option would be to book The Inn at Death Valley, the undisputed king of all Mojave Desert resorts.
Simply put, The Inn at Death Valley offers the best rooms, amenities, and service money can buy. Within a minute of your comfortable bedroom, you'll find a gigantic outdoor swimming pool next to a romantic fireplace, private little coffee areas that overlook the vast desert expanse, and a huge, green garden you're bound to get lost in once or twice.
The amazing on-site restaurant and bar will quickly grow to become your favorite parts of the whole property, as will the lounge with a panoramic view of the exterior. Whenever you're not out exploring, you can play a round of tennis or walk a couple of miles to the nearby golf course – The Inn simply has it all.
Your stay will be expensive, but it's not hard to see why. Many famous people frequent this particular resort (you may even run into some!), and you can expect to get the celebrity treatment here too.
Things to see on a road trip from San Diego to Las Vegas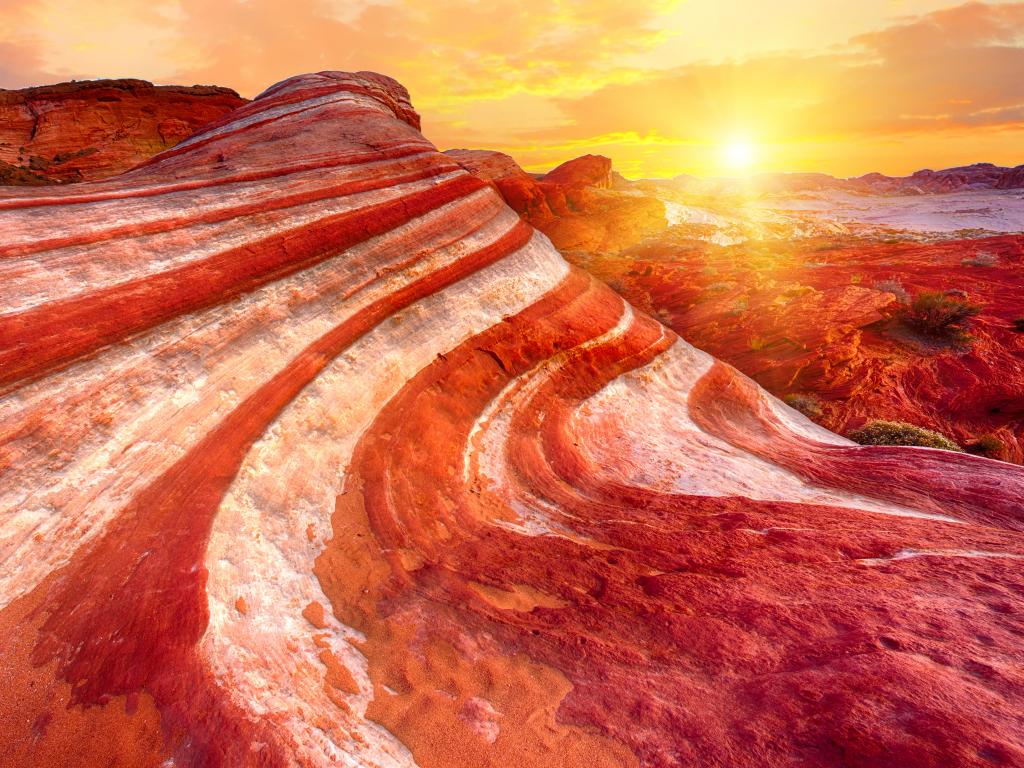 Do not be fooled by the desert terrain – there is enough to see on the way from San Diego to Las Vegas to keep you occupied for days on end. If you can, try to devote a week or so to this itinerary to ensure you've seen everything. These are some of the places you shouldn't miss on the way:
Cabazon Dinosaurs – chances are you recognize this iconic brontosaurus and T. rex duo from their cameos in various classic films
San Jacinto National Park – a beautiful park and home to the San Jacinto Mountain, one of the tallest in all of California
Palm Springs – this unique city features a beautiful MCM design, countless museums, and the Palm Springs Aerial Tramway leading all the way to the San Jacinto Mountains
Joshua Tree National Park – aside from the titular Joshua trees, this park is well-known for its amazing views of the starry sky and many indigenous bird species
Mojave National Preserve – the park houses the ghost town of Kelso and the largest Joshua tree forest in the entire world
Death Valley National Park – both feared and revered for its scorching temperatures, this expansive park is home to countless sand dunes and unique rock formations
Seven Magic Mountains – stacks of colored boulders off the side of the desert road, meant to break up the 'monotony' of Mojave's earth tones
Sloan Canyon National Park – alongside its hiking and biking trails, this historic park is best known for its Native American petroglyphs
Red Rock Canyon National Conservation Area – an impossibly scenic location featuring petroglyphs, red rock formations, and countless amazing trails – this is one of Nevada's main attractions for a reason
Lake Mead – this gigantic reserve is a very popular boating, swimming, and fishing spot among tourists and visitors
Valley of Fire – this preservation area takes its name from its rock formations, and if viewed from the right angle at sunset, looks like it's entirely on fire
Los Angeles – California's largest city needs no introduction – this metropolis is a front-liner in economic development, the entertainment industry, and nightlife opportunities
Angeles & San Bernardino National Forests – boasting varied terrain and a breathtaking view of the San Gabriel Mountains, these forests act as the northern gateway into Los Angeles
Roy's Motel & Café – a time capsule to the olden days of the historic Route 66, the largely preserved Atomic design of these historic locales continues to attract thousands to this day
Calico Ghost Town – once a prominent mining town during the silver rush era, the decrease of the value of silver turned Calico into a major attraction and roadside curiosity
Best time to go on a road trip from San Diego to Las Vegas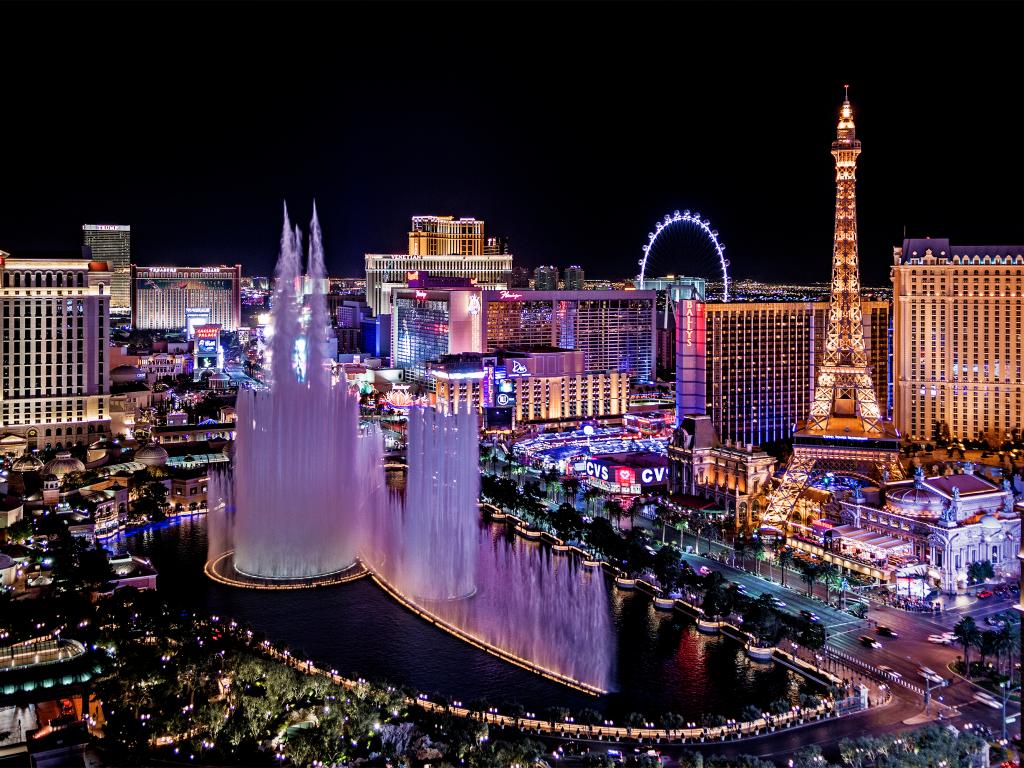 You could do a road trip from San Diego to Las Vegas any time of year, but bear in mind that driving through the Mojave Desert in the summer might not be pleasant, even less so if you take the longer route through Mojave National Preserve.
Because of the heat, mid-summer is probably the closest thing Las Vegas has to an off-season – summer temperatures are guaranteed to be at least in the 90s, but very frequently exceed 100 degrees. Since you'll constantly be exploring and walking from one casino or restaurant to another, a summer visit might push you to your limits, and not in a good way.
Although snow isn't too prevalent in the Mojave Desert and southern Nevada (not in large quantities, anyway), it's not unheard of for black ice to cover the roads here. By process of elimination, this would make spring and fall the best time to go on a road trip from San Diego to Las Vegas.