Road trip from San Diego to Joshua Tree National Park
California is known for its breathtakingly beautiful desert scenery, so for an unforgettable weekend adventure, consider doing the incredible road trip from San Diego to Joshua Tree National Park. Despite being short, this ti may impress you with the amount you can see and do.
The 160-mile road trip from San Diego to Joshua Tree National Park takes 3 hours of driving. Notable stops include Anza-Borrego Desert State Park, Salton Sea, and San Bernardino National Forest, as well as Escondido, Temecula, and Palm Springs.
If the sound of a desert road trip intrigues you, read on for more information about the route options, the best places to stay, and what to see.
How far is Joshua Tree National Park from San Diego and how long will the road trip take?
Comparison of road trip route options between San Diego and Joshua Tree National Park

| Route | Distance | Driving Time |
| --- | --- | --- |
| Temecula Route | 165 miles | 2 hours 50 minutes |
| Borrego Springs Route | 160 miles | 3 hours 10 minutes |
There are two main routes for a road trip from San Diego to Joshua Tree National Park. The first is via Temecula and to the west entrance of Joshua Tree, which covers 160 miles and will take half a day to drive.
The other route is via Borrego Springs and into the south entrance of the park. This is also about 160 miles and will take 3-4 hours to drive.
The Temecula route will take you through the heart of some of Southern California's wine country before skirting past Palm Springs and into the desert. The Borrego Springs route will take you past some off the beaten path vineyards before entering the Anza-Borrego desert.
Both have spectacular scenery with plenty on offer - the Temecula route is more likely to encounter traffic, as it gets closer to Los Angeles, whereas the Borrego Springs route is unlikely to get congested at any point.
Either option will provide interesting driving, although the Borrego Springs route takes place mostly on smaller roads, as opposed to the interstates on the Temecula route.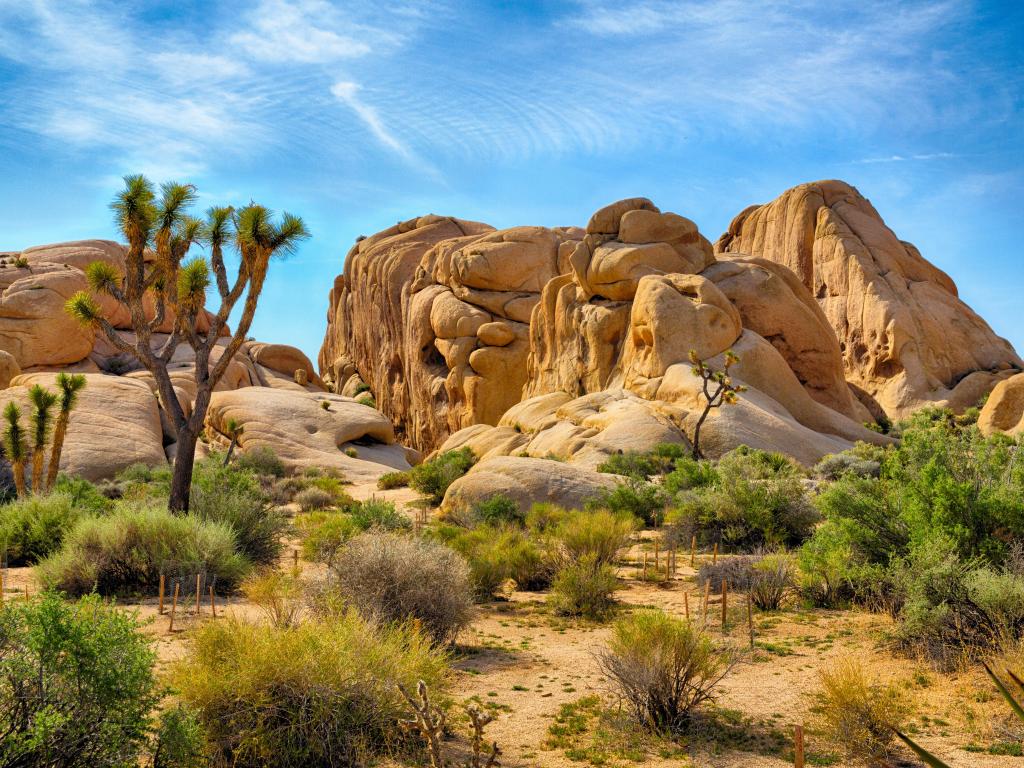 Best road trip route from San Diego to Joshua Tree National Park
These two routes for a road trip from San Diego to Joshua Tree National Park take about 3 hours to drive. Each one offers a good number of attractions and easy driving, so for the best experience possible, take one on the way to Joshua Tree and the other on the return trip.
​
The Temecula Route
Take Interstate 15 north out of San Diego leading you to Escondido and Temecula. Shortly after Temecula you will join Interstate 215.
Once you reach Moreno Valley, exit the interstate, and join Route 60 towards Beaumont. At Beaumont you will merge onto Interstate 10.
Follow the interstate until just before Palm Springs where you will need to join Route 62. A quick detour into Palm Springs is recommended as there is lots to do in this trendy city.
The final step is to join Alta Loma Road and then Quail Springs Road in Yucca Valley, to take you to the west entrance to the park.
Borrego Springs Route
As with the previous route, follow interstate 15 out of San Diego. You won't be on the interstate long before joining Pomerado Road and then Scripps Poway Parkway to take you to Route 67.
Follow Route 67 to the small town of Ramona, where you will leave it and join Route 78. Follow this road to Santa Ysabel where you will take route 79 going north.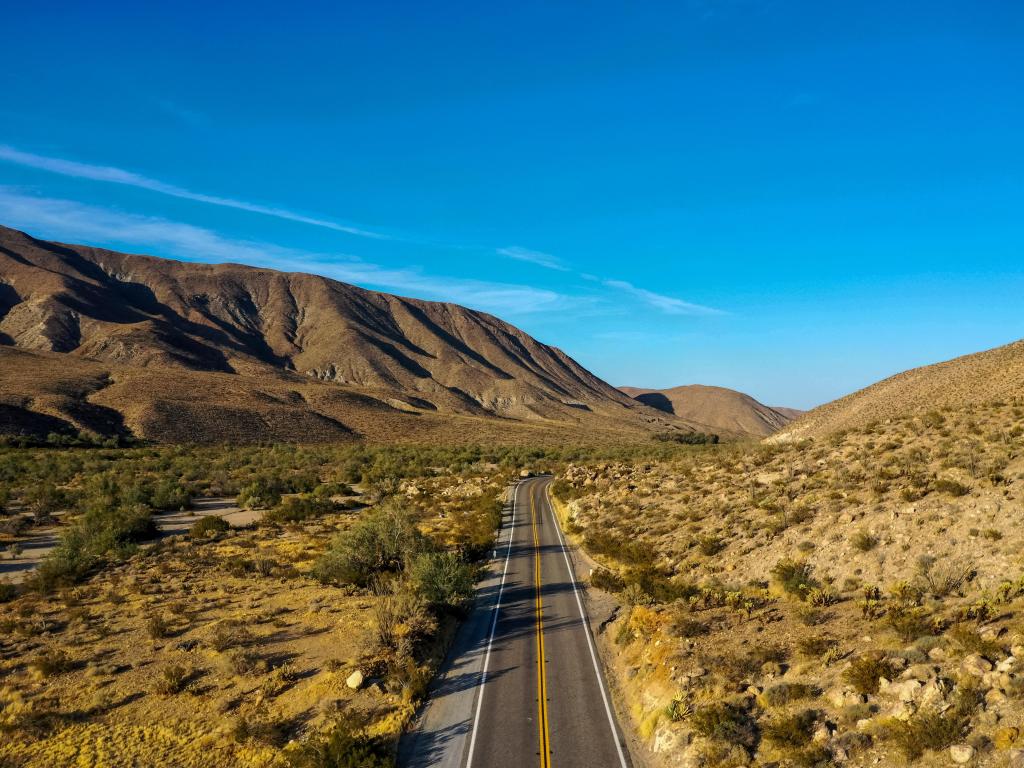 It won't be long before you turn onto San Felipe Road leading you through the desert to Montezuma Valley Road and then towards Borrego Springs and the Salton Sea.
In Borrego pick up the Borrego Salton Sea Way taking you through the arid desert to Salton City and route 86. Route 86 will lead you along the shores of the Salton Sea to Mecca, where you will join Box Canyon Road taking you into Joshua Tree National Park.​
Best places to stay on a road trip from San Diego to Joshua Tree National Park
While it is a short drive, you should consider splitting your road trip from San Diego to Joshua Tree National Park with at least one overnight stay. If you need help figuring out where to spend the night, these are the places you'll want to look out for:
Enjoy the vineyards in Temecula
Temecula is home to some of the best wine country in California. If you're looking to combine some of the finest wine in The States with the most beautiful rooms and courtyard in town, South Coast Winery Resort & Spa is the place for you.
This resort was styled with the Mediterranean in mind - you would be forgiven for thinking that you had driven halfway around the road to the south of France. Terracotta roof tiles, beautiful courtyards, and verandas make this resort one-of-a-kind, even by quirky California standards.
The rooms are all very spacious, boasting fireplaces and amazing views of the surrounding estate. A private patio gives you a place to enjoy the view in absolute tranquility.
The on-site restaurant continues the Mediterranean theme running through the property, and serves breakfast, lunch, and dinner. Making use of local produce the chefs create wonderful dishes that pair beautifully with the estate's wine.
During the day you can be pampered in the spa, take a dip in the pool, or use the on-site gym. After a busy day you can enjoy a glass of wine on the veranda, taking in the pleasant scenery.
With numerous other vineyards in the vicinity, there is also the potential to hit the road and take a tour of other facilities. For such luxury and splendor, the price is very reasonable, making it hard to see why you wouldn't stay here.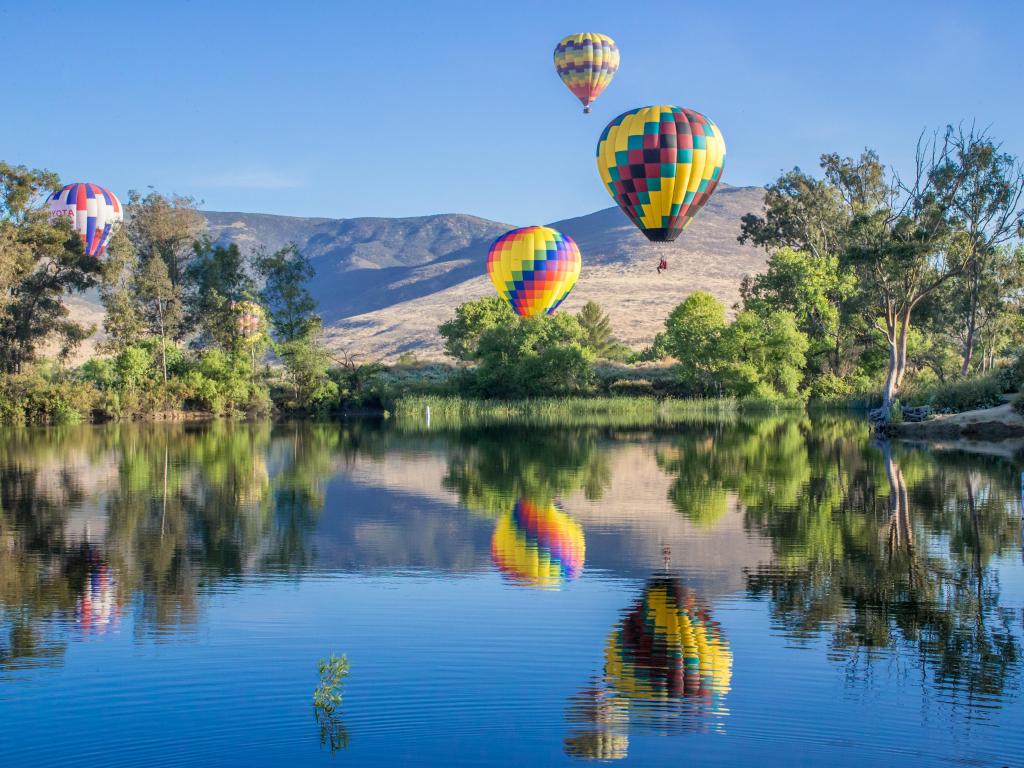 Stay at an oasis in the desert at Borrego Springs
With impressive mountains setting the backdrop for the Borrego Springs Resort and Spa, there are few places that can even come close to matching it. If you are planning on taking the Borrego Springs route, there's no better place to call home for a few days.
The centerpiece of the resort is its beautiful pool, which is ringed by cabanas and sun loungers. The resort also has a tennis court, spa, fire pits, and a golf course. With so much to do, you could easily spend a whole weekend here.
There are two on site restaurants - the Fireside Lounge and The Arches. The Fireside Lounge is more casual, offering cocktails and appetizers, making it the perfect place for a drink after a day in the sun, while The Arches serves classic American Southwest cuisine.
The rooms and bathrooms are palatial in size with modern décor. Every room has a patio or balcony, giving you a private space to enjoy the view.
Best of all, some of the finest attractions in this part of California are all within driving distance - you can rev up your engine and get to Salton Sea or Palm Springs in no time at all.
Things to see on a road trip from San Diego to Joshua Tree National Park
There is plenty to do on your road trip from San Diego to Joshua Tree national Park. While you might be tempted to complete the drive in a day, we recommend splitting it into a weekend trip. That way you can see all the sights along the way.
The Temecula Route
Orfila Vineyards - There are plenty of wineries and vineyards in the area, this one is close to Escondido known for its French and Italian variations.
Wilson Creek Winery - A premier winery in the Temecula area known for great food and even better wine.
Temecula Old Town - Old town Temecula is known for its thriving dining and drinking options, particularly vine.
San Bernardino National Forest - One of the most diverse and tourist-friendly state forests in all of California, featuring plenty of scenic hiking trails, camping spots, and access to the beautiful Big Bear Lake.
Mt San Jacinto State Park - Close to both Palm Springs and Los Angeles, this forest is the place to be if you want to do some unforgettable high-altitude photography.
Palm Springs Aerial Tramway - Palm Springs is just off the route but offers great fun. Try riding its impressive aerial tramway for sensational views over the desert.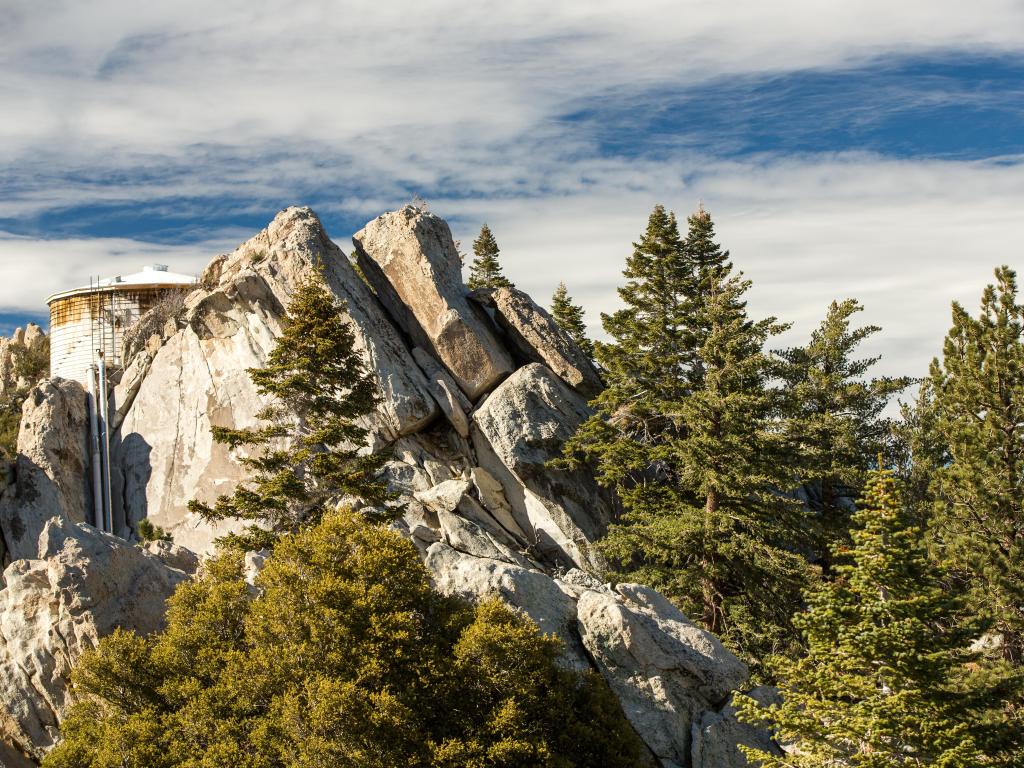 The Borrego Springs Route
Sycamore Canyon Hike - A great stop along the way to stretch your legs and immerse yourself in nature.
Hatfield Creek Winery - Located on Route 78 this charming little winery is another notable stop.
Pacific Crest Trail - If you are feeling particularly adventurous join the long-distance Pacific Crest Trail for a day hike.
Montezuma Valley Scenic Viewpoint - A stunning location for a picnic as you have great views over the arid valley.
Anza-Borrego State Park - A beautiful state park worth exploring more of if you have the time.
Borrego Springs Slot Canyons - Explore some of the beautiful rock formations around Borrego Springs to get the ultimate taste of California's desert ambient.
Best time to go on a road trip from San Diego to Joshua Tree National Park
You can go on a road trip from San Diego to Joshua Tree National Park at any time of year. In fact, the off-peak seasons may actually be more appealing.
Winter in the desert can get cold, but it is often still sunny and appealing. Combine this with less tourists and cheaper hotel prices, and there's a good case to travel in the winter. Consider planning your trip in winter if you dislike crowds, but be sure to pack your warmest clothes.
Summer is without a doubt the busiest time of year at the attractions along both routes. Warm weather and sunshine always make a vacation more appealing. However, hotel prices will be at their peak, as will tourist numbers.
Spring and fall could be good times to travel, as you may be able to get some warmer weather. Some places may still be busy but notably less so than in summer, especially as you approach your final destination.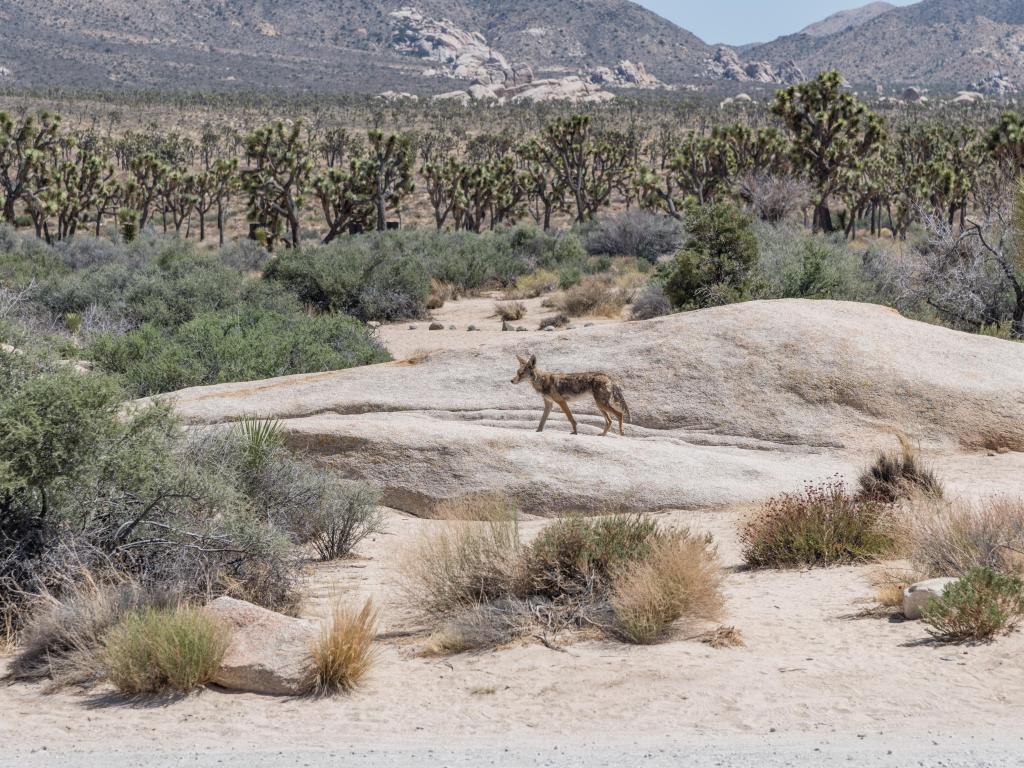 The roads along this route are unlikely to be affected by any adverse conditions, so it remains suitable for year-round driving. Still, don't underestimate the drive because it's short - driving through a scorching desert can really put a damper on your trip.
As for Joshua Tree itself, most landmarks' shoulder seasons are probably the park's finest - spring and fall strike the perfect balance between pleasant weather and pretty scenery, and the park is big enough to where you can easily avoid crowds on an average year.