Road Trip from Santa Fe to Denver
Whether you prefer the stunning scenic outdoors or cultural and historical attractions, this managable road trip from Santa Fe to Denver packs a punch when it comes to unforgettable sights and will take you on an amazingly scenic adventure perfect for a long weekend.
The 450-mile road trip from Santa Fe to Denver will take over 8 hours to drive nonstop. Notable sights include Pagosa Springs, San Juan National Forest, and Breckenridge on a longer route or via Taos, Pueblo, and Colorado Springs, taking a direct route.
You can expect a relaxed drive through the picturesque and vibrant central US, whichever route you choose. We have highlighted two fantastic routes and charming places to see en route to get you started with planning.
How far is Denver from Santa Fe, and how long will the road trip take?
Comparison of road trip routes between Santa Fe and Denver

| Route | Distance | Driving Time |
| --- | --- | --- |
| The Colorado Springs Route | 360 miles | 6 hours |
| The Breckenridge Route | 450 miles | 8 hours 10 minutes |
A slightly longer drive from Denver to Santa Fe via The Breckenridge Route takes 8 hours and 10 minutes to cover 450 miles without any stopovers.
For a more direct trip through New Mexico and Colorado, you can take The Colorado Springs Route, covering 360 miles over 6 hours of driving, not considering any detours or food breaks.
While you can cover this distance within a day to explore all the region's offerings without exhaustion, we highly recommend you take at least four days for this road trip.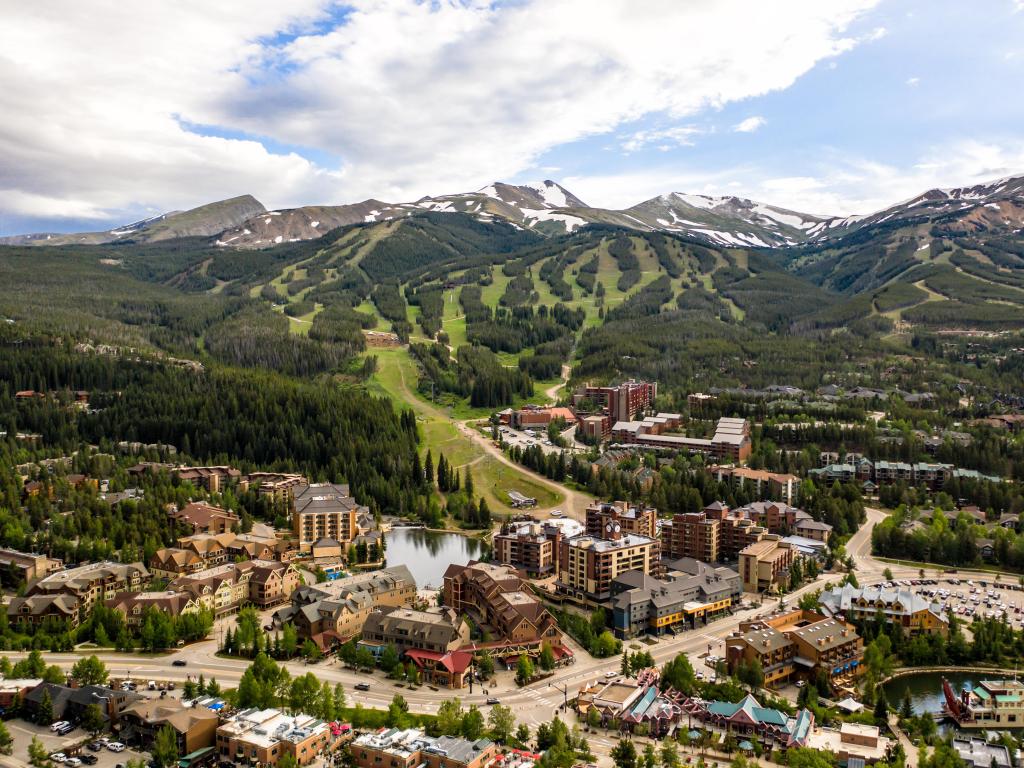 Best road trip route from Santa Fe to Denver
We have detailed two epic routes taking well-maintained roads to Denver from Santa Fe, so which one you choose will depend solely on what you'd like to see on the way.
The Breckenridge Route offers a great mix of outdoor activities, historic charm, and modern amenities, making it a popular choice for road trippers and outdoor enthusiasts.
You can expect to see the beautiful natural landscapes of Pagosa Springs and Breckenridge and ski and snowboarding opportunities.
If you're looking for a more efficient and direct route with a mix of convenience, beautiful scenery, and cultural experiences, take The Colorado Springs Route.
On this route, you can enjoy the stunning landscapes of the Rocky Mountains and stop in charming towns such as Taos and Pueblo, which are steeped in history and offer unique local experiences.
Top attractions include visiting the Pueblo Cultural Center, the Garden of the Gods, and the United States Air Force Academy in Colorado Springs. You will also get a chance to visit Pikes Peak. Here is our guide on how long it takes to drive up Pikes Peak.
If you are visiting Rocky Mountain National Park, keep in mind that the national park uses a timed entry permit system. Please check the national park's website to see if you need to make a reservation before your visit.
The Breckenridge Route
As you begin your journey in northern New Mexico, take US-84 out of Santa Fe. Passing many charming towns, red rock formations, and desert landscapes on the way, you'll reach the lovely Pagosa Springs.
After enjoying the quaint mountain vibe, natural hot springs, and laid-back atmosphere, head back on the road.
Continue US-160 passing Rio Grande National Forest, and follow US-285 up north. After crossing the Pike and San Isabel National Forest, hop on the CO-9 to the quaint Breckenridge.
After exploring this historic mining town, its ski resorts, shops, restaurants, and nightlife, head east, taking I-70, and drive through the stunning mountains and the lovely Arapaho and Roosevelt National Forests.
Soak in the beautiful scenery passing through the scenic town of Idaho Springs and drive all the way to Denver.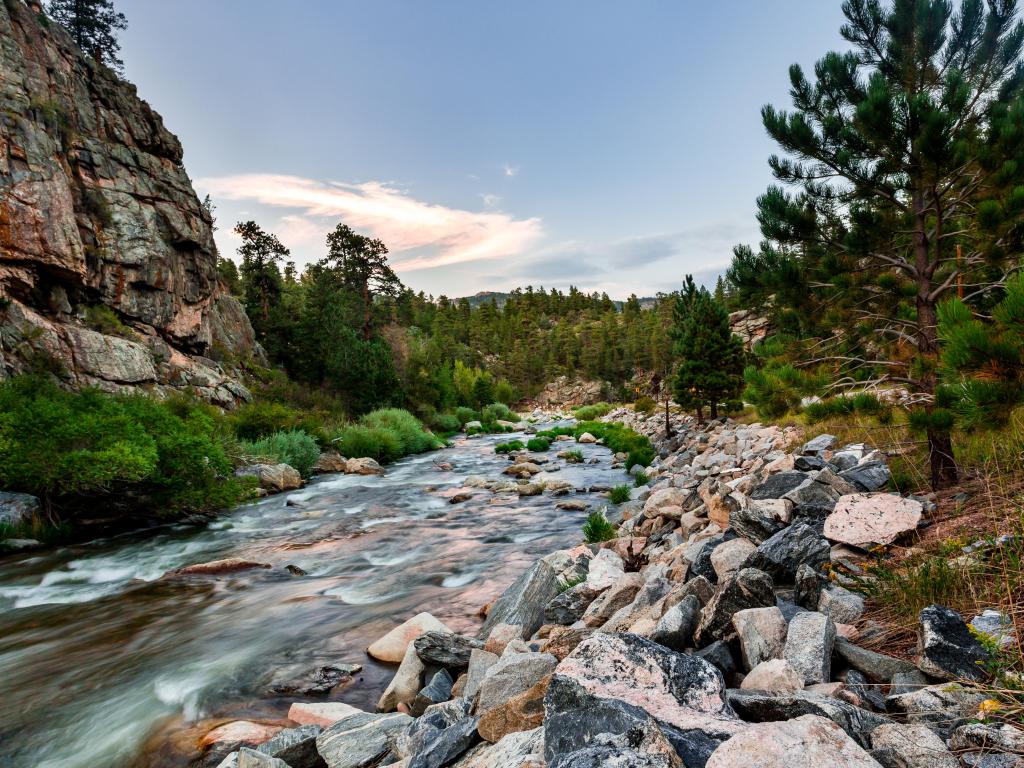 The Colorado Springs Route
Take US-84 out of Santa Fe and merge into NM-68 N to head north. After driving for an hour on the same road, you'll reach Taos.
After exploring the 1000-year-old Taos Pueblo, continue your northward journey on highway NM-522. You'll drive through the gorgeous Rio Grande Gorge, offering dramatic views.
After entering Colorado, continue on CO-159 and pass through the historic town of San Luis. Then once you reach Fort Garland, head east on US-160 and keep driving till you meet Interstate 25 (I-25).
Following I-25 north, reach the historic city of Pueblo. After strolling through the vibrant town, continue your journey on I-25.
Watch the scenery change from rolling hills to rustic mountains. To thoroughly appreciate the breathtaking views and towering sandstone formations, visit Colorado Springs on the way.
Finally, cover the last lap of your journey through the majestic Colorado mountains, including the Rocky Mountains, before arriving in Denver.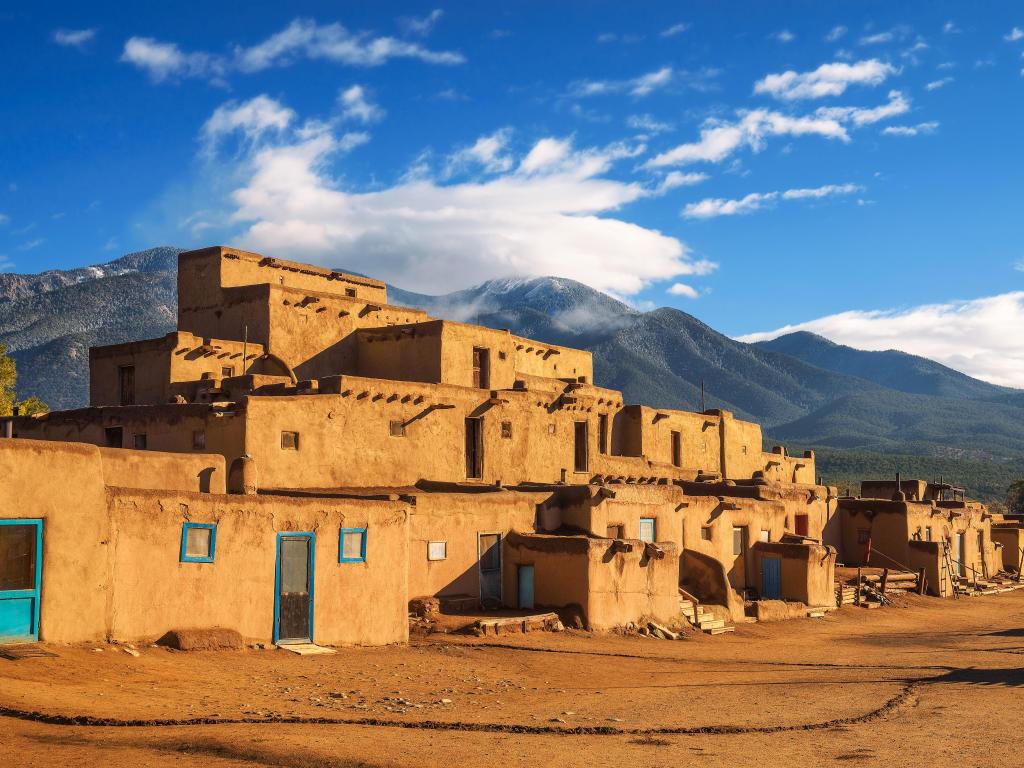 Best places to stop between Santa Fe and Denver
You may be tempted not to take an overnight break, given the relatively short driving time. But when you have so many of the most picturesque and historical cities offering awe-inspiring views to discover, staying at these incredible locations is almost non-negotiable.
A relaxing sanctuary in charming Pagosa Springs
Situated at a convenient halfway distance between Santa Fe and Breckenridge, Pagosa Springs is an ideal overnight stop on The Breckenridge Route. Known for its healing hot water springs, this mountain town is on the San Juan River and surrounded by the San Juan National Forest.
With over 20 different pools of varying temperatures, you can find your 'Goldilocks' zone and relax in the healing waters while enjoying the beautiful views of the San Juan Mountains.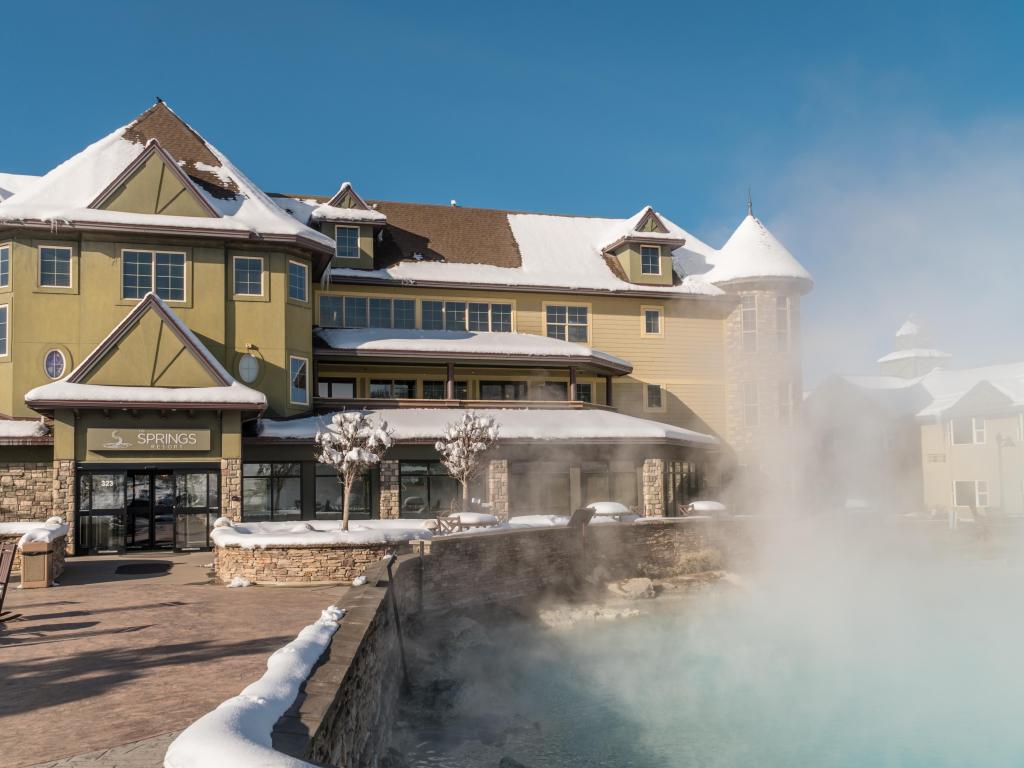 The crystal-clear San Juan River runs through the town and offers excellent fly fishing, kayaking, and rafting opportunities. It is a particularly popular spot for catching trout.
If you visit this place during the snow season, drive to the Wolf Creek Ski Area to enjoy skiing and snowboarding.
Only a short drive from Stevens Reservoir, Elktrace Bed and Breakfast is an excellent place to spend a night. This gorgeous lodge-style bed and breakfast comes with spacious rooms with breathtaking views.
After a long day of driving and hiking, you can unwind in their hot tub and sauna. You can rent skiing gear from the property and enjoy on-site hiking trails. Should you visit during the winter, cozy up next to the fireplace in your room?
If you're lucky, you could also get a room with a kitchen. What we love the most about this B&B is the easy access to San Juan Mountain & Golf Resort and Lake Pagosa.
Enjoy a night at the picturesque Pueblo
If taking The Colorado Springs Route from Santa Fe, you'll encounter Pueblo after covering almost half the distance to Denver. Offering excellent views of the Rocky Mountains and the Arkansas River, Pueblo is also known for its historic architecture.
Popularly referred to as the "Steel City," Pueblo also hosts several events like rodeos, livestock shows, carnival rides, and various other forms of entertainment. For family travelers, The Pueblo Zoo is a major tourist attraction.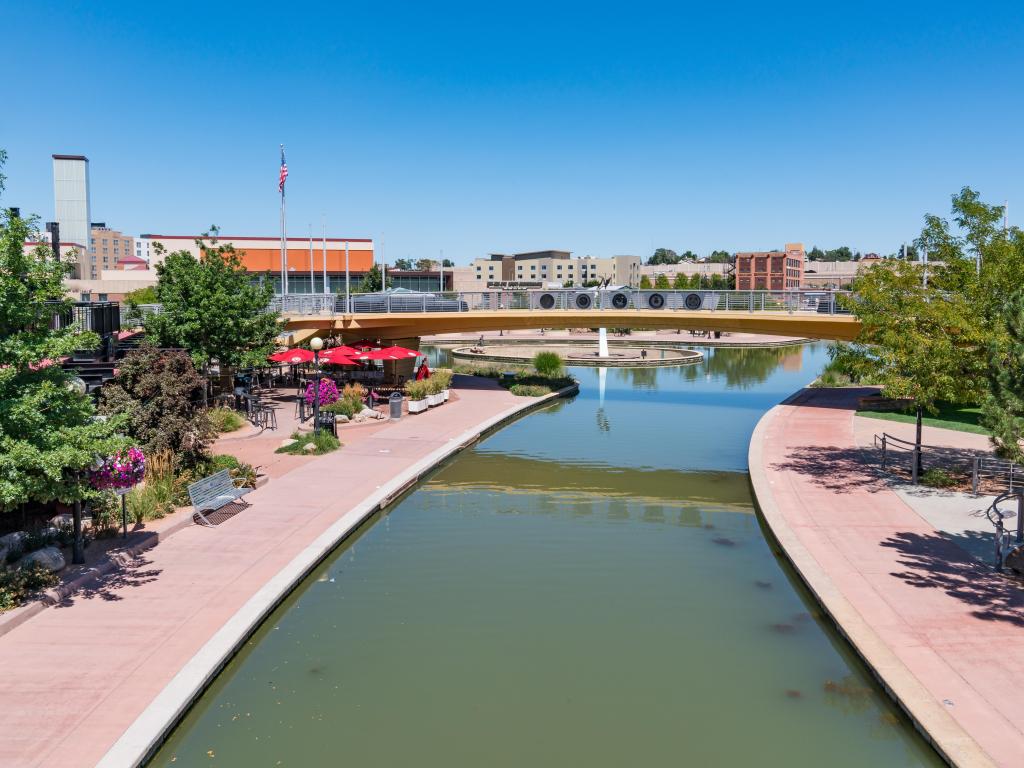 One of the must-visit attractions in Pueblo is the Historic Arkansas Riverwalk. It has walking paths, fountains, and gardens in the city's heart. Stroll the area for shops, restaurants, and fantastic meal food options.
Located just off the highway, Wingate by Wyndham Pueblo is one of our top favorite hotels to spend a night in. Because of its convenient location, it makes an excellent stop for road trippers.
After a long day's drive, melt your stress away by working out in their fitness center or dipping in their indoor pool. Their rooms are comfortable and equipped with modern amenities.
Once refreshed, you can drive to nearby tourist destinations like Lake Pueblo State Park and many shopping and restaurant options.
Where to stay when you reach Denver
Once you get to Denver, look no further than The Maven for your stay. Because of its unique design and central location, it is one of the hotels we keep returning to.
This hotel is also very close to popular attractions like Coors Field and Union Station. If you love hotels with vibrant neighborhoods, you'll love this property in the heart of Denver's LoDo neighborhood.
Not only will you enjoy modern amenities at this stylish hotel, but the dining and shopping options within the Dairy Block complex are just too good to ignore.
Things to see on a road trip from Santa Fe to Denver
Because of the incredible natural beauty, grand mountain ranges, gorgeous national forests, riversides, and scenic roads, the route is dotted with exciting places to see and things to do. Here's what we have picked for you:
The Breckenridge Route
Pagosa Hot Springs, Pagosa Springs – It is known for its natural hot springs, open to the public year-round. Not just thoroughly relaxing, they have been thought to have healing properties too.
San Juan National Forest, Pagosa Springs - A beautiful area for outdoor enthusiasts to hike, fish, camp, and explore nature.
Chimney Rock National Monument, Pagosa Springs - An archaeological site that features two large stone pillars used by the ancient Puebloans for astronomical observation and religious ceremonies.
Breckenridge Ski Resort, Breckenridge - A popular winter sports destination with stunning mountain views and over 180 ski trails.
Breckenridge Main Street, Breckenridge - A charming street filled with shops, restaurants, and historic buildings.
Carter Park, Breckenridge - A beautiful park with hiking trails, playgrounds, and a sledding hill in the winter.
Breckenridge Distillery, Breckenridge - A famous distillery that offers tours, tastings, and a restaurant serving locally sourced cuisine.
Country Boy Mine, Breckenridge - A historic mine that offers tours and a chance to learn about the area's mining history.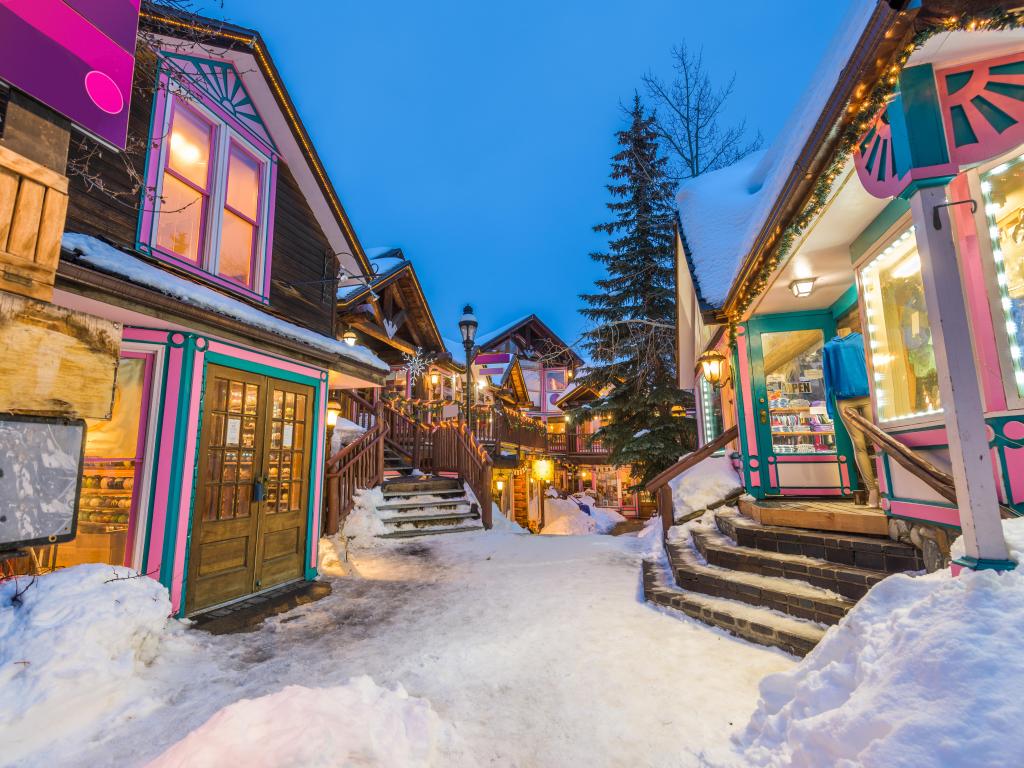 The Colorado Springs Route
Taos Pueblo, Taos - This UNESCO World Heritage Site is a living Native American community and a must-visit spot for anyone interested in history and culture.
Bishop Castle, Rye - This unique and quirky castle was built by one man, Jim Bishop, and is a testament to the power of individual creativity and determination.
Garden of the Gods, Colorado Springs - Located in Colorado Springs, this stunning park features towering rock formations and breathtaking views and is a must-visit for nature lovers and hikers.
United States Air Force Academy, Colorado Springs - This military academy offers guided tours of its impressive campus, featuring stunning architecture and breathtaking views.
Pikes Peak, Colorado Springs - This iconic mountain offers breathtaking views and outdoor activities, including hiking and scenic drives.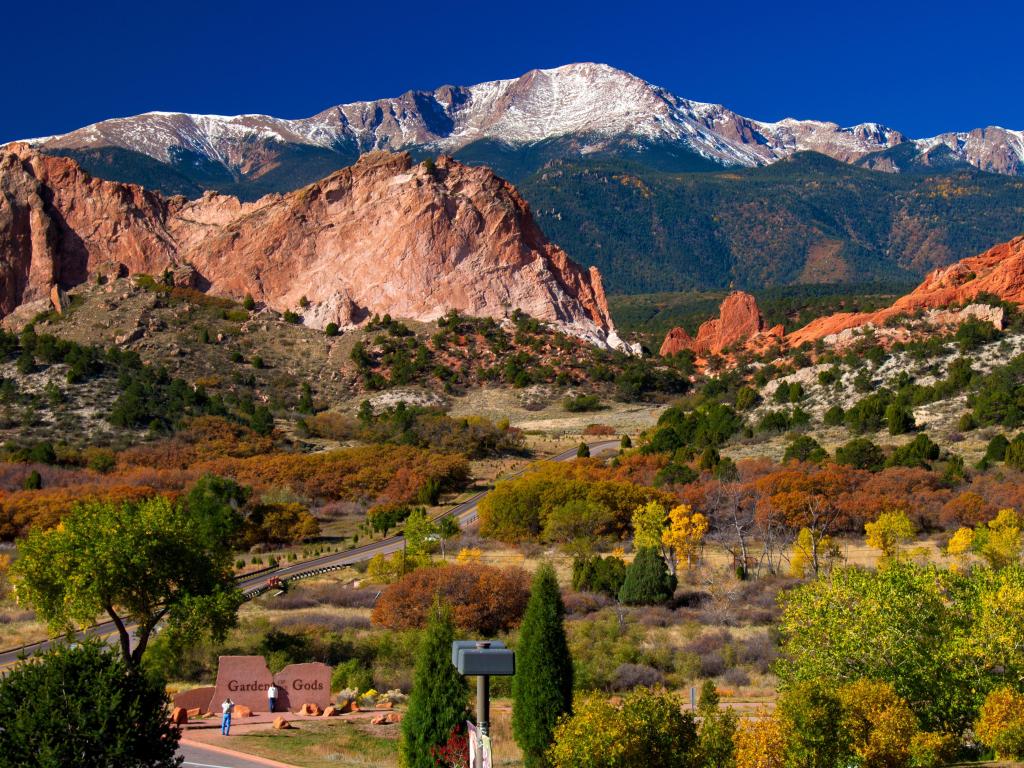 Best time to go on a road trip from Santa Fe to Denver
Because there are enough things to enjoy during summer and winter, Denver is a round destination. That said, there are seasonal considerations travelers should consider before planning this trip.
Denver is a great destination to visit in the summer. The city has a mild climate with warm temperatures averaging 85 degrees Fahrenheit during the day and cool temperatures averaging 60 degrees Fahrenheit at night.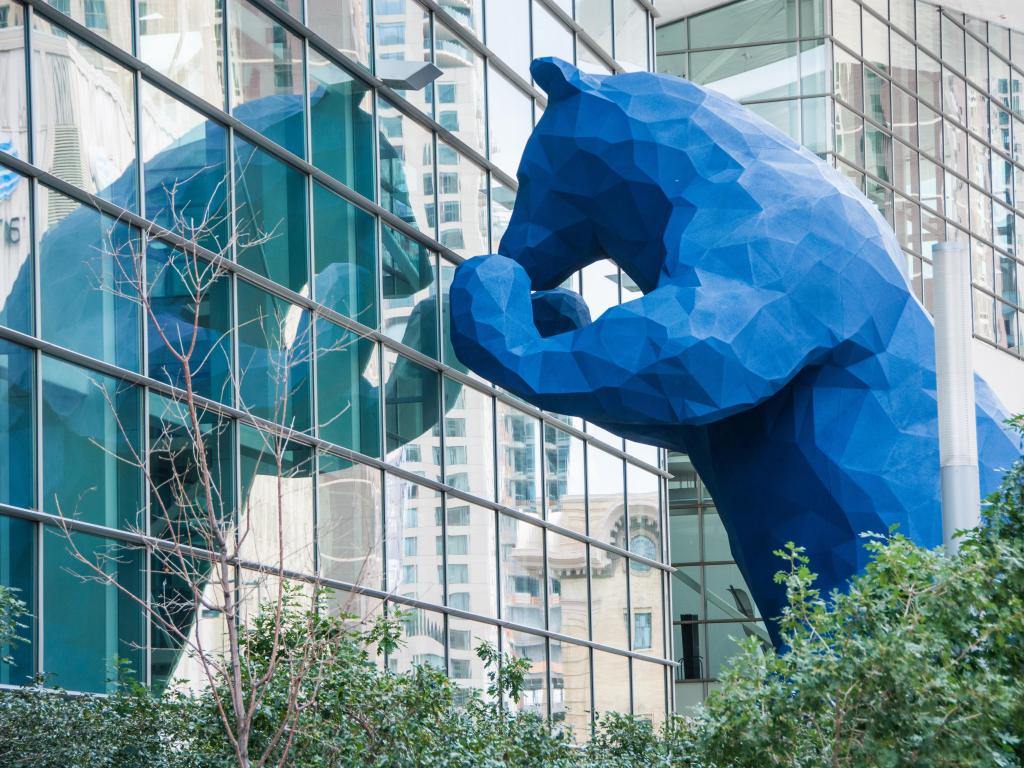 You can go outdoors and enjoy hiking, biking, and visiting the numerous parks and gardens. And because of holidays and favorable climate, it is the peak tourist season in Denver. If you plan the trip from June to August, prepare for high hotel prices and sudden weather changes, and pack plenty of sun protection.
Should you plan to visit Denver during winter, be prepared for cold and snowy winters, with, temperatures often dropping below freezing. Snowstorms are common, and road closures may occur.
So, stay updated on the weather before traveling. The city also offers plenty of winter activities and events, such as skiing and snowboarding in the nearby mountains, ice skating at outdoor rinks, and holiday festivities. It is heaven for people who enjoy winter sports.
Spring and fall are great seasons to visit because of the mild weather and fewer crowds. During spring, the temperature ranges between 60 and 70 degrees Fahrenheit, and cherry blossom views are breathtaking.
Fall is a great time to visit Denver if you want to see the changing colors of the leaves. But remember that Denver is a popular destination year-round, so prices may not vary significantly.
Denver hosts several annual events and festivals like Denver Restaurant Week during February or March, where you can enjoy multi-course meals at fixed prices. The Denver Cinco de Mayo Festival in May celebrates Mexican culture with food, music, and dance performances. Denver PrideFest in June celebrates LGBTQ+ culture and includes a parade, live music, and other events.