Road Trip from Seattle to Banff
If you're looking to escape the bustling city and immerse yourself in stunning mountain scenery, then the road trip from Seattle to Banff is a real get back to nature adventure. Along the way you'll discover quaint towns, gorgeous rivers and lakes and incredible parks and forests.
The 600-mile road trip from Seattle to Banff takes 11 hours to drive. Key stops include Kamloops, Revelstoke, Spokane, Calgary and Missoula plus Great Falls, Kootenay National Park, North Cascades National Park, Lake Louise and Glacier National Park.
To help you make the most of it we've set out the best routes, places to stop overnight as well as our favorite places to visit and time of year to make the trip from Seattle to Banff.
How far is Banff from Seattle, and how long will the road trip take?
Comparison of road trip routes between Seattle and Banff

| Route | Distance | Driving Time |
| --- | --- | --- |
| The Fast Route | 600 miles | 11 hours |
| The Forest Route | 725 miles | 13 hours 30 minutes |
| The Winter Route | 1,065 miles | 16 hours 45 minutes |
There are several different ways you can drive from Seattle to Banff, depending on your preference and the time you have to complete the trip. The quickest will see you head north through Canada and covers a distance of 600 miles, taking 11 hours of non-stop driving.
A southern route option is available which is slightly longer at 725 miles and instead will take 13 hours and 30 minutes of driving without stopping through stunning forests.
Our final suggestion is suited to a winter road trip, where you won't have to worry about icy road conditions. Spanning a distance of 1,065 miles, it's the longest of the three and will take you 16 hours and 45 minutes to complete.
Given the gorgeous scenery, towns and cities you'll be driving through, we'd recommend spending at least three to four days on this road trip, slightly longer if you're hiking along the way.
As you'll be crossing from the US into Canada, you'll also need to remember your proof of identity and to check ahead of the border crossing that you have all the correct documentation with you.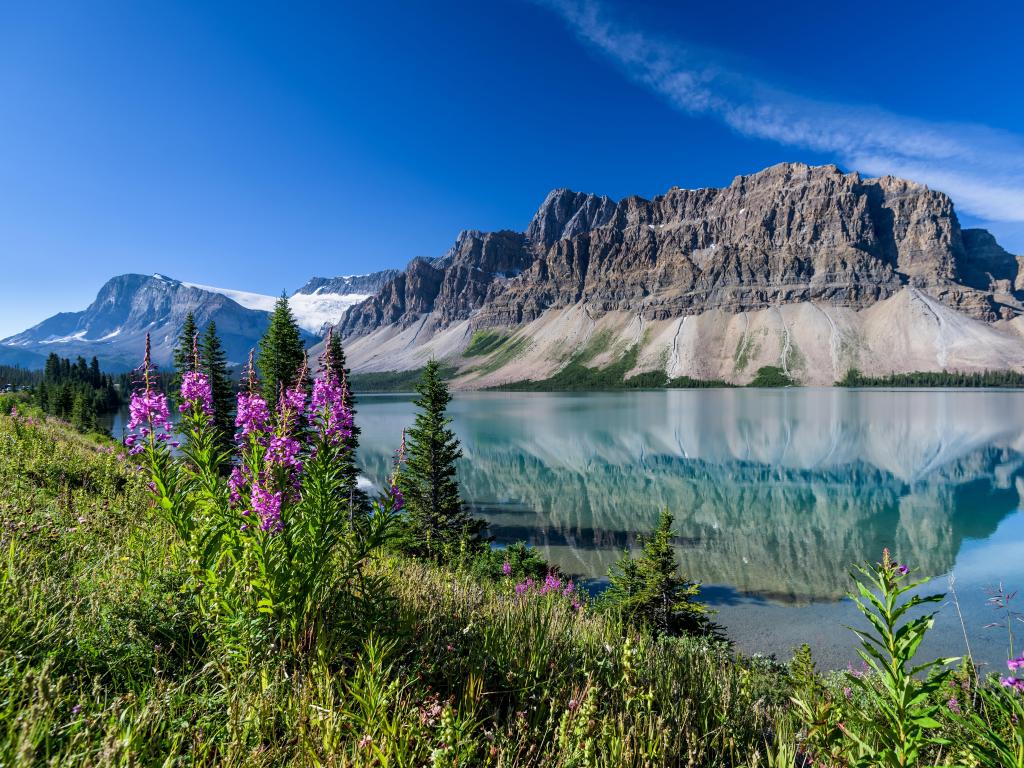 Best road trip route from Seattle to Banff
The best road trip will largely depend on what kind of drive you'd like, as well as the type of scenery you'll most enjoy between Seattle and Banff. The northern option is our Fast Route, not only is it the most direct but you'll be sticking to highways making it straightforward.
Despite it being a direct route, you'll still get plenty of stunning scenery past mountains, lakes and rivers all the way to Banff. There are also several cities to explore, including Kamloops and Golden, plus the amazing Harrison Hot Springs and Glacier National Park of Canada.
It's very much a route of two halves, with the first half up to Kamloops feeling quite urban at times (though that comes with the associated amenities, and there are plenty of small towns to stop and explore along the way).
For something more natural and rugged, you could opt to follow our Forest Route which will take you south through Canada and avoids the interstate for scenic roads through North Cascades National Park, Spokane and Coeur d'Alene before reaching a series of National Forests.
You'll have plenty of chances to enjoy the natural wonders of the Pacific Northwest along this route, including visits to Radium Hot Springs and Kootenay National Park. This route is significantly longer and as the attractions are mainly outdoor, it won't be as enjoyable in poor weather.
If you're looking for a cold-weather road trip, then you'd be better off avoiding the above routes and instead following our Winter Route. This option is much longer and sticks to the interstate for most of the way, but it might be a useful backup in case of bad weather.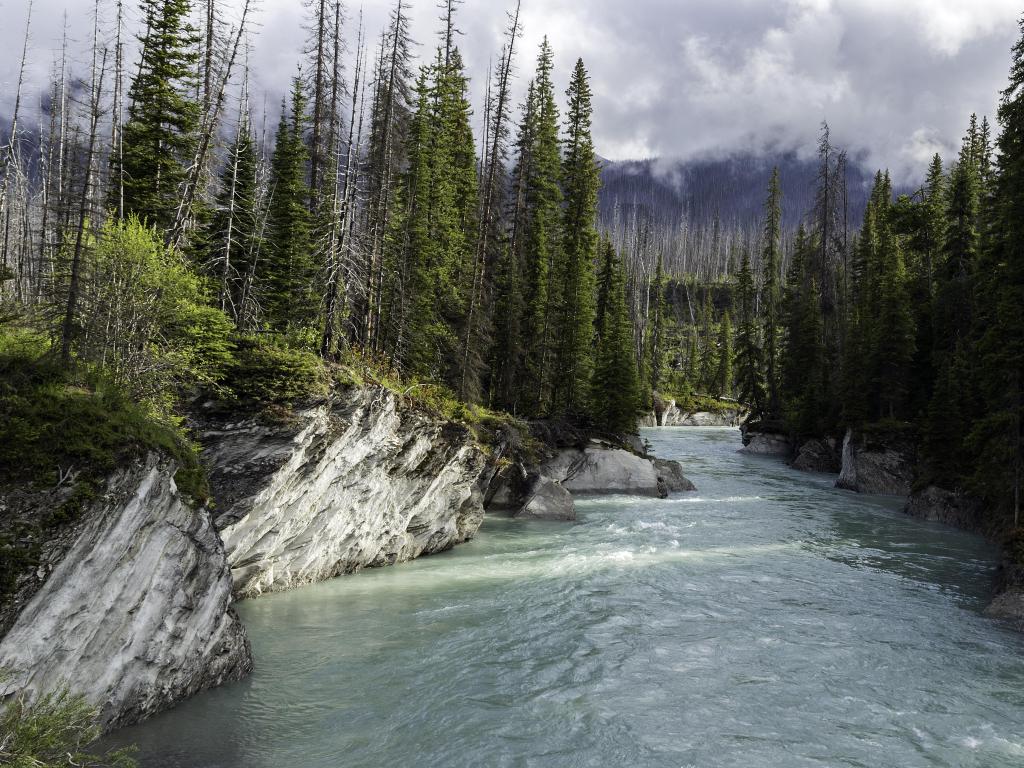 How to drive from Seattle to Banff
The map above shows our suggestions for the best road trip routes between Seattle and Banff. Keep reading for detailed descriptions of both routes, where to stay on either, and the best things to do on the way.
The Fast Route
Our Fast Route begins in Seattle on Interstate 5 (I-5) which you'll follow heading north through Everett, Marysville and Mt Vernon. Continue heading north, alongside the stunning North Cascades National Park until you reach WA-542 east at Exit 255.
Follow this road until you cross the border into Canada, whereby the road will become the Trans-Canada Highway/BC-1 at Abbotsford.
Continue on this road past Chilliwack, making a short detour to visit Harrison Hot Springs. Drive through Hope and merge with BC-5 North, stopping for Cascade Recreation Area if you'd like an early hike.
Follow BC-5 North through several smaller towns, before reaching Kamloops, your first major city on this route. Stop here for an overnight rest and to explore the nearby surroundings, before rejoining Trans-Canada Highway/BC-1 East.
The highway will take you alongside the river as you drive by several lakes and through the mountains of Cat Peak and Mt. Odin. Drive through Revelstoke and stop at Mt Revelstoke National Park.
Continue through the mountains, including the stunning Glacier National Park of Canada and the beautiful town of Golden. Other key places on this part of your route include Yoho National Park to Canada and Mt Temple.
Stop at Lake Louise for stunning views of its turquoise water and mountain backdrop, before following Trans-Canada Highway/BC-1 East the rest of the way to your destination of Banff.
The Forest Route
This route takes you further through the US before crossing into Canada. Begin in Seattle on I-5 North through Everett and Marysville, just like the route above. Except this time, you'll need to take Exit 208 and continue east on WA-530.
Follow this road through several towns and the mountains of Mt Baker-Snoqualmie National Forest and Glacier Peak. Pass Rockport and take State Route 20 east through Marblemount and Newhalem.
Stop here to explore North Cascades National Park, then continue on State Route 20 through several more towns before taking WA-153 East and then US-97 North. Change to WA-17 South and then WA-174 East.
When you reach Wilbur, take the left onto US-2 East to Spokane in Washington - a great point for an overnight stop on this route. Continue heading east as you cross into the state of Idaho.
Take Exit 2 and join US-95 North, alongside Kaniksu National Forest. Continue past a few towns before reaching Kingsgate and crossing into British Columbia where the road becomes BC-95.
Continue north, changing to BC-93 past Cranbrook and drive through several pretty Canadian towns and alongside Mt Harrison to Fairmont Hot Springs, Windermere and Radium Hot Springs.
You'll pass through Kootenay National Park, a stunning place for a hike, before following BC-93 across into the province of Alberta and joining the Trans-Canada Highway/AB-1 East to Banff.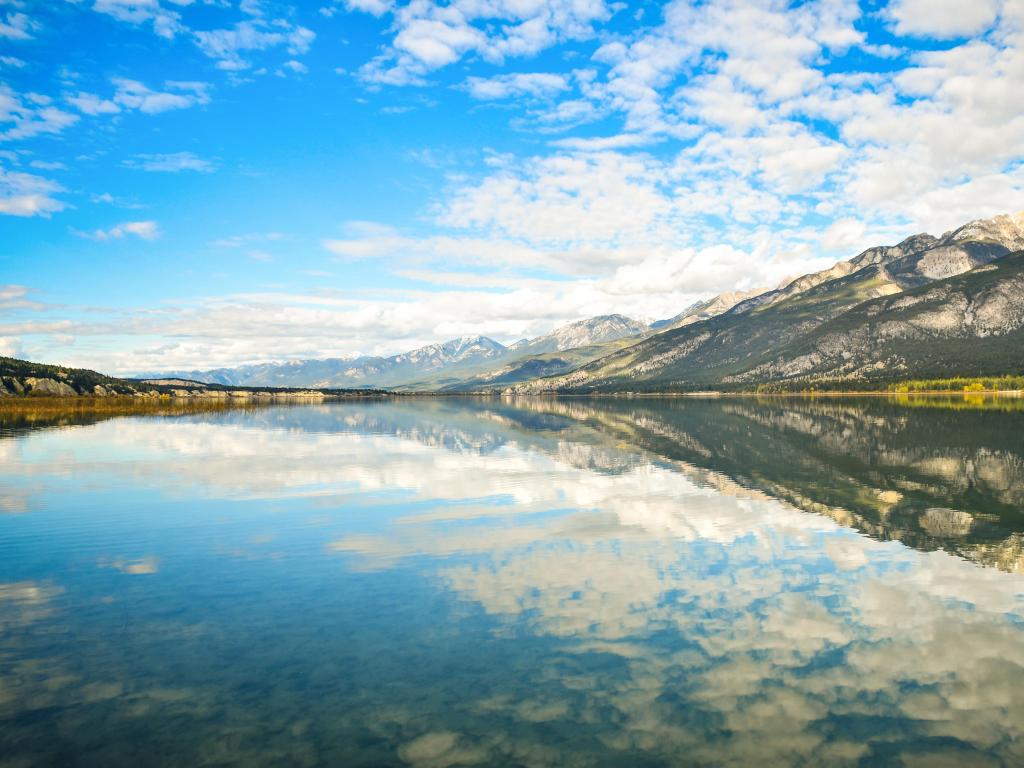 The Winter Route
Our ideal winter trip option will see you leave Seattle on Interstate 90 (I-90) East for a large chunk of the drive. You'll pass through Ellensburg and Moses Lake, before reaching Spokane, like the route above an ideal place for an overnight stop.
Continue on I-90 East, stopping at either Idaho Panhandle National Forests or Coeur d'Alene National Forest for a walk or hike. Pass several small towns before crossing into Montana and past Lola National Forest.
Follow the Interstate until you reach US-12 in Garrison at Exit 174. Follow this road east to Helena, a great base for exploring Helena-Lewis and Clark National Forest.
Next merge with Interstate 15 (I-15) North, past Cascade and Great Falls and to Coutts, where you'll cross into Canada and the road will become AB-4. Drive north through several towns before taking Crowsnest Highway/AB-3 West in Monarch.
Join AB-2 North, following signs for Calgary before stopping at this great city for a rest or just to explore. Afterwards, you'll join the Trans-Canada Highway/AB-1 West the final stretch to beautiful Banff.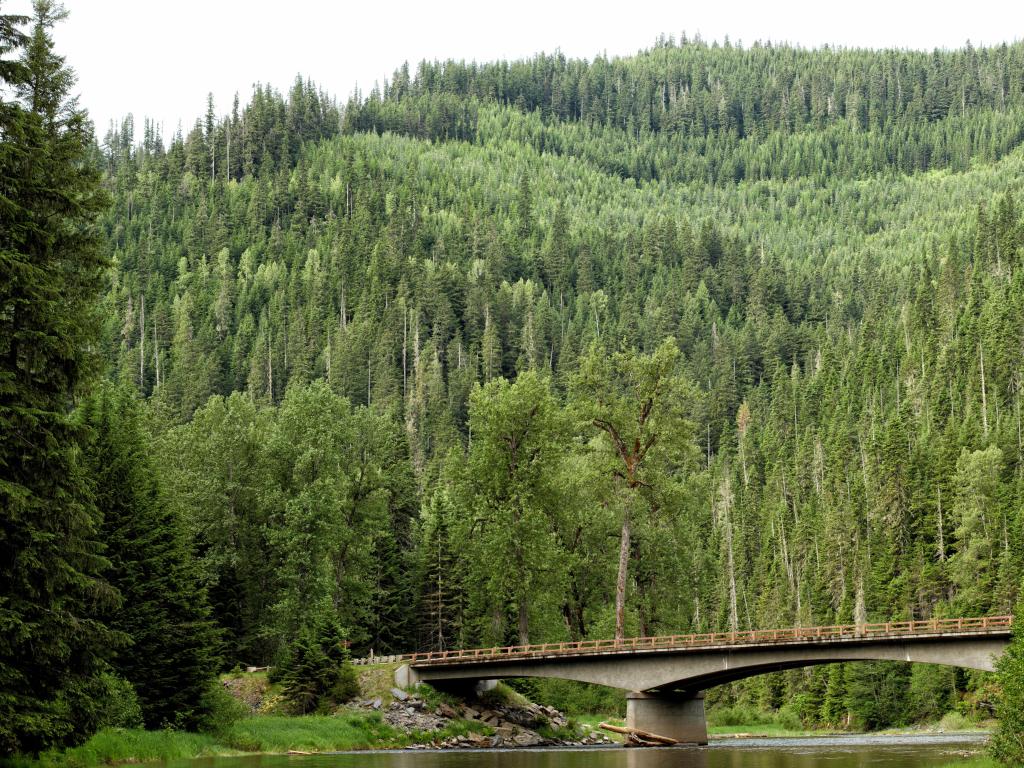 Best places to stop between Seattle and Banff
This beautiful road trip between Seattle and Banff really deserves a few days spent on it, making the most of the stunning scenery along the way. To make it as comfortable as possible, you should plan a couple of overnight stops to break up the driving.
Of all the amazing towns and cities you'll pass through, here are some of our favorites:
Lake views at Sicamous
Ideally located just over halfway on our Fast Route (over 6 hours from Seattle and just 4 hours to Banff), Sicamous is a great base for an overnight rest. While Kamloops is close by, you'll be stunned by the mountain and lake scenery that you'll get in this smaller Canadian town.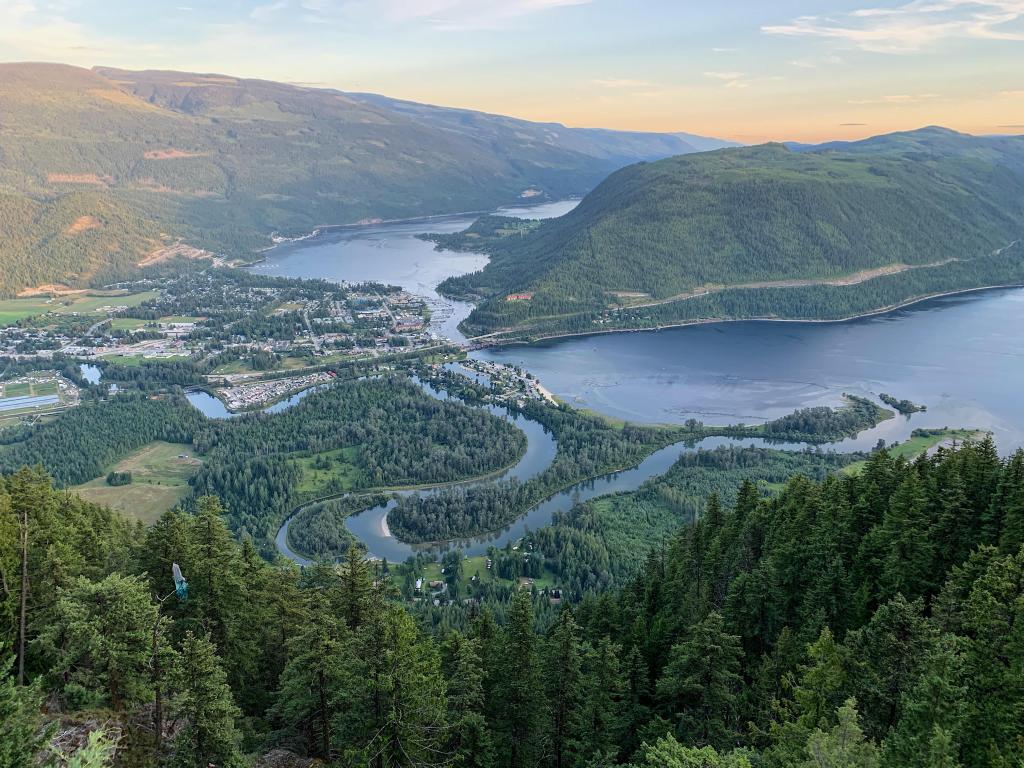 Known for its lakeside setting, with beaches, boating and trails aplenty, Sicamous also has a number of nearby attractions worth considering. After taking in the mountaintop views at Sicamous Lookout, you can stretch your legs at Eagle River Nature Park.
If you have the time, make sure to visit the Crazy Creek Suspension Bridge where you'll get a fantastic view of the Crazy Creek Waterfalls which plunge through a beautiful, forested valley or spend the afternoon relaxing at a vineyard where you can sample the areas famous wines.
Given the stunning setting, you'll want a hotel that maximises the incredible views. A stay at the Best Western Sicamous Inn won't disappoint. Just a short walk from the beach, this resort offers spacious rooms, modern decor and a pleasant indoor pool if you hit bad weather.
Its ideal location, close to the centre of this small town and just off Trans-Canada Highway 1, means it's easy to find without adding any distance to your drive. It also has free parking and those all important lake views, so you'll be refreshed and ready for your final day of driving.
A historic stop at Spokane
If you've decided to follow either the Forest or Winter Route to Banff, then Spokane serves as an ideal base as it's just a day's drive from Seattle and a third of the way to Banff.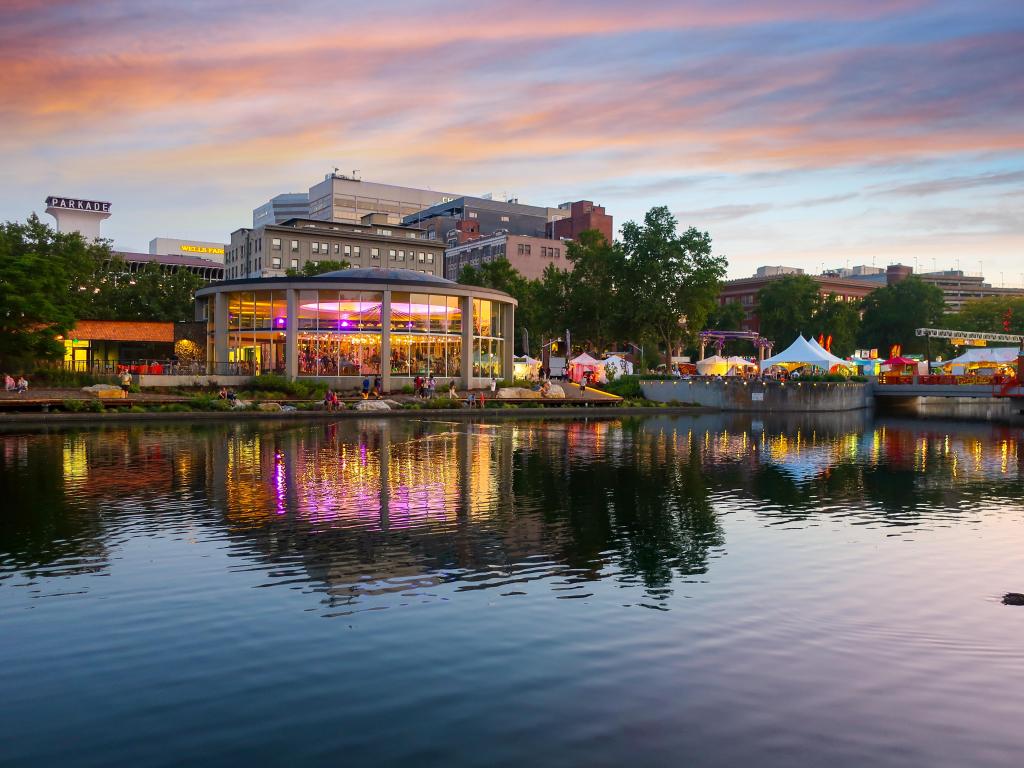 Spokane in Washington state is one of the biggest towns on these routes, making it a great chance to enjoy some urban vibes before continuing along the slower road to Canada.
Known for its history, with origins as a logging town, which grew first when the railroad arrived and then expanded much more during Canada's gold rush, nowadays visitors can enjoy exploring the Northwest Museum of Arts & Culture and Historic Flight Museum.
There's also a great historic district, known as Browne's Addition, which is famed for its restaurants, bars and independent shops among nineteenth-century homes and buildings.
After a day of exploring, why not book a room at the Hotel Indigo Spokane Downtown? Situated in a historic building with clever design to carefully combine heritage features and modern style, this downtown hotel is within walking distance of bars and restaurants.
Expect comfortable and spacious rooms with all the amenities you could want, including an onsite bar, brasserie and free parking. You're also just a short walk to Riverfront Park and the famous Knitting Factory, making your location a great base to discover the hidden gems of the city.
A mountain retreat at Banff
Your trip doesn't end when you reach Banff. Surrounded by the Cascade Mountains, you can enjoy a multitude of activities here from skiing to hiking, swimming and canoeing to shopping and enjoying great food.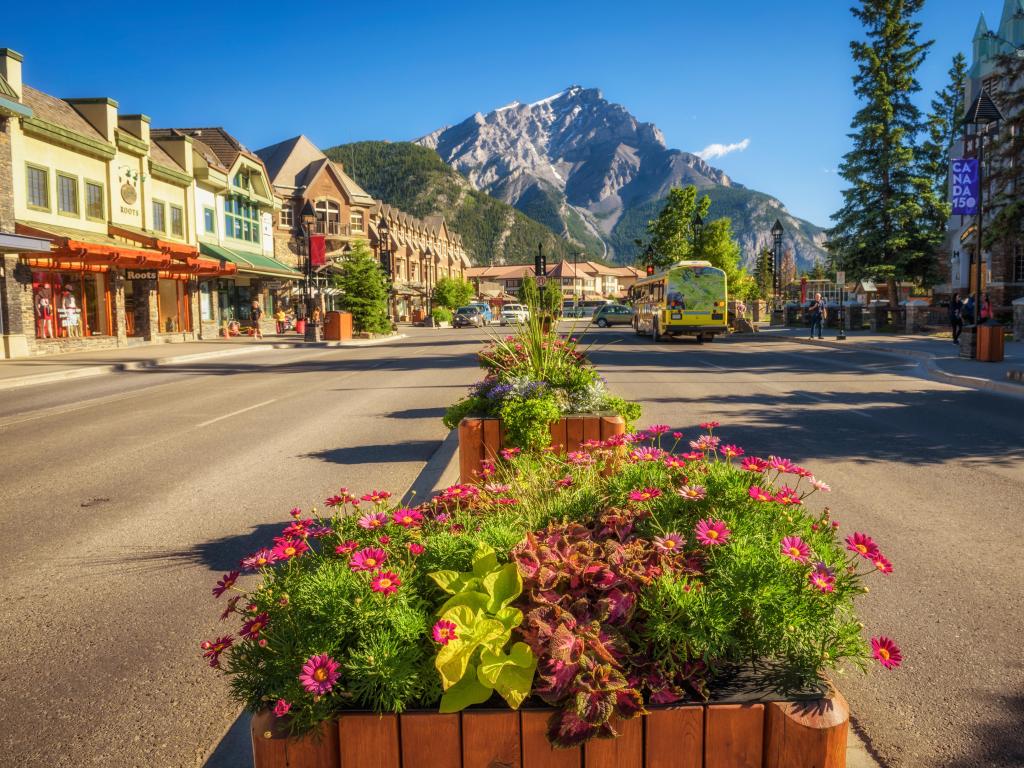 Banff itself is a popular tourist destination, with its well-equipped Avenue offering boutique shops, restaurants and beautiful hotels. Meanwhile, you're just a short drive from Banff National Park which is an incredible place to explore and enjoy mountain and lakeside views.
Given its popularity, you won't be surprised to learn that there are a great number of fantastic resorts in Banff. But if getting back to nature has been the driving force to your trip, then you simply have to book the Hidden Ridge Resort.
Combining modern comfort with traditional architecture, this hotel is located on the edge of town so you'll be able to escape the tourists and enjoy unspoilt mountain views.
All rooms come with their own kitchen and outdoor barbeque facilities. Most rooms also have balconies, making the most of the stunning views and there's outdoor hot tubs and pools, plus a sauna to enjoy.
With free parking (there's even a free shuttle for guests if you're tired from all the mountain walking) and being just a mile away from Banff Centre, this hotel is the perfect place to finish your road trip whether you're staying for just a day or the whole week!
Things to see on a road trip from Seattle to Banff
With so many places to visit between Seattle and Banff, it could be a little overwhelming to plan which attractions you'd like to visit along the way. To help, we've set out some of the best bits you'll encounter:
The Fast and Forest Routes
Everett, Washington - Just 30 minutes out of Seattle, you can make a stop here to head out in search of grey whales on Possession Sound. Sea kayaking can also be an option here, depending on the conditions.
North Cascades National Park - The first of many mountain-related stops on the way out of Seattle, you can hike the trails of the Cascades, or even just make your way part way up Mount Baker by car to enjoy far-reaching views and a walk across its snow-capped plateau (even in summer).
Banff National Park - The national park centered around your destination, Banff, is so stunning, and holds so many geological clues to the past, that UNESCO has named it a World Heritage Site. Hike, bike or enjoy a scenic drive as you take in the views of the many mountains, lakes and rivers that make up the park.
Lake Minnewanka - This man-made lake is one of the largest in Canada, with a stunning mountain backdrop and hiking trails. For something a little different, you can try out stand up paddleboarding here, or take the Beer Voyage Cruise, where local craft beers are on offer.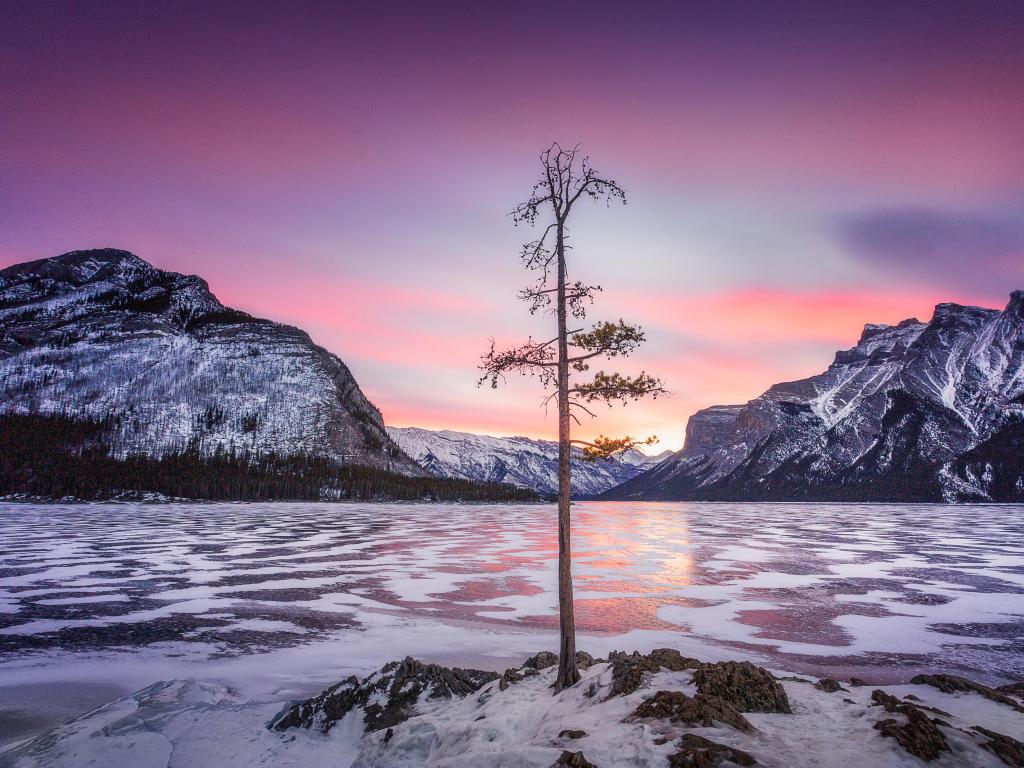 The Fast Route
Abbotsford, British Columbia - Just over the border into Canada, this town in the Fraser Valley is known as the berry capital of Canada. Take a break to explore the mighty Fraser River and the many small towns nearby.
Harrison Hot Springs - Take to the water at this beautiful lake with mountain views.
Kamloops, British Columbia - There are hiking trails and multiple ski runs just outside the city, but in case you're saving your hiking boots for later in your trip, you could also head past Kamloops Lake to visit the impressive clay hoodoos (similar to Bryce Canyon in the US).
Salmon Arm, British Columbia - Launch a canoe onto Shuswap Lake or head over to one of the wineries in the nearby area for some liquid refreshment.
Sicamous, British Columbia - Head up to Sicamous Lookout, a wooden platform originally built for hang gliding enthusiasts. Even if you're not up for launching yourself off the mountaintop, you'll catch fantastic views.
Revelstoke, British Columbia - You'll find Revelstoke among a temperate rainforest which is home to wildlife including caribou, grizzly bears and mountain lions! From here you can go white water rafting on the Illecillewaet River. It's also the entry point to Mt Revelstoke National Park.
Glacier National Park of Canada - Take your pick of hiking trails in one of British Columbia's National Parks – there are over 1,300 km of trails here, with the routes out to waterfalls being particularly impressive.
Lake Louise - Once you've finished soaking in the views over the lake's turquoise waters, you can head up to explore nearby Victoria Glacier.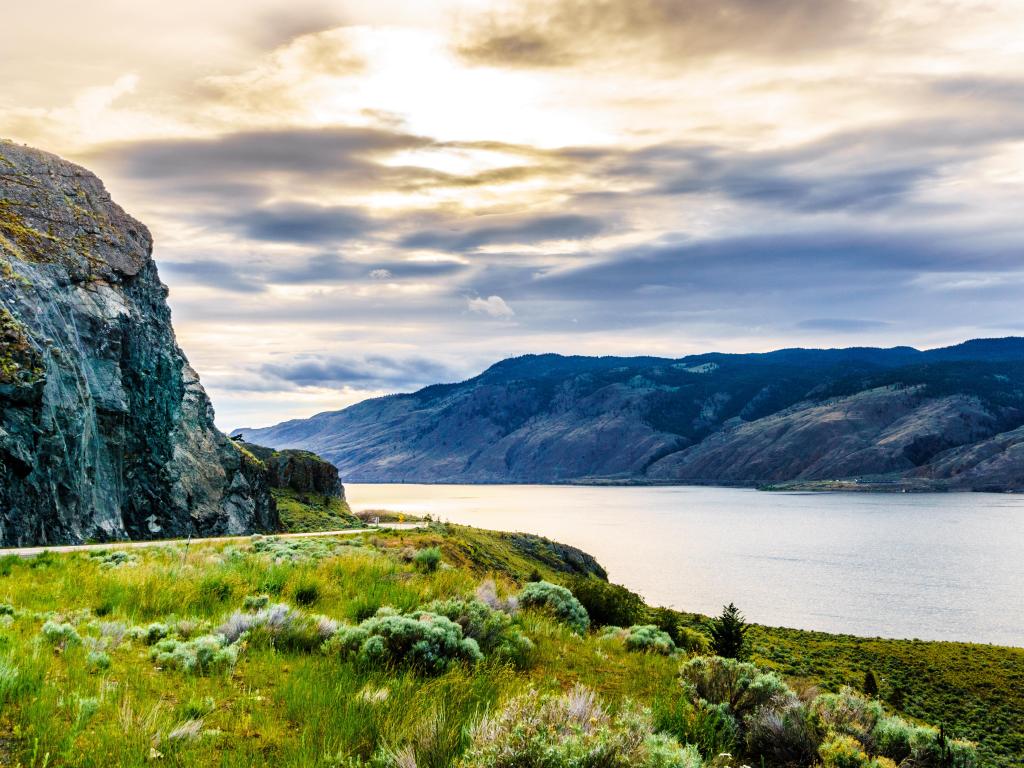 The Forest Route
Spokane, Washington - Talk a stroll through the historic Browne's Addition district before learning more about the history and culture of the region at the Museum of Arts & Culture.
Coeur d'Alene, Idaho - As well as being an entry point to more stunning outdoor areas, this waterside city is home to several galleries and the informative Museum of North Idaho.
Idaho Panhandle National Forests - Mile after mile of riverside forests create a lush and inviting area to explore on foot, by bike or over the water.
Radium Hot Springs - Situated in Kootenay National Park, these natural springs offer a relaxing and, according to some, healing experience.
The Winter Route
Spokane, Washington - Same as with the Forest Route.
Missoula, Montana - The riverside location of this on the edge of the Rockies means you can kayak right through the downtown area, before enjoying food and drink at one of the characterful bars and restaurants.
Helena, Montana - The so-called "Queen City" of the Rockies has a historic downtown district which includes Montana's State Capitol as well as St Helena cathedral.
Calgary, Alberta - Visit Heritage Park Historical Village or the Glenbow Museum before starting out on the last stretch of your drive.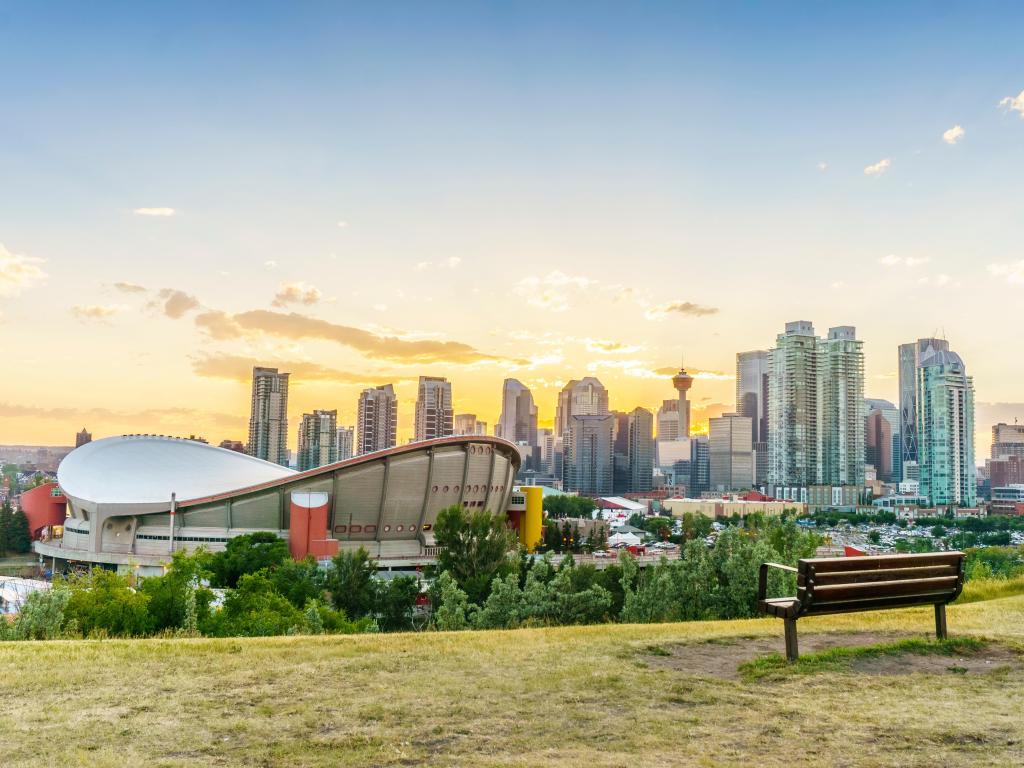 Best time to go on a road trip from Seattle to Banff
The drive from Seattle to Banff is a year-round trip, though the best time to travel will depend on personal preference. For example, if you don't like snow or winter sports, then there are definitely certain months you should avoid.
Banff is cold in winter. Temperatures rarely make it higher than 28 degrees Fahrenheit and regularly fall as low as 7 degrees Fahrenheit. There's also regular and plentiful snow which starts to fall in November and can stick around until April.
Both the Fast and Forest Routes take you through British Columbia, where snow tyres are a legal requirement from October onwards, so make sure your vehicle complies before setting out. If you're picking up a rental in Seattle, you might have to request this as an extra.
If you enjoy winter sports, you'll be rewarded with some of Canada's best slopes when you arrive at Banff, with well-equipped resorts and runs. The stunning setting makes this a very popular ski resort, so accommodation prices will rise accordingly at peak times through the season.
In comparison, Banff experiences relatively cool summers, with temperatures maxing out at around 70 degrees Fahrenheit and the potential for some pretty chilly nighttime temperatures due to its high altitudes. There's also the chance of rain from May to August.
The stunning location means that the area around Banff attracts many visitors through the summer months, with accommodation prices increasing accordingly. Lakes and attractions near the town can also become busy.
Another option could be to travel in either spring or fall. If you're after a scenic drive with good road conditions, then late April or May could be a great time to schedule your trip.
There are a few festivals you could consider timing your trip with, notably the Banff Centre Mountain Film and Book Festival (late Oct/early Nov) and the Ice Magic Ice Carving Competition held in late January on Lake Louise, which will be a marvellous sight to behold!