Road Trip From Seattle To Glacier National Park
Glacier National Park is one of the most spectacular places in America to explore nature and as Seattle is the closest major city, you can drive there with relative ease.
The 550-mile road trip from Seattle to Glacier National Park in Montana will take about 10 hours of driving via the I-90 across Washington and Idaho. Stop at Snoqualmie Falls or the Kaniksu and Kootenai National Forests for more stunning wilderness.
Read on for our top tips on places to stop, things to do and see and the best route to take to Glacier National Park.
How far is Glacier National Park from Seattle, and how long will the road trip take?
If you plan to take a scenic car ride from Seattle to Glacier National Park, you're looking at a distance of about 550 miles (885 km), which will take approximately 10 hours.
Although it may seem like a long time, the stunning scenery along the way will make it feel relaxing as you head east through some of America's most wild parts.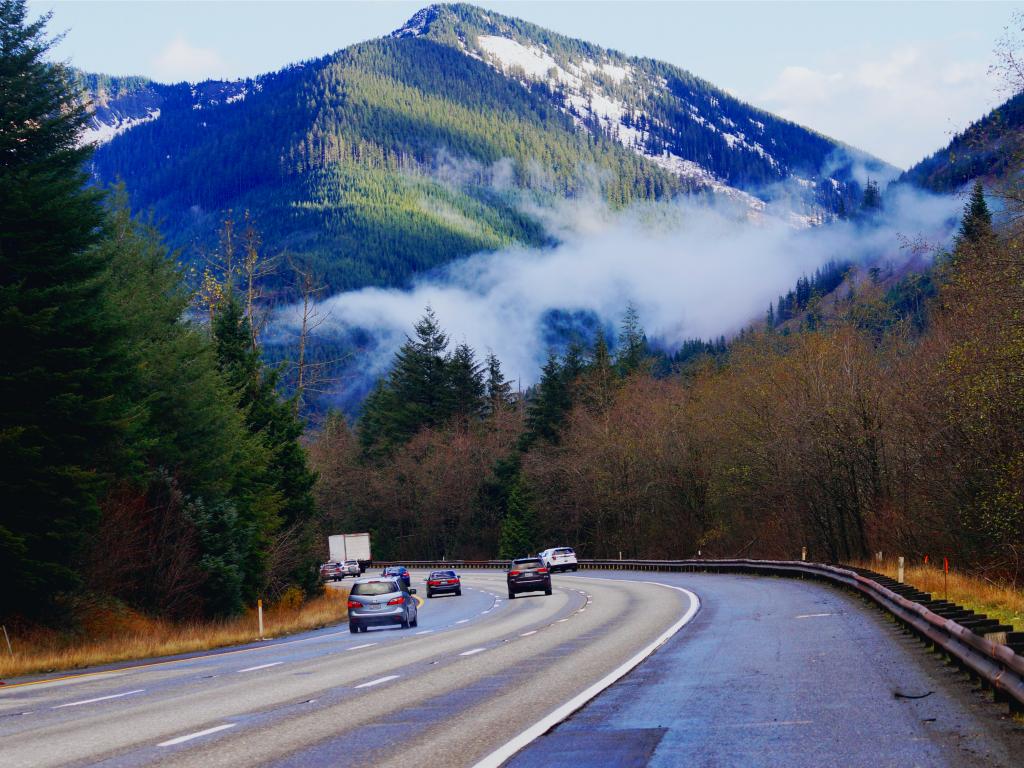 Give yourself a 1 to 2-hour leeway to allow for traffic heading out of Seattle and weather conditions on the way.
While you may want to put the pedal to the metal and reach this relaxing destination as quickly as possible, don't forget there are some amazing places to stop along the way so take your time to make the most of it.
That's the best part about taking a road trip. The journey is part of the experience!
Best road trip route from Seattle to Glacier National Park
The 550-mile scenic route also happens to be the quickest way from Seattle to Glacier National Park. It takes you across Washington's entire state with many lakes, waterfalls, and Spokane Valley along the way.
You can also take yourself 3 miles out of the way, which isn't far at all, to visit the Kaniksu National Forest, sort of like a prelude to Glacier National Park.
Don't worry, it won't put too big a dent on your travel plans as the tiny detour only adds about 13 min to your journey.
Road trip route from Seattle to Glacier National Park
From Seattle, hop on the I-90 and head east. The I-90 pretty much takes you directly to your destination, so not much navigation is needed.
You can stop by Moses Lake along the way, which is surrounded by smaller Blue Heron, Cascade, and Hayden Parks.
We would recommend this detour if you have kids since Surf N' Slide Waterpark is also in the vicinity.
Hop back in your vehicle and continue along I-90, passing through Sprague, Spokane, and Spokane Valley, which is where you can choose to head north until you hit Kaniksu National Forest.
If not, the I-90 will continue to lead you through forest regions all the way up to Flathead Lake and eventually West Glacier, which is where you would leave your vehicle to venture into the Glacier National Park.
Best places to stop between Seattle and Glacier National Park
Pit Stop in Spokane, Washington
If you don't feel like driving the whole way through, we would suggest stopping in Spokane and spending a night downtown in the Oxford Suites. The hotel is close to Spokane Valley and Riverside State Park.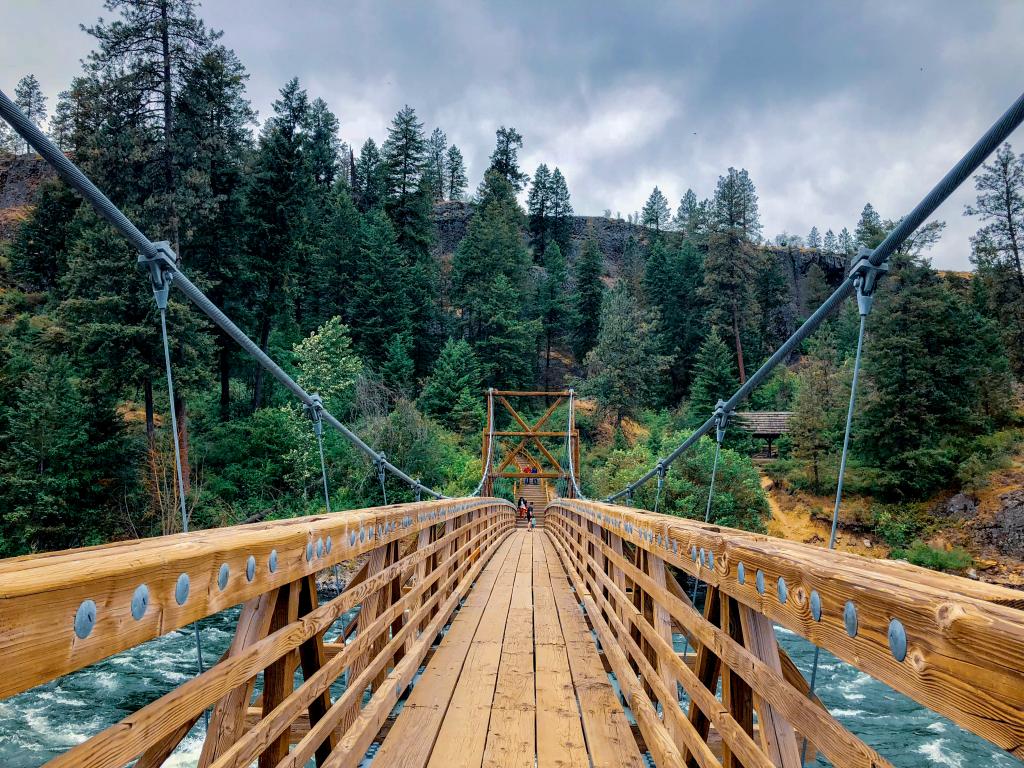 Situated along the Spokane River, you will be right in the midst of all the hustle and bustle with access to the Riverfront Park and shopping centers.
The spacious suites have everything you need to make the best home away from home on the road. National parks are great to bring your pet along with you as they get just as much fun out of the scenic hike as you do.
The Oxford Suites Downtown Spokane is pet-friendly and free for kids! Get a good night's rest in an air-conditioned room, so you're refreshed and rejuvenated for the rest of the journey. On we go!
Enjoy Big Fork's Lake Lodge
As you make your way further down the I-90, you'll hit Flathead Lake. There is a small community of Big Fork located a mere 7 or so miles away from the lake, and there you will found the quaint and rustic resort of Mountain Lake Lodge.
The rooms are roomy and cosy, with breath-taking views right outside your patio doors.
The hotel's name turns out to be very descriptive as it is literally a little lodge with the crystal blue lake in the background.
For those who want a bit of snazz in their lives, rooms with a hot tub and a terrace are available! There is nothing more relaxing than pampering yourself with well-deserved rest after a long drive.
Columbia Falls, Just Before Your Destination
Who has the energy to embark on an all-day adventure right when you arrive at Glacier National Park? That's why we have you covered and offer a place to rest just before the final destination.
North Forty Resort is located in Columbia Falls and features private cabins. The cabins are far from minimal, and they offer everything you need, such as free Wi-Fi, a hot tub, sauna, and all the electronic creature comforts we are used to.
From there, Glacier National Park is only a 20-minute drive away. There is also a waterpark about 6 miles out in case the kiddos want to play. You will have a restful sleep at night in the cosy cabins to prepare for the big day!
Things to see on a road trip from Seattle to Glacier National Park
The unbeatable factor about opting for a road trip rather than a boring plane ride is all the sights you get to see along the way. While Seattle to Glacier National Park is only 10 hours and crosses just one state line, there is still plenty to see and do.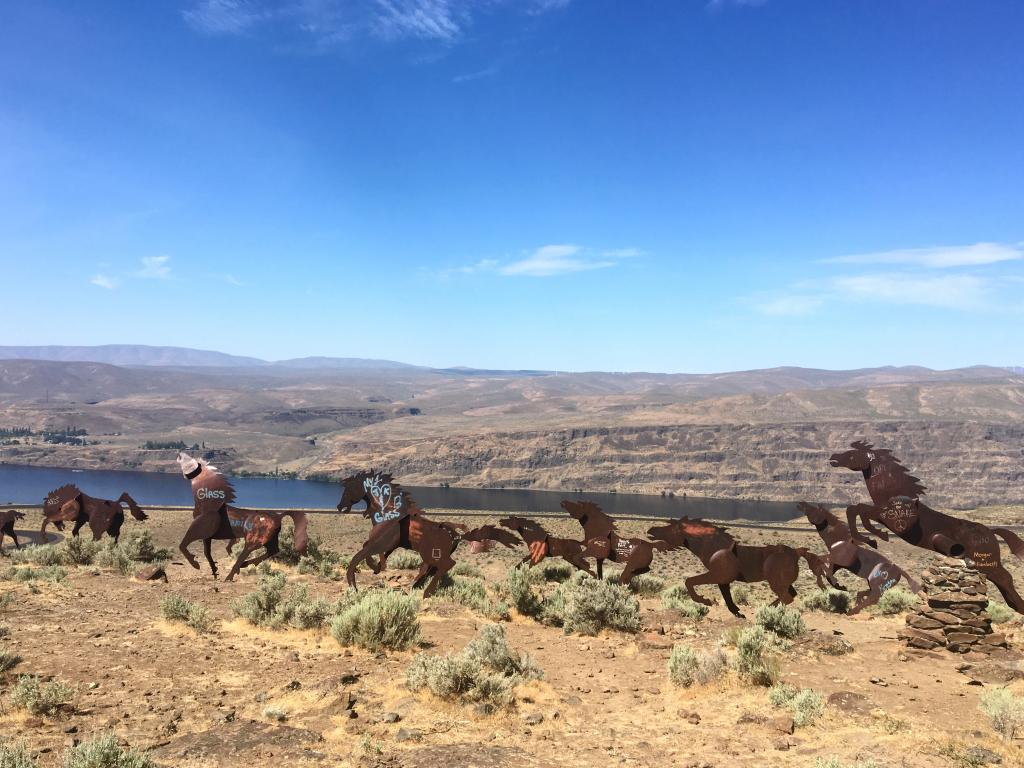 We won't get into all of it, but we've picked out all the must-see options on the list. You can choose to stop and spend some time in the following places or decide to drive the whole way through.
Mount Rainier - Only just outside Seattle at the start of your route, a slight detour south will take you to one of the best known mountains along the US West Coast.
Snoqualmie Falls - The 268-foot waterfall is a sight to see. If you ask a native from Washington State their top scenic attractions, Snoqualmie Falls will definitely make it somewhere on their list. Aside from the falls, there is a 2-acre park where you can stretch your legs and go for a walk. If you decide to spend the night there, Salish Lodge is our recommendation.
Wild Horses Monument - The monument depicts a group of wild horses running wild, the embodiment of what it means to be free. The breath-taking sculptures are the artistic expression of David Govedare, a Chewelah sculptor. They are intended to be admired from a distance and are an excellent backdrop for the Gram.
Cave B Estate Winery - I don't know about you, but the epitome of relaxation to me consists of a nice glass of red. If you love wine as I do, the Cave B Estate Winery is a go-to stop. It's a wine-tasting venue that is exceptionally friendly to dogs as well! So have no fear if you decide to take your fur baby with you on this journey, Cave B Estate Winery will welcome them with open arms.
Downtown Spokane - If you miss the big city or need to pick up supplies, Downtown Spokane, also known as Riverside, should an important stop. It has quite a laid-back feel to it, with eateries, restaurants, boutiques, and pubs lining the area. You can take some time to reconnect with the world and find a stable Wi-Fi connection to upload the loads of pictures you have undoubtedly taken.
Kaniksu and Kootenai National Forests - I know you're about to head to a national park, but one can't get enough of nature - at least that's my opinion. So why not stop at Kaniksu and Kootenai National Forests in Montana? It features gorgeous views of mountains and rivers that look like they belong in a painting rather than existing right before your eyes. To me, there's nothing as humbling as Mother Nature and what she has to offer.
Best time to go on a road trip from Seattle to Glacier National Park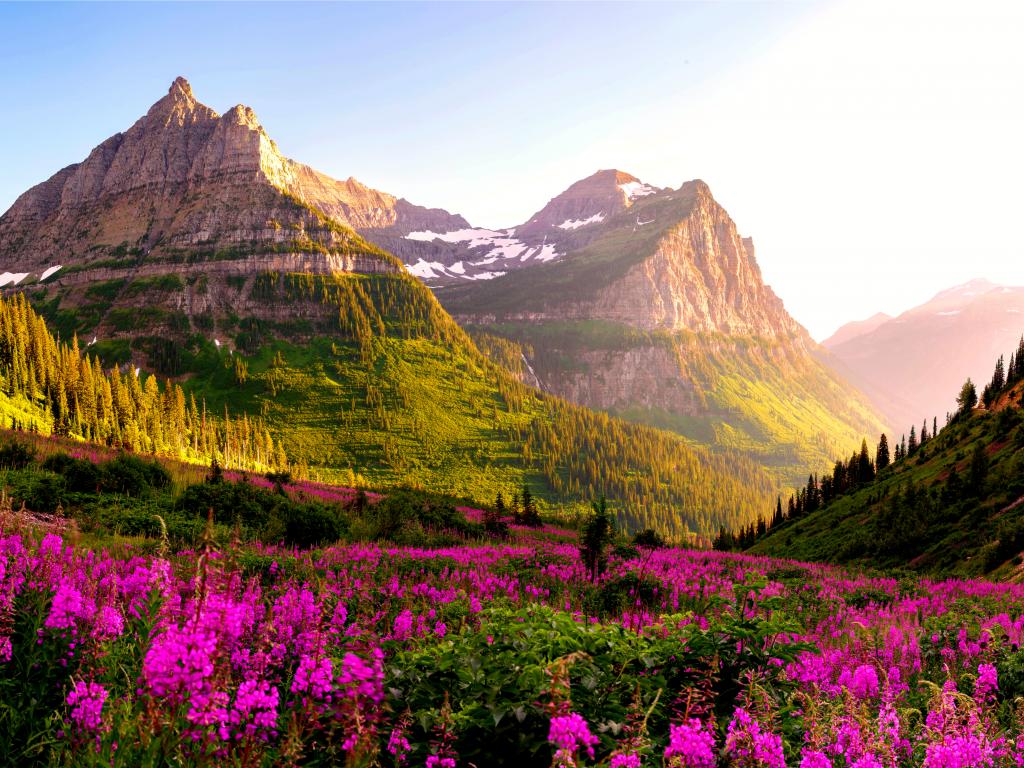 The best time really depends on what you prefer. Summer is the obvious choice with weather being at its best and hiking routes in Glacier National Park being easily accessible.
You'll notice that this is also the busy part of the year with everyone taking advantage of the good conditions and summer vacations to go on the long drive from Seattle.
Fall is a beautiful time to make the trip - not only is the National Park gorgeous as the leaves turn all shades of red and gold, but the entire route and the various national forests along the way will offer endless more opportunities to enjoy this magical time.
Spring is great as the park wildlife wakes up from the winter and the streams are running full, but the weather can still be bitterly cold in March in even April so May is the best option.
Unlike some other popular destinations such as Yellowstone, Glacier National Park is actually open throughout the winter. You'll need to make sure your vehicle is happy with the icy and snowy conditions and remember that some parts of the park including some trails will close.
Logan pass and Going-to-the-Sun road won't be accessible but you can still drive into the park to Lake McDonald and enjoy the winter wilderness.
Whichever season you decide to visit the park, make sure you are dressed for the weather and pack essentials for the road such as a snack, water bottle, and extra clothing. It can get cold literally all year round so be prepared!