Road Trip from Seattle to Boise, Idaho
Are you a lover of the great outdoors? Do you enjoy visiting dense pine forests, crystal clear lakes, deep valleys, and waterfalls? Then this nature-laden road trip from Seattle to Boise, Idaho is tailor-made for you. Hop on this once-in-a-lifetime journey and make some lasting memories on the road.
This 800-mile road trip from Seattle to Boise, Idaho takes around 15 hours to complete. Highlights include Olympia, Portland, Silver Falls State Park, Salem, Eugene, Sahalie Falls Viewpoint, Clear Lake Resort, Smith Rock State Park, and Bend.
Did we paint a scenic picture in your mind of the natural beauty that lies on this road trip from Seattle to Boise, Idaho? Then continue reading for the best routes, places to stay overnight, things to see along the way, and the best times to embark on this journey.
How far is Boise, Idaho from Seattle, and how long will the road trip take?
Comparison of road trip routes between Seattle and Boise, Idaho

| Route | Distance | Driving Time |
| --- | --- | --- |
| The Portland Route | 800 miles | 14 hours 30 minutes |
| The Coeur D'Alene Route | 790 miles | 17 hours 40 minutes |
While you can cover this road trip from Seattle to Boise, Idaho in 8 hours on the Direct Route that covers 490 miles, you will be missing out on some of the most awe-inspiring views. So, we recommend taking one of the following routes.
The Portland Route is 800 miles long and takes 14 hours and 30 minutes to cover. This route offers a faster and smoother drive, intersecting the state capitols with a chance to stay overnight in Bend.
The Coeur D'Alene Route is 790 miles long and takes 17 hours and 40 minutes to cover. This route is a bit longer and allows you to drive the Hells Canyon All-American Road.
Because none of the routes stay behind when it comes to offering splendid views and adventure opportunities, we suggest you take at least 4 to 6 days to thoroughly wind down, surrounded by the healing nature.
Best road trip route from Seattle to Boise, Idaho
With just a slight time difference, your choice of route for this road trip from Seattle to Boise, Idaho will depend on your inclination towards history because while one route is the blend of history and nature, the other stays true to the latter.
The shorter Portland Route passes through two state capitols. Meandering through Olympia and Salem, you will see bustling historic districts and pretty parks with romantic walks. Driving through a canopy of dense forests at some places, you will find the scenery changing to mountainous after Eugene.
With clear lakes, rivers, and waterfalls, outdoor lovers who like adrenaline-pumping hikes, mountain bikes and whitewater rafting will find themselves in their own paradise.
The longer Coeur D'Alene Route is head-to-toe, full of outstanding nature and scenic drives. You will find picture-perfect lakes with snow-capped mountains, rolling rovers meandering through canyons, and alpine communities. It offers hiking, mountain biking, jet skiing and railroads.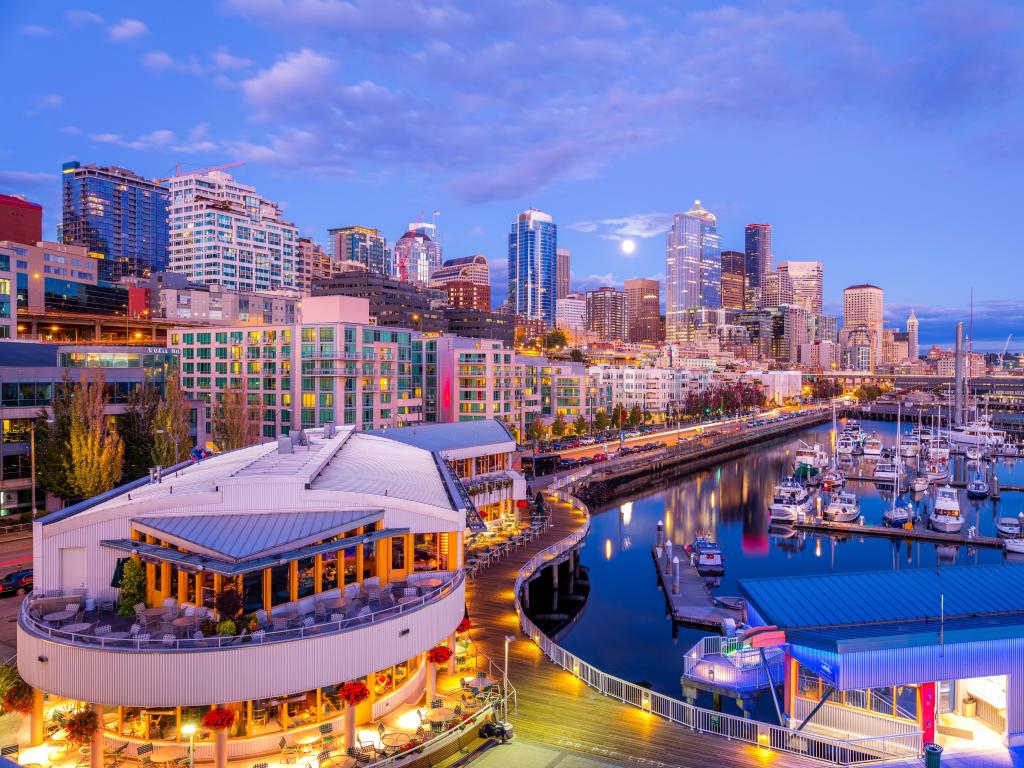 The Portland Route
If you are not only a nature lover, but a history buff as well, follow I-5 S to 14th Ave SE in Olympia. Get on I-5 S to SE Morrison Bridge in Portland. Spend a night here to stretch your legs and relax. Once you are done, take SW Salmon St to S Naito Pkwy. Then take S Barlow Rd to OW-213 S.
Continue on Valley View Rd NE to Silver Falls State Park. Get on OR-22 W from OR-214 S and continue on this road to reach the historic district of Salem. Then get on I-5 S from Mission St SE and follow it to Coburg Rd in Eugene. Head north and continue onto OR-126 E to reach McKenzie River Viewpoint.
From there, follow OR-126 E to Smith Rock Wy in Terrebonne. Your next stop is Smith Rock State Park. Then head southwest on NE Crooked River Dr and follow it to reach Bend. Stop for another night here before taking Franklin Ave to NE Greenwood Ave. Follow US-20 E to N Capitol Blvd in Boise.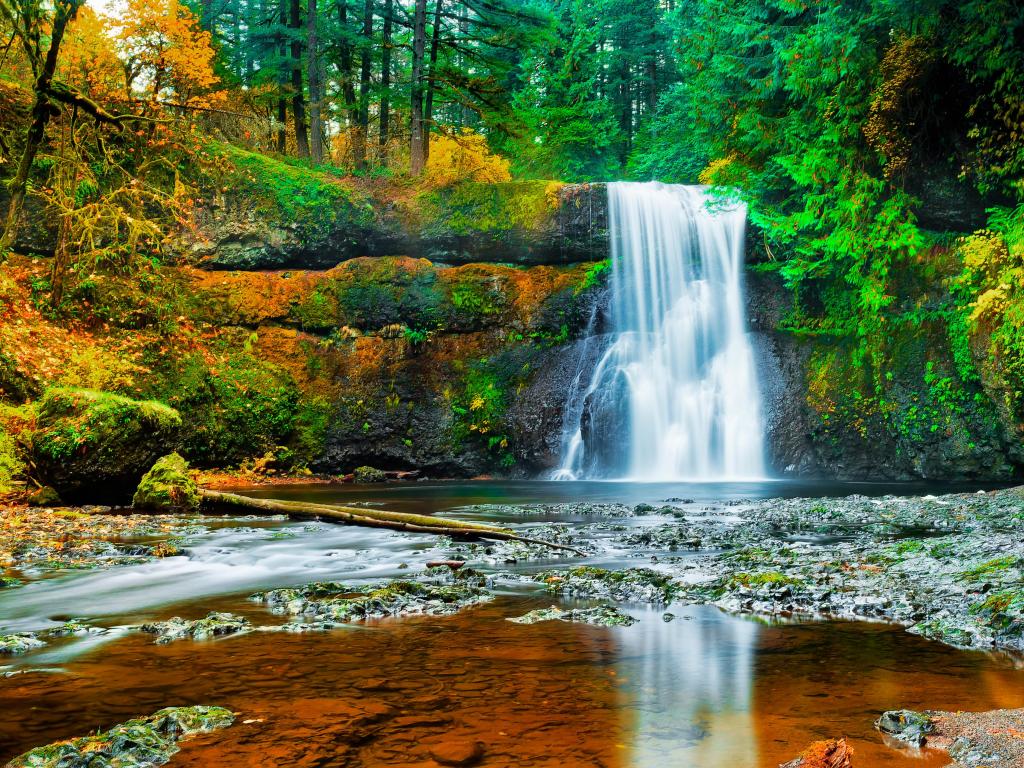 The Coeur D'Alene Route
For a drive more focused on nature, get on I-5 N from 4th Ave. Then take WA-520 E to 635th Pl NE in Baring. Drive to NF-6024 in Snohomish County to reach Barclay Lake. Then head north and continue driving on the same road. Then take the US Hwy 2 to reach Leavenworth.
Next, follow the highway to WA-17 S in Grant County. Continuing on this road, you will reach Dry Falls. Take the WA-17 N to US Rte 2 E and follow it to W 5th Ave in Spokane. Then head west on W Main Ave toward Spokane Falls Blvd. Continuing this drive, you will reach Coeur D'Alene.
This is the perfect place to stop overnight and spend some quality time surrounded by pristine lakes. Then get on US-95 S from Northwest Blvd and follow it to Snake River Adventures and RiverQuest Excursions. Get on State Hwy 129 S in West Clarkston-Highland. Follow WA-129 to Wallowa Lake.
Then take Lake Shore Dr to S Main St in Joseph. Then follow NF-39 to Hells Canyon Overlook. Follow US-95 and I-84 to N Capitol Blvd in Boise.
Best places to stop between Seattle and Boise, Idaho
With so many natural wonders to explore along the way on this road trip from Seattle to Boise, Idaho, you are bound to crave a resting spot. Continue reading for our curated list of places to stop overnight on both routes and make the most out of this road trip.
Enjoy the outdoors in Bend
490 miles into the 800-mile road trip from Seattle to Boise, Idaho, you will find Bend on the Portland Route. It is the second overnight stop adding a halfway marker to the road trip. Spend the first night in Portland and the second in Bend. It is a popular city for water activities.
Bend is famous for its outdoor sports, including hiking, mountain booking, and whitewater rafting. It is also home of the last Blockbuster video rental store.
Drake Park is a popular spot downtown and holds events through spring, summer, and fall. Stroll along the riverfront and enjoy lunch on the picnic tables. Head into the Deschutes National Forest and follow the trailhead to Tumalo Falls for impressive nature viewing and mountain bike trails.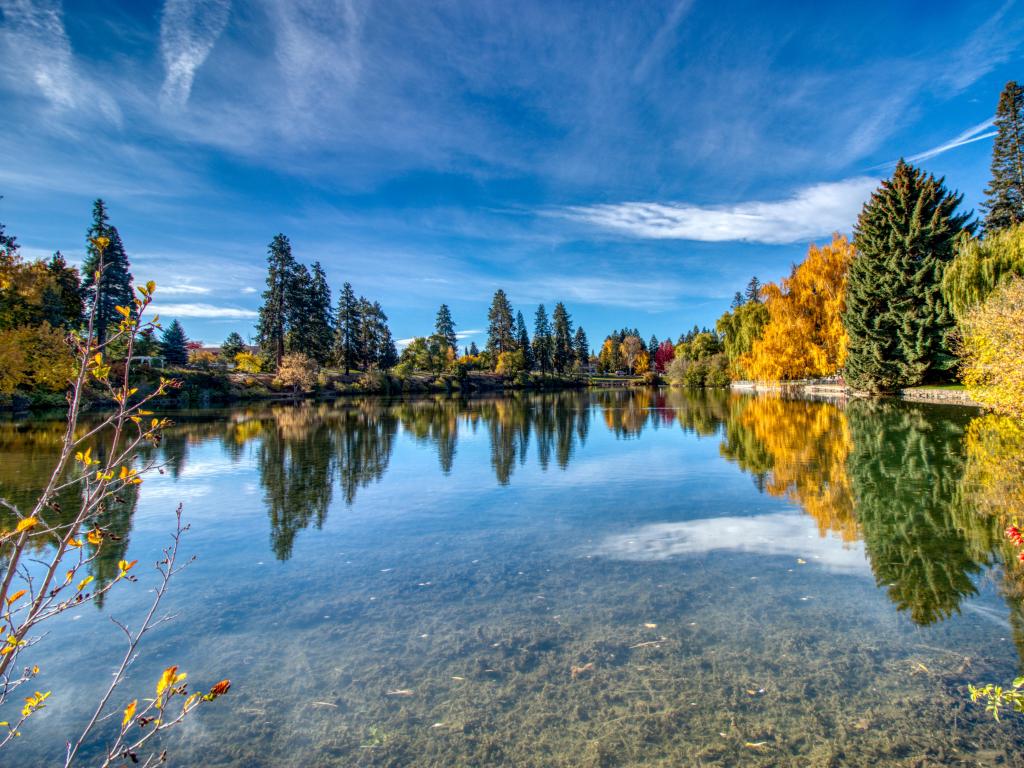 Whether you want to white water raft or do something more relaxing, Ouzel Outfitter will take you on a trip for the experience of your choice along the Deschutes River. The mountain town comes to life at night with Martini bars, live music in a Vineyard, and nightclubs.
Our vote for accommodation in Bend goes to Oxford Hotel Bend, which features jaw-dropping views. Some rooms have fully equipped kitchens and balconies. You can enjoy a delicious organic breakfast in the fabulous on-site restaurant to fuel up before your adventures.
It is in close proximity to some of Bend's most famous attractions including River's Edge Golf Course, Popular Deschutes Brewery, and the scenic Drake Park. Valet parking means that you can leave your car behind and explore the city on foot.
Relax by the lake at Coeur D'Alene
Just under halfway on the Coeur D'Alene Route of this road trip from Seattle to Boise, Idaho, you will reach the namesake of this route, Coeur D'Alene. In other words, it is located 360 miles into a 790-mile road trip. Being the near halfway point, it is a logical stop to rest before facing the more challenging drives.
Coeur D'Alene is known for its luxurious lakeside. It's said that Goerge Clooney, Lance Armstrong, and Matthew McConaughey have houses here. You can find plenty of opportunities to take a dip, bask in the sun, or enjoy thrilling outdoor activities in this place.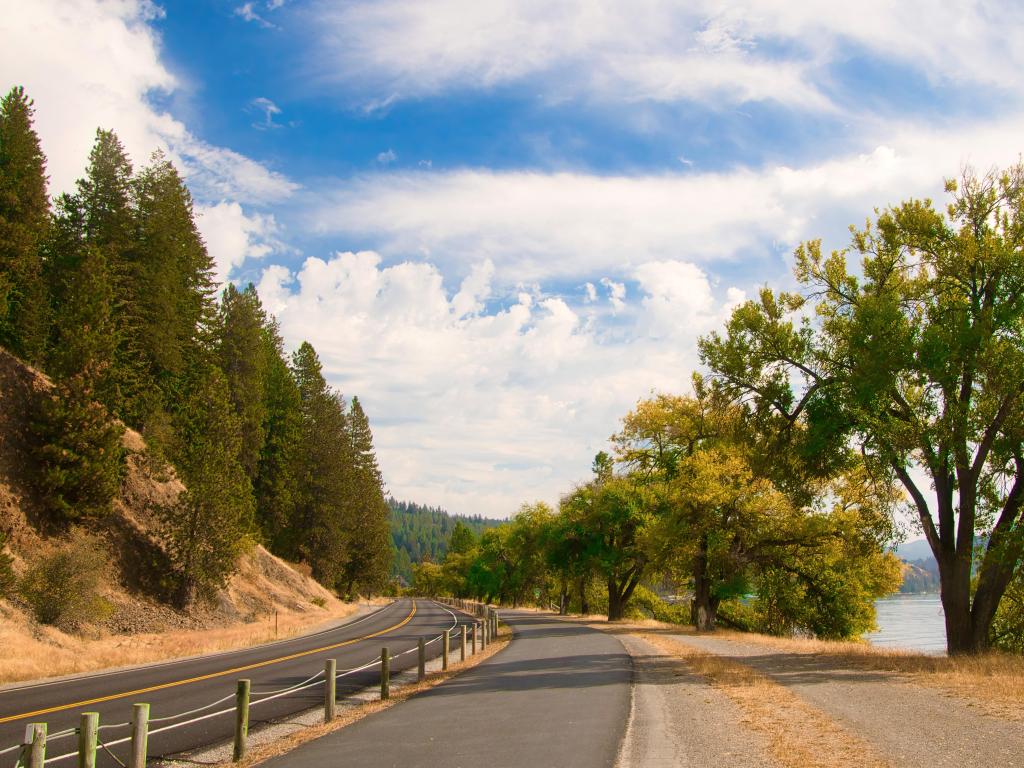 During your stay, spend a day in Lake Coeur D'Alene. Covering a huge 50 square miles area, it is bustling with scenic spots all around. There are plenty of ways to see the lake. Go on a dinner cruise, rent a boat or kayak or for a more extreme day take the water jet skis.
Downtown Coeur d'Alene is full of life. You'll find restaurants, shops, art galleries and museums. With vast amounts of green space, a large play area and a landscaped waterfall McEuen Park is ideal for a family picnic. One of the largest theme parks in the northwest, Silverwood has more than 70 rides.
Stay at One Lakeside during your stay in Coeur d'Alene. It has lake room suites with private balconies and modern décor. Rooms also come with private kitchen facilities. Outdoor terrace gives you a seating area and gas grills while the outdoor pool gives you chance for a relaxing dip.
It has a beautiful lakeside location and the downtown is just a short distance away. Museum of North Idaho, McEuen Park and Silverwood Theme Park are close by. The free parking space allows you to leave your car behind at the hotel and explore these places freely.
Where to stay when you reach Boise, Idaho
We recommend staying at The Grove Hotel when you reach Boise, Idaho and it's easy to see why. This hotel got a recent redesign with chic and fresh rooms. It provides a bar area with happy hour from 4 PM to 6 PM Sunday to Thursday.
Trillium restaurant serves breakfast, lunch, dinner, and room service so you never have to roam around with a rumbling stomach. It honors the outdoorsy spirit of Boise by offering complimentary guest bikes rentals.
It also boasts a stellar location in the heart of downtown. This means that it is in close proximity with some of the famous attractions of Boise. Basque Block sits at a 3-minute walk. Freak Alley is a 5-minute walk away. You can also reach the Idaho State Museum with just a 7-minute walk.
Things to see on a road trip from Seattle to Boise, Idaho
This road trip from Seattle to Boise, Idaho is filled with so much breathtaking natural beauty that you will need a mental list of the places to stop along the routes for a bucket list-worthy experience. So, here it is!
On the Portland Route
Olympia – Head to the Historic District to visit the serene Heritage Park where you can walk beside Capitol Lake with views of the State Capitol.
Portland, Oregon - Browse the shelves at Powell's City of Books, "the world's largest independent bookstore" or head to Washington Park for the Portland Japanese Garden.
Silver Falls State Park Sublimity - Visit the "Crown Jewel" of Oregon State Parks where you can walk behind a 177-foot waterfall.
Salem - See the wildflowers in Bush's Pasture Park and take a guided tour of a Victorian Home at the Deepwood Museum.
Eugene - Taste the award-winning wines at scenic vineyards at this fertile ground for pinot noir located in the Willamette Valley.
McKenzie Rover Viewpoints, Blue River - See the beauty of the free-flowing McKenzie River and hike the banks surrounded by dense forests and wildflowers.
Sahalie Falls Viewpoint, McKenzie Bridge – Pull over and visit the majesty of Sahalie Falls which is close to the route to hike the Koosah and Sahalie Falls Trail.
Clear Lake Resort, Sisters - Stay at Clear Lake Resort to take in the views of Clear Lake in traditional log cabins to fully enjoy the great outdoors.
Smith Rock State Park - See the dramatic Smith Rock and Walk the trails that take you through canyons for once-in-a-lifetime views.
Oregon Badlands Wilderness - Hike into the rugged badlands landscape with volcanic rock formations in the area famed for its stargazing qualities.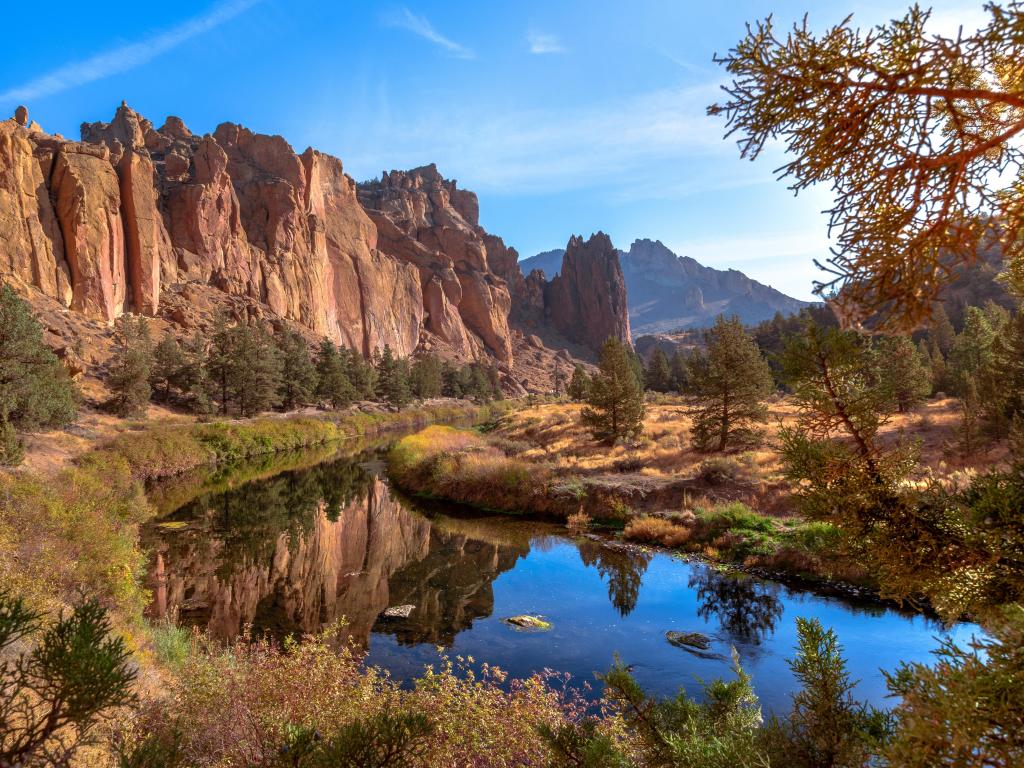 On the Coeur D'Alene Route
Barclay Lake - The 2.2-mile trail leads through pine forests and mountains, taking you to Barclay Lake while more off the beaten track is Eagle Lake with its log cabin.
Leavenworth - Experience Bavaria without leaving the US in Leavenworth where distinct alpine buildings serve German beers and cuisine or hike on the Icicle Ridge Trail.
Dry Falls Heritage Area Coulee City – Have a unique experience in this 400-feet deep ravine, known to be a part of the "Ice Age Floods National Geologic Trail."
Inland Northwest Rail Museum, Reardan - See retro trains, including the Union Pacific Steam Engine and the Rearden Rocket which is a small train that'll take you on a short, scenic ride.
Spokane - See the falls surrounded by natural beauty with the Spokane River powering through Downtown before enjoying the city with its thriving art scene.
Snake River Adventures and RiverQuest Excursions, Lewiston – Take half-day or full-day guided jet boat tours where you'll ride through rapids and see rugged cliffs, wildlife and waterfalls.
Fields Spring State Park, Anatone - Surround yourself in the Blue Mountains where you can picnic, camp and follow the hiking and biking trails.
Joseph Branch Railriders - Use the railrider, a 4-wheel bike on the old railroads to cruise through valleys, rivers and canyons.
Wallowa Lake, Oregon – Visit this glacial lake where you can enjoy the beauty of nature in a state park and take a cable car to Mount Howard for a fresh perspective.

Hells Canyon Overlook Homestead - Peer over Hells Canyon and take a slight detour so you can see the Seven Devil Mountains in Idaho.

Beautiful views, peace and relaxation is what you'll find at Wallowa Lake, Oregon.

Tyler Rondo/Shutterstock.com
Best time to go on a road trip from Seattle to Boise, Idaho
Boise can definitely be considered a year-round destination. But the activities and attractions may depend on the weather. In summer, Boise offers thrilling whitewater rafting and kayaking adventures. You can enjoy biking on the vast network of pathways, hiking, fishing, and outdoor concerts and events.
Outdoor activities are ideal because of the hot weather. Summer is the peak season, so expect higher accommodation prices.
During winter, Boise offers skiing and snowboarding, snowshoeing and Nordic skiing, ice skating, and winter wildlife viewing. It also offers indoor activities such as museums, art galleries, theaters, and indoor sports facilities - which are perfect for taking shelter in during the winter.
Summers in Boise are short and dry. June has average temperatures between 68 degrees Fahrenheit and 82 degrees Fahrenheit. July and August temperatures average from 75 degrees Fahrenheit to 90 degrees Fahrenheit.
Winters are cold and snowy and prices can be expensive due to the ski resorts in the North. Winter in Boise lasts from November to February. Average range of temperature lies between 25 degrees Fahrenheit and 49 degrees Fahrenheit.
The weather in spring and fall makes them the best times to visit Boise. The average temperatures in spring are from 44 degrees Fahrenheit to 72 degrees Fahrenheit. It gives you a chance to view the blooming flowers and greenery.
Average temperatures in fall are from 53 degrees Fahrenheit to 80 degrees Fahrenheit so it's still warm. The dense greenery from spring turns to beautiful autumnal browns in fall and it is one of the cheapest times to visit Boise.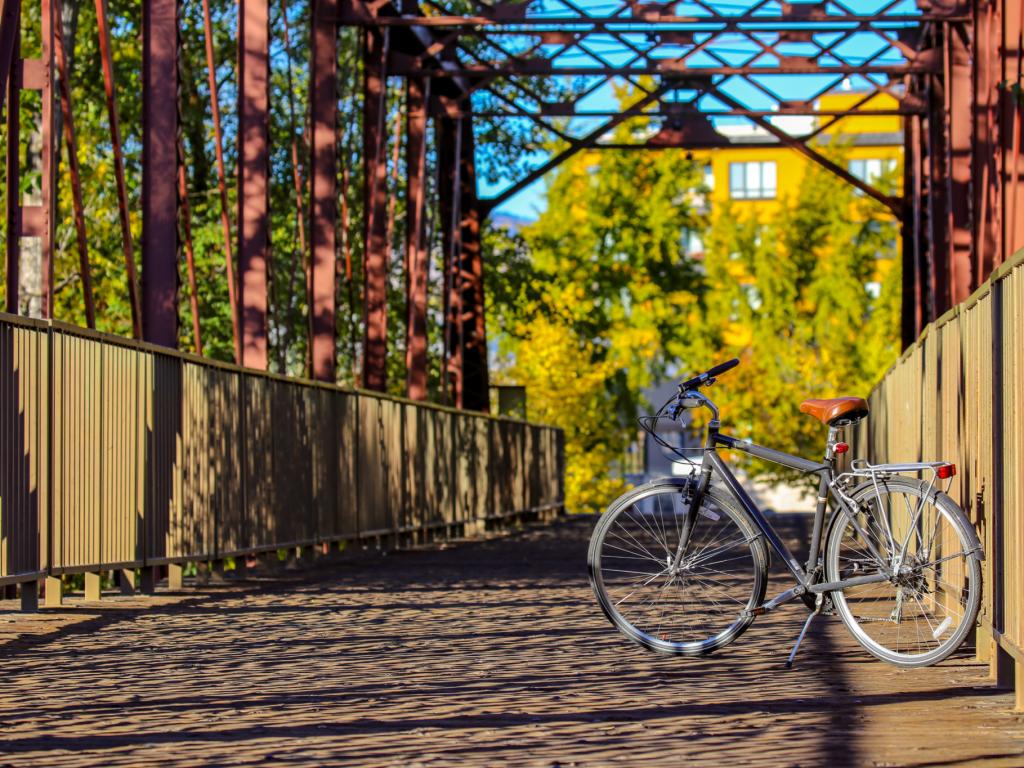 You can enjoy various festivals and events throughout the year. In June, there is the Greek Food Festival. June and August bring the Alive After Five event. Hyde Park Street Fair and Boise Music Festival also come in June. Then August brings the Western Idaho Fair.
August and September have Spirit of Boise. The month of September brings Art in The Park. You can enjoy Old Boise Oktoberfest also in September. Then during late November, you can attend the Festival of Trees. And finally, November and December give you Winter Garden aGlow.