Road Trip from Seattle to Bryce Canyon National Park
Discover the natural beauty of the Western United States on this scenic journey from hipster Seattle to the towering orange rock formations of Bryce Canyon National Park. This trip offers a bit of everything, from exploring impressive city museums to sipping on wine in vineyards and chasing waterfalls in national parks.
The 1,420-mile road trip from Seattle to Bryce Canyon National Park takes 24 hours to drive. You'll pass through Seattle, Tacoma, Portland, Silver Falls State Park, Mount Shasta and Lake Tahoe, or detour via Snoqualmie Falls, Crystal Hot Springs and Salt Lake City.
This journey is the chance to immerse yourself in stunning landscapes and distinct cultures, with plenty of fun and entertainment in between. Keep reading for all the best tips and routes for planning your trip.
How far is Bryce Canyon National Park from Seattle, and how long will the road trip take?
Comparison of road trip routes between Seattle and Bryce Canyon National Park

| Route | Distance | Driving Time |
| --- | --- | --- |
| The Salt Lake City Route | 1,130 miles | 17 hours 40 minutes |
| The Lake Tahoe Route | 1,420 miles | 24 hours |
The longer option is to travel via the Lake Tahoe Route, which is 1,420 miles long. This route takes 24 hours to drive, not accounting for any stops you make along the way.
Though there is more driving, you'll pass through a greater number of scenic parks and nature reserves. You can even add on detours to visit the national forests of Oregon and California.
Alternatively, the Salt Lake City Route is 1,130 miles long and takes 17 hours and 40 minutes to drive. Though this route is significantly short, it passes through a number of cities which may affect driving times due to rush hour congestion on entry and exit.
Whichever route you choose, there are plenty of miles to cover. You'll need to break up the driving with some overnight stops, as well as pause to marvel at the natural wonders en route. We'd recommend allowing 5 to 7 days to do this trip justice.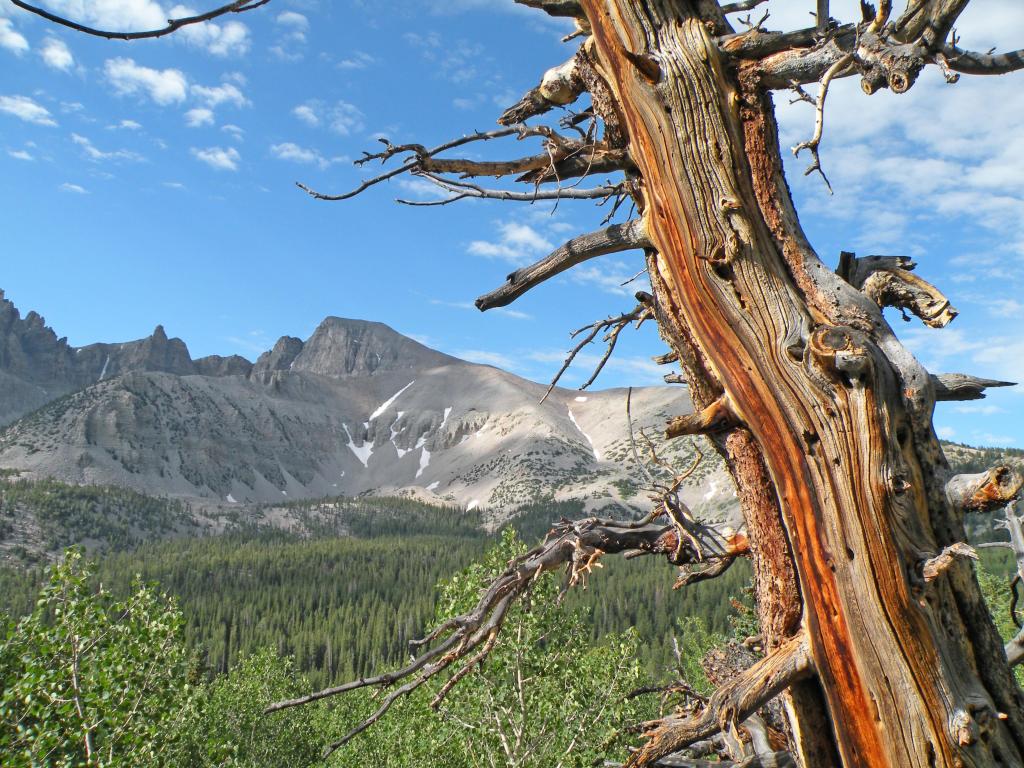 Best road trip route from Seattle to Bryce Canyon National Park
Both of our routes offer an inspiring mix of culture and nature, but the Lake Tahoe Route is significantly longer. Depending on how much time you have, you might want to dedicate more time to hiking and camping in state parks or take the faster option for a city tour.
The Lake Tahoe Route is the more scenic of the two, offering up many hiking trails, waterfalls, and caves to explore in Silver Falls State Park and Great Basin National Park. You will also get to visit the freshwater shores of Lake Tahoe, or take your chances scaling Mount Shasta.
There are some cool cities on the way to break your journey up, like seafront Tacoma or laid-back Portland.
The Salt Lake City Route packs in some hidden gem cities filled with a variety of museums and historical sites. Discover the wineries of Yakima Valley, the ranching past of Pendleton and the wholesome vibe of Salt Lake City where you can learn about Mormon culture.
This route isn't short on scenery - see the majestic waters of Snoqualmie Falls and Twin Falls, before taking a dip in the cold and hot pools of Crystal Hot Springs.
The Lake Tahoe Route
Follow Interstate 5 (I-5) south out of Seattle to Tacoma, where you can discover world-class glass art. Continue south on this road to bypass Capitol State Forest, then cross the Columbia River to arrive in Portland.
Rejoin I-5 and take S Barlow Road to OR-214 S, which takes you to Silver Falls State Park. It's one of the only state parks in which you can visit 10 waterfalls in one day.
Take OR-22 west to Salem where you can rejoin I-5 S, then continue on this road to arrive in Grants Pass. There are plenty of opportunities to detour via one of the national forests that line the route, including Umpqua National Forest and Rogue River-Siskiyou National Forest.
Rejoin I-5 to cross into northern California and arrive at Mount Shasta, held as a sacred site in Native American culture. Take CA-89 south, then turn left onto CA-44 and follow signs for Reno.
Enjoy a flutter at the many casinos in Reno, then follow I-580 and US-395 south to reach the shores of Lake Tahoe. Follow US-50 east to enter the deserts of Nevada to arrive in Great Basin National Park.
Follow UT-21 east to Beaver, then take UT-20 following signs for Bryce, the gateway to Bryce Canyon National Park.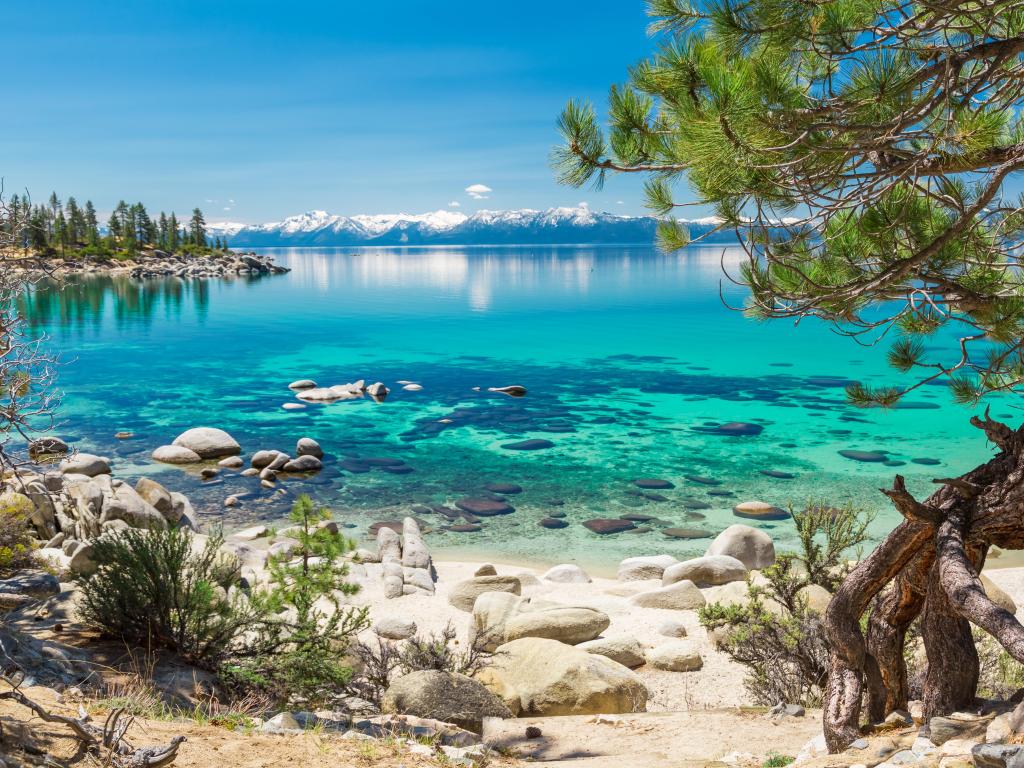 The Salt Lake City Route
Follow I-90 east out of Seattle, then take the exit for Snoqualmie Falls. It's a relatively easy hike to the top, which reaches a height of 268 feet.
Continue on I-90 through the mountainous roads of the North Cascade Range to head over Snoqualmie Pass, then take I-82 south to arrive in Yakima. Make sure to stop at one of the Yakima Valley's famous wineries to sample the local grape.
Rejoin I-82, then cross into Oregon and take I-84 east to reach Pendleton. Pendelton is a town that prides itself on its Western culture, and is home to one of the biggest rodeos in the world.
Follow I-84 east all the way to Nampa, then onwards to Twin Falls, the gateway to Snake River Canyon. Continue on I-84 to cross the Border into Utah, with the option to take a detour to the natural mineral pools of Crystal Hot Springs.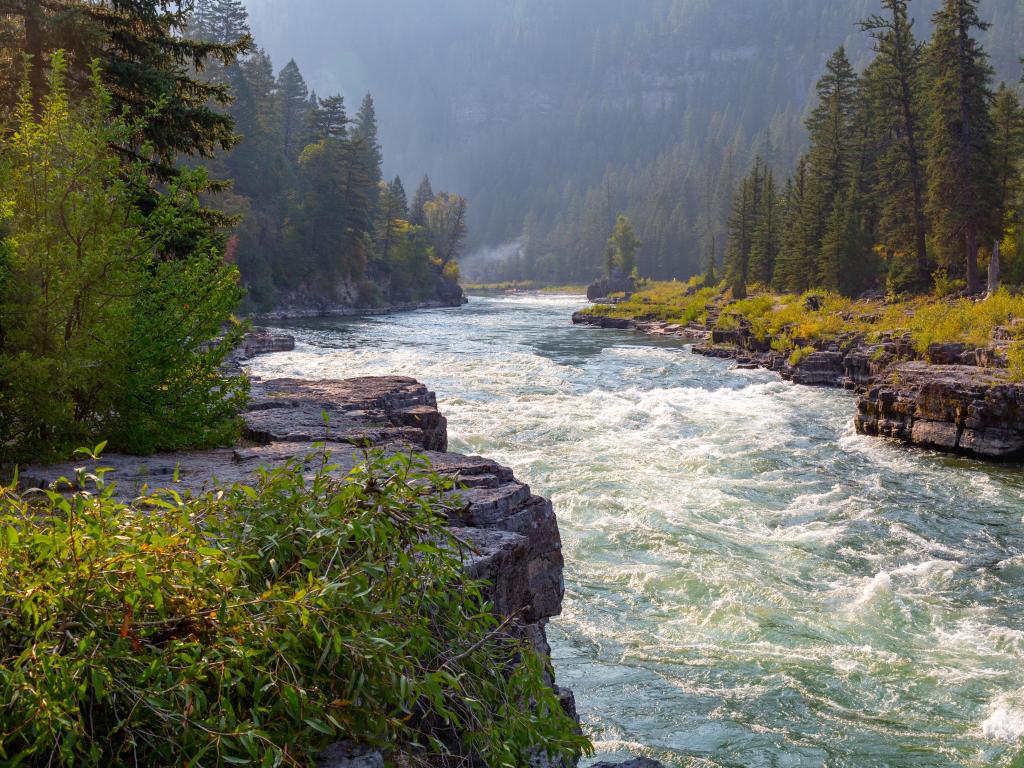 Head south on I-15 and take the exit for Salt Lake City. Though it's a big city, it has a small-town feel and is highly welcoming for visitors. Continue on I-15 past Utah Lake and all the way to Fillmore.
Keep heading south on I-15, then take UT-20 east and follow signs for Bryce Canyon National Park.
Best places to stop between Seattle and Bryce Canyon National Park
There are plenty of inspiring places to break up your journey on this road trip, giving you the opportunity to discover breathtaking natural landscapes and get to know the quirky cities of the West.
We've picked out two of our highlights that offer up an unmissable agenda of fun things to see and do.
Get out on the water in South Lake Tahoe
This natural wonder makes a great stopover on the Lake Tahoe Route, as it's exactly halfway between the departure point and arrival destination.
Known for its beautiful clear green-blue waters and fantastic winter slopes, Lake Tahoe is the largest alpine lake in North America. As well as convenience, the beautiful scenery makes it a highlight stop on your journey.
Lake Tahoe Boat Rides offer 2-hour cruises along the lake, which is a great opportunity for photographs while taking in the glorious sunshine. Alternatively, Heavenly Gondola allows guests to enjoy panoramic views of Lake Tahoe.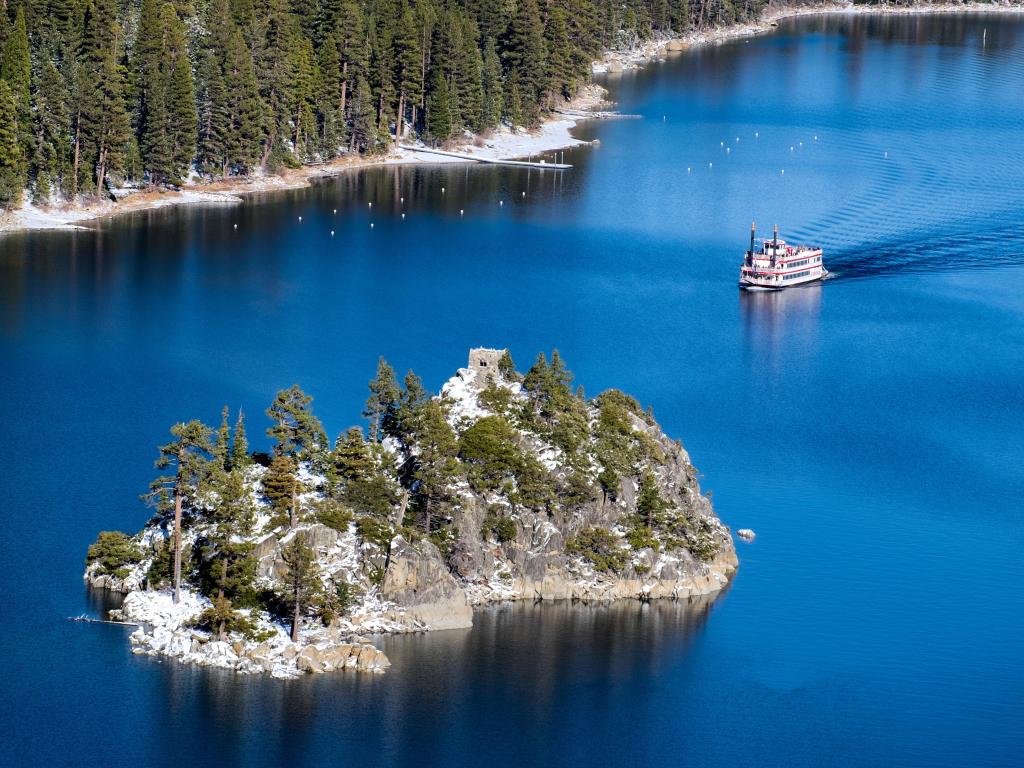 You can visit Stream Profile Chamber, which houses several plants and species native to the area. You can get a unique double perspective both above and below the water through their floor to ceiling glass windows.
Head to the shore of Emerald Bay to discover the remarkable architecture of Vikingsholm, a 38-room mansion situated on Lake Tahoe. Built in 1929, it is open for visitors in the summer months.
Book a stay in Black Bear Lodge for a picturesque stay in lodges and cottages. The range of rooms have small kitchenettes and hot tubs, while all guests can gather at the on-site wine bar.
The location is convenient - at less than 1km from Lake Tahoe and less than 2km from the Heavenly Gondola it is the ideal location to enjoy everything the destination has to offer, including plenty of local restaurants.
Get to know the distinct culture of Salt Lake City
Two thirds of the way along the Salt Lake City Route is the place that gives this route its name. Salt Lake City boasts unique architecture and is a friendly urban hub which makes for the perfect mini city break.
The city is known for being the religious hub for Latter Day Saints, and you can spend some time exploring the churches and religious buildings dotted about the streets. Look out for The Church of Jesus Christ of Latter-day Saints in Temple Square .
Beyond the church, Temple Square covers 5 blocks and is filled with beautiful historic buildings, gardens and monuments. Non-Mormons can enter at any time, but it's quite the sight during the annual Festival of Lights.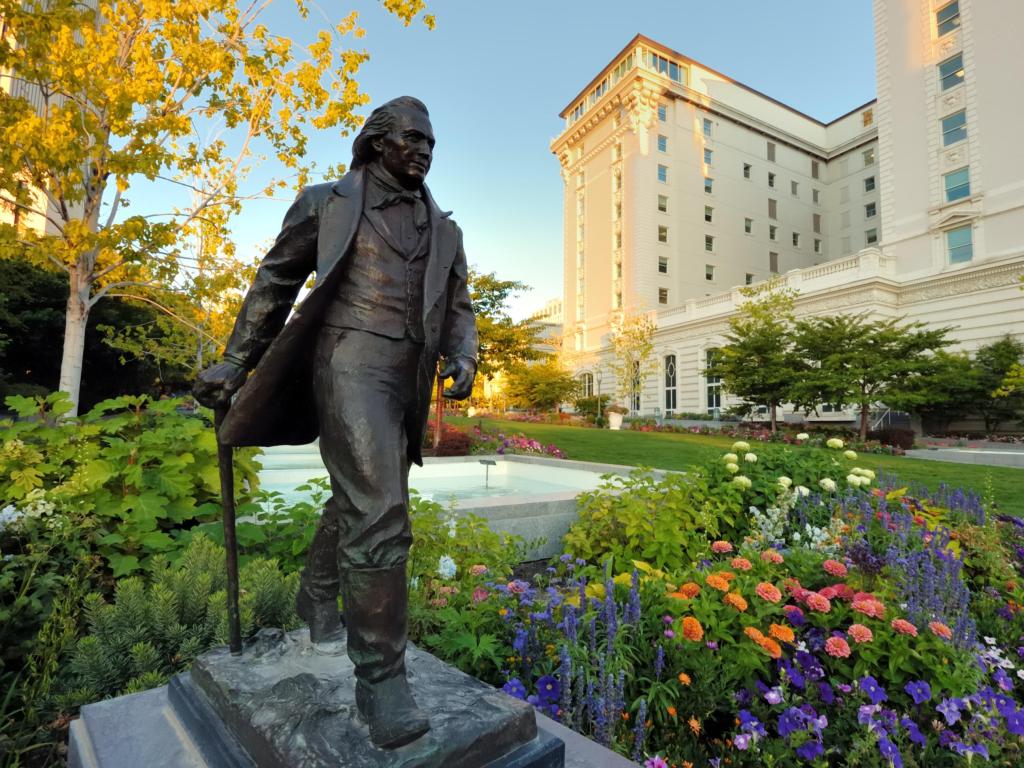 For a spot of culture, The Natural History Museum of Utah is home to galleries upon galleries of dinosaurs and prehistoric artifacts, with a specific focus on the natural history of the Western United States.
For a luxurious stay, book yourself into the Grand America Hotel where you can enjoy the full-service spa or take a dip in one of the two heated pools. Rooms are large and spacious, while you can enjoy the on-site American restaurant and lobby lounge for casual drinks and snacks.
Located in the city center, the hotel is a great pick for staying close to restaurants, bars and city attractions - the Joseph Smith Memorial Building is within walking distance.
Where to stay when you reach Bryce Canyon National Park
Once you reach Bryce Canyon National Park, get into the swing of things by staying at Bryce Glamp and Camp. You'll be in the heart of some fabulous nature, in a unique campsite that combines outdoor accommodation with luxury.
Enjoy glamping under the stars with picturesque mountain views - each dome-shaped cabin offers a furnished patio with BBQ, kitchenette and fireplace.
The site has thought of every convenience - you can park for free and even pick up provisions at the onsite minimart.
Things to see on a road trip from Seattle to Bryce Canyon National Park
Both routes are full of local attractions, fascinating museums and landmarks to the West - take your pick of some of our favorites.
On The Lake Tahoe Route
Museum of Glass, Tacoma - Visit contemporary glass art displays spread over 75,000sq ft of space. Visitors can also enjoy live glass blowing demonstrations and make their own glass pieces to take home.
Downtown Historic District, Olympia - Located in the state's capital, visitors can discover over 50 murals hidden down side streets and alleyways, while the district houses several buildings located on the National Register of Historical Places.
Portland Art Museum - One of the oldest museums in the country, it houses European and American Art from the 19th and 20th century.
Silver Falls State Park - The 7.2 mile trail here is a moderate hike that takes you via 10 different waterfalls along a rocky canyon. On the Maple Ridge Loop visitors can enjoy views from above the falls before descending into a cave for a view from behind.
Grants Pass - Known as Southern Oregon wine country, visitors can stop and enjoy wine tastings at the many vineyards such as Schmidt Family Vineyards, Bridgeview Vineyards and Winery and Wooldridge Creek Winery.
Shasta-Trinity National Forest - This park offers a variety of attractions including Burney Falls, a picturesque waterfall, Mount Shasta, a potentially active volcano, and Lake Shasta Caverns National Natural, a geological formation.
Nevada Museum of Art, Reno - This accredited art museum spreads over 3 floors and features over 1,500 artifacts with 5 focus areas. Here visitors can enjoy both a permanent and rotating collection of artworks.
Riverwalk, Reno - Located in downtown Reno, this 2 mile stretch along the river offers parks, public art, cute shops and some fantastic dining options.
Emerald Bay State Park, Lake Tahoe - This picturesque park spans over 1,533 acres of land. Here guests can enjoy a visit to Vikingsholm Castle which was built in 1929, Fannette Island which is located in the middle of Emerald Bay and offers 360 degree views from the tea house, or the many hiking trails such as Cascade Falls, Eagle Falls, and Eagle Lake.
Tallac Historic Site, Lake Tahoe - Added to the National Register of Historic Places, this site was built between 1894 and 1921. Visitors can discover 20 historic structures including family estates, servant quarters, boathouses, and a blacksmith shop. There is also an onsite museum to learn about the 1920s era or just enjoy the snacks by the fireplace.
Great Basin National Park - Housing 40 known caves, visitors can pre-book tours to go inside the Lehman Caves located within the park.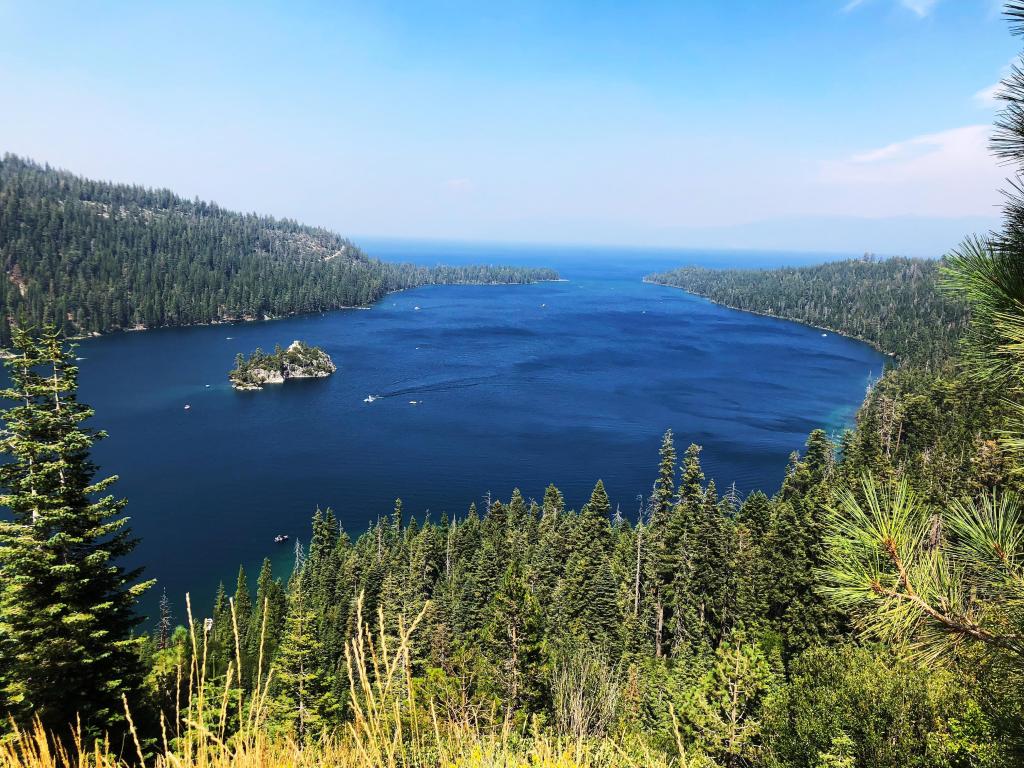 On The Salt Lake City Route
Snoqualmie Falls - This 268 ft waterfall has a great observation deck, or visitors can hike the easy 1.4 mile trail to enjoy different viewpoints of the falls.
Yakima Valley Museum - This 65,000sq ft museum displays historic exhibits about American Indian culture and pioneer life.
Pendleton Underground Tours - Take a tour of this abandoned underground city that is more than 100 years old. Built by Chinese workers, it was home to both legal and illegal businesses.
Warhawk Air Museum, Nampa - This museum houses a large selection of warplanes, equipment and memorabilia from WWI, WWII, and the Vietnam War.
Thousand Springs State Park, Hagerman - Featuring 7 park units within one, visitors can explore Billingsley Creek, Earl M. Hardy Box Canyon Springs Nature Reserve, Malad Gorge, Niagara Springs and Ritter Island.
Snake River Canyon Rim Trail, Twin Falls - A 12-mile-long paved path that is accessible for all abilities. Visitors can explore canyon walls and pass by waterfalls including the famous Shoshone Falls at a height of 212ft.
Crystal Hot Springs - Known as the world's largest hot springs, visitors can enjoy a dip into water temperatures ranging from 65 to 134 degrees Fahrenheit.
This is The Place Heritage Park, Salt Lake City - Step back in time to the early settlement of Utah. Explore historic buildings while meeting leatherworkers, woodworkers, and spinsters. Enjoy a visit to a Native American Village where you can learn traditional dancing.
Temple Square, Salt Lake City - The 10-acre complex features historic and religious buildings, fascinating gardens and beautiful monuments.
Territorial Statehouse State Park Museum - Utah's oldest government building, this museum features an auditorium and two restored pioneer buildings from 1867.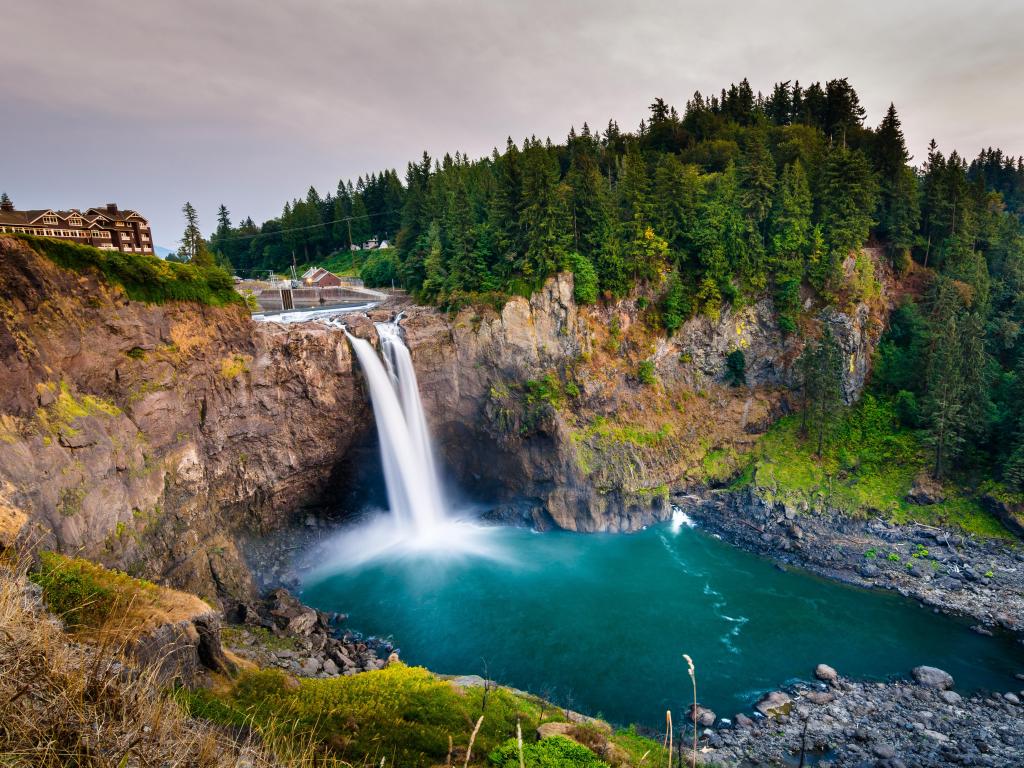 Best time to go on a road trip from Seattle to Bryce Canyon National Park
his road trip from Seattle to Bryce Canyon National Park is best enjoyed in the spring or summer months. However, for those who love winter sports or activities it can be a year-round destination.
The ideal time to visit Bryce Canyon National Park is in the summer when there are warm sunny days and cool summer nights. The temperature during these months ranges between 60 to 80 degrees Fahrenheit.
However, this is the peak season for travel and tourism so expect crowds in the park. There are plenty of events that take place in the summer, including the Astronomy Festival in June and the Panguitch Valley Balloon Rally in July.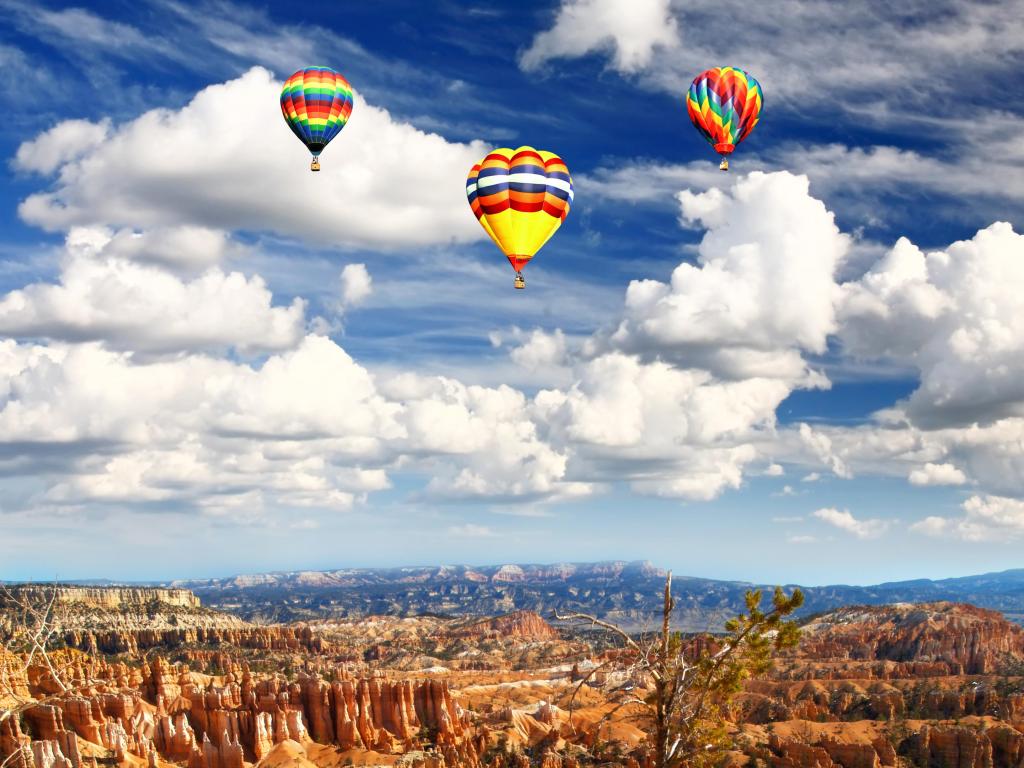 Winters can be quite harsh in this part of the world due to the altitude. Visitors can therefore expect extreme weather conditions with temperatures of 10 to 35 degrees Fahrenheit. Still, the destination offers cheaper room rates and fewer crowds during this time, and visitors can enjoy cross-country skiing and snowshoeing.
If you arrive in February, you might catch the Bryce Canyon Winter Festival which really brings the park to life. Spring and fall are both great times to travel, although the weather is still quite cool with temperatures ranging between an average of 29 to 54 degrees Fahrenheit. As crowds are quite low, guests may find that accommodation rates are more affordable during this time period.
If you're planning a trip in fall, you can also catch the Escalante Canyons Art Festival in September, while October brings plenty of fun-filled running events to the area.