Road trip from Seattle to Crater Lake
Crater Lake National Park, nestled in the Cascade Mountains of southern Oregon, is renowned for its stunningly cobalt-blue and pristine waters. On this scenic road trip from Seattle to Crater Lake, you will get to admire breathtaking vistas, coastal views and majestic old-growth forests.
The 450-mile road trip from Seattle to Crater Lake will take 8 hours and 40 minutes to drive. On the way, you can visit Olympia, Portland, Salem, Eugene, Cannon Beach, Lincoln City, Newport, Coos Bay, Willamette National and Tillamook State Forests.
This drive from Seattle to Crater Lake is a road trip of a lifetime for anyone who loves spending time in the great outdoors. Read on below to learn more about our recommended routes, the best places to stop along the way, top highlights, and the perfect seasons to make the drive.
How far is Crater Lake from Seattle, and how long will the road trip take?
Comparison of road trip routes between Seattle and Crater Lake

| Route | Distance | Driving Time |
| --- | --- | --- |
| The Direct Route | 450 miles | 8 hours |
| The Pacific Coast Route | 590 miles | 12 hours |
The Direct Route from Seattle to Crater Lake winds through the heart of the Pacific Northwest, taking around 8 hours to cover 450 miles.
Alternatively, the Pacific Coast Route offers a longer but scenic coastal drive that spans roughly 12 hours and over 590 miles.
Although you can technically make the drive in a single day, we definitely recommend taking at least 3 days. This way, you'll get to experience all the wonderful stops and highlights along the way.
Best road trip route from Seattle to Crater Lake
Both routes from Seattle to Crater Lake will take you through the diverse natural beauty of the Pacific Northwest, but they will be very different in terms of sights and experiences.
The Direct Route is the more straightforward path, guiding you through the lush forests and striking mountain vistas of Washington and Oregon.
This route passes through Tacoma and into Olympia, where you can visit Olympia's Downtown Historic District. Moving on, the drive through the Cascades Range is nothing short of breathtaking, with the chance to explore Willamette National Forest and Cascade Lakes.
Then, you'll get make detours to see towering volcanoes including Mount St. Helens and Mt. Hood before venturing on through the inland forests and wilderness of central Oregon. If not looking to make any detours, you can also admire the views from afar while driving.
If your heart yearns for the ocean and some of the most charming coastal towns in the USA, the Pacific Coast Route is your calling. Starting similarly through Tacoma and Olympia, you will head south, every turn offers panoramic views of the Pacific Ocean.
This route is perfect if you're seeking maritime history and coastal allure, with many museums and historic lighthouses dotting the shoreline.
On top of all, this is one of the most famous craft beer trails in the USA. If you love craft beer, ocean views, and incredible natural scenery, then this route is not to be missed.
How to drive from Seattle to Crater Lake
The map above shows our suggestions for the best road trip routes between Seattle and Crater Lake. Keep reading for detailed descriptions of both routes, where to stay on either, and the best things to do on the way.
The Direct Route
Starting in Seattle, head south on Interstate 5 (I-5). Continue on driving through Tacoma and into Olympia. After checking out Downtown Olympia's Historic District, head back on route south on I-5 to Longview. You'll then pass the Columbia River and drive along its banks to Portland.
Once you get to Portland, you'll be treated to one of the craft beer capitals of the world. The city is also famous for its parks and downtown music scene.
From here, get back on the I-5 and drive south to Salem, the capital of Oregon. Here, you can see the beautiful Oregon State Capitol Building. Continue on south on I-5 to Eugene. You can take a wonderful detour east to Willamette National Forest if you have time.
From Eugene, continue on south and exit onto OR-58 southeast. Then, continue on and merge onto US-97 south. Continue on south until you reach the town of Chiloquin. Take the 422 west and merge onto Highway 62 North to your destination of Crater Lake.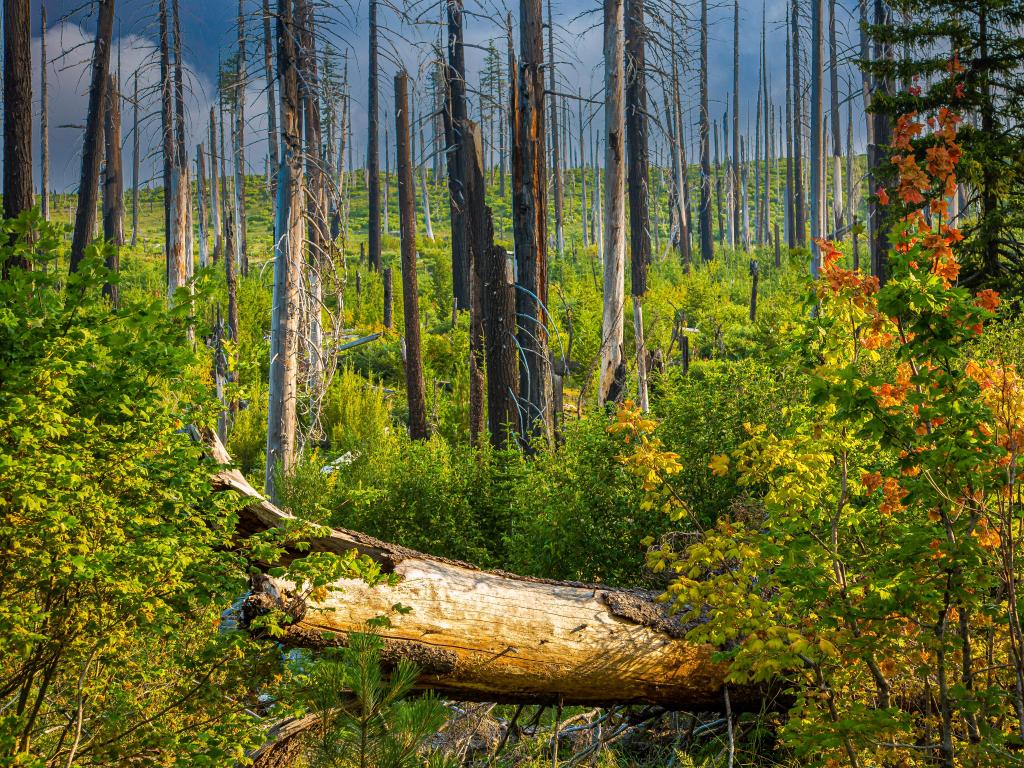 The Pacific Coast Route
From the beautiful city of Seattle, drive south on I-5. Continue on through Tacoma and into Olympia, the capital of Washington. From here, make your way west to the famous US-101. Take this highway, heading west to the beautiful coastal city of Long Beach.
Cross the Columbia River, heading south into the wonderful city of Astoria. Continue on US-101 south to Cannon Beach. On the way south, make sure to see the breathtaking Cape Meares Lighthouse and Munson Creek Falls.
Then, make your way south along the mighty Pacific coast to Lincoln City. After enjoying the beach, continue on south to Newport. Drive south along the coast to Florence. Then, make your way further south to Cocos Bay.
After Cocos Bay, take the exit and head west into the rugged terrain of southern Oregon. Keep driving past the I-5 and get on OR-62 to Crater Lake.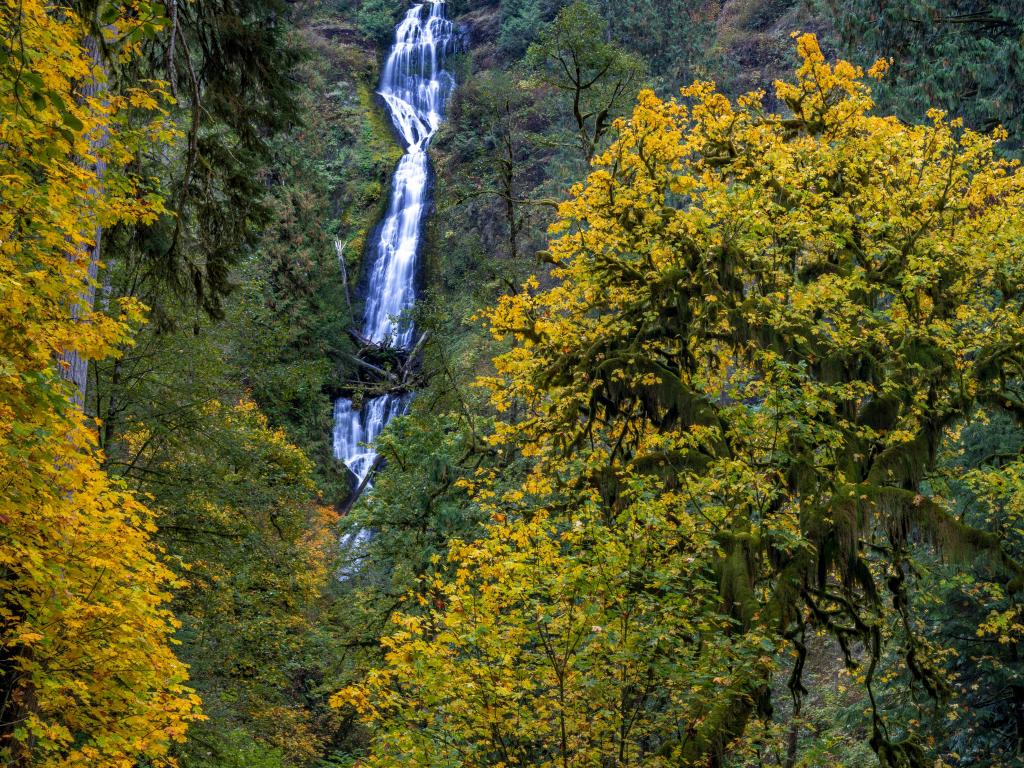 Best places to stop between Seattle and Crater Lake
With so much beautiful scenery and things to do, you'll want to stay at one of the incredible destinations below. This way, you'll get the most out of this incredible journey.
Explore the urban heart of Portland
Portland is an ideal midpoint on your Direct Route journey from Seattle to Crater Lake, located just under 3 hours' drive. Known for its progressive and eco-conscious spirit, this bustling city boasts the stunning backdrop of Mt Hood and has plenty of cultural, gastronomic, and outdoor experiences.
Not to be missed is the Portland Art Museum, one of the oldest in the country, which showcases an impressive array of art spanning diverse cultures and time periods.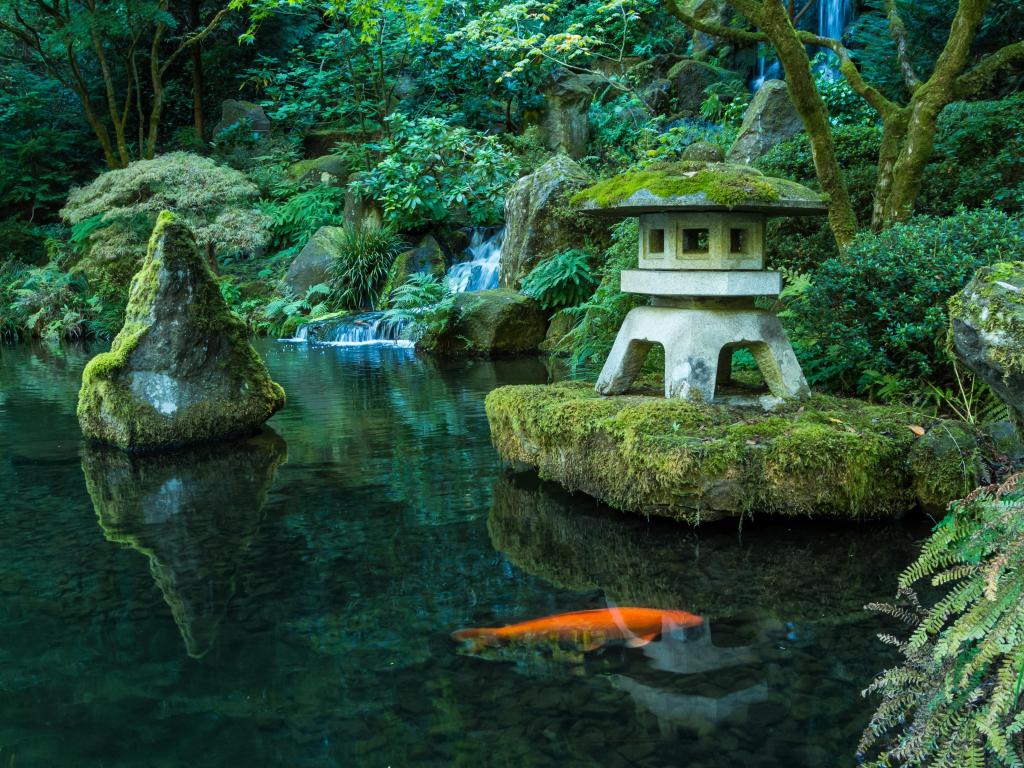 Another must-see is the serene Portland Japanese Garden, often cited as one of the most authentic outside of Japan. Here, you can get away from the hustle and bustle of the city and enjoy a peaceful moment.
For your overnight stay, we recommend the stylish Hotel Lucia in downtown Portland. This hotel combines luxury with local culture, featuring the dynamic works of Pulitzer Prize-winning photographer David Hume Kennerly.
The rooms offer a wellness and fitness kit to keep up with your routines while traveling. An evening highlight is the hotel's Craft Beer Hour, perfect for unwinding after a day of exploration.
Hotel Lucia is conveniently located near Pioneer Courthouse Square, just a 200-yard stroll away, and is also a stone's throw from the scenic Tom McCall Waterfront Park, approximately 500 yards from the hotel, inviting you to enjoy leisurely walks along the Willamette River with views of historical landmarks.
Hit the waves in Lincoln City
Lincoln City is the perfect stopover on your Pacific Coast Route journey, nestled a 6-hour drive from your starting point. Best known for its stretches of clean, sandy shorelines, Lincoln City is also one of the capitals of ocean sports and surfing in Oregon.
The Roads End State Recreation Site offers a peaceful beach experience with opportunities for tide pooling and spotting local wildlife. The Lincoln City Glass Center allows you to observe the mesmerizing art of glassblowing and even create your own glass souvenir.
Lincoln City has plenty of bars, restaurants, and cozy coffee shops, all surrounded by parks, making it a haven for both relaxation and entertainment.
For a comfortable stay, we suggest the luxurious Looking Glass Inn, a charming hotel that provides guests with enchanting ocean views and direct beach access.
Selected suites at the inn are enhanced with spa baths and warming fireplaces, setting the scene for a relaxing time by the beach. The majority of the inviting rooms overlook the ocean and bay, giving you stunning views.
Not only does the Looking Glass Inn serve a wonderful breakfast, but it also caters to pet owners with thoughtful pet baskets for those traveling with pets.
Located just a brief walk away is Taft Waterfront Park, approximately 100 yards from the Looking Glass Inn, offering a picturesque setting for an evening stroll. For those intrigued by local culture and history, the North Lincoln County Historical Museum is a mere 200 yards from the hotel.
Where to stay when you reach Crater Lake
Crater Lake dazzles as the deepest lake in the United States, captivating visitors with its vivid blue waters cradled by forested hills. For a panoramic view of this natural wonder, the Rim Drive will take you around the lake, offering breathtaking viewpoints and photo opportunities.
To experience the lake up close, a visit to Wizard Island, accessible by boat, will give you a unique perspective of this volcanic wonderland.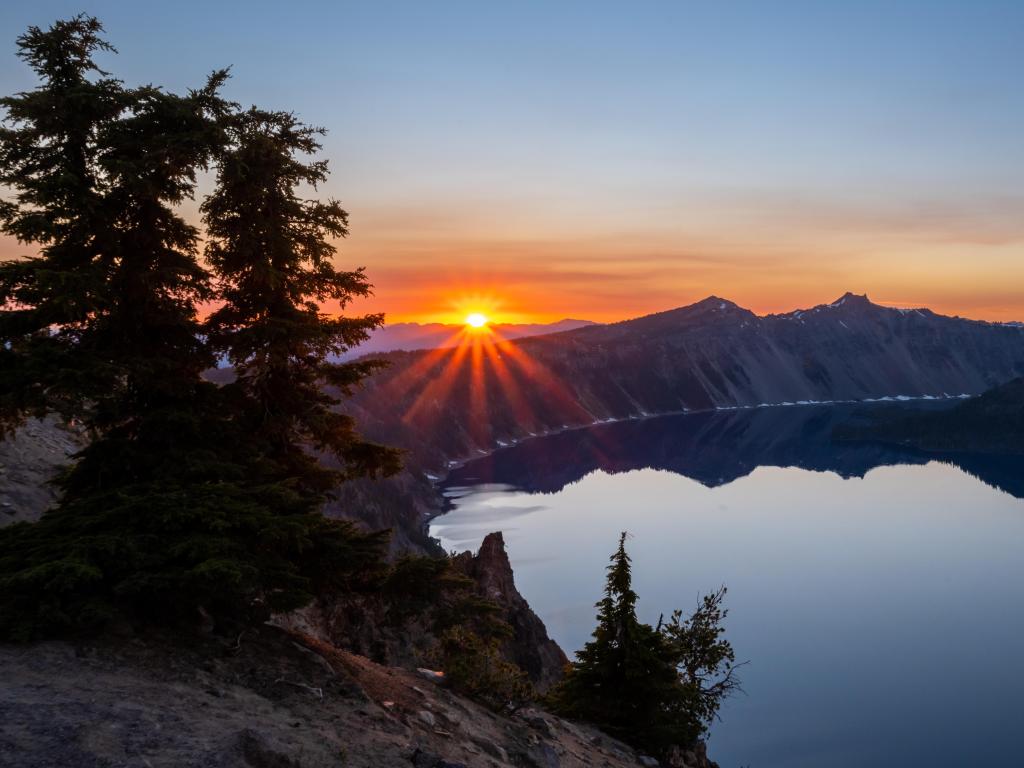 Nestled in the beautiful wilderness, Umpqua's Last Resort is the perfect, comfortable nature retreat. If you're looking to immerse yourself in the beauty of the Umpqua National Forest and the majestic Crater Lake National Park, this is the place.
Each unit, whether a cabin or a glamping site, is thoughtfully placed, most featuring a patio where one can bask in the ambient sounds of nature. You'll either get cozy dining nooks or modest kitchenettes, complete with ovens for a home-cooked meal surrounded by forest.
An added charm is the outdoor dining and barbeque area, which guests are encouraged to use, providing a perfect setting for an evening under the stars.
Things to see on a road trip from Seattle to Crater Lake
This may be a short drive, but it's some of the most beautiful regions in the USA and full of stops along the way. To help you plan your ultimate drive, we've listed our favorite highlights below.
Both Routes
Museum of Glass - This contemporary museum showcases a wide array of glass art, with a striking cone-shaped building and an operational hot shop where visitors can watch glassblowing in action.
Downtown Historic District - A stroll through Olympia's historic heart reveals a charming blend of boutique shops, vintage buildings, and the Legislative Building's distinct architecture.
Direct Route
Chehalis-Centralia Railroad and Museum - Visitors can ride vintage trains through the scenic Chehalis Valley, experiencing the rich railway history of Washington State.
Mount St. Helens National Volcanic Monument - A slight detour away, this monument allows for an up-close look at the regrowth and recovery of the landscape following the catastrophic 1980 eruption.
Bachelor Island, Columbia River - Accessible via the Ridgefield National Wildlife Refuge, this island offers peaceful vistas of the Columbia River and its lush surroundings.
Deschutes Brewery - Nestled in the beer-loving city of Portland, Deschutes Brewery offers tours and a sampling of their renowned craft beers.
Portland Art Museum - The oldest art museum in the Pacific Northwest, it boasts an extensive collection of Native American art and modern and contemporary pieces.
Mt. Hood National Forest - A year-round recreational haven, it's crowned by the majestic Mount Hood and offers everything from hiking trails to ski slopes.
Oregon State Capitol - This art deco building in Salem features a distinctive gold-leaf statue on its top, symbolizing the Oregon pioneer spirit.
Willamette National Forest - Spanning a vast region, it's a paradise for outdoor enthusiasts with its diverse ecosystems, numerous hiking trails, and the stunning Clear Lake.
Mount Pisgah Arboretum - A botanical garden within Howard Buford Recreation Area near Eugene, it's a living tree museum crisscrossed with pathways for nature lovers.
Eagles Rest Trail Head - Starting near Dexter, Oregon, this trail offers hikers a moderately challenging route leading to panoramic views of the Lost Creek Valley.
Diamond Peak Wilderness - This remote wilderness area offers rugged beauty, with opportunities for backpacking and encountering the namesake Diamond Peak, a dormant volcano.
Cascade Lakes - A scenic byway dotted with alpine lakes, it's a destination for water sports, fishing, and breathtaking views of the Cascades.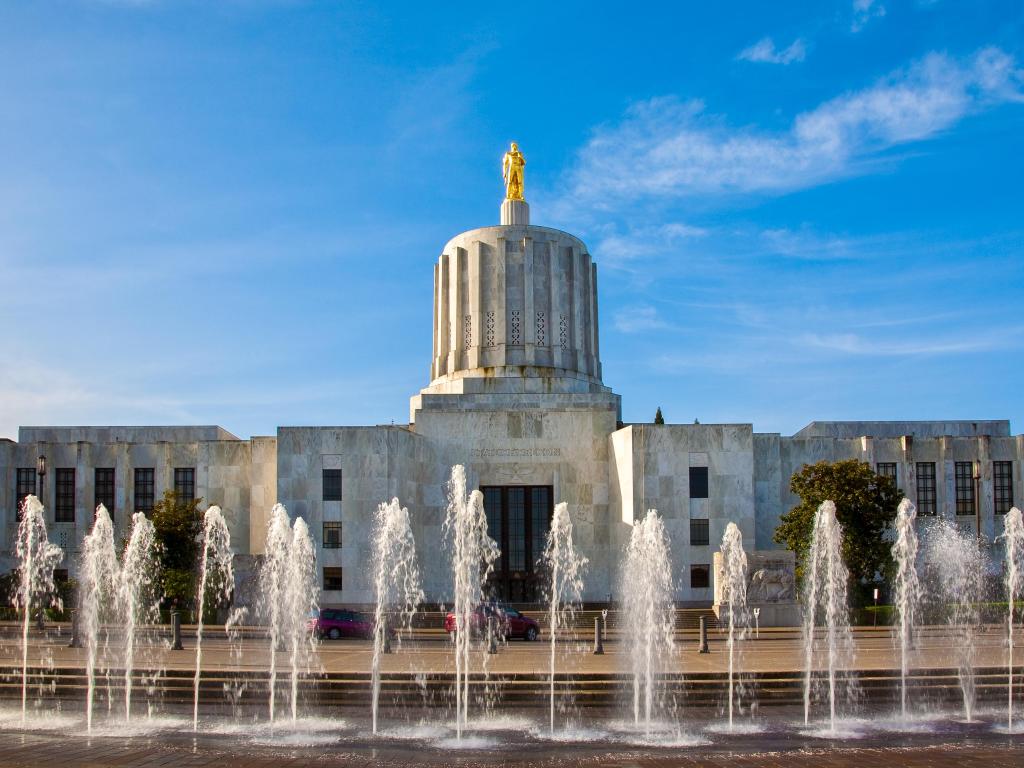 Pacific Coast Route
W.W. Seymour Botanical Conservatory - Situated within Wright Park, the conservatory is a historic glasshouse filled with a stunning collection of tropical plants and seasonal floral displays.
Washington State Capitol Building and Campus - The capitol's stately dome dominates the skyline, while the surrounding campus offers manicured gardens and a reflective view of Capitol Lake.
Lady Washington Maritime Museum - Located in Aberdeen, this museum honors maritime history and is home to the tall ship Lady Washington, a replica of the original vessel from the 18th century.
Lewis and Clark National Wildlife Refuge - This refuge protects a maze of estuaries and wetlands that were once explored by the famous Lewis and Clark Expedition.
Ecola State Park - Offering sweeping views of the Oregon coast and iconic sea stacks, the park is a must-visit for its dramatic landscapes and hiking trails.
North Coast Craft Beer Trail - This trail takes beer enthusiasts on a flavorful journey through the craft breweries dotted along Oregon's scenic northern coastline.
Oregon Coast Scenic Railway - A heritage railroad that offers a nostalgic ride along the Oregon coast, providing spectacular views and a touch of history.
Cape Meares Lighthouse - Perched on a headland, this historic lighthouse offers visitors a glimpse into Oregon's maritime past along with stunning ocean views.
Munson Creek Falls - Tucked away near Tillamook, these falls are Oregon's tallest, cascading majestically into a lush, green canyon.
Newport Historic Bayfront - A vibrant district with working docks, it offers a picturesque mix of seafood eateries, shops, and the bustling atmosphere of a coastal town.
Thor's Well - Part of the Cape Perpetua Scenic Area, this natural wonder appears to be a bottomless sinkhole that dramatically drains and refills with the ocean's rhythm.
Hobbit Beach - A hidden gem along the Oregon coast, this secluded beach features fine sand and is surrounded by whimsical, Hobbit-like vegetation.
Oregon Dunes National Recreation Area - This area spans 40 miles of coast and offers the largest expanse of coastal sand dunes in North America, inviting adventurous exploration.
Coos Historical and Maritime Museum - Located in Coos Bay, the museum provides insights into the region's maritime and pioneering history through a variety of exhibits.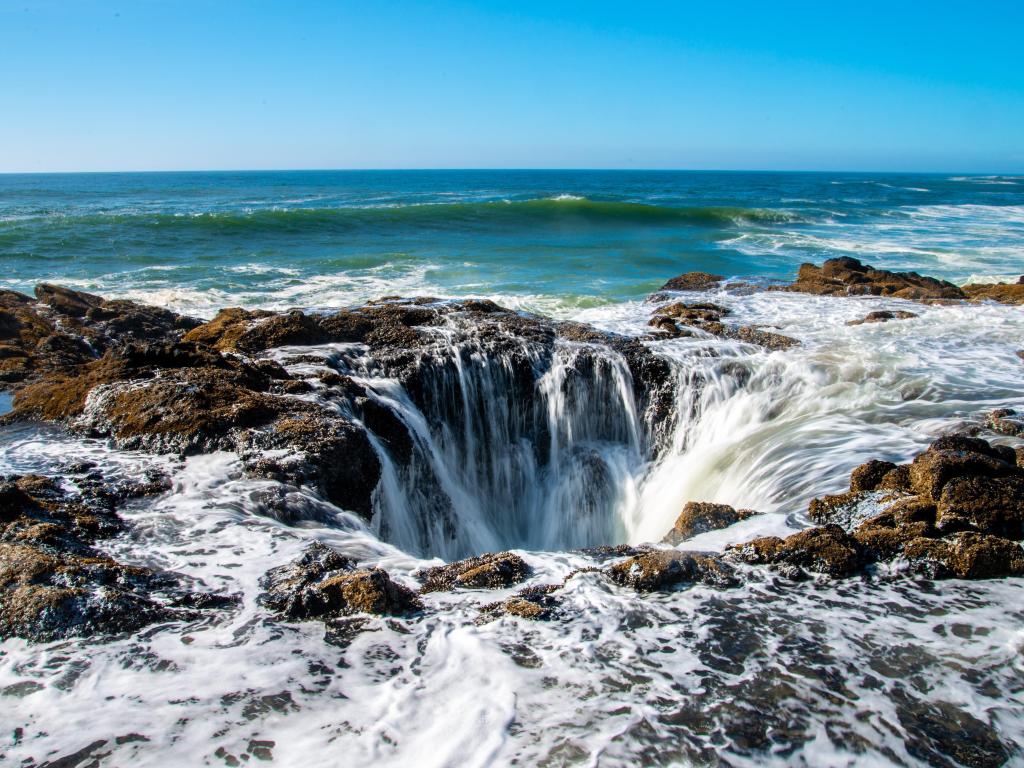 Best time to go on a road trip from Seattle to Crater Lake
The road trip to Crater Lake National Park from Seattle offers a kaleidoscope of scenery and outdoor adventure, but timing is key to making the most of this journey.
While the natural areas en route are accessible throughout the year, you need to pay attention to the season, particularly for special winter permits required at landmarks such as Mount St. Helens Volcanic Monument and Mt. Hood.
Winter is usually rainy along the coast and snowy in the mountains, with temperatures ranging from 40 to 60 degrees on the coast and below-freezing inland.
If you're considering the Direct Route, remember that although main roads are maintained, the winter months bring challenges, especially on smaller roads near Eugene and Crater Lake, where chains and weather awareness are essential.
Crater Lake itself is at its most accessible from late spring through early fall, with average daytime temperatures ranging from a pleasant 60 to 80 degrees Fahrenheit in summer, dipping to a crisp 30 to 60 degrees in fall. Winter's heavy snowfall usually shuts the North Entrance Road and Rim Drive until they reopen in May or June, depending on snow levels.
If you're taking the Pacific Coast Route, Olympic National Forest is open year-round, albeit with some limitations on smaller roads and campsites from October to May because of heavy rain.
Summer is a great time to make this drive, with plenty of things to do and perfect weather. The Portland Rose Festival in June or the Salem Art Fair and Festival in September can be highlights of the Direct Route.
The Astoria Scandinavian Midsummer Festival or the Umpqua Valley Arts Festival in June are two of our favorite summer events on the Pacific Coast Route. This is also the best time to enjoy the beautiful shores of the Pacific Ocean.
You can try aligning your trip with Ride the Rim Oregon in September or the Bend Summer Festival in July.