Road Trip from Seattle to Lake Tahoe
By
Pat Dorri
| Published on 19 September 2023
Lake Tahoe is a world-renowned vacation destination beloved for its turquoise crystal-clear waters. Also a premier skiing destination, nestled in the stunning Sierra Nevada mountains, there no better time than right now to pack your bags and get ready for a road trip from Seattle to Lake Tahoe!
The 860-mile road trip from Seattle to Lake Tahoe will take 15 hours and 30 minutes to drive. You can visit Tacoma, Portland, Mount St. Helens, Mount Hood, Klamath Falls, Reno, Astoria, Newport, Redwood National and State Parks and Lake Almanor.
This will surely be a west-coast road trip of a lifetime. Keep reading below to learn more about our recommended routes, the best places to stop along the way, top highlights, and the best seasons to travel.
How far is Lake Tahoe from Seattle, and how long will the road trip take?
Comparison of road trip routes between Seattle and Lake Tahoe

| Route | Distance | Driving Time |
| --- | --- | --- |
| The Crater Lake Route | 860 miles | 15 hours 30 minutes |
| The Pacific Coast Route | 970 miles | 19 hours 30 minutes |
The Crater Lake Route takes around 15 hours and 30 minutes to complete and covers 860 miles with no detours.
The slightly longer alternative, the Pacific Coast Route, is not vastly different in terms of time, taking around 19 hours and 30 minutes to complete the 970-mile journey to Lake Tahoe.
While you can complete both trips in a couple of days, there's so much to witness and explore along the way. We recommend giving yourself at least 4-5 days for the journey.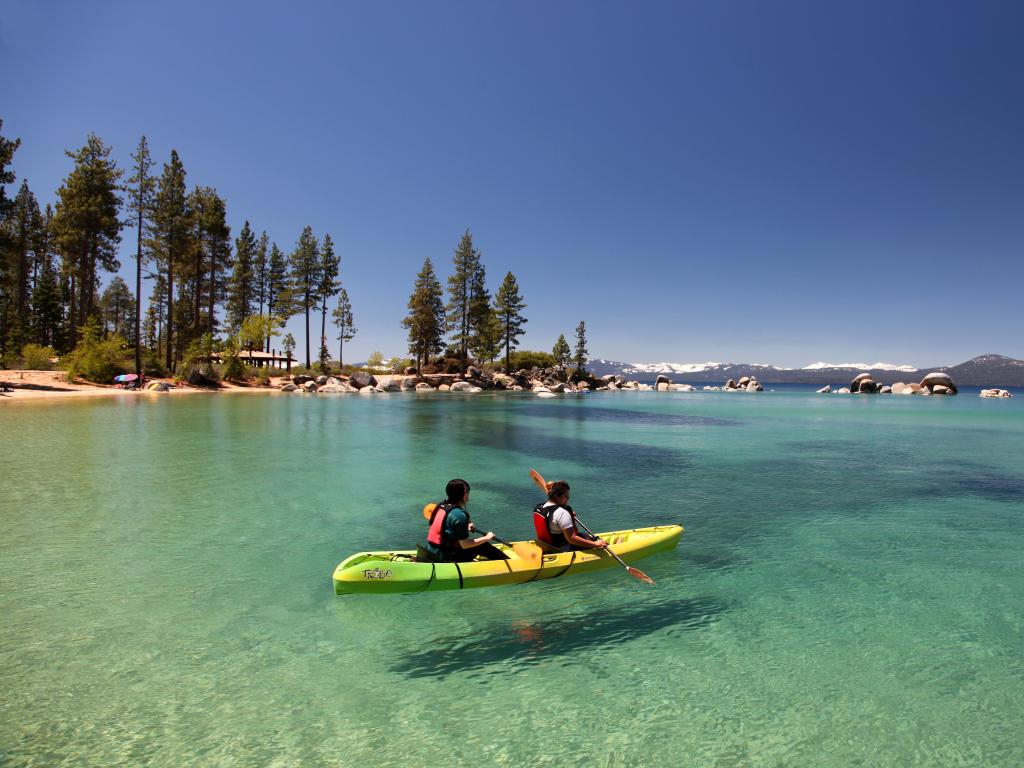 Best road trip route from Seattle to Lake Tahoe
The Crater Lake and Pacific Coast routes promise an unforgettable road trip full of stunning scenery and plenty of unique places to visit. However, both have different landscapes and experiences to offer.
For those drawn to the gorgeous forest landscapes of Washington and Oregon, the Crater Lake Route is the ideal choice.
This route will allow you to see the remarkable forests, including Deschutes National Forest, Willamette National Forest, and Umpqua National Forest. You'll also get to visit the fun city of Portland with its breathtaking views of Mt Hood and booming food scene.
Nature lovers will get to stop at Bend and Klamath Falls, a haven for wintering bald eagles. You will also get to make a stop at the otherworldly Lassen Volcanic National Park.
While this route is lush with forested landscapes, it might lack the extensive coastal scenery present in the alternative route.
The alternative Pacific Coast Route brings you to the rugged West Coast. You'll get to drive along beautiful stretches of the Pacific Ocean coast, including visits to picturesque locations such as Cannon Beach and Pacific City.
A pinnacle of this journey is the visit to the awe-inspiring Redwood National and State Parks, home to some of the Pacific Coast's most breathtaking natural expanses and the tallest trees in the world.
The route includes smaller roads and scenic detours, especially as it traverses Northern California. It might have a slightly longer driving time, offering a slower-paced, scenic exploration compared to the more straightforward Crater Lake Route.
How to drive from Seattle to Lake Tahoe
The map above shows our suggestions for the best road trip routes between Seattle and Lake Tahoe. Keep reading for detailed descriptions of both routes, where to stay on either, and the best things to do on the way.
The Crater Lake Route
Start your journey in Seattle and head south to Tacoma. From here, drive along Interstate 5 (I-5) to Olympia. After your visit, continue south with the views of Mount St Helens to your left, and through the rural towns of Washington. Soon, you'll arrive in beautiful Portland, Oregon.
After spending time in this charming city, get back on route west to visit the towering Mt. Hood. After soaking in the natural wonders of northern Oregon, travel south to the beautiful forests of Bend. Take a moment here to visit Deschutes National Forest.
Continue en route until you reach the iconic Crater Lake. Here, you'll see a crystal clear blue lake surrounded by an extinct crater surrounded by lush forest.
When you are ready, get back on the highway and drive south to the natural wonderland of Klamath Falls. From here, continue on into California to Lassen Volcanic National Park.
If you have more time, you can make detours to Shasta-Trinity National Forest and Plumas National Forest.
From here, head down the mountain and into the deserts of Nevada to Reno. After Reno, take the route a short distance to beautiful Lake Tahoe.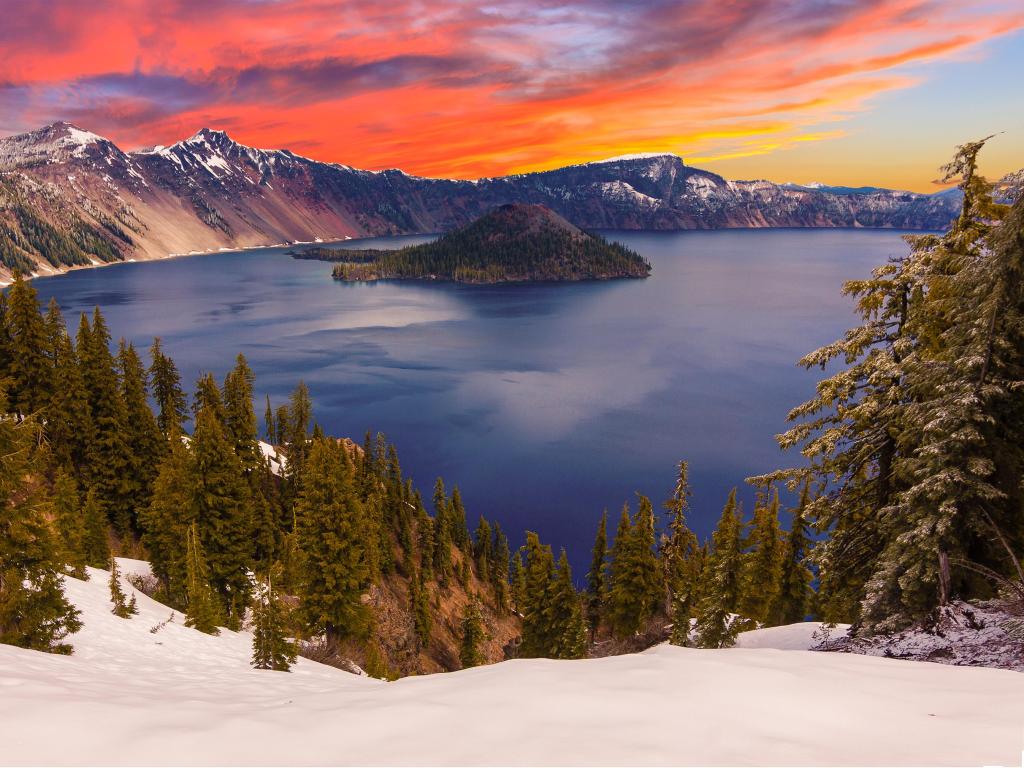 The Pacific Coast Route
Leaving Seattle, you will follow the same route as the Crater Lake Route until you leave Olympia.
Drive south to the forested town of Longview and turn west towards Astoria. After experiencing the historic Pacific Northwest city, head south along the rugged Pacific Coast.
Continue on to Cannon Beach and take a refreshing break. From here, drive along the coastline to the beautiful town of Pacific Beach.
Next, you will drive through the forests and natural areas along Oregon's Pacific Coast. Keep driving into California and visit the majestic redwoods at Redwood National and State Parks.
After exploring the tallest trees on earth, continue on route east to the city of Redding. From this historic lumbering destination, continue driving to the town of Mineral.
Hop back on route and drive up the massive Sierra Nevada Mountains. You'll eventually wind your way into your destination of Lake Tahoe.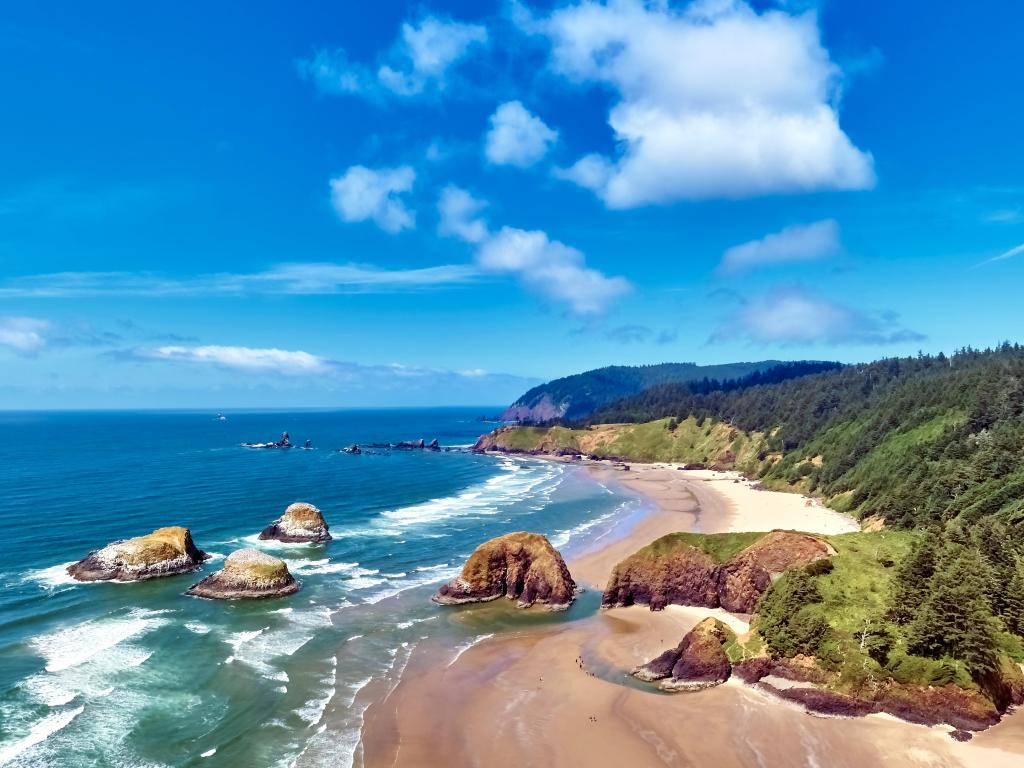 Best places to stop between Seattle and Lake Tahoe
With so much to see and do along the way, you'll want to make a few stopovers. Below, we've chosen our favorites so you can rest easily and get the most out of this memorable drive.
Take in the scenery in Bend
Bend is the perfect location to rejuvenate on the Crater Lake Route, roughly halfway. Nestled amidst Oregon's high desert plateau and the Cascade mountain range, Bend is famous for its enchanting natural landscapes.
Start off your stay in Bend by exploring the iconic Old Mill District, a historic area that offers a blend of nature, art, and industry. Here, you can find not only boutique shops and restaurants but also access to the beautiful Deschutes River.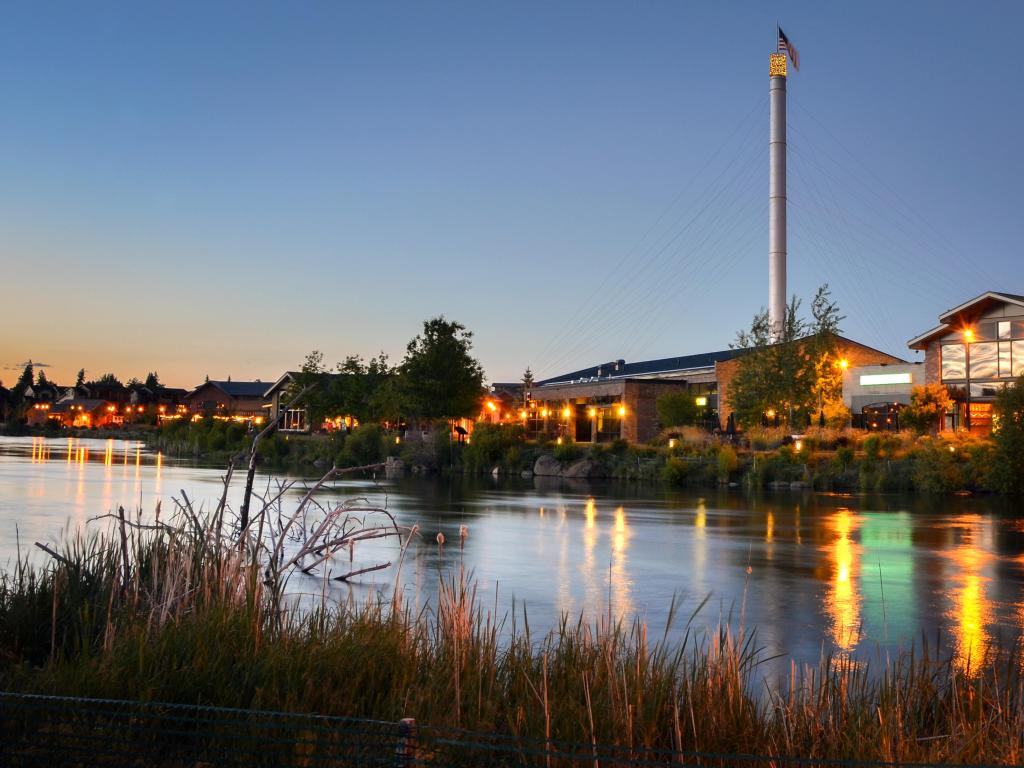 If you are looking to spend some time outdoors, you'll find the spectacular Deschutes River Trail At Mount Bachelor Village across the river, a haven for adventure seekers offering outdoor activities such as hiking.
For accommodation, the Oxford Hotel Bend stands unmatched. Situated in Bend's historic downtown, this intimate boutique hotel not only offers eco-friendly rooms with breathtaking views of Bend's surrounding nature but also features a high-rated restaurant and lounge.
The lounge serves local beers and dishes crafted from locally sourced, organic ingredients. Moreover, the state-of-the-art fitness center comes as a blessing, especially on rare rainy days.
Within a short walk from the hotel lies Miller's Landing Park, a picturesque spot ideal for a morning jog or an evening stroll along the Deschutes River.
Waterfront views in Newport, Oregon
Nestled into the heart of the Pacific coastline, Newport, Oregon, is an absolute must-stop destination, breaking up the 6.5-hour journey along the picturesque Pacific Coast Route.
The town carries the proud title of the "Dungeness Crab Capital of the World," promising a haven for crab enthusiasts. If you want more ocean adventure, check out the Oregon Coast Aquarium to learn about fascinating marine creatures.
A beacon of history and magnificent views, the Yaquina Head Lighthouse is a must-see. Don't miss the nearby Yaquina Bay State Recreation Site, which is just 700 meters from your stay, offering a serene place to enjoy a walk in the well-preserved natural surroundings.
At the end of your adventurous day, the Hallmark Resort awaits to take you in comfort and luxury. Many rooms provide direct beach access, letting you step out into the mesmerizing Pacific coastline right from your doorstep.
Relaxation takes a front seat here, with the resort housing a delightful saltwater pool and a spa with a hot tub and sauna. Sink into the ultimate pampering experience as you unwind amidst the finest amenities like free Wi-Fi, room service, and a modern fitness center.
There's also a restaurant and bar on site so you can grab a meal before exploring the town. Then, in the evening, unwind back at the hotel by sampling some world-renowned Oregon wine.
Where to stay when you reach Lake Tahoe
Upon reaching the end of your journey, you'll get to take in the unmatched charm and beauty of Tahoe City, standing as the crown jewel of Lake Tahoe.
Add a historical touch to your visit by exploring the Vikingsholm Castle, a wonderful example of Scandinavian architecture in the Emerald Bay State Park.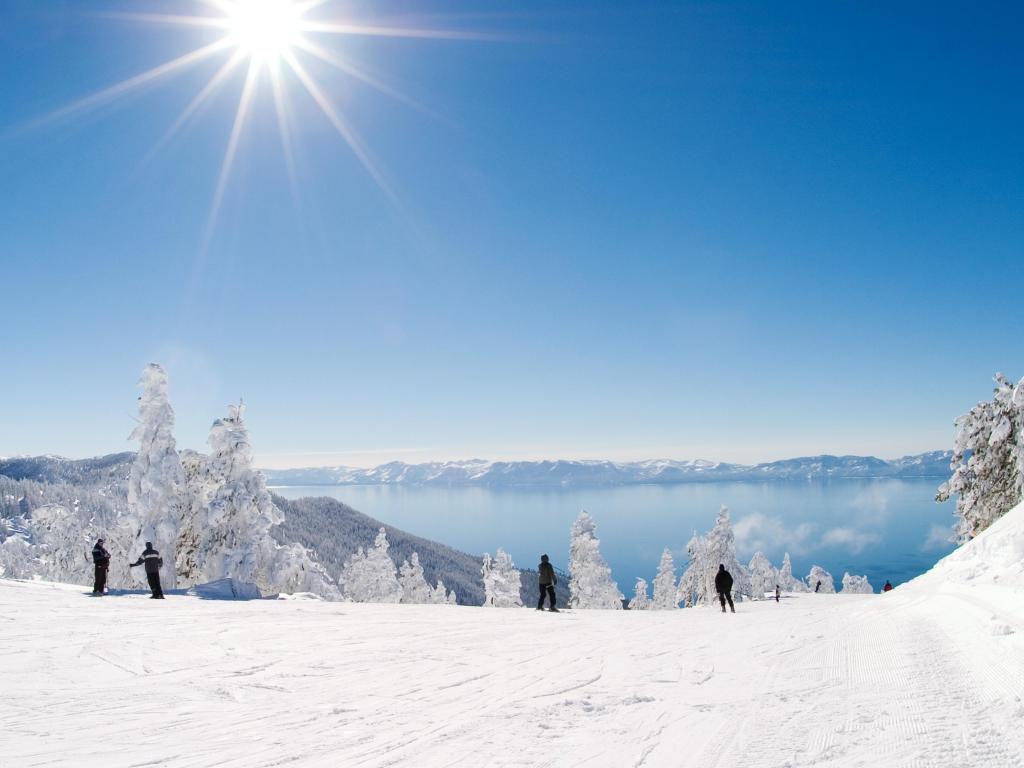 For a more adventurous outing, venture out to the lake with Lake Tahoe Boat Rides, an opportunity to embrace the natural beauty from a refreshing vantage point.
To get the most out of your wonderful stay, we recommend settling in at the Cottage Inn at Lake Tahoe. This adults-only bed-and-breakfast offers a peaceful retreat nestled amidst the lush forests that border the lake.
The inn showcases rustic decoration with a warm touch of wood furnishings, promising the utmost cozy getaway experience. Amenities include a private beach so you can relax in style.
The inn ensures a perfect start to your day with a hearty country breakfast prepared on-site. Depending on the season of your visit, enjoy your morning feast either in the comforting dining room or the vibrant colors of the garden terrace.
Things to see on a road trip from Seattle to Lake Tahoe
You'll be able to see and experience an endless variety of sights and highlights. Below are our favorite destinations along the way so you can plan your ultimate road trip.
Crater Lake Route
Museum of Glass, Tacoma - This innovative museum in Tacoma, Washington, showcases stunning glass art exhibits, often featuring live glass blowing demonstrations, offering a vivid and educational insight into the world of glass artistry.
Tumwater Falls - Nestled in Washington, this scenic park features cascading waterfalls amidst lush landscapes, perfect for picnicking, and offers short trails granting breathtaking views of the falls and the Deschutes River.
Mima Mounds Natural Area Preserve - Home to the mysterious Mima Mounds, this preserve in Washington harbors a unique geological landscape accompanied by interpretive trails explaining the theories behind the formation of these unusual land structures.
Chehalis-Centralia Railroad and Museum - This museum in Washington offers nostalgic steam train rides through picturesque landscapes, alongside exhibits portraying the rich railroad history of the region.
Mount St. Helens - An active stratovolcano located in Washington, known for its catastrophic 1980 eruption; today it offers a unique opportunity for educational visits and outdoor recreation, surrounded by regenerating forests and a transformed landscape.
Bachelor Island, Columbia River - Located within the Ridgefield National Wildlife Refuge in Washington, it offers an enriched habitat for wildlife and is a splendid spot for birdwatching, hiking, and experiencing nature's tranquility.
Portland Forest Park - Spanning over 5,000 acres, this park in Portland, Oregon, is one of the largest urban forests in the US, offering miles of hiking trails within the city limits.
Portland, OR - Known for its parks, bridges, and bicycle paths, this Oregon city also houses eclectic neighborhoods, an artsy culture, vibrant food scenes, and beautiful rose gardens.
Mount Hood National Forest - Enveloping the majestic Mount Hood in Oregon, this national forest offers diverse landscapes from glaciers to forests and meadows, offering recreational opportunities like hiking, camping, and winter sports.
Juniper Hills Park - This park provides recreational facilities amidst natural settings with opportunities for picnicking, hiking, and enjoying scenic vistas.
Mount Thielsen - Also known as the "lightning rod of the Cascades" in Oregon, it is a haven for advanced hikers and climbers, presenting challenging terrains and rewarding panoramic views at the summit.
Klamath Falls - This city in Oregon is known for its outdoor recreation opportunities, including bird watching, hiking, and enjoying the scenic landscapes, coupled with geothermal hot springs.
McCloud Waterfalls - Located in California, this attraction features a series of stunning waterfalls with accessible viewpoints, offering picturesque spots for photography and hiking trails exploring the cascading waters in a forested setting.
Lassen Volcanic National Park - This national park offers an impressive landscape shaped by volcanic activity, with hiking trails passing through geothermal areas, pristine lakes, and lava beds.
Reno - Known as "The Biggest Little City in the World," Reno in Nevada is famed for its casinos, vibrant nightlife, and cultural spots like museums and art galleries, coupled with nearby outdoor recreation opportunities.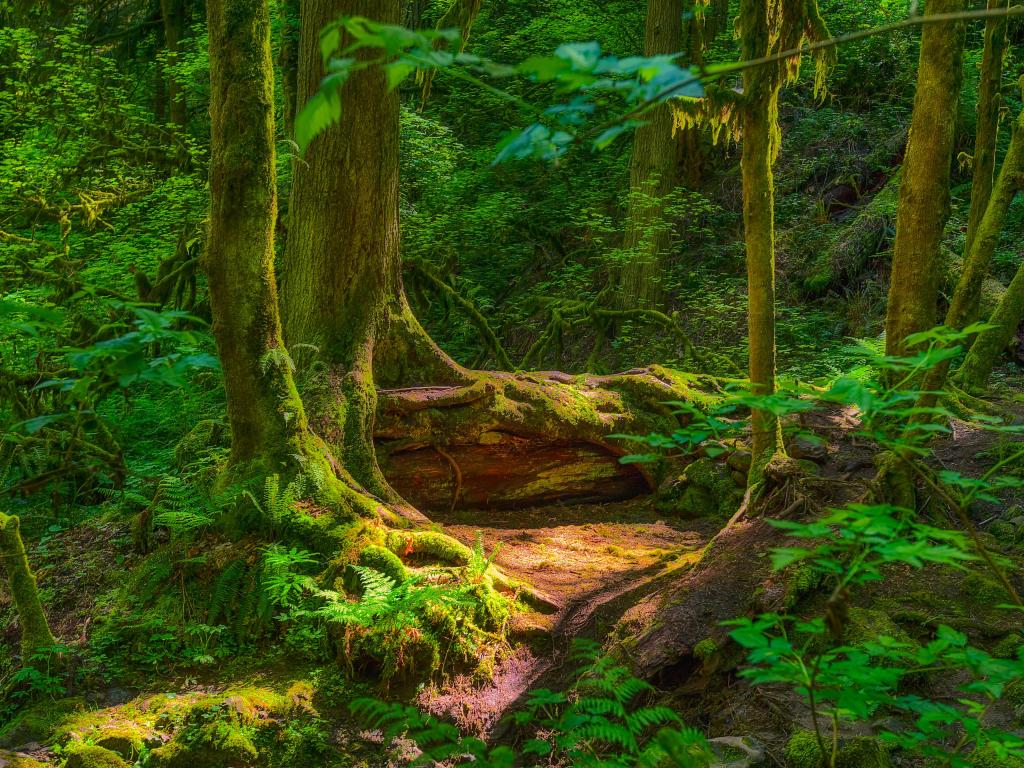 Pacific Coast Route
Capitol State Forest - A working forest in Washington, offering recreational activities like hiking, mountain biking, and horseback riding amidst timberlands and unique land features reflecting sustainable forest management practices.
Bottle Beach State Park - Situated in Washington, this coastal park is a birdwatcher's paradise, featuring rich mudflats that attract a myriad of bird species, coupled with historical interpretations of the region's past.
Columbia Maritime Museum - Nestled in Astoria, Oregon, this museum offers a deep dive into the maritime history of the Columbia River and beyond, showcasing exhibits on shipwrecks, maritime artifacts, and interactive displays.
Cape Falcon - Located along Oregon's coastline, it offers breathtaking hiking trails through coastal forests leading to viewpoints offering stunning vistas of the Pacific Ocean and the surrounding rugged coast.
Rockaway Big Tree Trailhead - In Oregon, this trailhead leads to an easy hike showcasing old-growth forest including the notable "Big Tree," which stands as one of the largest trees in Oregon.
Tillamook Creamery - A renowned visitor center in Oregon where you can learn about dairy processing and cheese-making through interactive exhibits and even taste the famed Tillamook cheese and ice cream.
Munson Creek Falls - The tallest waterfall in the Coast Range of Oregon, it offers a short hike through lush forest settings to view the impressive falls, making it a tranquil spot for nature lovers.
Cape Kiwanda State Natural Area - This natural area in Oregon features sculpted sandstone formations, dramatic cliffs, and dunes, providing splendid opportunities for photography, hiking, and enjoying the Pacific coastline.
Boiler Bay Scenic Viewpoint - This viewpoint offers panoramic vistas of the rugged coastline, a prime spot for whale watching, and observing diverse marine life.
Newport, OR - A coastal city in Oregon known for its beautiful beaches, historic lighthouses, and a vibrant bay area offering a plethora of dining and shopping experiences, coupled with attractions like the Oregon Coast Aquarium.
Cummins Creek Wilderness - An untouched wilderness area in Oregon, home to diverse flora and fauna, offering hiking trails through old-growth forests and providing a peaceful retreat into nature.
Oregon Dunes National Recreation Area - Spanning 40 miles along the Oregon coast, it offers an ever-changing landscape of towering sand dunes, offering recreational activities like dune buggying, hiking, and camping.
Battery Point Lighthouse & Museum - Perched in California, this historical lighthouse operates as a museum, offering a glimpse into the life of a lighthouse keeper, with guided tours showcasing maritime artifacts and fascinating histories.
Redwood National and State Parks - Located in California, these parks are home to the world's tallest trees, offering picturesque trails through primordial forests and a host of recreational activities amidst an awe-inspiring natural setting.
Lake Almanor - Nestled in California, this man-made lake offers a serene setting for recreational activities like fishing, boating, and camping, surrounded by picturesque landscapes and tranquil vistas.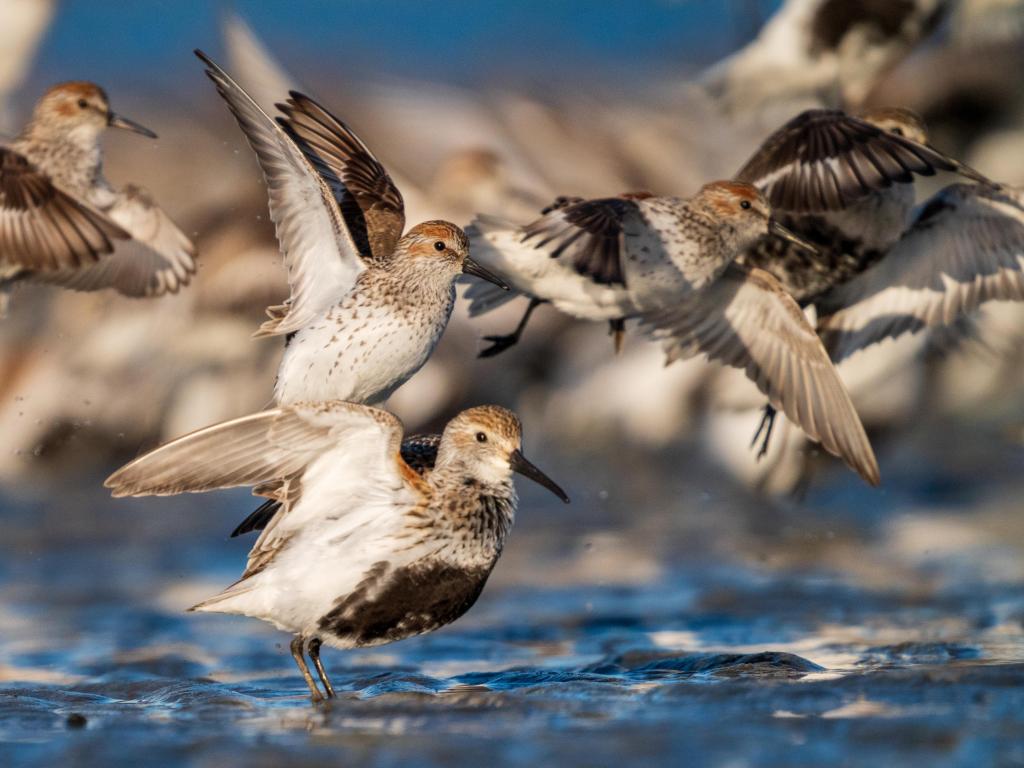 Best time to go on a road trip from Seattle to Lake Tahoe
Lake Tahoe stands is a year-round wonder, promising a different shade of delight in every season with a wide variety of activities ranging from lakeside adventures during the warmer months to skiing or snowboarding in winter.
Traveling during winter means gearing up to face a substantial amount of snow, especially when you take The Crater Lake Route. With daytime temperatures ranging from a chilly 20-40 degrees Fahrenheit at your final destination, you must ensure your vehicle is winter ready.
Despite the cold, reaching Lake Tahoe during this season gives you opportunities for snow sports against the backdrop of a frosty yet majestic landscape.
As spring blooms, with temperatures gently rising to 45-65 degrees Fahrenheit, Lake Tahoe displays a fresh shade of beauty.
May brings forth events like the Redding Rodeo on the Crater Lake Route, and the picturesque Brookings Harbor Azalea Festival if you opt for the Pacific Coast Route.
Summer is undeniably the most popular time for this road trip, with Lake Tahoe boasting temperatures between 65-80 degrees Fahrenheit. The Pacific Coast Route shines the brightest in summer, offering stunning views of lighthouses and the dramatic coastline.
You can expect Lake Tahoe to be crowded during this time, with the hotel prices rising.
Fall will give you a tranquil yet stunning range of fiery colors, with daytime temperatures hovering between 45-70 degrees Fahrenheit at Lake Tahoe.
It's a season of festivals, with the Portland Rose Festival lighting up the Crater Lake Route in October and the much-anticipated Tahoe City Oktoberfest offering you a hearty welcome as you reach your destination.