Road trip from Seattle to Las Vegas
By
Pat Dorri
| Published on 15 September 2023
Traveling from Seattle to Las Vegas promises a journey filled with lush parklands, coastal wonders, vibrant cities, and captivating history. If you want a balance of interesting stops and scenic views before arriving at the neon lights of Sin City, then this is the perfect adventure for you.
The 1,265-mile road trip from Seattle to Las Vegas will take 19 hours to drive. You can visit Yakima, Baker City, Boise, Twin Falls, Shoshone Falls and St George en route, or drive past Cannon Beach, Portland, Salem and Redwood National and State Parks.
Journey from Seattle to Las Vegas and both routes take you either on an inland adventure of coastal extravaganza, peppered with plenty of interesting places to visit along the way,. Make sure to keep reading to see some of the best places to explore, rest and stay.
How far is Las Vegas from Seattle, and how long will the road trip take?
Comparison of road trip routes between Seattle and Las Vegas

| Route | Distance | Driving Time |
| --- | --- | --- |
| The Salt Lake City Route | 1,265 miles | 19 hours |
| The San Francisco Route | 1,530 miles | 25 hours |
Choose the Salt Lake City Route from Seattle to Las Vegas, a course that promises adventure across stunning landscapes. and you will be traveling for around 19 hours and cover 1,265 miles.
Alternatively, the San Francisco Route is a longer journey traveling 1,530 miles with an estimated drive time of 25 hours, and is a road trip that promises a beautiful coastal ride with unrivaled views.
While it is possible to complete either trip in a span of a couple of days, we recommend taking a leisurely approach, dedicating 5-6 days to experience everything there is to offer.
Best road trip route from Seattle to Las Vegas
As both routes boast plenty of natural attractions, you'll have a delightful dilemma in choosing which route from Seattle to Las Vegas to take.
If you head on the more direct Salt Lake City Route, then you can expect a mix of urban vibes of Boise to the captivating natural wonders in Twin Falls. You also get to visit the amazing Snake River Canyon, with mesmerizing Shoshone Falls, likened to the "Niagara of the West."
You also pass Snake River Canyon Overlook near Twin Falls at Perrine Bridge, a popular spot to watch brave base jumpers taking the plunge. And as you journey south, you pass Utah's striking red rock formations and amazing desert landscapes.
If you fancy scenic charm and coastal views, then the San Francisco route is your best bet. Starting from the vibrant city of Seattle, you pass a mixture of amazing sites, including the sea stacks of Cannon Beach, Portland's eclectic culture, and not forgetting Salem's historic sites.
A highlight is the Klamath River Overlook at Redwood National and State Parks, with panoramic views of the Pacific and, on clear days, a chance to spot whales and sea lions bobbing in the waves.
A stop at Battery Spencer at the Golden Gate National Recreation Area is a must, where, after a short hike, you will see a postcard-perfect view of the Golden Gate Bridge with San Francisco as the backdrop.
On this route, you will have the option to follow the Pacific Coast more closely on the Pacific Coast Highway, but keep in mind that this will add to your driving time.
How to drive from Seattle to Las Vegas
The map above shows our suggestions for the best road trip routes between Seattle and Las Vegas. Keep reading for detailed descriptions of both routes, where to stay on either, and the best things to do on the way.
The Salt Lake City Route
From Seattle, head along Interstate-90 (I-90) and you will pass the lush evergreen Tiger Mountain State Forest before picturesque Keechelus Lake, a haven for boating and fishing fans.
Take I-82 towards Yakima, where a visit to the Yakima Area Arboretum showcases native plants and beautiful gardens. Continue towards Baker City, traveling along I-84, where you can stop at intriguing Pendleton Underground Tours, before arriving at Baker City.
The interstate then leads the way to Boise, the vibrant capital city of Idaho. Boise River Greenbelt offers a tranquil space for walks. Afterwards, heading southeast, Twin Falls will greet you with beautiful Shoshone Falls, ready to be explored.
From here, continue to Salt Lake City, where Temple Square and the Natural History Museum of Utah are must-visits. The historic Provo Pioneer Village, showcasing early settler life in Utah, is also worth a stop.
After Provo, continue south where Meadow Hot Springs, and adventurous trails along Kanarraville Falls, await. Past Dixie National Forest and Zion National Park, you will arrive at St George, home to Bloomington Petroglyph Park, before arriving at the entertainment hub, Las Vegas.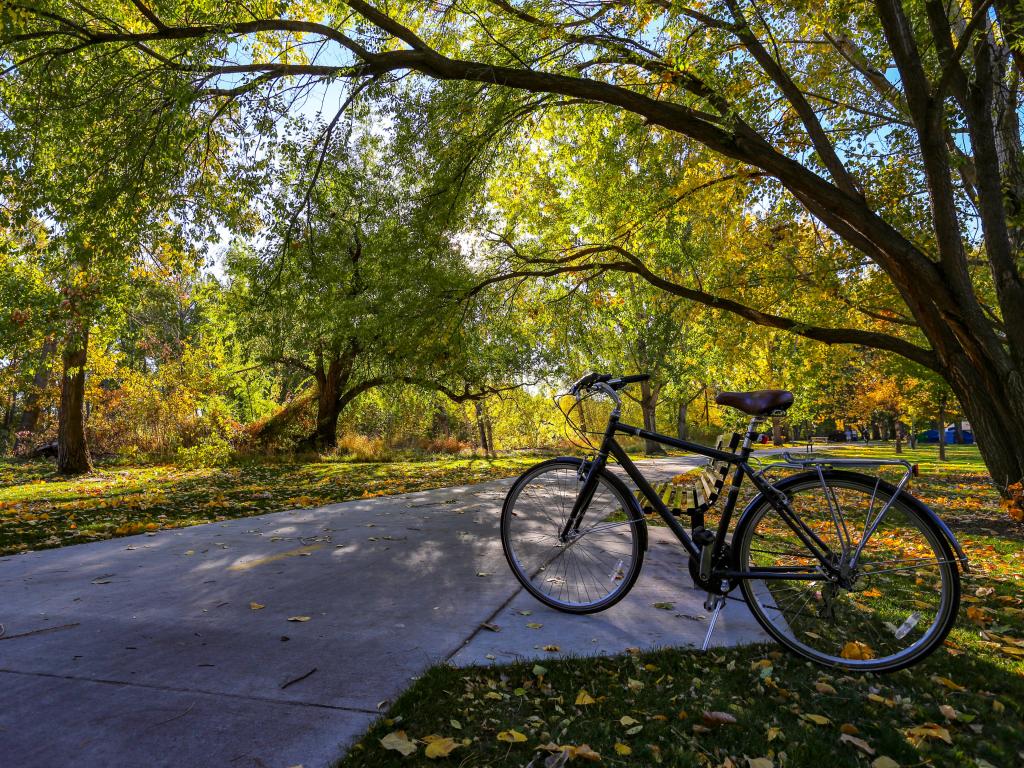 The San Francisco Route
From Seattle, head along I-5, and Tacoma is an early stop where you can visit the Museum of Glass, before steering southwards towards Tumwater Falls.
Heading south, you will soon get the opportunity to visit Columbia River Maritime Museum in Astoria for more regional maritime history.
From here, US-101 takes you to Cannon Beach, and then heading inland, drive through the outskirts of Portland, where you can make a detour.
You will soon reach Salem, with the historic Oregon State Capitol and Hallie Ford Museum of Art to visit. Oregon Dunes National Recreational Area, with its unique sand dune landscape, can then be visited.
Take a slight detour to Prehistoric Gardens situated in Port Orford and be amazed by life-sized dinosaur replicas. The road then leads to scenic Chetco Point Park in Brookings, a perfect spot for coastal views.
Rejoin US-101 S on the coast and you'll soon reach Prairie Creek Redwoods State Park, within Redwood National and State Parks. Your next stop is Eureka on the Pacific Coast, where Clarke Historical Museum shares the natural history of the region.
As you cross into California and head to San Francisco via US-101 iconic sites such as Golden Gate Bridge and Battery Spencer await. An interesting final stop before arriving at Sin City for even more excitement!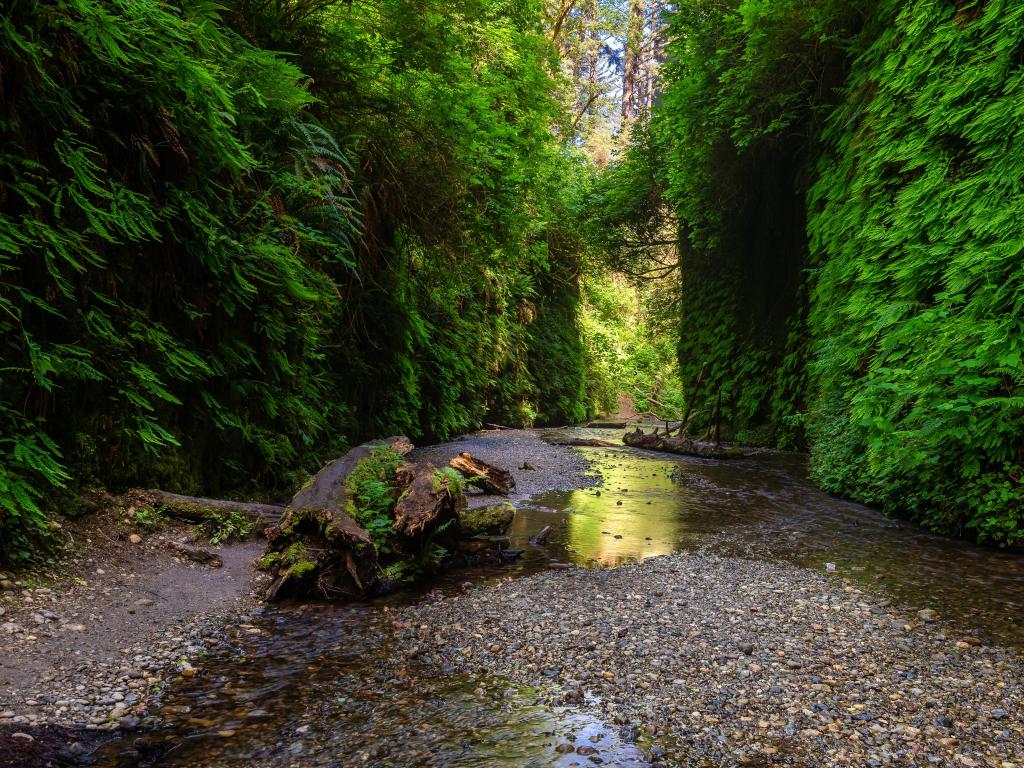 Best places to stop between Seattle and Las Vegas
This road trip is packed with exciting and scenic stops that have to be seen to be believed. We have cherry-picked some of the best places to stopover as you make your way on this incredible journey.
Explore natural wonders at Twin Falls
Twin Falls, located around halfway along the Salt Lake City Route, is a scenic stop close to natural wonders like the expansive Snake River Canyon and Shoshone Falls. These falls stand even taller than Niagara Falls, with amazing views and lush landscapes ideal for hiking.
While in Twin Falls, we recommend visiting Perrine Bridge across Snake River Canyon. Not only an architectural wonder, it is a hotspot for base jumpers that you might be lucky to see.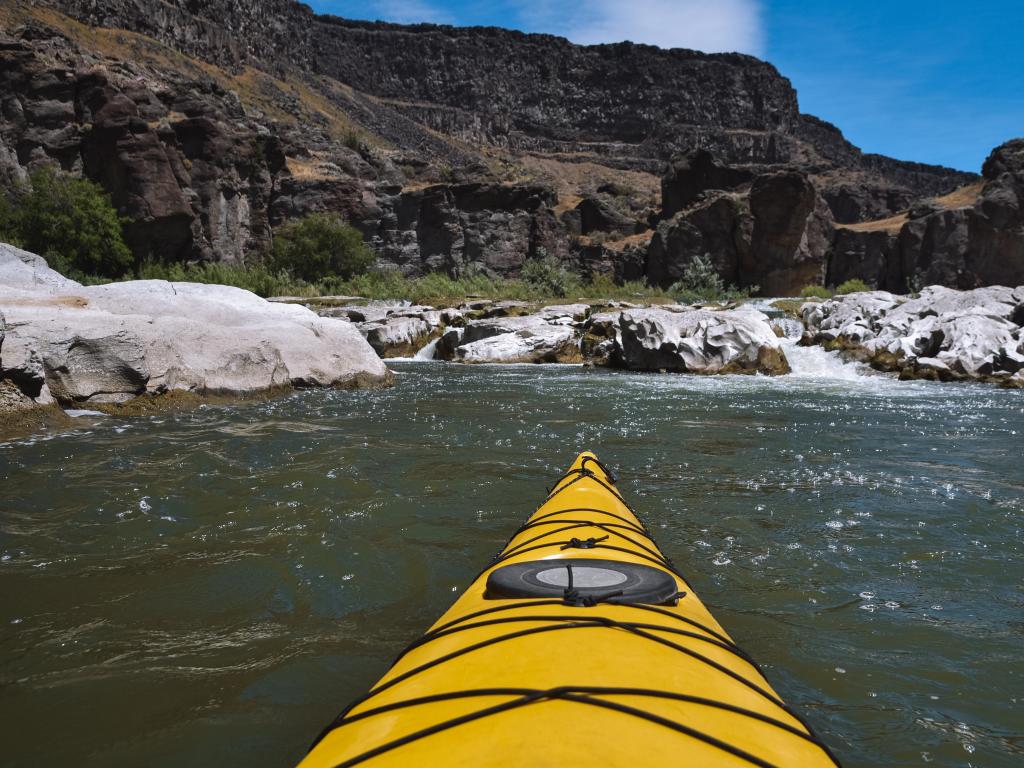 In 1974, daredevil Evel Knievel attempted to jump over the Snake River Canyon in a steam-powered rocket called the "Skycycle X-2", and you can still see this ramp near the Perrine Bridge today!
For your stay in Twin Falls, we recommend TownePlace Suites by Marriott Twin Falls, close to many local attractions, including Frontier Field and Northern Ridge Park that you can cycle to using the hotel's complimentary bikes.
This lovely hotel also has a sun terrace and gardens, ideal for unwinding in after a busy day exploring or popping some food on the hotel barbecue grills.
You'll also find an indoor swimming pool and hot tub, perfect for a relaxing dip, and a state-of-the-art fitness center for those looking to stay on the move.
Enjoy sunshine and seafood in San Francisco
A perfect choice for an overnight stop on the San Francisco Route, San Francisco is nestled about halfway along, and packed with iconic landmarks, giving a change of pace to this journey.
The star attraction is the Golden Gate Bridge, an iconic symbol of the city. Here, you can admire the breathtaking skyline views and the vast Pacific Ocean. Visit during sunset, and you'll take a picture-perfect moment of your visit.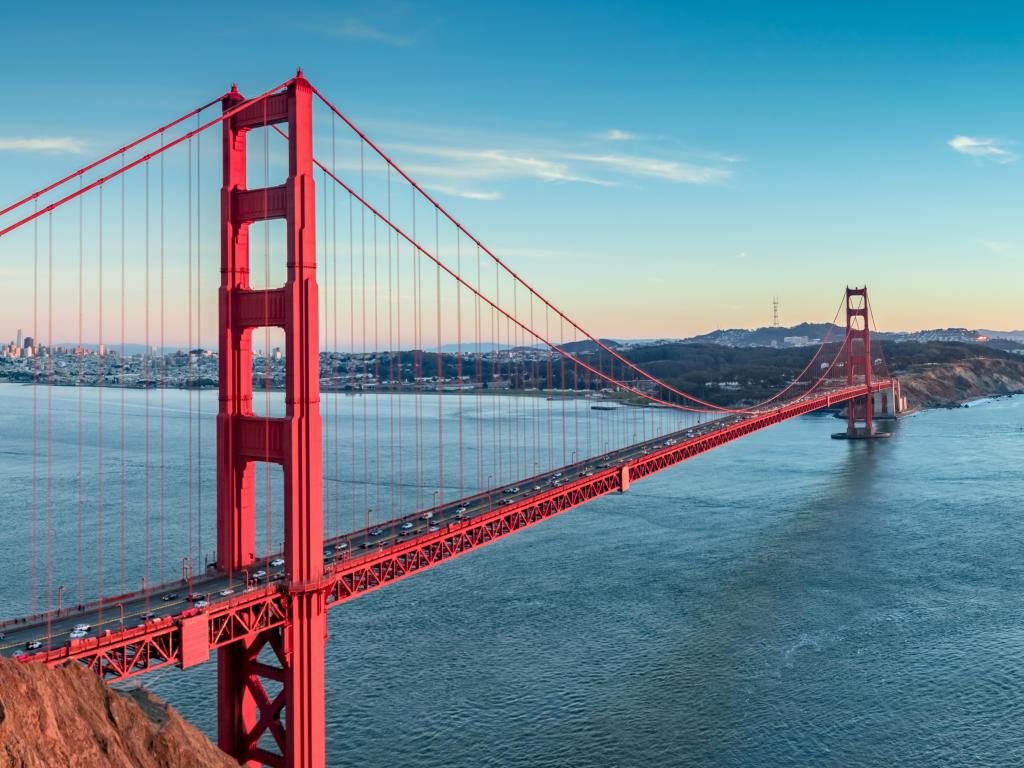 Make sure to also head to the lively waterfront district of Fisherman's Wharf, with bustling piers and fresh seafood. You might spot the sea lion colony taking residence at Pier 39 as you head for food.
San Francisco is also a great place to go shopping, and why not add a pair of Levi's to the list? These classic blue jeans, a staple in wardrobes across the world, originated here, created by Levi Strauss and Jacob Davis for gold miners in 1873.
For a luxurious stay in the heart of San Francisco, The Ritz-Carlton, San Francisco, ticks all the boxes. This beautiful hotel promises to deliver an exclusive experience on The Club Level with all-day food and beverage services and a knowledgeable concierge, just some of the perks.
When you are settled in and ready to paint the brown red, visit top sites such as Union Square and the San Francisco Museum of Modern Art, a short stroll away from the property .
When you are done exploring and ready for a meal, head to the upscale on-site restaurant, Parallel 37, which serves delightful dishes with a modern American twist.
Where to stay when you reach Las Vegas
As you reach the climax of your trip you find yourself in Las Vegas, fondly known as "The Entertainment Capital of the World," where vibrant casinos meet extravagant shows, offering an experience like no other.
The Strip is the epicenter of all activity, stretching along Las Vegas Boulevard and packed with casinos, hotels, and resorts. Wander to the High Roller, the world's biggest observation wheel, which offers incredible views of twinkling Las Vegas. The Strip's lights are so bright you can even see them from space!
As you settle into the city, we recommend staying at Marriott's Grand Chateau, the perfect oasis away from the Las Vegas bustling Strip.
Nestled in a quieter spot yet in close proximity to the heart of all the action, you get the best of both worlds and can enjoy the two stunning outdoor pools open year-round, hot tubs and sauna on site.
Afterwards, head for a pre-dinner drink at the rooftop Sky Bar, where you can enjoy sunset views. If you fancy more adventure, then nearby are attractions like the Eiffel Tower at the Paris Hotel and Bellagio Fountains to go and explore.
Things to see on a road trip from Seattle to Las Vegas
This journey is a real mix of urban landmarks and historic sites, coastal views and lush parklands. With so much to see and do we have added our highlights below of where we suggest stopping as you make your way towards Sin City.
Salt Lake City Route
Tiger Mountain State Forest - This expansive forest offers hikers a rich network of trails amidst lush greenery and beautiful landscapes, providing a peaceful escape.
Keechelus Lake - Nestled in the Cascade Range, this lake offers stunning mountain views, clear waters, and opportunities for boating and fishing, making it a serene getaway for outdoor enthusiasts.
Yakima Area Arboretum - A botanical garden boasting a diverse collection of native and adapted non-native plants, providing a vibrant, educational, and peaceful environment.
Pendleton Underground Tours - These guided tours unveil the hidden underground of Pendleton, exploring a time capsule of the city's history, including insights into its Prohibition-era culture.
Historic Downtown Baker City - A charming area with preserved 19th-century architecture, offering boutique shops, galleries, and restaurants.
Old Idaho Penitentiary, Boise - This historic site invites visitors to explore a 19th-century prison, with old cell blocks and a botanical garden.
Shoshone Falls, Twin Falls - Often referred to as the "Niagara of the West," this stunning waterfall offers breathtaking views, particularly in the spring.
Union Station, Ogden - This historic train station houses museums and galleries, offering a glimpse into the region's railroad history, with vintage locomotives and art exhibits.
Temple Square, Salt Lake City - The spiritual heart of Salt Lake City, this 10-acre complex is home to a six-spire granite temple, historic tabernacle, and beautiful gardens.
Natural History Museum of Utah - This museum offers interactive exhibits that showcase Utah's natural and anthropological history through impressive artifact collections and displays.
Provo Pioneer Village, Provo - This living history site takes visitors back to the early days of Provo's settlers, with historic buildings and artifacts offering a glimpse into 19th-century life.
Meadow Hot Springs - A hidden gem in the Utah desert, offering warm geothermal pools for a relaxing soak in a picturesque setting.
Kanarraville Falls - A scenic waterfall nestled in a slot canyon, offering hikers a rewarding experience with its cascading waters and intricate rock formations.
Saint George - A vibrant city known for its mild climate, picturesque surroundings, and historic sites including pioneer-era buildings and a beautiful LDS temple.
Bloomington Petroglyph Park - A historic site featuring ancient rock art, offering a window into the lives and cultures of indigenous peoples who inhabited the region centuries ago.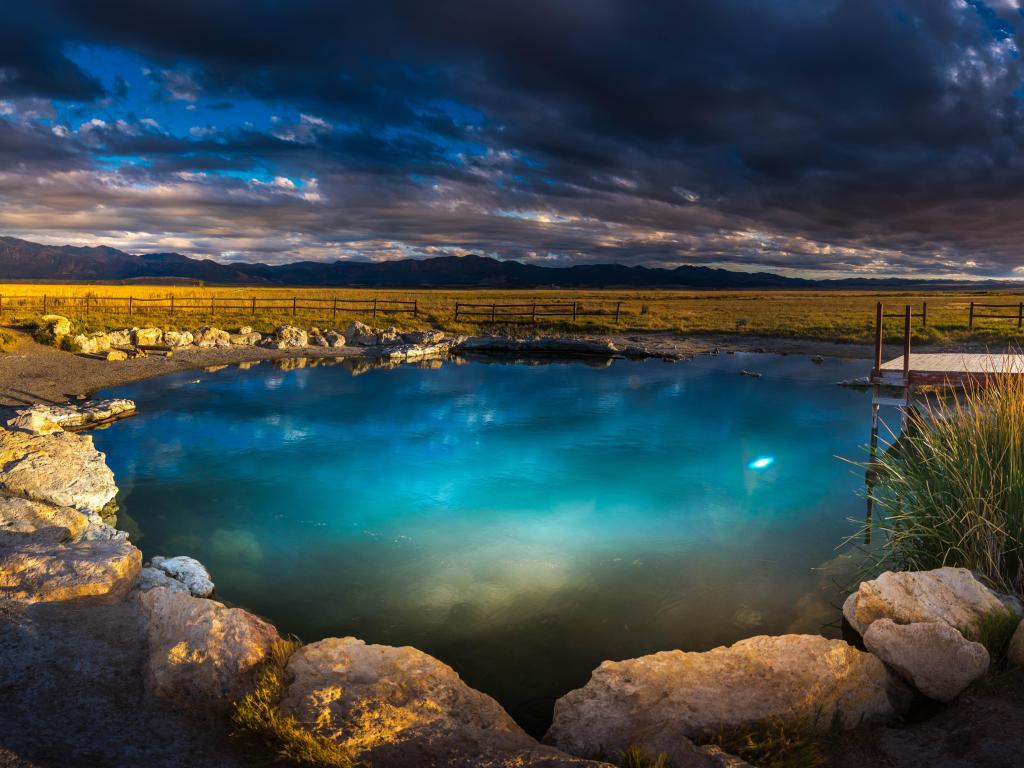 San Francisco Route
Museum of Glass, Tacoma - An iconic museum offering live glassblowing and exhibits featuring stunning glass artworks, including pieces by renowned artist Dale Chihuly.
Tumwater Falls - A picturesque park home to cascading waterfalls, historical markers, and walking trails providing a serene and educational outing in nature.
Columbia River Maritime Museum - Situated in Astoria, this museum provides a deep dive into the maritime history of the Columbia River, with interactive exhibits and historic vessels on display.
Lewis and Clark State Park, Toledo - A picturesque park offering a rich historical background tied to the Lewis and Clark expedition, with recreational opportunities such as camping and hiking amidst lush green settings.
Portland Art Museum - Located in Portland, it houses a vast collection of art, including Native American art and modern and contemporary pieces.
Oregon State Capitol - This Salem-based building showcases unique Art Deco architecture, and houses historical murals and exhibits narrating Oregon's history.
Hallie Ford Museum of Art, Salem - An important cultural resource in Oregon, the museum houses a notable collection of historical and contemporary art, with a special focus on regional artists.
Oregon Dunes National Recreational Area - A unique landscape offering towering sand dunes, hiking trails, and activities like dune buggy rides and sandboarding.
Prehistoric Gardens - Located in Port Orford, it's a roadside attraction offering a walk through a prehistoric garden with life-sized dinosaur replicas.
Chetco Point Park, Brookings - A coastal park offering breathtaking views of the Pacific Ocean, with trails leading to a rugged coastline for a tranquil retreat in nature.
Prairie Creek Redwoods State Park - Home to a pristine old-growth redwood forest, this park offers a variety of recreational opportunities including hiking, camping, and wildlife viewing.
Clarke Historical Museum, Eureka - This museum showcases the rich history of the region, including Native American history, gold rush era artifacts, and vintage Victorian furnishings,
Golden Gate Bridge - A renowned San Francisco landmark, this suspension bridge offers breathtaking views of the bay and a must-visit for photography enthusiasts.
Tehachapi Heritage League Museum - Located in Tehachapi, this museum offers insights into the local history, showcasing artifacts and exhibits of Native American, railroad, and ranching heritage.
Bonnie and Clyde's Death Car - Displayed in Primm, Nevada, this historic car bears the bullet holes from the ambush that ended the criminal careers of the notorious outlaw couple, Bonnie and Clyde.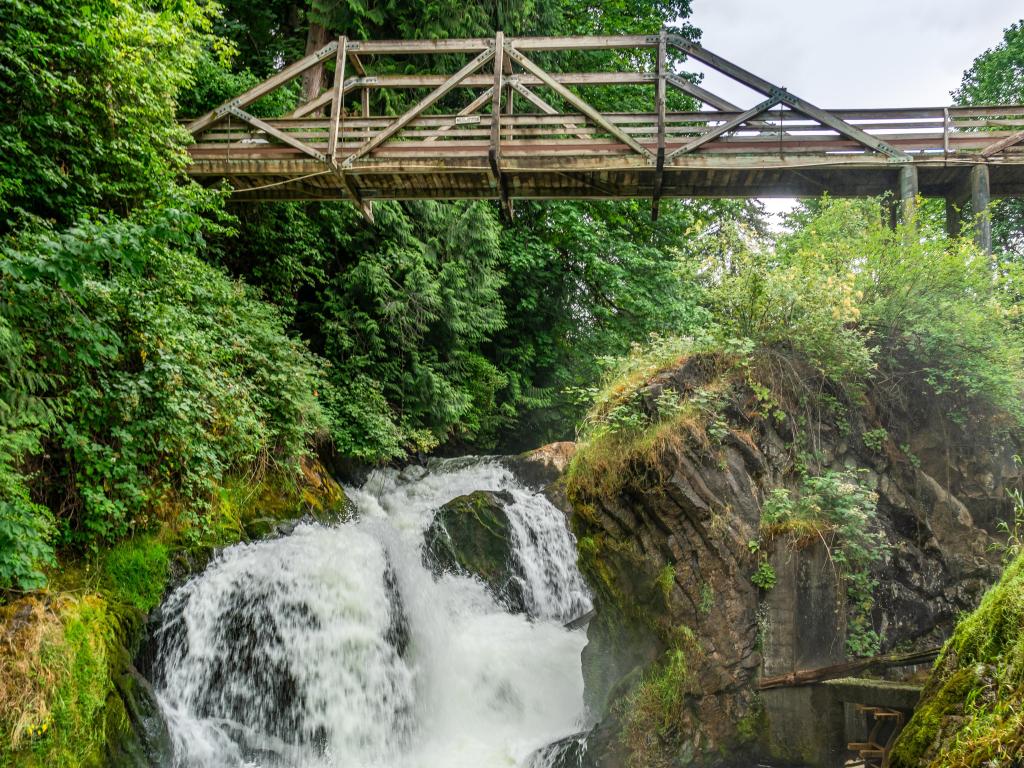 Best time to go on a road trip from Seattle to Las Vegas
Las Vegas, the crown jewel at the end of your road trip, is best known as "The Entertainment Capital of the World.", and once you arrive, you can be sure that you will make plenty of lasting memories at every turn.
Make this journey during the spring and some of the attractions you pass are even more impressive, with the Salt Lake City Route seeing Shoshone Falls waterfalls even more gushing due to melting snow. For those taking the Salt Lake City Route, the Utah Arts Festival in June is also a cultural treat not to be missed.
If you decide to visit later in summer, then as you inch closer to Las Vegas, temperatures can soar beyond 100 degrees Fahrenheit. Staying hydrated and protecting yourself from the sun is essential during this heat.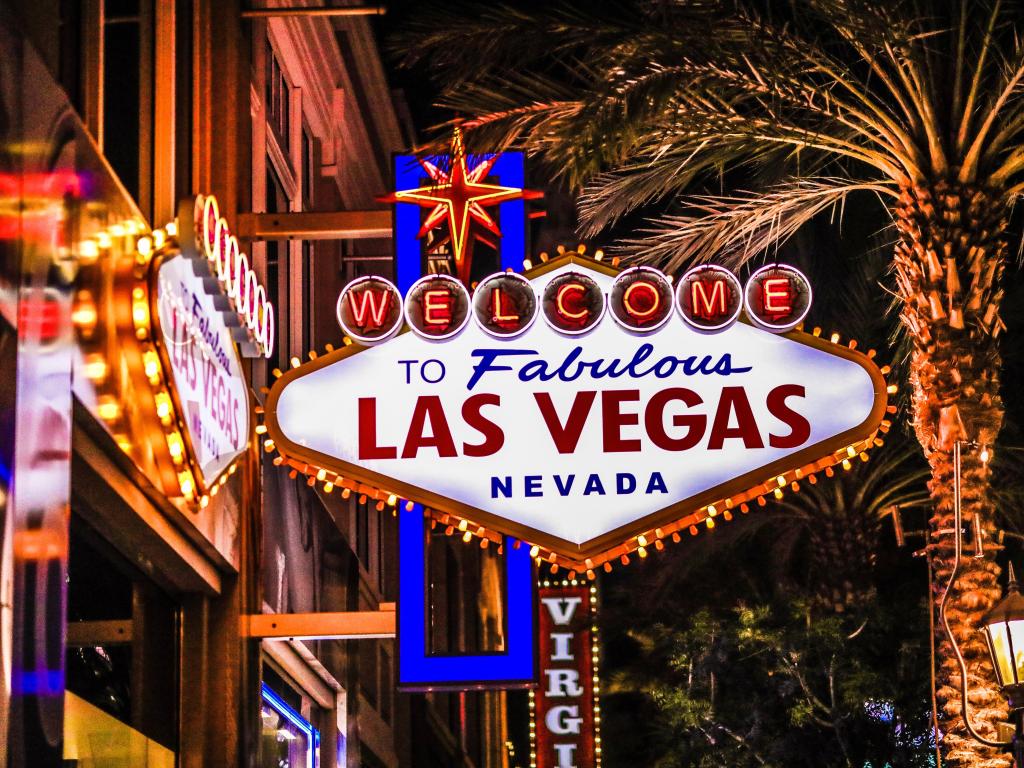 In Las Vegas, the casinos offer a chance to cool down, and events like the World Series of Poker and Helldorado Days in May and June offer a vibrant end to your trip.
In fall, both routes promise a pleasant driving experience with cooler temperatures and beautiful changing foliage. However the days do start to get shorter, so make sure to adjust any driving hours to make sure you travel safely.
Winter can be particularly pretty with a snowy landscape, especially in the northern parts of both routes. Snow does also bring some challenges, so snow tires or chains and an attentive eye on the road conditions will be necessary.
If you fancy something extra, then the Chinese New Year Parade and Festival in San Francisco in January and February offers added entertainment if you choose the San Francisco Route.
Reaching your final destination, Las Vegas is fun whenever you choose to visit, and even in the winter, when temperatures range from high 50s to low 60s Fahrenheit, it's a great time to explore the city.