Road trip from Seattle to Leavenworth
Are you ready for an enchanting drive from Seattle to Leavenworth, a stunning alpine destination that channels Bavarian vibes in the heart of Washington State? Whichever way you get there, you'll enjoy rugged mountain views, wild rivers and some charming towns that each have their own tales to tell.
It's a scenic 340-mile road trip from Seattle to Leavenworth, with the route past Rimrock Lake, Narada Falls and Mt Rainier National Park taking 6 hours 45 minutes to drive. Or travel via North Cascades National Park to visit Hamilton, Winthrop and Chelan.
Whether you're looking forward to scenic views and relaxation, or ready to hit some serious hiking trails, a road trip from Seattle to Leavenworth makes the perfect weekend break or even a longer getaway. Keep on reading to find out what's waiting to be discovered on this inland adventure.
How far is Leavenworth from Seattle, and how long will the road trip take?
Comparison of road trip routes between Seattle and Leavenworth

| Route | Distance | Driving Time |
| --- | --- | --- |
| The North Cascades National Park Route | 315 miles | 6 hours |
| The Mt Rainier National Park Route | 340 miles | 6 hours 45 minutes |
The longer of our two routes takes you to Mt Rainier National Park: a beautiful location that's well worth the extra 45 minutes' drive. This picturesque trip from Seattle to Leavenworth covers around 340 miles and takes approximately 6 hours and 45 minutes.
Alternatively, head north via North Cascades National Park Route for a splendid 315-mile drive which requires close to 6 hours to complete.
Even though this is a relatively short road trip, we recommend taking at least 3-4 days to stop at the picturesque small towns of Washington and admire some of America's most breathtaking scenery.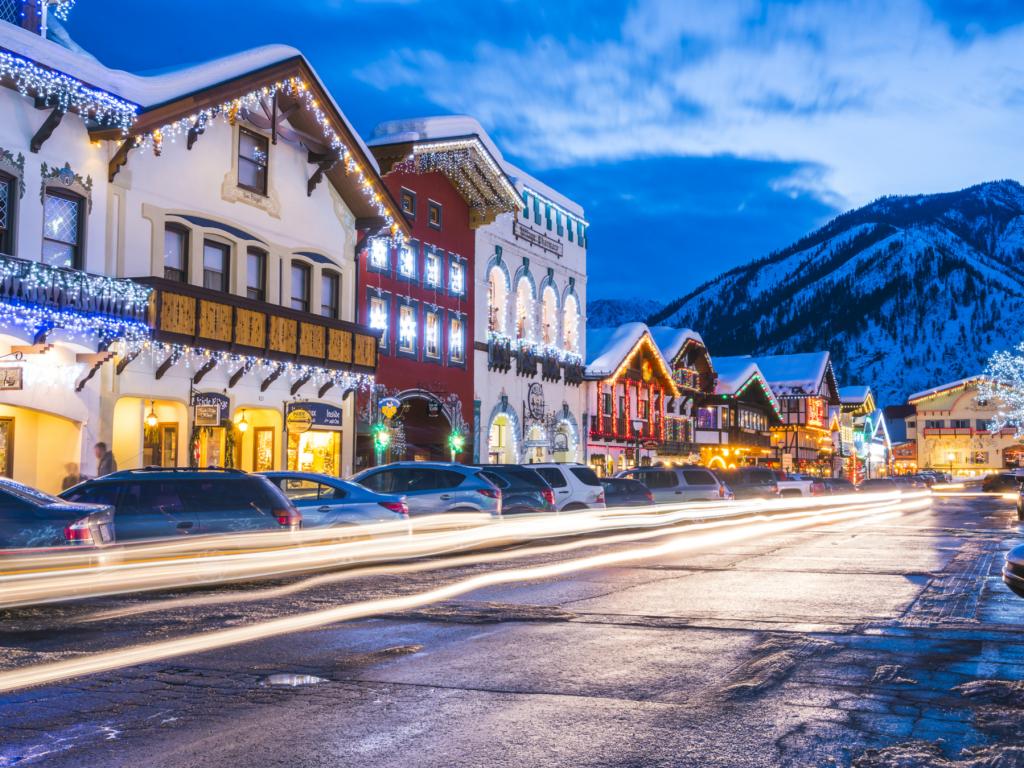 Best road trip route from Seattle to Leavenworth
While both routes serve as gateways to nature's grandeur, each provides a unique tableau of the Pacific Northwest's charm. Your ultimate decision will hinge upon which natural backdrop resonates with your wanderlust spirit.
The Mount Rainier National Park Route immerses travelers in the verdant expanses of central Washington State's wild forests. At its heart lies Mount Rainier, a towering stratovolcano and the crowning jewel of the Cascade Range, accompanied by neighboring volcanoes.
As you travel this route, you'll be greeted with panoramas of blooming wildflower meadows and the tranquility of meandering rivers. You'll also visit Washington State's agricultural heartland, with the fertile valleys around Yakima and Wenatchee adding a gustatory dimension to your journey.
The North Cascades National Park Route also travels through stunning mountain landscapes, but first you'll skirt the coast of Puget Sound and Skagit Bay before heading inland through the rugged terrain of the Northern Cascades.
Along this route, hiking enthusiasts are in for a treat. The North Cascades National Park beckons with its soaring mountain peaks, frozen glaciers, and cascading waterfalls – a paradise for those keen to tread amidst nature's raw beauty.
If you have a little more time on your hands, we strongly recommend expanding out and driving on the Cascade Loop. Even if you cannot complete the entire loop, you will take back unforgettable memories of the gorgeous landscape back home with you.
How to drive from Seattle to Leavenworth
The map above shows our suggestions for the best road trip routes between Seattle and Leavenworth. Keep reading for detailed descriptions of both routes, where to stay on either, and the best things to do on the way.
Mount Rainier National Park Route
Kick off your adventure in the bustling city of Seattle, then head southeast on Interstate 90 (I-90). Soon, you'll turn onto WA-18, which leads you directly to the majestic Snoqualmie Falls.
You will soon reach Enumclaw. From here, head east towards picturesque Greenwater. Look out for glimpses of the White River through the trees as you make your way along this scenic state road.
After Greenwater, the road swings southwards, still following the White River. If you're feeling adventurous, you can take a right turn and ascend into the mountains on Forest Service Roads which take you to the panoramic Sun Top Lookout.
Vast landscapes stretch as far as the eye can see here, but signage is limited so it's wise to use a map or GPS for this part of the route.
As you make your way to the city of Yakima you'll pass beautiful Rimrock Lake. There's a stunning view of the lake's pristine waters from the road, but you'll find several pullovers if you want to stop for a photograph.
Once you reach Yakima, take some time to immerse yourself in local history at the Yakima Valley Museum, then join WA-24 which takes you to the Hanford Reach National Monument, where you can uncover the mysteries of the region's past.
You will soon head towards Quincy, where you can explore the Quincy Lakes Wildlife Area. The route then continues northward to Wenatchee, hugging the Columbia River almost all the way.
Turn onto the highway towards Leavenworth to complete your drive, stopping along the way at the Cashmere Museum and Pioneer Village, which opens up a window into the lives of the region's early settlers and indigenous peoples.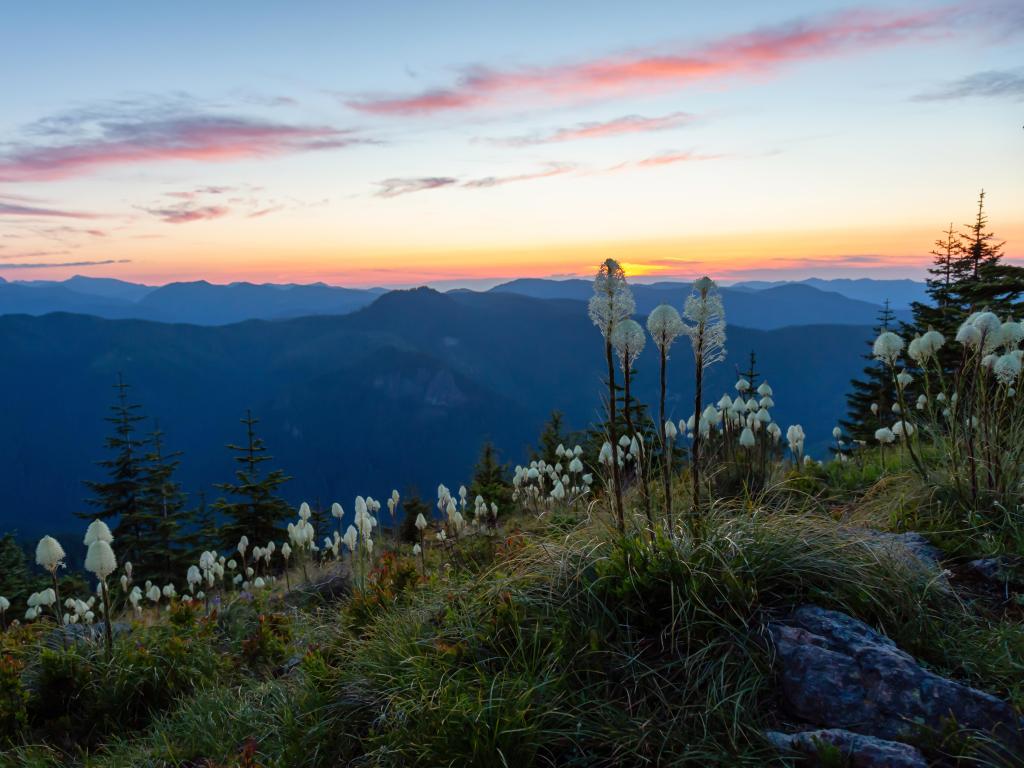 North Cascades National Park Route
This route starts by heading north on I-5 toward the historic town of Mount Vernon. Here, you can treat yourself to a show or a tour at the Lincoln Theater, a beacon of cultural heritage in the region.
Continue on the super-scenic North Cascades Highway to Hamilton, a quaint town that's perfect for a rest stop or a stroll. The road further then takes you deeper into the stunning wilderness to Marblemount, a prelude to the untouched beauty that lies ahead.
As you progress, the town of Newhalem emerges as a gateway to the rugged landscapes of the North Cascades National Park. You'll find the North Cascades Visitor Center here so stop off for more information on hiking trails and ways to explore the national park.
Next, you'll reach the serene waters of the Ross Lake National Recreational Area, before continuing eastward to Winthrop, where the Methow Trails offer more great opportunities for hiking.
You will soon reach Pateros, looking out over the Columbia River, then join US-97, which hugs the river as it runs southwards towards Chelan.
Stop for a delightful meal in Chelan, then delve into nature at the Beebe Springs Natural Area before continuing west to Sunnyslope, where you'll find the green oasis of the Ohme Gardens.
Before you complete your trip in Leavenworth, pull up to admire the rocky spires of Peshastin Pinnacles State Park, which invite climbers and nature enthusiasts alike for one final adventure.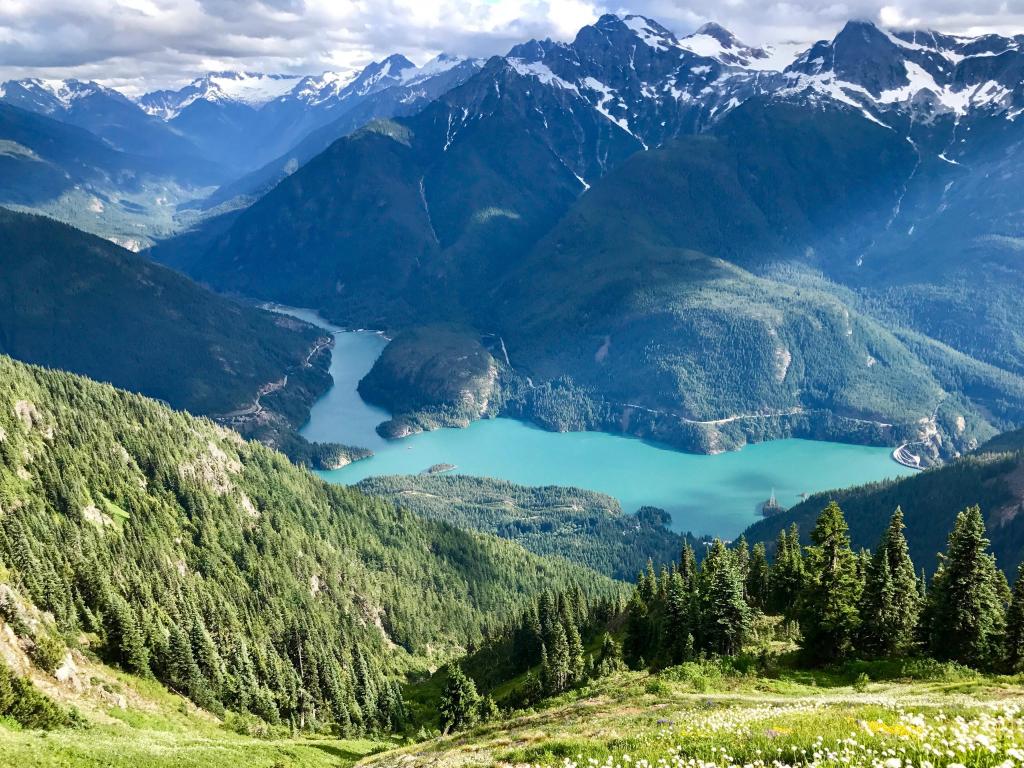 Best places to stop between Seattle and Leavenworth
Even though this is just a short road trip, we think you'll definitely want to plan for some overnight stops to spend more time admiring the unforgettable views and following the stunning trails this amazing drive offers. Here are a few of our top picks.
Admire the beautiful scenery surrounding Yakima
Located just under 4 hours from Seattle, Yakima serves as the ideal midway halt on the Mt Rainier National Park Route. As you drive through Washington State, this city reflects the region's agricultural heritage, with apples taking center stage.
One of the town's highlights is the Yakima Valley Museum, which delves insightfully into the valley's rich natural and cultural history. Or for those looking to bask in nature, the expansive Yakima Area Arboretum is a testament to the region's rich biodiversity.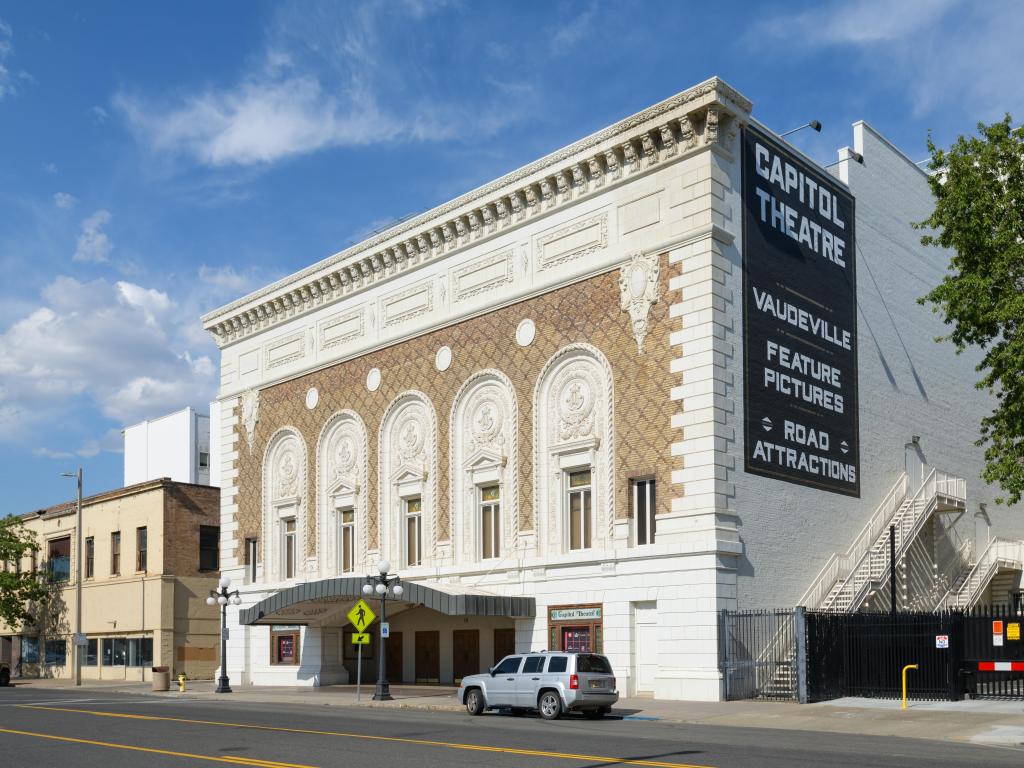 For a quirky detour, hop onto a Yakima Valley Trolley. These trolleys, proudly listed in the National Registry for their historical significance, take you on a whimsical journey through time, along tracks that have been echoing with stories for over 115 years.
When it's time to retire for the night, Ledgestone Hotel extends a warm welcome. Boasting a home-like ambiance, every room here offers a separate living space, ensuring you never feel confined.
The hotel's proximity to downtown Yakima means you can head out to explore its gastronomic delights or hunt for local market treasures. But for those who'd rather whip up a quick meal, the rooms also come equipped with a kitchenette, complete with all essentials.
Moreover, the Yakima River's mesmerizing charm is just a stone's throw away, so you can enjoy a serene stroll at the end of a busy day on the road. Sunrise Rotary Park, which is part of the Yakima River Greenway, is almost on your doorstep too.
Take in the Old West charm of Winthrop
This beacon of Old West charm is nestled amidst the grandeur of the North Cascades mountain range. Located around 3 hours and 50 minutes from Seattle, Winthrop offers travelers taking the North Cascades National Park Route the perfect combination of captivating vistas and adrenaline-pumping outdoor adventures.
Named after adventurer and author, Theodore Winthrop, the town wears its passion for outdoor recreation on its sleeve. Whether you're an avid hiker, mountain biker, or simply an enthusiast of nature's raw beauty, this town has something to satiate your wanderlust.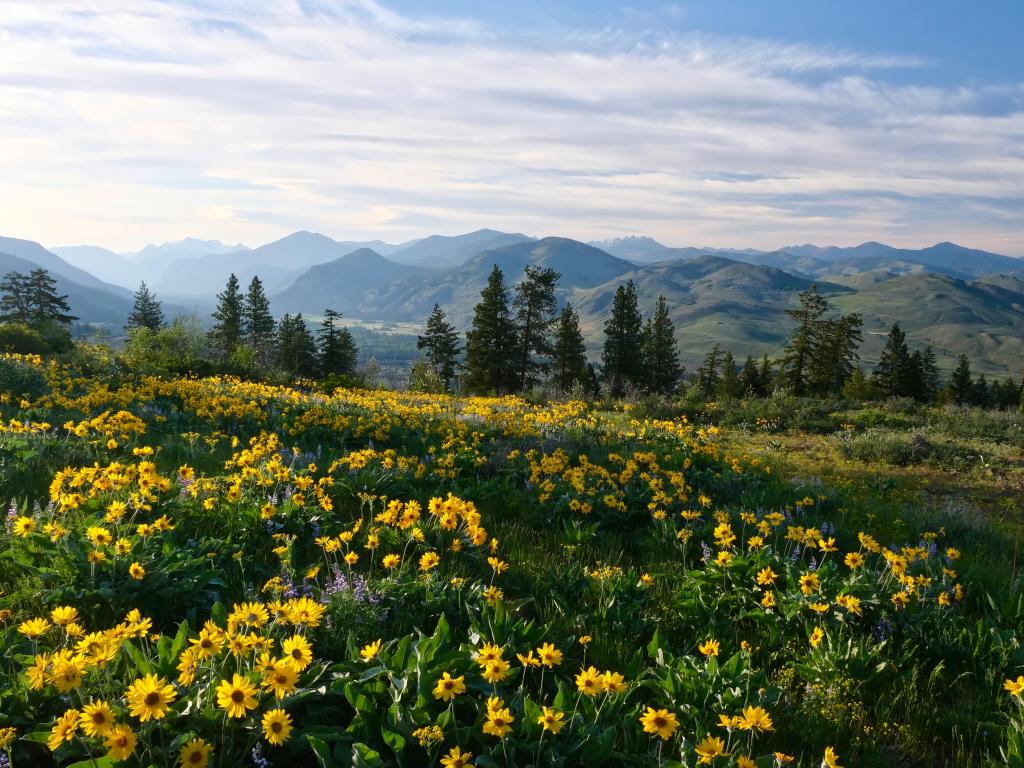 It's the ideal backdrop for pursuits ranging from horseback riding and hunting to fishing and mountain climbing. You'll be perfectly placed to explore North Cascades National Park too.
Beyond the unforgettable landscapes, what truly sets Winthrop apart is its evocative nod to the American Old West, with the town's architecture transporting you to a bygone era.
If you're looking for some more laid-back relaxation, head to Three Fingered Jack's Saloon, Washington's oldest legal saloon. A quirky nugget to relish as you explore the town: it owes its unique name to the adventurer and author, Theodore Winthrop.
When the day's adventures wind down, the chalet-like charm of the Mt Gardner Inn beckons. From the comfort of your balcony or the serene terrasse, you might be greeted by the sights of deer, birds, or other local wildlife.
For snow enthusiasts, the inn ensures you're slope-ready, offering ski passes right on the premises. And when you're ready to step out, both the town's historic treasures and nature's wonders are just a stone's throw away.
Where to stay when you reach Leavenworth
Leavenworth is an enchanting alpine-style city, nestled amidst the breathtaking backdrop of the Cascade Mountains. As you wander its streets, it's easy to forget that you're in Washington and not a quaint Bavarian town.
Interestingly, Leavenworth's transformation into a Bavarian wonderland was a deliberate initiative in the 1960s designed to bolster tourism. Evidently, it succeeded marvelously, since today the village's distinct style and grand mountain views draw visitors all year round.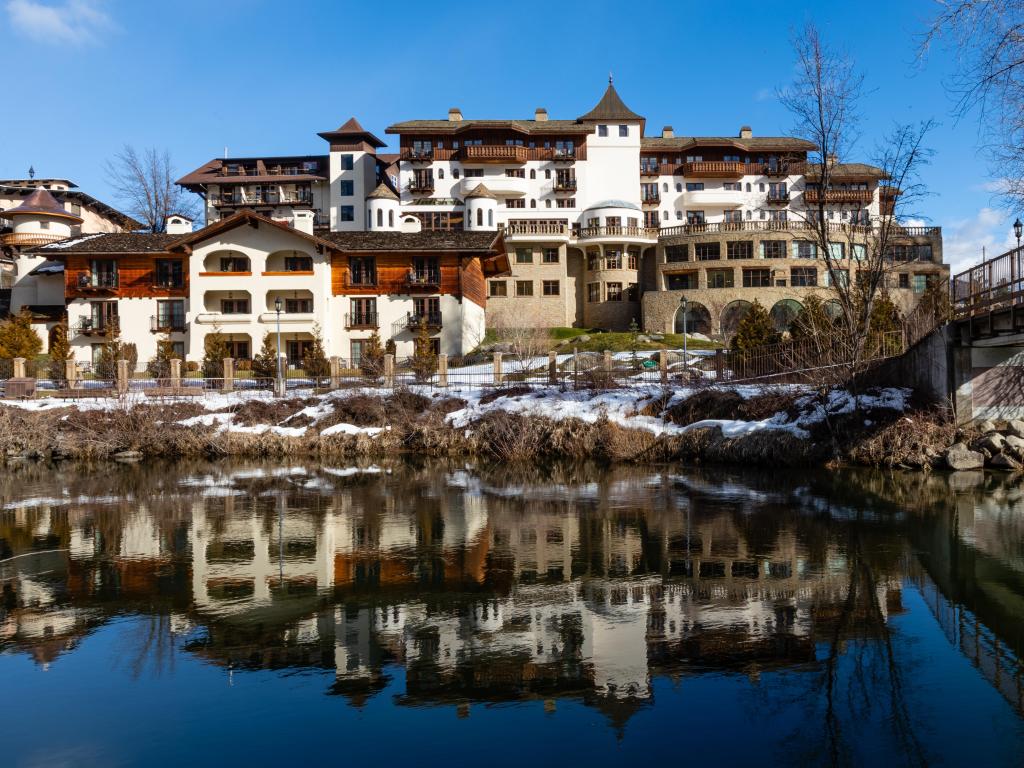 Take a leisurely walk along the Wenatchee River through the lush forest of the Waterfront Park for the chance to sight beavers, deer, osprey, and eagles in their natural habitat.
Or a quirky detour, make your way to the Nutcracker Museum, where thousands of nutcrackers from around the world reside — some are centuries old.
Just a stone's throw away from the heart of the village lies the luxurious Storybook Riverside Inn. Serenely situated by the Wenatchee River, this beautiful inn offers the perfect blend of historic charm, modern comfort, and unparalleled scenic beauty. For those seeking a culinary experience under the stars, the inn boasts an outdoor dining area nestled amidst gorgeous gardens.
Every room at the Storybook Riverside Inn is a window to nature's masterpiece: expect breathtaking views of the mountains and the gently flowing river from your private balcony or patio. And for those chilly evenings, select rooms come equipped with cozy fireplaces to enhance the atmosphere.
Things to see on a road trip from Seattle to Leavenworth
Whether you're looking forward to lacing up your hiking boots or setting up your camera for the perfect panoramic shot, there's plenty to enjoy when you take a scenic road trip from Seattle to Leavenworth.
Mount Rainier National Park Route
Snoqualmie Falls - This 268-foot waterfall is one of Washington's most popular scenic attractions, offering breathtaking views from its observation deck.
Enumclaw - Located at the gateway to Mount Rainier National Park, this charming city is known for its vibrant arts community and unique local shops.
Greenwater - A serene hamlet situated in the forested landscape near the White River, providing an ideal spot for nature lovers.
Sun Top Lookout - With panoramic views of Mount Rainier, this viewpoint in the Mount Baker-Snoqualmie National Forest makes for a stunning detour.
Sunrise Lookout and Visitor Center - The highest point is accessible by car in Mount Rainier National Park, offering striking mountain views and informative exhibits in the visitor center.
Mount Rainier National Park - Immerse yourself in nature as you explore the slopes of the active stratovolcano Mount Rainier - the park is known for its lush forests, subalpine meadows, and various recreational activities.
Narada Falls - Easily accessible via a short trail, this multi-tiered waterfall in Mount Rainier National Park is a super-scenic stop, cascading beautifully over a cliff.
Rimrock Lake - A picturesque reservoir in the Wenatchee National Forest, perfect for boating, fishing, and camping.
Yakima Valley Museum - This cultural institution aims to preserve the rich history of the Yakima Valley, featuring exhibits on local heritage, culture, and the fruit industry.
Hanford Reach National Monument - This unique stretch of the Columbia River is home to rare plant and animal species, and you can also see the remnants of the Hanford nuclear site.
Wild Horse Monument - Overlooking the Columbia River, this impressive art installation consists of metal sculptures of horses on a ridge, symbolizing the wild horses that once roamed the region.
Quincy Lakes Wildlife Area - A vast natural reserve known for its diverse habitats, including lakes, wetlands, and shrub steppe, attracting a variety of wildlife and birds.
Wenatchee - Located on the west bank of the Columbia River, this lively city is often referred to as the "Apple Capital of the World" for its abundant orchards.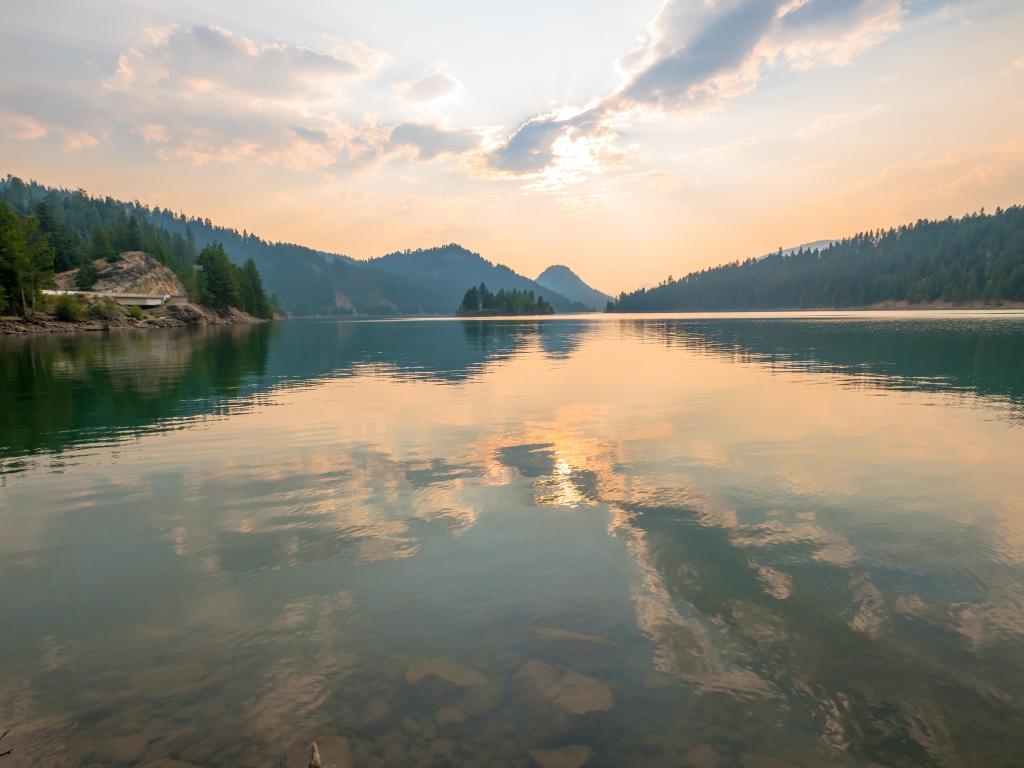 North Cascades National Park Route
Lincoln Theater - This historic theater in the heart of Mount Vernon is known for its stunning architecture and a diverse lineup of performances, films, and community events.
Skagit Valley Tulip Fields - A vibrant sea of tulips blooms here every spring, drawing visitors from all over to marvel at the breathtaking colors and patterns in the Skagit Valley.
Hamilton - Known for its rustic charm and natural beauty, this small town is set against the stunning backdrop of the Cascade Mountains.
Marblemount - Another quaint town you'll pass along the route, Marblemount is as a gateway to the North Cascades, offering picturesque views and ample opportunities for outdoor adventures.
Newhalem - A tiny company town within the North Cascades National Park, known for its rich history and the nearby Skagit River Hydroelectric Project.
North Cascades National Park - With its steep mountains, dense forests and shimmering alpine lakes, this vast expanse of rugged beauty is a haven for hikers and nature enthusiasts.
Ross Lake National Recreation Area - Nestled within the North Cascades, this area is renowned for the azure Ross Lake, outdoor activities, and breathtaking mountain landscapes.
Methow Trails - In and around Winthrop you'll find an extensive trail system with year-round recreational activities, from cross-country skiing in winter to hiking and biking in summer.
Twisp - Known as the "heart of the Methow Valley," this artistic town is a blend of local arts, great food, and scenic beauty.
Pateros - A waterfront town on the confluence of the Columbia and Methow Rivers, renowned for its annual Apple Pie Jamboree and picturesque surroundings.
Beebe Springs Natural Area - This serene nature reserve in Chelan features a variety of habitats, walking trails, and viewpoints overlooking the Columbia River.
Watson's Alpenhorn Cafe - You'll feel transported to Switzerland when you visit this cozy cafe, known for its Swiss-inspired dishes and the unique playing of the Alpenhorn, a traditional mountain instrument.
Ohme Gardens - A nine-acre alpine garden in Sunnyslope which is situated on a rocky bluff above Wenatchee, offering panoramic views, winding pathways, and tranquil pools.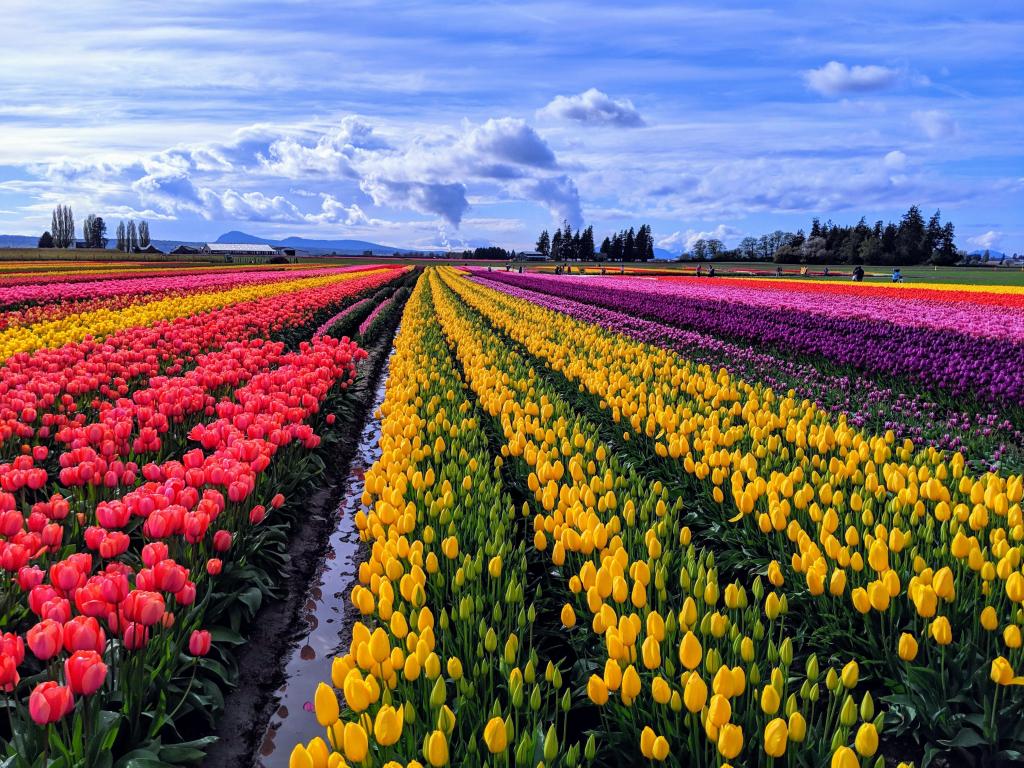 Both Routes
Cashmere Museum and Pioneer Village - Catch a glimpse into the past when you visit this museum, which includes historical artifacts and a recreated pioneer village showcasing early settler life.
Peshastin Pinnacles State Park - An iconic state park renowned for its sandstone slabs and spires, offering rock climbing opportunities and trails with sweeping views of the Wenatchee Valley.
Best time to go on a road trip from Seattle to Leavenworth
Leavenworth and its surrounding wonders are destinations that can be enjoyed throughout the year, but your experience will undoubtedly differ based on the season in which you choose to embark on your journey.
Setting off in winter presents some challenges. If you opt for the Mt Rainier National Park Route, you might encounter snow-related road closures leading to and around Mt Rainier National Park, and even the other roads in central Washington could prove slippery. The park does remain open via the Nisqually and Carbon River entrances.
We don't recommend attempting the North Cascade National Park Route in winter. The North Cascades Highway, which makes up a significant portion of this route, usually closes from November to May due to heavy snow. But for the adventurous soul, the park itself remains open, albeit with limited services.
Summer trips, on the other hand, can be the perfect getaway from the city heat, with temperatures reaching a comfortable 80 degrees. July and August are also the driest months to visit Leavenworth - there's a reason those forested slopes look so lush and green throughout the year!
If you're traveling via Mt Rainier National Park, then the spectacular Mt Rainier Wildflower Festival in July and August is a sight to behold, and by October, you can experience the Yakima Valley Fresh Hop Ale Festival. Travelers on the North Cascades National Park Route can also enjoy the vibes at Winthrop Rhythm and Blues Festival in July.
There's still a chance of snow if you travel in early spring, with average temperatures peaking at a chilly 50 degrees in March, but things are warming up by May and the North Cascades Highway will be opening up for travel again.
If you favor the cooler, colorful fall season, time your drive to Leavenworth to see September's vibrant Autumn Leaf Festival. And if you're arriving in Leavenworth in October you'll find that beer gardens and festive events come alive to celebrate Oktoberfest, under the beautiful backdrop of changing leaves.
Temperatures in the North Cascades and Leavenworth region tend to hover between 40 to 70 degrees Fahrenheit in the fall, offering a delightful balance for both outdoor activities and cozy relaxation.