Road Trip from Seattle to Moab
What does road-tripping mean to us? Open desert, blue skies, and easy driving. America's beautiful Canyonlands and Arches are a nature-lovers dream adventure – and this road trip from Seattle to Moab sets you up for a one-of-a-kind drive through the southwest.
The 1,080-mile road trip between Seattle and Moab will take about 17 hours to drive. You can make stops in Boise, Twin Falls, and Salt Lake City to enjoy the sights. Take detours through national forests like Mt. Hood, Malheur, and Ponderosa State Park.
Discover rugged beauty and classic American hospitality on this trip into the west. Ready for a desert adventure to one of the world's most stunning natural landscapes? Read on for more on what to see and do.
How far is Moab from Seattle, and how long will the road trip take?
Comparison of road trip routes between Seattle and Moab

| Route | Distance | Driving Time |
| --- | --- | --- |
| The Direct Route | 1,080 miles | 17 hours |
| The Yellowstone Route | 1,570 miles | 26 hours |
The road trip from Seattle to Moab has two options, The Direct Route and The Yellowstone Route. Both drives are scenic and pass through mountains, forests, and deserts.
The Direct Route is a relatively easy 1,080-mile drive and takes about 17 hours. You will stop in Boise and Twin Falls, Idaho, before heading to Salt Lake City, Utah. There are great detours to natural forests on this path, including Mt. Hood and Ponderosa State Park.
The Yellowstone Route is a longer 1,570-mile drive that takes about 26 hours. This route stops in major national parks, including Yellowstone and Grand Teton. You will also pass through Spokane, Washington, and Coeur d'Alene in Idaho before you get to Salt Lake City in Utah.
Both routes have so much to explore, so you may want to take about three to five days off for this road trip.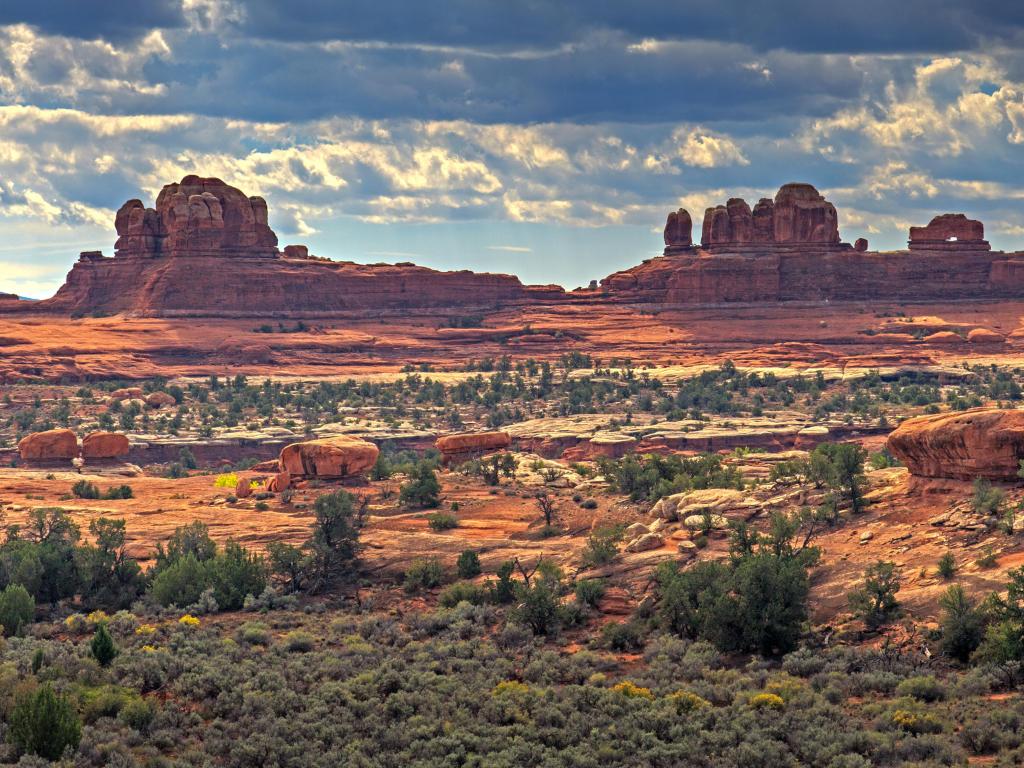 Best road trip route from Seattle to Moab
A road trip from Seattle to Moab treats drivers to beautiful, natural mixed landscapes. There are lush forests, iconic canyonlands, and vibrant cities to explore.
On the Direct Route, you will pass through Idaho. There is plenty to see and do in Boise and Twin Falls. Mt. Hood is on this path, and it's more than just a folktale – this area is a must-see before passing into Utah.
Salt Lake City is a melting pot of culture, history, food, and of course, the Great Salt Lake. It gives you a lovely preview of what to expect in Moab.
Yellowstone National Park is incredible and a favorite bucket-list item. On the Yellowstone Route, there are stunning prairies, especially in Grand Teton National Park. This path stops in beautiful Spokane and Coeur d'Alene, cities with a scenic mix of nature and urban living.
If you have always wanted to see Mt. Hood and explore Idaho, then the Direct Route may be what you want. For first-timers, the Yellowstone Route is an ideal way to see the park before heading to Moab. No matter which you choose, this is a road trip worthy of a country song, so sing along and enjoy the ride.
You might need to make a reservation for a timed-entry permit while visiting Arches National Park. Please check the national park's website for up-to-date information.
The Direct Route
From Seattle, hop onto I-5 S and take a quick detour to Mt Hood. This national forest has stunning views, with hiking and skiing trails. From here get onto I-90 E, and head to Boise, Idaho. This city has small-town charm, and big-city vibes, so relax and enjoy an overnight stop here.
When you're ready, get on I-84 E and go to Twin Falls. This region has some stunning views of the Shoshone Falls – often referred to as the Niagara of the West.
Once you've filled your phone with pictures, head to Salt Lake City, Utah, on I-84 E. There are many outdoor activities and attractions here, especially around the Great Salt Lake area.
After you've enjoyed the views, make your way to your final destination, Moab, on the I-15 S.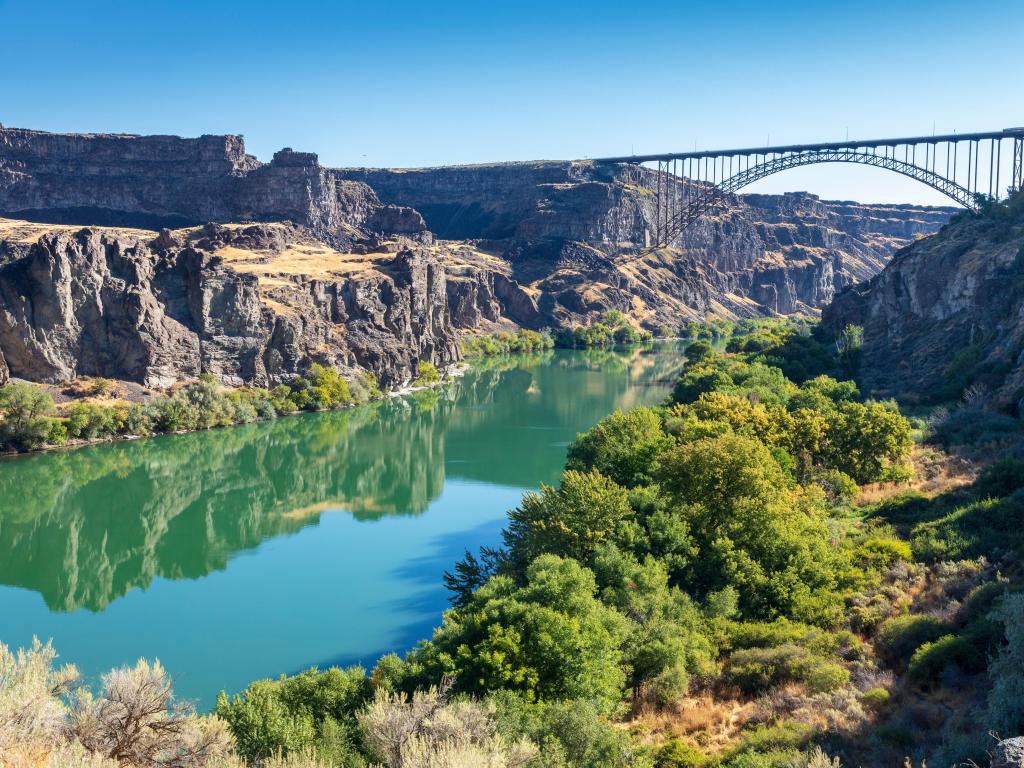 The Yellowstone Route
Get onto I-90 E from Seattle and make your way to Spokane. This city has some excellent hiking, fishing, and camping to enjoy.
Take a short drive to Coeur d'Alene on I-90 E from here. This charming city is famous for its floating golf course. Check out the green and then head to Yellowstone National Park on I-90 E. Stay here overnight and enjoy the fresh, untouched wilderness.
Pack up camp when ready and visit Grand Teton National Park on US-89 S. The gorgeous open grasslands and fresh air are just what you need to tackle the drive ahead.
From Grand Teton, follow the US-89 S to Salt Lake City, Utah. The capital city promises visitors good food, fun, and beautiful scenery near the Great Lake. When ready, drive to your final destination, Moab, on I-15 S.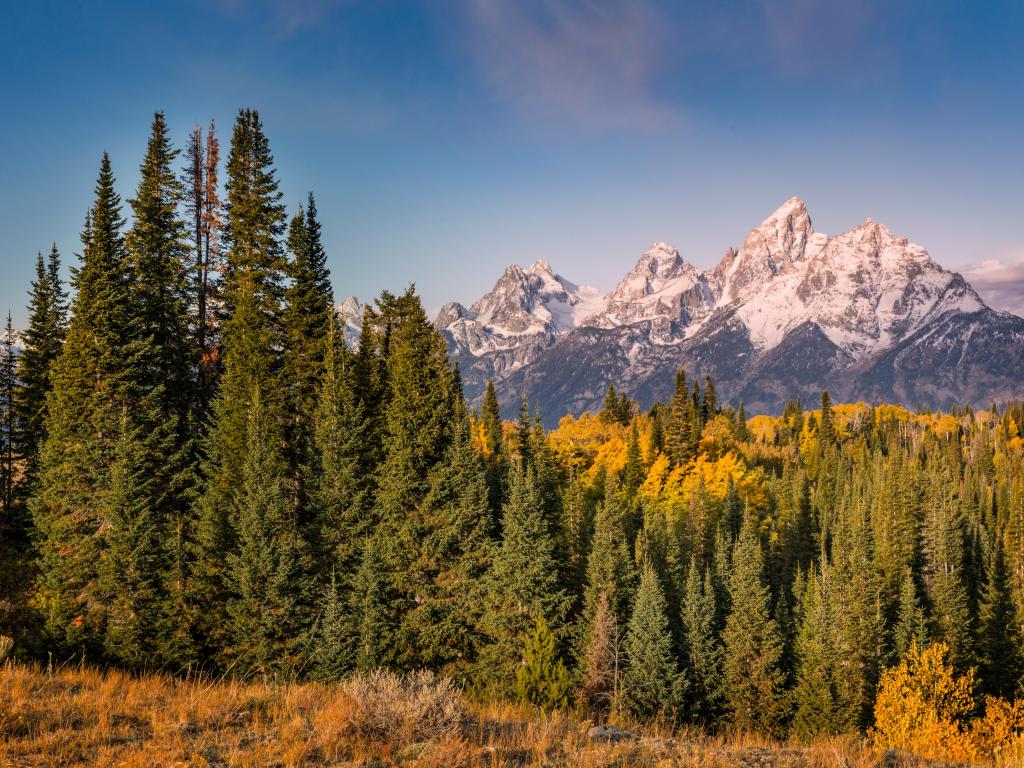 Best places to stop between Seattle and Moab
We said this trip was a nature-lovers dream, and we mean it. Canyons, prairies, forests, and waterfalls are what you can expect on the drive between Seattle and Moab.
Both routes are long, so you need to take breaks and rest for up the road. Here are our suggestions for some pleasant overnight stops for each route.
Explore Boise, the stunning 'City of Trees'
On the Direct Route, make an overnight stop in Boise, Idaho. It's about 10 hours away from Moab.
Boise has a lovely mix of outdoor activities and city experiences to enjoy. Known as the "City of Trees", this area has many pleasant parks. Visit the Idaho Botanical Garden, a beautiful little hideaway in the city. The Boise Zoo is nearby and has neat family-friendly activities.
The Old Idaho Penitentiary Site is a popular tourist attraction with guided tours. Check out the Freak Alley Gallery, an alley with painted murals and an open-air art showcase. Downtown Boise has nightlife to enjoy, with trendy bars and clubs.
As the capital city, Boise has many visitors, and you will be able to find nice accommodation options. We recommend staying at The Grove Hotel. It's central, and there is parking available for guests.
This modern hotel makes quite an impression with its stylish interior lobby. The rooms give off a speakeasy vibe and are spacious and comfortable, with lots of natural light and glittering night views.
There's an indoor hot tub, pool, sauna, and fitness center for guests. Enjoy delicious meals at the hotel restaurant and outdoor terrace. If you want to go out, there are some great restaurants and bars around the hotel.
The Boise Zoo, Idaho Botanical Gardens, and Freak Alley Gallery are all within driving and walking distance of the hotel.
Visit the magnificent Yellowstone National Park
On the Yellowstone Route, make an overnight stop at Yellowstone National Park. It's about 14 hours away from Moab.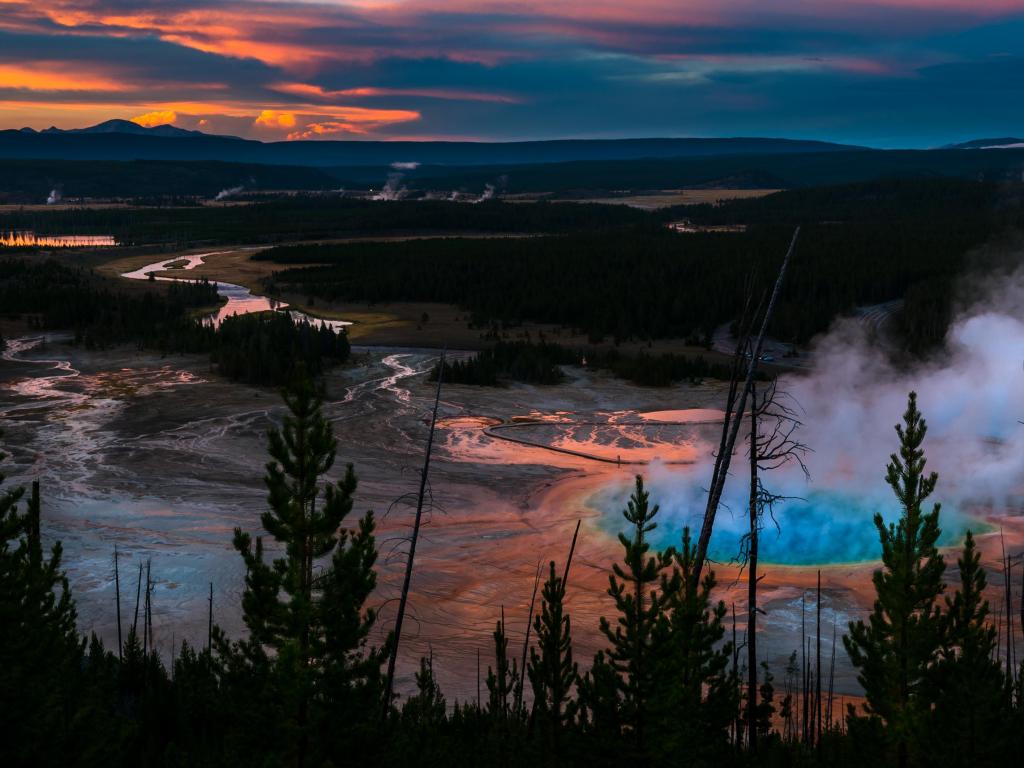 Yellowstone is the world's first national park and is a natural wonder. Here you will find deep valleys with glistening rivers. Green forests surround the spectacular mountains, and the skies are crystal clear at night.
Visit Old Faithful, where the geyser erupts every 44 minutes to two hours – so there's a great chance to catch the show. Head to Mammoth Hot Springs and walk the upper and lower boardwalks to spot the 50 natural hot spring areas.
Yellowstone is a tourist hub, so there is plenty of accommodation. We recommend staying at Yellowstone Park Hotel, which has free parking for guests. The rustic hotel also includes a fire pit, with occasional outdoor camp activities.
The rooms are comfortable and spacious, with beautiful park views outside your window. The hotel has an indoor pool and hot tub facilities too. Take your pick of nearby activities: hiking, fishing, and cycling. In winter, there is skiing and snowmobiling.
The Yellowstone Park Hotel is close to The Grizzly & Wolf Discovery Center and just three blocks away from the west entrance of Yellowstone National Park.
Where to stay when you reach Moab
The dramatic scenery of the Moab is breathtaking. Despite being a small town, this city is a hub for tourists on their way to see the gorgeous desert.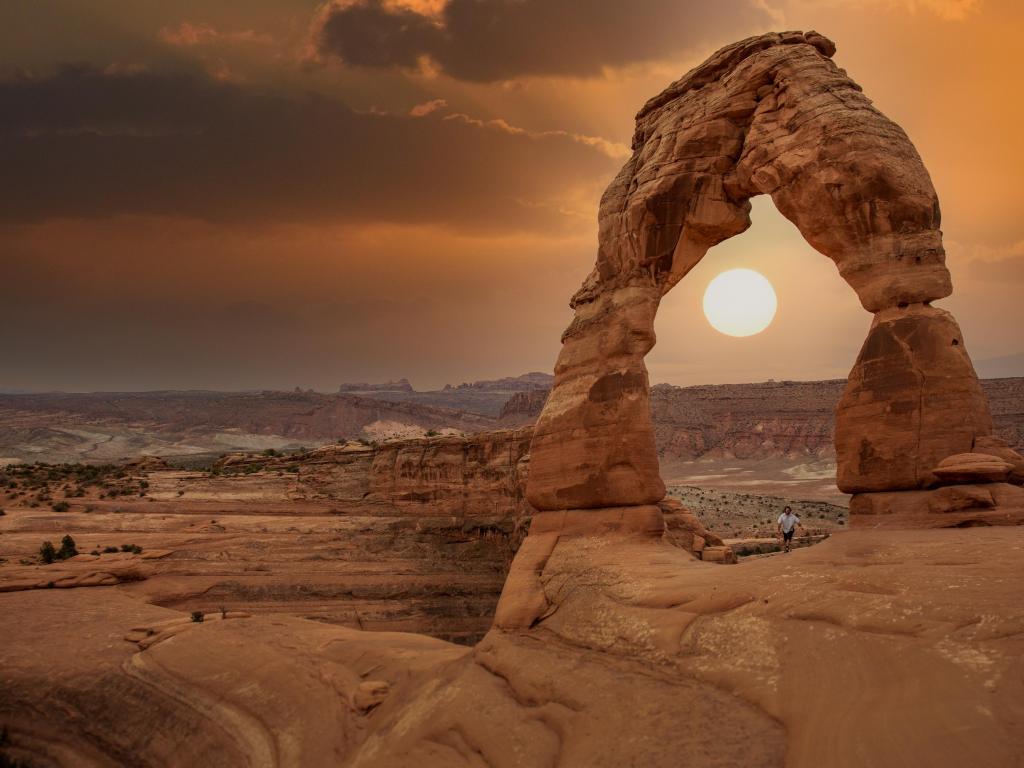 Visit the Arches and Canyonlands National Parks and go hiking to see the mountains up close. The Colorado River is a gorgeous treat amid the beautiful scenery. If you're up for an adventure, take a buggy ride across the desert. Be sure to visit the many natural rock arches in this region.
Moab is well-known for its hospitality, with many local attractions. Head downtown and check out the galleries and shops. Try out the local restaurants and microbreweries. You will find that southwestern cuisine is as diverse as the landscapes.
Moab is a gateway to the desert and a popular tourist destination. For accommodation, we suggest staying at Moab Springs Ranch. This rustic resort has free private parking for guests and is located just outside town.
The private bungalows give camp vibes, but the rooms are so modern and spacious that you will forget you're in the middle of the desert!
Some rooms have kitchenettes and lovely patios, with a scenic garden, pool, hot tub, and spa area outside. No matter where you wander, there are spectacular views of the mountains all around the ranch.
Things to see on a road trip from Seattle to Moab
A road trip from Seattle to Moab is a true adventure into the American desert. The southwest is a beautiful mix of mountains, forests, and rivers, with breathtaking views of nature. The cities on both routes offer travelers eclectic attractions.
Here's a list of places to see and things to do on each route.
The Direct Route
Umatilla National Forest – Nestled in the Blue Mountains of Washington, this flourishing green forest is a great place to hike and pick wild mushrooms and huckleberries.
Julia Davis Park, Boise – The park is centrally located between Boise Art Museum, Idaho Historical Museum, and Idaho Black History Museum and is a beautiful oasis in the city.
Boise National Forest – The North Fork Payette River Canyon has spectacular views, with 250 lakes in this beautiful forest.
Ponderosa State Park – This beautiful area is near Payette Lake and has a range of camping facilities.
Morley Nelson Snake River Birds of Prey National Conservation Area - This protected area houses the greatest concentration of nesting birds in North America.
Bruneau Dunes State Park – If you've never tried sandboarding, the dunes of Idaho are a treat for your first time.
Shoshone Falls Park, Twin Falls - Nicknamed "The Niagara of the West", this incredible waterfall sits higher than Niagara Falls.
Shoshone Ice Caves – The unique lava ice caves are worth exploring, and you can take a tour to learn more about this natural wonder.
Craters of the Moon National Monument - This area consists of scattered islands with a rugged landscape.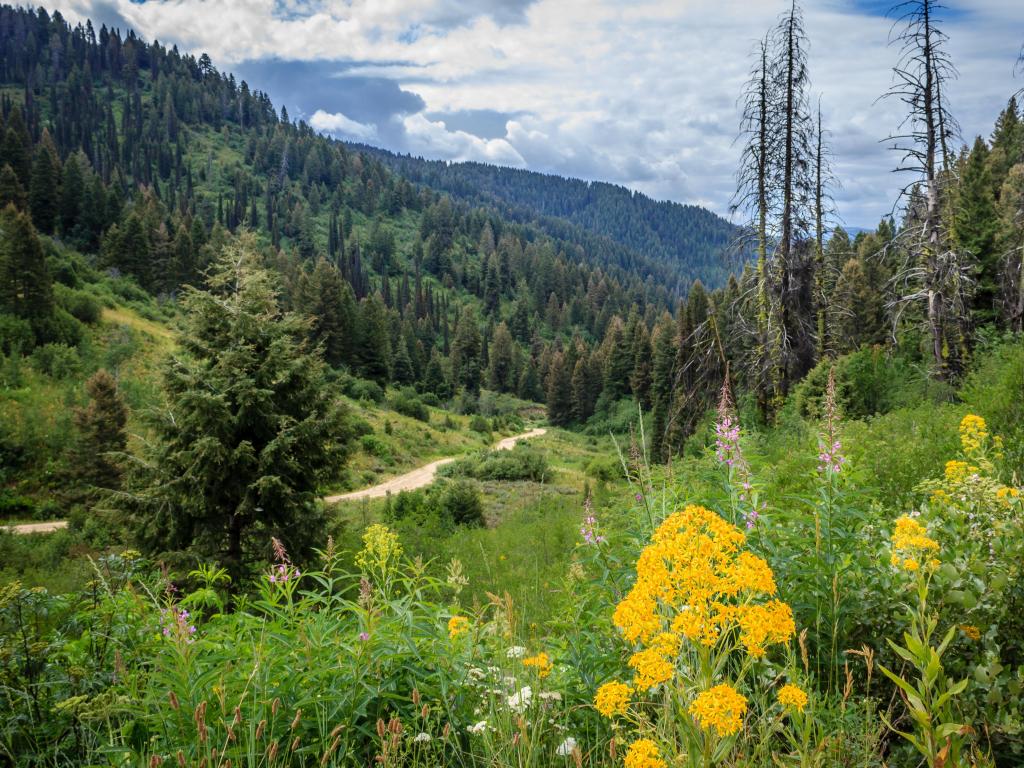 The Yellowstone Route
Manito Park, Spokane – Visit this serene public botanical garden where you will be able to stretch your legs and have a nice picnic.
Idaho Falls River Walk – This riverside park area is inside the city, where the stroll is lovely no matter the season. Make sure to bring your camera with you.
Lake Coeur d'Alene – The scenic lake has walking trails and a fun dinner cruise for tourists. Make sure to take a walk on the rugged sand beaches.
Missoula – With its small-town charm, this friendly city in western Montana has many outdoor activities and local watering holes to explore.
Berkeley Pit, Butte – This is an interesting little attraction with an open-pit copper mine. This pit is a popular tourist attraction due to its unique and acidic waters which means it is laden with heavy metals-so don't be tempted to jump in!
Yellowstone National Park – The incredible park has some of North America's best landscapes and hydrothermal attractions. Grand Prismatic needs no introduction, and you can visit its smaller but just as colorful cousin Morning Glory here as well.
Grand Teton National Park – The magnificent mountain scenery, pristine lakes, alpine forests, and open prairies are as picturesque as a postcard.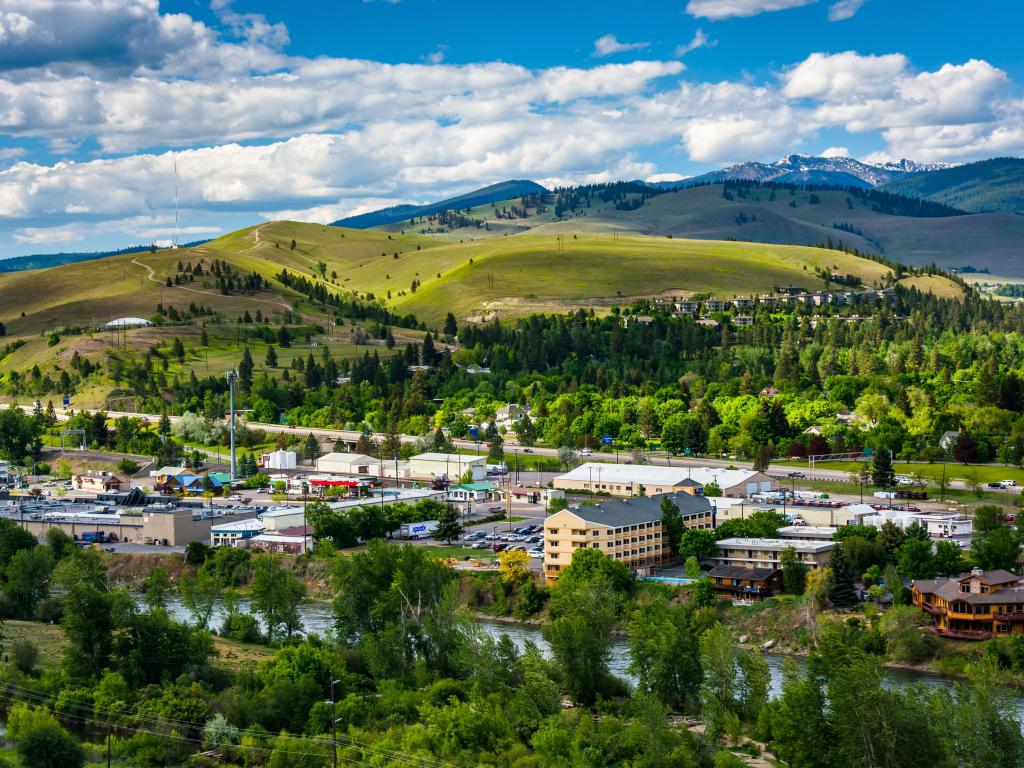 Both Routes
Mount Rainier National Park – About two hours out of Seattle, this gorgeous parkland is known for its incredible glacier peaks.
Leavenworth – This picturesque Bavarian-style village gives you a taste of European charm with hot spring facilities.
Union Station, Ogden – This historic building used to be a train station and is now a collection of 5 different museums.
Bonneville Salt Flats – One of Utah's underrated natural gems, walk, run or sprint over this 30,000-acre landscape and enjoy the views.
Temple Square, Salt Lake City – Explore this church that pays tribute to the city's religious history.
BYU Museum of Paleontology, Provo – There is an expansive collection of dinosaur bones and other fossils here. A fun trip for kids and adults.
Arches National Park – The gem of the Moab, this incredible park has natural red rock landscapes and arches. Reservations are required to enter from April-October. You might need to make a reservation for a timed-entry permit while visiting Arches National Park. Please check the national park's website for up-to-date information.
Canyonlands National Park – The canyons are spectacular, so hike or drive into the desert and explore this area.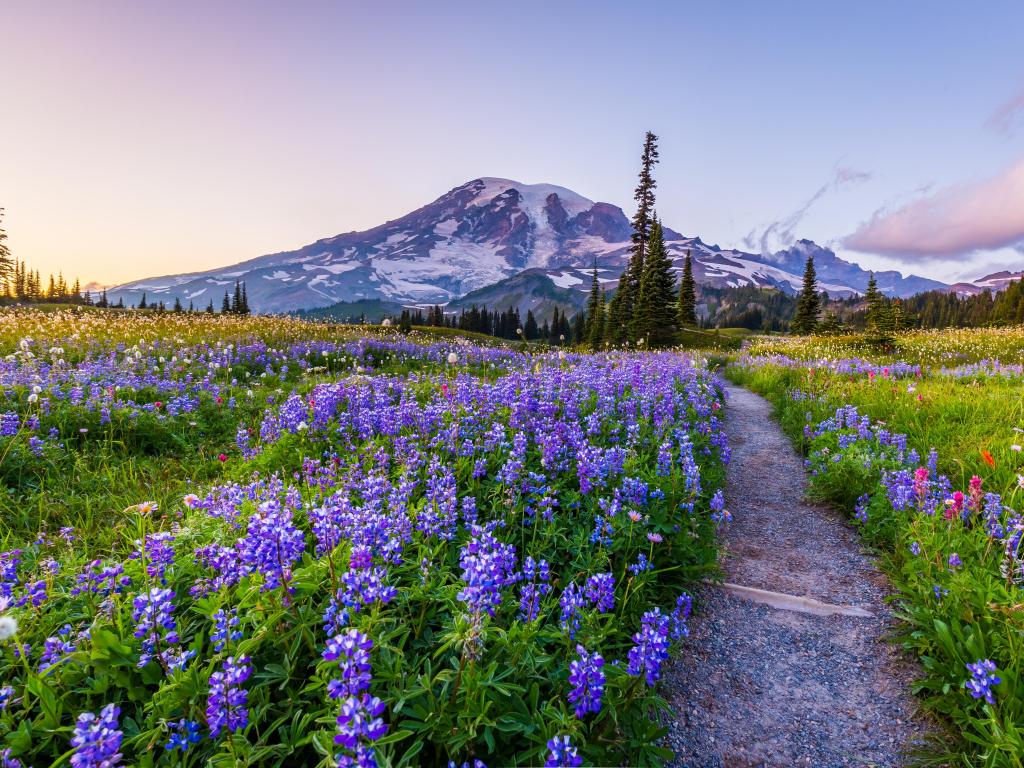 Best time to go on a road trip from Seattle to Moab
April-October is peak season for a road trip from Seattle to Moab. Most activities and attractions are outdoors, so there are road closures and harsher weather conditions in off-peak months.
The desert and mountains are hot during the day and cold at night, so prepare for all kinds of weather.
Summer is the hottest month, with temperatures between 65-85 degrees Fahrenheit. Seattle is slightly cooler, but the closer you get to Moab, the drier it becomes. Summer is also the busiest time, so expect crowds at national parks, cities, and attractions.
In Winter, expect temperatures between 20-40 degrees Fahrenheit with some rain. There is snow as you cross over into the mountains and desert. The seasonal road closures and cold weather keep visitors away during this season.
Spring and Fall are popular times to visit Moab. The weather is mild, with temperatures between 40-70 degrees Fahrenheit. Fall has some beautiful scenery and wildlife spotting.
National Parks may require reservations between April-October.
Moab is a small town that is quite popular during summer. The Arches and Canyonlands National Parks will be busy during this time of year. Moab hosts the Canyonlands Half-Marathon in March and Red Rock Arts Festival in October, so check these events out while you're here.