Road Trip From Phoenix To Seattle
The long trip up from the hot Sonoran desert to America's Northwest could be done by taking a flight, but doing so would mean you'll miss out on some of the most scenic roads and views across the West Coast.
The 1,500-mile road trip from Phoenix to Seattle has a total driving time of about 24 hours as you cross Arizona, make your way up through California and into Oregon. Take time to explore LA, San Francisco, wine regions, and redwood groves.
To help prepare for this massive undertaking, here's a guide of things to know before you head off on this rewarding drive.
How far is Seattle from Phoenix and how long will the road trip take?
Comparison of road trip routes between Phoenix and Seattle
Route
Distance
Driving Time
Direct (fast) Route


(via US-93 and I-84)

1,415 miles
21 hours 30 minutes
California Route


(via I-10 and I-5)

1,510 miles
24 hours
Pacific Coast Highway


(via CA-1 and US-101)

1,750 miles
34 hours
When it comes to routes, there are a few options that will come up if you do a quick search on Google but you'd be seriously missing out if you blindly follow the fastest option going through hundreds of miles of empty desert up through Nevada.
Whichever route you choose, you'll be spending well over 1,000 miles on the road so you may as well pick the one with most things to do and places to see at the expense of an extra hour of total driving time.
The route I'm suggesting here is around 1,500 miles long and will take around 24 hours of driving. That's not even counting meal breaks, bathroom breaks, and the many pit stops for gas you'll need to take.
If you feel adventurous and want to take the Pacific Coast Highway all the way up the Californian coast instead of the faster interstates, your total route will extend to 1,750 miles and a whopping 34 hours on the road before accounting for any stops.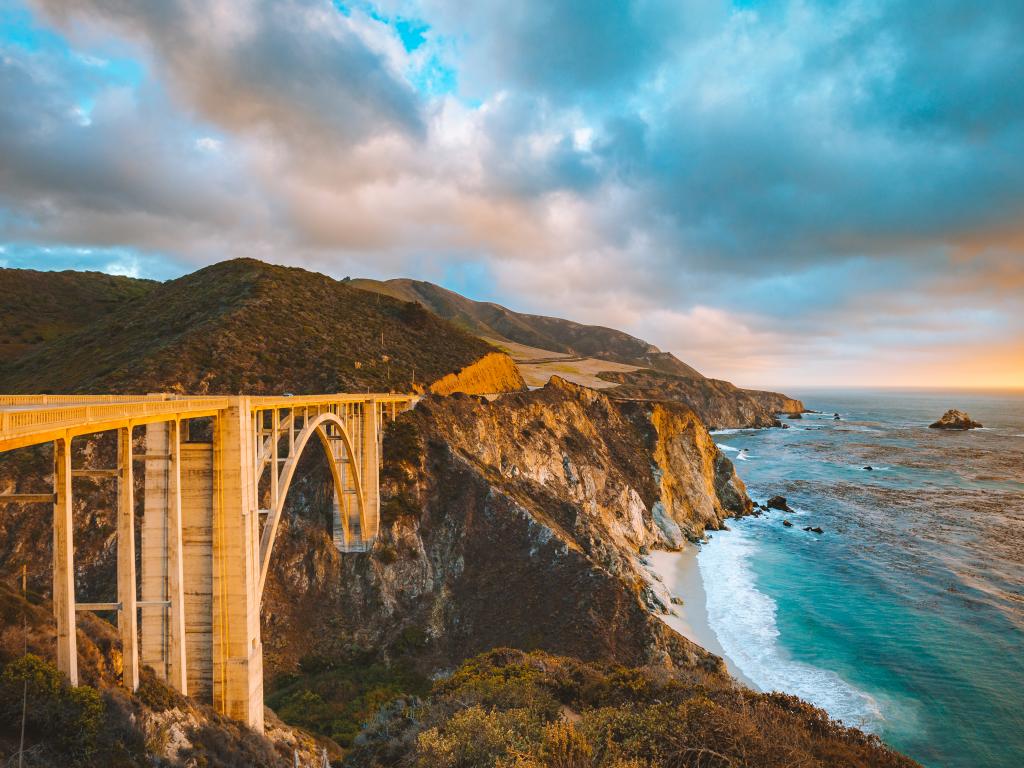 The fastest and most direct route is a shorter 1,415 miles taking about 21 hours and 30 minutes on the road.
No matter how much you rush the trip, you'll want to take at least 3 days to drive from Phoenix to Seattle but to make the most out of this stunning drive and to ensure you don't miss anything, aim to take a minimum of 5 days.
Best road trip route from Phoenix to Seattle
There are a couple of routes that will be faster than the one proposed here, but they will all be long drives and won't shave off more than an hour as opposed to the more scenic route.
Driving along the coast also allows you to check out the breath-taking West Coast of the United States.
Along the way, you'll be able to stop in several cities and get your nature fix in some of the several national parks and forests that line your route. This trip truly has it all!
Road trip route from Phoenix to Seattle
Instead of following the GPS directions telling you to go north, take the I-10 out of Phoenix headed west towards the Californian coast.
Follow the interstate all the way through the Sonoran and then the Mojave deserts as you pass the Kofa National Wildlife Refuge, over the Colorado River and towards Joshua Tree National Park and Palm Springs.
Loop around the outskirts of LA as you follow the I-210 past San Bernardino and Angeles National Forests until you get to Pasadena.
Here you have a choice depending on how much time you've got and how much scenery you want on your way.
I-5 runs north right from Hollywood and will take you the entire way past Sacramento, Eugene and Portland to Seattle. The route will be a little on the dull side until you pass Redding in northern California when the views will begin switching to mountains and forests as you approach Oregon.
For those who have time on their hands and want more of an adventure, cut through Beverly Hills towards Santa Monica and follow the coast all the way up into Washington State.
The Pacific Coast Highway will snake its way along the jagged coastline starting off going through Malibu, Santa Barbara and San Luis Obispo before continuing to go through Big Sur, San Francisco, Point Reyes, Gualala, and through Sonoma and Mendocino California wine regions.
Stick to the coastline and you'll pass through Redwood National Park, home to the world's tallest trees, the iconic Oregon coast with quaint towns like Newport and the famous Cannon Beach before turning inland towards Seattle from Westport with the Olympic National Park to your left and Mount Rainier towering in the distance to your right.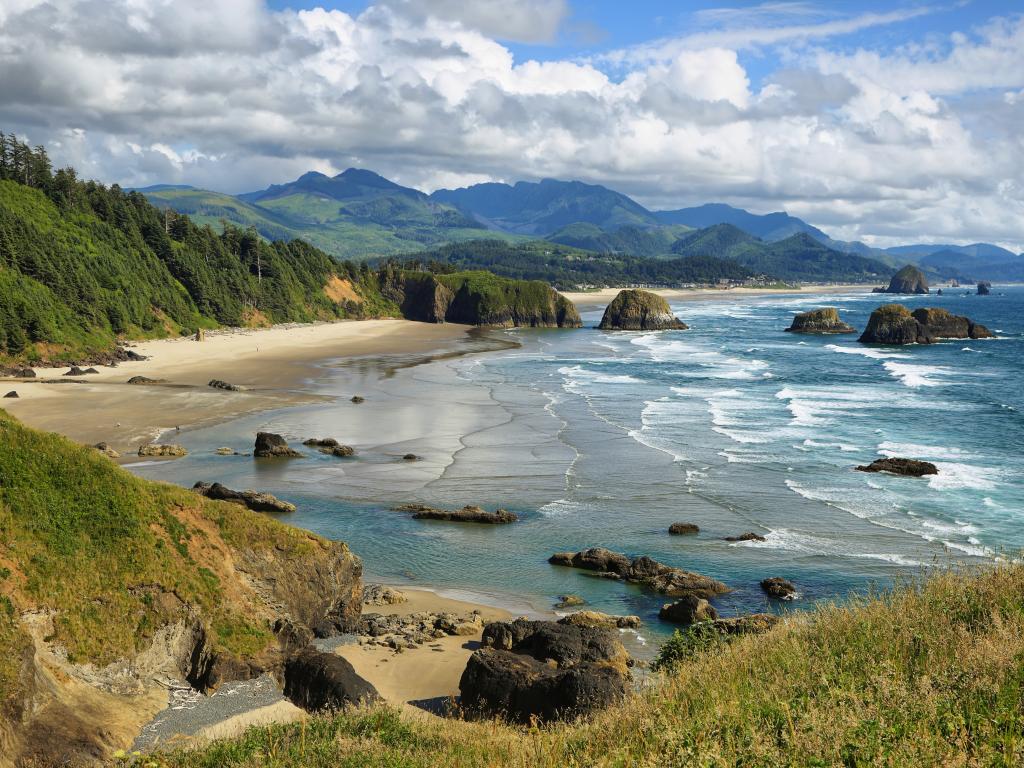 Best places to stop between Phoenix and Seattle
Driving through 4 states, you won't have a shortage of places to stop and spend the night on the way to Seattle. Here are just a few of the options you might want to consider.
Pamper yourself and explore Joshua Tree National Park in Palm Springs
You will approach Palm Springs after driving for several hours through the desert and you'll immediately notice the sheer absurdity of this perfect green oasis.
You will find manicured green lawns, palm trees, water features, golf courses and endless swimming pools right in the middle of the super hot Coachella Valley on the edge of one of the hottest deserts in the world - the Mojave.
Although you are spoiled for choice in terms of lodging, L'Horizon Resort & Spa is about as luxurious and relaxing as you can get in Palm Springs and is my personal favorite.
You can trek through the otherworldly wilderness of Joshua Tree National Park right on your doorstep or take the Palm Springs Aerial Tramway up to Mount San Jacinto in the morning and have a relaxing massage followed by a cocktail by the pool in the afternoon.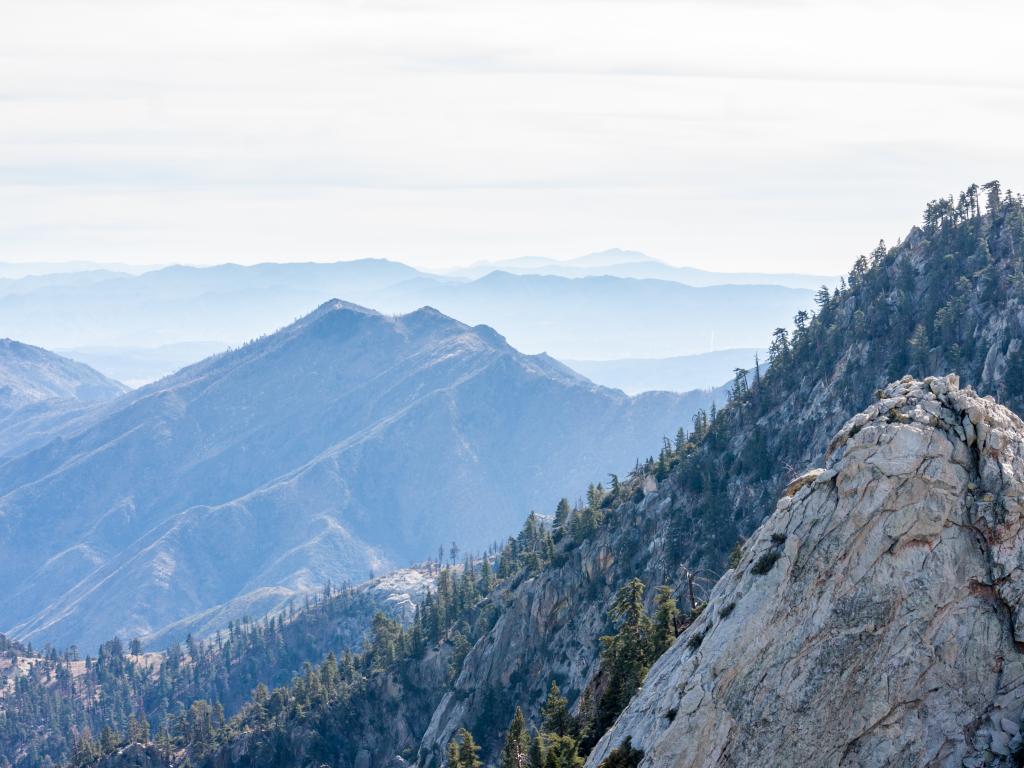 Slow time down in Big Sur
As you're making your way up the Pacific Coast Highway from Los Angeles towards San Francisco, you will pass the famous Pfeiffer Big Sur State Park.
This iconic stretch of coastline just south of Carmel-By-The-Sea is great for those who like driving twisty roads with ample views with wind blowing through their hair.
Before you get to the famous Bixby Creek Bridge, take some time out and spend a day or two away from the hustle and bustle of the big city in the Ventana Inn & Spa.
The pool, restaurant and bar have perfect views over the surrounding mountains and all the way down to the Pacific Ocean, there's stunning hiking routes all around you and you can use the hotel as a base for exploring the beautiful Californian coastline.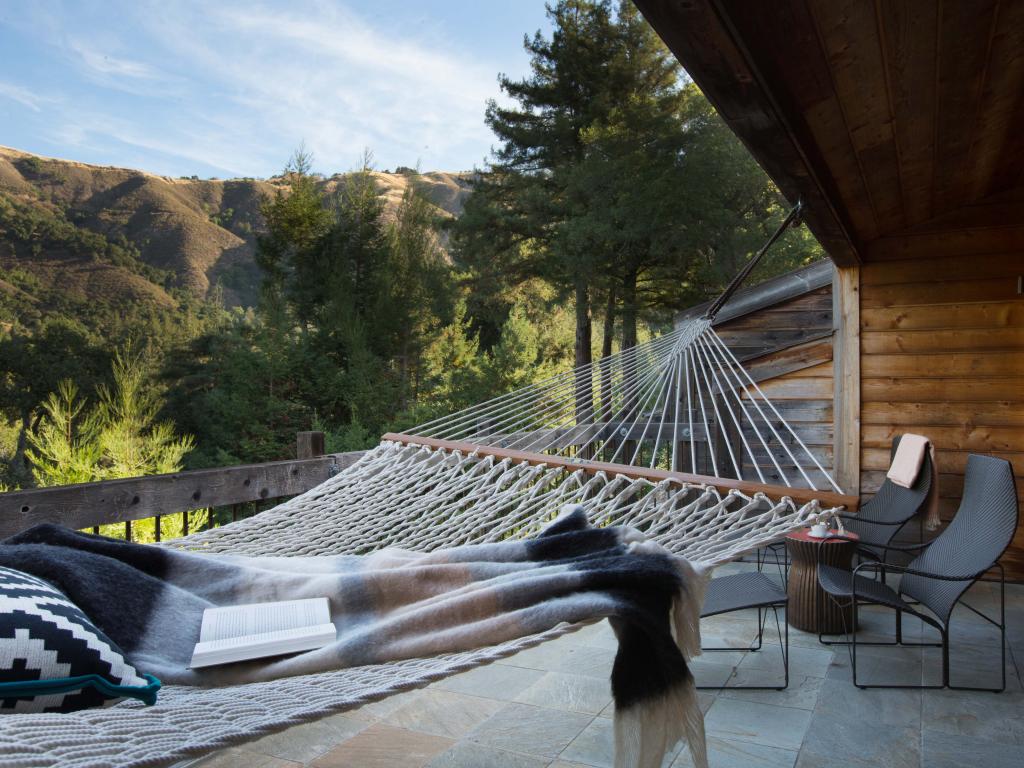 Explore San Francisco
The Golden Gate Bridge, Fisherman's Wharf, the Presidio of San Francisco, the famous Alcatraz…what isn't there to explore in San Francisco?
Hotel Drisco in San Francisco's Pacific Heights is perfect for those who want to indulge themselves. It may be pricey, but it's super luxurious, located right in the heart of the city and, importantly for a road trip, parking is super easy on the street outside the hotel.
You can't leave the car parked during the day, but the hotel staff will provide a free valet service - that's what you need after a long drive through Big Sur!
While you're in San Francisco, visit the city's waterfront and spend a few hours in the Aquarium of the Bay.
Stop by the Ferry Building if you start getting hungry, and enjoy a meal prepared by one of the many merchants.
If you want to get the best view of the city, head on up to Twin Peaks which stand 922 feet tall. From here you'll have an incredible view of the Bay Area, and the perfect opportunity for a photo op.
For more ideas, check out our complete guide for the best things to do in San Francisco.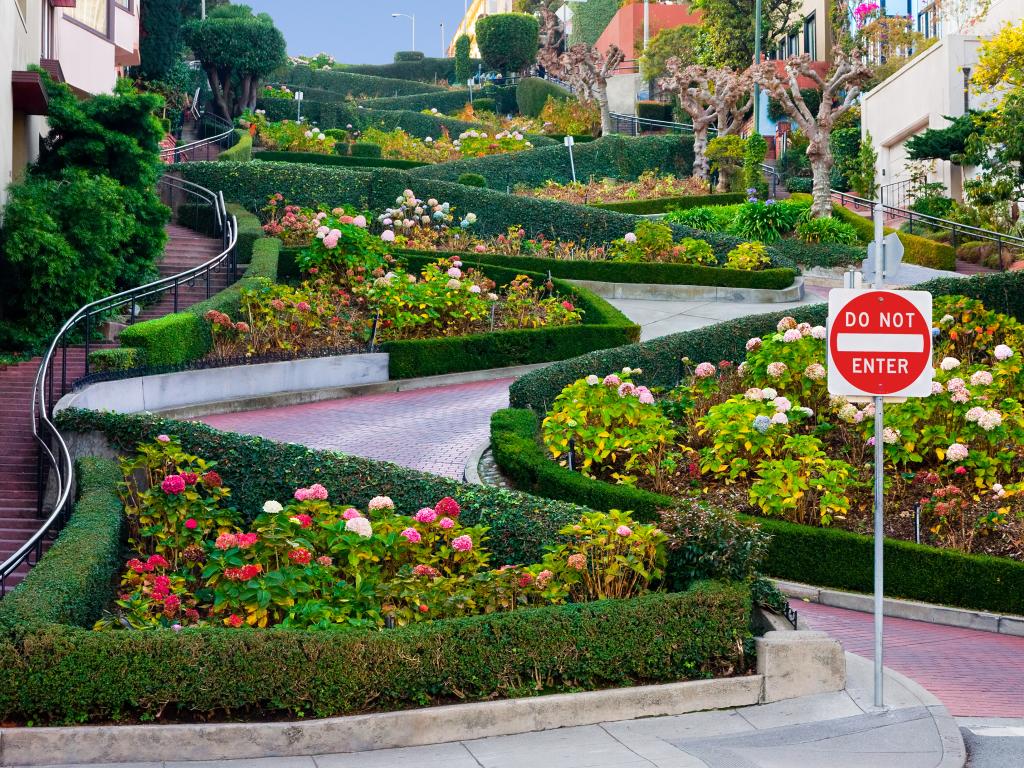 Things to see on a road trip from Phoenix to Seattle
On such a long road trip, there's no shortage of things to stop and see as you travel. It would be impossible to offer a complete list of everything to check out, but here are a few things you'll want to make time for on your journey.
Joshua Tree National Park - If you're looking to feel out of this world, Joshua Tree National Park is the perfect place to go. The rugged landscapes of the Colorado and Mojave Deserts spotted with Joshua trees are sights you won't forget.
Palm Springs - This popular resort destination is the perfect place to stop if you're up for some pampering during your long drive. Spend a night (or two!) enjoying a life of luxury.
San Bernardino National Forest - To the west of Mount San Antonio, you'll find San Bernardino National Forest. Enjoy some hiking or camping in this 823,816-acre park.
Los Angeles - You'll be driving by anyway, so why not stop in LA? Visit some of its historic sites, like the Hollywood sign, Venice Beach, and Rodeo Drive.
Los Padres National Forest - Hike through this coastal national forest and experience the breathtaking mountain views Los Padres National Forest offers.
San Francisco - This city has it all - beautiful architecture, parks and stunning nature on your doorstep. Make sure you add a stop if you can.
Sacramento - Stop by Sacramento on your way through California and check out one of its several museums, like the California State Capitol Museum, and Sutter's Fort State Historic Park.
California's wine regions - Napa, Sonoma, Mendocino and endless smaller wine regions that produce arguably America's greatest wines.
Redwood National Park - See the world's tallest trees in this stunning park running along the coast in northern California.
Umpqua National Forest - As you leave California and enter Oregon, you'll be passing through some heavily forested areas. Spend some time in Umpqua National Forest, hiking along the North Umpqua River, and stopping to admire the beautiful waterfalls.
Willamette National Forest - Made up of over 380,000 acres, Willamette National Forest features stunning river views and 7 major mountain peaks.
Salem, Oregon - Visit the state capital of Oregon and check out the stunning vineyards and fields that surround it. If you want to visit the coast while you're here, the ocean is only an hour's drive away.
Mount Hood National Forest - For a striking mountain scene, be sure to stop by this national forest. Hike along the Columbia River Gorge, and snap a few pictures of the incredible Mount Hood.
Cannon Beach - A world-famous sight with the magnificent Haystack Rock and other monoliths standing over the water just off the Oregon coast.
Olympic National Park - West of Seattle, you'll find Olympic National Park which is comprised of almost a million acres. Check out the stunning Olympic Mountain range, as well as the Olympic National Forest and the Olympic Hot Springs.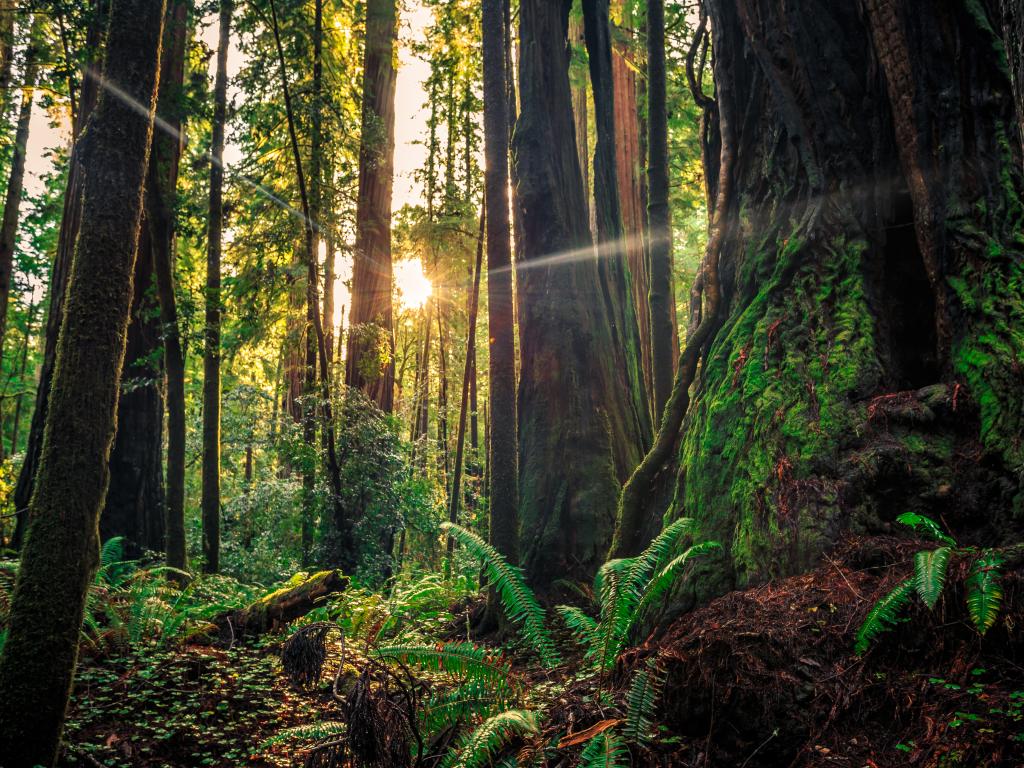 Best time to go on a road trip from Phoenix to Seattle
Driving from the hot desert of Arizona all the way to the north of the country, you'll be passing through all kinds of landscapes and climates. From dry desert lands to rainy forested mountains, you'll experience it all.
When it comes to the best time to go from Phoenix to Seattle, it depends on the type of weather you can stomach.
You'll want to avoid going in the middle of winter, as even Arizona and California it can get chilly, especially at higher elevation. Winter in Seattle and the surrounding areas will be even colder and can be bleak which won't help you with sightseeing.
If you decide to go during the summer from June to August, be careful as you drive through Arizona and Southern California. Temperatures can and do rise above 100 degrees Fahrenheit and spending even 10 minutes outside will feel mighty hot let alone any attempt at hiking.
You'll want to make sure your car's air conditioning is at its best, and that you've packed plenty of water for your trip.
Summer is also peak tourist season, and no matter where you are on this road trip, you'll have to deal with larger crowds.
If you're looking for milder weather and fewer crowds, spring or fall are your best bets. Be aware, however, that if you go during the spring, you'll be entering the northern parts of the US during the rainy season.
The absolute best time to go is in September after Labor Day - the weather is still very pleasant the entire way on your road trip from Phoenix to Seattle, the tourist crowds are gone and hotel prices suddenly become a whole lot more reasonable.