Road Trip from Sedona to Grand Canyon
Arizona has some of the world's most strikingly beautiful landscapes, from red rock canyons and formations, desert vistas, and pine forests, to the mighty Grand Canyon. A road trip from the red rock amphitheater of Sedona to the Grand Canyon is a must for anyone who wants to experience nature at its most beautiful.
The 160-mile road trip from Sedona to Grand Canyon will take about 4 hours to drive. Notable stops are Red Rock Scenic Byway, Munds Park, Flagstaff, Lava River Cave, Kaibab National Forest, Cottonwood, Sunset Crater and Wupatki National Monument.
Take your time on this epic drive through Arizona and experience endless awe-inspiring moments. Read on to learn more about our recommended routes, where to stop along the way, and things to see to help you make the most out of this journey.
How far is the Grand Canyon from Sedona, and how long will the road trip take?
Comparison of road trip routes between Sedona and the Grand Canyon

| Route | Distance | Driving Time |
| --- | --- | --- |
| The Red Rock Scenic Byway Route | 160 miles | 3 hours 45 minutes |
| The National Monument Route | 190 miles | 3 hours 30 minutes |
The road trip from Sedona to the Grand Canyon will take you through beautiful red rock formations and endless desert landscapes. Even though you'll stick to one state for this drive, it will feel like you're entering new worlds at every corner.
The Red Rock Scenic Byway Route will take you 160 miles through the Arizona countryside. You'll drive for 3 hours and 45 minutes total, not including stops.
The National Monument Route will cover 190 miles and take 3 hours and 30 minutes. This is a quicker option that allows you time to visit historical monuments and ruins on your way.
Because of the short distance and jam-packed sightseeing opportunities, we recommend taking one to two days for this road trip. Continue on below to learn about the best routes, where to stay, and things to see along the way.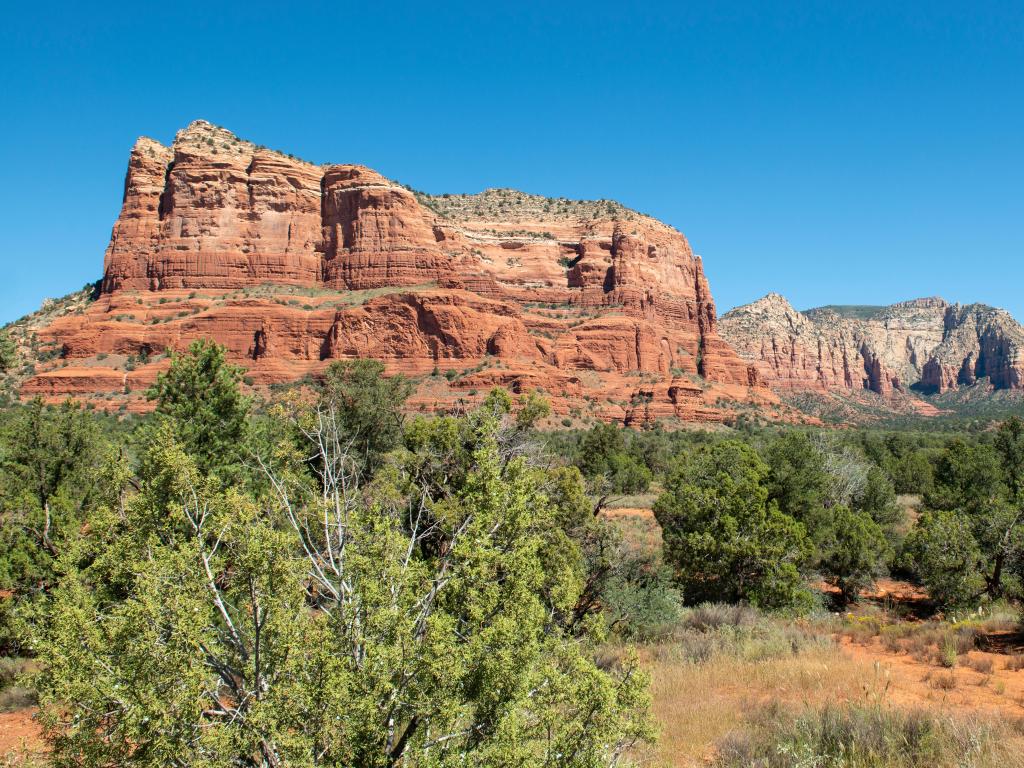 Best road trip route from Sedona to Grand Canyon
With huge red rock canyons, deserts, and forests, a road trip from Sedona to the Grand Canyon is the ideal trip to see the Arizona landscape up-close.
Throughout your drive, you'll have the chance to explore the landscapes on many hiking trails and venture deep into the area's rich history before going to one of the seven wonders of the world, the mighty Grand Canyon.
The first route is the Red Rock Scenic Byway Route. This ultimate Northern Arizona drive takes you through the iconic scenic roadway on your way to the Grand Canyon.
Along the way, you'll see notable Arizona nature spots and museums where you can learn about the history of the people who resided in the state hundreds to even thousands of years before. An overnight stop in Flagstaff gives you an opportunity to enjoy vibrant nightlife to contrast your time in nature.
The National Monument Route takes you to key National Monuments throughout the North Central region of the Grand Canyon State. If you like ancient history, this trip is full of dwellings dating as far back as 1100.
With no major cities, take this route if you want the full desert wilderness experience. You'll find many hiking trails to explore the canyons and dwellings so bring your hiking gear and plenty of water for this ultimate adventure into nature.
The Red Rock Scenic Byway Route
From Sedona, head south to the beautiful Village of Oak Creek. From here, continue on onto the Red Rock Scenic Byway where you'll be enthralled by the beautiful views and landscapes around you.
Drive to the forests of Munds Park. Then, continue north to the city of Flagstaff to get in some big-city entertainment and fun.
From here, hit the road to the natural Lava River Cave. Continue north on highway 180 and take a detour to the Kaibab National Forest before continuing on to your destination of the Grand Canyon.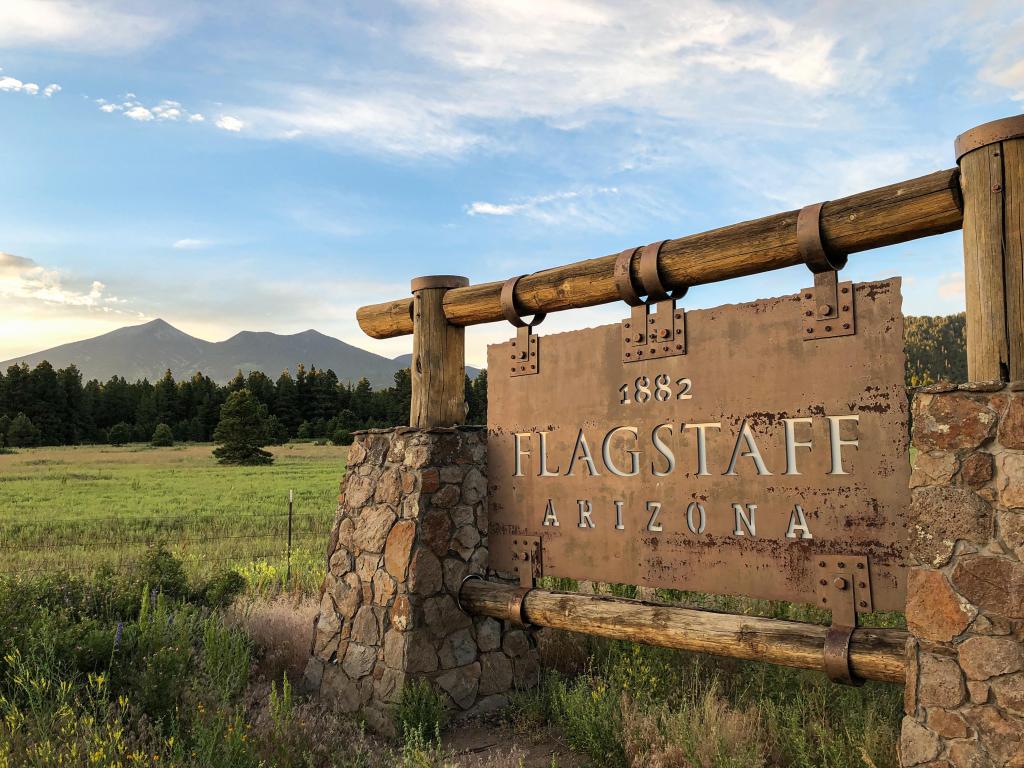 The National Monument Route
Starting in Sedona, Arizona, head into Cottonwood for a relaxing stay in the wine country. Next, head out to explore the Montezuma Castle National Monument.
After learning about the area's rich history, continue on to see the historic sights around Flagstaff. From here, head north to see the Sunset Crater Volcano National Monument.
Continue on to see the Painted Desert Project and get lost in the incredible art and murals. From here, you can drive to your destination, The Grand Canyon.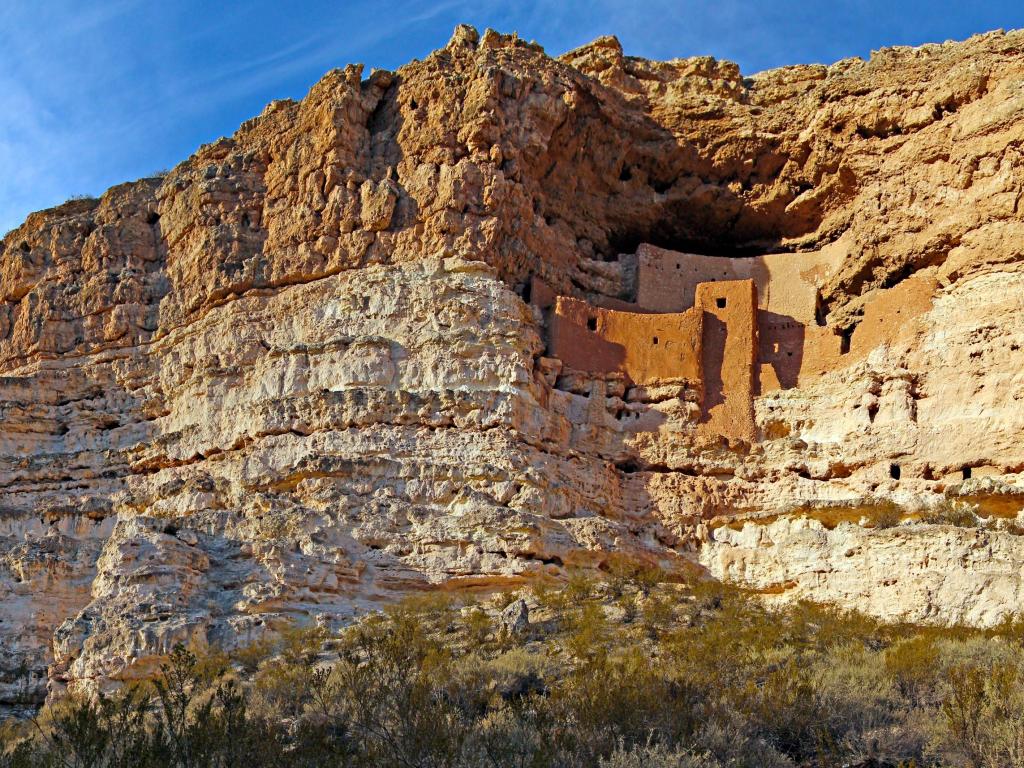 Best places to stop between Sedona and Grand Canyon
Even though this road trip is in the same state, you'll have plenty of worthy stops to rest along the way. Below are our recommendations for where to stop and where to stay once you arrive.
Enjoy the high desert charm of Flagstaff
Just under halfway along the Red Rock Scenic Byway Route is the beautiful city of Flagstaff. The city was a major stop on Mother Road Route 66. Nowadays part of the road remains, and Flagstaff is famed for its lively shops, bars, museums, and scientific exhibits.
The first thing to do is to head to downtown Flagstaff where you'll find historic buildings including the famed Monte Vista Hotel whose sign towers over the city. Explore the historic district by going on a guided ghost tour or simply enjoy the lively bars and nightlife.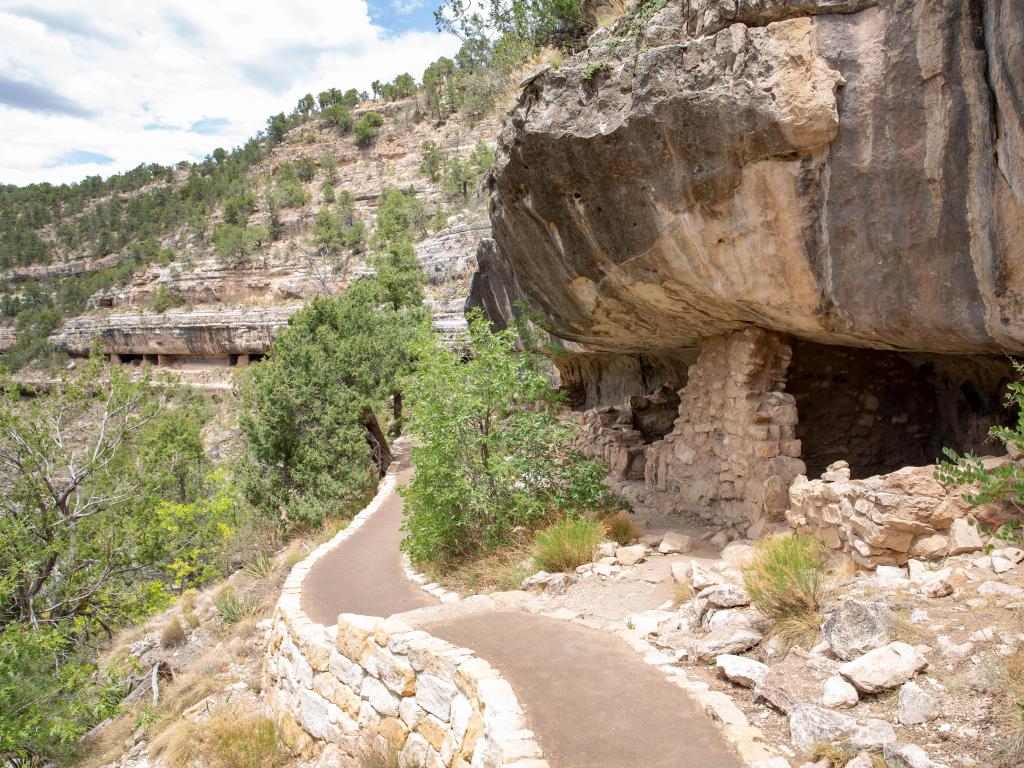 After that, visit the Riordan Mansion State Historic Park. Dating back to 1904, this park is a true American icon with its timber construction. Book a guided tour to explore the architecture and fascinating original belongings.
Finally, see the famous Lowell Observatory. This is the site where Clyde Tombaugh discovered Pluto in 1930. Open until 10PM and go at dark for prime stargazing.
Once you reach Flagstaff, we recommend staying at the beautiful boutique High Country Motor Lodge. Enjoy the Free private parking on-site to get yourself situated when you arrive. Next, take a dip in the outdoor swimming pool and check out the relaxation facilities such as the steam room, sauna and hot tub.
Before heading out for the day, take advantage of the General Store restaurant on-site which serves breakfast, lunch and dinner. After exploring the city, you can also relax at the hotel's stylish bar area.
The High Country Motor Lodge is on Historic Route 66, near downtown Flagstaff and many of the area's top sights. You can venture out and walk to the Riordan Mansion State Historic Park or jump in your car and head to the Lowell Observatory, just a short drive away.
Sip wine and relax in Cottonwood, Arizona
About 20 miles into the National Monument Route is Cottonwood, Arizona. Only a short drive from Sedona, Cottonwood is a charming place with history and natural attractions to explore.
Cottonwood is known as the 'Heart of Arizona Wine Country' thanks to its prominence in wine production. Wine tasting in nearby Jerome and Cottonwood will be one of the most unique experiences you can have in Arizona.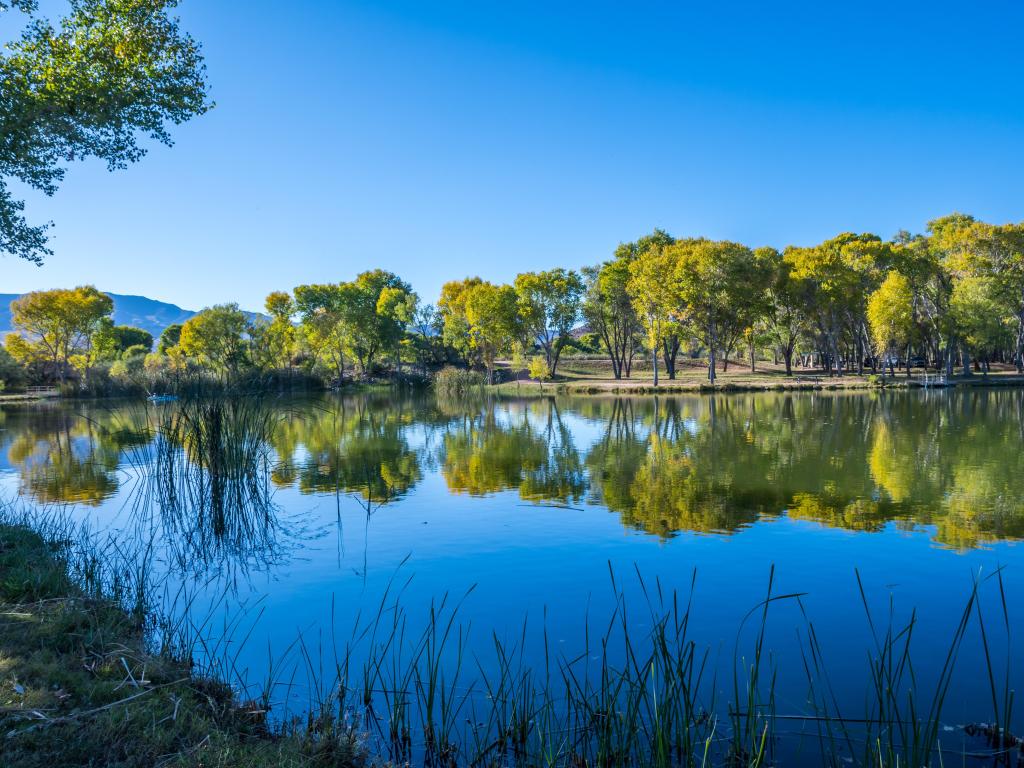 A walk-through Historic Old Town is a haven for antique lovers. Prohibition buildings house antique shops, galleries, restaurants and tasting rooms. Head to Main Street for the full vibe.
Next, trying local wines is a must when in Cottonwood. You'll find small places to pop in and take a sip. The Pillsbury Wine Company and Vineyard is a standout winery with a long list of awards.
When you arrive in Cottonwood, we recommend staying at the stylish SpringHill Suites by Marriott Cottonwood. There's free public parking on-site with electric car charge facilities if you need.
The outdoor swimming pool is open year-round with sun loungers and parasols, so you'll be sure to be able to relax before hitting the road. If you'd prefer natural surroundings, you can just head down to the Clark Fork River where the hotel has outdoor lounge chairs.
The hotel is conveniently located near Old Town Cottonwood which is just a short walk. You can also easily reach the Pillsbury Wine Company. Many other sights are just a short drive away like the Verde Canyon Railroad and the Dead Horse Ranch State Park.
Where to stay when you reach Grand Canyon
Once you reach the Grand Canyon, we recommend staying at the beautiful and luxurious The Grand Hotel. This amazing hotel is located just 2 from the South Rim of the Grand Canyon and features warm and cozy rooms and excellent service.
There is free parking, an indoor swimming pool and hot tub, a fitness center, and plenty of amenities to help you relax before seeing one of the world's top natural landmarks.
Inside the hotel is a traditional bar area where you can grab a drink after exploring the canyon. For food, enjoy the popular Canyon Stay Steakhouse which is famous for its meaty steaks and wonderful comfort food.
Things to see on a road trip from Sedona to Grand Canyon
The Grand Canyon and Northern Arizona area is full of adventure, history, and some of America's most photogenic landscapes. Below are our top things to see and explore to get the most out of this one-of-a-kind area.
The Red Rock Scenic Byway Route
Village of Oak Creek, Arizona - As you drive into the Village of Oak Creek, the butte of Bell Rock dominates the landscape. Hike the Bell Rock Trailhead for up close views.
Red Rock Scenic Byway, Arizona - This scenic byway will take you through the quintessential red rock American landscape. Stop at Red Rock Ranger District Visitor Center to get key information.
Munds Park, Arizona - Hike Crystal Point Trail. It's a hidden gem, a quiet walk with plenty of shade.
Pioneer Museum, Arizona - Transport yourself back to the 1800s. This outdoor museum has several buildings with both original and reconstructed structures to explore.
Museum of Northern Arizona, Arizona - Learn about the history of Northern Arizona. Exhibits showcase geological findings from Precambrian eras and stories of the native people.
Lava River Cave, Arizona - A mile long cave created by volcanic activity. Although open year-round, in winter you may have to access the site by skiing.
Kaibab National Forest, Arizona - The Red Butte Mountain Trail is nearby. The 1.25 mile one-way trail takes you up just under 1,000 feet in elevation for fantastic views of the desert. Be careful of rattlesnakes in the summer.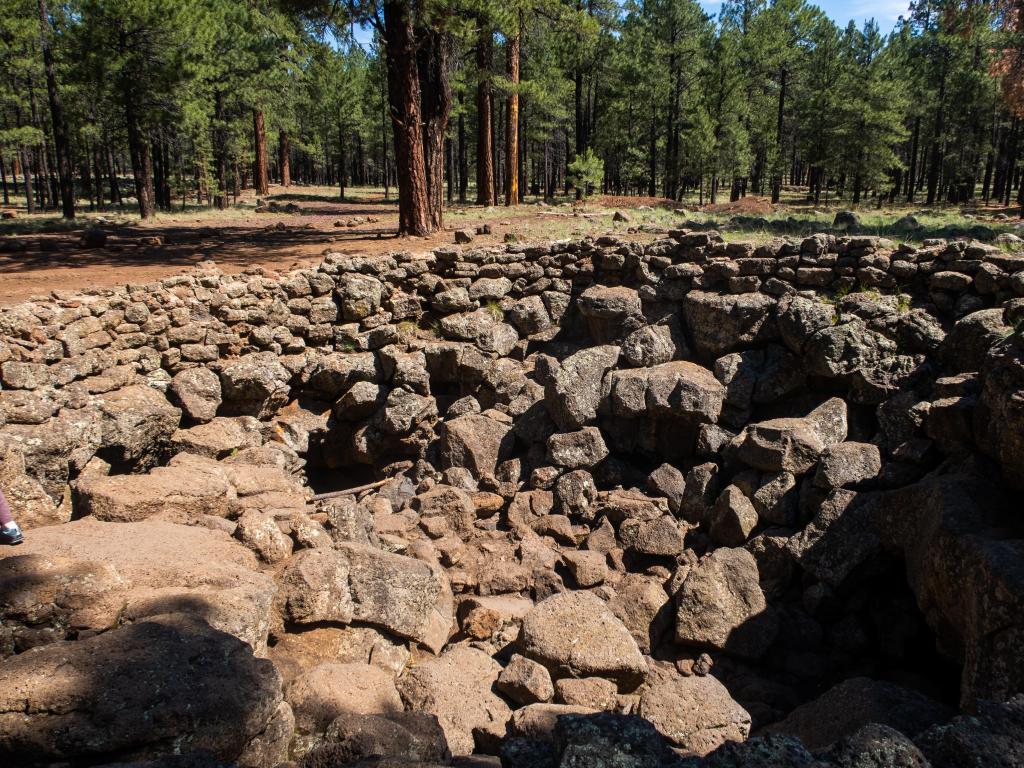 The National Monument Route
Montezuma Castle National Monument, Arizona - Gaze at ancient buildings crafted out of the limestone cliff. Created by the Sinagua people the dwellings are said to date as far back as anywhere between 1100 and 1425.
The Crack at Wet Beaver Creek, Arizona - For adventurers road trippers, take the 7-mile round trip to the Crack. The swimming hole has cool waters to refresh and it's also known as a cliff jumpers paradise.
Walnut Canyon National Monument, Arizona - A 1-mile round trip trail reveals curved canyon walls. But much more than that, you can access more ancient cliff dwellings.
Elden Pueblo Archaeological Site, Arizona - This Native American village was said to be a major trading post. There are many trails to walk with Mount Elden as your backdrop.
Sunset Crater, Arizona - A conical crater created by volcanic activity. You can't hike up the crater, however the Lava Flow Trail is a 1-mile loop at the base to see the volcanic features up close.
Wupatki National Monument, Arizona - The entrance fee to the Sunset Crater also covers you for the Wupatki National Monument. The ancient Pueblo villages are a short 0.5 mile hike and there's over 100 rooms to explore.
The Painted Desert Project, Arizona - Street art in the design isn't something you'd often put together. Explore the impressive works at this quirky stop.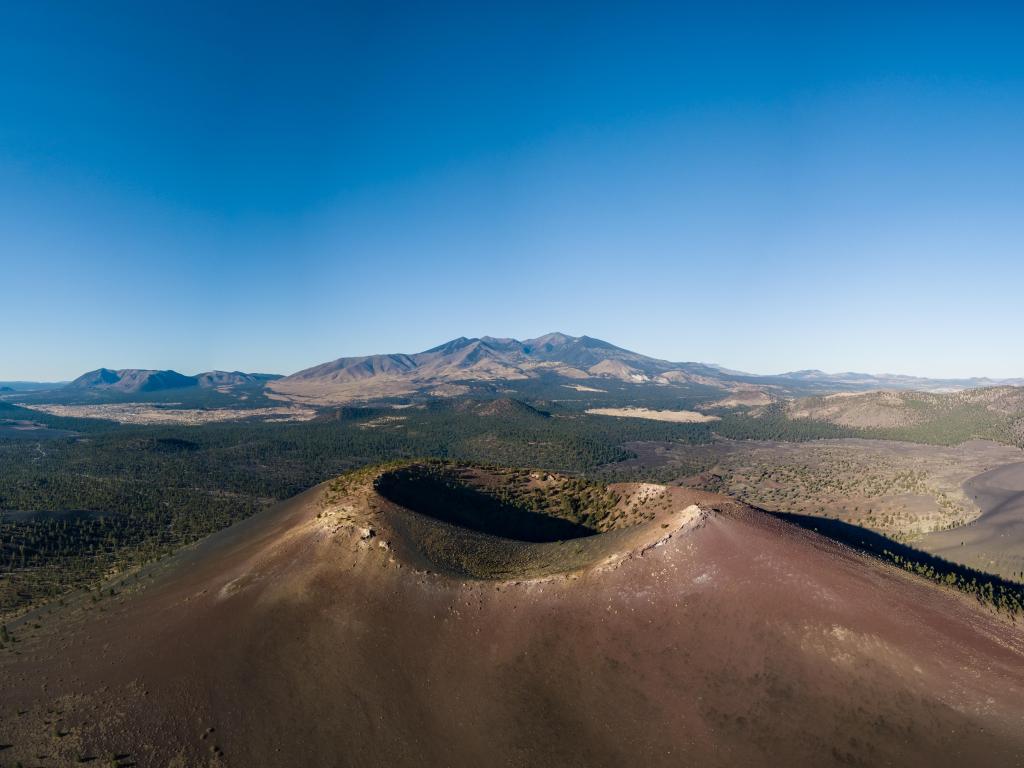 Best time to go on a road trip from Sedona to Grand Canyon
The Grand Canyon is a year-long vacation destination for millions of people every year. 90% of visitors use the South Rim Entrance, which is open 24 hours a day and 365 days a year.
In summer, the area experiences excellent weather, with breezy and sometimes cooler nights thanks to its high elevation. June, July and August are the hottest months with average temperatures of 63, 68 and 65 degrees Fahrenheit.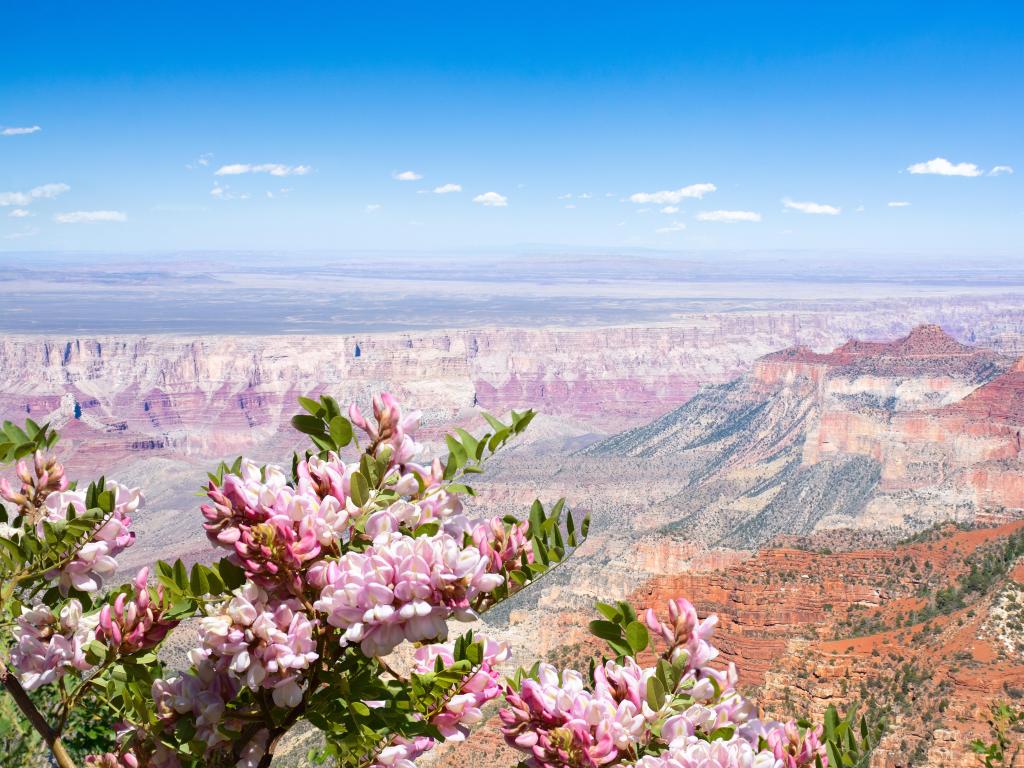 These are also the busiest times to visit and you should expect congestion when entering the park and difficulty finding a parking space. Visit before 9AM to beat the rush if visiting in summer.
A great tip if you're here in the summer is to take advantage of the free shuttle bus at the South Rim. Use this to escape the crowds and find a more private viewpoint.
January and December are when the Grand Canyon is coldest with average temperatures of 29 degrees Fahrenheit. November through to February are when the Grand Canyon is quietest, and you'll often be able to hike without seeing many people around you.
Although winter is quieter, this is also when the Grand Canyon has the heaviest snowfall. Because of the drop in tourism and cold weather, the North Rim closes in winter, making the south rim your only entry point in the winter.
The high altitude of the Grand Canyon can cause chilly temperatures throughout the year, even in spring. March, April and May have average temperatures of 37, 44, and 53 degrees Fahrenheit.
Avoid Spring Break because this is a very busy time for visitors. Fall has similar temperatures with September averaging 58 degrees Fahrenheit while October averages 47 degrees. September is the clearest month in terms of cloud coverage, so it's a great time to visit.
There are no festivals within Grand Canyon National Park so all you'll have to do is get lost in the beautiful natural surroundings. Pull up your car, take out a snack or two, and hit the trails or walking paths and look out over one of the world's greatest natural wonders.