Road Trip from New York to Florida
From the never-sleeping heart of New York to Florida's sun-drenched shores, this road trip merges urban cool with tropical warmth. From Florida's gleaming beaches and infectious Latin rhythms to the untouched wilderness where alligators bask, make each mile a new chapter in your own American travel story.
The 2,640-mile road trip from New York to Florida will take 47 hours to drive nonstop. Notable sights on the way include Jacksonville, St Augustine, Cape Canaveral, Orlando, Miami, Key West, Fort Myers, Destin, Pensacola and Everglades National Park.
Ready to get those wheels rolling and let the sun be your guide? Keep reading to find out about the best route, roadside gems, captivating cities, and unforgettable experiences that are waiting to enrich your very own epic New York to Florida road trip.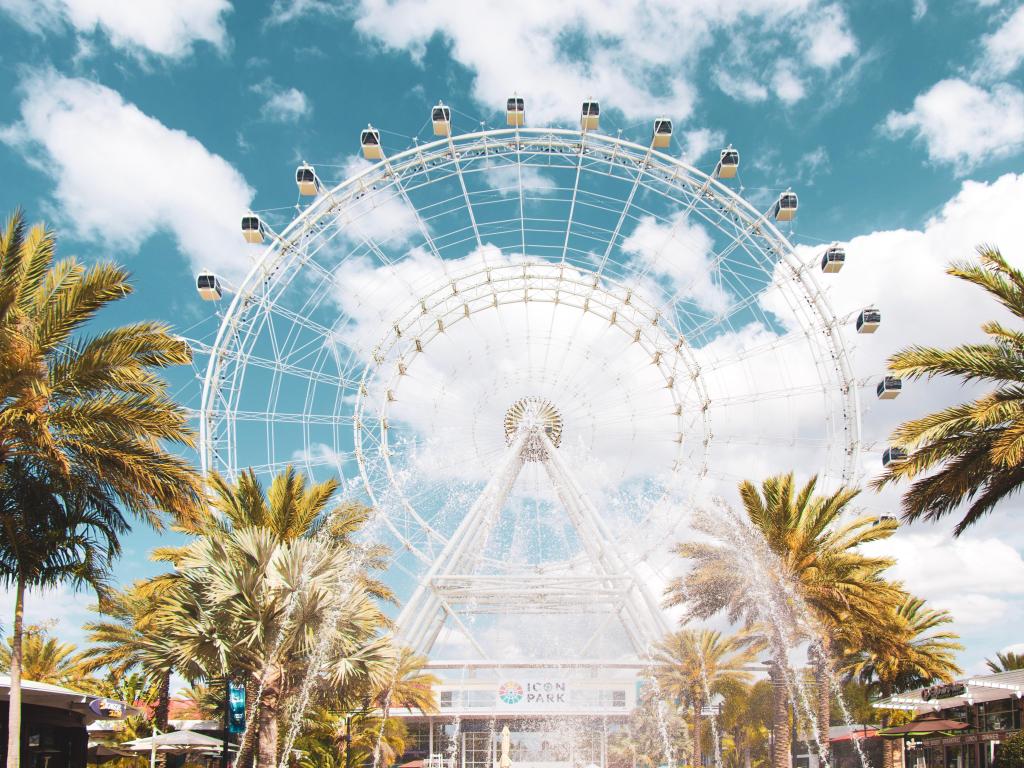 How far is Florida from New York, and how long will the road trip take?
Driving from New York to Jacksonville as your entry point to Florida, will take 19 hours, covering 1,170 miles through Philadelphia, Washington DC, Blue Ridge Parkway, Charleston and Savannah.
The Florida Loop itself will take 28 hours to drive, starting in Jacksonville and ending in Pensacola, which is a 1,470-mile drive without accounting for detours.
If you are driving back to New York through Atlanta and the Great Smoky Mountains, then this will add 20 hours and 30 minutes to your driving time, spanning 1,310 miles.
Given the mammoth proportions of this incredible adventure, we suggest taking three weeks to enjoy all the world-famous landmarks, popular attractions and history-rich cities you will drive through.
Check out our ultimate Florida road trip itinerary to see how you can divide your drive into manageable sections.
Of course, if you are short on time, you can keep your visit to Florida shorter than our recommended Florida Loop. Here is our ultimate guide on the road trip from New York to Orlando and the road trip from New York to Miami if you want to plan a shorter trip that packs a punch.
Distances and driving time from Houston to popular destinations in Florida

| Destination City/Landmark | Distance | Driving Time |
| --- | --- | --- |
| Jacksonville | 1,170 miles | 19 hours |
| St Augustine | 1,210 miles | 19 hours 40 minutes |
| Orlando | 1,320 miles | 21 hours 20 minutes |
| Cape Canaveral | 1,370 miles | 22 hours 20 minutes |
| Miami | 1,590 miles | 26 hours |
| Key West | 1,740 miles | 29 hours |
| Fort Myers | 2,050 miles | 34 hours |
| Destin | 2,580 miles | 43 hours |
| Pensacola | 2,640 miles | 44 hours |
Best trip route from New York to Florida
The best road trip from New York to Florida will take you through America's most iconic cities like Washington DC, beloved sceneries such as Shenandoah National Park, popular drives, Skyline Drive and Blue Ridge Parkway-and that is even before arriving in Florida!
Starting off in Jacksonville, your Florida journey kicks off in a city that harmoniously blends urban life with a laid-back beach vibe. A short drive south introduces you to the historic charm of St Augustine, a city steeped in a rich tapestry of Spanish colonial architecture.
As you venture further south, the route whisks you away to the vibrant heart of Florida - Orlando, where you can visit many of its famous theme parks.
Traveling through Cape Canaveral, Miami, and Key West, you will learn about America's space endeavors, relax at stunning beaches and party like a rockstar, if that takes your fancy!
The final stretch of your journey will take you along the Gulf coast from Fort Myers, an oasis of nature's wonders, through the serene beauty of Destin, and finally to Pensacola, a city with sugar-white sand beaches and a distinct historic charm.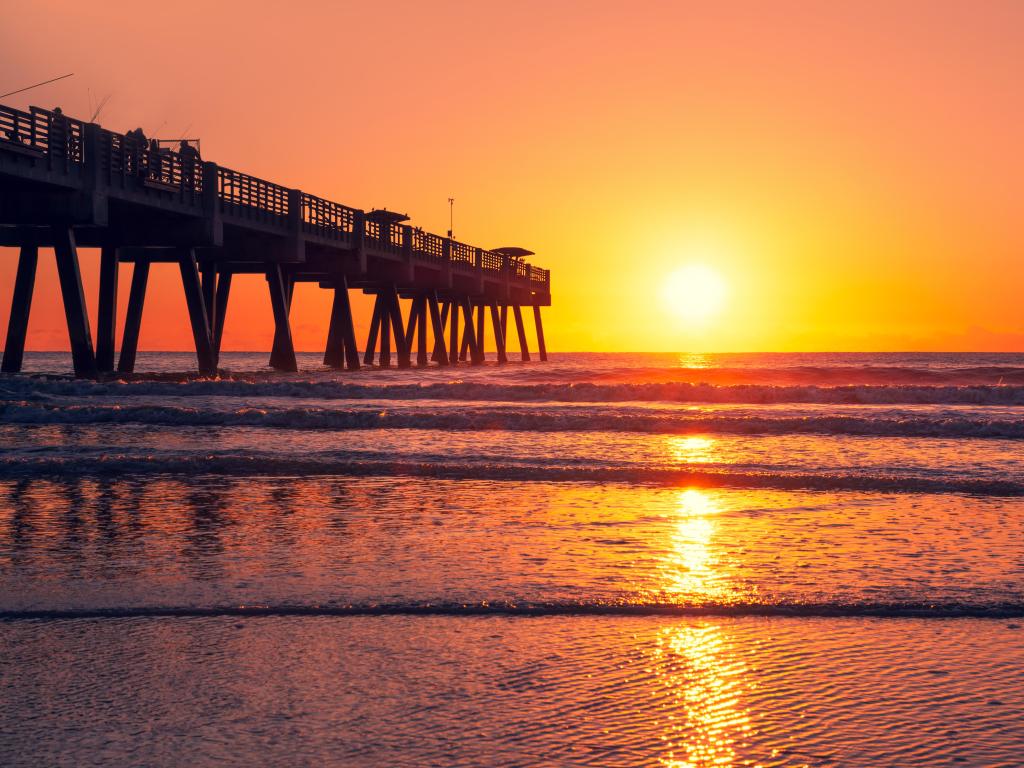 Road trip route from New York to Florida
Your journey begins in the vibrant heart of New York City, full of world-famous landmarks and never-ending energy. Take Interstate 95 (I-95) South and experience the diverse landscapes as you move from metropolitan areas to more rural settings through Philadelphia and Washington DC.
Continue driving southwest and you can make a detour to Shenandoah National Park or visit the quirky city of Roanoke. As you cross into the picturesque state of Virginia, you'll eventually arrive at the legendary Blue Ridge Parkway.
Your next stop will be the charming town of Blowing Rock, North Carolina. From Blowing Rock, you'll continue your journey south through the outskirts of Charlotte and Columbia soon to reach the glistening coast of the Atlantic Ocean.
Your next stop will be the historic city of Charleston, South Carolina. After your visit to this historic city, it's a straightforward drive to Savannah, Georgia. With its Spanish moss-covered trees and rich history, Savannah offers a unique Southern charm.
Finally, continue south along I-95, which will take you to the coastal city of Jacksonville, Florida, your entry point to the city of Florida.
Road trip route around Florida
Starting from Jacksonville, head to St Augustine. Wander along the cobblestone streets, visiting boutiques and eateries, before moving on. After immersing yourself in history, take the I-95 and then the I-4 West to reach Orlando. Here you can enjoy Walt Disney World Resort, Universal Studios.
From Orlando, head east to Cape Canaveral, home of the Kennedy Space Center. Then, it's time for a longer drive. Continue south along I-95, through coastal towns, and eventually reach Miami.
Afterwards, venture further south via the US-1 into the tropical paradise of the Florida Keys, ending in Key West. Return to mainland Florida after your visit and make a detour to Everglades National Park before heading towards Fort Myers on the Gulf Coast.
Head north and drive through Tampa to reach the beautiful sunny towns of Northern Florida. Travel west to Destin, known for its white beaches and emerald-hued waters. From Destin, make your way west along the coastline to Pensacola, the final stop on your Florida Loop.
After your epic Florida getaway, you can hop onto I-85 and drive through the buzzing city of Atlanta on your way back home to New York.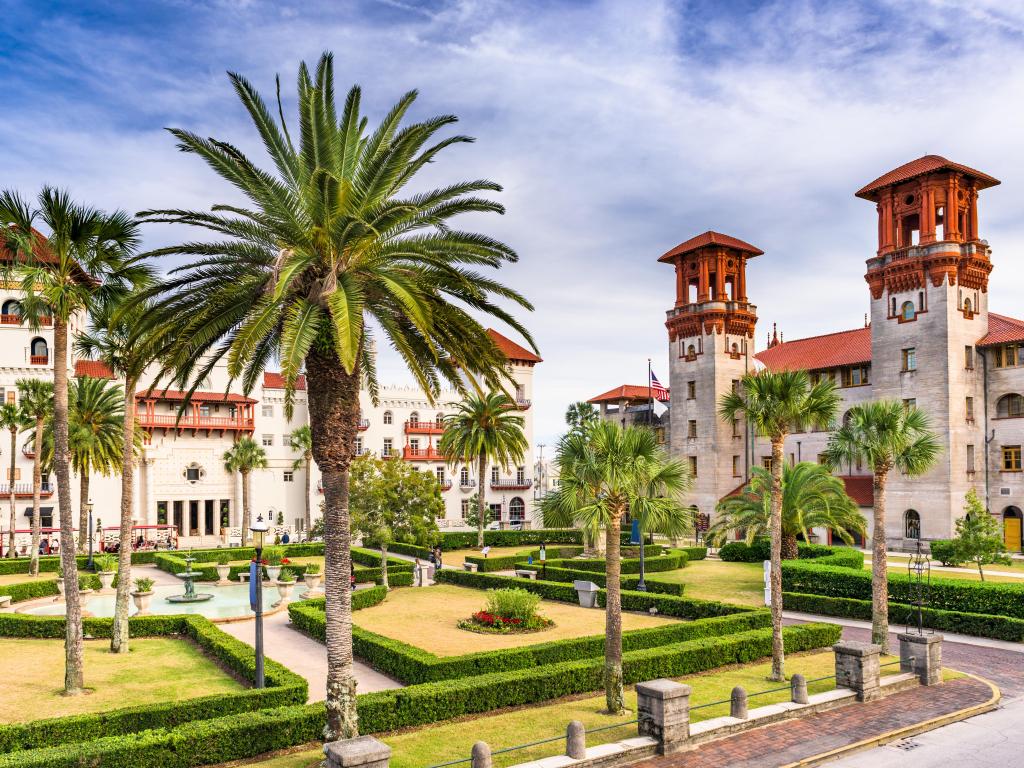 Best places to stop between New York and Florida
Journeying from the bustling metropolis of New York to the sun-soaked vistas of Florida can be an epic adventure, and the places you choose to rest along the way can enhance your experience immensely.
To help you weave the perfect balance between travel and relaxation, we've cherry-picked an array of unforgettable stopovers for your New York to Florida voyage. From serene retreats to hip hotspots, we've got you covered with both places to unwind and sights that'll fill your travel diary with fascinating stories.
Admire the scenery in Blowing Rock
Nestled in the majestic Blue Ridge Mountains, Blowing Rock is a charming town known for its natural beauty, outdoor activities, and rich Appalachian history, making it a perfect stopover on the first leg of your journey from New York to Florida.
The Blue Ridge Parkway, often called "America's Favorite Drive," winds its way through Blowing Rock, offering stunning mountain vistas and plenty of pull-offs for photo opportunities. The Linn Cove Viaduct, a marvel of engineering, is a definite highlight on this route.
One of the town's iconic landmarks is the Blowing Rock itself. The wind sweeping up the face of the cliff creates a unique natural phenomenon that gave the town its name. On a calm day, you can toss a lightweight object off the edge, only to have it float back to you, defying gravity.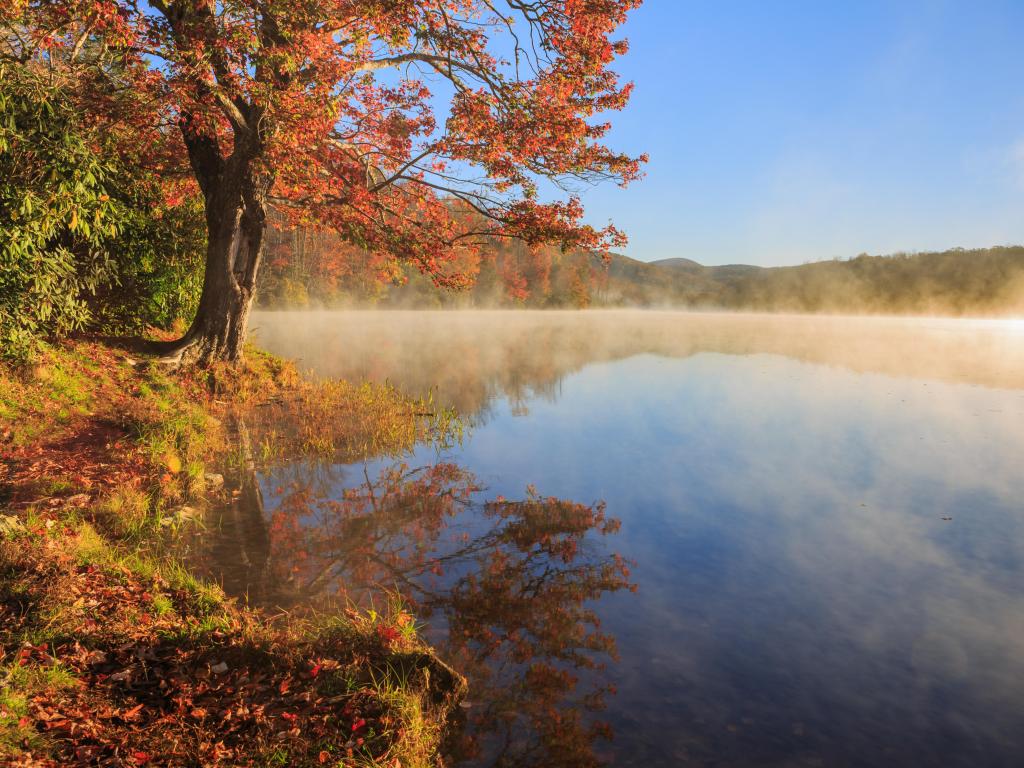 While in Blowing Rock, a visit to the Moses H. Cone Memorial Park is a must. The stately manor and beautifully maintained grounds harken back to the Gilded Age. The park's trails and scenic views make it an ideal destination for walking, horseback riding, or simply picnicking with a breathtaking backdrop.
If you are looking for a comfortable place to stay after your drive and exploring Blue Ridge Parkway, look no further than the Homestead Inn. With a home-away-from-home atmosphere, this beautiful property has a beautiful garden and a dedicated picnic area to make the best of it.
The inn is located a short walk from downtown Blowing Rock, and a short drive to Grandfather Mountain. If you are visiting in winter, you can hit the slopes any time you want, as the Appalachian Ski Mountain is a stone's throw away from the property.
Let your inner child out in Orlando
World-famous for its epic theme parks, vibrant nightlife, and sunny weather, Orlando is one of those cities that command a vacation on its own. Stopping here for a day or two might not be enough to explore all that Orlando has to offer (and it is not just rides and roller coasters!).
That being said, the internationally renowned Walt Disney World Resort places high on the list of things to do while in Orlando. Here you can explore magical kingdoms, journey into the future, or embark on a safari - all in a day's work.
Another unmissable attraction is the Universal Orlando Resort, where you can experience the magic of movies come to life, including the spellbinding Wizarding World of Harry Potter. Take thrilling rides, visit magical locations from the films, and even try some delicious Butterbeer.
When you have had your fill of theme parks, and want to spend some time outdoors, you won't have to travel far. The vibrant heart of the city is home to beautiful Lake Eola Park, where you can enjoy a leisurely paddleboat ride or a scenic walk around the lake.
There are many lodging options in Orlando, but none come close to Universal's Aventura Hotel. This modern and stylish hotel is located in the fantastic Universal Orlando and offers early access to The Wizarding World of Harry Potter.
There is plenty to enjoy in the hotel itself, as there is a fabulous resort-style pool, a food hall with vast dining options and a rooftop bar are located on-site. Once you are ready to explore, the hotel provides free transfer to all Universal Orlando theme parks.
Relax on the white sand beaches of Miami
Renowned for its vibrant culture, sizzling nightlife, and stunning beaches, Miami is an amazing city to make a stop and explore on your New York to Florida drive. An eclectic melting pot of cultures, Miami seamlessly fuses its Latin influences with a distinctly American vibe.
Miami Beach, known for its Art Deco Historic District, should be at the top of your list. This area is renowned for its beautifully preserved 1930s architecture, and the iconic Ocean Drive is a fantastic place to soak up the atmosphere.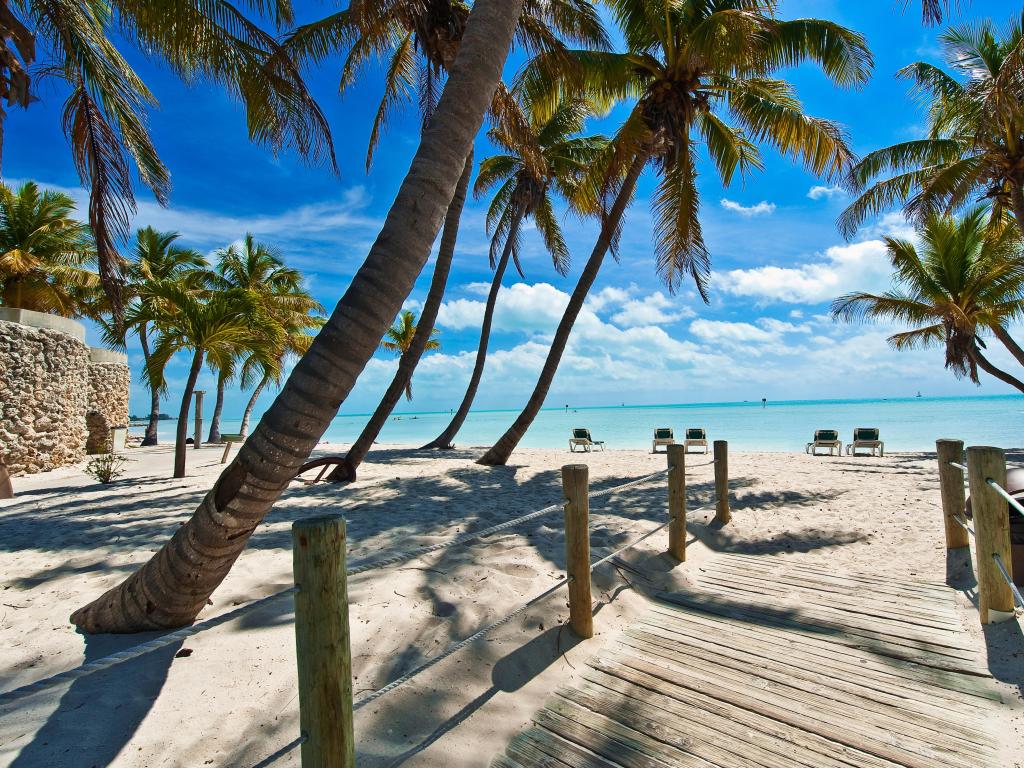 Miami's thriving arts scene can't be missed. The Wynwood Arts District, formerly an industrial district, has been transformed into a vibrant outdoor art exhibit known for its colorful murals. Meanwhile, the Pérez Art Museum Miami houses modern and contemporary art from around the world.
Miami's Cuban influence is most visible in Little Havana, a lively neighborhood that teems with Latin music, colorful murals, and cigar shops. Here, you can stroll along Calle Ocho, and sample authentic Cuban cuisine.
While in Miami, we highly recommend staying at the stunning Mayfair House Hotel & Garden. This luxurious Coconut Grove boutique hotel has everything you might need and want after a long drive, including a fantastic rooftop pool and gourmet dining options on-site.
After working on your tan at South Beach, a short drive from the property, you can head back to the hotel to relax and enjoy your favorite drink at the Sipsip Calypso Rum Bar, which pays homage to the rich Caribbean heritage of Coconut Grove.
Enjoy the island atmosphere in Key West
Famed for its laid-back island charm, vibrant nightlife, and deep-rooted literary history, Key West is nestled at the southernmost point of the continental US and is a perfect pit stop on the road trip from New York to Florida.
A must-see in Key West is the Ernest Hemingway Home and Museum. This historic property was the residence of the famous author for nearly a decade, and it's where he penned some of his most well-known works.
Duval Street, the island's main drag, is always buzzing with activity. It's lined with quaint shops, lively bars, and excellent restaurants serving fresh seafood. Take a leisurely stroll down this colorful strip, soak up the vibrant atmosphere, and drop into Sloppy Joe's Bar, a favorite haunt of Hemingway.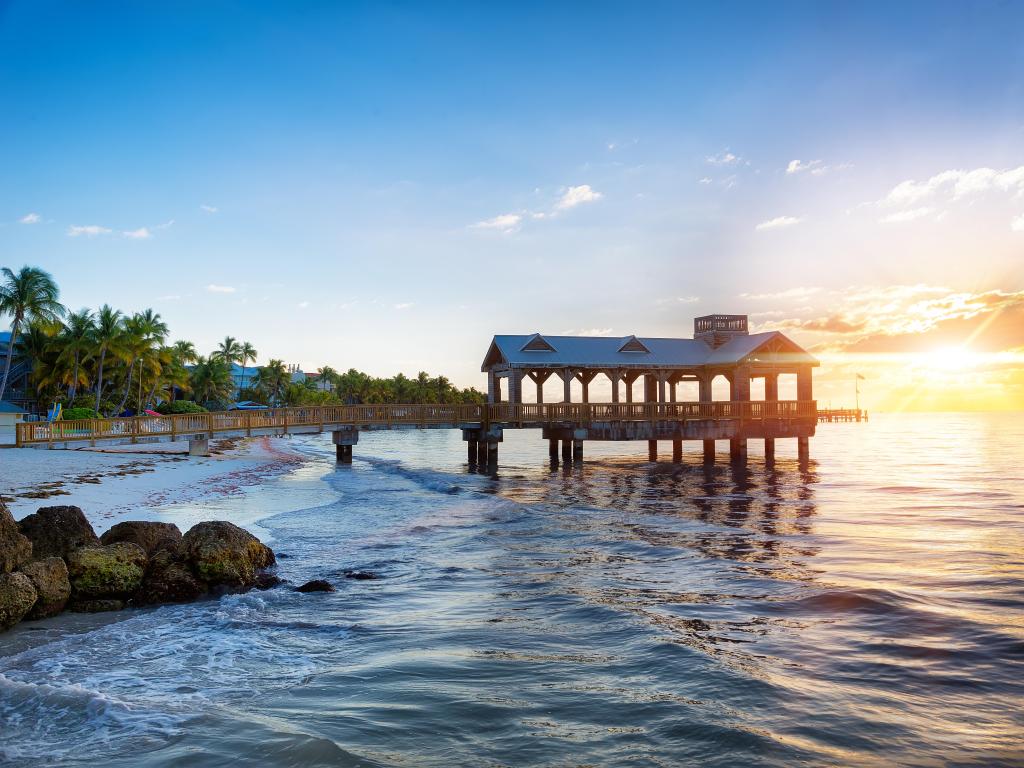 Don't miss the chance to witness one of the most beautiful sunsets from Mallory Square. Every evening, this bustling waterfront plaza comes alive with street performers, artists, food carts, and locals and tourists alike who gather to celebrate the end of the day.
Douglas House is one of our favorite places to stay in Key West. This beautiful adult-only hotel features an outdoor swimming pool where you can lounge under the shade of palm trees. You will also love the beautiful tropical garden and the sun terraces located on the property.
Key West is a very walkable island, and you can easily visit Key West Lighthouse, Keeper's Quarters Museum and the southernmost point of the United States from the hotel.
Things to see on a road trip from New York to Florida
Ready to hit the open road and make some memories? With a road trip this big, there are unsurprisingly tens of amazing things to see en route. So, to make your planning easier, we have listed our favorite attractions and places to visit below.
If you are not in a hurry to return to New York, we have also included some amazing places to visit as you make your way back to the Big Apple.
Things to see on the way to Florida
The Liberty Bell, Philadelphia - The Liberty Bell is one of the most iconic symbols of American independence, located at the Liberty Bell Center. It offers historical exhibits and films, and the opportunity to get an up-close view of the bell with its famous crack.
National Mall, Washington DC - Home to iconic landmarks like the Lincoln Memorial, Washington Monument, and US Capitol. It's also the site of numerous public gatherings, historical events, and celebrations, making it a vibrant hub of American cultural and political life.
Shenandoah National Park - A sprawling landscape of breathtaking wilderness, cascading waterfalls, wooded hollows, and protected lands that are a haven for deer and songbirds.
The Blue Ridge Parkway - Known as "America's Favorite Drive," this scenic road offers stunning views of the Blue Ridge Mountains. Hiking trails, picnic areas, and campgrounds are scattered along the route.
Pisgah National Forest - This beautiful forest is home to many waterfalls, miles of hiking trails, and the first school of forestry in the United States. The forest's highlights include Looking Glass Falls and Sliding Rock.
Historic Charleston City Market, Charleston - The charming market is home to many entrepreneurs, and you'll find a vast array of handcrafted items, food products, and arts that truly reflect Charleston's rich cultural heritage.
Forsyth Park, Savannah - A hub for social interactions and outdoor activities, famous for its large, beautiful fountain built in 1858. It hosts numerous events, such as concerts and farmers' markets, making it the beating heart of Savannah.
NASCAR Hall of Fame, Charlotte - An interactive entertainment attraction honoring the history and heritage of NASCAR. It offers a variety of fun experiences for fans and families alike, including realistic racing simulations, artifacts displays, and a tribute to Hall of Fame inductees.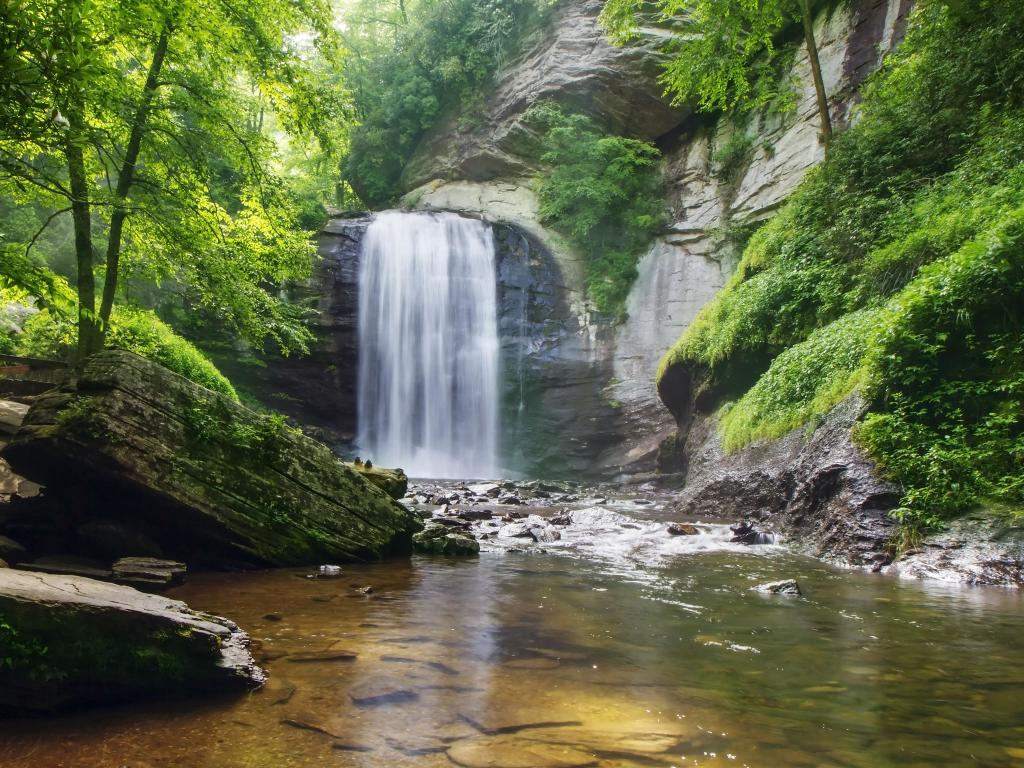 Things to see around Florida
The Cummer Museum of Art & Gardens, Jacksonville - Housing thousands of works of art, the museum provides a panoramic view of world art history. The beautifully manicured gardens on the river are also worth a visit.
St Augustine Lighthouse & Maritime Museum, St Augustine - Offers a glimpse into the maritime history of the region, and a climb to the top provides spectacular views.
Castillo de San Marcos, St Augustine - The oldest masonry fort in continental US offers a view into the Spanish colonial period. Its location on the waterfront makes for great scenery.
Walt Disney World Resort, Orlando - This iconic amusement park is filled with multiple theme parks and offers numerous entertainment options. From the enchanting Magic Kingdom to the fascinating Epcot, there's something for everyone.
Universal Studios, Orlando - Experience thrilling rides, shows, and attractions based on your favorite movies and TV shows. The Wizarding World of Harry Potter is a must-see for any fan.
Kennedy Space Center, Cape Canaveral - Discover the history and future of space exploration, witness a space shuttle up close, and possibly see a rocket launch. The astronaut experience and the Mars Rover vehicle navigator are visitor favorites.
South Beach, Miami - Known for its beautiful beach, iconic architecture, and vibrant nightlife. The neighborhood's Art Deco Historic District, with pastel-colored buildings from the 1930s and early 1940s sporting classic neon signs, is a must-see.
Everglades National Park, Miami - A massive wetlands preserve on the southern tip of Florida. It's an important habitat for numerous rare and endangered species, and offers a unique landscape for hiking, wildlife viewing, and photography.
The Turtle Hospital Marathon, Florida Keys - A small hospital dedicated to the recovery and rehabilitation of sick and injured sea turtles. Visitors can take an educational tour, and it's a great way to see these creatures up close while learning about conservation efforts.
Ernest Hemingway Home and Museum, Key West - Visit the former home of the famous writer, which is now a museum preserving his legacy. This place is also known for its population of six-toed cats, descendants of Hemingway's own pet.
Mallory Square, Key West - Known for its nightly sunset celebration with performers and local vendors. It also has several attractions, including the Key West Aquarium and the Key West Shipwreck Museum.
Edison and Ford Winter Estates, Fort Myers - These historic homes offer a glimpse into the lives of Thomas Edison and Henry Ford. The property includes a museum, botanical gardens, and a lab, providing both historical and educational exploration.
Destin Harbor Boardwalk, Destin - This lively boardwalk has restaurants, activities, and hosts events throughout the year. From here you can also access various water activities, including fishing, boating, or dolphin cruises.
Gulf Islands National Seashore, Pensacola - Known for its pristine beaches, crystal clear waters, and historical fortresses. Whether you're interested in wildlife spotting, sunbathing, or delving into history, there's plenty to enjoy.
National Naval Aviation Museum, Pensacola - Houses more than 150 aircraft representing Navy, Marine Corps, and Coast Guard aviation. With interactive exhibits, a giant screen theater, and flight simulators, it's a great place for all ages.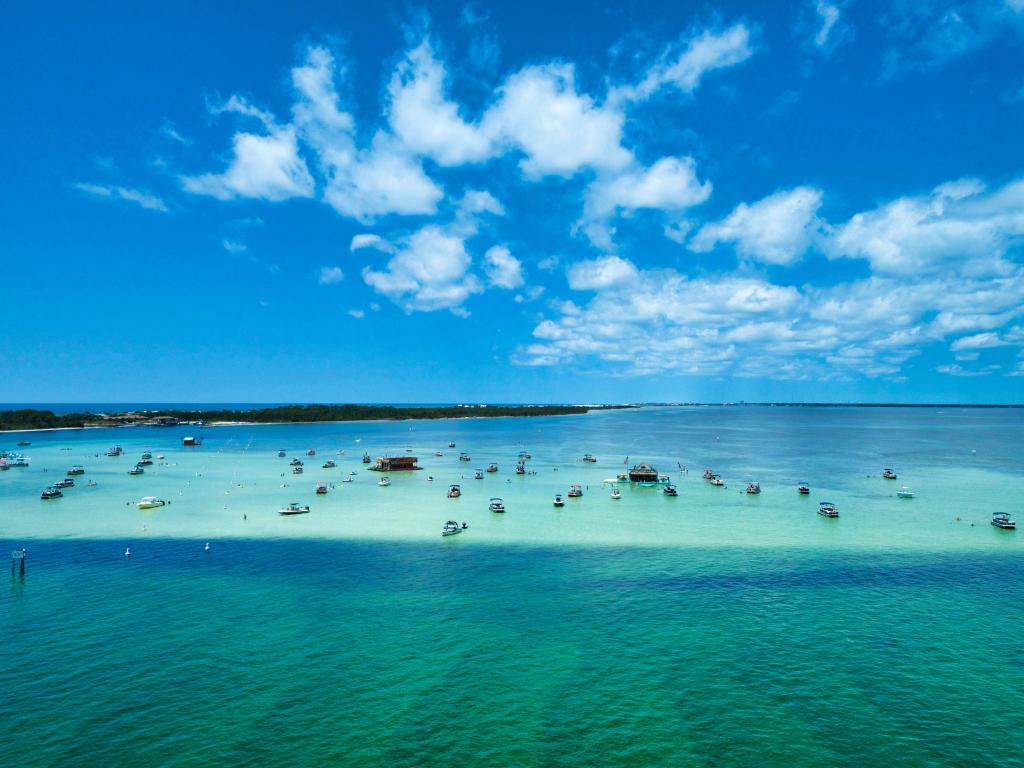 Things to see on the way back to New York
Civil Rights Memorial Center, Montgomery - This center, adjacent to the Civil Rights Memorial, offers educational displays about the civil rights movement and honors those who lost their lives. Its interactive exhibits and powerful stories make for a deeply moving experience.
Martin Luther King Jr. National Historical Park, Atlanta - This significant site includes King's childhood home, the Ebenezer Baptist Church where he was a pastor, and his gravesite. The visitor center provides detailed information about Dr. King's life and the Civil Rights Movement.
Georgia Aquarium, Atlanta - This renowned aquarium is one of the largest in the world, with exhibits featuring beluga whales, penguins, manta rays, and more. It offers immersive experiences like animal encounters and diving programs.
Ruby Falls, Chattanooga - This is an underground waterfall located within Lookout Mountain and is America's deepest commercial cave and largest underground waterfall. It provides an adventurous experience and a stunning light show at the falls.
Tennessee Aquarium, Chattanooga - This top-rated aquarium features both a River Journey and Ocean Journey, offering a glimpse into diverse ecosystems. You can see animals from penguins and otters to various fish, reptiles, and birds.
Great Smoky Mountains National Park - One of the most visited national parks in the US, it offers breathtaking mountain views, and diverse wildlife. It's a paradise for outdoor lovers, with hiking, camping, and scenic drives.
Dollywood, Pigeon Forge -This Appalachian-themed park combines classic roller coasters with unique attractions and shows reflecting the culture of East Tennessee. Owned by country singer Dolly Parton, it offers plenty of family fun with a musical twist.
Titanic Museum Attraction, Pigeon Forge - A two-story museum shaped like the Titanic, it houses artifacts, interactive exhibits, and recreations of the ship's rooms. It's a hands-on journey back in time to the ill-fated voyage of this historic ship.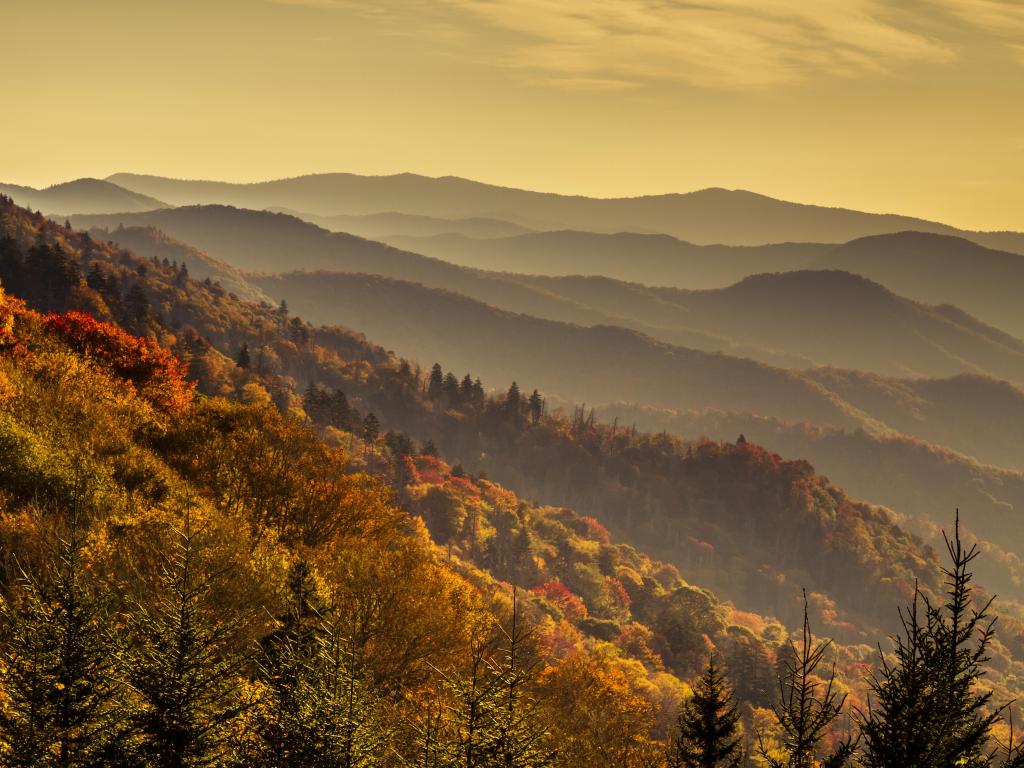 Best time to go on a road trip from New York to Florida
This amazing road trip from New York to Florida can indeed be undertaken year-round, each season offering its own unique charm and benefits.
Spring and fall are often touted as the most comfortable seasons for such a journey, as they present milder temperatures between 70-85 degrees Fahrenheit, and generally less traffic on the roads than the summer months.
Spring is an excellent time to experience Florida's wide variety of plant life. The state is known for its flowering trees such as the Flame Tree, also known as Royal Poinciana, which sets the streets ablaze with its bright orange-red flowers in late spring.
Fall, on the other hand, presents unique opportunities like the Epcot International Food & Wine Festival and Universal's Halloween Horror Nights. These can be particularly busy times in certain areas, so plan accordingly.
However, if you plan to spend a significant amount of time outdoors, and enjoy Florida's fabulous beaches, you can aim to visit in early summer.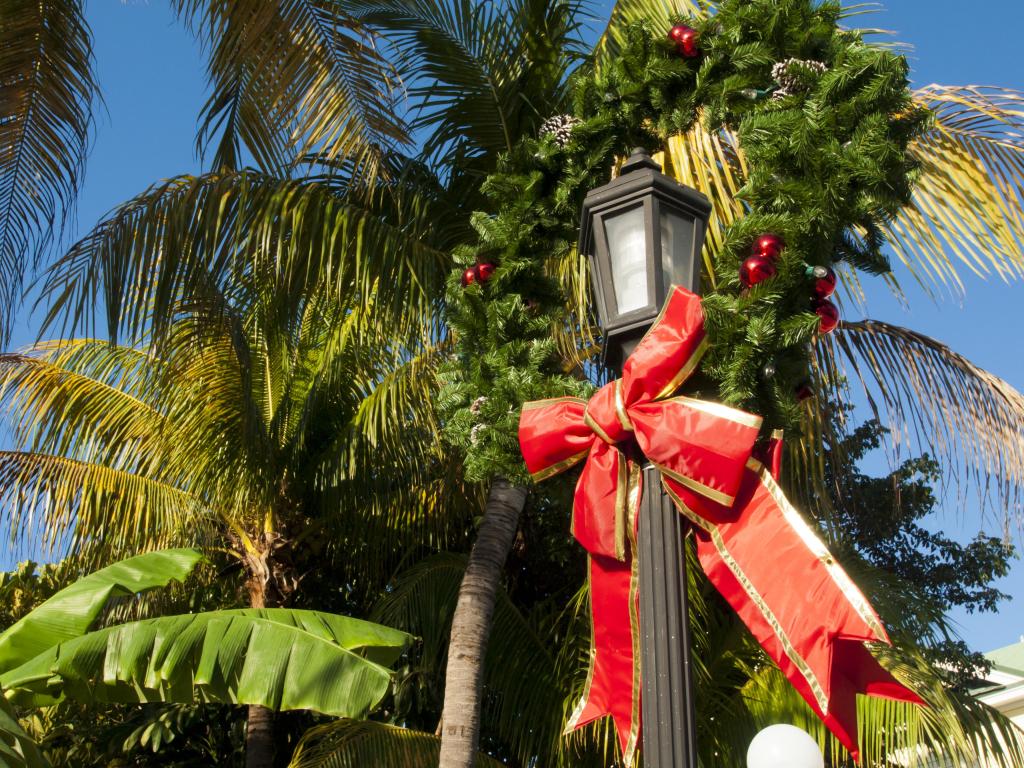 This being a southward journey, winter presents a great time to escape colder climates and enjoy Florida's relatively warm winter weather. During these months, temperatures in Florida often hover around 60 and 70 degrees Fahrenheit.
However, keep in mind that this route will take you through mountainous regions, especially around the Blue Ridge Parkway area, so it is always a good idea to check the weather and road conditions before setting off.
During the summer, you might find more competitive rates for accommodation and attractions since it's considered an off-peak season due to the heat and potential turbulent weather. But it's also a busy time for theme parks, thanks to school vacations.
Conversely, winter is peak tourist season, so while the weather is more agreeable, prices for hotels and popular attractions may be higher, and you can expect more crowds.
Art Basel Miami Beach, held in early December, is one of the world's leading art fairs. The event showcases modern and contemporary works of art from around the globe.