Road Trip from Toronto to Los Angeles
The amazing road trip from Toronto to Los Angeles is the ultimate adventure that will take you through vibrant cities and awe-inspiring landscapes. Along the way, you'll visit iconic landmarks, magnificent national parks and forests, and experience plenty of unforgettable sights.
The 2,700-mile road trip from Toronto to Los Angeles takes at least 42 hours. Highlights include Chicago, Denver, Moab, and the Grand Canyon, with Mount Rushmore, Salt Lake City, Las Vegas, and Yellowstone National Park on the alternate route.
To help you to get the most from this adventure, we've devised the best routes, attractions, overnight stops, and times to travel. So, read on and start planning your epic North American road trip from Toronto to Los Angeles.
How far is Los Angeles from Toronto, and how long will the road trip take?
Comparison of road trip routes between Toronto and Los Angeles

| Route | Distance | Driving Time |
| --- | --- | --- |
| The Grand Canyon Route | 2,700 miles | 42 hours |
| The Mount Rushmore Route | 2,900 miles | 47 hours |
The Grand Canyon Route is the shorter of the two, at 2,700 miles and with a direct driving time of 42 hours. Passing through eight states, highlights include the landscapes of Colorado and Utah, as well as Canyonlands National Park.
Meanwhile, the Mount Rushmore Route extends 2,900 miles and will take around 47 hours to drive non-stop. This route passes through 10 states, with highlights including the Great Plains, Yellowstone National Park, and Las Vegas.
Both routes include long stretches of interstate driving, some of them scenic, with frequent places to stop along the way. We would suggest taking 7 or 8 days to get the most out of each of our routes.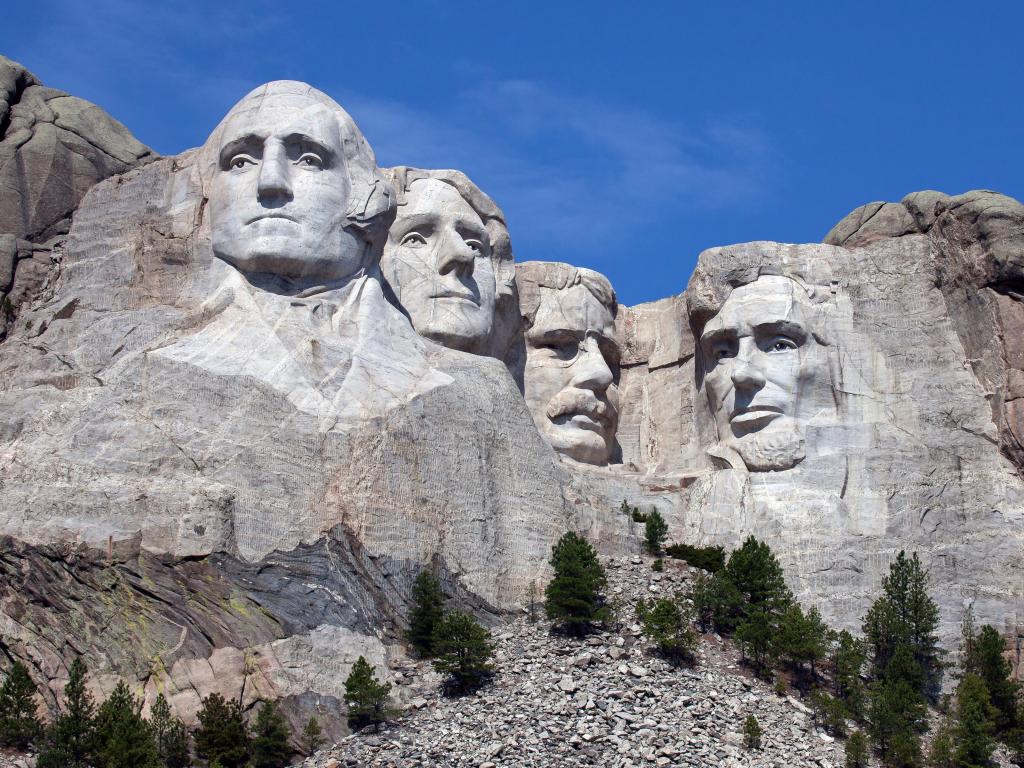 Best road trip route from Toronto to Los Angeles
Both our routes are diverse and epic, taking in a wonderful mix of exciting cities and striking landscapes. Which route you choose is likely to depend on which iconic sites you wish to visit: the Grand Canyon and Moab Desert or Mount Rushmore, Las Vegas, and Yellowstone.
The Grand Canyon Route offers the chance to spend time at this natural wonder. You will also experience Detroit, Chicago, Des Moines, and Denver.
You will also beautiful scenic drives through Colorado and Utah, with a stop in Moab for the red rock formations of Arches National Park and Canyonlands National Park.
The Mount Rushmore Route offers plenty of diversity of its own, with big cities, awesome landscapes, historic sites, and a flavor of the Wild West.
The route takes you to Chicago and Milwaukee, and across the wide expanses of South Dakota and Wyoming, before swinging by glitzy Las Vegas. You also get to enjoy Mount Rushmore and Salt Lake City. Another highlight is Yellowstone National Park.
The Grand Canyon Route
Leave Toronto, heading west towards Hamilton and London. Where the St. Clair River meets Lake Huron, cross the US border into Michigan. Pick up Interstate-94 (I-94) West and continue past Lake St. Clair towards Detroit.
Leave Detroit heading west for the short drive to Ann Arbor. From here, pick up I-94 West once more. Follow the interstate along the banks of Lake Michigan and cross into Illinois on your way to Chicago.
Leave Chicago and pick up I-88 West, which will take you to the Mississippi River. Cross the river, which also takes you into Iowa. Follow I-80 West through Iowa, passing by Cedar Rapids, as you continue on to Des Moines.
Leave Des Moines and cross into Nebraska, passing through the cities of Omaha and Lincoln as you drive through the state. Pick up I-76 and continue west, crossing into Colorado as you make your way towards Denver.
Enjoy a scenic, mountainous drive via I-70 West, passing through the White River National Forest. Cross the Utah state line. Drive south, past Arches National Park, and continue on to Moab.
From here, head south and enjoy another scenic stretch as you drive through Utah, passing by Canyonlands National Park and Oljato-Monument Valley. Cross into Arizona as you make your way south towards the Grand Canyon and Kaibab National Forest.
Leave the Grand Canyon and drive south once more. Pick up I-40 West and continue on through Arizona. Cross the California state line and stay on the interstate as you make your way through the Mojave Desert.
At the town of Barstow, pick up I-15, heading south. Take the exit signposted for Pasadena, then I-605 South and I-10 West for your destination stop, Los Angeles.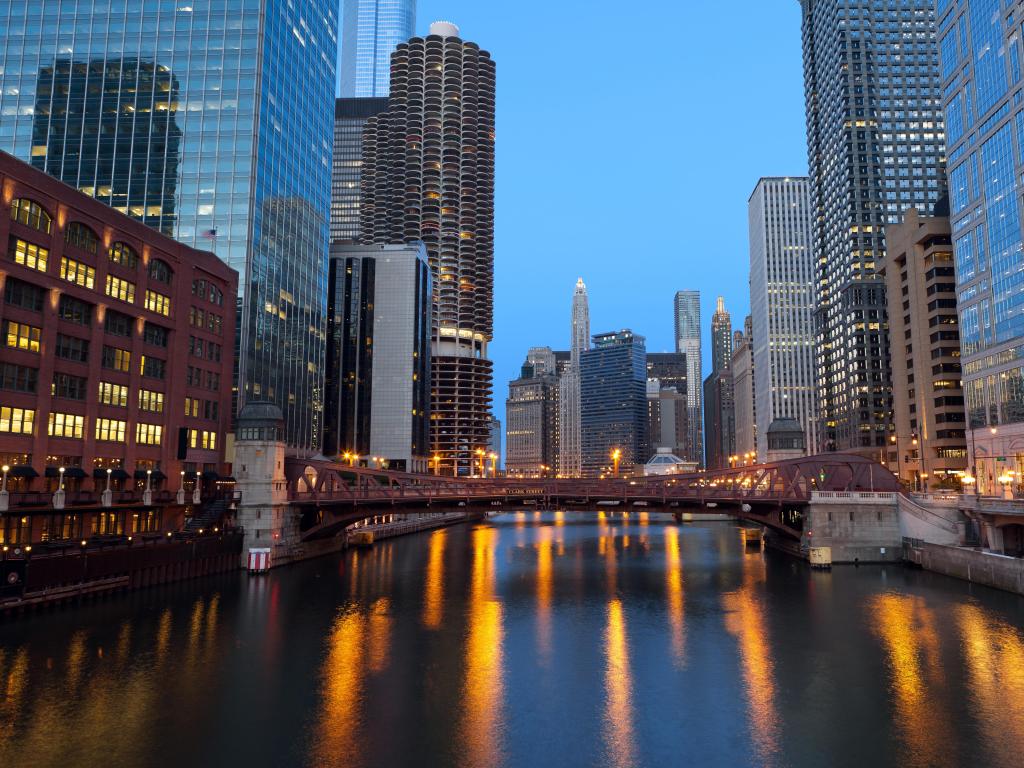 The Mount Rushmore Route
Again, leave Toronto, heading west, and cross the U.S. border. This time, pick up I-69 West towards Lansing and on to Grand Rapids. Head south on I-96 and I-94, trace Lake Michigan, and cross into Illinois on your way to Chicago.
Leave Chicago on I-95 drive north and cross the Wisconsin state line on the way to Milwaukee. From here, drive towards the Mississippi River. Cross into Minnesota and stay on I-90 as you make your way further west towards South Dakota. Just across the state line, you will reach Sioux Falls.
From Sioux Falls, pick up I-90 West once more and cross the Missouri River on your way to Rapid City and Mount Rushmore. Leaving the iconic monument, enjoy a scenic drive south towards Custer through Black Hills National Forest.
At Custer, head west and enjoy another stretch of scenic driving as you continue towards the Wyoming state line. You will experience a change of scenery as you drive through Thunder Basin National Grassland.
Drive on through Wyoming towards Bridger-Teton National Forest, Yellowstone National Park, and Grand Teton National Park.
Continue south towards Jackson. Cross the Idaho state line and pass Grays Lake National Wildlife Refuge, and continue south to Soda Spring. Take US-30 West through Lava Hot Springs, then pick up I-15 South. Cross into Utah and drive on to the Great Salt Lake and Salt Lake City.
From here, head south on I-15 for a long drive through Utah, where you can stop at Dixie National Forest. Cross briefly into Arizona and then into Nevada as you make your way past the Valley of Fire State Park and on to Las Vegas.
From Vegas, drive through the Mojave Desert towards Barstow, where our routes converge. As before, continue on I-15 towards Pasadena, taking I-605 South and I-10 West for Los Angeles.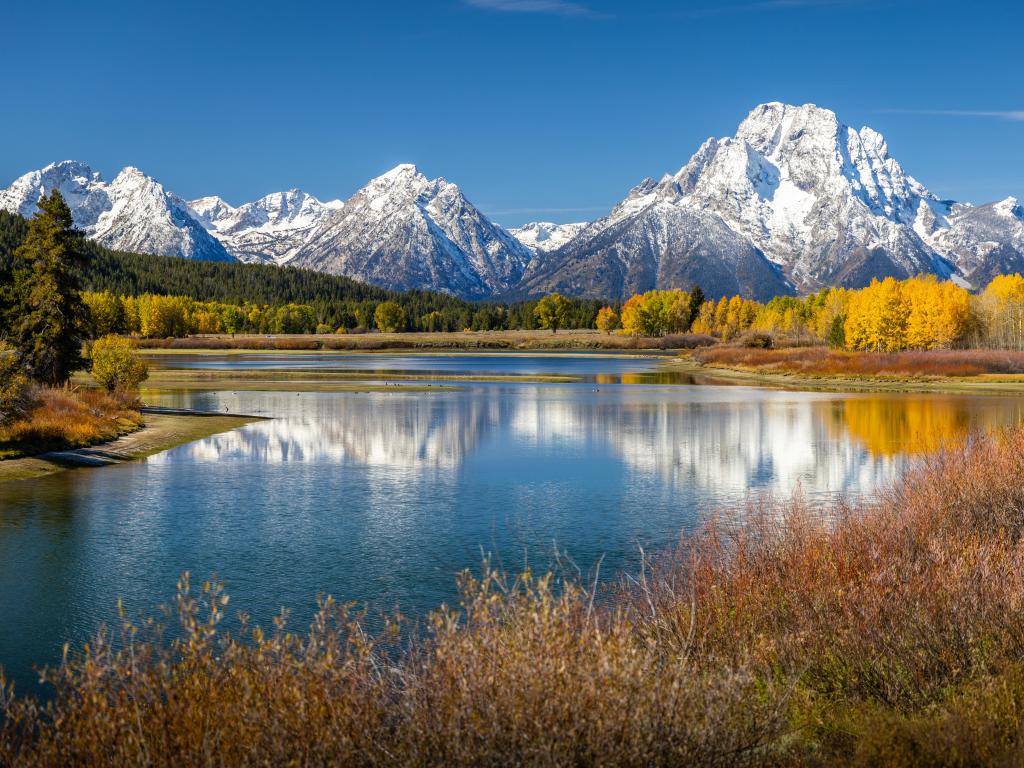 Best places to stop between Toronto and Los Angeles
As you might expect, a trip this epic boasts lots of great places to take a lengthy break from the road. Here is just one stop on each route that is worthy of an overnight stay. We've also selected an excellent hotel for your time in Los Angeles.
Spectacular mountain views in Moab
On the Grand Canyon Route, our recommended overnight stay is Moab, which is located about 11 hours from Los Angeles, depending on your other stops. Moab is a great gateway town that offers easy access to Arches National Park and Canyonlands National Park.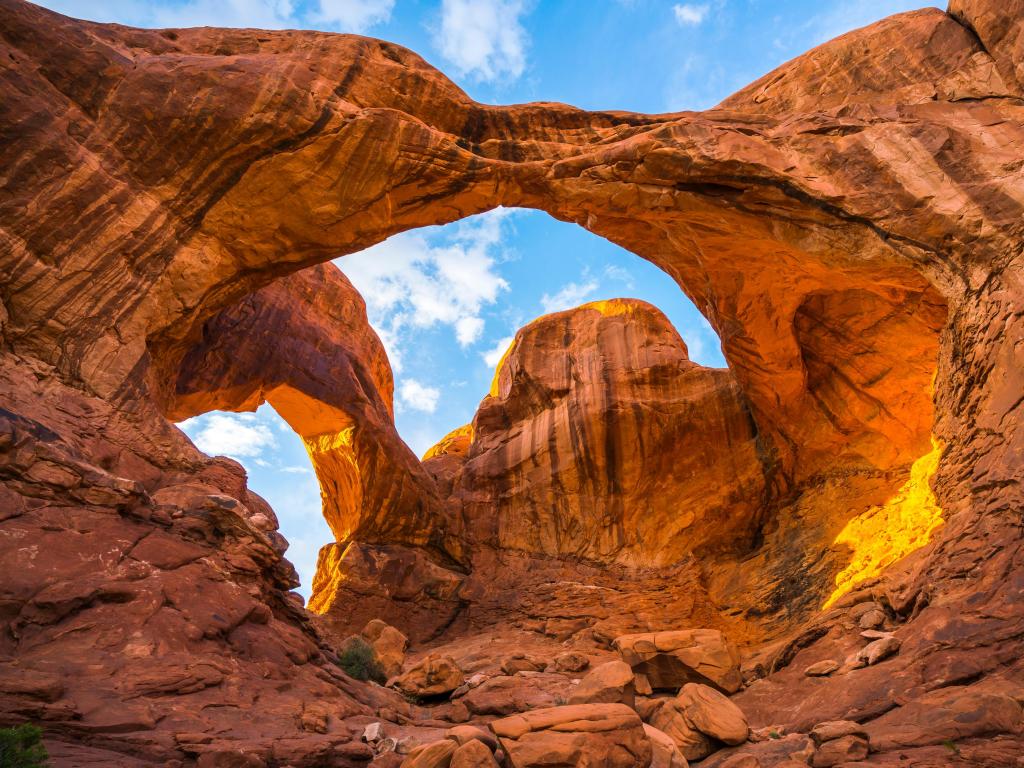 While you're here, be sure to visit the Museum of Moab, dedicated to local history, plus Mill Canyon Dinosaur Tracks, where prehistoric creatures left their mark millions of years ago. If you enjoy mountain biking, don't miss the world-famous Slickrock Bike Trail.
Our choice for a hotel in Moab is the superb SpringHill Suites by Marriott Moab, which boasts fantastic mountain views. The all-suite hotel is in the ideal location for exploring the area, with Arches National Park just north of the property.
The attractions of Moab are a short drive away, with Canyonlands about an hour by road. The key landmarks of Landscape Arch, Delicate Arch, and Mesa Arch are also within easy reach.
Back at the hotel, you can relax in the lovely outdoor swimming pool or rest in your well-equipped guestroom. There is also a fitness center on-site, plus free parking and a complimentary buffet breakfast to set you up for a day's sightseeing.
Downtown comfort in Salt Lake City
On our Mount Rushmore Route, we highly recommend a stop at Salt Lake City. You'll reach the city with around 10 hours left on your journey, depending on other stops.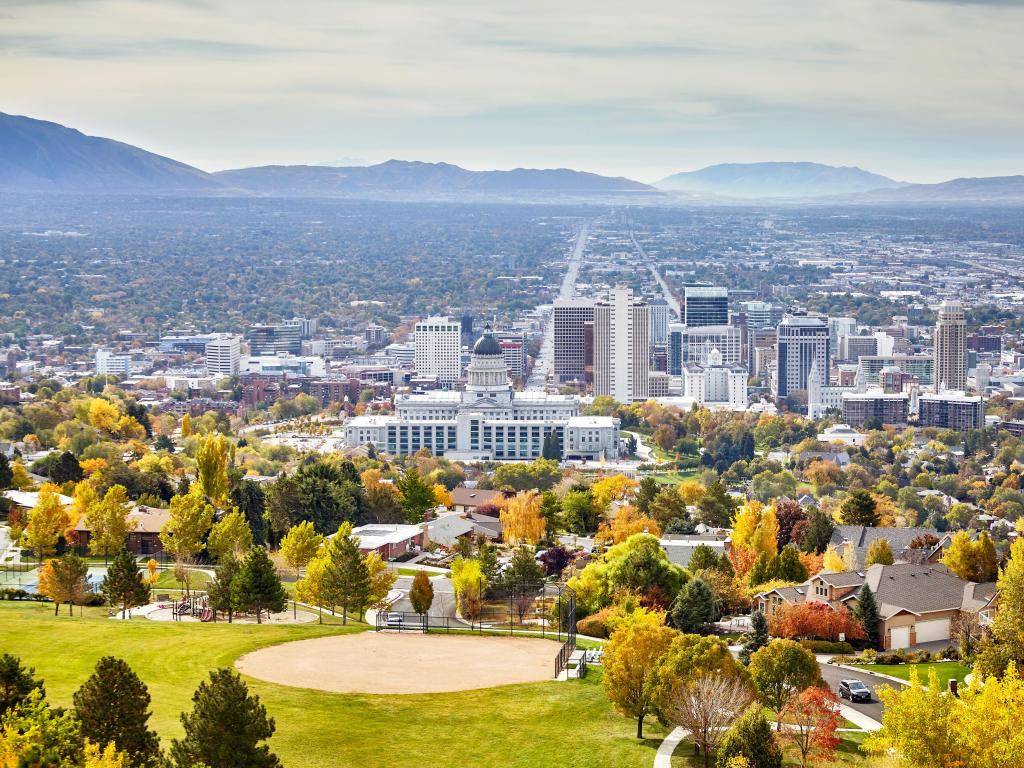 Utah's largest city offers spectacular natural scenery, including the large salt lake from where it gets its name. It's the largest salt lake in the Western hemisphere and changes color depending on the levels of salt, algae, and bacteria.
Also worth a visit is Temple Square, headquarters of the Mormon Church, whose unique architecture is a feature of the city. Meanwhile, Snowbasin Resort is great for skiers, having hosted the 2002 Winter Olympics.
When you want to enjoy a real break from the road, the wonderful Hampton Inn Salt Lake City Downtown is waiting to welcome you. Perfectly located in downtown Salt Lake City, Temple Square is about a 20-minute walk, with plenty of shops and eateries in the area.
The hotel features comfortable, modern guestrooms, plus an indoor heated pool, hot tub, and fitness center. There is also a renowned restaurant on-site, with a free breakfast served each morning.
Where to stay when you reach Los Angeles
Once you've arrived in Los Angeles, you will want to base yourself at a relaxing hotel that is well-located for exploring the "City of Angels". The chic Courtyard by Marriott Los Angeles LA LIVE is the ideal choice.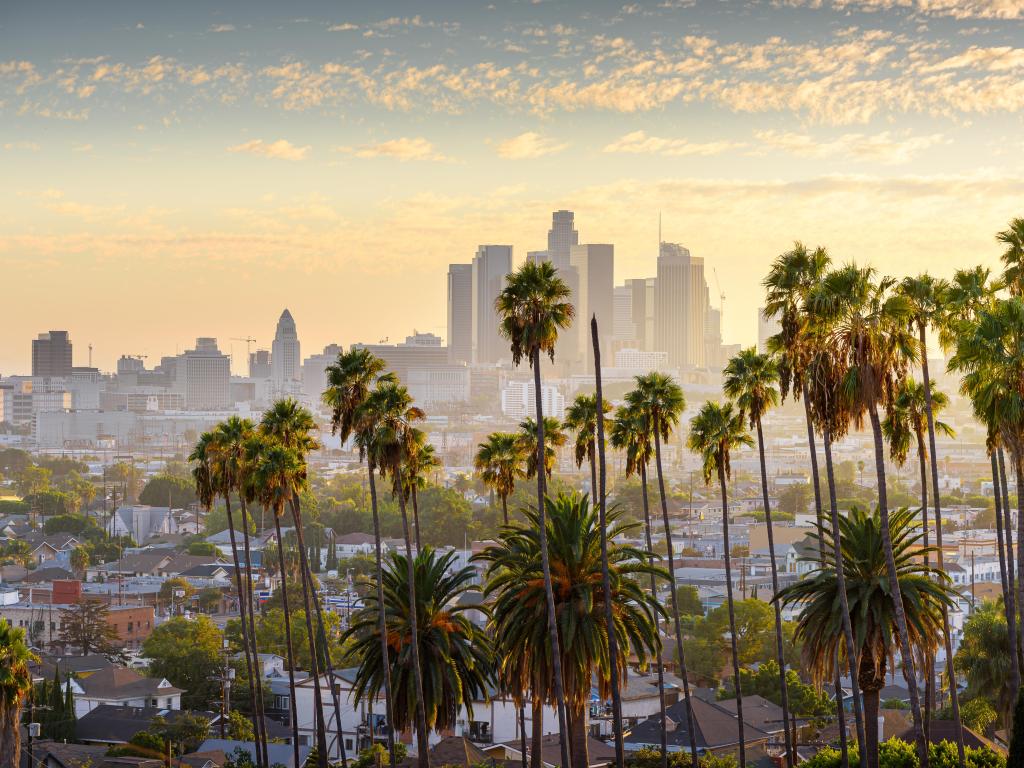 You can look forward to a comfortable night's rest in one of the high-end guestrooms or you may prefer to lounge by the gorgeous rooftop swimming pool. There is also a bar and restaurant plus a fitness center on-site.
The hotel is a short walk from the Staples Center, GRAMMY Museum LA Live, and the Microsoft Theater, which means you can easily explore this fascinating city on foot.
Things to see on a road trip from Toronto to Los Angeles
To help you plan the perfect road trip, we've picked out some of the highlights from each of our routes.
Both routes
Chicago, Illinois - The third largest city in the US offers beautiful architecture, a vibrant music scene, great food and shopping, and interesting museums. You can also enjoy lovely green spaces and the beaches of Lake Michigan.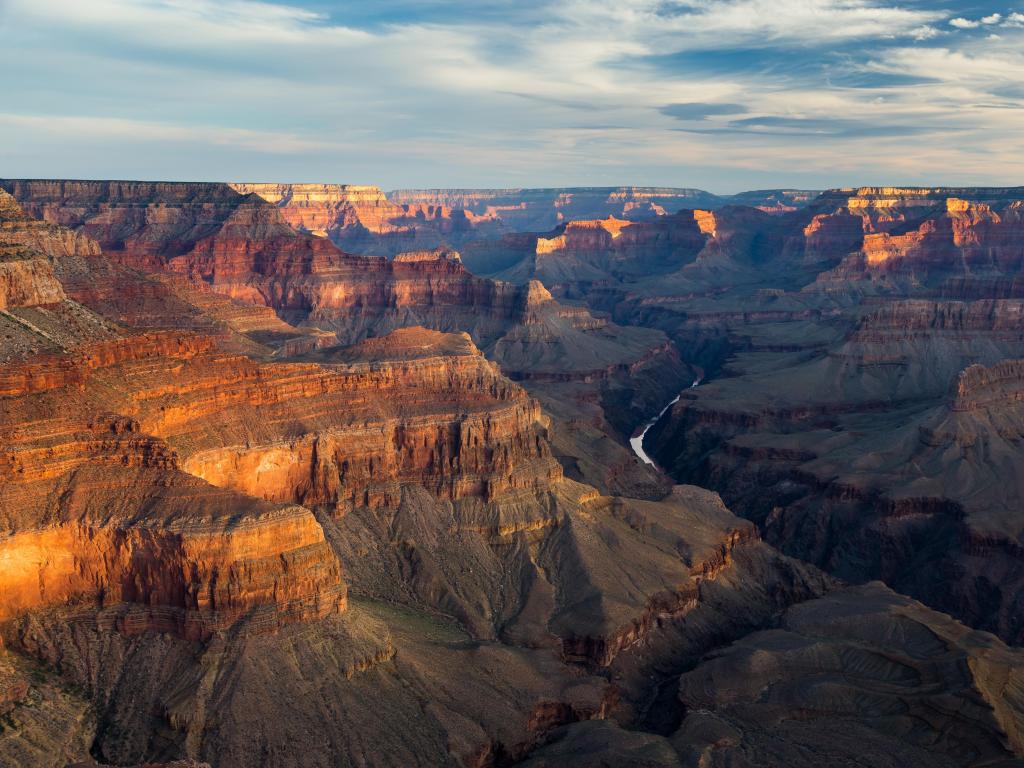 The Grand Canyon Route
Detroit, Michigan - Spend some time in "Motor City", which is also famous for Motown music. Visit Detroit Institute of Arts and the historic Eastern Market or enjoy the city's art deco architecture, as well as its buzzing food scene.
Ann Arbor, Michigan - Pedestrian-friendly Ann Arbor is known as "Tree City", as it boasts lots of greenery. Downtown features plenty of restaurants and art galleries, while wider Washtenaw County is home to charming small towns and villages.
Des Moines, Iowa - The state's largest city features a striking Capitol Building. Other attractions include the State Historical Museum of Iowa, Des Moines Art Center, and the beautiful Des Moines Botanical Garden.
Denver, Colorado - The state's capital, "Mile-High City" is famous for its cowboy and mining past and is also a gateway to the spectacular Rocky Mountains. Known for its green parks and museums, Denver is also home to a vibrant arts scene.
Oljato Monument Valley, Arizona - Part of Monument Valley and surrounding Monument Valley Navajo Tribal Park, here you can explore local Navajo culture and enjoy the vast, empty spaces.
Grand Canyon, Arizona - This UNESCO World Heritage Site is one of the most popular U.S. tourist attractions. Our route takes you to the South Rim and you can also explore Kaibab National Forest.
The Mount Rushmore Route
Grand Rapids, Michigan - Enjoy a stop in this interesting city, which boasts a colorful arts and culture scene, as well as great restaurants, shopping, and outdoor activities. Be sure to visit Grand Rapids Public Museum and Grand Rapids Art Museum.
Milwaukee, Wisconsin - This diverse city has deep native roots, which are celebrated at the many festivals held each year. You can also visit Hoan Bridge, Milwaukee Art Museum, and the cool Harley-Davidson Museum, and take a boat tour on Lake Michigan.
Sioux Falls, South Dakota - A gateway to the northern Great Plains, Black Hills and Palisades State Park, Sioux Falls is great for lovers of the outdoors. Don't miss the impressive waterfalls in Falls Park, then spend time discovering the town's unique culture, food, and shopping.
Rapid City, South Dakota - East of Black Hills National Forest, Rapid City is known as a gateway to Mount Rushmore. However, the town itself is worth a visit, with its Reptile Gardens and Art Alley.
Mount Rushmore, South Dakota - The iconic visitor attraction features the faces of presidents George Washington, Thomas Jefferson, Theodore Roosevelt, and Abraham Lincoln carved 60-foot high on the side of a mountain.
Yellowstone National Park - Extending through Wyoming and into Montana and Idaho, this 3,500-square mile national park is a real highlight of the route. Visit Old Faithful geyser, and enjoy great riding, hiking, and wildlife spotting.
Dixie National Forest, Utah - Here, you can visit Red Canyon with its brilliant red spires and cliffs. You can also view the impressive limestone formations, hike in Pine Valley, enjoy Panguitch Lake and Sevier River, or hike Boulder Mountain.
Zion National Park, Utah - Marvel at the rock formations and sandstone cliffs, and enjoy great hiking, climbing, canoeing, and camping. The park also features beautiful wildflowers, hanging ferns and mosses. If you'd like to hike up to Angels Landing, you will need a permit and will need to make a reservation. Check the Zion National Park's website for more details.
Las Vegas, Nevada - Embrace the non-stop entertainment, lively nightlife, and global cuisine in this one-of-a-kind destination. If you want a break from the neon lights and ringing slots, you can head out to explore Death Valley National Park and Red Rock Canyon.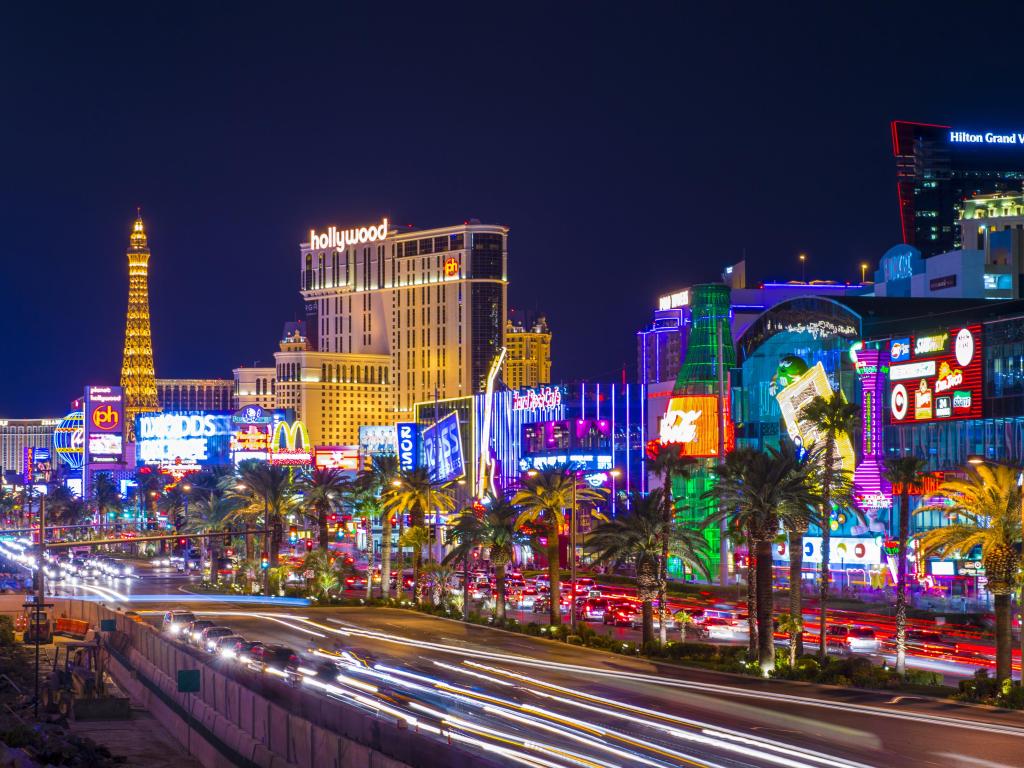 Best time to go on a road trip from Toronto to Los Angeles
Along each of our routes, you will cross several very different climate zones, which feature extreme weather conditions. However, Los Angeles is a true year-round destination, with mild temperatures across the seasons.
Both routes start around the Great Lakes region, which experiences cold winters and moderate summers. As you travel west, mountains and deserts introduce arid areas, with very hot summers and very cold winters.
As a result, spring and fall are the best times to go on this road trip. You'll enjoy mild days and sunny weather in the southwest. These times of year are great if you want to enjoy outdoor activities en route.
Expect summer temperatures of up to 100 degrees Fahrenheit along parts of our routes, especially in Utah. Meanwhile, winters can see temperatures fall below 30 degrees and there might be disruption to your travel plans, including some closures. We recommend checking before you travel.
Los Angeles hosts glamorous award shows during the year, such as January's Golden Globe Awards, February's Academy Awards, and September's Emmy Awards. These might be great for celeb-spotting but be aware that hotel rooms book up in advance.
Other events of note are LA Pride in June, the Halloween Carnival in October, and December's Hollywood Christmas Parade.