Road Trip from Toronto to Orlando
If you are looking for the road trip of a lifetime from chilly Canada to the sunny states of America, the epic journey from Toronto to Orlando is the one for you. This adventure will take you through amazing sights before you reach the famous home of Walt Disney World.
The 2,130km (1,325-mile) road trip from Toronto to Orlando takes 21 hours and 35 minutes to drive. Notable stops include Buffalo, Washington DC, Richmond, Savannah, Jacksonville, Palm Coast, Daytona Beach, Niagara Falls, and Congaree National Park.
Read on to discover what awaits you on this epic road trip, including our suggestions for the best routes, fantastic places to stop, what to see and when to go.
How far is Orlando from Toronto and how long will the road trip take?
Comparison of road trip route options between Toronto and Orlando

| Route | Distance | Driving Time |
| --- | --- | --- |
| The Coastal Route | 2,130 km | 21 hours 35 minutes |
| The Inland Route | 2,240 km | 21 hours 30 minutes |
A road trip from Toronto to Orlando, Florida covers at least 2,060km (1,280 miles) and takes a minimum of 20 hours of nonstop driving, without accounting for any detours or pit stops you might want to make.
In order to enjoy this mammoth trip to the fullest, our suggested routes take an extra hour but add some must-see attractions and landmarks to spice up the trip as a whole.
This slightly longer Coastal Route will pass through the states of New York, Pennsylvania, Maryland, Virginia, North and South Carolina and Georgia, before arriving at our destination in Florida. This route covers 2,130km (1,325 miles) which will take you more than 21 hours to drive.
Another fantastic alternative is to drive through Michigan, Ohio, Kentucky, Tennessee and Georgia. This Inland Route will take you a similar time to drive, covering 2,240km (1,390 miles).
Both of these routes can be completed in four days if you are in a hurry, but it is good to remember an epic road trip is not a sprint but a marathon. That is why we recommend taking at least a week or more to enjoy the amazing sights and cities you will pass through.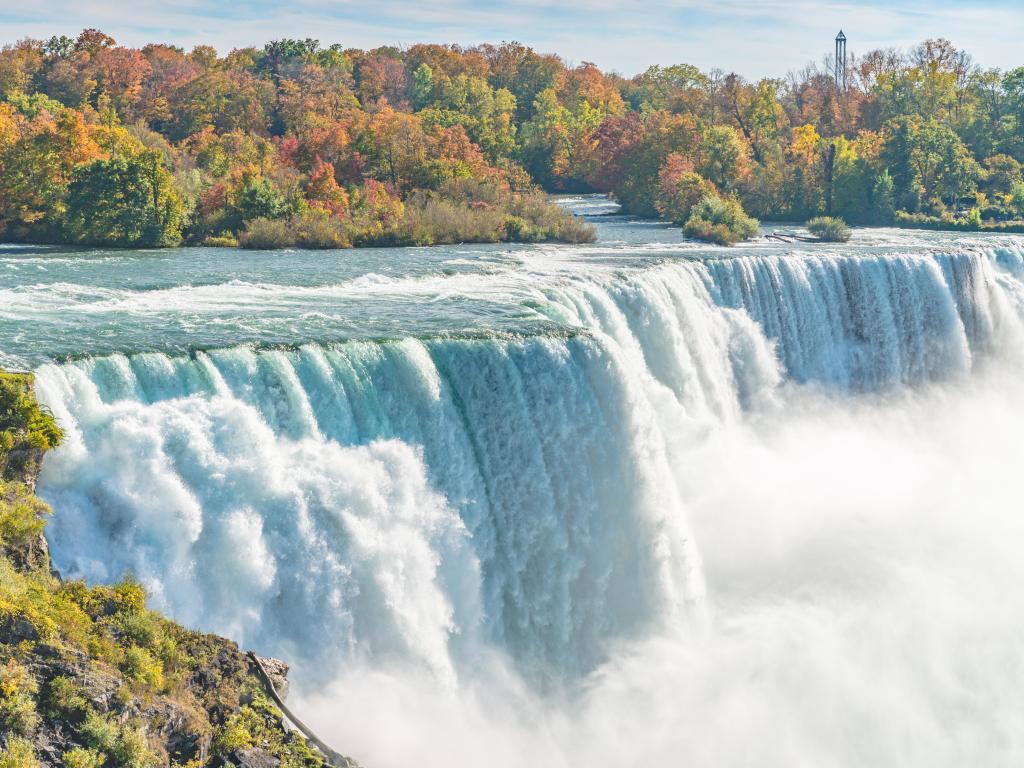 Best road trip route from Toronto to Orlando
Even though there are shorter options, we recommend taking advantage of the iconic cities and stunning landscapes you can include in your trip and following either our Coastal Route or the Inland Route.
You will drive through the vibrant cities of Washington DC, Richmond, Savannah and Jacksonville on the Coastal Route. On the other hand, the Inland Route will take you through Detroit, Cincinatti and Atlanta as you drive past the stunning forest landscapes of Tennessee and Georgia.
Both of our recommended routes take similar times to drive but they are vastly different from one another in what they offer and the attractions you will pass through, so an option is to follow one on your way to the Sunshine State and the other on your way back.
The Coastal Route
Start by taking Queen Elizabeth Way southwest, around the western point of Lake Ontario, before exiting onto Ontario Highway 420 and crossing Rainbow International Bridge, which will take you into the US.
When you're in America, take Rainbow Blvd south for a short while before turning right onto John Daly Boulevard and then, almost immediately, crossing a roundabout, onto Niagara Scenic Parkway.
Follow this until you reach I-190, drive through Buffalo and then south to Kaisertown, where you'll exit onto the I-90 South and then quickly again onto US Route 219. After 193km (120 miles) you'll pass Brandy Camp, at which point you need to change to State Route 153.
Continue following this even after it merges with US Route 322, until the town of Philipsburg, where you'll get on State Route 350 for a short while until it brings you to I-99.
Follow the Interstate south to Bedford, where you'll go east on US Route 30 before continuing south on I-70. This will then take you to the town of Frederick.
Upon reaching it, continue south on I-270 until it meets I-495, just outside North Bethesda. I-495 operates as a ring road the entire way around Washington DC. For those wanting to visit the city exit it onto State Route 190, which takes you downtown.
Otherwise continue following it until you reach Springfield, Virginia. The rest of the journey, while long, now becomes incredibly straightforward, as from here you take the I-95 south 1,276 km (793 miles), to Port Orange, Florida.
From here the I-4 will take you the remainder of the way to your destination in Orlando.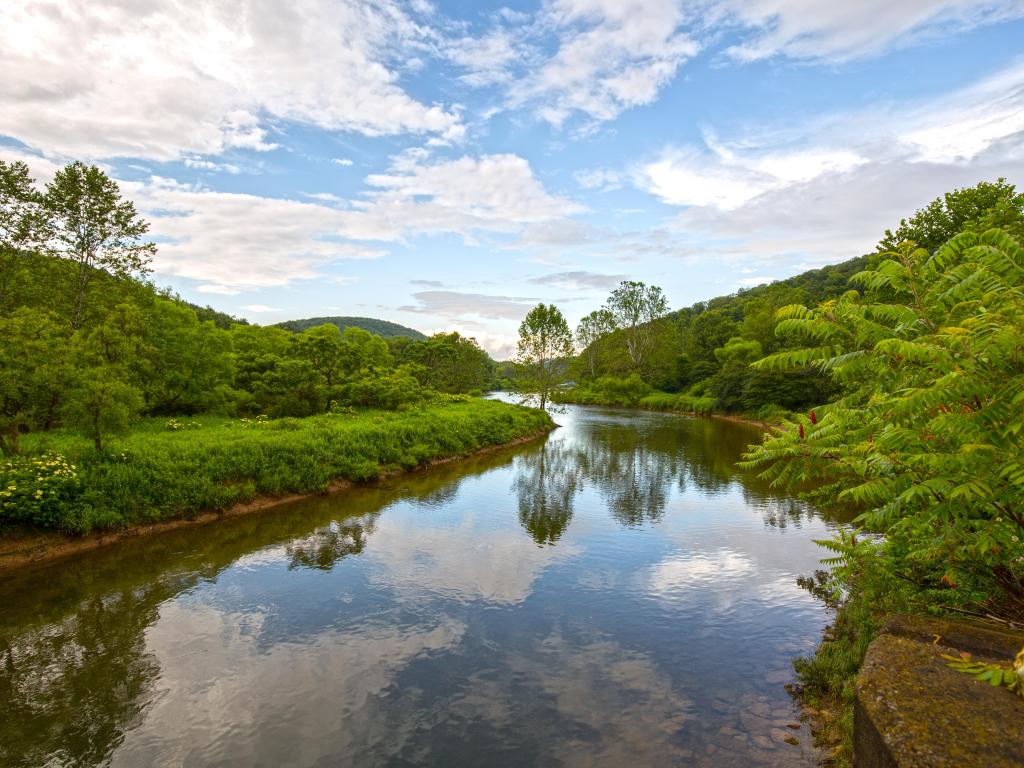 The Inland Route
Follow Queen Elizabeth Way out of the city, driving around Lake Ontario and continue onto Ontario Highway 403. You'll merge onto Ontario Highway 401 past Woodstock. This highway runs parallel to Lake Erie and will take you from Canada into Detroit in America.
After your visit to the city, follow I-75 into Ohio and through Toledo. This interstate will take you directly south through Dayton and Cincinnati. Switch to I-71 out of Cincinnati and cross the Ohio River into Kentucky.
When you reach Walton, keep left at the fork to stay on I-75. Drive through Lexington and past Daniel Boone National Forest. I-75 will take you into Tennessee and through Knoxville.
You will have the option to make a detour to Great Smoky Mountains National Park here by following US Route 441 or Nantahala National Forest by getting on US Route 129.
If not making any detours, follow I-75 out of the city. The interstate will then take you through the outskirts of Chattanooga and into Georgia. When you reach Dalton, you can take the time to detour to Chattanooga-Oconee National Forests by following US Route 76.
Otherwise, keep following the interstate into Marietta and Atlanta. You will be following I-75 as you drive through the entirety of the state of Georgia towards Valdosta and into Florida.
The interstate will take you around Gainesville, past Paynes Prairie Preserve State Park and Orange Lake. At Ocala, you will have the option to make a detour to Ocala National Forest by taking FL-40.
Keep left at the fork to continue on Florida's Turnpike as you drive past Lake Panasoffkee. Take Exit 265 for FL-408, which will take you to the heart of The City Beautiful.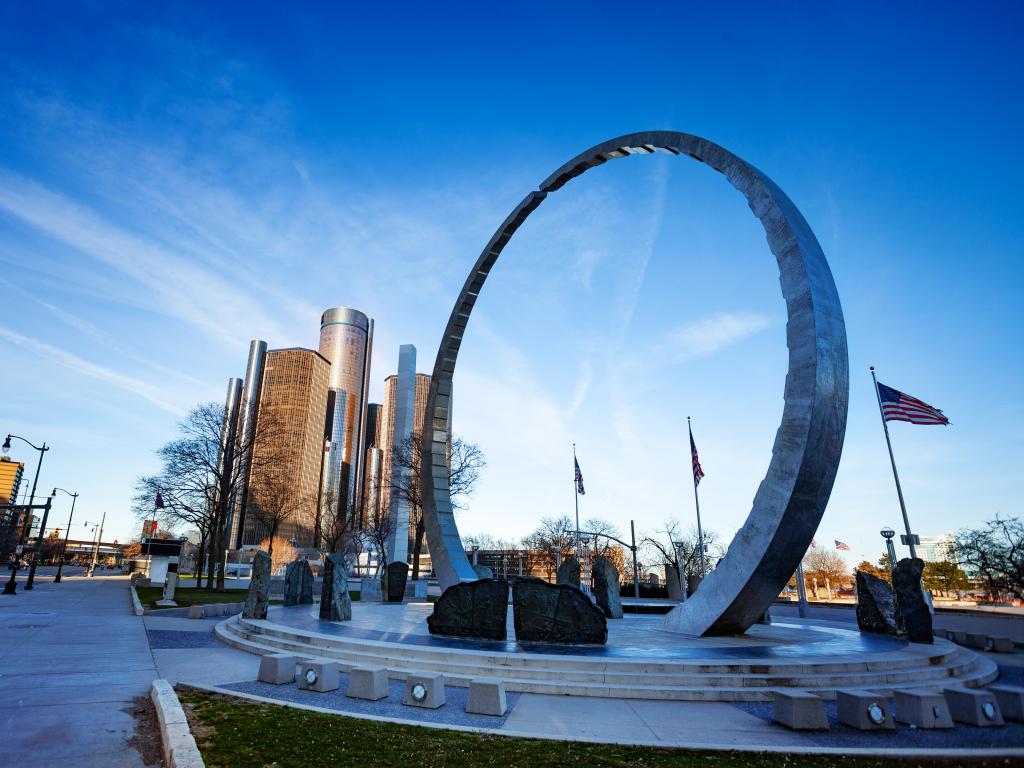 Best places to stop between Toronto and Orlando
A mammoth road trip from Toronto to Orlando, Florida, is best split over a period of at least 4 days, if not longer, to enjoy all the epic scenery and iconic landmarks on the way and there are many!
Luckily, you won't be short of amazing places to stop on either route. Here are our top suggestions for the best of the best of all the places you can stop for an overnight break on the way.
Enjoy the iconic landmarks in Washington DC
A city that needs no introduction, Washington DC is a little over 8 hours from Toronto, which makes it a great option for a first stop. The capital of Unites States is the first major city you will drive through on the Coastal Route and is packed with historic landmarks and legendary sights.
Home to some of the most famous attractions in the country, such as the White House, Smithsonian Museums and Lincoln Memorial, Washington is visited by more than 20 million tourists each year.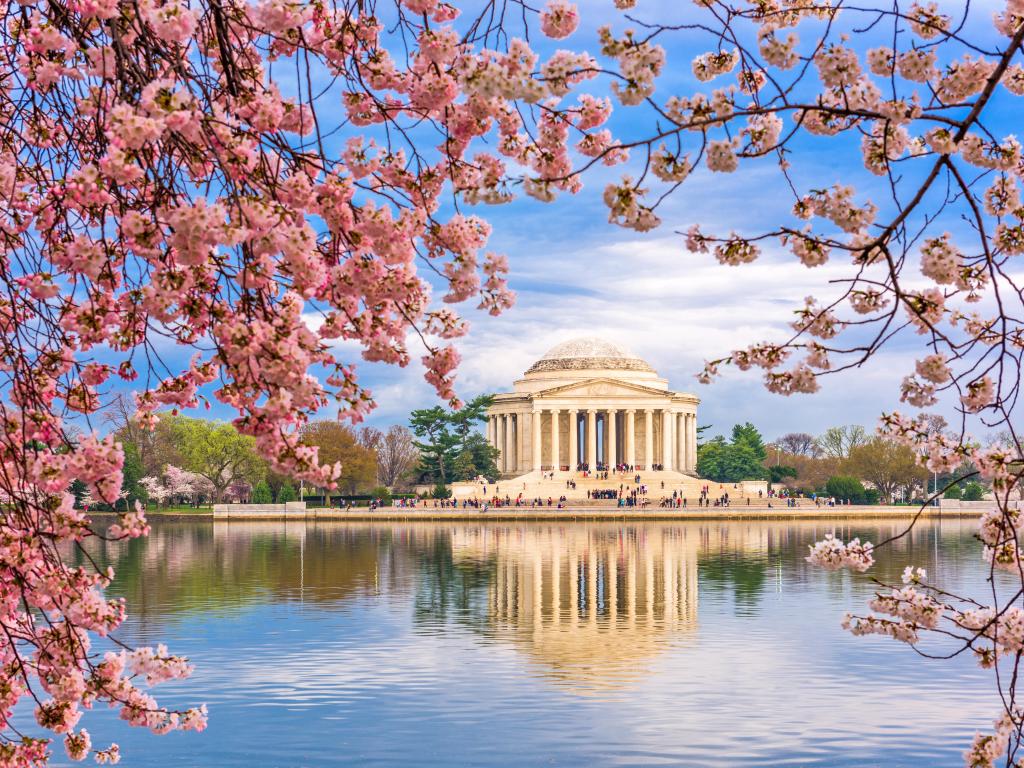 During your stay in this iconic city founded by the forefathers of the United States, Conrad Washington DC will meet all your needs and more. A stunning hotel located right in the heart of downtown, you'll be surrounded by some of the most famous and historic sites in America.
While in Washington DC, a visit to the White House is a must. This iconic landmark is only a few blocks away from the hotel. During your visit, you can wander down The Ellipse to see the Washington Monument, the Smithsonian Museum complex, and the Lincoln Memorial.
After an exhilarating and rewarding day of exploring the history of the nation and its people, make sure to stop by the hotel's fabulous rooftop bar Summit, to enjoy your favorite cocktail as you take in the iconic views of the city.
Soak in the Southern charm in Savannah
Just 4 hours away from Orlando on the Coastal Route, Savannah is a fantastic city bustling with history and Southern charm that you can make an overnight stop in. With its beautiful coastal landscapes, gorgeous architecture and rich history, there is much to love about this city.
Located right in the heart of Savannah Historic District, Perry Lane Hotel is one of the most central and luxurious options if you are looking for where to stay. Decked with incredible amenities such as an outdoor swimming pool and a sun terrace, this hotel boasts stylishly sleek rooms.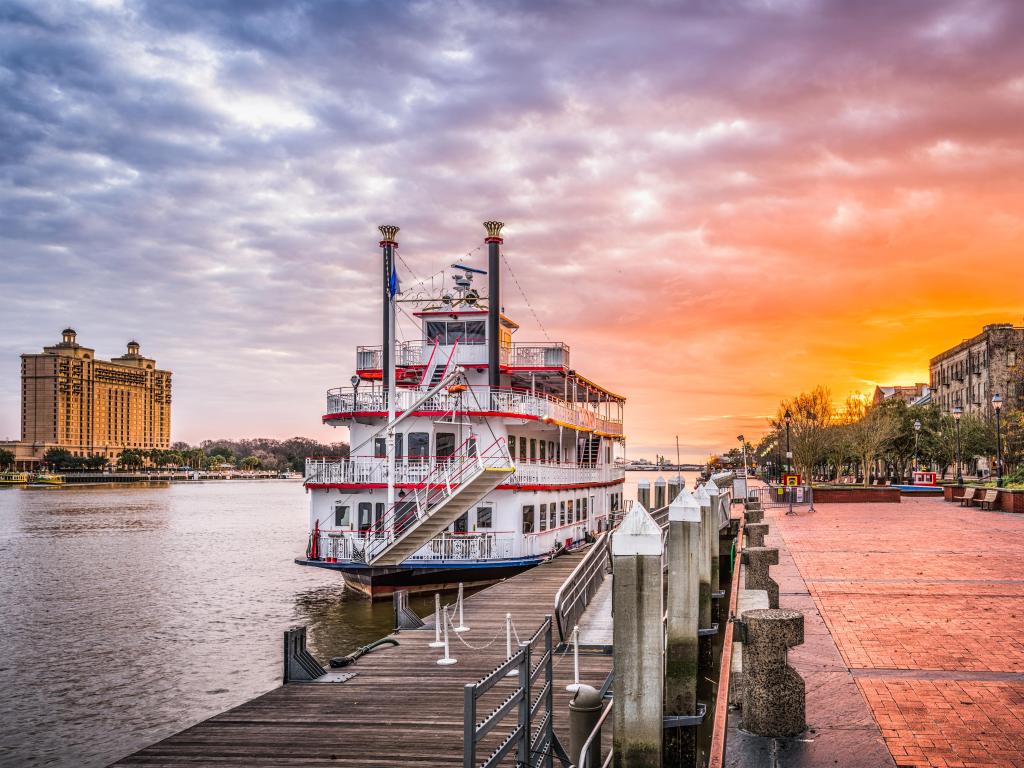 You will be able to visit the historic Colonial Park Cemetery, famous Forsyth Park, Owens-Thomas House and Andrew Low House on foot as they are all located in the historic city center.
If you wish to venture further, make sure to book yourself a Riverboat sightseeing cruise. You will have the option to customize a river tour according to your schedule and interests as the options range from brunch and dinner to fully narrated historical experiences.
There are plenty of options to sample famous Southern food in the historic district and downtown Savannah. You can also enjoy the popular upscale dining options at the hotel or see the sunset at the fabulous rooftop bar before calling it a day.
Explore the vibrant cultural life in Cincinnati
Another city famous for its historical architecture, Cincinnati is located about 7 hours and 15 minutes away from Toronto on the Inland Route. This city, often referred to as the "Paris of America", is known for its vibrant cultural life and delicious food, a great option for an overnight stop.
There are some great options as to where to stay, but if you are looking for the most fantastic panoramic views of the city, look no further than The Lytle Park Hotel, Autograph Collection. The stylish hotel boasts beautiful urban views from its rooms, restaurant and chic rooftop bar.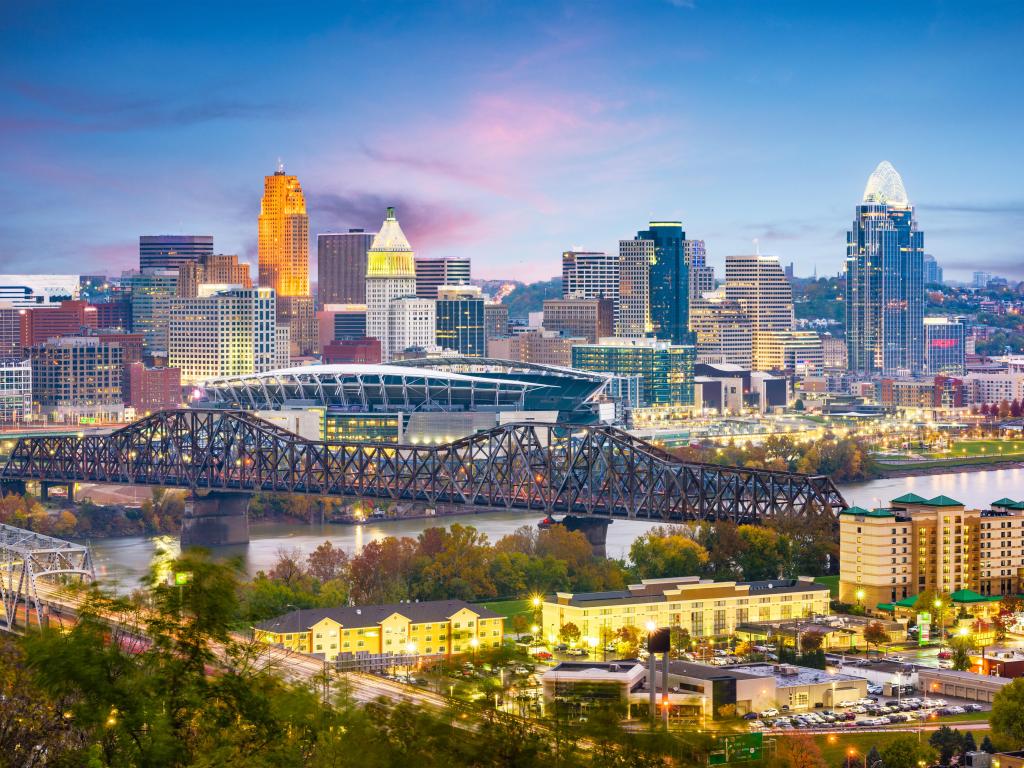 Located in the Lythe Park Historic District, the Taft Museum of Art and the famous Taft Theater are within walking distance of the hotel. The Cincinnati Museum Center is also a short drive away if you are looking to explore the cultural roots of the city.
Cincinnati is also a go-to city for sports fans as it is home to two impressive stadiums, Great American Ball Park and Paul Brown Stadium. You can catch a game at one of these iconic stadiums if you plan your trip around the right season.
Things to see on a road trip from Toronto to Orlando
You will cover impressive distances on both routes from Toronto to Orlando, which means you're going to need plenty to see to keep things interesting.
Here is a list of our top picks of the best attractions along the way, so if you want to make your road trip as exciting as possible, we highly recommend checking out as many as you can.
The Coastal Route
Lake Ontario - The smallest of the Great Lakes but still ranked the 13th largest in the world, this beautiful lake will provide you with excellent recreational opportunities as you set off on your journey.
Rainbow International Bridge - This bridge that connects America and Canada over the Niagara River features stunning views and is easily the best way to pass between the two countries.
Niagara Falls - One of the most famous collections of waterfalls in the world, Niagara Falls operates as both a thriving tourist attraction as well as a powerful hydroelectric plant.
Buffalo, New York - Located just 32 km (20 miles) from Niagara Falls, despite being the second-largest city in New York, the majority of its visitors come for the falls, due to its prime location on the bank of the river.
Allegheny National Forest - Pennsylvania's only national forest, this lush green area is perfect for hiking, biking and fishing. You can also enjoy a scenic picnic by the banks of the reservoir.
Penn's Cave & Wildlife Park - This Pennsylvania attraction is America's only all-water cavern and farm-nature-wildlife park, which makes it a must-visit on the way.
Washington, DC - The capital city of the United States, Washington DC features some of the most iconic locations in the country, such as the Lincoln Memorial, the White House and the Smithsonian Museums.
Richmond, Virginia - The capital city of Virginia, Richmond is located in one of the first areas settled by European explorers. As such, it's an area brimming with incredible history for those looking to discover it.
King's Dominion - Take a break from driving and have some fun in this two-in-one attraction of an amazing amusement park and water park.
Congaree National Park - A beautiful national park in South Carolina, Congaree is a stunning forest located along the Congaree River. This hidden gem is famed for its incredible firefly light displays and its boardwalk loop.
Columbia, South Carolina - As the capital city of the state of South Carolina, Columbia is filled with plenty of history and beautiful attractions to make it a worthwhile detour.
Savannah, Georgia - Brimming with Southern charm and stunningly well-preserved architecture, the city of Savannah is home to many historical landmarks and amazing sights.
Jacksonville, Florida - With a stunning collection of parks, gardens and golf courses, Jacksonville is a fabulous spot for those looking for a little relaxation in the sunshine.
Daytona Beach, Florida - A beautiful location on the coast, Daytona is world-famous for its fabulous beaches, its racetrack and its bike festival.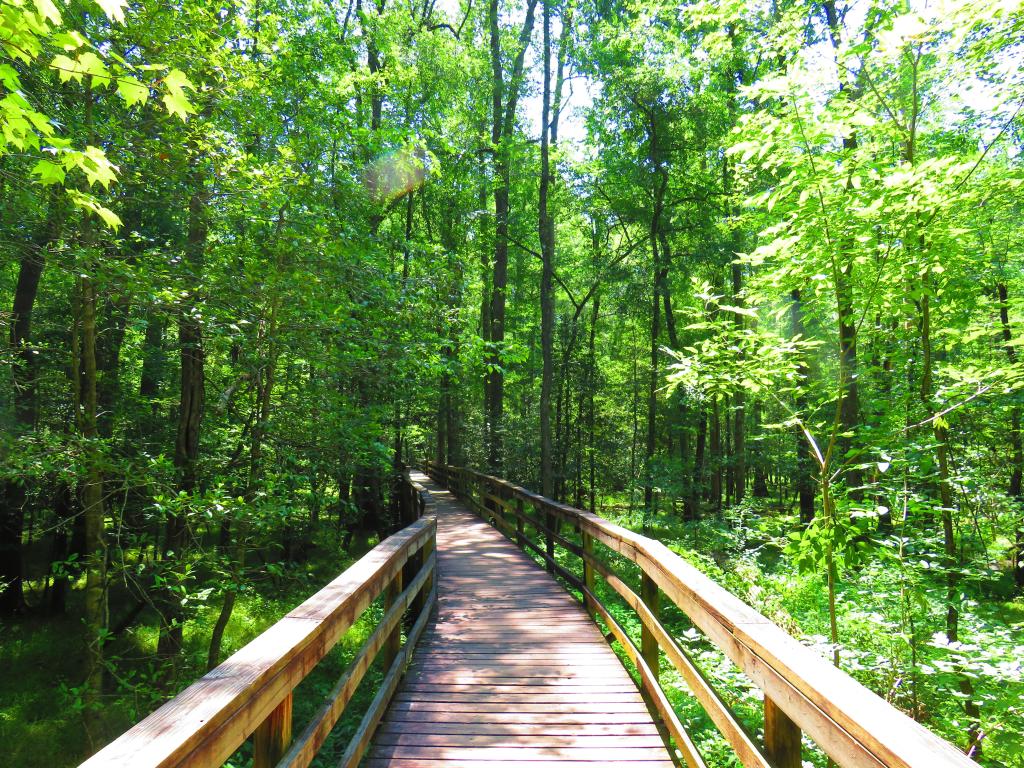 The Inland Route
Royal Botanical Gardens - The biggest complex of botanical gardens in Canada, you can stop by the RBG Center located on the stunning shores of Lake Ontario and admire more than 40,000 fascinating plants.
Detroit, Michigan - Known as "The Motor City", Detroit is where Henry Ford pioneered the automotive assembly line. There are many museums and attractions dedicated to the city's impressive heritage that also includes the Motown Museum.
Toledo, Ohio - Located right on the Ohio border, Toledo is known for its vibrant arts and culture scene. You can pay a visit to the National Museum of the Great Lakes, Toledo Museum of Art or Toledo Zoo.
Cincinnati, Ohio - Cincinnati is known for its historic architecture, which also features art deco gems. This city is also famous for hosting the biggest Oktoberfest in the country as well as for its amazing food scene.
Malibu Jack's Lexington - If you like Go-Karts, mini golf, bowling or arcade games, this indoor theme park is the one for you! Located right on the route, you can take a break to have some fun and unwind here.
Knoxville, Tennessee - Knoxville is a great city to explore with its Southern roots and beautifully renovated downtown. It is also one of the best gateways to the stunning Great Smoky Mountains National Park.
Great Smoky Mountains National Park - Covering the border between North Carolina and Tennessee, this stunning national park is a must-visit for any nature lover and photography enthusiast, as it boasts some of the most breathtaking views.
Nantahala National Forest - Another detour you can take from Knoxville, Nantahala is the largest national forest in North Carolina. You can enjoy rafting here if you are an adventurer, or leisurely hikes if you are looking for some tranquil scenery.
Chattanooga, Tennessee - Known as a Civil War battleground, you can explore many historic sites in Chattanooga, as well as take a look into its notable role in history of the rail industry,
Kennesaw Mountain National Battlefield Park - This famous Civil War battlefield park is a 2,965-acre National Battlefield that preserves a Civil War battleground of the Atlanta Campaign.
Atlanta, Georgia - A bustling metropolis you can easily spend a few days exploring, Atlanta is home to the Centennial Olympic Park, SkyView Atlanta, World of Coca-Cola, Georgia Aquarium and many other exciting attractions.
Georgia Museum of Agriculture and Historic Village - Located in Tifton, this village is an immersive experience that will let you glimpse into the traditions of the 19th-century American South.
Gainesville, Florida - The largest city in North Central Florida, attractions to visit in Gainesville include the Butterfly Rainforest, Florida Museum of Natural History and Kanapaha Botanical Gardens.
Ocala National Forest - A stone's throw away from major cities and the white sandy beaches Florida is famous for, this natural gem features many lakes and rivers where you can enjoy swimming, snorkeling, canoeing and boating if you are an outdoors fan.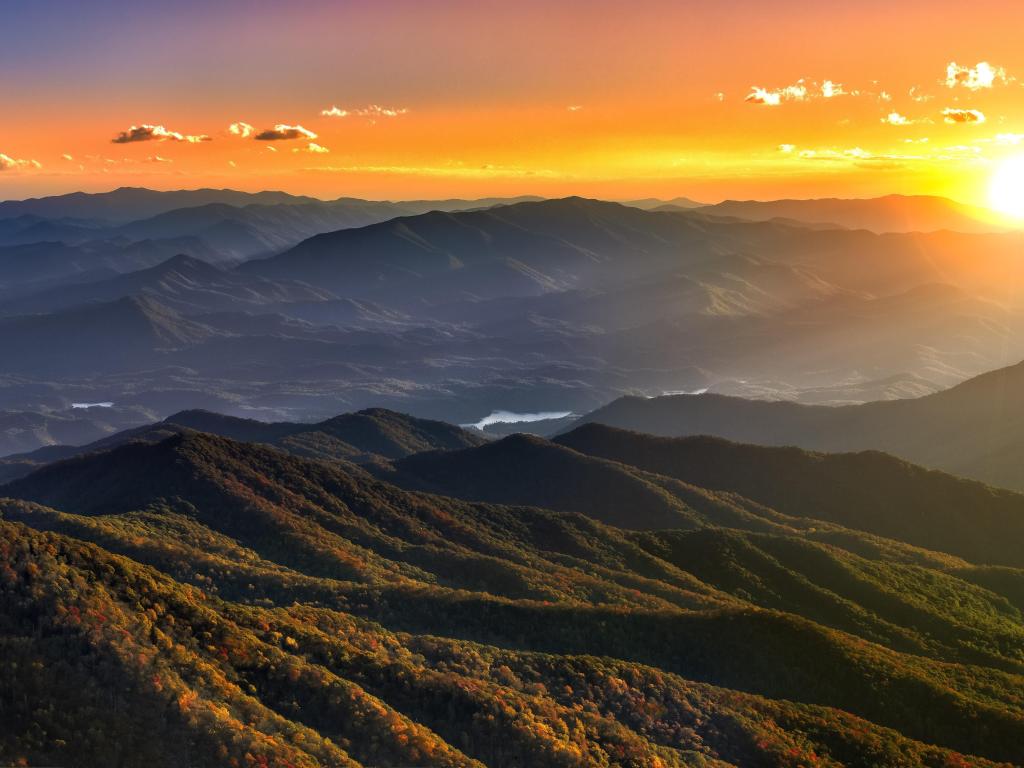 Best time to go on a Road trip from Toronto to Orlando
When you're looking to make a road trip from Toronto to Orlando, Florida, there isn't really a bad time to do so as most of the attractions on the way are open all year round.
However, with a trip this long, you don't want to settle for just a good time, you want the best. That's why we recommend making this road trip at either the beginning or end of summer, between April and May or September and October.
You'll still get some of the best weather the region has to offer but will largely miss the overbearing temperatures of the height of summer, which can go above 85 degrees Fahrenheit.
If you visit in summer, it is also important to keep in mind the price raises that occur in such a popular tourist destination during peak season, and the long lines at the attractions, especially the Walt Disney World Resort and Universal Orlando Resort.
The crowds will dissipate in spring and fall, with temperatures still being mild at 70-75 degrees Fahrenheit. You will also be able to enjoy the Seven Seas Festival at SeaWorld and Food & Wine Festival at Busch Gardens that take place throughout spring.
Winter is also a good time to set on this adventure if you want to enjoy warmer weather in Southern America; however, keep in mind that the famous attractions will get extremely crowded during the holiday season.