Road Trip from Tucson to Albuquerque
Are you looking for a unique way to admire breathtaking natural beauty, skilled artisans' work, and ancient history before ending up in the outdoorsy thrill of Albuquerque? Then this road trip from Tucson to Albuquerque is tailor-made especially for you!
The 510-mile road trip from Tucson to Albuquerque takes 9 hours to drive, passing Oro Valley, Mount Lemmon, Globe, Show Low, Pinetop-Lakeside, Apache-Sitgreaves National Forest, Alpine, Apache National Forest, Socorro, Belen and Los Lunas.
So, are you ready to hop on this nature lovers' dream adventure? Then continue reading to discover the best routes for this road trip from Tucson to Albuquerque, things to see on them, places to stay overnight and the best times to set off.
How far is Albuquerque from Tucson, and how long will the road trip take?
Comparison of road trip routes between Tucson and Albuquerque

| Route | Distance | Driving Time |
| --- | --- | --- |
| National Forests Route | 510 miles | 9 hours |
| Las Cruces Route | 590 miles | 9 hours 20 minutes |
The longer Las Cruces Route is 590 miles long and will take you 9 hours and 20 minutes to cover. It gives a more cultural vibe with a stop-off at New Mexico's second-largest city.
The National Forests Route is somewhat shorter in comparison and will take 9 hours to cover 510 miles. It offers a more off-the-beaten track through quaint towns, passing areas of breathtaking natural beauty.
Although this road trip from Tucson to Albuquerque is relatively shorter, we recommend setting aside at least 3 to 4 days to thoroughly take in the beauty it has to offer.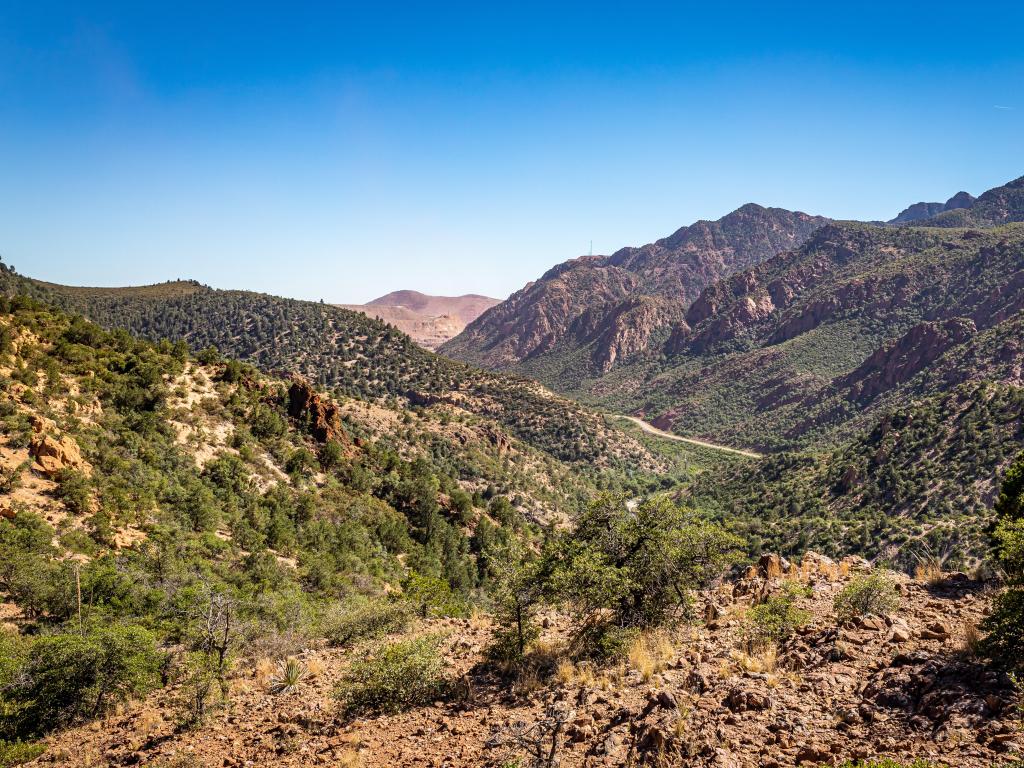 Best road trip route from Tucson to Albuquerque
Both of our suggested routes for this road trip from Tucson to Albuquerque are dotted with jaw-dropping nature and tons of outdoor activities, so the best option for you will depend on the specific places you'd like to visit and explore.
If you are a culture enthusiast, take the Las Cruces Route. It offers a scenic drive through quaint New Mexico towns, stunning national parks and the state's second largest city, Las Cruces, with its plethora of exciting activities, both indoors and outdoors.
Although the time difference is not much, you will miss out on some of the state's most famous national parks on this route.
But if you are a true nature lover, take the National Forests Route which passes through a wide variety of national parks and reservations, including the Apache National Forests. It is somewhat a remote route that doesn't pass through any large cities.
On this route, you won't experience any cultural heritage and because of its remoteness, it may be difficult to find modern amenities along the route.
Las Cruces Route
From Tucson, get on Interstate 10 (I-10) E from N Oracle Rd and W Speedway Blvd. Then follow this interstate to US-70 E in Las Cruces. Make an overnight stop at this city to stock up on supplies for the rest of the journey or just to stretch your legs.
Resume your journey the next day by taking N Solano Dr to US-70 E/N Main St and follow it to Dunes Dr in Otero County. This path will take you to White Sands National Park. This is the perfect opportunity for you to stop the car and watch thousands of species of animals.
Once you're done, head southeast on Dunes Dr toward US-70 W. Then take the Charlie Lee Memorial Relief Route to reach Cloudcroft. Take US-54 E to I-25BL in Socorro County. From there, follow I-25 N to Oak St SE in Albuquerque.
National Forests Route
For a scenic road trip from Tucson to Albuquerque, head west on W Jacinto St toward N Balboa Ave from Tucson. Then take AZ-77 N and US-60 to W Whipple St in Show Low. From there, take S White Mountain Rd to W Summer Haven Ln in Pinetop-Lakeside. This is the perfect place to stay overnight on this route.
Enjoy the depth of stunning nature that Pinetop-Lakeside has to offer and then resume your journey the next day by following W Summer Haven Ln to AZ-260 E.
Keep driving on this road and then take US-180 E to Abeyta Ave in Socorro. From there, get on I-25 N and follow it to Oak St SE to reach your destination in Albuquerque.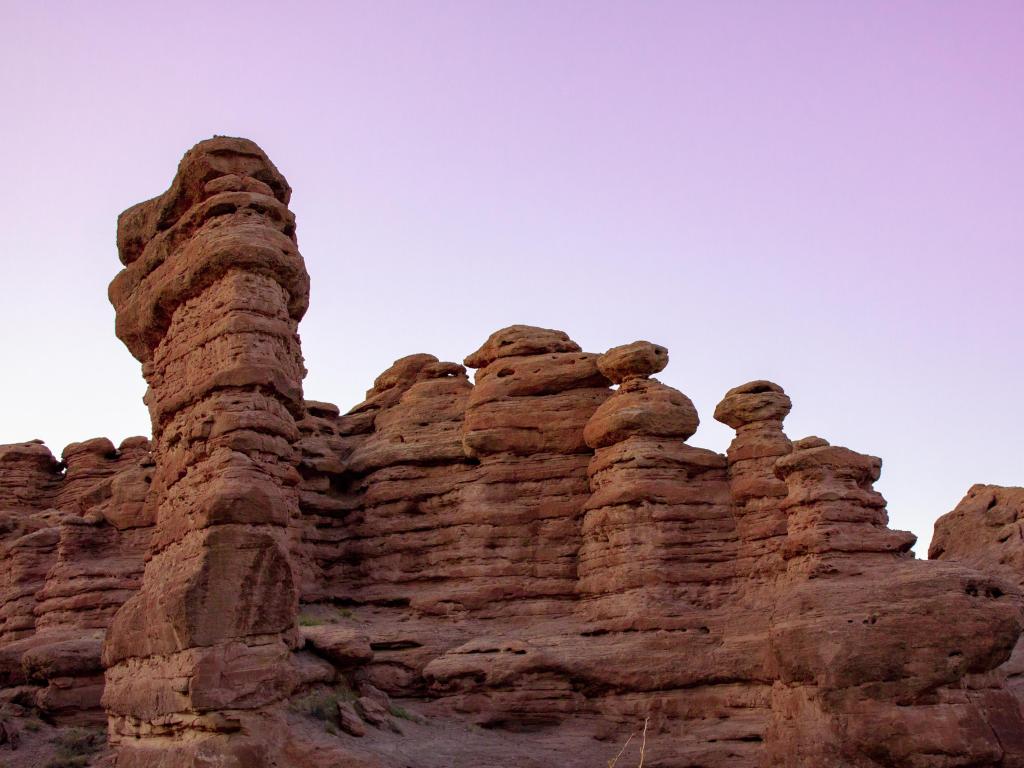 Best places to stop between Tucson and Albuquerque
There is so much to do and see on this adventure from Tucson to Albuquerque. So, we suggest splitting your journey and staying overnight at one of the following places to explore and rest up before the last leg of your trip.
Explore art and nature in Las Cruces
About halfway on the Las Cruces Route of this road trip from Tucson to Albuquerque, you will encounter the namesake of this route, Las Cruces. Conveniently located, it is the second-largest city in New Mexico full of indoor and outdoor activities.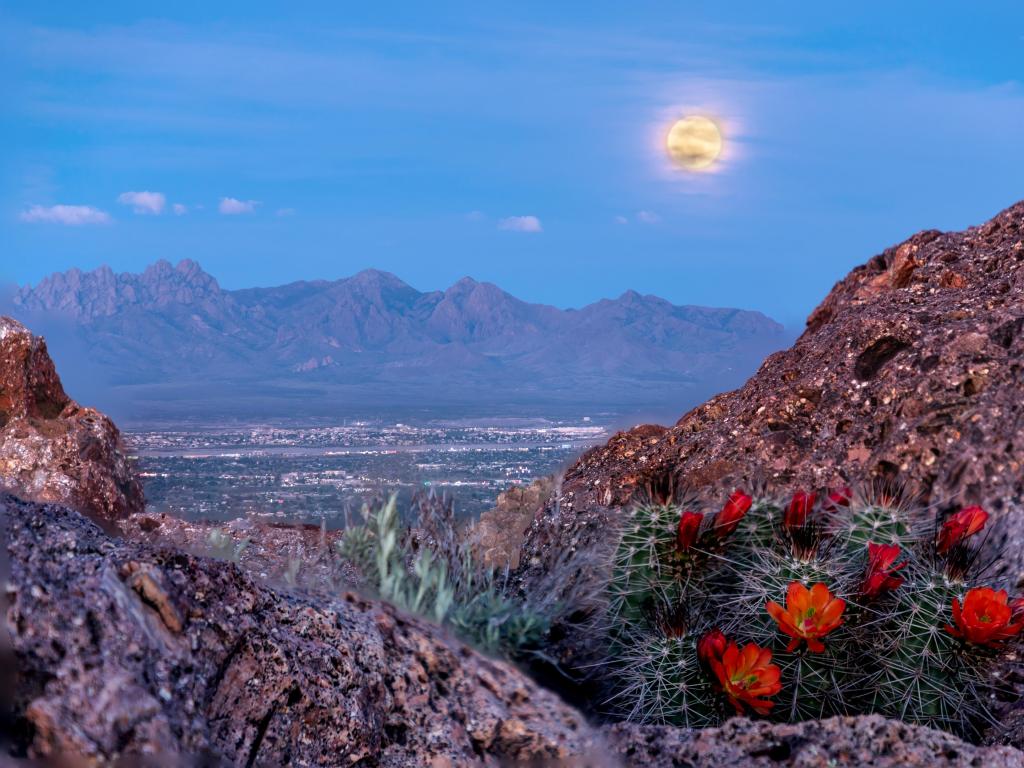 Whether you are a nature lover, culture enthusiast, or explorer, this city has something for everyone. From the stunning natural scenery of the peaks, caves and the Rio Grande, to the rich culture embedded into its food and art scene, Las Cruces is bustling with excitement.
Start exploring Las Cruces with Old Mesilla. It is perfect for art lovers with a variety of art galleries, boutiques and restaurants. If you are looking to spend some time outdoors instead, Dripping Springs Natural Area will leave you basking in the beauty of stunning mountain scenery.
For a chance to get a spooky thrill, visit Lake Valley Ghost Town which is an abandoned mining community with preserved buildings. Lastly, head over to New Mexico Farm and Ranch Heritage Museum to learn about the history of farming and ranching.
We recommend staying at Comfort Suites of Las Cruces while in the city. As the name suggests, it has comfortable suites that make you feel like home. An indoor swimming pool, hot tub, and communal sauna make sure that you are fully relaxed. It also has a fitness center and free public parking on-site.
It is situated near the center of Las Cruces, while also being next to ConAM Highway. This hotel boasts a stellar location, being 450 yards from Sunrise Terrace Park, 1 mile from Villa Encantada City Park and Hermosa Heights Park and 400 yards from restaurants like Furr's Family Dining and Whataburger.
Indulge in the outdoors at Pinetop-Lakeside
On the National Forests Route of this road trip from Tucson to Albuquerque about 3 hours 30 minutes into the journey, sits the beautiful Pinetop-Lakeside. It is a convenient place to stay overnight, surrounded by the natural beauty of the Apache-Sitgreaves and Apache National Forests.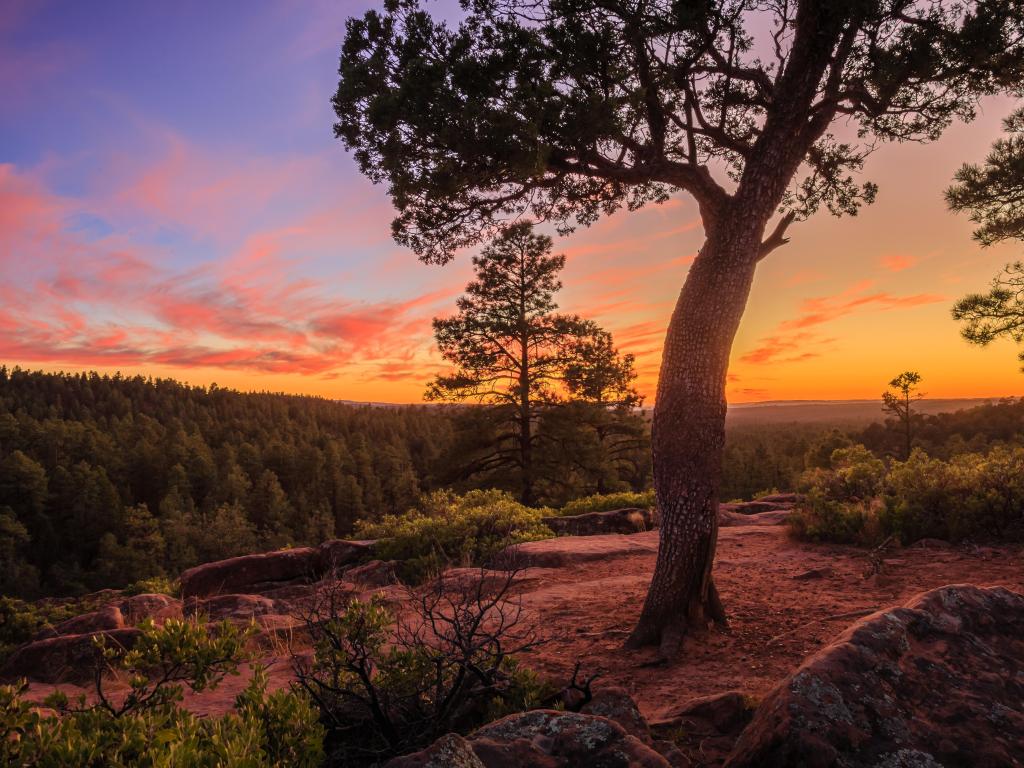 Pinetop-Lakeside is a popular summer resort, housing second homes for Arizona residents. It offers recreational activities like hiking, biking, horseback riding, fishing, hunting and more. You can also enjoy a number of events and festivals held throughout the year.
During your stay, visit Apache National Forests to drink in the beautiful mountain scenery, while enjoying a range of outdoor activities such as camping and water activities. Then there is the Woodland Lake Park surrounded by meadows and tall Ponderosa pines.
Don't miss out on birdwatching at Jacques Marsh Wildlife Area. If you are still feeling adventurous, head over to the White Mountain Nature Centre which offers yearly events, workshops, walks, camping and a Raptor Rehabilitation program.
Our vote for accommodation goes to Hampton Inn & Suites Show Low-Pinetop Lakeside. This hotel has stylish and comfortable suites with an indoor swimming pool to make your stay truly relaxing. A modern fitness center allows you to never miss a workout, even on vacation. It also offers free parking on-site.
With a short drive from Petrified National Forest, this hotel gives easy access to major motorways so you can easily visit the surrounding areas. Moreover, you can get to Fort Apache Reservation within just a 40-minute drive from this hotel.
Where to stay when you reach Albuquerque
Once you reach Albuquerque, we recommend relaxing and unwinding at Hotel Chaco before heading over to its outdoor glory. With a stylish and elegant design, this hotel is a stone's throw away from Albuquerque's Old Town.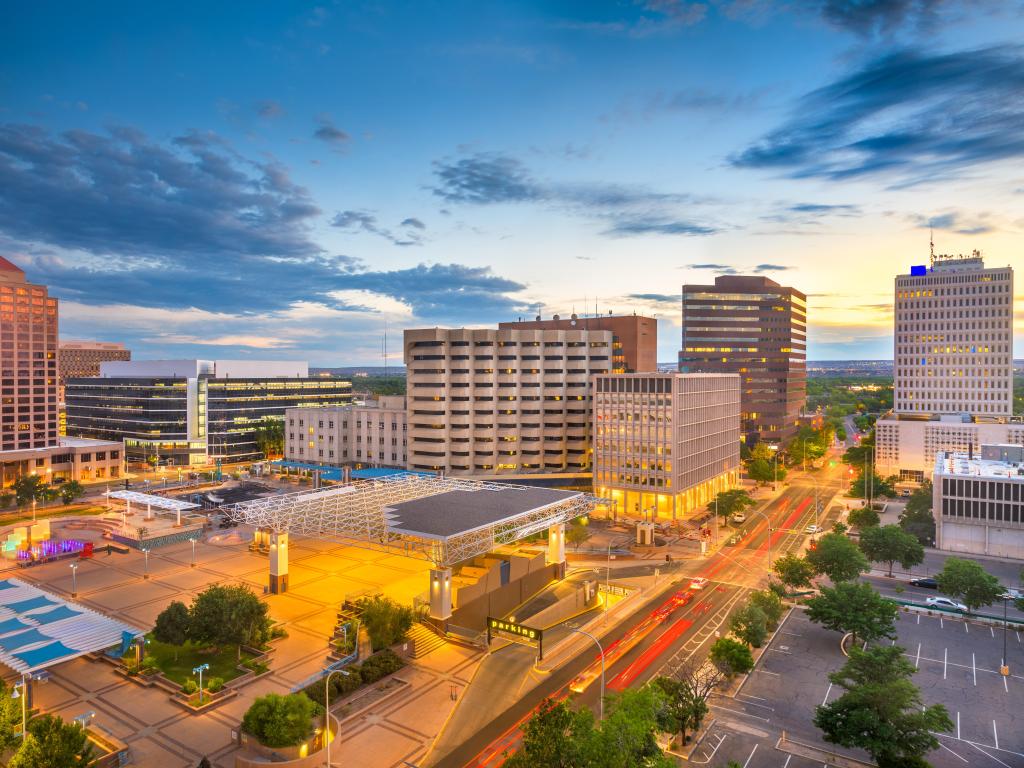 It allows you to take a dip, splash and relax in the outdoor swimming pool. If you are a fitness enthusiast, this hotel offers a modern fitness center where you can indulge in the exercise of your choice. Enjoy an à la carte or American breakfast on-site without having to navigate for the first morsel of the day.
It also boasts a convenient location with a short walk to a number of attractions including the New Mexico Museum of Natural History and Science and the Árbol de Vida Park.
Things to see on a road trip from Tucson to Albuquerque
How do you know if a road trip will be unforgettable? If it is buzzing with activity not only on the destination, but along the routes as well and this road trip from Tucson to Albuquerque is one of them. So, continue reading to discover our favorite highlights of both the routes.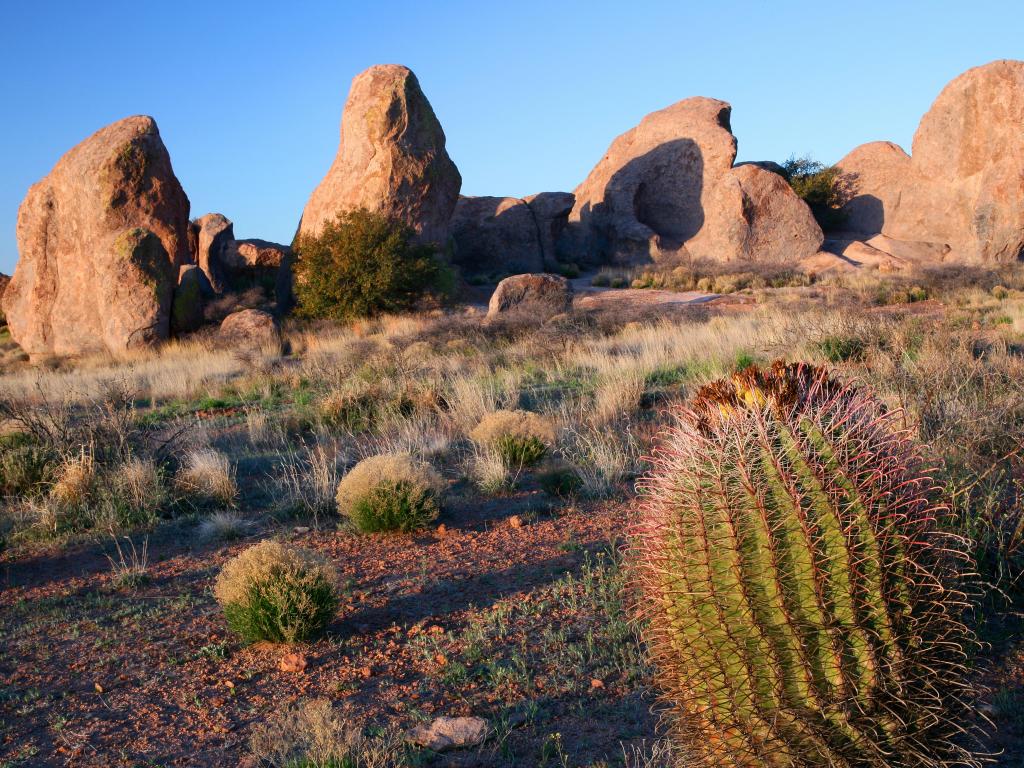 The Las Cruces Route
Colorado National Park – Explore eight miles of scenic trails through grasslands, mountains, and oak forests in this national park that includes a trail to the US-Mexico border.
City of Rocks State Park – Have a unique experience in this popular, uncommercialized state park featuring a variety of strange rock formations.
Old Mesilla, Las Cruces – Unleash your inner art lover with this eclectic variety of art galleries, boutiques, and restaurants, as well as the Basilica of San Albino.
Dripping Springs National Park, Las Cruces - Take in stunning mountain scenery of this area located half an hour's drive away from Las Cruces.
Lake Valley Ghost Town, Las Cruces – Get a spooking thrill in this abandoned mining community with preserved buildings including an old schoolhouse and chapel.
New Mexico Farm and Ranch Heritage Museum, Las Cruces – Visit this interactive museum set over 47 acres to learn more about the 3,000-year history of farming and ranching.
White Sands National Park – Answer the call of the wild in this large national park in the Tularosa Basin that is home to white sand dunes and thousands of species of animals.
Cloudcroft – Hike on the various trails in the summer and have skiing adventures in winter in this small village in New Mexico.
Three Rivers Petroglyph Site, Tularosa – Go back in time with thousands of rock drawings made by ancient Native Americans in this popular site.
Bosque del Apache National Wildlife Refuge – Admire nature's creations in this refuge and breeding ground for migratory birds and other wildlife, including greater sandhill cranes.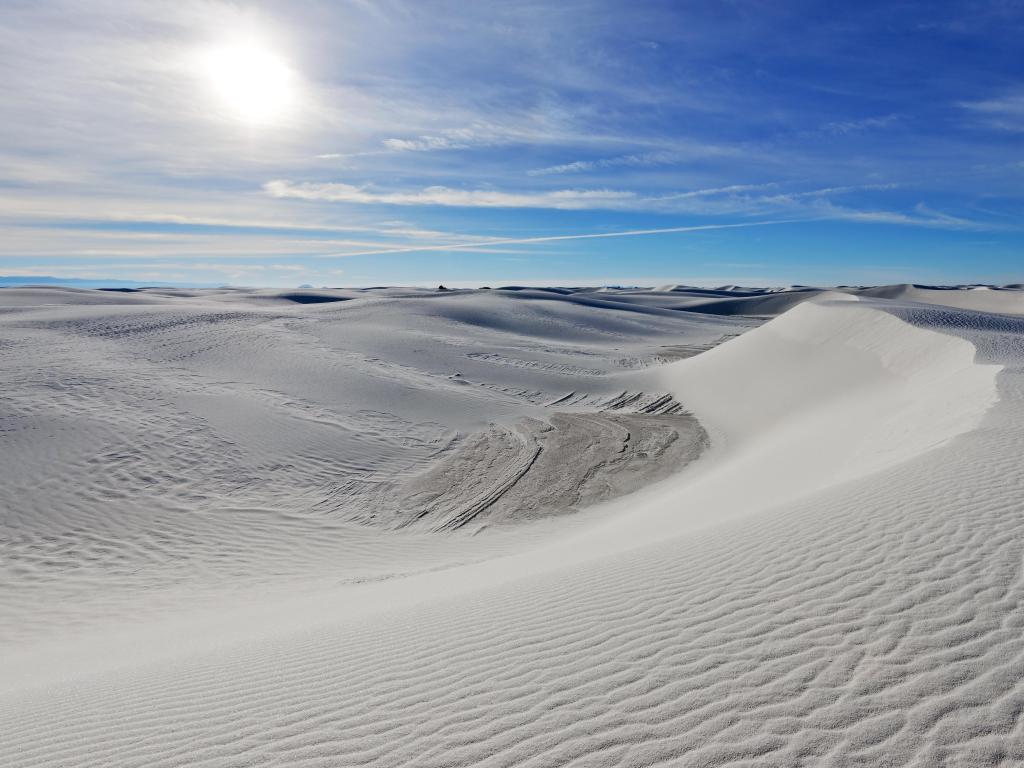 The National Forests Route
Mount Lemmon - Enjoy a scenic hike on one of Mount Lemmon's many trails, the highest "peak" of the Santa Catalina Mountain range.
Apache National Forests – Let go of the adventurer in these forests with stunning mountain scenery, offering a range of outdoor activities, from camping to water activities or winter sports.
Woodland Lake Park – Relax and unwind in this scenic park surrounded by meadows and tall Ponderosa pines.
Jacques Marsh Wildlife Area - Spot waders, sandpipers, swallows, raptors, bald eagles and elks in this manmade marsh, perfect for birdwatching.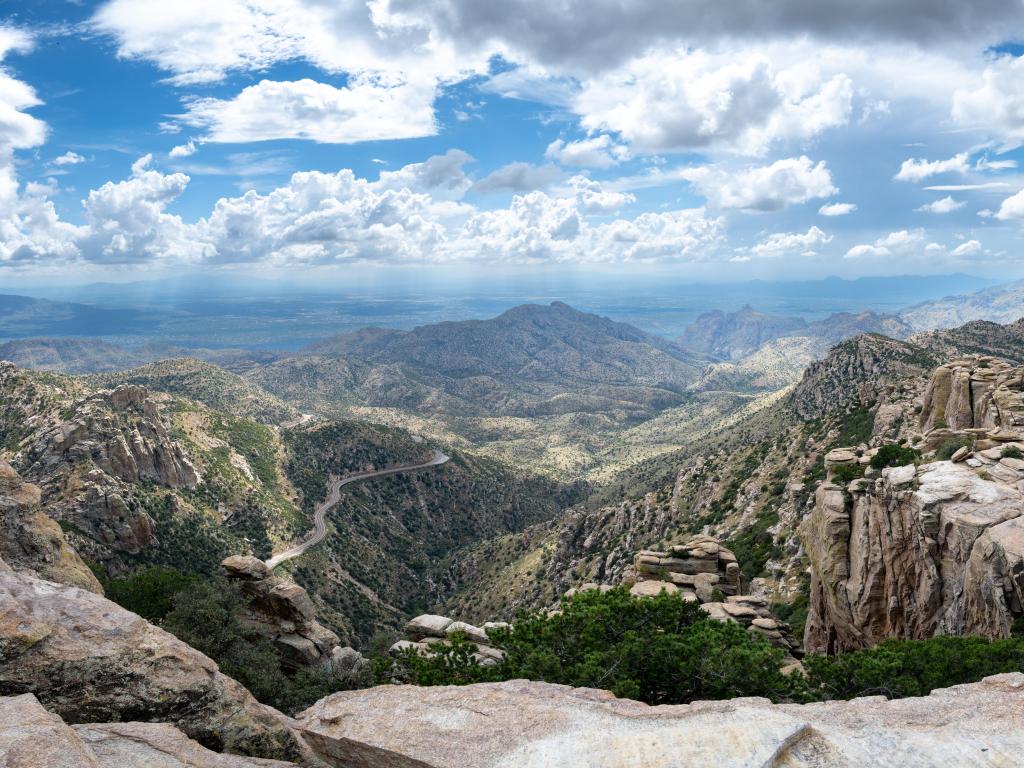 Both Routes
The Very Large Array - Take a self-guided tour or watch a leading documentary about radio astronomy in one of the world's best astronomical radio observatories.
Sevilleta National Wildlife Refuge - Enjoy nature trails and discover the region's unique flora and fauna, birds, lizards and insects.
National Hispanic Cultural Centre, South Valley – Admire amazing art in the world-leading center for Hispanic arts and culture which includes an art museum, performing arts complex, library and genealogy center, restaurant and gift shop.
ABQ Biopark Zoo, South Valley – Discover a variety of exotic and native animals and take frame-worthy pictures in this 64-acres of land.
Best time to go on a road trip from Tucson to Albuquerque
Majority of the activities in Albuquerque are outdoors so it is best visited during the warmer months. If you are a fan of winter sports, you can visit this destination in winter but it is important to note that the temperature during this time can drop as low as 17 degrees Fahrenheit.
Summer in this area can get hot and dry with an average daily temperature above 85 degrees Fahrenheit. So, bring along your sunglasses, umbrellas, and sunblock, to protect yourself against the sun, especially when doing sports and other outdoor activities.
The cold season in Albuquerque lasts from December to February. You may choose this time if you want to try out winter sports, but other major attractions may be closed or difficult to enjoy due to the cold weather. Winter has a temperature average of lose 30 degrees Fahrenheit.
The best times to visit Albuquerque are the shoulder seasons, from late May to late September, as the weather during this time is best suited for outdoor activities. However, as this is the most popular season, hotels and attractions may be more expensive.
Albuquerque doesn't host a lot of events and festivals but you can catch The New Mexico State Fair in fall. It features colorful costumes, skilled dancers and artisans, food, music and fun. October brings in the Albuquerque International Balloon Festival with hundreds of hot air balloons shooting to the sky.