Road Trip from Tulsa to Branson, Missouri
A road trip from Tulsa to Branson, Missouri is the perfect way to explore small towns and scenic countryside with sprinkles of history, arts, stunning natural beauty, and outdoor activities like hiking, fishing, or just a love little picnic by beautiful scenery.
The 230-mile road trip from Tulsa to Branson, Missouri will take 4 hours to cover. Highlights include Joplin, Grand Falls, Fantastic Caverns, Bass Pro Shops Outdoor World, Ha Ha Tonka State Park, Springfield, Lake of the Ozarks State Park, and Ozark.
Regardless of what you enjoy in terms of offerings, this short but happening road trip is bound to be the subject of your dreams for a long time. Read on to discover the best routes, things to see on them, places to stay overnight and our hotel recommendations.
How far is Branson, Missouri from Tulsa, and how long will the road trip take?
Comparison of road trip routes between Tulsa and Branson, Missouri

| Route | Distance | Driving Time |
| --- | --- | --- |
| The Eureka Springs Route | 210 miles | 4 hours 20 minutes |
| The Springfield Route | 230 miles | 4 hours |
The Springfield Route is 230 miles long and will take you around 4 hours to cover meandering through Joplin, Springfield, and various attractions including the Route 66 Carousel Park and the Fantastic Caverns.
The Eureka Springs Route will take you around 4 hours and 20 minutes to cover 210 miles. This route will take you through Bentonville, Eureka Springs, and Arkansas with stunning natural beauty, historic towns, and cultural attractions.
As this is a fairly short trip, you might be tempted to finish this road trip from Tulsa to Branson, Missouri in a single day. But we recommend taking at least 2 to 3 days as there is so much to explore on both routes.
Best road trip route from Tulsa to Branson, Missouri
Both routes on this road trip from Tulsa to Branson, Missouri take almost the same amount of time to drive, so which one you pick will depend on what you'd like to see en route.
The Springfield Route is lined with scenic countryside, historic landmarks, and cultural attractions offering a mix of urban and rural scenery. It is ideal for those interested in history, outdoor activities, and small-town charm. This route is faster with well-maintained roads.
During peak travel seasons, there may be increased traffic on this route. Additionally, some of the smaller towns may have limited options for food and accommodation.
The Eureka Springs offers a mix of stunning nature, history, and culture, just like the faster route. You can enjoy the jaw-dropping Ozark Mountains, historic landmarks like the Pea Ridge National Military Park and cultural attractions like Crystal Bridges Museum of American Art.
With a quainter and more historic vibe, some parts of the route may have narrow and winding roads.
The Springfield Route
If you choose the faster route for this road trip from Tulsa to Branson, head out of the city following Interstate I-244 (I-244) and head towards Joplin.
From there, get on I-44 E in Jackson Township from E 7th St and I-44L E. Then follow W Chestnut Expy in North Campbell No. 3B Township. Keep following it to Park Central Square in Springfield.
Your next top will be Ozark, a beautiful place to take a refreshing break. From Ozark, get on US-65 S in West Finley Township from N 3rd St then follow this road to Branson Landing Blvd in Branson.
The Eureka Springs Route
For the quainter route on this road trip from Tulsa to Branson, Missouri, take W 1st St to I-244 E. Then Take US-412 E to State Hwy 59 N in Siloam Springs. Continue on State Hwy 59 N and drive to Bentonville.
This is the perfect place on this route for an overnight stay. Explore the various attractions and stretch your legs before continuing your journey the next day. Head south on SW A St toward SW 2nd St and continue onto W Hudson Rd.
A short while later, you will reach the stunning Eureka Springs. From there, follow AR-23 N, State Hwy 86 N to Longfellow St in Branson.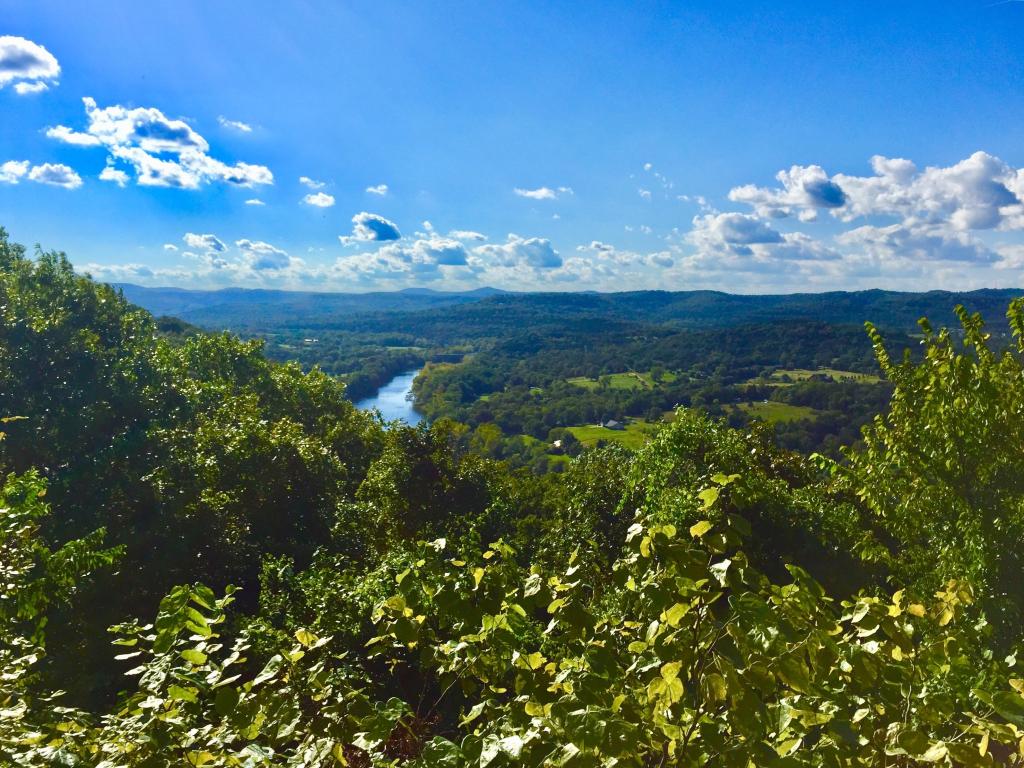 Best places to stop between Tulsa and Branson, Missouri
With a mix of vibrant arts, thought-provoking history and awe-inspiring views, you will leave this road trip from Tulsa to Branson, Missouri with a lot of memories and souvenirs.
Although this adventure doesn't require an overnight stay, we suggest you take a break in one of the options below for a chance to tick several items off your bucket list.
Unwind in the scenic beauty of Ozark
Ozark, Missouri is located approximately halfway between Springfield and Branson on the Springfield Route of this road trip from Tulsa to Branson. With a small-town charm, Ozark is known for its natural beauty and outdoor recreation opportunities, such as hiking and fishing.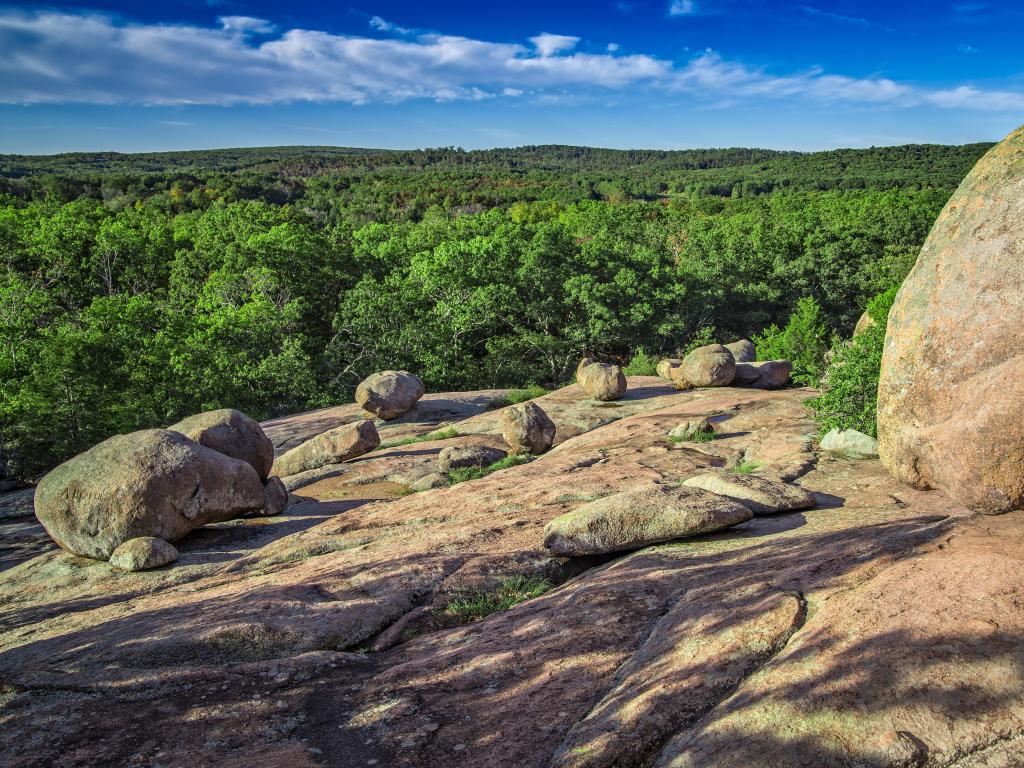 Surrounded by scenic countryside, this is the perfect place for adventurers and outdoor lovers. This town also has a historic downtown area featuring a variety of shops, restaurants, and cultural attractions.
Start exploring Ozark with The Ozark Mill. It is a historic grist mill that has been restored and turned into a unique shopping and dining destination. Then there is the Finley River Park which offers breathtaking views, hiking trails, picnic areas, and playgrounds with kayaking and tubing in the summers.
Don't miss out on the small-town charm that you can experience in the quaint downtown area with historic buildings, shops, and restaurants.
To take a breather while you are in Ozark, we recommend staying at Hampton Inn Ozark. This hotel offers free breakfast every morning to start your day off right. With an outdoor pool and fitness center, you can enjoy water activities and workouts even while you're on vacation.
Located in a convenient location, this hotel is in close proximity to several attractions, including the Ozark Mill, Finley River Park, and the Smallin Civil War Cave as well as many restaurants and shops.
Indulge in the vibrant arts scene in Bentonville
On the Eureka Springs Route of this route trip from Tulsa to Branson, Missouri, approximately halfway between Tulsa and Eureka Springs, sits the city of Bentonville. It is located in the beautiful Ozarks region and is known for its vibrant arts scene, outdoor recreation activities, and historic sites.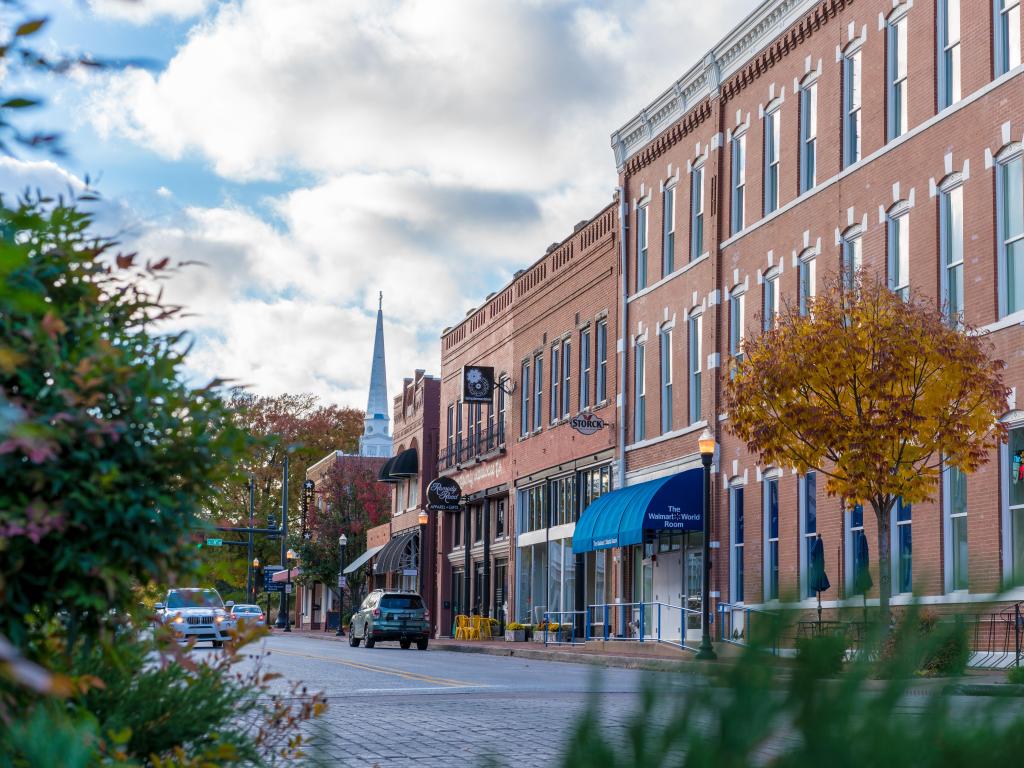 A fan of the great outdoors? Unleash your inner thrill-seeker and go hiking, biking, and fishing in the Ozarks region of Arkansas. Whether you are a nature lover, adrenaline junkie, or a history buff, Bentonville has something for everyone.
On your first day in town, visit the Crystal Bridges Museum which features a stunning collection of American art spanning five centuries. Then head over to the various recreation opportunities in the scenic countryside including rolling hills, forests, and rivers that the Ozark region offers.
If you're still feeling adventurous, head over to Bentonville's historic downtown area, dotted with charming brick buildings, shops, and restaurants to experience the town's unique character and charm.
Our vote for accommodation goes to 21c Museum Hotel Bentonville which offers modern amenities and features a small but fantastic art museum. An on-site restaurant and bar make it easy for you to take care of all your dining needs after a long drive.
The hotel boasts a stellar location in the heart of downtown Bentonville with close proximity to several restaurants and shops. Famous attractions like the Crystal Bridges Museum of American Art, and the Walmart Museum are also nearby.
Where to stay when you reach Branson, Missouri
We recommend resting at the Lodge of the Ozarks after reaching Branson. Offering a relaxing and comfortable stay, this hotel has a variety of amenities, including spacious rooms. It also offers an indoor pool giving you a taste of the water activities without having to leave the premises.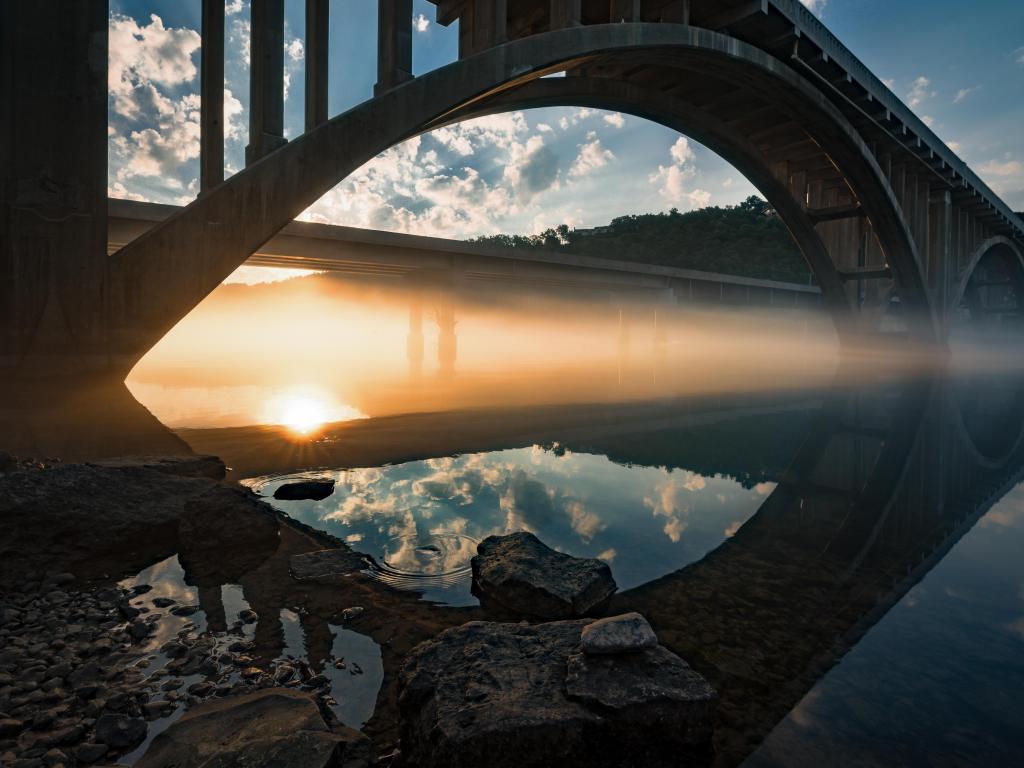 The hot tub will help you relax and melt away any feeling of tiredness. The hotel is located near several attractions, including the Titanic Museum, the Hollywood Wax Museum, and the Branson Ferris Wheel, which you can easily explore the city's offerings after reenergizing.
With views of the Ozark Mountains and easy access to nearby parks and outdoor recreation areas, this hotel is situated in a beautiful natural setting helping you unwind away from the usual hustle and bustle.
Things to see on a road trip from Tulsa to Branson, Missouri
This short road trip from Tulsa to Branson, Missouri has so many amazing attractions on the way. Continue reading for our handy list of all the exciting things you will encounter on both routes of this road trip.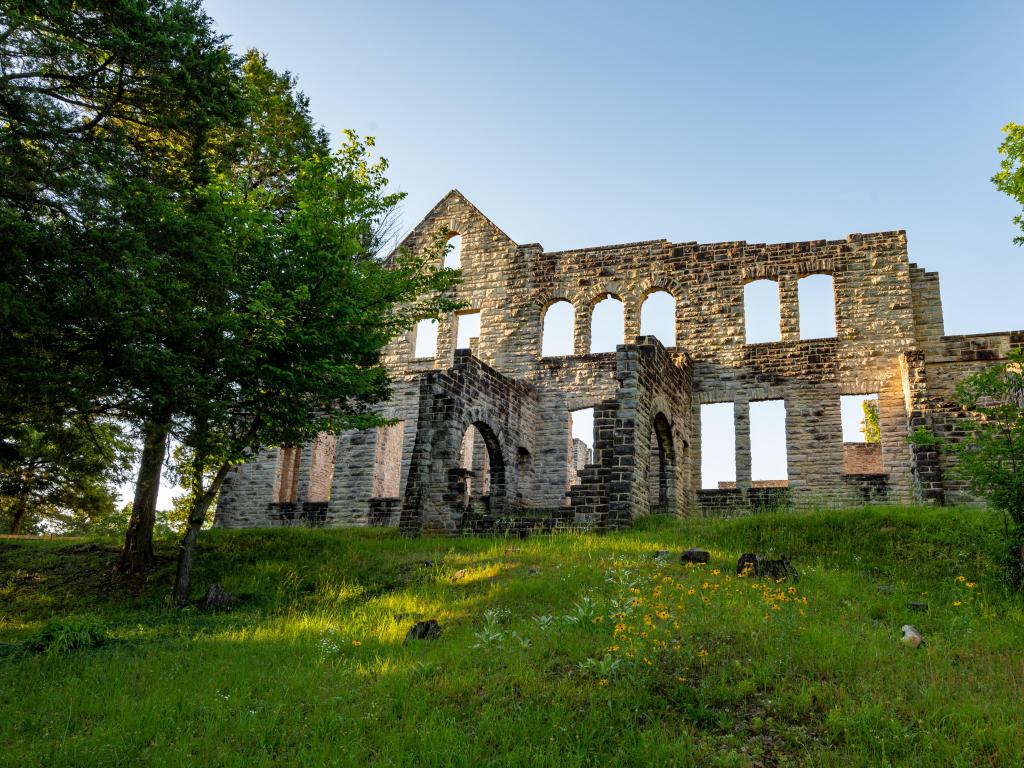 The Springfield Route
Grand Falls – Hike on the beautiful trails or have a relaxing picnic around this natural waterfall located in Joplin.
George Washington Carver National Monument – Explore the life and work of George Washington Carver, a prominent American scientist and inventor in this national monument located in Diamond.
Wilson's Creek National, Battlefield – This national battlefield was the site of a major Civil War battle and features a museum, hiking trails, and living history programs.
Fantastic Caverns – Unleash your inner explorer in this unique cave system located in Springfield that can be explored by jeep-drawn tram.
Wonders of Wildlife National Museum and Aquarium – Featuring a variety of exhibits on wildlife and conservation, including 1.5-million-gallon aquarium, this place is perfect for wildlife enthusiasts.
Bass Pro Shops Outdoor World – Have a unique experience in this massive outdoor store that features hunting and fishing gear, a shooting range, and an indoor wildlife museum.
Ozark National Scenic Riverways – Answer the call of the wild in this national park that is a popular spot for canoeing, fishing, and hiking and features two scenic rivers.
Alley Spring Grist Mill Historic Site – Go back in time in this historic grist mill that is set in a picturesque valley and offers tours and hiking trails.
Ha Ha Tonka State Park – This state park features a castle-like stone mansion, hiking trails, and beautiful views of the Ozark Mountains.
Lake of the Ozarks State Park – Featuring a large reservoir, hiking trails, and a variety of water activities, this state is perfect for aquaphiles.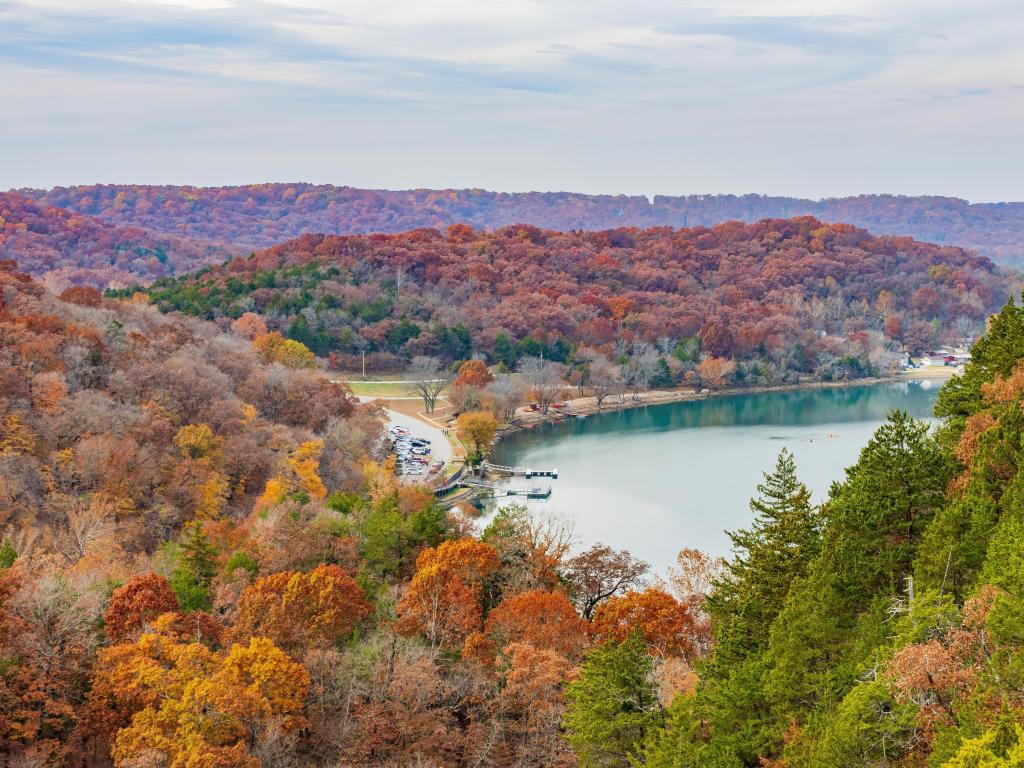 The Eureka Springs Route
Crystal Bridges Museum of American Art – Perfect for art enthusiasts, this art museum features a collection of American art from colonial times to the present day.
Thorncrown Chapel – Explore awe-inspiring architecture in this unique and beautiful chapel designed by the architect E. Fay Jones, featuring a stunning glass and wood structure.
Blue Springs Heritage Center – Enjoy scenic beauty in this natural wonderland that features a spring, gardens, and walking trails.
Table Rock Lake – Tour this large reservoir that offers fishing, boating, and swimming, as well as beautiful views of the Ozark Mountains.
Turpentine Creek Wildlife Refuge – Admire nature's creation in this wildlife refuge that provides a home for big cats, bears, and other animals that have been rescued from captivity.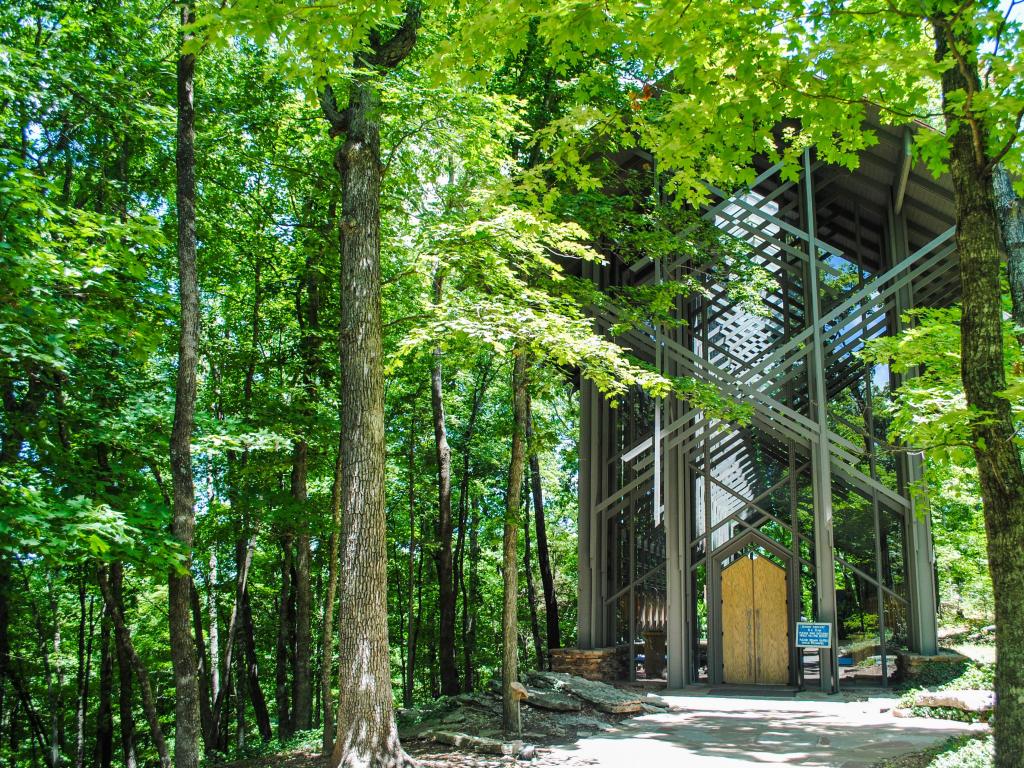 Best time to go on a road trip from Tulsa to Branson, Missouri
Branson, Missouri is a year-round destination, but the weather and availability of attractions may vary depending on the season. Summer is the peak tourist season and might be costly, so planning ahead is necessary. During winter, it offers a range of indoor attractions and entertainment options.
Summer will bring warm and humid weather. Average temperatures range from 85 to 95 degrees Fahrenheit. Many of the attractions during this time are outdoors, so it's important to be prepared for the heat and humidity.
Winters in Branson are from December through February, the weather being generally cold. The temperature ranges from 30 to 40 degrees Fahrenheit. Many of the outdoor attractions might be closed or have limited hours during winter, but there are still plenty of indoor options available.
The crowds in winter are generally smaller. You can also take advantage of lower prices and special deals offered by hotels and attractions during this time if you are not bothered by the cold. Be sure to check the weather forecast and road conditions before traveling to Branson in winter.
Spring and fall are both popular seasons to visit Branson, Missouri, as the weather is generally mild and pleasant. The crowds are also smaller as compared to the peak summer season. The temperature ranges from 50 to 77 degrees Fahrenheit.
The most famous attraction for spring is the colorful wildflowers in the Ozark Mountains. The fall foliage at the same place brings in thousands of admirers in fall. But check the weather forecast for outdoor attractions as the temperature can still fluctuate and some attractions may have limited hours.
Branson is known to host several events and festivals around the year. The National Harvest Festival welcomes craftsmen and artisans to demonstrate traditional Ozark crafts and runs from Mid-September through late October.
Branson Landing's Annual Liberty Light Up is an Independence Day celebration held on the 3rd and 4th of July whereas Branson Elvis Festival is held in early March and features Elvis tribute artists from all around the country!