Route 66 Road Trip from Las Vegas
Route 66 is one of the legendary American road trips, traveling between Santa Monica up to the Great Lakes in Chicago. With the original highway now decommissioned, sections of the historic route have been preserved so that you can enjoy an unforgettable ride across the ever-changing landscape with flashes of vintage Americana.
The 1,990-mile Route 66 road trip from Las Vegas to Chicago will take 30 hours to drive, visiting Kingman, Seligman, Flagstaff and Albuquerque along the way. Or you can reach the western end of Route 66 at Santa Monica in 6 hours and 20 minutes.
Whether you're setting out on an epic multi-state adventure or sticking to the shorter drive from Nevada and through California, you'll be able to enjoy a glimpse into the history of Route 66. Read on to find out what awaits you on this epic journey.
How far are Chicago and Santa Monica from Las Vegas, and how long will the road trip take?
Comparison of road trip routes on Route 66 starting from Las Vegas

| Route | Distance | Driving Time |
| --- | --- | --- |
| Route 66 from Las Vegas to Santa Monica | 380 miles | 6 hours 20 minutes |
| Route 66 from Las Vegas to Chicago | 1,990 miles | 30 hours |
If you were to travel the whole length of Route 66, sticking as close as possible to the original historic highway, you'd be spending around 50 hours on the road to complete the trip.
Starting at Las Vegas and sticking to the interstate means your journey will be shorter, even if you trace Route 66 all the way to Chicago. This adds up to a 30-hour journey, covering 1,990 miles.
If you don't have time for such an epic drive, you can still drive part of the old Route 66 from Las Vegas if you head west to the coast at Santa Monica. The Santa Monica Route is only 380 miles long, and you can cover the whole distance in just 6 hours and 20 minutes.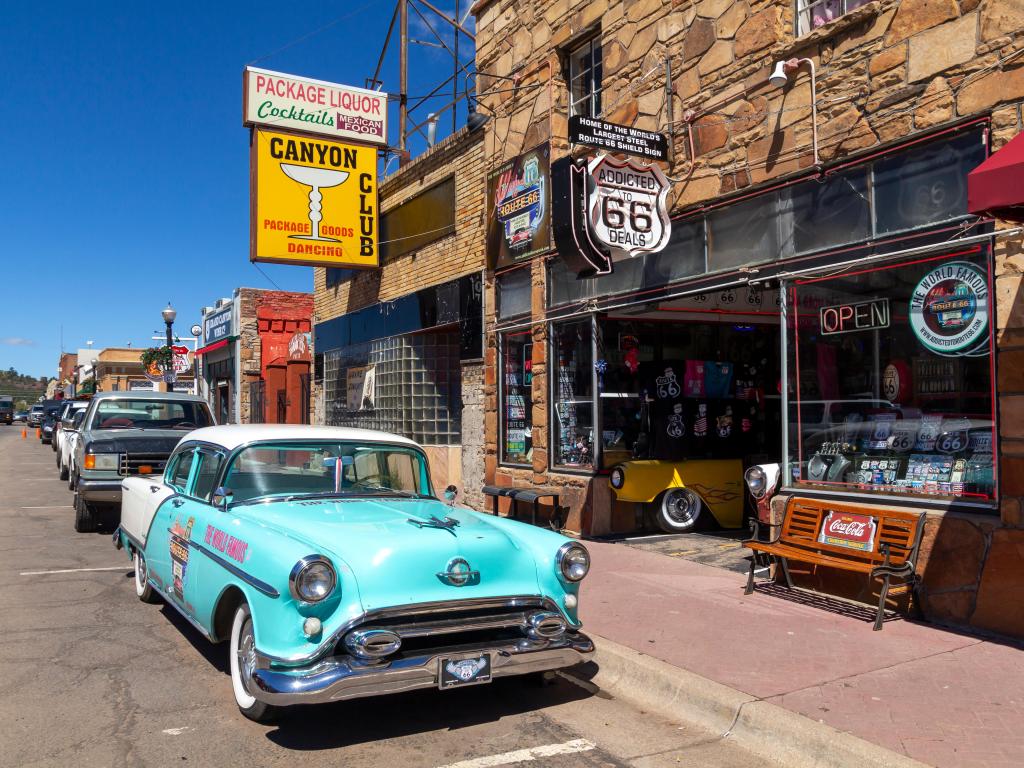 We suggest putting aside at least a week to enjoy the Chicago Route to its fullest. On the other hand, you can drive the Santa Monica Route from Las Vegas in a single day. However, we'd suggest making a couple of overnight stops so that you get a chance to enjoy the drive.
Best Route 66 road trip from Las Vegas
The Mother Road traditionally ran from Chicago to Santa Monica, so when you're choosing the best Route 66 road trip from Las Vegas you first need to decide on the length of your drive.
If you're looking for an epic cross-country adventure, the long drive to Chicago is likely to be your best option. This route runs east through Arizona, New Mexico, Texas, and Oklahoma before starting to swing northwards towards Chicago.
On this route, you'll be able to follow historic Route 66 from Kingman to Seligman, part of the longest remaining section of the original Route 66. You'll be able to stop at old small towns with a long Route 66 heritage, and old trading posts which have retained a vintage look and feel.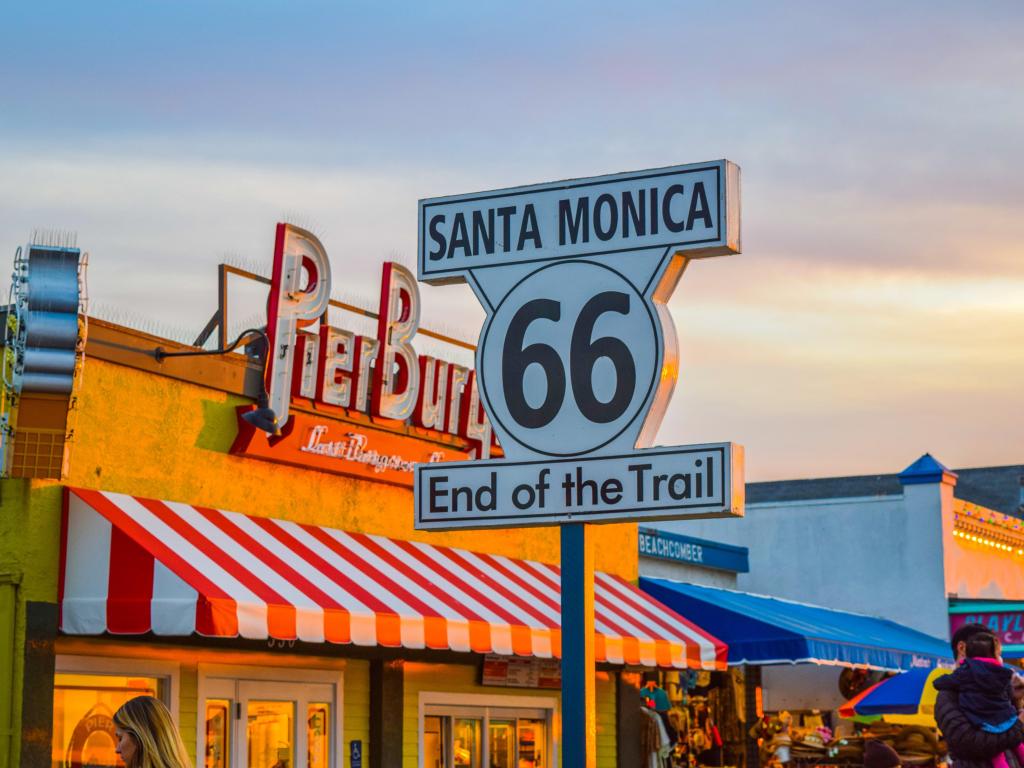 If you don't have as much time to spare, the shorter section of Route 66 heading west towards Santa Monica is a great option. It's also a great alternative to driving directly back from Las Vegas to Los Angeles if you've already been there for a visit.
The Santa Monica Route still includes sections of stunning desert driving plus the chance to explore Mojave National Preserve, Mount San Antonio and the Rim of the World Highway through San Bernardino National Forest if you have time for a scenic detour.
This is a much shorter part of the Route 66 route so you might not feel like you've really experienced the legendary highway, but if you have limited time, it's still a fantastic drive that takes you along parts of the historic highway.
Road trip route from Las Vegas to Chicago on Route 66
Leaving Las Vegas, head towards Henderson and Boulder City then on past the magnificent Hoover Dam to cross the Colorado River into Arizona.
From here the highway takes you across the desert to Kingman, where you'll start to follow the legendary Route 66. Instead of joining the interstate, pick up AZ-66 which swings north through Hackberry and Valentine along a fabulous section of historic Route 66.
After Seligman, join the interstate to continue heading east across Arizona through Williams and Flagstaff. I-40 follows the original Route 66 closely for much of the way, but in a few places, such as the stretch from Gallup, NM, to Perea, where you can join Historic Route 66 as it runs along beside the interstate.
Continue along the interstate to Albuquerque, then detour off I-40/Route 66 to visit the state capital, Santa Fe before returning to I-40 to carry on through Santa Rosa, crossing into Texas at Glenrio.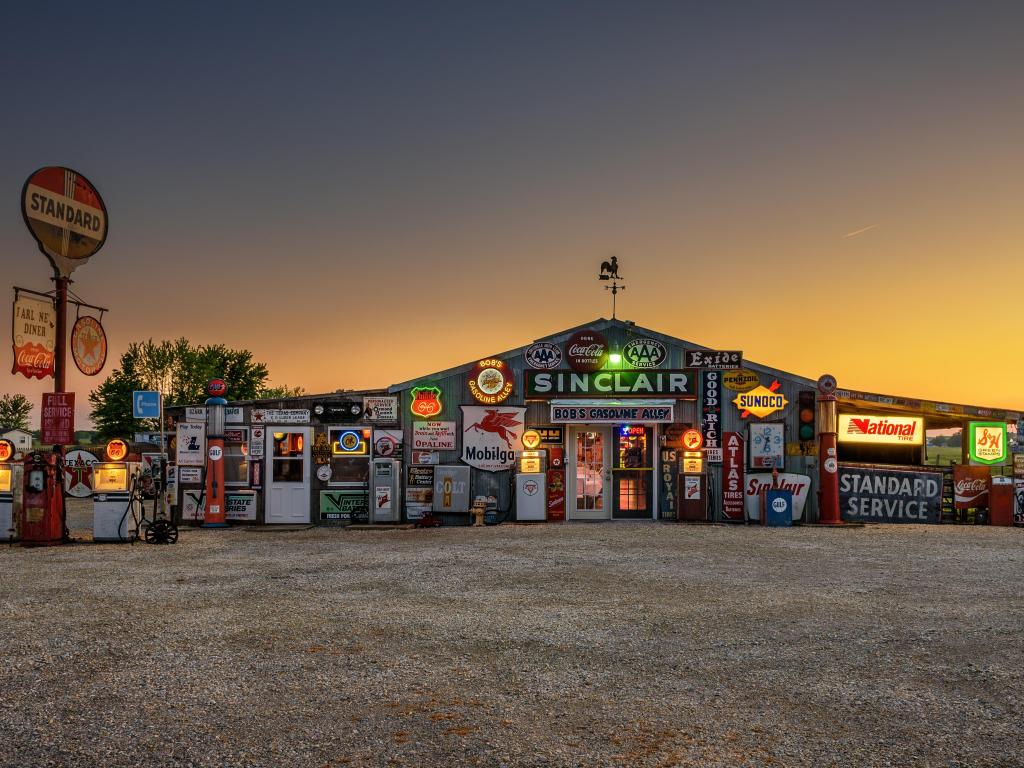 Head through Amarillo and then on to Oklahoma City, where you'll finally leave I-40, turning onto I-44 towards Tulsa.
You can follow another section of old Route 66 from here, initially marked out as OK-66, but after it passes through Vinita and Afton you'll have to work a little harder to stick to the original route which visits Miami and Baxter Springs.
At Riverton, the road becomes easier to pick out, as the more clearly named KS-66 follows the historic route across the Spring River. Continue on through Joplin to rejoin I-44 just after Scotland.
I-44 takes you all the way through Missouri, passing Springfield and running to the north of Mark Twain National Forest. Running close to the interstate are many sections of the old highway, however, these are often marked more clearly on the map than on the street so you'll have to pay close attention if you're planning on following the original route.
Arriving in St Louis, you'll cross the Illinois River and change onto I-55 for the final stretch of your Route 66 road trip from Las Vegas. As you approach Chicago, Old Route 66 separates from the Interstate at Joliet Road.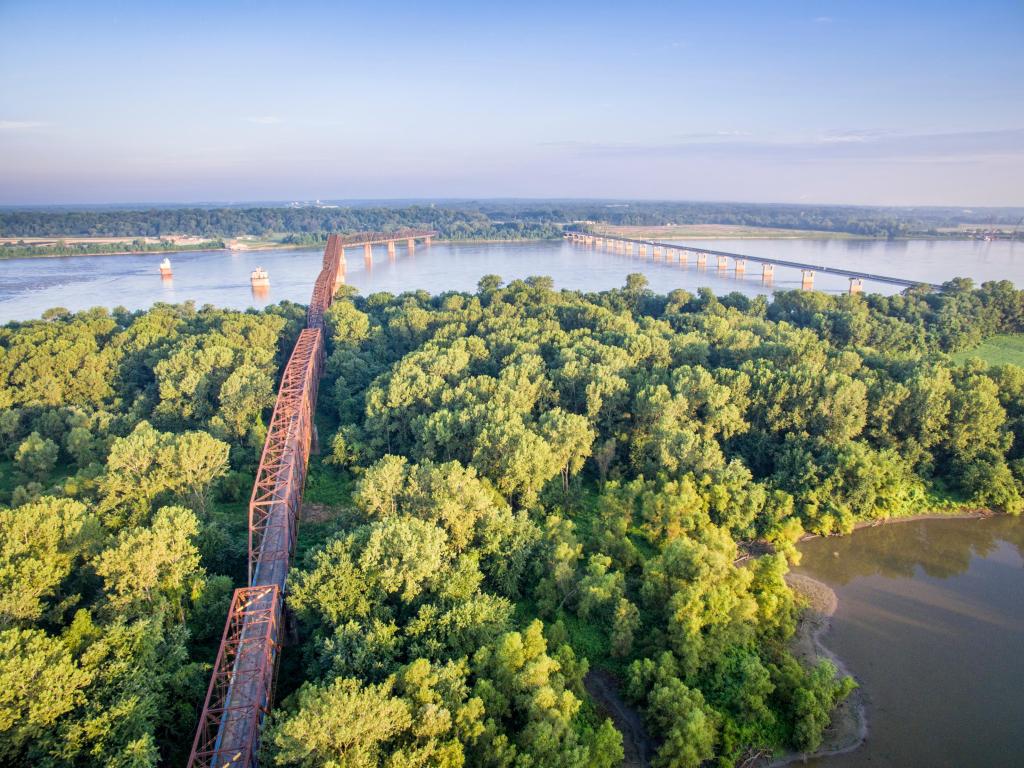 After a short diversion onto 55th Street - you can follow it through McCook, Lyons and Cicero. Old Route 66 continues along Ogden Avenue, then turn onto W Jackson Blvd to complete your journey at the official end point of the route.
If tracing the old route through the Chicago suburbs sounds a little intimidating, simply stick with I-55 all the way into Chicago, merging on to US-41 towards Grant Park before turning onto E Jackson Drive to find the famous Route 66 sign.
Road trip route from Las Vegas to Santa Monica on Route 66
Follow I-15 south out of Las Vegas then, after crossing into California, exit onto Nipton Road which runs along the northern side of Mojave National Preserve. Take the first right turn to begin your drive across the preserve, then keep right again to follow Morning Star Mine Road.
From Cima the run roads parallel to the railroad track as far as Kelso Depot, where you should turn left onto Kelbaker Road which takes you out of Mojave National Preserve then continues south to join up with CA-66.
Follow the old Route 66 west to visit Amboy and admire the spectacular Amboy Crater, then join the interstate which will take you as far as Barstow. Leave the interstate here and head to Main Street, which becomes CA-66 again as you head west out of the town.
You can enjoy more desert views as the highway takes you through Hodge and Helendale before rejoining I-15 at Victorville.
The interstate runs between the two scenic areas of San Bernardino National Forest and Mount San Antonio then, as you approach the outskirts of the Los Angeles metropolitan area, exit onto CA-210 to head for Pasadena, one of the stops on the old Route 66.
From here the traditional route of Route 66 follows what's now CA-110, running alongside the Los Angeles River then merging onto the Santa Monica Freeway which takes you all the way to the end of the route looking out over the Pacific Ocean.
Best places to stop on a Route 66 road trip from Las Vegas
With nearly 2,000 miles to cover, you'll need to make several stops on your Route 66 road trip from Las Vegas to Chicago.
An overnight stay is optional if you're heading to Santa Monica, as you can cover the distance in a day, but there are some great options to choose from if you're planning on taking a few days to complete the trip.
Check in to an original Route 66 Motel in Albuquerque
If you're following the Chicago Route, you'll reach Albuquerque around 9 hours after leaving Las Vegas. The city is known for its historic downtown, centered around Old Town Plaza.
As well as being one of the major cities located right on Route 66, Albuquerque has a fascinating mix of New Mexico's Indian Pueblo and Hispanic heritage.
New Mexico's indigenous culture has shaped the landscape that you've been exploring, so head to the informative Indian Pueblo Cultural Center to learn more about the region's heritage.
After the long drive through the desert from Arizona you might also be interested to find out more about the desert wildlife, in which case head to American International Rattlesnake Museum.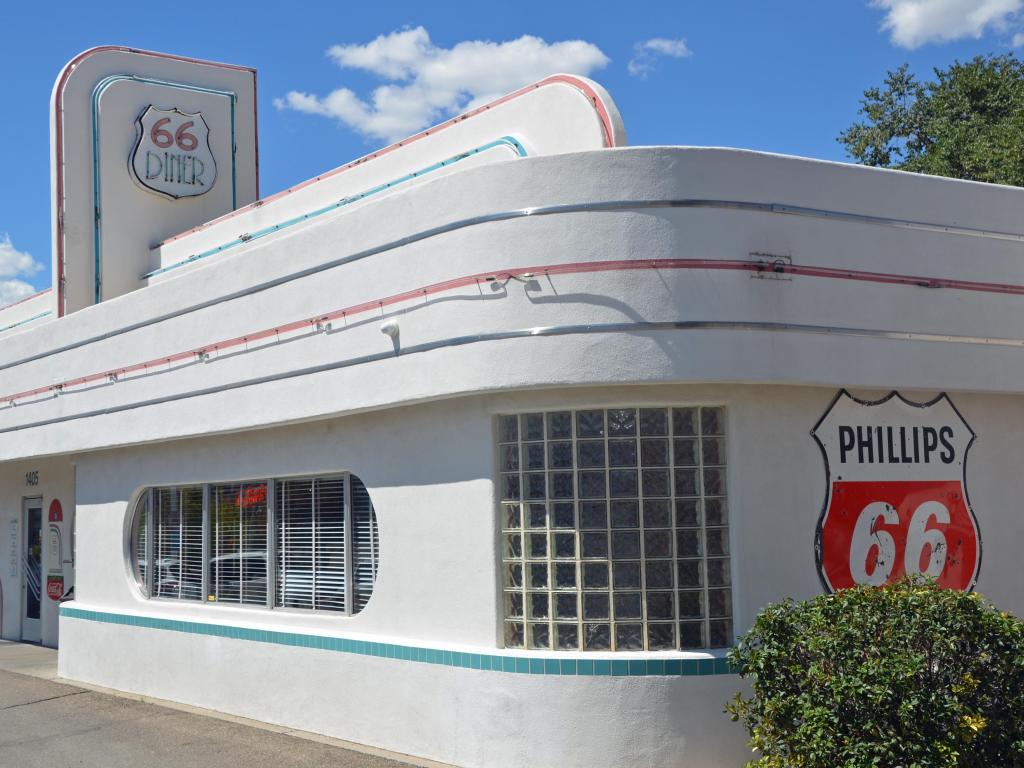 You can also venture out of town to Sandia Peak Tramway, a cable car that takes you up to the top of the mountain to enjoy impressive views.
Located right on Route 66 which runs through the center of Albuquerque, El Vado Motel has been welcoming travelers driving the route since 1937 so it's part of New Mexico's Route 66 history.
Once you've checked in to your spacious and stylishly renovated room, relax in the sunshine by the outdoor pool. The whole motel has a mid-century modern vibe so you'll feel like you've stepped back in time to the days when Route 66 wasn't so historic.
Another bonus of El Vado Motel is that it's located right on Route 66, plus it has free parking. It's also within walking distance of the old town – Old Town Plaza, the Albuquerque Museum and the New Mexico Museum of Natural History are all accessible on foot.
Look for the stars in Los Angeles
Close to the end of your route if you're heading towards Santa Monica, you'll probably want to spend a little time in Los Angeles before finishing up your drive.
Whether it's the timeless Hollywood glamour that appeals to you or the city's beautiful beaches, you can either drive out to Santa Monica from here as a daytrip or spend another night there before completing your road trip.
While you're in town, follow the Hollywood Walk of Fame to find your favorite star's star, then enjoy the view of the iconic Hollywood sign. You can also take a tour around Beverley Hills to get a glimpse of how the film stars live.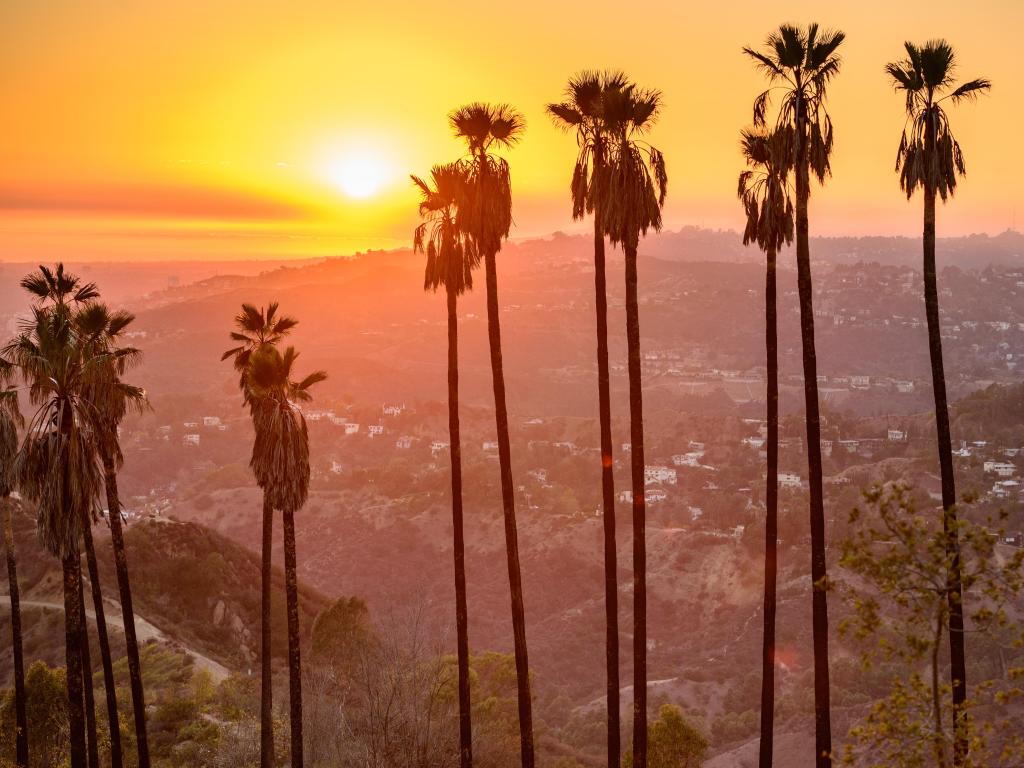 If you're spending a little longer in the city, head across to Anaheim to visit the original Walt Disney World Resort, where you can enjoy more than 50 rides as well as watching the spectacular parades and fireworks.
A newly-built hotel in the downtown area, The Metric - Los Angeles Downtown has a striking modern design to help you feel the LA vibe. You'll get a warm welcome from the friendly staff, who make sure that baked goods are available for guests each day to kick-start your morning.
The hotel has views out across the city, especially if you get one of the rooms on the upper floors, and it's reasonably priced for the city. Its great downtown location means you'll have several bars and restaurants to choose from nearby before heading back for a great night's sleep.
Where to stay when you reach Chicago
Bright and colorful with unique design running through the hotel, CitizenM Chicago is a great choice for the end of the epic drive from Las Vegas.
Rooms here are comfortable and well-equipped, and as it's located in downtown Chicago, you can head out to enjoy all of the city's attractions during your stay.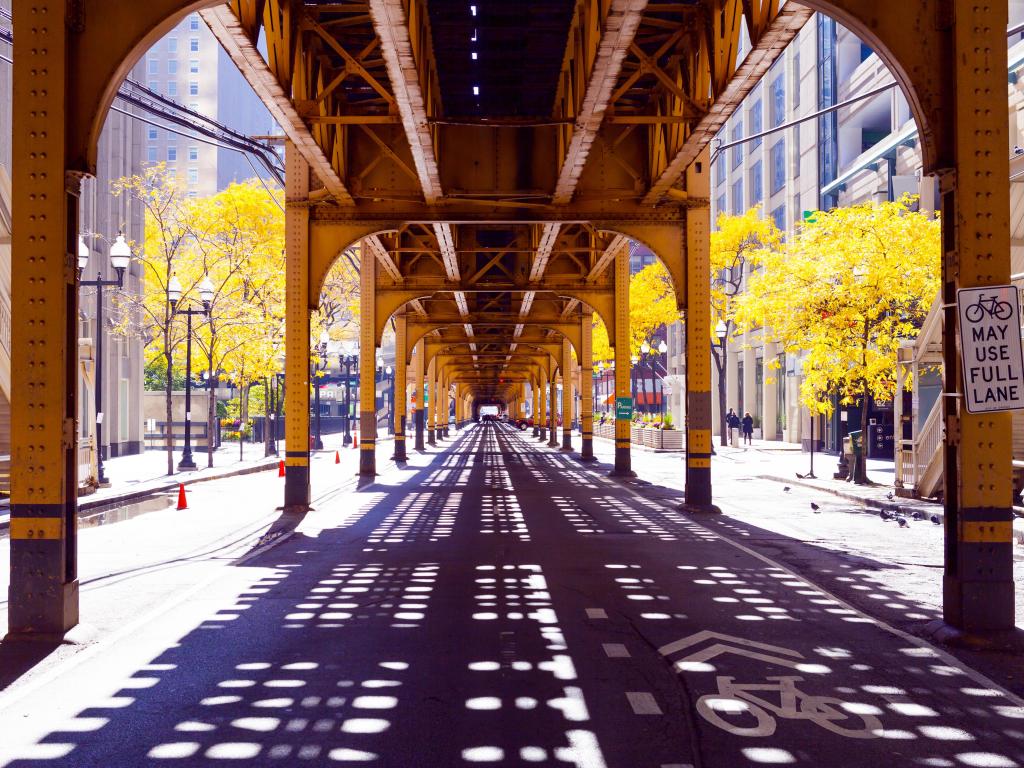 Things to see on a Route 66 road trip from Las Vegas
As well as some fabulous modern cities, there's plenty of Route 66 heritage tucked away along the way. Here are some of the highlights to help you get into the spirit of planning your Route 66 adventure.
The Chicago Route
Hoover Dam - Take a tour of this 20th century engineering masterpiece to enjoy views out across Lake Mead and the Arizona and Nevada deserts.
Kingman - Kingman calls itself the Heart of Historic Route 66, and the city's Historic Powerhouse is now home to the Arizona Route 66 Museum. Mohave Museum of History and Arts is another great place to visit to find out more about the state's heritage.
Seligman - When the original Route 66 officially disappeared, this small Arizona town was where the idea to maintain the historic highway was born. Nowadays it's the perfect place to shop for vintage gifts and Route 66 Americana, plus check out the legendary Roadkill Café.
Flagstaff - If you're spending the night in Flagstaff, head to the Museum Club to go line dancing at this former Route 66 Roadhouse. Nearby on South San Francisco Street you'll find a fabulous Route 66 mural to provide the backdrop for a memorable photo or two.
Petrified Forest National Park - Hop off the highway to admire the fossilized landscape of this unique national park.
Petroglyph National Monument - Just outside Albuquerque, hike through the hills to seek out some of the many petroglyphs dotted across the landscape.
Santa Fe - Detour off route 66 to visit New Mexico's state capital and immerse yourself in its fabulous range of museums, including the IAIA Museum of Contemporary Native Arts, New Mexico History Museum and the Georgia O'Keeffe Museum.
Santa Rosa - The Route 66 Auto Museum is a must-see on your Route 66 road trip. Another highlight in the city is Blue Hole Lake where you can have a refreshing swim.
Amarillo - Jack Sisemore Traveland RV Museum gives another glimpse into Route 66 heritage.
Cadillac Ranch - Just outside Amarillo, this art installation created out of vintage vehicles is another popular Route 66 stop.#
Oklahoma City - Don't miss the Milk Bottle Grocery, which was right on the original Route 66 when it opened in 1930. The huge milk bottle on the roof has been attracting visitors since the late 40s.
Route 66 State Park - The city of Eureka, MO, has created this state park around the Meramac River US 66 Bridge, which crosses the river a short distance away from the modern interstate.
Mark Twain National Forest - Detour off the interstate to spend some time in the great outdoors following one of this huge national forest's many trails.
Litchfield, IL - Pick up old Route 66 to visit the historic Ariston Café, which claims to be the oldest restaurant on Route 66. It's still serving tasty food, while also being listen on the National Register of Historic Places.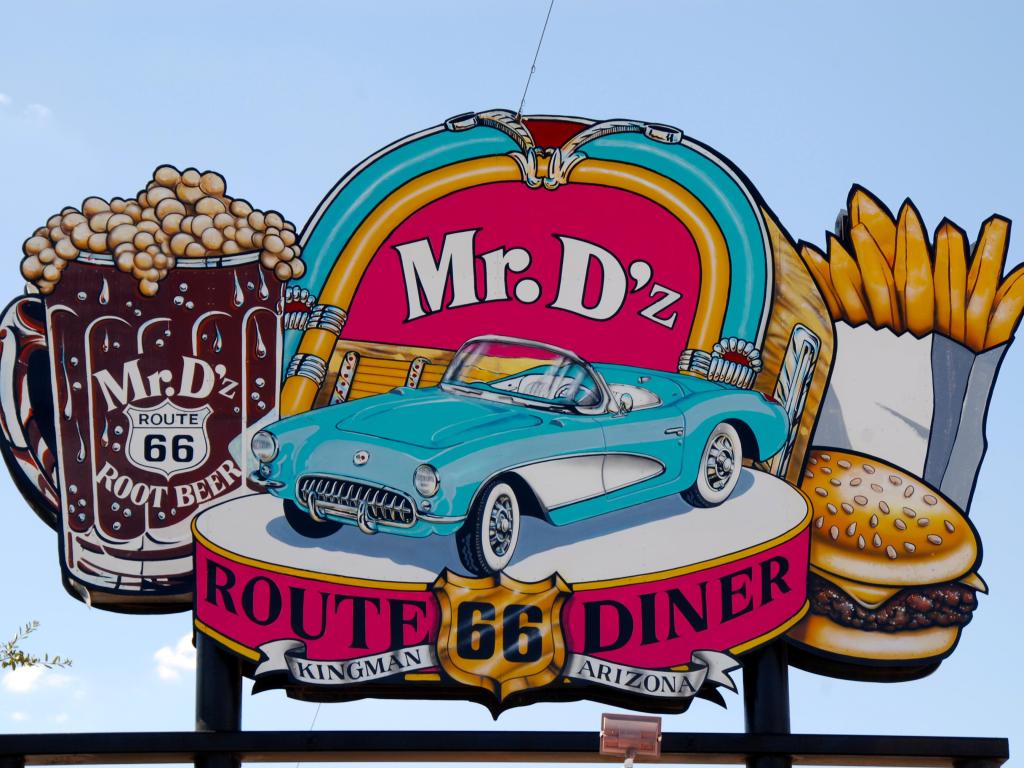 The Santa Monica Route
Nelson - Visit a historic mine at this small town just off US-95, or step into Nevada's past at Nelson Ghost Town. Head a little further to explore the Colorado River.
Mojave National Preserve - Head out to explore this stunning desert landscape. There's a scenic drive that takes you across the preserve, and you can stop to hike too if the weather isn't too hot.
Amboy - Just south of the old highway, you can't miss the huge Amboy Crater, left behind by a now-extinct volcano, which is a spectacular sight.
Barstow - Visit the Route 66 Mother Road Museum to see exhibits about the historic route through California and further afield.
San Bernardino National Forest - Detour off the route to follow the super-scenic Rim of the World Highway around the forest, or pick up a trailhead closer to the highway for a shorter trip into nature.
Pasadena - Explore the laneways of Pasadena's 19th century old town or visit the beautiful Botanical Gardens for a moment of peace.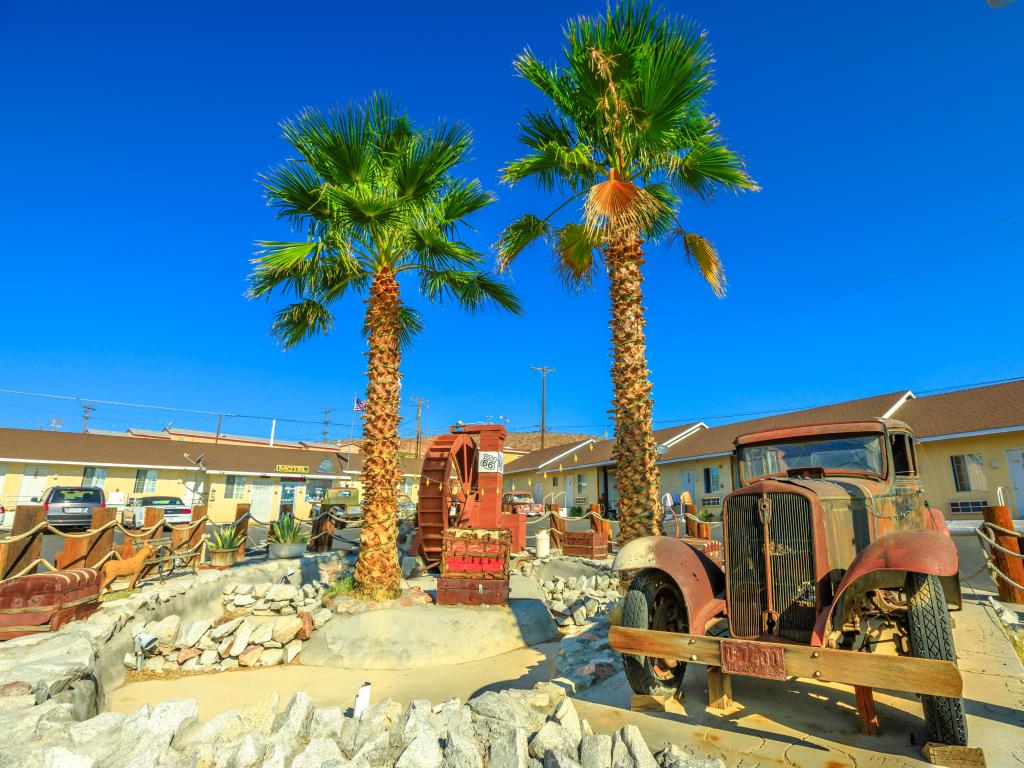 Best time to go on a Route 66 road trip from Las Vegas
Although the most popular time to travel along Route 66 is probably the summer, we'd suggest that this is a trip that's probably best enjoyed in spring or fall.
You can more easily drive the Santa Monica Route all year round, but many travelers prefer to avoid the summer heat. It's a great winter drive – you can go from the warmth of the desert to snowy mountains before enjoying winter sunshine on the beach.
By the time you arrive in Chicago temperatures will have dropped to a more moderate 80-85 degrees Fahrenheit in summer, but high humidity can make it feel warmer.
Despite the heat it's the most popular time of year for visitors taking summer vacations, so accommodation prices will be higher and it's recommended to book in advance.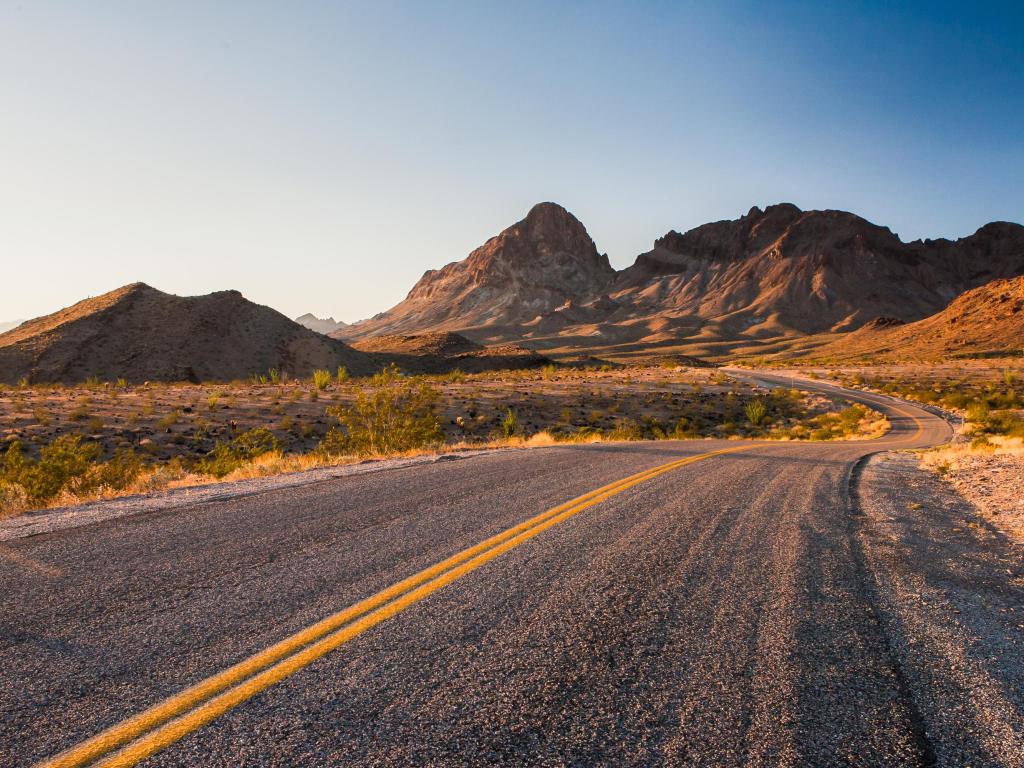 If you're in Santa Monica in June, be sure to check out Pier 360 Ocean Sports Beach Festival. As well as competitive sports events, the beach is buzzing with live music and pop-up food stalls.
Chicago is notoriously cold through winter, and Flagstaff receives up to 100 inches of snow, so even the southernmost parts of the route can be challenging to drive.
Temperatures are in the high 60s in Santa Monica so you can still easily enjoy time outdoors in winter, although temperatures can drop in Mojave National Preserve, with snow possible on higher ground.
Spring and fall see more moderate weather all along the route so they're the ideal time to travel Route 66. Chicago celebrates St Patrick's Day in style in April – they even turn the river green!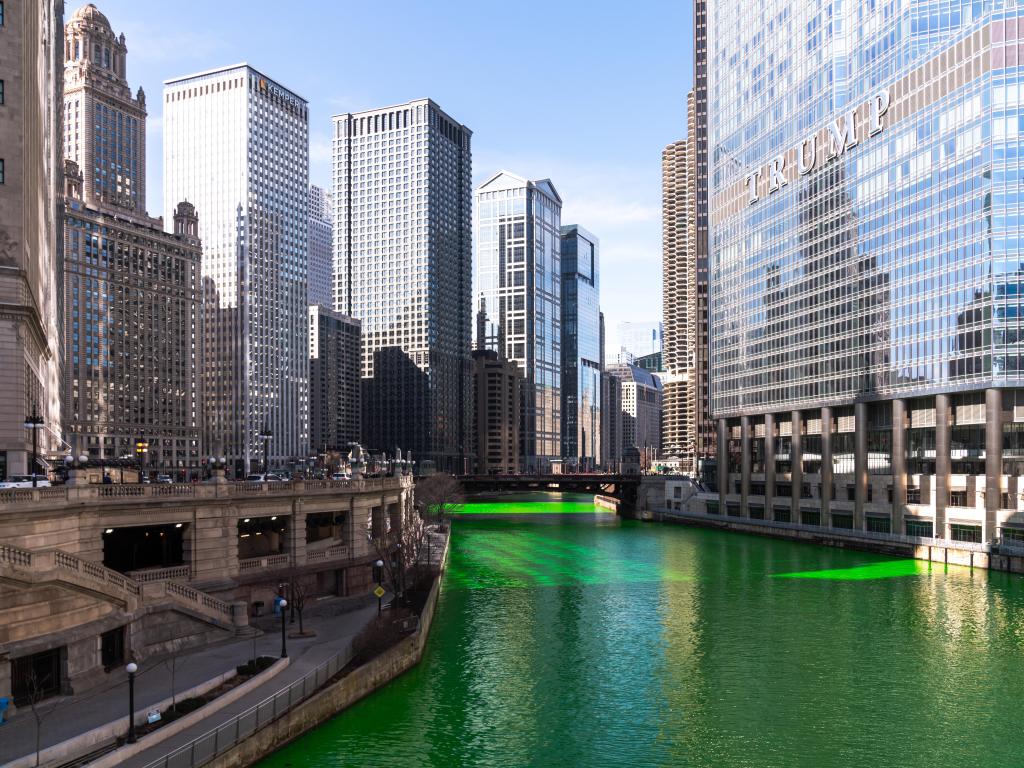 When it comes to temperatures, Chicago is cooler than California, but still reaches a respectable 70 degrees by May.
Santa Monica is slightly warmer in early fall (mid-80s) compared to late spring (high 70s) but both are perfect to spend time at the beach. If you're heading towards Chicago, look out for Albuquerque International Balloon Fiesta which takes place each year in October.