What is the Best Part of Route 66?
As early as the 1920s, Route 66 carried travelers from Chicago, Illinois, to Santa Monica, California. Sections of this historic route still do. Route 66 is a display of immense variety when it comes to sampling the best of the USA, and is bursting with dynamically different scenery all the way.
Route 66 is a 2,278-mile adventure from Chicago to Santa Monica. The drive through St Louis, Oklahoma City, Amarillo, Albuquerque, Seligman and Los Angeles takes 33 hours on the interstate, or upwards of 50 hours sticking to the historic highway.
Seeing that Route 66 is such an epic drive, it makes sense to split it into parts and enjoy the impressive variety of what each section has to offer while keeping the drive manageable. If you want to learn which part of Route 66 is the best, then keep on reading to help plan your trip.
Comparison of the best parts of Route 66

| Route | Distance | Driving Time | What to expect |
| --- | --- | --- | --- |
| Chicago to St Louis | 315 miles | 6 hours 50 minutes | Travel through cornfields swaying in the wind past retro stores |
| Springfield to Oklahoma City | 300 miles | 5 hours 30 minutes | Drive through picturesque small towns and even get to meet the Route 66 whale |
| Amarillo to Albuquerque | 290 miles | 4 hours 25 minutes | Head across the desert and enjoy the wide-open landscapes that Route 66 is famous for |
| Albuquerque to Las Vegas | 590 miles | 9 hours 15 minutes | Enjoy a feast of Americana set among more stunning desert landscapes |
| Las Vegas to Los Angeles | 350 miles | 6 hours | Try your luck at the tables in Sin City and get ready to dip your toes in the Pacific |
How long is Route 66 and how long will it take to drive?
Route 66 no longer exists as a single continuous road – it was gradually replaced by the interstate network between the 1950s and 1980s. These days you can either follow the approximate route on the interstate or hop onto the highway and try to trace what's left of the original highway.
The entire Route 66 covers 2,278 miles today and it will take you around 33 hours to drive nonstop, although we recommend taking about 8 days to complete this drive.
If you take the interstate option - starting out on I-55 then changing onto I-44 and I-40 before I-15 brings you into Los Angeles.
You can still pick up many parts of historic Route 66 though. The original road changes between signposted highways and less clearly marked local roads, so allow an extra hour or two in case you have to stop to work out the route.
These roads can be smaller and slower than the interstate, so expect a driving time of just over 50 hours - plus plenty of time to stop and explore along the way.
If you'd like to read our comprehensive guide on how long it takes to drive Route 66, you can find it here.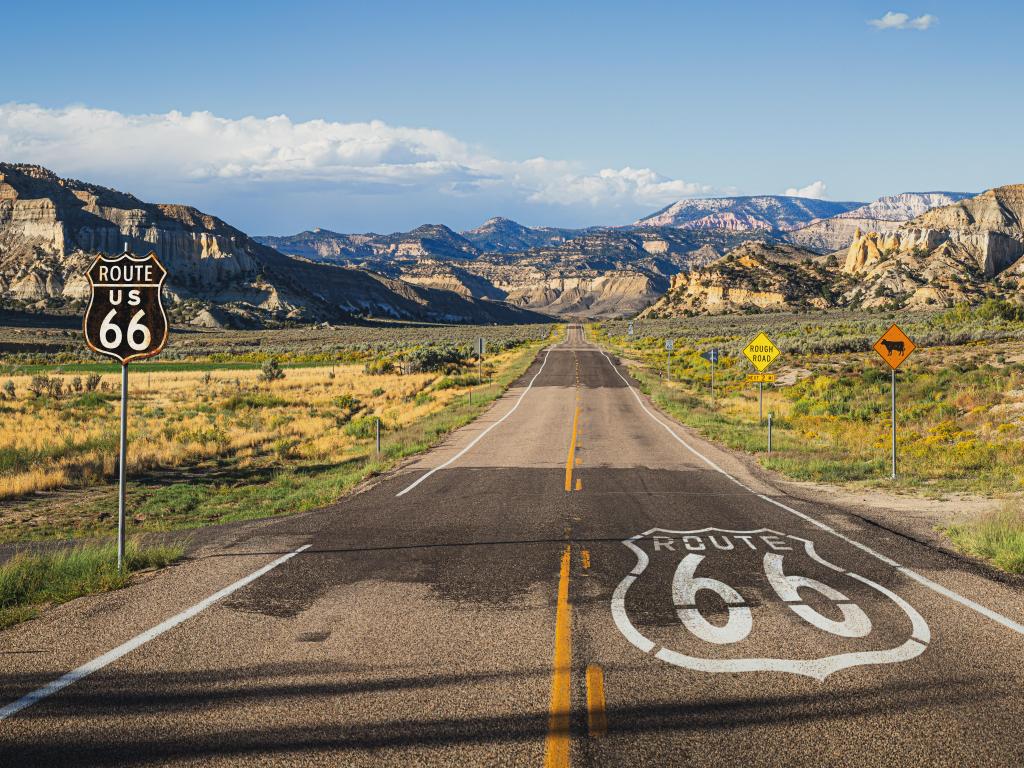 Can I drive Route 66 in sections?
Passing through the states of Missouri, Kansas, Oklahoma, Texas, New Mexico and Arizona, Route 66 quickly grew into an iconic drive. Although the highway itself no longer exists, its legacy has become interwoven with modern United States culture.
If you're planning an epic, cross-country adventure you can drive the whole of Route 66 in one road trip – it's a fantastic way to appreciate the changing landscapes and interesting towns and cities as you head out west.
We'd suggest allowing 3 weeks for this road trip though, so it might not be feasible for every traveler.
If you're taking your own vehicle rather than a rental, you'll also have to allow for travel to Chicago and back from Santa Monica, which can add hundreds – possibly thousands! – of miles more to your trip.
Since not everyone has the time to take a 2,000-mile adventure, we've split the route of Route 66 up into 5 shorter road trips which you can drive as standalone routes or as part of another trip.
They vary in length from 4 hours 15 minutes (Springfield MO to Oklahoma City) to 9 hours 15 minutes (Albuquerque to Las Vegas) and each one has plenty of Route 66 heritage on offer.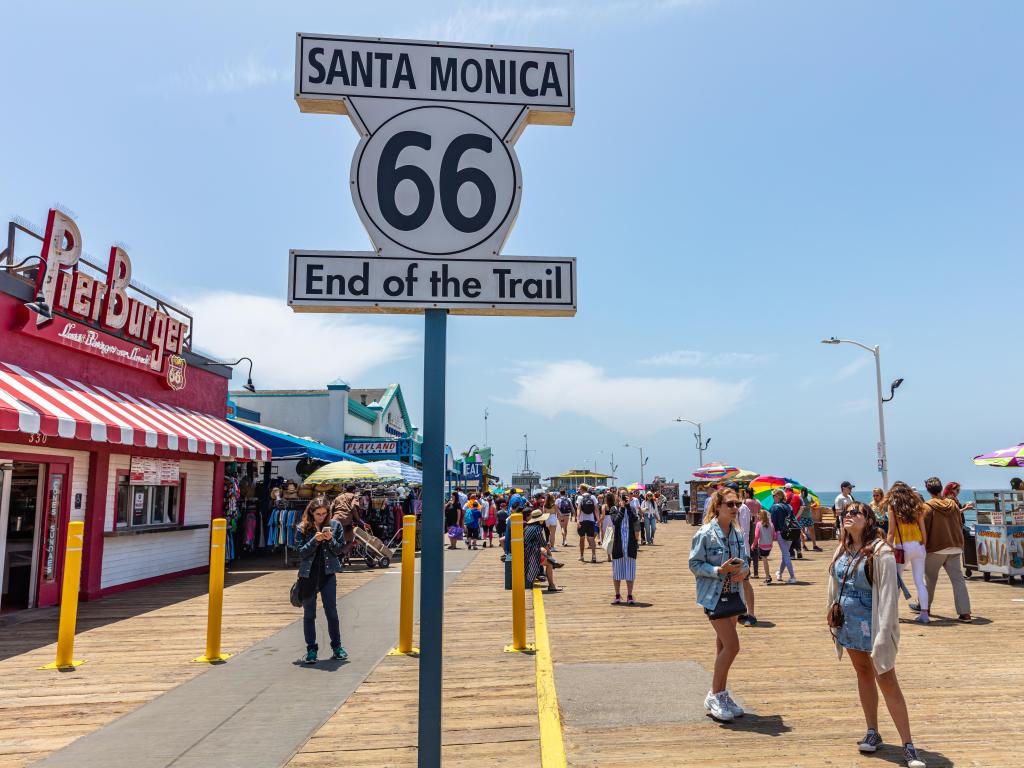 1. Chicago to St Louis
315 miles (6 hours 50 minutes) – historic route
300 miles (4 hours 25 minutes) – interstate route
Why this part of Route 66 is great: This part of Route 66 is a great short trip out of Chicago that lets you immerse yourself in the legend of Route 66 without having to travel too far from the city.
The northern part of Route 66 feels very different to the hotter, drier southern stretch. Traveling from Chicago to St Louis you'll hit wide-open prairies and cornfields once you're out of the city.
You can drive out and back in one (really long) day or get dinner at a drive-in and stay overnight at a classic Route 66 motel.
How to get there: Starting on a section of the original Route 66, follow W Ogden Avenue out of Chicago then pick up I-55 heading southwest away from the city.
As far as Springfield, IL, Old Route 66 runs close to I-55 and is usually well-signposted if you want to try to follow the historic route through small towns where you'll find Route 66 heritage on display.
Between Springfield and St Louis, the original route becomes a little harder to follow – if you want to stay faithful to the original route, stick to the interstate out of Springfield then take IL-157 from Hamel as you approach St Louis.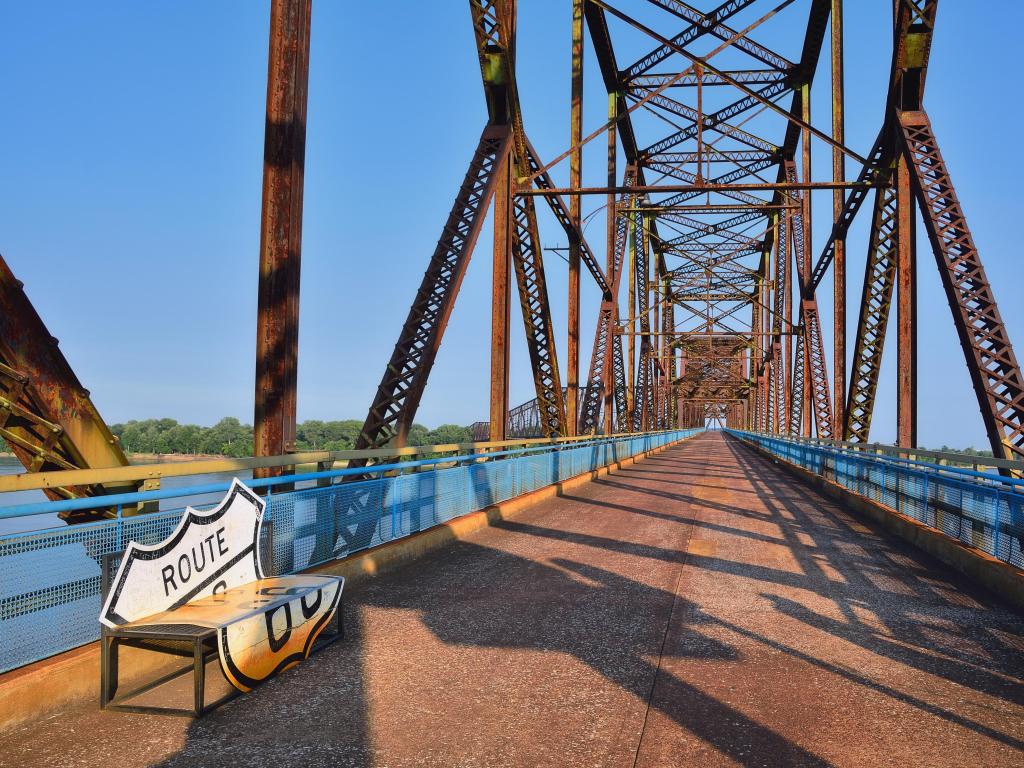 Route 66 highlights: Begin your road trip with a photo at the Route 66 start sign in Chicago, then chart your progress with another in front of Pontiac's colorful Route 66 mural.
Along the way you can stop off at Henry's Rabbit Ranch. At this quirky visitor center (with rabbits) you can see an outdoor art installation modelled on the famous Cadillac Ranch, which you'd visit if you were heading all the way south to Amarillo on a longer Route 66 trip.
Nearing the end of this section of Route 66 you'll find Chain of Rocks Bridge. One of the old Route 66 alignments would have crossed the Mississippi via this long bridge, famous for its drastic change of direction midway across the water.
Chain of Rocks Bridge is a popular scenic stop on old Route 66, but vehicle crime is regularly reported so the advice is to keep valuables out of sight and to park up on the Illinois side of the river.
Things to explore on the way: One of the great things about this stretch of Route 66 is the chance to follow the highway through quaint small towns which are packed full of Route 66 heritage.
The village of Odell, Illinois, sits on the original Route 66 and is famous for its vintage gas station, which has been lovingly restored by the local community so that travelers through Odell can get a real feel for its Route 66 past. You can stop for some homestyle cooking nearby.
Carry on a few miles further and you'll pass through Pontiac, where you can take a walk around the city's historic center or stop at the Route 66 Association Museum and Hall of Fame.
Springfield, the state capital of Illinois, also has plenty of Route 66 attractions to explore and is also a great place for history buffs to stop, as it was the home of Abraham Lincoln until 1861 when he became President.
Visit the Lincoln Home National Historic Site or Abraham Lincoln Presidential Library and Museum to learn more about Lincoln and his Civil War legacy.
There are several places to stop and see vintage vehicles along Route 66 but check out the Air Combat Museum if you'd like to see heritage planes as well. Opening hours can vary so check before visiting.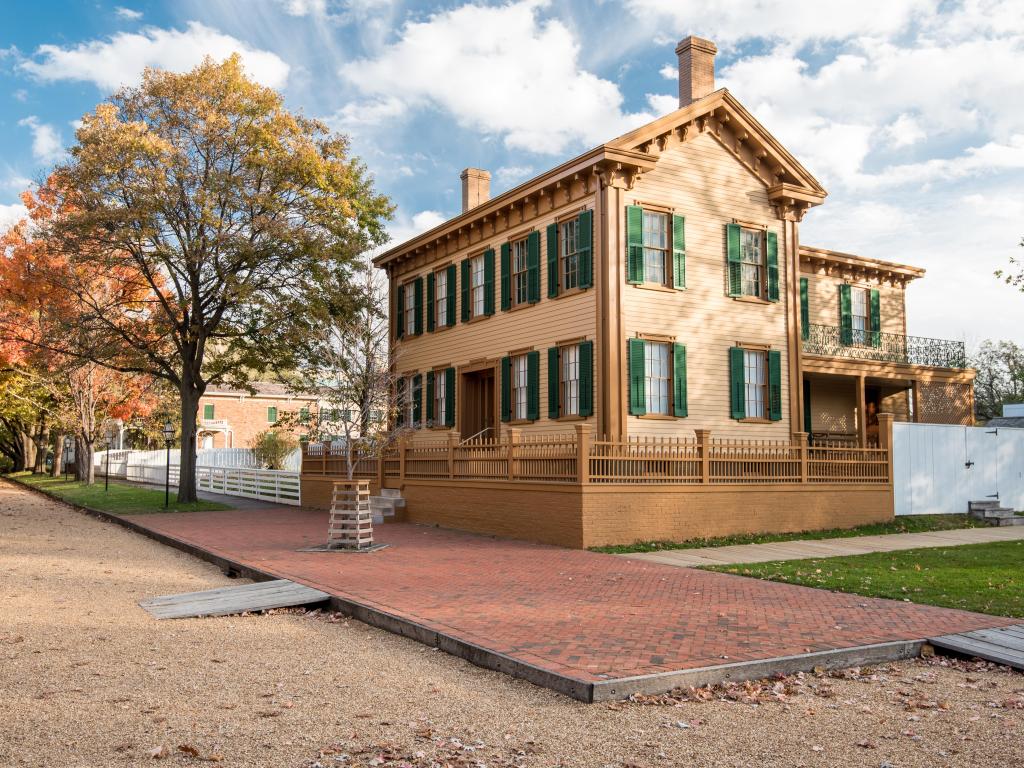 Where to stay: Springfield is also a great place to spend the night if you're making this drive into a weekend trip.
Just a mile from the state capitol, Carpenter Street Hotel, Springfield offers free transport to city sights, but it's walkable in around 20 minutes too.
Seeing as you won't need to do any more driving once you've checked in for the night, why not try out Capital City Bourbon Journey, which gives another interesting insight into Springfield and its thriving bar and restaurant scene.
Sticking with the city's Route 66 heritage, you might also like to head to the Cozy Dog Drive-In for a classic American meal at the home of the legendary corn dog.
Guests recommend the continental breakfast, which is included in most room rates, and free parking is an added bonus.
Springfield also has some charming historic hotels, including Pasfield House Historic Mansion, Springfield. This stunning historic building is also a fantastic choice in Springfield, but with only a few rooms you might not be able to guarantee a space.
A 10-minute walk from the Old State Capitol, you'll be able to immerse yourself in vintage charm if you're lucky enough to book a room here.
Fun fact/trivia: You'll meet the first of the Route 66 Giants on this stretch of your drive. The Gemini Giant, outside Wilmington's Launching Pad Drive In, is one of the hundreds of 20-foot-high figures that used to tower above Route 66 restaurants and stores.
There aren't many of these fiberglass figures left now but you'll see another on this stretch – carrying a giant hotdog – in Atlanta, Illinois.
Every September, the International Route 66 Mother Road Festival sees a huge number of classic cars returning to Springfield, along with live entertainment and food stalls.
2. Springfield, MO, to Oklahoma City
300 miles (5 hours 30 minutes) – historic route
285 miles (4 hours 15 minutes) – interstate route
Why this part of Route 66 is great: Route 66 has a special place in Oklahoma history – thousands of people followed the road west in the 1930s when the infamous Dust Bowl devastated farming communities and sent people in search of a new life in California.
This is the shortest of our Route 66 routes, especially if you stick to the interstate, so it's perfect for travelers who want to dip into the legendary drive without being able to commit weeks to the journey.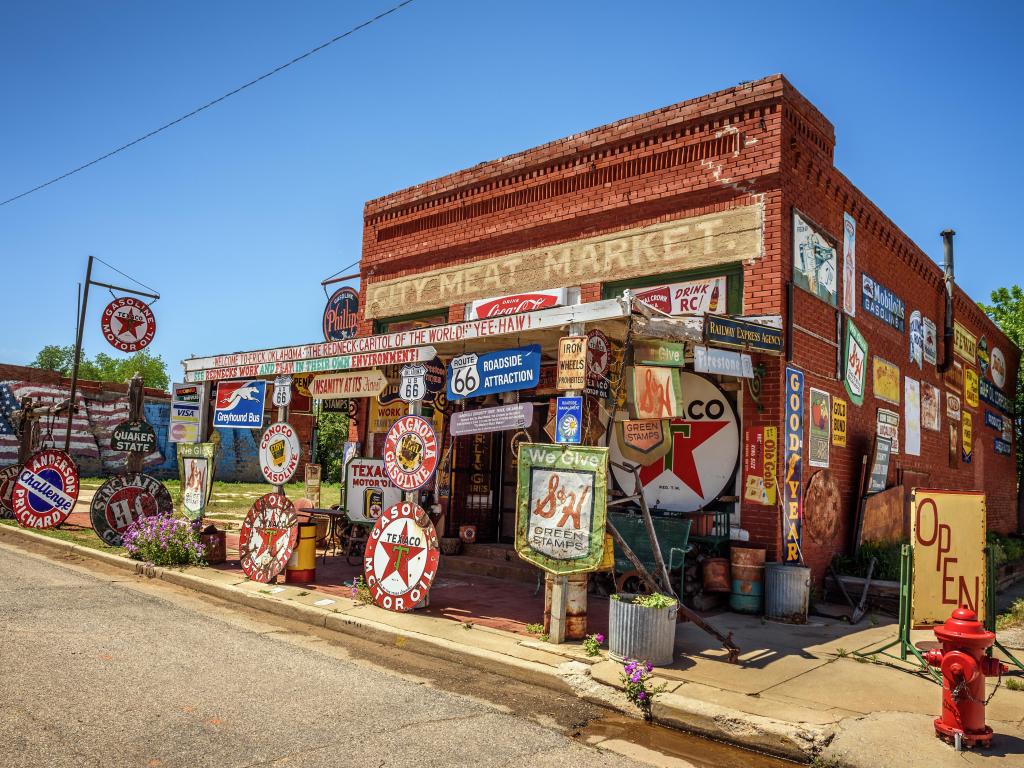 How to get there: I-44 takes you direct from Springfield to Oklahoma City. You'll have to allow for the fact that this is pretty much the only Route 66 road trip where you'll pay tolls to travel on the interstate.
It's a little harder to find the old Route 66 on this section of the drive so it's best to plan ahead. Head west out of Springfield via I-44 and wait until you pass Fidelity to start following the old highway.
Follow the road through Joplin and on to Galena where you'll pick up KS-66. Alt-69 then sticks to the route of Route 66 through Baxter Springs, Quapaw and Miami.
Cross the Neosho River and continue through Narcissa before merging onto US-60 which continues the Route 66 route. From White Oak, take OK-66 towards Tulsa.
Use the interstate to cross the city (or rejoin it if you're stopping here) then turn off into Sapulpa. From here you can pick up OK-66 again and follow it pretty much all the way to Oklahoma City.
Route 66 highlights: At the Route 66 Car Museum in Springfield, MO you can admire a beautiful collection of vintage vehicles and imagine a time when they would have traveled the Mother Road themselves.
Further south in Missouri, stop off at the Boots Court Motel, Carthage, for classic Route 66 cuisine. You'll find this restored motel and diner between Springfield and Tulsa.
You can see another one of the Route 66 Giants on this stretch of Route 66 too. The Blue Whale of Catoosa was built as a surprise anniversary gift, and become a popular swimming spot until it closed temporarily in the 1980s. The site has since been revived but it's now strictly for picnics and photographs.
Things to explore on the way: The former mining town of Galena found a new lease of life when Route 66 started bringing travelers through on their way out west.
As you travel through town, you'll still see historic red-brick buildings on Main Street. Look out for another of the Route 66 Giants, plus a model of police car Sheriff, from Disney-Pixar's Cars.
Cars on the Route is a quirky place to grab a bite to eat here. Check out the vintage truck that lives on the forecourt of this former gas station, which inspired another of the Cars characters.
Carrying on south you'll hit Tulsa, Oklahoma, where you can get your camera out and enjoy a visual feast of Route 66 heritage. There's the Admiral Twin Drive-In Theater, where you can still stop to catch a movie, El Rancho Grande Tex-Mex restaurant, and the huge Meadow Gold neon sign which towers above the road.
Also in Tulsa, you'll find the Golden Driller, another huge figure that's even bigger than the Gemini Giant you'll have seen if you drove the Illinois section of Route 66.
Stepping away from Tulsa's Route 66 heritage, explore the city's Black history in the Greenwood District. Greenwood Rising is an interactive museum where you can find out more about the Tulsa Race Massacre and the regeneration of this thriving district.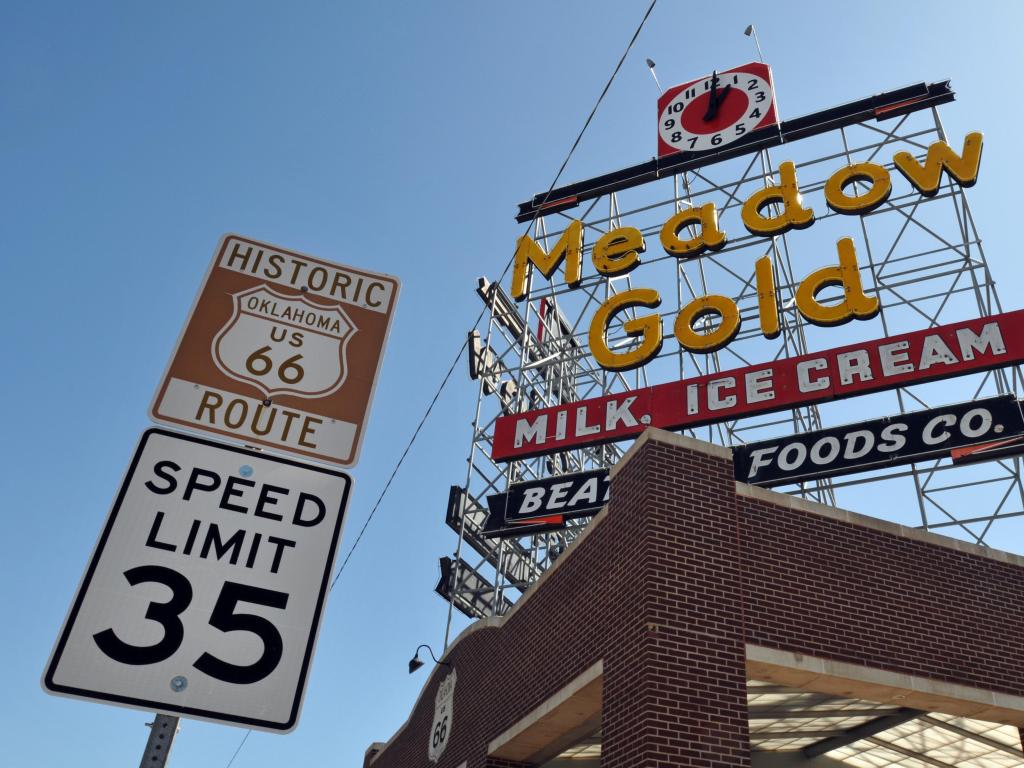 Where to stay: Just a few blocks off the route through Tulsa you'll find Residence Inn by Marriott Tulsa Downtown. With its large and comfortable rooms, it's a great place to break your journey.
There's private parking on site so you can leave the car behind to head out and explore the city. Then come back to relax in the outdoor pool - it's the perfect place to cool off and wind down after a busy day exploring Route 66 sights.
Fun fact/trivia: If you're traveling between Joplin and Quapaw at night watch out for the ghostly Spook Light – a gold or orange light traveling along a nearby dirt road. Investigators still can't explain this spooky paranormal phenomenon.
3. Amarillo to Albuquerque
290 miles (4 hours 25 minutes)
Why this part of Route 66 is great: This is one part of the drive where the old Route 66 and the modern Interstate run parallel much of the way, so even sticking to the interstate you'll be able to experience the same impressive landscapes that wowed travelers in the past.
With some fabulous Route 66 museums and vintage stop-offs packed into a relatively short stretch of the route, this is the perfect way to enjoy a taste of Route 66 if you're limited for time.
You can combine this drive with other road trips, or simply delve into the history of this part of Texas and New Mexico to make a cross-country trip much more exciting.
How to get there: Join I-40 in Amarillo and simply follow it west to Albuquerque. There are a few places along the way where the old Route 66 can take you through roadside towns, including Adrian, where you'll find the mid-point of the historic route.
Route 66 highlights: Stop for a meal in classic Route 66 roadside diner surroundings at Midpoint Café, Adrian, Texas.
Further along your drive, be sure to take a snapshot of the classic neon sign outside the Blue Swallow Motel in Tucumcari, New Mexico, which has been carefully restored.
Once you reach Santa Rosa you can cool off at the Blue Hole, a beautiful blue swimming lake which has been a popular stop throughout Route 66's history. You'll also find the Route 66 Auto Museum in town.
Things to explore on the way: Before setting out on your road trip make sure you leave some time to explore Amarillo's Route 66 heritage. If you're looking for somewhere to stay – or just a great photo opportunity – the Blue Swallow Motel is decorated with classic neon lights and has plenty of vintage touches running throughout.
Route 66-Sixth Street Historic District combines vintage Route 66 buildings, including a couple of restored gas stations, as well as bars, restaurants and shops.
Once you hit the road one of the first places, you'll come to is Cadillac Ranch, an art installation in the desert where huge Cadillacs have been embedded into the ground and decorated to form a modern-day monument on the Mother Road.
When you reach Vega, you can take your pick of photo opportunities and vintage-style eateries at this small roadside town.
There's the Route 66-era Vega Motel, which is now listed on the National Register of Historic Places, red-brick Roarke's Stores, and the ruined Magnolia Gas Station. Stop off at the Hickory Inn Café for a 66-inspired meal.
Head to the fascinating Milburn-Price Culture Museum to find out more about this part of Route 66 (look out for the huge model cow keeping watch by the road).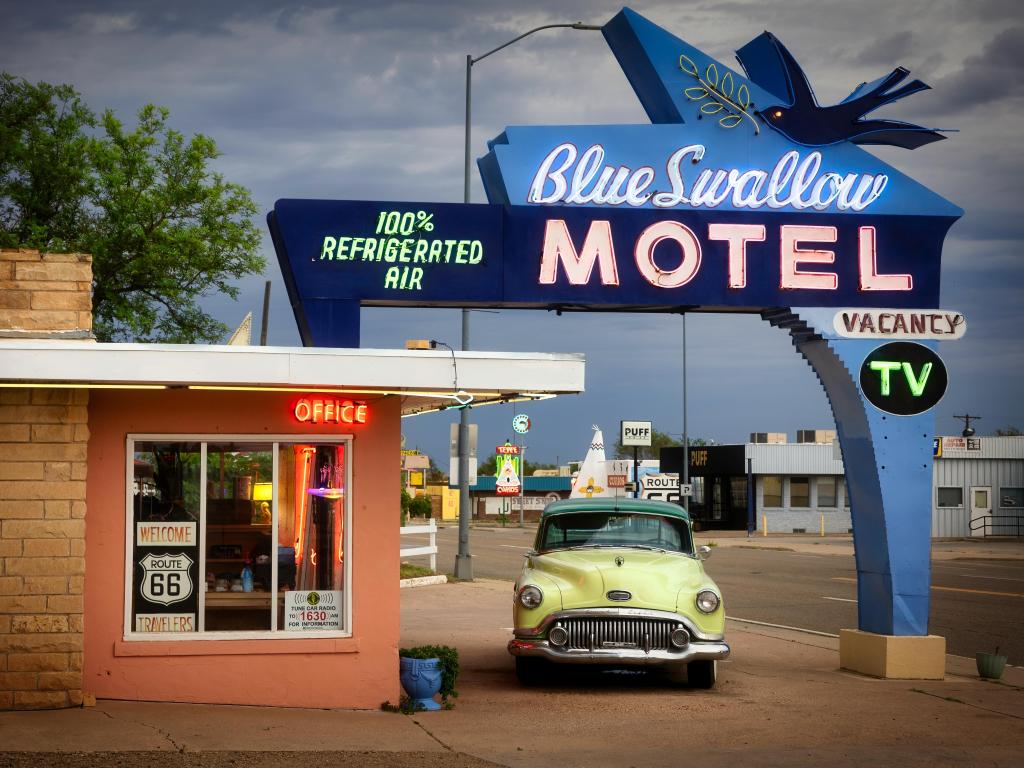 Where to stay: You'll be able to get into the Route 66 spirit with a night at the Roadrunner Lodge Motel in Tucumcari, New Mexico. Its large spacious rooms have plenty of vintage features to conjure up that classic road trip mood.
In the evening, sit out by the firepit to watch the sun set and share your road trip stories with other travelers. Then before you hit the road again stop off to enjoy some of the cute breakfast supplies that are provided – take your choice of Ding Dongs or Twinkees!
Fun fact/trivia: Hop off the interstate to explore the ghost town of Glenrio, where the arrival of the interstate meant this desert town was abandoned. Take the original Route 66 west out of Glenrio and you'll get a real feel of the past since parts of the road here are unpaved.
4. Albuquerque to Las Vegas
590 miles (9 hours 15 minutes) via the historic route
570 miles (8 hours 20 minutes) via the interstate
Why this part of Route 66 is great: The rebirth of Route 66 started in Seligman, Arizona, one of the towns on the original alignment of Route 66 that faced an uncertain future once the Interstate diverted the passing trade that it thrived on.
A local businessman led the revival of this part of the route, and the stretch of the original highway from Seligman to Kingman through Nelson and Hualapai was the first to be re-designated as Historic Route 66.
All along this part of the route you'll find vintage motels and stores as well as the kind of classic desert scenery that's probably one of the first things that leap to mind when you picture a Route 66 road trip.
As well as getting to travel the historic route, you can combine this stretch of the drive with a detour to the bright lights of Las Vegas, less than 2 hours off Mother Road.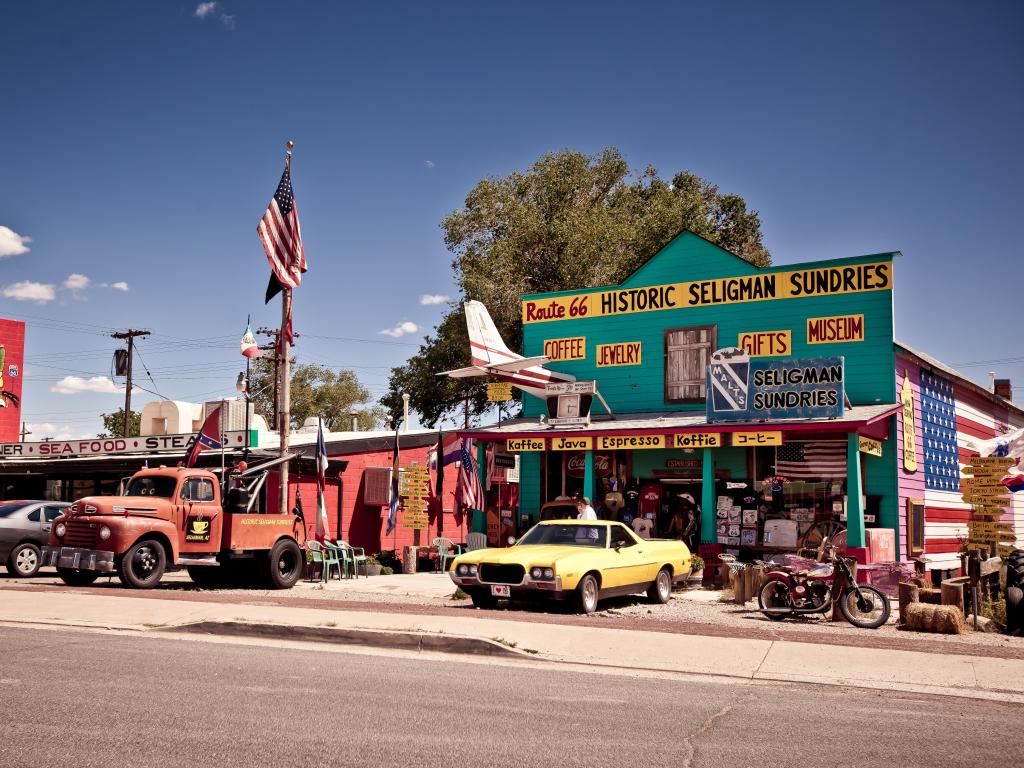 How to get there: Follow I-40 west out of Albuquerque, which sticks closely to the historic alignment of Route 66. If you want to slow the pace and stick to a more authentic drive, you can hop off onto the neighboring highways like NM-122 which hug the interstate.
Crossing into Arizona you'll pass the stunning Petrified Forest Natural Park before ascending towards Flagstaff. Approaching Seligman, turn onto Old Route 66 which takes you to Kingman.
From here, pick up US-93 and follow it across the desert to Hoover Dam, Boulder City and Las Vegas.
Route 66 highlights: On this stretch of Route 66 from Albuquerque to Las Vegas you can see some iconic sites that have been synonymous with Route 66 for decades.
Joe and Aggie's Cafe in Holbrook, Arizona has been part of the Route 66 legend since 1943, and you can still stop off here for some homestyle cooking.
Just down the road is one of the original teepee hotels. The Wigwam Motel, Holbrook, was a popular attraction for 60s Route 66 travelers and is still offering accommodation today.
Further along the route in Walapai, near Kingman, Arizona, is Giganticus Headicus, another Route 66 Giant, this time apparently modeled on the Easter Island statues.
When you reach Kingman visit the restored Powerhouse Building, where you'll find the Arizona Route 66 Museum. Discover more about the historic route and some of the places you might have visited.
Things to explore on the way: Immerse yourself in all things Route 66 in the Americana-heavy town of Seligman. The Return to the 50s Museum is packed full of vintage memorabilia including some nods to Disney-Pixar's Cars.
If you're looking to take home some Route 66 mementos, you'll be in luck as there are several gift shops in town too.
Nearby, the Grand Canyon Caverns might be a little smaller than their famous Arizona namesake but they're still an impressive place to visit. Book ahead to confirm a place on an underground tour.
This stretch of old Route 66 also takes you past some stunning natural landmarks – allow some time to stop and explore them too.
I-40 skirts right past Petrified Forest National Park, which is where you'll find New Mexico's stunning Painted Desert. It's an amazing place to stop to hike or simply take a scenic drive.
A little further along the route, you can detour to Meteor Crater Natural Landmark. The visitor center at this huge landmark fills you in on the prehistoric event that created this rare attraction.
If you're ready for a break from the wide-open desert landscapes, turn south from Flagstaff for a scenic drive through Coconino National Forest, where the vibrant red rocks and lush green trees will bring a colorful contrast after hours of drier scenery.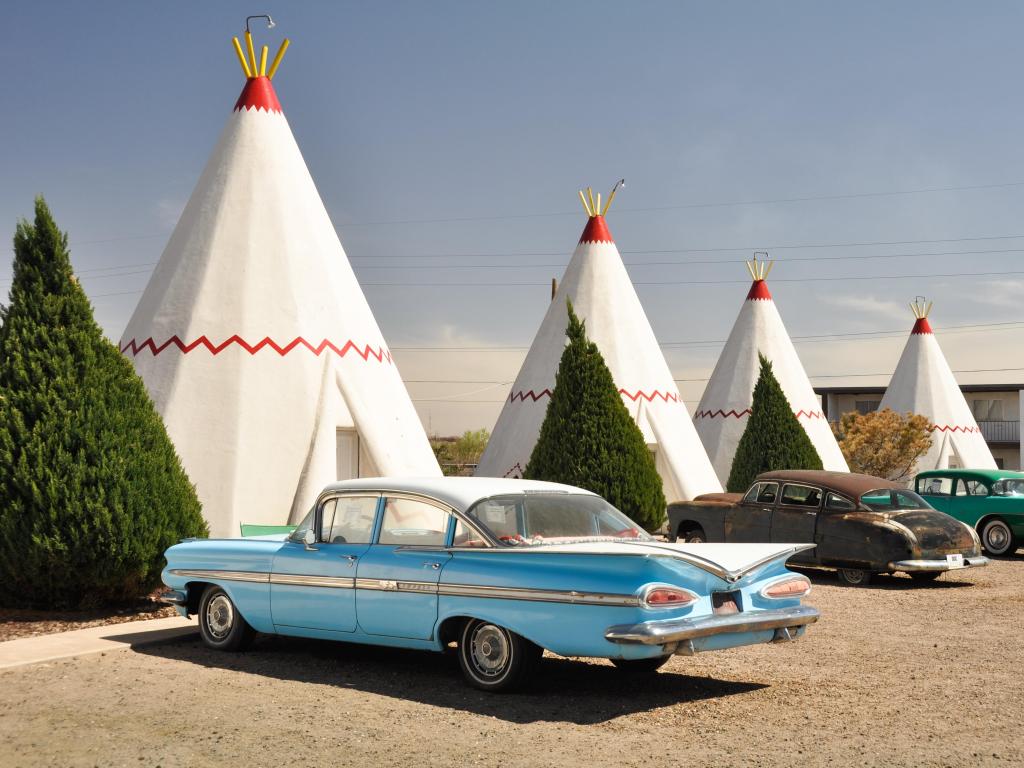 Where to stay: A huge 66 neon sign welcomes you to Historic Route 66 Motel, Seligman. Right by the historic route, you'll feel a real connection to the journey when you check into this classic Route 66 accommodation.
The motel's comfortable rooms include subtle vintage design features, and it's also right beside the Roadkill Café, a favorite stop for Route 66 travelers.
Fun fact/trivia: Disney-Pixar's Cars tells its own Route 66 story – and you'll find shout-outs to the film all along this stretch of the route – but enthusiasts have identified tiny Peach Springs, on the road between Seligman and Kingman, as the inspiration for Radiator Springs.
5. Las Vegas to Los Angeles
350 miles (6 hours)
Why this part of Route 66 is great: This section of Route 66 takes you all the way to the dazzling Pacific, where you can bask in the sunshine at the end of the epic Route 66.
With a combination of desert landscapes, natural monuments, the buzzing cities of Las Vegas and Los Angeles, and the sea views at the end of the road, it's like a complete Route 66 road trip in miniature.
As well as visiting classic Route 66 attractions, along the way you can also pause to spend time in LA to visit places like Disneyland, Hollywood and Malibu.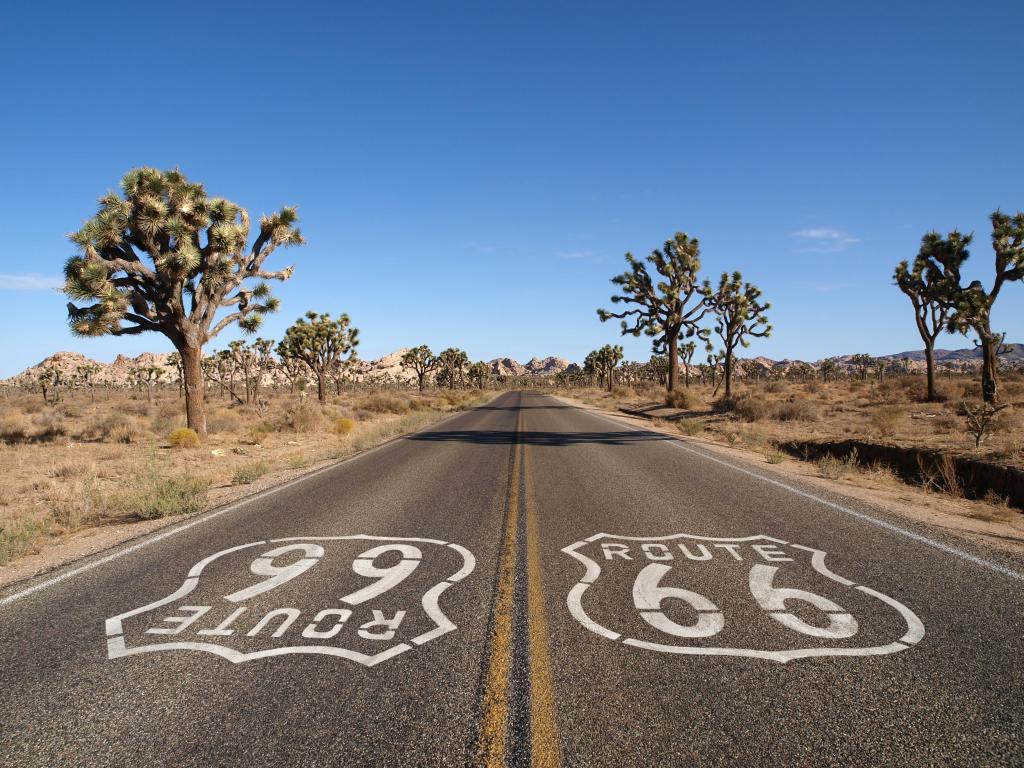 How to get there: Follow I-15 south from Las Vegas then turn off to take the road through Mojave National Preserve. On exiting the park, cross straight over the interstate and carry on across the desert towards Amboy, where you'll meet up with part of the original Route 66.
Take CA-66 west to join up with I-40 as far as Barstow then follow Main Street through Hodge and Helendale, another section of the original Route 66.
Rejoin I-15 at Victorville then change onto I-10 to make your way through Los Angeles – allow extra time in case you hit congestion – and on to the coast at Santa Monica.
Route 66 highlights:
In the shadow of the huge extinct Amboy Crater and volcano, you'll find the ghost town of Amboy, where classic diner Roy's Café cooks up retro American cuisine.
You can also stop for a meal with a view at the Summit Inn, Cajon Pass, CA. This restaurant has been cooking amazing meals for guests since the 1950s.
In Barstow, another city with a long Route 66 connection, check out the informative displays at the Route 66 Mother Road Museum to find out more about Route 66.
Things to explore on the way: Stop to explore the stunning landscape of Mojave National Preserve as you travel south from Las Vegas.
The scenic drive across Mojave National Preserve takes you past some unforgettable natural monuments. You can hike through the beautiful Kelso Dunes, take a 4WD tour to visit underground lava tubes, or admire amazing views across the Granite Mountains.
If you've never visited Los Angeles before then chances are you'll also want to spend some time enjoying the city's glitzy attractions when you're passing through.
You can't miss the huge Hollywood sign that looks out over the city, but don't forget to check out the stars on the Hollywood Walk of Fame too.
Of course, to really immerse yourself in the city's movie legacy, spend a day or three at Disneyland to enjoy the colorful parades and take your pick of movie-themed rides.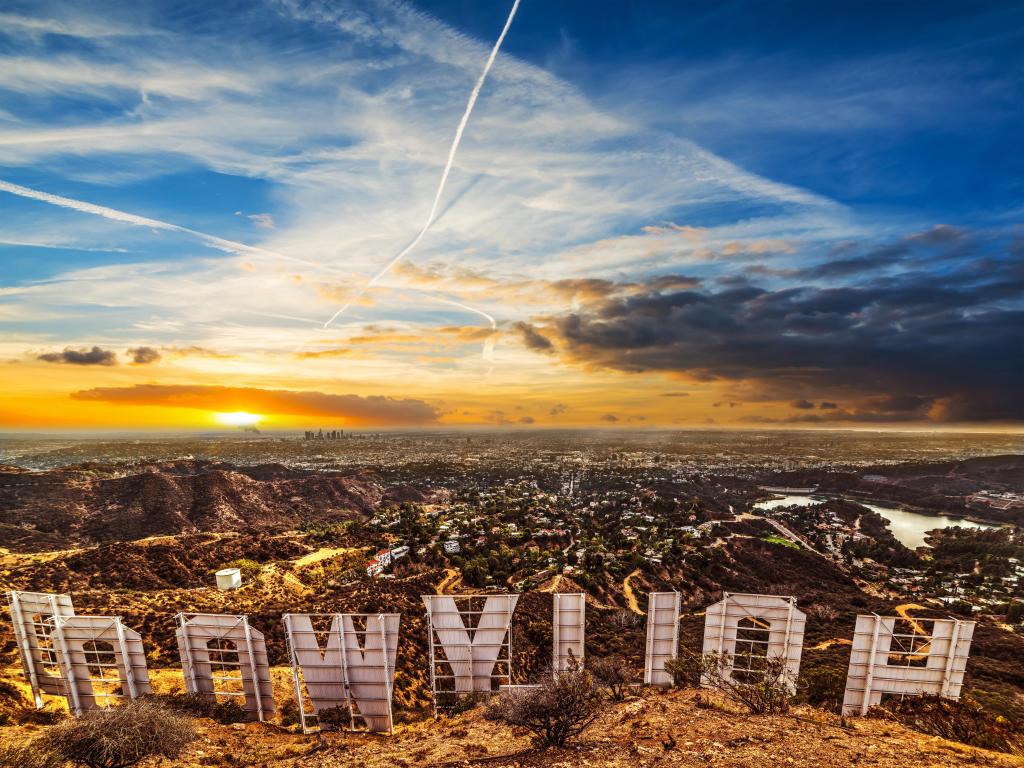 Where to stay: For a classic Route 66 motel experience, book a night at the New Corral Motel, Victorville. This Route 66 motel has been updated so that it combines modern comfort with road trip heritage.
Comfortable and spacious, it's also right on the route so you won't have to take a lengthy detour to check in.
Fun fact/trivia: If you thought Route 66 was all about the road then think again – it's also where you'll find the International Banana Museum. Close to the end of the route in Mecca, California, stop off to explore the 20,000+ exhibits, all based on bananas.
So, what is the best part of Route 66?
Route 66 features in classic literature and films, and back in real life it was the route that thousands of people took when they traveled west in search of fame, fortune, adventure, or simply a better life after the Great Depression and the Oklahoma Dust Bowl.
Traveling from the Great Lakes to the Pacific Ocean, Route 66 is a drive of epic proportions that showcases some of the country's stunning landscapes and varied cities. With so many miles and so much variety, the best part of Route 66 will be different for every traveler.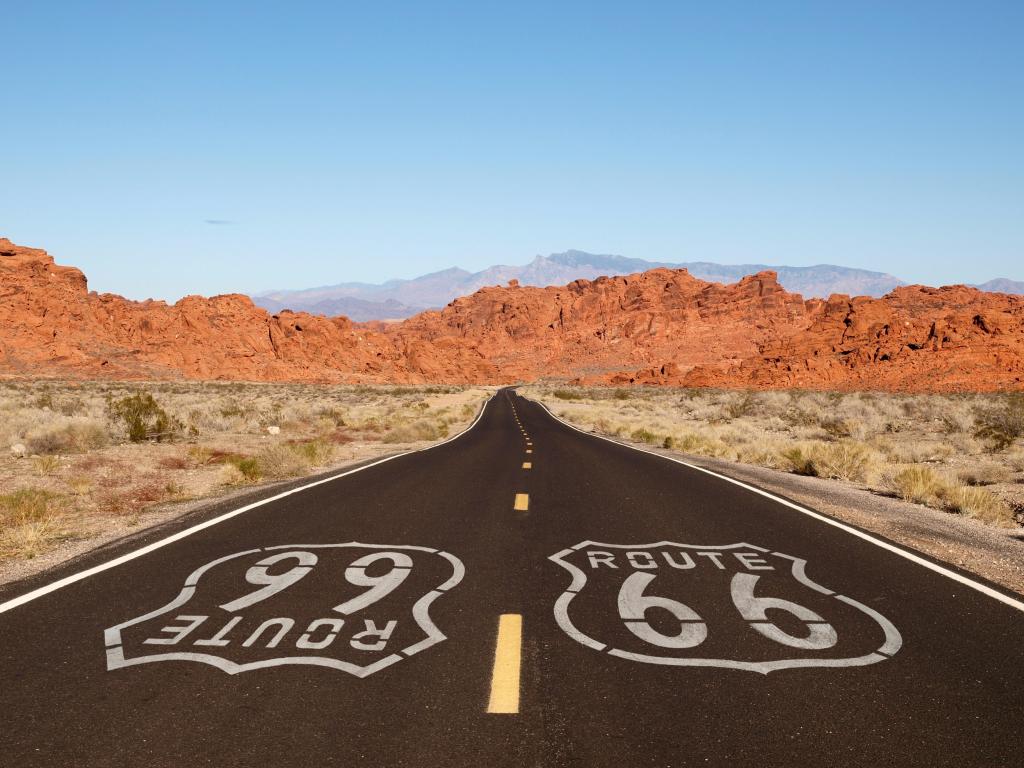 If you're looking forward to endless desert views then the section from Amarillo to Albuquerque should be your top pick or think about driving from Albuquerque to Las Vegas to swing away from the interstate and experience the historic highway as it travels through Seligman and Peach Springs.
Of course, for a short trip out of the city, the drive from Chicago to St Louis is the perfect choice, plus you'll get to enjoy those classic cornfield views and some charming, nostalgia-filled small towns.
One thing that's guaranteed is that, whichever part of Route 66 you decide on, you have a classic road trip ahead of you.