Road Trip from Virginia to Texas
If you're looking for a road trip that blends amazing scenery and an exhilarating drive - one that's dotted with fascinating cultural and historical stops along the way - then this journey from Virginia to Texas is for you. Get your bags ready for this monumental road trip adventure to the Lone Star State!
The 1430-mile trip from Virginia to Texas takes 23 hours to drive, with highlights including Asheville, Knoxville, Nashville, Memphis, George Washington and Jefferson National Forest, Roanoke, Blowing Rock, Mobile, Durham, Pensacola and New Orleans.
This road trip is packed with exciting sights and stunning landscapes, with a fair amount of music along the way! Keep reading to see the best routes to take, where to stop, and what to see as you make this amazing trip.
How far is Texas from Virginia, and how long will the road trip take?
Comparison of road trip routes between Virginia and Texas
Route
Distance
Driving Time
The Dallas Route


via Blue Ridge Parkway

1,430 miles
23 hours and 30 minutes
The Houston Route


via New Orleans

1,425 miles
22 hours and 45 minutes
The beautiful Dallas Route traveling via Blue Ridge Parkway covers 1,430 miles and takes around 23 hours and 30 minutes to complete.
If you decide to take the Houston Route, passing New Orleans, then this will take you around 22 hours and 45 minutes and covers 1,425 miles.
These epic routes from Virginia to Texas have so much to see along the way, therefore we suggest taking 7-8 days to make the most of this amazing journey to explore these fascinating sights and scenery.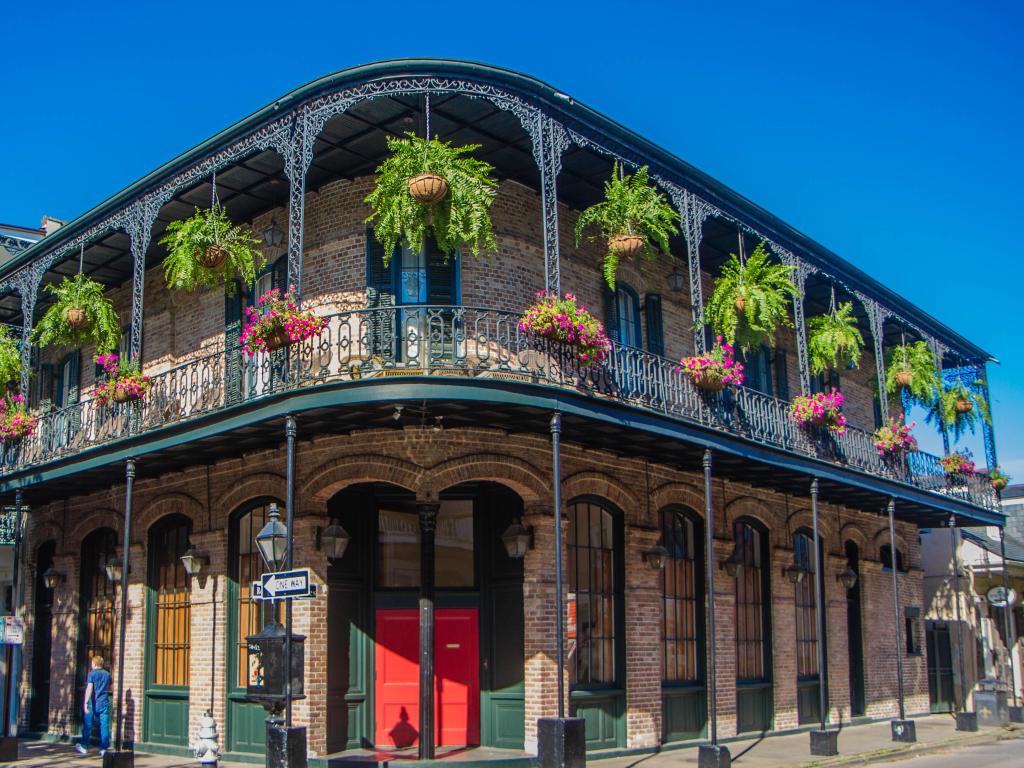 Best road trip route from Virginia to Texas
Traveling from Virginia to Texas reveals an amazing journey passing beautiful scenery and fascinating landmarks as you make your way through beautiful inland and coastal stops towards Texas.
The Dallas Route (via Blue Ridge Parkway) takes a tour around some of the most interesting, scenic and musical spots, as you take the pretty incredible Dallas Route.
Choose the Houston Route (via New Orleans) then you get the chance to visit bucket-list cities, beautiful beaches and interesting inland attractions that are all sure to leave a lasting impression.
How to drive from Virginia to Texas
The map above shows our suggestions for the best road trip routes between Richmond, Virginia and Texas (ending in either Dallas or Houston). Keep reading for detailed descriptions of both routes, where to stay on either, and the best things to do on the way.
The Dallas Route (via Blue Ridge Parkway)
As you head out of Richmond, Virginia, take Interstate-64 (I-64) west, passing Charlottesville to visit Monticello, the home of Jefferson, before heading along I-81 towards George Washington and Jefferson National Forest.
Pick up the VA-16 south passing Blowing Rock for panoramic views, where the I-40 then passes Asheville, Pigeon Forge and Knoxville, before arriving for some jamming in Nashville, ideal for a night or two in this musical hub.
Afterwards continue to follow I-40 where you can enjoy Memphis Rock 'n' Soul Museum, before arriving at Little Rock. Hop on I-30, and pass Hot Springs and then arrive in Dallas.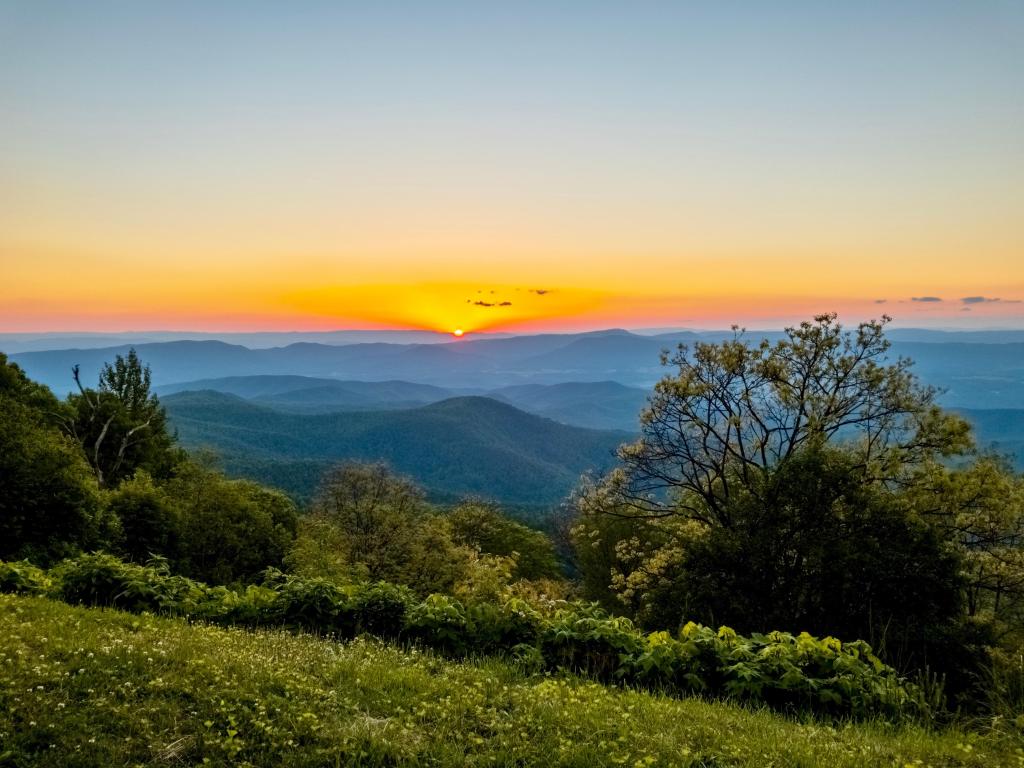 The Houston Route (via New Orleans)
Taking the Houston Route, follow I-85 South, where you can meander around Sarah P. Duke Gardens in Durham, and check out the science scene in Greensboro.
Continue along I-85 towards Charlotte before arriving in Atlanta, where you can enjoy botanical gardens and cola memorabilia. A diverse and memorable stopover.
After Atlanta take the I-85 then I-65 towards the sandy shores of Pensacola, before heading along the US-98 to take in Mobile. The USS ALABAMA Battleship Memorial Park is a must-see.
From here pick up the I-10 passing Biloxi before arriving at New Orleans for some amazing music and experiences. After a night or two take the I-10 to see memorable sights including Atchafalaya National Wildlife Refuge and Lafayette Science Museum, before arriving in Houston, Texas.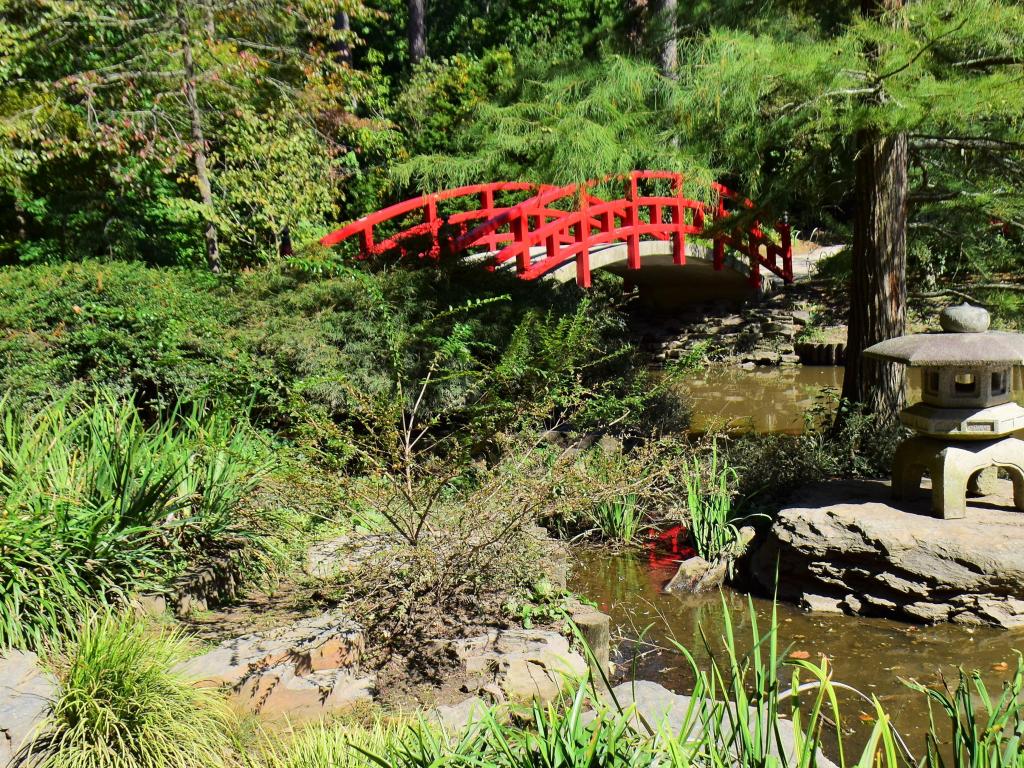 Best places to stop between Virginia and Texas
What a trip you can take between Virginia and Texas, catching some of the most beautiful scenery and fascinating stop-offs, as you cruise the highway to Texas.
To get the most out of this epic trip stay overnight along the way. Here are some brilliant places to do just that.
Dance the night away in Nashville
Known as the "Music City", the buzzing city of Nashville is a great stop-off option as you head along the Dallas Route towards Texas. Found around halfway, stop here for plenty of exciting sights, entertainment and great hospitality.
If you are a music fan, then make sure to visit the Country Music Hall of Fame and Museum. With over 2.5 million music pieces to see, you can take a visit down a musical memory lane. The Ryman Auditorium, considered as the "Mother Church" of music venues, is also a top attraction to tour and take in a show.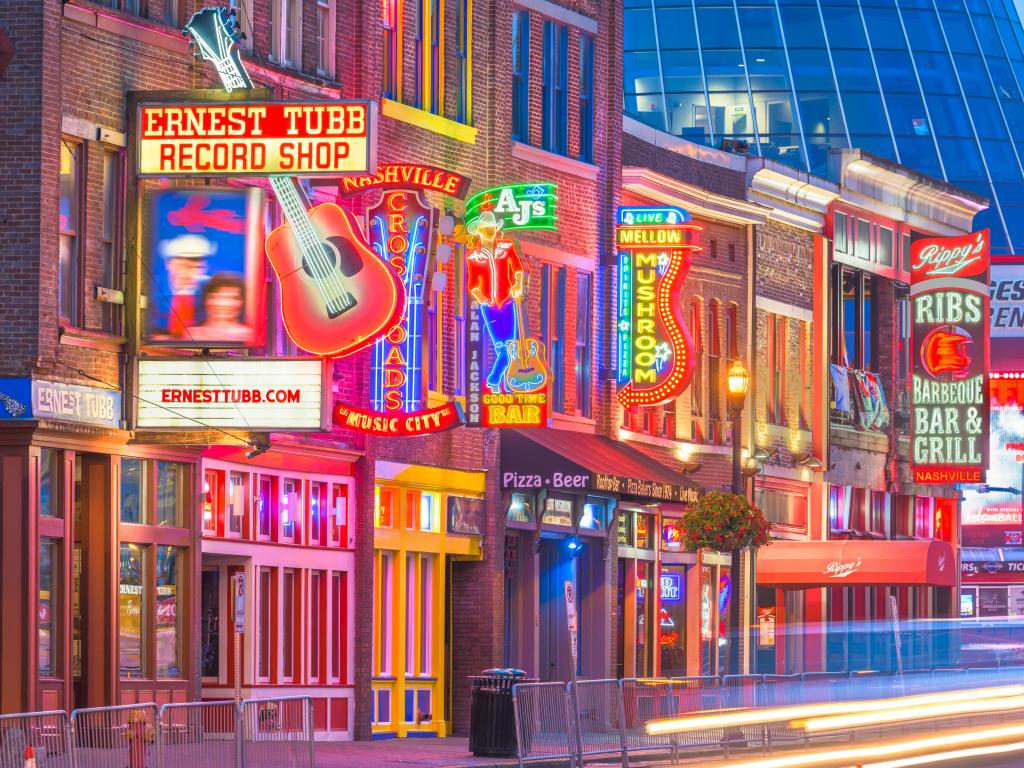 For an alternative trip, take in the Nashville Parthenon, a copy of the Parthenon found in Athens. You can find this impressive structure at Nashville's Centennial Park, which houses an array of artistic and historical curiosities.
To make the most of this amazing city it's certainly worth stopping for a night or two, and we recommend checking into the Grand Hyatt Nashville, found right in the heart of Nashville and close to many of the top spots.
This stylish hotel is packed with indulgent treats like the beautiful outdoor terrace to soak in the city sights, or the wonderful on-site wellness center to pamper yourself.
Come evening, there is a choice of fantastic restaurants on-site including Solstice and Lou | Na serving À la carte meals. This is sure to be one truly delicious stop!
Check out the history of the Olympics in Atlanta
Just under halfway along the alternative Houston Route you reach Atlanta, known for its cultural backdrop and beautiful cityscape, with interesting landmarks to visit during a stopover.
Make sure to visit the Atlanta Botanical Garden, renowned for its beautiful collection of flowers. The Tropical High Elevation House is particularly popular as it showcases the most interesting carnivorous plants. There are also special events during the holidays, where the floral displays are illuminated.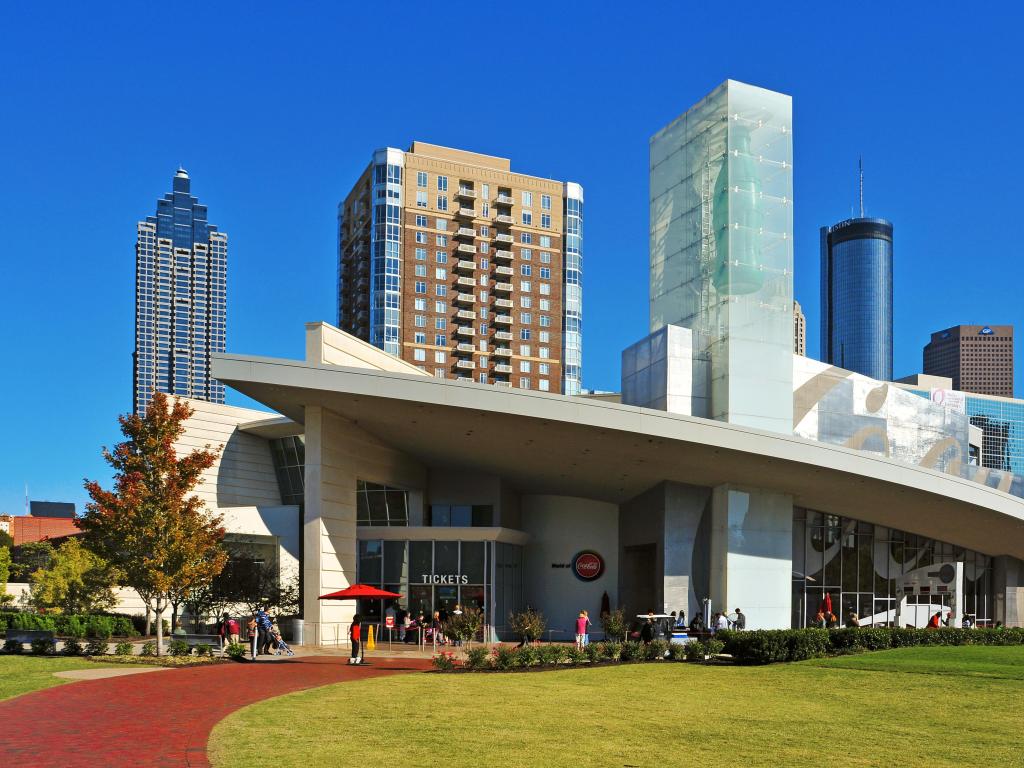 Looking for a quirky attraction? Then the World of Coca-Cola ticks plenty of boxes. This museum celebrates all things Coke and is packed with everything to do with the brand, with special tasting sessions you can also enjoy.
Afterwards we recommend heading to the Centennial Olympic Park, which was built in 1996 to host the incredible event. Stop and admire the iconic Olympic rings and other symbols acting as a legacy of the famous games.
With so much to see, we recommend staying overnight, and the St. Regis Atlanta is the perfect place to stay. This amazing 5-star hotel has absolutely stunning architecture and design and really is a stunning stay.
When you arrive wind down with a visit to Remede Spa for a massage and dip in the jacuzzi or gigantic Pool Piazza, before taking a seat on the gorgeous outdoor terrace.
Enjoy a delicious evening meal in one of the restaurants on-site, or take advantage of the amazing car service offered every evening, providing guests with the chance to travel up to two miles for a fun evening out.
Where to stay when you reach Texas
If you are heading along the Dallas Route, then the HALL Arts Hotel Dallas is a fabulous place to stay once you arrive in your final destination.
This stunning five-star hotel, with incredible designer interior, will make you feel like a superstar, and located in the heart of Dallas it is close to many top sights including Dallas World Aquarium and Dallas Museum of Art.
Take a dip in the incredible rooftop heated pool with amazing city views, before enjoying pre-dinner drinks in the on-site bar listening to live music, then heading for a delicious evening meal.
If you are taking the Houston Route then Blossom Hotel Houston is an absolutely gorgeous 4-star accommodation to stay at, with stunning lounges to relax in after a busy day, and unrivalled views from the rooftop terrace.
Make sure to take a swim in the breath-taking rooftop swimming pool, or head to the state-of-art fitness center. There are plenty of options at this amazing hotel to unwind, surrounded by a beautiful cityscape view.
Things to see on a road trip from Virginia to Texas
This incredible road trip from Virginia to Texas is absolutely packed with beautiful landscapes, cultural landmarks, and unique sites to explore. Keep reading to see all the amazing things we recommend seeing.
The Dallas Route (via Blue Ridge Parkway)
Monticello - Stop off at Charlottesville to visit the home of Thomas Jefferson. A great opportunity to see the home he built and the grounds.
George Washington and Jefferson National Forest - Spanning 1.6 million acres, this picturesque location offers opportunities for walking, hiking, and mountain biking, with abundant wildlife and captivating landscapes to discover.
Roanoke - Ascend Mill Mountain for a stunning panorama of Roanoke and a close encounter with the famous Roanoke Star.
Blowing Rock - Take in the breathtaking vistas from The Blowing Rock, situated 4,000 feet above sea level. Be mindful of strong winds and choose an ideal day for hiking.
Asheville - Visit Biltmore, America's grandest residence, and then spend a leisurely afternoon in the winery.
Dollywood - A must-visit in Pigeon Forge is Dollywood. Owned by Dolly Parton, this is a popular destination and fun amusement park promises a great day out.
Knoxville - In the day head to the Ijams Nature Center, with beautiful views and enjoy nature. In the evening take a wander around Market Square for great entertainment and food.
Nashville - You can certainly toe-tap your way across Nashville. Visit Ryman Auditorium to enjoy an evening of entertainment or take a daytime tour of this iconic venue.
Memphis Rock 'n' Soul Museum - An informative museum detailing the origins of rock and roll and the musical heyday of this Memphis area.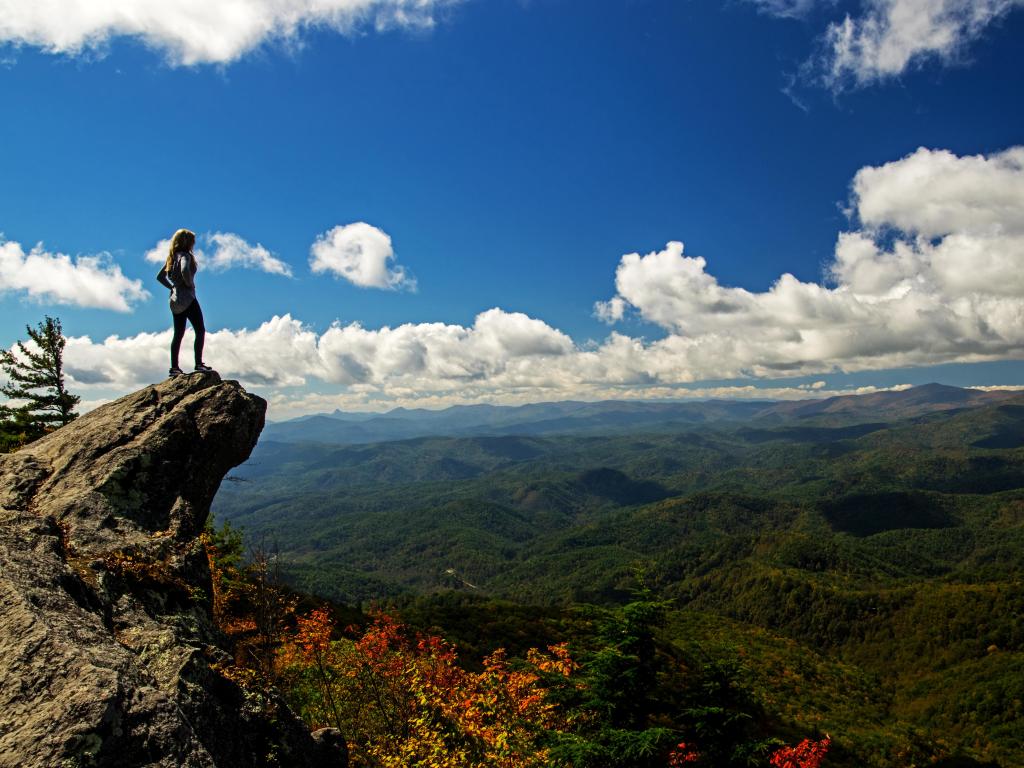 The Houston Route (via New Orleans)
Sarah P. Duke Gardens - Stop off at Durham for a stroll around this beautiful park, which are free to visit aside from small parking charge. A great spot to admire the plants, lakes and wildlife.
Greensboro Science Center - This unique site is a mixture of a science museum, zoo and aquarium, and has something for everyone. Walk with the dinosaurs along Prehistoric Passages.
NASCAR Hall of Fame - Not just for racing fans, this informative and interactive museum simulates the excitement of a high-speed race, with exhibits showcasing one of the most famous races in the world.
Children's Lake - Visit Boiling Springs and add this to the agenda. Recently refurbished, this pretty parkland and lake is ideal for a stop off for lunch and stroll. Take some extra to feed the ducks
Atlanta - Discover a plethora of attractions, including the intriguing World of Coca-Cola. Delve into the history and evolution of this globally recognized beverage and learn about its rise to prominence.
Atlanta Botanical Garden - This beautiful collection of flowers, including rare Orchids, are definitely worth a visit to. Head there around December and the gardens are illuminated too.
Pensacola - Experience the renowned sandy beaches, offering relaxation and entertainment. Enjoy amusement parks, boat excursions, and an array of shops and bars in the downtown area.
USS ALABAMA Battleship Memorial Park - Located in Mobile, this must-see military attraction features exhibits spanning 12 decks and showcases numerous historic aircraft.
Biloxi – Visit the beach for some rest and relaxation, and tour around Biloxi Lighthouse, a famous landmark with historical significance.
New Orleans - Known as the 'Big Easy' you will be sure to dance your way around this incredible city. Make sure to visit the iconic Mardi Gras in February, for a once-in-a-lifetime experience.
Atchafalaya National Wildlife Refuge - Spread over 15,000 acres, this diverse landscape of woodlands and swamps is teeming with wildlife. Learn more about current projects protecting local toad and frog populations in the Atchafalaya Basin.
Lafayette Science Museum - A jam-packed museum filled with lots of science exhibits and interactive displays. The planetarium is a must!
McFaddin-Ward House Museum - Take in the history of Beaumont with a visit to this impressive historical house, just one of the grand residences built from families striking rich from oil in the area. This preserved home has an interesting Beaux-Arts Colonial style.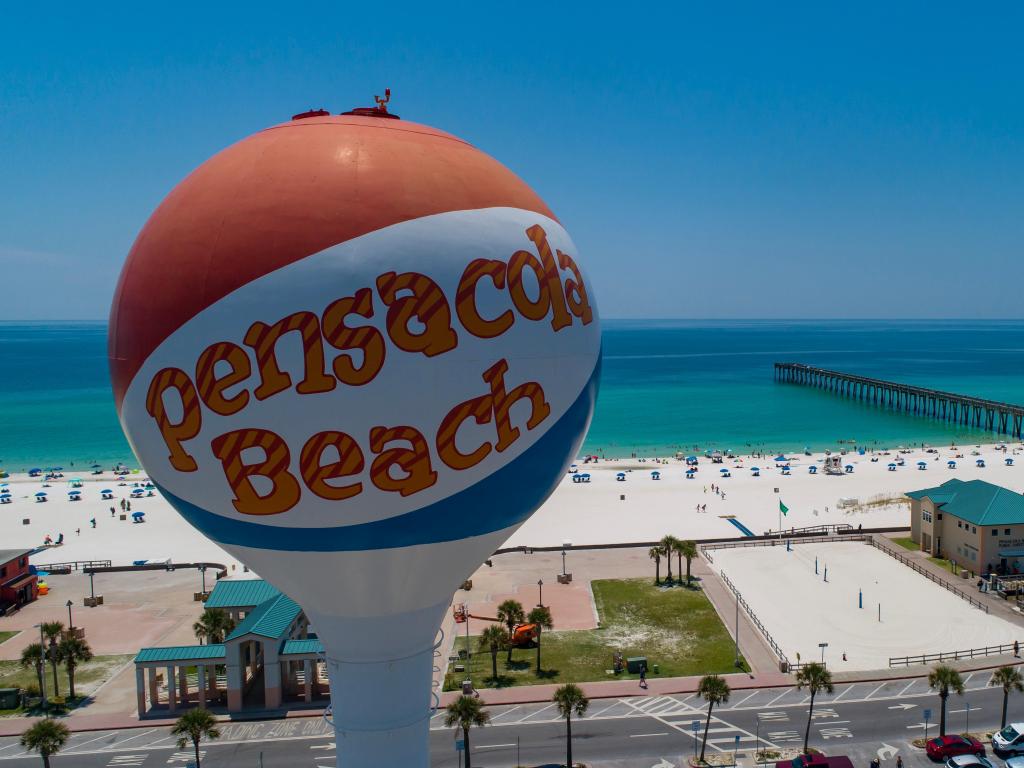 Best time to go on a road trip from Virginia to Texas
In Texas the sun shines all year round, so a visit here can be enjoyed whatever the season. But with hot summer months, it's typically better to travel outside this peak period when the temperatures are more forgiving.
In the summer months from June to September, it can be particularly hot and humid. Temperatures can reach over 100 degrees Fahrenheit across Texas, so if you do visit during this time then make sure to pack plenty of provisions and water and travel early morning or evening to avoid the midday heat.
In winter temperatures can dip considerably lower, falling below 10 degrees Fahrenheit, so make sure to wrap up warm as you can also benefit from lower visitor numbers if you head here during this time.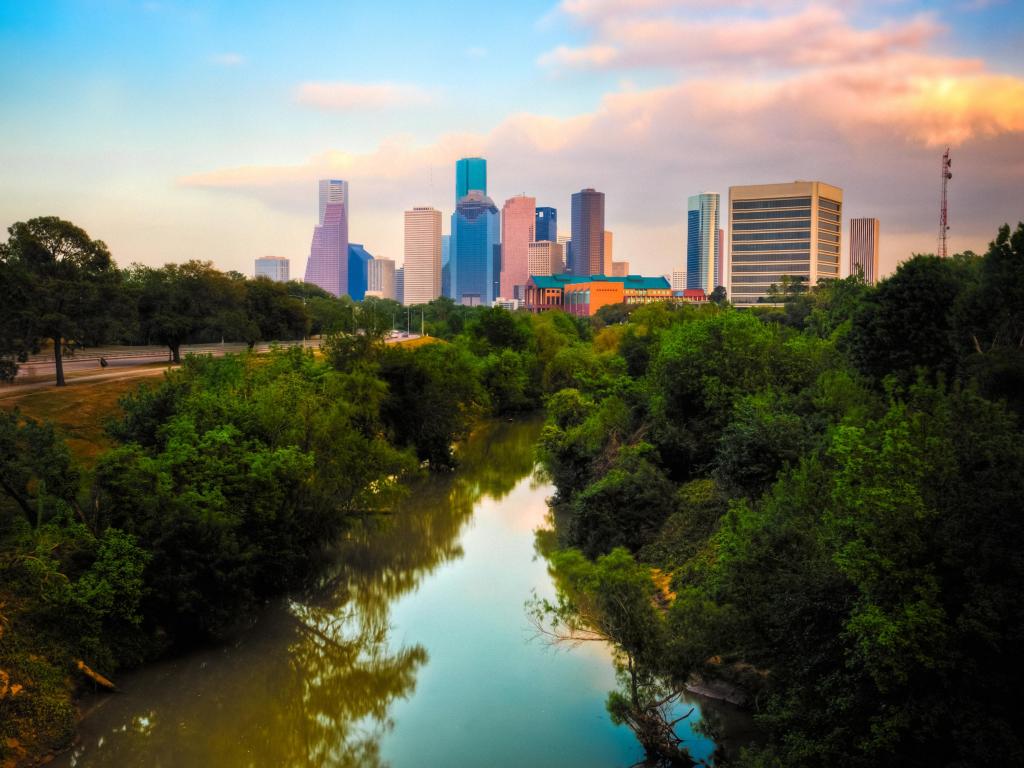 Visiting Texas in spring is a very popular time, as temperatures are nice and warm reaching around 70 degrees Fahrenheit and rising. It's a pretty time to travel and explore too, and plenty of visitors flock during this time.
In fall, temperatures sit around 60 degrees Fahrenheit from September to November, so this also makes for a pleasant time to visit. However, it can be busy so make sure to book any accommodation in particular, in advance.
Some highlights in the Houston calendar include the Livestock Show and Rodeo around February or early March, with more rodeo and cowboy celebrations taking place throughout the year including Southeast Texas State Fair in May.
In June, the popular Pride Houston takes place, where over 150,000 spectators marvel at the lively parades. In July the Freedom Over Texas Festival sees plenty of live entertainment and celebration to mark Independence Day.
In Dallas, there is also plenty going on. Visit between February and April and the beautiful Dallas Blooms event at the Dallas Arboretum & Botanical Garden is a must-see. Alongside the flowers are tasting events and live music.
In September is the State Fair of Texas, which brings parades and other attractions to the city. It's a fun event for all the family to celebrate local life.
It's worth keeping in mind that any popular events can prove busier for visitors, and make accommodation prices at a premium, so make sure to book ahead if your trip is coinciding with a popular event going on.