Road trip from Washington DC to Los Angeles
The opportunity to set off on an epic cross-country trip does not come often, and if you have wanderlust, then this road trip from Washington DC to Los Angeles is exactly what you are looking for. From world-famous world wonders to iconic cities, this adventure has it all!
The 2,755-mile road trip from Washington DC to Los Angeles will take 43 hours to drive. The amazing highlights include Gatlinburg, Nashville, Memphis, St Louis, Kansas City, Moab, Las Vegas, Grand Canyon and Great Smoky Mountains National Parks.
This incredible journey will take you from coast to coast across the expanse of the United States. Read on below to learn more about our recommended routes, top highlights, places to stop along the way, and best seasons to travel.
How far is Los Angeles from Washington DC, and how long will the road trip take?
Comparison of road trip routes between Washington DC and Los Angeles

| Route | Distance | Driving Time |
| --- | --- | --- |
| The Northern Route | 2,755 miles | 41 hours |
| The Southern Route | 2,845 miles | 43 hours |
The Southern Route to travel from Washington DC to Los Angeles spans 2,845 miles, with 43 hours of driving time, not including stops or detours.
The alternative Northern Route, on the other hand, will cover a distance of 2,755 miles and over approximately 41 hours of travel time.
While technically doable in a couple of days, to truly soak in the beauty and offerings of each stop, we recommend planning a road trip lasting 5-6 days.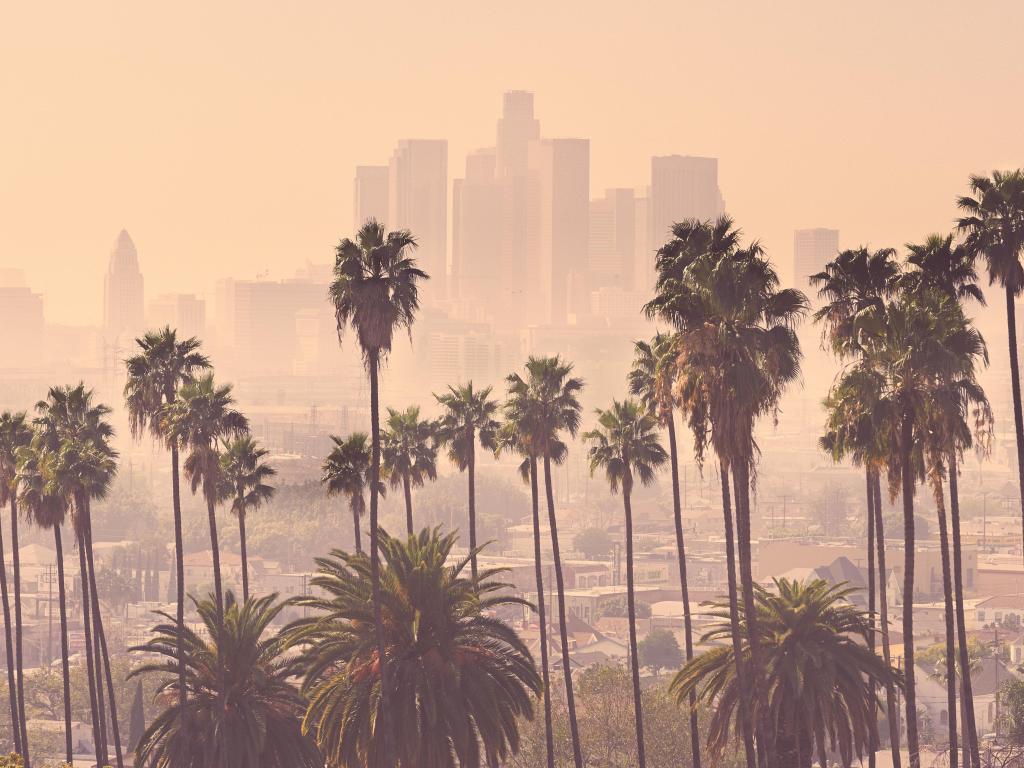 Best road trip route from Washington DC to Los Angeles
While there are many different ways to make a cross-country road trip, we have curated two routes with some of our favorite places on the way. These routes both promise a wealth of highlights and attractions, the vibe and scenery vary significantly.
The Southern Route will take you through 9 different states, showcasing the diverse topography of the United States from coast to coast. In the early part of your trip, between Washington and Memphis, you'll see the lush green landscapes of national forests such as George Washington & Jefferson, Daniel Boone, and Nantahala.
Soon, the green landscapes will transition to deserts and then into rocky and dusty vistas as you approach Texas, New Mexico and Arizona. This constant change in scenery promises a road trip where each day is dramatically different from the last.
You can also make detours to explore America's most legendary drive, Blue Ridge Parkway and later on the "Mother Road"; Route 66 on the Southern Route and see some historic and quirky sights. If you'd like to learn more about how the interstate differs to Route 66, here is our comparative guide.
The Northern Route covers 11 states and gives you the chance to see some of the best of the central USA, including iconic cities such as St Louis, Kansas City, Denver and electrifying Las Vegas.
As you drive, you'll see picturesque national forests like Mark Twain and Wayne. The true spectacle unfolds after you pass Denver, where the legendary Rocky Mountains come into view, gracing your journey with sights of majestic snow-capped peaks such as Greys Peak and Mount Evans.
Heading further from Kansas City, the terrain morphs into drier landscapes, bringing you close to the sprawling Uintah and Ouray Reservation as you travel along I-70. Here, you can experience the rich heritage of the region's indigenous cultures.
Please keep in mind that some national parks on this road trip, such as Rocky Mountain and Arches National Parks, might require reservations before visiting, so make sure to check the official websites for up-to-date information.
How to drive from Washington DC to Los Angeles