The Best 7-day Road Trip from Melbourne
This round trip takes in some of the best that Australia has to offer – buzzing cities, charming Riverina towns, stunning coastline, national parks, lakes, mountains, and a great selection of vineyards.
This 7-day, 3,420 km road trip from Melbourne takes you through Wagga Wagga and Dubbo, then follows the coast south from Coffs Harbour before passing through Sydney and returning to Melbourne via Batemans Bay, Canberra, Yass Valley and Mt Kosciuszko.
With so many places to visit along the way, a 7-day road trip from Melbourne has the makings of an epic adventure, and we've put together a day-by-day route plan to inspire your trip. The table below highlights the distances and daily travel times.
Your 7-day road trip from Melbourne: the best day-by-day itinerary
What is the best 7-day road trip from Melbourne and where will it take you to?
This 7-day road trip from Melbourne gives you a taster of some of the best that Australia has to offer. It also covers manageable distances each day so that you can see as much of this vast country as possible without leaving you feeling like you need a holiday at the end of your holiday.
You'll average 5 hours and 30 minutes of driving each day on this route, which leaves you with plenty of time to stop and explore.
The route we've designed lets you explore the interior of Victoria and New South Wales, visiting plenty of sites where you can learn about Australia's Aboriginal heritage as well as the stories of more recent arrivals from Europe.
You can drive through Victoria's goldfields as you visit Temora and Condobolin, swim off river beaches in Wagga Wagga, walk through a rainforest in Dorrigo National Park, and get a picture with the iconic Big Banana at Coffs Harbour.
Heading south along the sparkling New South Wales coast, take to the water to surf and swim, or look out for whales if you're here in the winter. The route will take you right across Sydney Harbour Bridge so you can spend some time enjoying the buzz of this beautiful harbour-side city before carrying on towards Melbourne.
At Jervis Bay you'll walk on the world's whitest sand before heading inland to visit Australia's capital city, Canberra, and maybe visit a cellar door or two, then hike through the Snowy Mountains at Mount Kosciuszko.
There's so much to see on this 7-day road trip from Melbourne - keep on reading to find out what's in store.
Day 1: Driving from Melbourne to Wagga Wagga
The first day of your trip takes you 450 km across the interior of Victoria and NSW, with just under 5 hours of driving. Although it's a long drive, the first day of your trip is an easy one to navigate.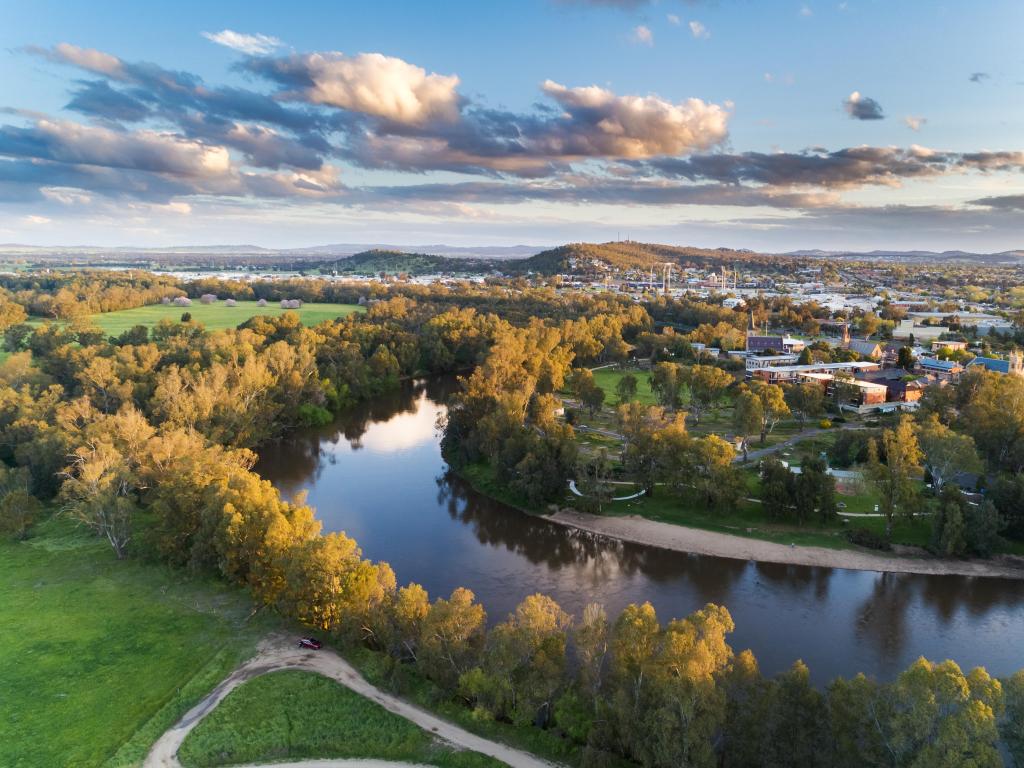 Road trip route from Melbourne to Wagga Wagga
Head north from Melbourne on the M31, which takes you all the way to the border with NSW, where Albury and Wodonga face each other across the Murray River. Along the way you'll pass Seymour and Glenrowan, where you can visit the Ned Kelly Museum & Homestead.
Just after Albury, exit the M31 onto the A41 Olympic Highway which takes you up to Wagga Wagga, where you'll spend the first night of your road trip.
Things to explore on the way to Wagga Wagga
Right on the border between Victoria and NSW, Albury and Wodonga are separate cities with a shared identity. The Murray Art Museum Albury is a real highlight, but if you'd like to focus on indigenous art follow the Yindiyamarra Sculpture Trail.
Nearby is Jindera Pioneer Museum, which is well worth a visit if time allows as it gives a real feel for what life would have been like here in days gone by. You can also head to Hume Lake, just outside the cities, to take in the beautiful waterfront.
Where to stay in Wagga Wagga: Place your bets in Wagga Wagga
Wagga Wagga is the gateway to Livingstone National Park, where you can hike trails through the gum trees, and then head back to town for a refreshing swim - Wagga Wagga has its very own peaceful river beach!
If you are a lover of fine arts, why not head to National Art Glass Gallery and marvel at the delicate colours and craftsmanship of the glass pieces created by local artists? The building itself is an architectural gem.
If you're in town on the right day you can enjoy a flutter when races run at Murrumbidgee Turf Club in the town. You can even stay right across the road at Wagga RSL Club Motel. This local institution is part of the RSL Club, where you can get a meal or a drink at the end of the day's drive.
The motel has spacious, modern, comfortable rooms and free parking, which is handy after a long drive. Treat yourself and head to the motel's outdoor pool for a dip before heading out to explore the beaches or the Wagga Wagga Botanic Gardens nearby.
Click here to skip back to the top.
Day 2: Driving from Wagga Wagga to Dubbo
The 5-hour drive on day 2 takes you on a 460 km journey through the Central West of New South Wales, taking in wide open landscapes and a number of small roadside towns.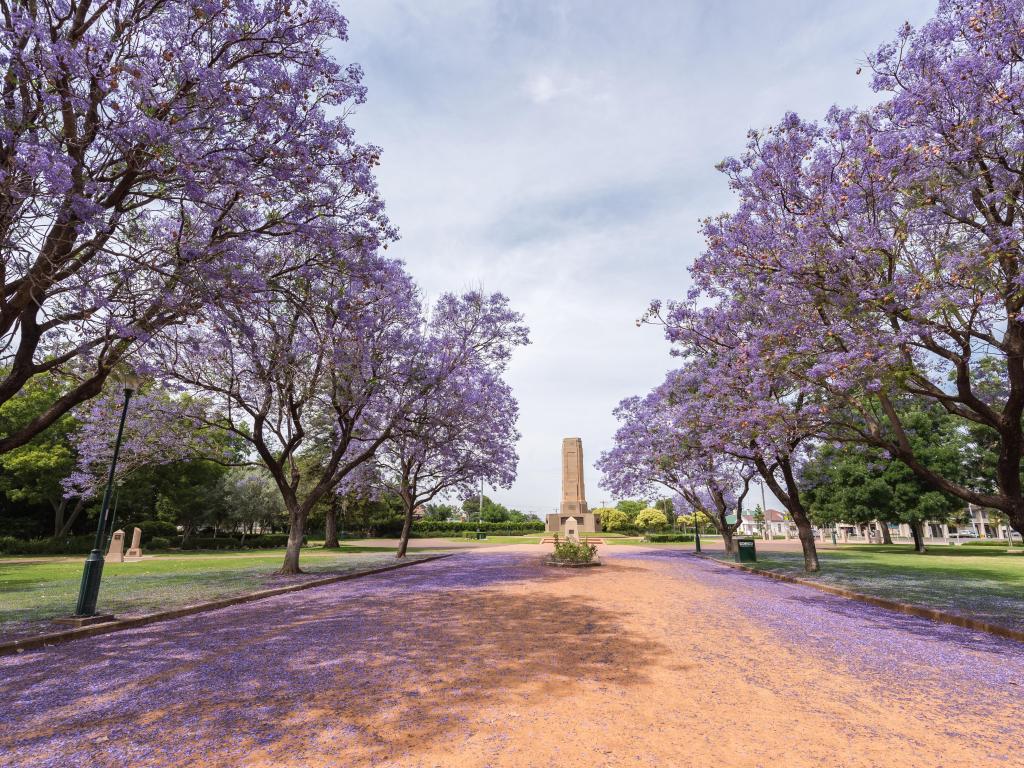 Road trip route from Wagga Wagga to Dubbo
Head north out of Wagga Wagga on the A41, continuing straight ahead onto the B85 Goldfields Way as you approach Junee. Follow this road through Sebastopol and Barmedman until it comes to an end with a left turn into West Wyalong.
From the center of West Wyalong, turn right towards Condoblin, which is your next waypoint. From here you have a choice of routes.
If you're in the mood for a cross-country adventure, turn left out of town opposite the Railway Hotel then turn left onto Fifield Road. After passing the aerodrome carry on towards Fifield then carry on along the stretch of unsealed road which takes you to Tullamore. Turn right onto the McGrane Way all the way to Narromine, then turn right onto the A32 Mitchel Highway which leads to Dubbo.
If you prefer your roads to be topped with tarmac, stay on the main road out of Condobolin, heading through Yarrabandai and Bogan Gate into Parkes. From here, follow the A39 north into Dubbo.
Things to explore on the way to Dubbo
You can be sure of a warm welcome at the Riverina town of Temora, which is proudly known as NSW's friendliest town. Take a hot air balloon ride across the goldfields for unforgettable views or look to the skies from Temora Aviation Museum in case you're lucky enough to see one of Australia's only flying spitfires.
Visit the Bundawarrah Centre, which started life as Temora Rural Museum but has now grown to include the Ambulance Museum and interesting short-term exhibitions.
You can also head to nearby Stockinbingal and follow the heritage walk to get a feel for what life was like in this rural NSW community in days gone by.
A little further along the route you come to Condobolin. Once a centre for copper and gold mining, Condobolin is now a thriving country town which is famous as the home of Utes in the Paddock. This quirky outdoor gallery, said to have been inspired by Amarillo's Cadillac Ranch, uses a line of Utes for its canvases.
While you're in town you can cool down with a swim or go waterskiing on the Lachlan River or nearby Gum Bend Lake. You can fish and kayak here too to enjoy the peaceful setting at a more leisurely pace.
If you're feeling active, climb Mount Tilga for a seemingly endless view across the surrounding plains.
Where to stay in Dubbo: Experience inland NSW in Dubbo
Dubbo is one of the larger towns in the region, and while you're here you can get glimpses into what life would have been like here when the first Europeans arrived.
You can visit Dundullimal Homestead to learn about life for the early settlers here, or Dubbo Old Gaol where you can hear the stories of some of the men who served their time here.
Also in Dubbo is Taronga Western Plains Zoo, which is paired up with Sydney's Taronga Zoo. With more space out here in Dubbo it's the perfect place to admire herds of larger animals.
Or if you're just in the mood to wind down and relax after the day's drive, the Macquarie River runs through Dubbo and the riverside walk is a pleasant way to spend an hour – bring a picnic to enjoy along the way.
Our top hotel pick for your stay tonight is Orana Motel, Dubbo, a modern and spacious hotel which is highly rated by guests. It has an outdoor pool with a BBQ area so you can have a relaxed evening if you don't fancy heading out to one of the nearby restaurants.
The Orana Motel is right on the highway so it's easy to find and you won't lose time searching for it. The free parking here is also a bonus.
Click here to skip back to the top.
Day 3: Driving from Dubbo to Coffs Harbour
This is the longest day's driving, clocking in at 7 hours 30 minutes, and you'll cover 600 km. You will get to explore towns with European heritage as well as stunning natural scenery as you head northeast towards South Pacific Ocean.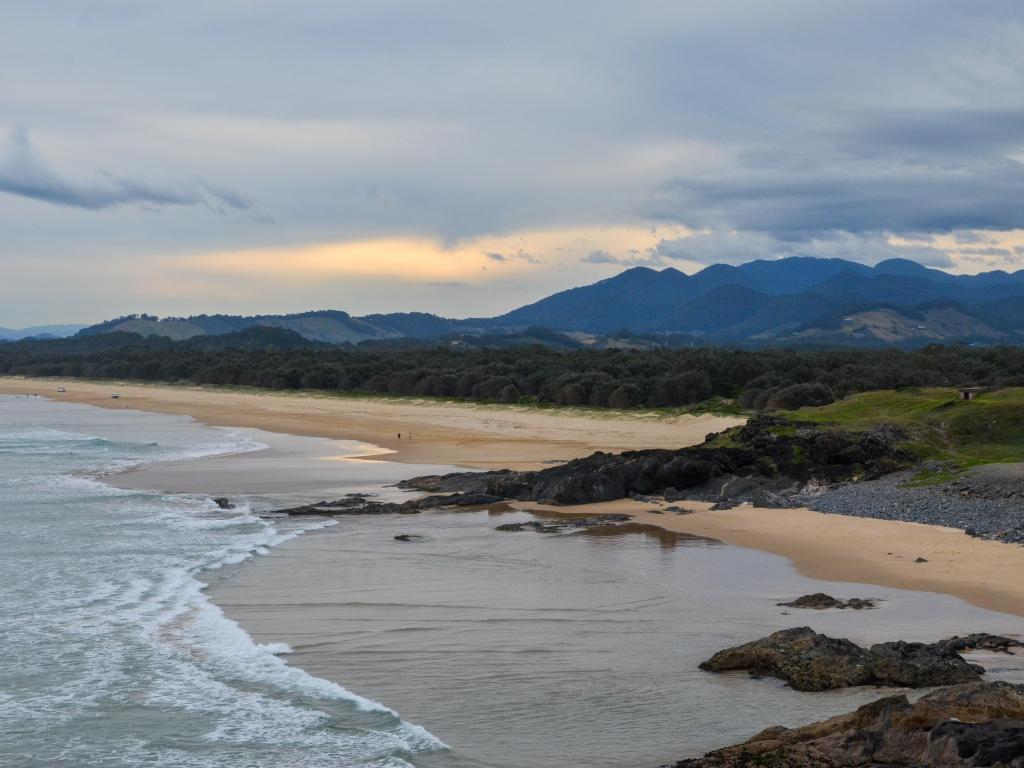 Road trip route from Dubbo to Coffs Harbour
Leave Dubbo on the B84 heading towards Dunedoo. Shortly after driving through the town, turn left onto Black Stump Way in the direction of Coolah and follow this road past Bomera until you reach a crossroad where you turn right towards Premer.
As you continue on past Premer, the road will take you through Yannergee and Spring Ridge. In the small town of Caroona you'll cross the Mooki River then turn left towards Werris Creek, following Waverley Road.
Keep following the road around to the right a couple of km out of town and, after crossing the Kamilaroi Highway, you'll arrive in Werris Creek, home of the Australian Railway Monument.
From Werris Creek take the road through Currabubula to Tamworth, where you'll join the B56. At Bendemeer keep straight to join the A15 New England Highway.
At Armidale you'll join the B78, which is known as Waterfall Way due to the number of stunning cascades that are near the road. This road will take you all the way to Coffs Harbour, but make sure you stop to admire some of the falls as you travel through this more varied stretch of country.
Things to explore on the way to Coffs Harbour
Surrounded by stunning wilderness and deep gorges, Armidale is 1000m above sea level so is usually a little cooler than other parts of NSW.
Europeans first arrived here over 200 years ago, and you can take a fascinating guided Heritage Tour to find out more about the town, or head to the Aboriginal Culture Centre to learn about the thousands of years of history before British explorers set up camp here.
There's also the New England Art Gallery – just like its more famous American counterpart, Armidale is known for its colourful autumn foliage – and Armidale Folk Museum.
If you'd rather head out of town you can explore nearby New England National Park, and spot lyrebirds and rare rock wallabies, as well as taking in unforgettable views.
A little further along the route you'll reach Dorrigo National Park, where you can follow a trail through the rainforests, or ascend to the canopy to take in views from the impressive boardwalk. There are many waterfalls to visit in and near the national park.
Where to stay in Coffs Harbour: Check out the Big Banana in Coffs Harbour
Coffs Harbour is the home of the Big Banana – a huge piece of model fruit that's established itself as a local icon and now has a whole amusement park attached.
The town is right on the ocean so after the long inland drive, you can spend some time on the beautiful beaches here. There are also many waterfront trails where you can enjoy sea views or admire the wildlife of Mutton Island Nature Reserve.
A little way out of town you can follow Bundageree Rainforest Walk or visit Coffs Harbour Butterfly House.
The bright and spacious Pacific Marina Apartments feature a living area so you can really relax during your overnight stay. There are also larger apartments, which would suit a group or family travelling together.
If you stay here you can really appreciate the natural beauty of Coffs Harbour. There's a beautiful outdoor pool at the Pacific Marina Apartments, and Coffs Jetty is only 400m away so you can enjoy a relaxing stroll by the water once you've checked in.
Click here to skip back to the top.
Day 4: Driving from Coffs Harbour to Sydney
Although you have a 530 km drive ahead of you on day 4, it's a much simpler route to navigate than the earlier part of the trip. The drive south takes you past many beautiful beaches and clifftop overlooks so take a moment every now and then to stop and admire the amazing ocean views.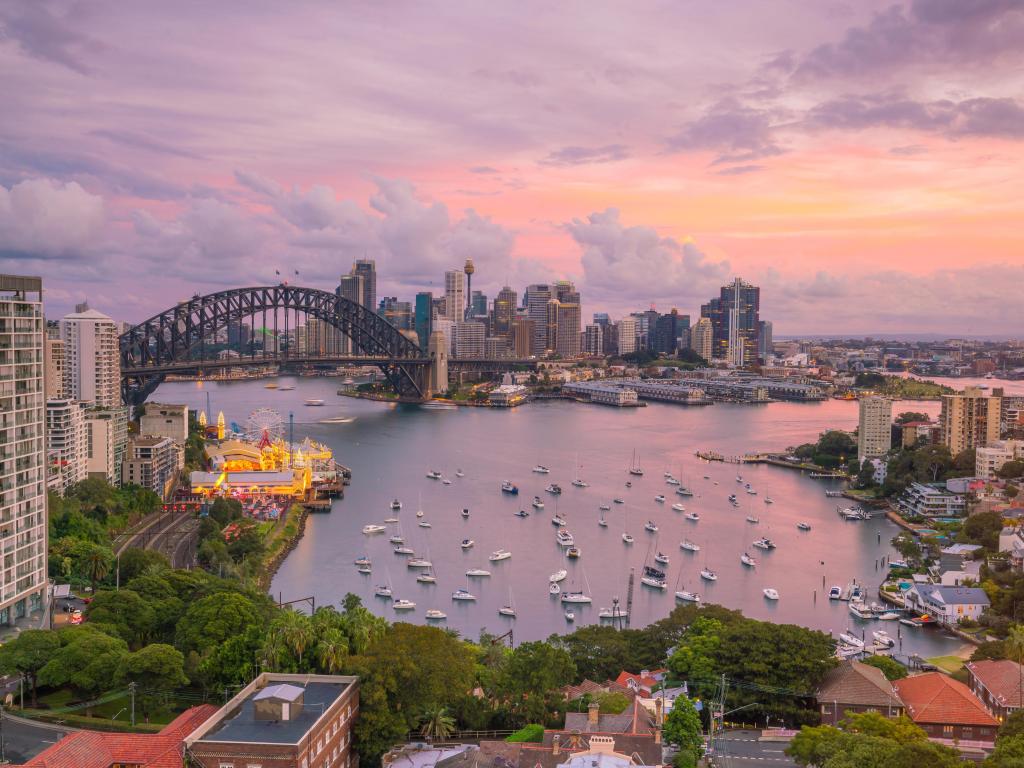 Road trip route from Coffs Harbour to Sydney
Head south out of Coffs Harbour on the A1 and follow it south past Nambucca Heads, Topi Topi and Nerong. Outside Newcastle, the road becomes the M1, which takes you past Brisbane Water National Park and into the northern suburbs of Sydney.
At Wahroonga, exit onto the A1 and follow it towards the city, then turn right onto the A3 Hyde Road. This links up with the M2, which you'll follow around the outskirts of Macquarie Park and into the Lane Cove Tunnel.
When you emerge from the tunnel you'll merge onto the M1, then keep left to cross the Harbour Bridge.
To complete your day's drive, take the left-hand lane shortly after crossing the bridge to exit onto York Street and make your way to your overnight stop which is just a couple of blocks off the motorway.
Things to explore on the way to Sydney
As we've already mentioned, there are many places where you can stop to enjoy the beach, and Port Macquarie is one of them.
The beaches here are superb, but if you want to take a break from the surf head up to Tackling Point Lighthouse for a beautiful view of the town. You can sometimes spot migrating whales from this vantage point too.
This former penal colony is also home to Billabong Zoo and the Koala Hospital, where you can spend time with some of Australia's most iconic native wildlife.
Closer towards Sydney you might also like to stop at Myall Lakes National Park. You can canoe or kayak through this vast waterway, which also has many kilometres of beaches to enjoy, whether you prefer to surf or swim.
If you prefer to keep your feet on dry land, take the trail out to the fabulously named Treachery Head to immerse yourself in the gumtree landscape. The national park is a scenic spot to BBQ too.
Where to stay in Sydney: Surf and swim in Sydney
Sydney is a city of iconic views and outstanding beaches. You'll arrive in the CBD by crossing Sydney Harbour Bridge then once you're checked in you can enjoy the unforgettable view from Circular Quay – take a ferry to other parts of the city or check out the listings at the Opera House.
As you'd expect from such a big city there's a whole world of restaurant and bar choices, and some of the country's best museums. The Australian Museum is the country's oldest – check out their tours led by First Nations guides which look at Aboriginal and Torres Straight Islander artefacts and culture featured in the museum.
For a more relaxed few moments, head to Royal Botanical Gardens which is located close to Circular Quay and the CBD – you can get more great views towards the harbour and city from here.
Sydney has many beaches to choose from – take the ferry to Manly Beach if you want to surf, or walk further along the shoreline there to calmer Shelley Beach where you can see beautiful sea life in the calm bay waters.
There's no shortage of places to stay in Sydney's CBD but striking the perfect balance between comfort, location and affordability is Mantra 2 Bond Street.
The rooms here are smart and comfortable – the hotel was renovated in 2016 - and the stunning rooftop pool and terrace look out across the city towards the harbour. It's just a 5-minute walk to Circular Quay so you can easily head out to enjoy the city.
Mantra 2 is just 100m from the exit off the Expressway, just after crossing Sydney Harbour Bridge, so you won't have to navigate far through Sydney's busy streets. Parking is available here too, which is a bonus in the centre of the city.
Click here to skip back to the top.
Day 5: Driving from Sydney to Batemans Bay
This is the shortest drive you'll do on your 7-day road trip from Melbourne, as Batemans Bay is only 280 km from Sydney. That means you'll have extra time today to enjoy the stunning coastline and impressive national parks that you'll pass along the way.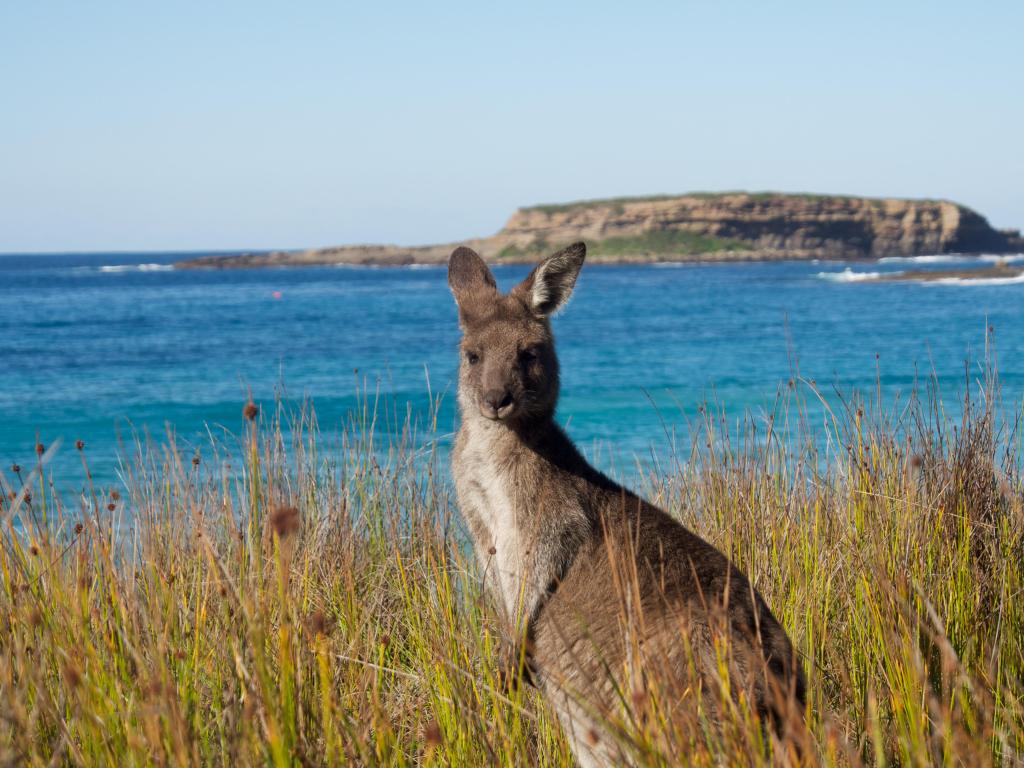 Road trip route from Sydney to Batemans Bay
Take the M1 south out of Sydney then exit onto the A1 just after the airport, following the road past Kogarah and across Tom Uglys Bridge.
The A1 takes you through Royal National Park before becoming the M1 again for a while, taking you past Wollongong and Shellharbour before heading through Kiama, where it switches back to the A1.
You'll now follow a changing combination of the A1 and M1 Princes Highway all the way to Batemans Bay. Detour off the highway to spend some time at beautiful Jervis Bay, then enjoy the periodic sea views from places like Ulladulla and Lake Tabourie before you arrive in your destination for the day, Batemans Bay.
Things to explore on the way to Batemans Bay
Jervis Bay is famous for its stunning beaches – it's said to have the world's whitest sand – and also contains 2 national parks, so it's a nature lover's paradise. You might be lucky enough to spot little penguins on the beach, as well as fur seals.
Aboriginal-owned Booderee Botanic Gardens, part of the national park, make the most of the natural environment rather than exotic planting.
Out on the water, you can take a dolphin or whale spotting cruise depending on the season, and there's plenty for divers to explore under the surface in the Marine Park.
Where to stay in Batemans Bay: Explore the underwater world at Batemans Bay
End the day in Batemans Bay with a fabulous meal of seafood fresh from the boat as you watch the sun go down over the ocean.
Before the route turns inland, you might like to make one last trip to the many beautiful beaches in the area, or even take the Batemans Bay Snorkelling Trail to see what underwater gems you can spot.
Batemans Bay Heritage Museum is also recommended, and includes a great introduction to the Aboriginal communities and heritage.
You'll want to stay close to the beach in Batemans Bay, so why not check in to The Isla, which is within walking distance? Having been tastefully renovated this hotel now has a smart, modern design with a touch of Scandinavian aesthetic.
The staff here are welcoming and helpful, and there's a heated outdoor pool, so you can sit back and relax before the route heads inland on day 6.
Click here to skip back to the top.
Day 6: Driving from Batemans Bay to Mount Kosciuszko
You'll spend 5 hours on the road on this 370 km inland drive from Batemans Bay to Mount Kosciuszko, which takes you through some beautiful and varied landscapes.
Along the way you'll wind through the hills between Monga and Bimberamala National Parks and taking in Australia's capital city Canberra before ascending into the Snowy Mountains.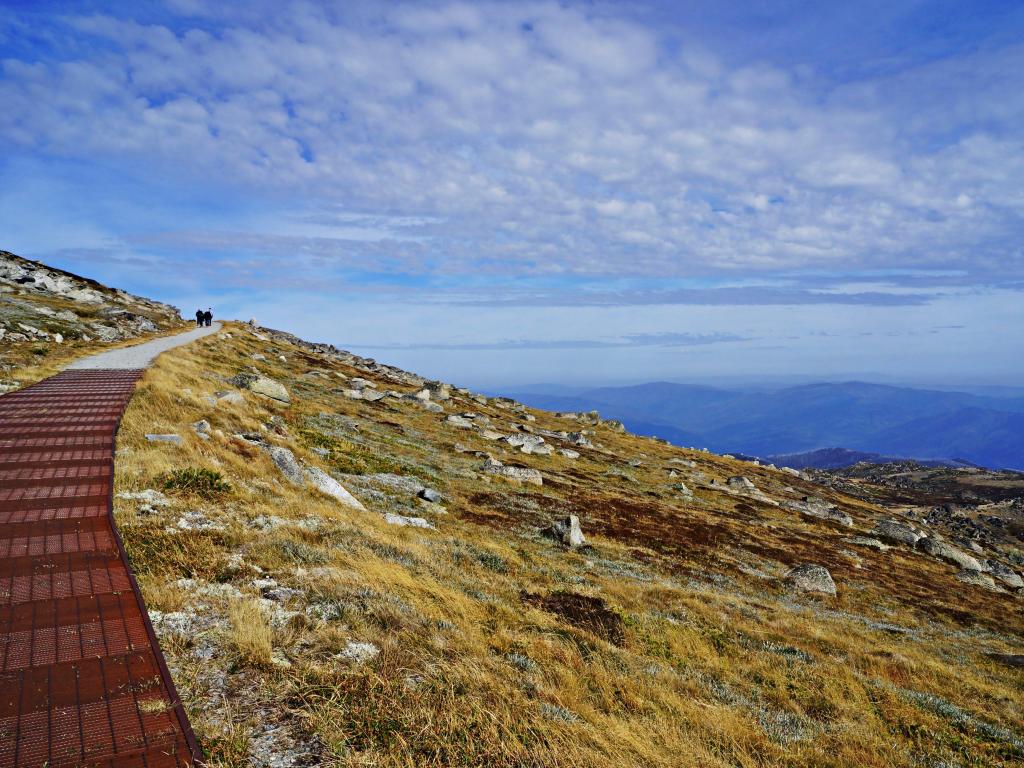 Road trip route from Batemans Bay to Mount Kosciuszko
Follow the B52 all the way from Batemans Bay to Canberra. Then, when you're ready to carry on towards the mountains, pick up the A23 and head south through Michelago to Cooma.
From the centre of Cooma follow the B72 Snowy Mountains Highway for a couple of km, then keep straight ahead towards Jindabyne when the highway forks off to the right.
Follow Kosciuszko Road through Berridale and around the southern shore of Lake Jindabyne. You can either turn off onto Alpine Way to head directly to Thredbo, where you'll be spending the night, or continue along Kosciuszko Road to explore other parts of the national park first.
Things to explore on the way to Mount Kosciuszko
The first main stopping point on Day 6 is Canberra. You can visit national monuments and government buildings here in Australia's capital city, starting with a tour of the impressive Parliament House then moving on to the National Museum of Australia and the Australian War Memorial.
Then cool down by Lake Burley Griffin, where you can follow picturesque walking trails or even take a picnic boat out onto the lake when it's time for lunch.
Towards the end of your day's driving you'll reach Cooma, the main town in the Mount Kosciuszko region. Explore the snowy mountains on horseback to really immerse yourself in the fabulous landscape, or board a white water rafting trip for a faster adventure.
There are a couple of interesting museums to explore in town too. Cooma Car Club operates its own Motoring Museum which will interest fans of vintage vehicles, but check ahead for opening times. Or head to the museum at Cooma Correctional Centre for a fascinating tour led by prison officers or one of the jail's low security inmates.
Where to stay in Thredbo: Pack in some alpine thrills at Thredbo
Mt Kosciuszko is Australia's highest mountain, and you can either hike or take the chairlift to the top for fantastic views. In the winter, fabulous ski resorts open up in the area and you can also snowshoe or cross-country ski.
Thredbo is one of the best places to base yourself close to the mountain, and a stay at Pure Chalet Thredbo is the perfect way to get into the alpine spirit.
As you might expect, you'll get stunning mountain views and can relax by the fireplace if you visit in the winter.
There's free parking at Pure Chalet Thredbo too, and it's right on the route, so you get the maximum time to enjoy this scenic mountain wonderland.
Click here to skip back to the top.
Day 7: Driving from Mount Kosciuszko to Melbourne
After seeing so much of Australia, it's finally time to head back to Melbourne to complete your trip. The most direct route back to the city takes you through some stunning countryside so this 7-hour drive will feel like a real adventure in its own right, and there are some great places to stop and explore to break up the 570 km route.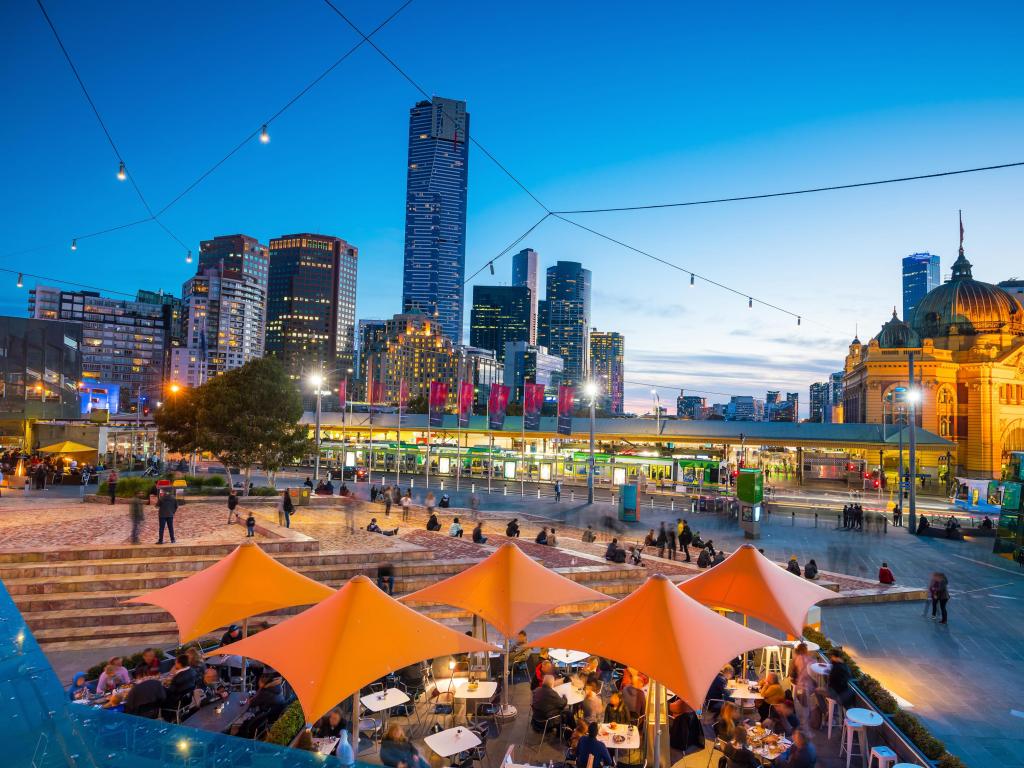 Road trip route from Mount Kosciuszko to Melbourne
Make your way back to Jindabyne, then turn right onto Barry Way and follow it across into Victoria, where it becomes the Snowy River Road.
This winding and scenic road is unsealed in places, and if you'd rather avoid this you also have the option to follow the Alpine Way north to the NSW/Victoria border, where you can pick up the B400 then retrace your route to Melbourne via Albury and Wodonga.
If you're carrying on along the Snowy River Road though, follow the road through Wulgulmerang, Gelantipy and Buchan before taking a right turn towards Bruthen on the C620.
From Bruthen, make for East Bairnsdale, a gateway to explore Gippsland Lakes, and you're on the home straight. From here, simply follow the A1 and M1 all the way back to Melbourne.
Things to explore on the way back to Melbourne
Pull off the main route at Bairnsdale to spend a few hours exploring the vast series of waterways that makes up the Gippsland Lakes.
Paynesville has a great selection of waterside eateries as well as being the starting point for the Sunset Cove Walking Trail. There's also a farmers market in Paynesville some weekends. From here you can take a ferry across to Raymond Island which has fabulous nature-spotting opportunities.
On the opposite side of Lake King, Lakes Entrance is the place to head to if you want to spend some time on 90 Mile Beach and cool off in the ocean. Nearby Metung is great for fishing – you can pick up equipment or hire a boat in the town then head out to see what bites.
Click here to skip back to the top.
Things to see on a 7-day road trip from Melbourne
We've already picked out some of the main places to stop and explore on this 7-day road trip, but there's plenty more to see and do in between these towns.
Here are some of the highlights: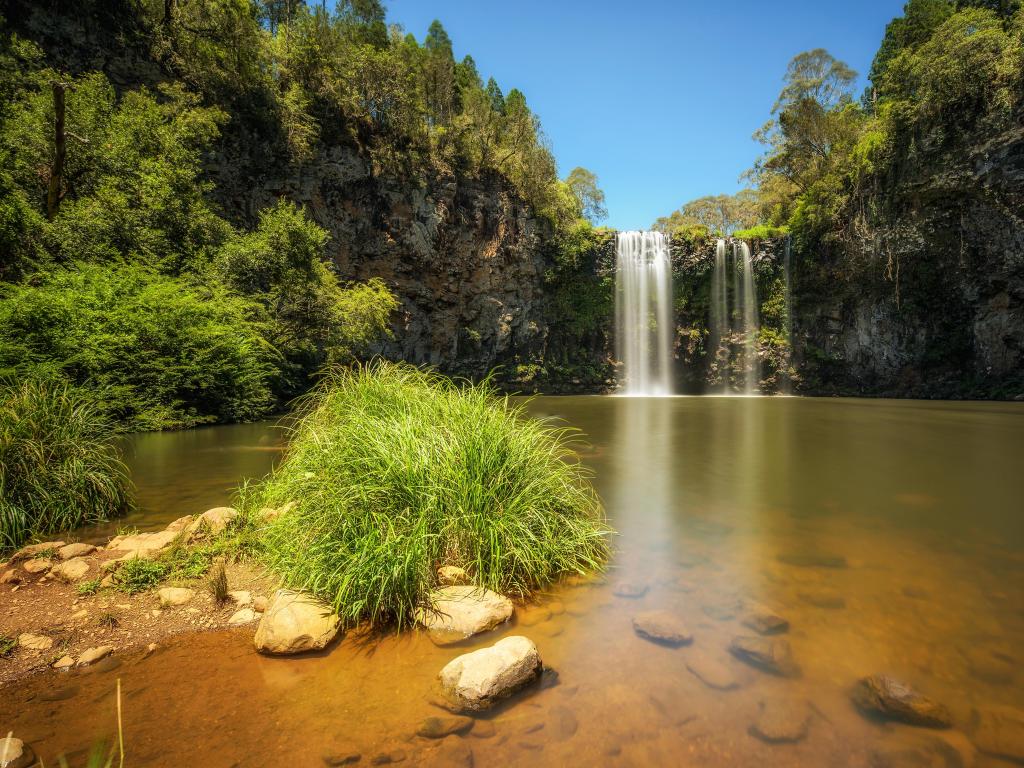 Benalla - Take a break from the road with a coffee by the lake then take a stroll through the Botanical Gardens or Benalla Art Gallery.
Glenrowan - Ned Kelly, who made his famous last stand in Glenrowan, is remembered with the Big Ned Kelly statue plus a museum that tells the story of this infamous bushranger.
Rutherglen wineries - Not far out of Albury Wodonga, visit one of the 20+ wineries that run along the Murray River. Best known for Shiraz, the region also produces sweeter Muscat and Tokay.
Aria Park - Just outside Temora, this Heritage Village is still set up like it would have been in the 1920s, so you can enjoy a cold drink in the charming pub, or follow the self-guided tour to learn more about life in rural NSW a century ago.
McCrossin's Mill - This award-winning attraction in Uralla shares a fascinating collection with its visitors, including artefacts from the Chinese community in this rural part of NSW.
Waterfall Way - As the name suggests, there are some spectacular cascades along this stretch of the highway, including Ebor, Wollombi and Apsley Falls.
Nambucca Heads - The town, set around a beautiful estuary, is known for its many boutique cafes and local arts scene. Dolphins can be seen if you take a boat ride along the river and through the estuary.
Tomaree Head - The walkway through the peninsula is an invigorating 2km round trip, so it's the perfect place for a short break on your journey. You'll be rewarded with amazing views along the coastline.
Hunter Valley - Take a detour inland from Newcastle to explore some of the vineyards of one of the country's best-known wine regions.
Terrigal - Stop for an ice cream by this wide, sandy beach which is also great for surfing. Divers might like to check out the artificial reef that's developed around a sunken warship just out to sea.
Australian Reptile Centre - While you can (if you're brave enough) get up close with a python at this ZAA accredited park, it's not all about the reptiles. Watch out for Hugo the Galapagos Tortoise taking his daily walk too.
Royal National Park - Take a hike with a view at the world's second-oldest national park, which runs along clifftops and heathland just south of Sydney.
Port Klemba - Head to Hill 60 Lookout and once you've admired the stunning view head down to explore the fascinating WW2 tunnels and bunkers.
Kiama - The impressive Kiama Blowhole, a collapsed cave right on the water's edge, channels sea water into a huge eruption.
Yass Valley - Just outside Canberra, you can try locally produced Chardonnay, Riesling and more at one of the many vineyards in Yass Valley or the nearby Murrambateman wine region.
Jindabyne - Explore the great outdoors on foot or mountain bike (rentals are available) – the Lake Jindabyne Foreshore Trail is easy to follow and offers great views across the water. Finish off with a refreshing drink from the local Kosciuszko Brewing Company.
Buchan Caves - You can take a guided tour around these spectacular limestone caves if you book at least 24 hours ahead.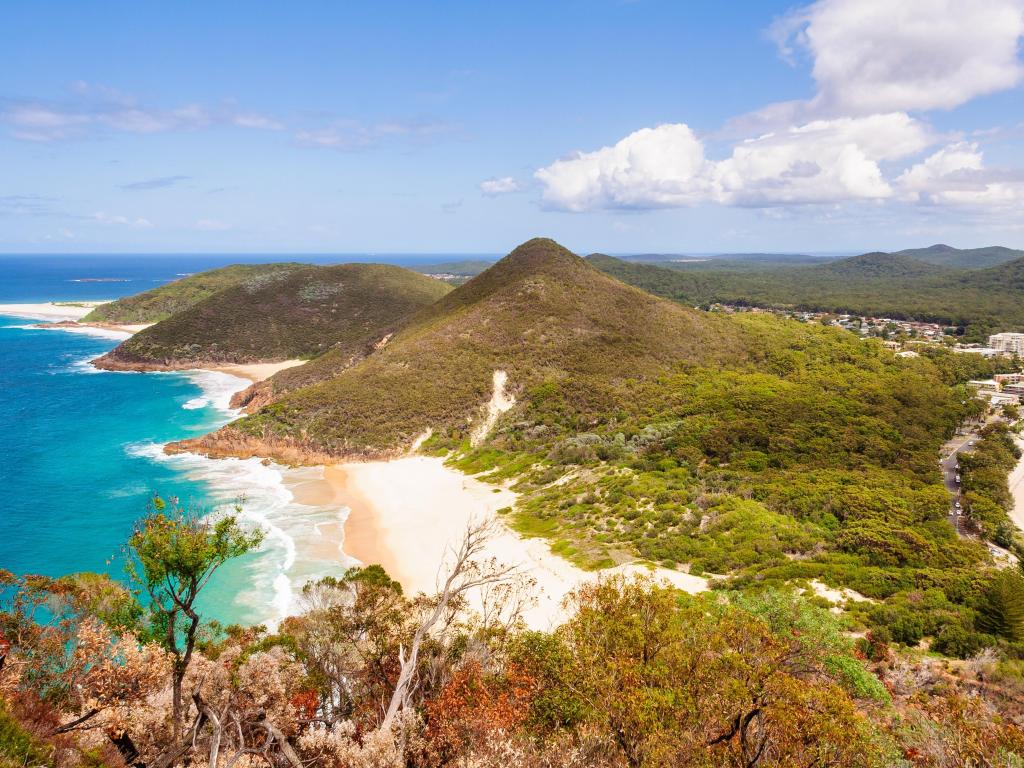 Best time to go on a 7-day road trip from Melbourne
This is a trip that has something to offer all year round, depending on your preferences. Max out time at the beach if you travel in summer, or pack your skis and some warmer clothes to enjoy windswept ocean views and winter sports.
Travelling in winter
Most parts of Australia get mild winters, and this route is no different. On most of the route, you'll be unlucky if the temperature drops much below 7 degrees Celsius, but higher altitude sections around Armidale do see frosts and (once every 2 or 3 years) might see a dusting of snow.
Mt Kosciuszko is a different story – you can expect snow here during the winter. If you're travelling in a 2WD vehicle snow chains are compulsory (they're also recommended in 4WD vehicles) on the route we've recommended up to Thredbo, and you should check ahead for local travel advice in case of heavier snowfall.
Throughout the winter the coast from Coffs Harbour to Sydney is a well-known route for humpback whales. If you're really lucky, you can spot them from the shore but for a better chance of whale sightings, take a boat ride out to look for them.
If you take the trip in winter, you might also catch the Canberra Truffle Festival. During the two-month truffle-hunting season, Canberra's restaurants celebrate this distinctive ingredient in special menus.
The Condobolin Show takes place in August too, featuring a rodeo and fireworks plus traditional country show attractions which can include anything from monster trucks to craft competitions.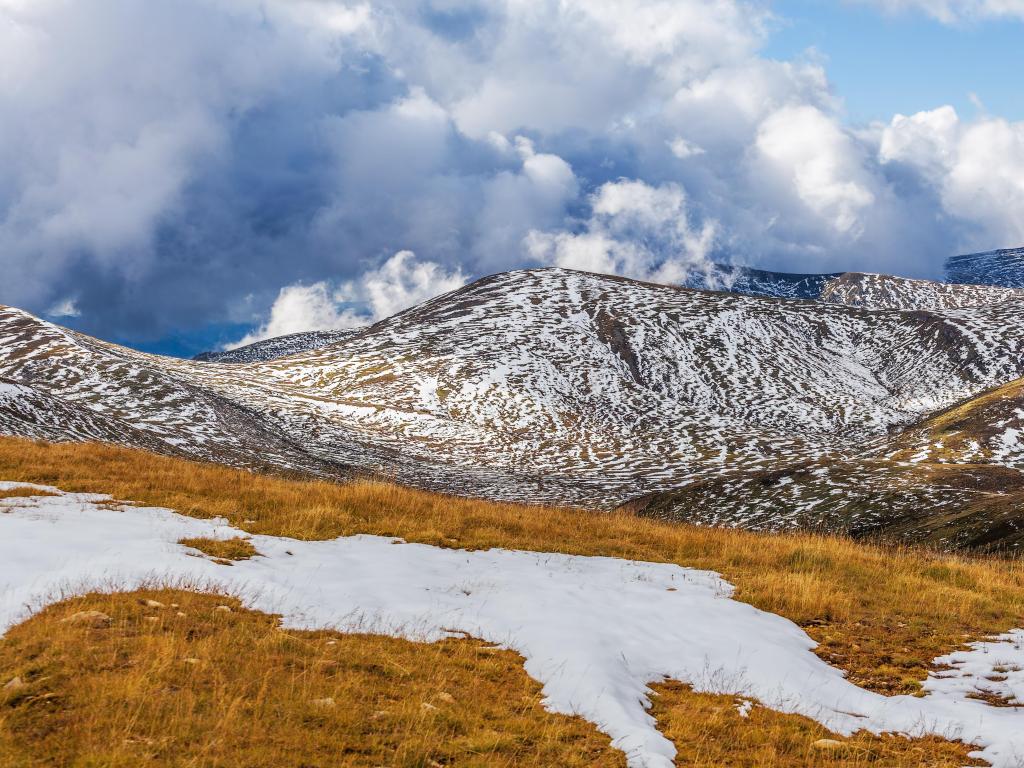 Travelling in summer
Unless you get unlucky and catch some rain, you can expect this route to be warm in summer. Summer temperatures in Sydney and Melbourne are in the high 20s but can peak much higher in periods of extreme weather.
The warm temperatures in the city give an extra boost to Sydney Harbour's iconic New Year fireworks – stand out and watch the iconic NYE display for yourself, with landmarks like the Harbour Bridge all part of the stage.
If you're in Sydney in February, head to Liverpool Street to view the parades at the city's colourful Mardi Gras festival and enjoy the party atmosphere that carries on late into the warm evening.
The inland drives on days 2 and 3 can get really hot, with average highs of 33 degrees in January and a record temperature of 45 degrees Celsius. Some travellers might prefer to avoid taking the trip during the summer months for this reason.
If you do brave the hot weather, make sure you check out the Man from Snowy River Rodeo which takes place in Jindabyne in December. This annual event dates back to the 1940s and still makes for a wild day out, with bull and bareback horse riding events.
You should also be aware that roads through Kosciuszko National Park get congested on busy summer weekends, so to really enjoy this alpine destination at its best, consider coming in late spring or early autumn (unless you want to ski).
Travelling in autumn
Early autumn is a popular time to travel as you can still enjoy many of the outdoor attractions on this route. The temperature on the hotter inland sections drops down into the high 20 degrees Celsius during March and April, making this a great time of year to hike.
It's also the perfect time to see the colourful woodland slopes of New England and the Victoria High Country, where autumn brings a dazzling natural display.
If you are travelling in autumn, keep in mind that the Easter period will mean that you might encounter traffic, especially near bigger towns and cities, and the hotel prices will be higher than usual.
Autumn also marks the beginning of Vivid Festival in Sydney, which is split into three categories: music, light and ideas.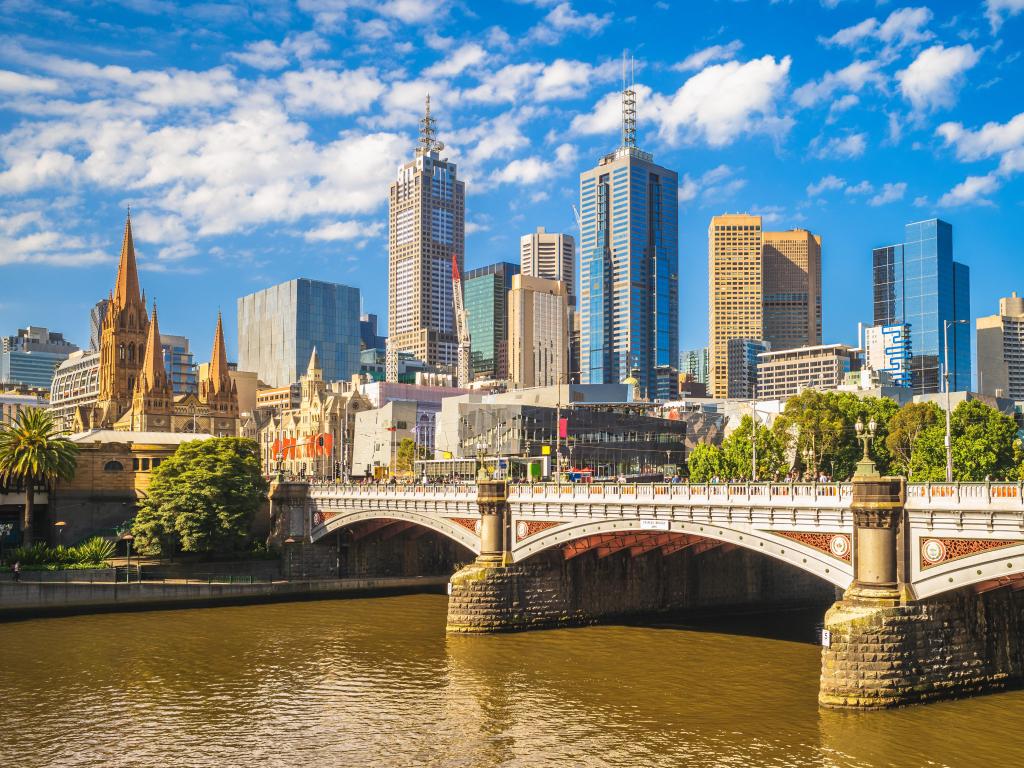 Travelling in spring
Spring is also a popular time to travel. Early in the spring it will be hit and miss whether you can comfortably enjoy the beaches, and the snow in Mount Kosciuszko will have melted, so we'd suggest avoiding this time, but by October average temperatures hit the mid-20s and higher on most of this route.
Keep in mind that you can still go snowboarding and skiing in spring on Mount Kosciuszko, with the ski resorts usually open until October (make sure to check ahead of time).
You can also catch a couple of interesting local events. In October, Temora Aviation Museum, which you'll pass on Day 2, hosts Warbirds Downunder, and a vast collection of vintage warplanes take to the skies at this popular event.
Out on the coast, the Coffs Coast Festival of Motor Sport takes place in November, and a packed calendar of motorsports events means that Coffs Harbour is a must-see destination for fans.